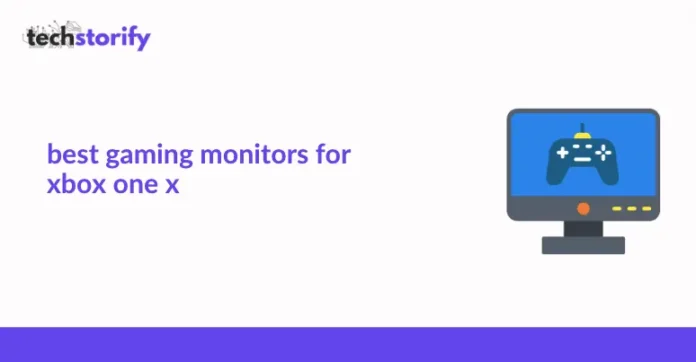 No matter how good your headsets, controllers, and speakers are, but if you don't have a good monitor for your Xbox One X, then it's all wasted because you won't see that zombie crawling towards you in time or snipe that Nazi soldier in the watchtower dead in the eye. Therefore, it's really important to have the best gaming monitor for Xbox One X.
Monitor shopping can be daunting. There are many factors like HDR compatibility, refresh rate, resolution, picture sharpness, clarity, design and many others that you must consider before investing in the best console gaming monitor.
THINGS TO CONSIDER WHEN BUYING THE BEST MONITOR FOR XBOX ONE X
The best of today's 4k console gaming monitors are of the top brands like Acer, Alienware, Samsung, LG, BenQ but the lesser-known brands are equally good.
The best gaming monitor for Xbox One X is considered to be one that has a 4K resolution, a high refresh rate, the right IPS panel, proper connection ports and low response time for smooth camera movements.
Here's a list of our top 10 picks.
LG is a brand name that is known around the world for its quality electronics like smartphones, televisions, appliances, and monitors. LG 27UK650-W undoubtedly the best gaming monitor for Xbox One X. What makes this monitor stands out is its 4K HDR display along with other amazing features.
From the specifications to the down stand – this monitor is everything that hardcore gamer would want. The 27-inch monitor has an amazing & versatile ArcLine stand. The base curve doesn't just keep things stable but also provides a very luxurious look.
The stand's height can be easily adjusted and it can also be tilted back and forth. You can also swivel it and pivot it as per your desire. This LG 27UK650-W has a 3840 X 2160 4K resolution, HDR10 support, nice SDR peak brightness, 60 Hz refresh rate, a 16:9 aspect ratio.
It also has AMD FreeSync technology and Dynamic Action Sync. Low input lag mode combined with all the above-mentioned features makes this the best monitor for Xbox OneX. You are provided with two HDMI 2.0 ports that support HDR and HDCP 2.2, a 1.2 display port, a USB-C port, and a 3.5mm audio jack.
The LG 27UK650-W also has a super-resolution for sharper and clearer video, black stabilizers that can change the gamma of dark shades so that the light shared aren't affected, and an automatic standby feature.
PROS
Great color production
Amazing gaming features
Supports AMD FreeSync
CONS
Needs more USB inputs
Low response time of 5ms
No speakers
This product is a total value for money. The company BenQ is known for making quality monitors. The BenQ PD3200U is a 32-inch monitor that has tons of extra features packed in when it comes to working too. This monitor has got both your work and play covered.
The monitor delivers vivid colors all thanks to the Ultra-High-Definition (UHD) In-Plane Switching (IPS) panel.
Its slim bezels can help prevent strain, fatigue, and irritation with Low Blue Light technology, Brightness Intelligence, and ZeroFlicker filters that filter out the harmful blue light and adjusts screen brightness according to the surroundings.
The monitor also has a dual view, which is like a split-screen that allows you to view files side-by-side. This feature comes in really handy if you want to compare photos and videos in specialized CAD / CAM, Darkroom or Animation display modes. The BenQ PD3200U has two HDMI ports, a single display port, one MiniDisplayPort, an SD card reader, and 4 USB slots.
Another good part about this gaming monitor is its ability to quickly adjust the panel to either portrait or landscape mode. You can also view it at a 178-degree angle.
PROS
Great gaming performance
AQColor technology
Dual-view
CONS 
This is one of the finest gaming monitors for Xbox One X with some super cool gamers-oriented features. The Asus MG series has always been known for their low-budget alternatives to other expensive ASUS products. The MG28UQ is a 28-inch Ultra HD monitor that has a response time of 1 ms. A flexible tilt and swivel stand, the commendable color accuracy, and a resolution of 3840 X 2160 @60 Hz make this a great gaming monitor.
For connectivity, you are provided with 3 HDMI ports (1 HDMI 2.0 and 2 HDMI 1.4), along with a single DisplayPort 1.2 connector, 2 USB 3.0 ports, and a 3.5mm headphone jack.
The ASUS Eye care technology with TUV certified Flickerfree and Blue Light Filter aims to prevent eye fatigue and other problems. All these features together make this a fantastic gaming monitor for Xbox OneX.
PROS
Amazing picture quality
Built-in power supply
Great Pixel Density
CONS
Contrast needs improvement
Need for More USB Port
If you are a hardcore gamer, then you will love this monitor for its FreeSync technology. The ViewSonic XG3220 has a great contrast ratio and plenty of connectivity options. The 32-inch monitor has accurate color, a VA panel, low response time, Adaptive Refresh technology, and some amazing customization options.
For connectivity, the monitor has 2 x HDMI 2.0, DisplayPort 1.2 and USB 3.0 x 4, HDCP 2.2. The input lag is low and has a response time of 5ms. In terms of design, it looks sleek and premium.
PROS
Excellent Image Quality
Many options for connectivity
CONS
Speaker is bad
No option to adjust the height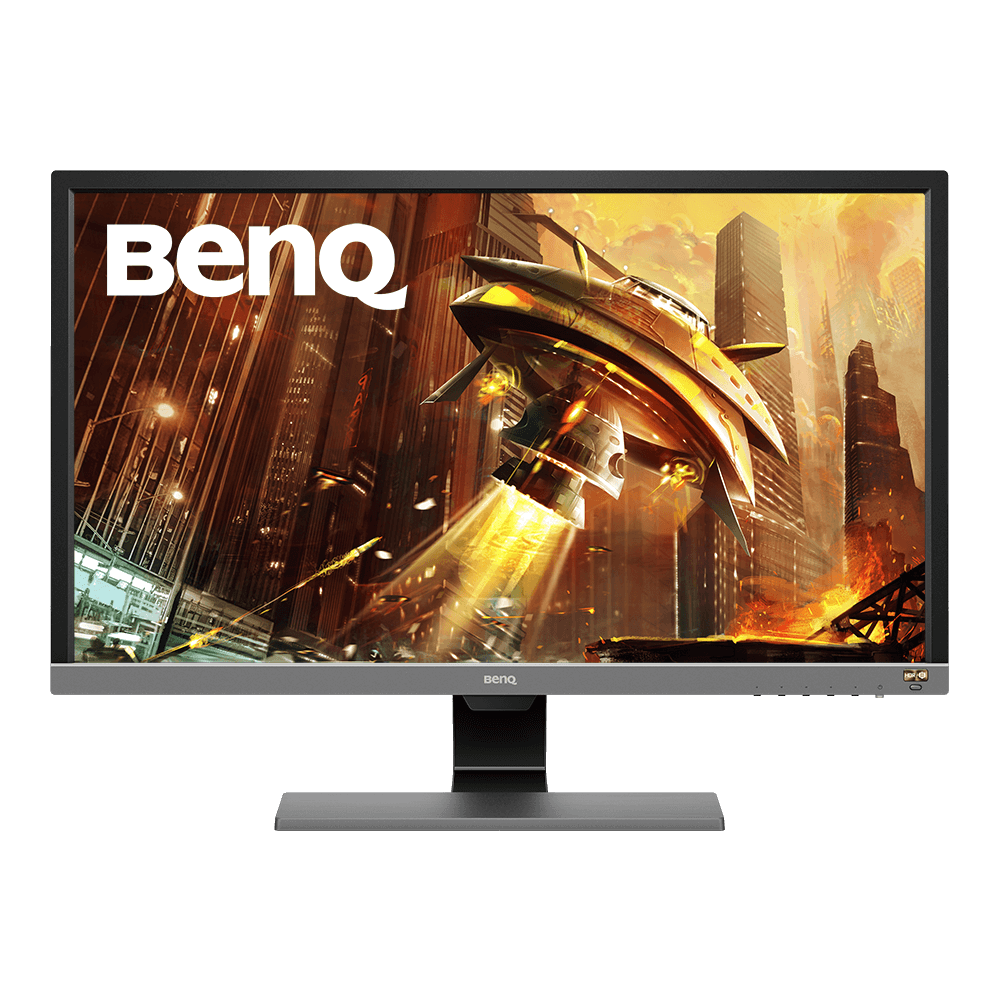 If you are into both gaming and movies, then you should definitely go for this monitor. The 28-inch 4k monitor has a superb HDR display, so now you can enjoy your favorite movie or play your favorite games with sharpness and clarity.
The BenQ EL2870U offers 4 K UHD (3840 x 2160 pixel) resolutions at a 60Hz refresh rate. Like other new-age monitors, the BenQ EL2870U also supports FreeSync. It boasts a TN panel with 1ms GTG response time to make your gaming experience seamless. The picture quality is extremely good, vibrant, and realistic. The only bad part about this monitor is the stand is not adjustable and the connectivity options. It just has 2 HDMI 2.0 inputs, DisplayPort 1.4, and a headphone jack. The speakers are not that great too.
The monitor supports HDR10 content and Cinema HDR mode.
PROS
The Brightness Intelligence Plus Technology balances the maximum contrast and vibrancy
Smart focus lets you target an area on the screen
Auto brightness and color temperature detectors
Supports high dynamics range
Great value for money
CONS
Need more connectivity options
Built-in speakers could be better
This is one of the best 4K monitors for Xbox one X. ASUS VP28UQG is a great example of the company's great experience in the gaming monitor industry.
The beautifully designed monitor 4K 28-inch TN monitor has a resolution of 3840 x 2160 (UHD), a response time of 1ms, refresh rate of 60 Hz and comes with FreeSync technology. The monitor has a contrast ratio of 1000: 1 and because of it the image quality is much better than many other TN monitors; this can also be contributed to the 10-bit color depth and the crazy capacity of 1.07 billion colors. The 300-nit peak brightness of the monitor contributes to the great brightness.
The ASUS VP28UQG has GamePlus features like Crosshair, Timer, FPS Counter and Display Alignment.
PROS
The monitor comes with ASUS Eye care technology with TUV certified Flicker free and Blue light filter
5-Way OSD Joystick
Crosshair lets you choose 4 different crosshair overlays
Fast Response Time
Low Input Lag
Great Image Quality
CONS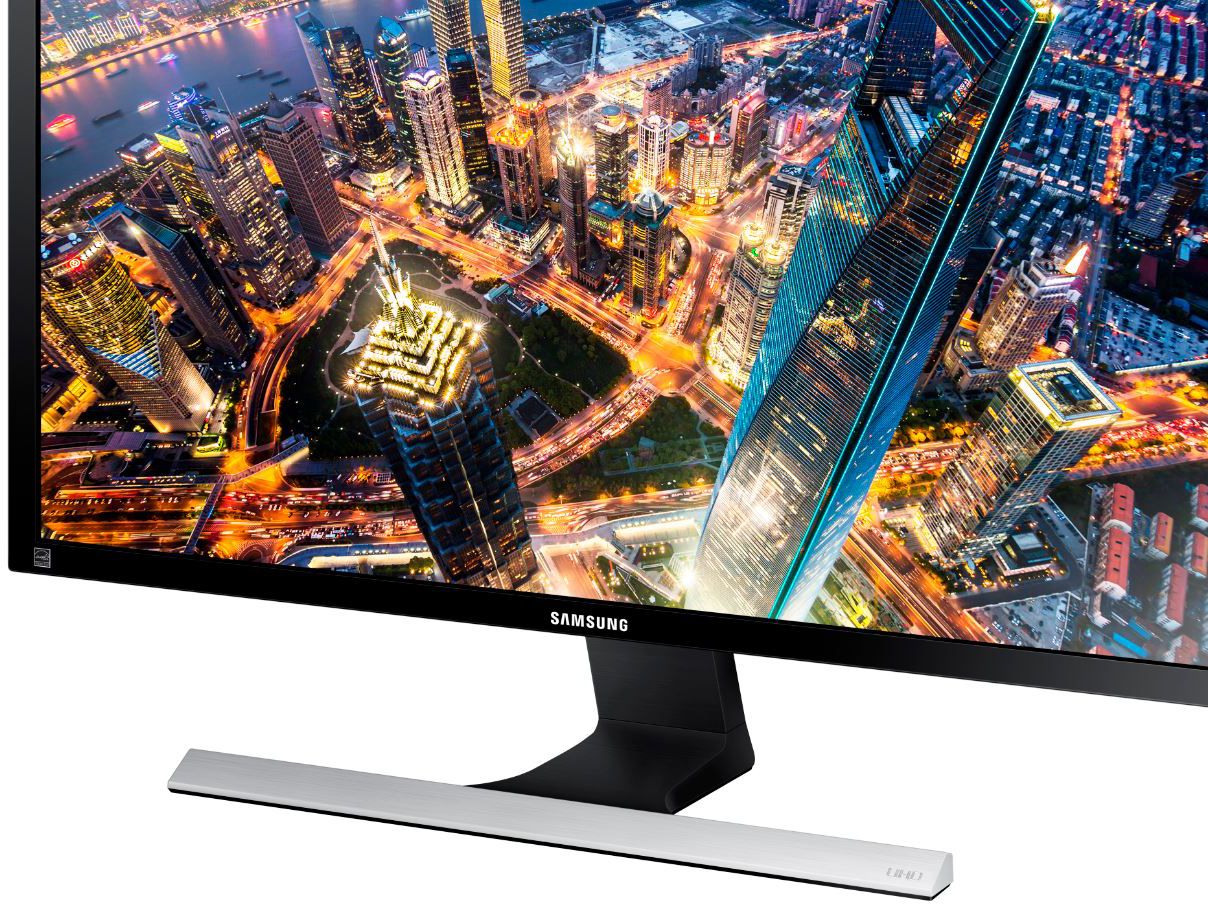 This is another popular gaming monitor because of its great performance and great price. The all-new Samsung UE590D has a stand that you can tilt but you can't adjust the height of it. The monitor also has a Vesta mount option as well. When you get home this monitor, you get a UHD resolution at a refresh rate up to 60 HZ for 4k resolution.
It has an on-screen setting option that allows you to quickly adjust things. The game mode improves darkness or brightness with the optimum balance. Moreover, you are provided with a lot of connectivity ( DisplayPort 1.2 and 2 different HDMI ports), but there is no USB port.
PROS
AMD FreeSync and 1ms response time
Low input lag
Picture-in-Picture (PIP) 2.0 technology lets you watch 2 different input sources at the same time without sacrificing on the quality
Eye Save Mode
Affordability
CONS
No USB port
Stands aren't adjustable
This one is a great HDR monitor for your Xbox One X. The 27-inch 4K IPS LCD monitor with HRD support offers a wide viewing angle and great ergonomics. The design isn't that appealing, but the display speaks for itself with its 3840 x 2160 resolutions, 60Hz refresh rate, and 1000cd/m2 peak brightness.
The Dell U2718Q offers various connectivity options like 1 DisplayPort 1.4, 1 Mini DisplayPort 1.4, 4 USB 3.0 ports, and 2 HDMI ports.
PROS
Low input lag
Slim & sleek design
Adjustable stand
Ultra HD resolution
CONS
Factory calibrated modes need improvement
Blacks are mediocre
The 32'' Ultra HD 3840 x 2160 –pixel resolution monitor is one of the best gaming monitors for Xbox One X. This monitor maintains color consistency and provides accurate and realistic colors at all angles with four times the resolution of a Full HD monitor.
The monitor is thin and has a sleek design, however, you cannot swivel it because it has a limited tilt range. Featuring HDR 10 allows the monitor to support more color levels than any other ordinary monitor. It has a 5ms GTG response rate and a refresh rate of 60Hz. Surprisingly, it delivers a great sound experience due to its 25 watt speakers. Offering great connectivity it has two HDMI 2.0a ports, two USB 3.0 ports, and a USB Type-C DisplayPort 1.2.
The monitor also has a Screen Split 2.0 feature that allows you to resize and view multiple windows at the same time. There are 14 layouts and 4 of them are picture-in-picture.
PROS
Wide Viewing Angles
Ultra-thin Bezel
CONS
If you are looking for a budget-friendly gaming monitor that can give you a good experience, then Acer G246HL is for you. The super-slim 24" monitor comes with an X-shaped stand which looks lovely and provides good stability. It has a resolution of 1920 x 1080 p with and aspect ratio of 16:9. This Acer monitor has a quick response time of 5ms and has DVI-D, VGA, and HDCP ports. The monitor also has a wide viewing angle of 170 degrees.
PROS
Acer eColor management & Adaptive Contrast Management
EcoDisplay Technology reduces energy consumption and is eco-friendly
CONS
No USB ports
Speakers are not good
These were some of the best console gaming monitors! Just keep in mind certain things like the size of the monitor, response time, refresh rate, type of panel and lastly the connectivity ports.