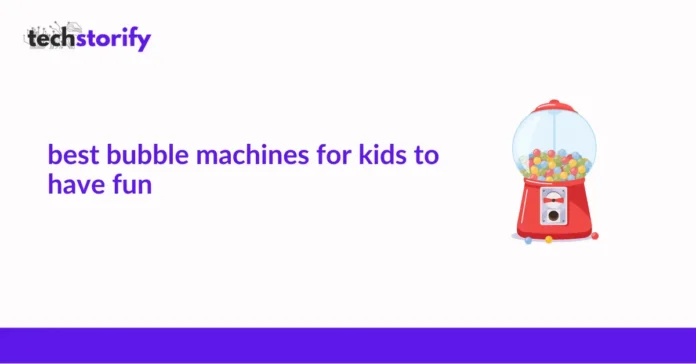 Looking for the best bubble machines for your kid's party? Your hunt stops here.
As kids we were all fascinated with bubbles, even today you can't stay still when someone is blowing bubbles nearby.
Whether it is for birthdays, weddings, social gatherings, events, or parties you can always make them better with bubbles.
Now with all the developments in the technology sector, you don't really have to blow bubbles, you can easily set up a bubble machine and create thousands of bubbles in a minute, creating an amazing environment.
If you're a party-going person then you can definitely make great use of a party bubble machine. Setting up a bubble maker machine at a party you'll create an amazing party space and give everyone a chance to have some fun.
Take a look at our list of the 10 best bubble machines and see which of these products ends up as the best bubble machine for you.
Best Bubble Machines for Kids
Available in pink, blue, and purple the upgraded, 69 hole bubble machine from Pupu Pigs is an insanely amazing party accessory.
Not only would anyone holding this gun will feel amazing everyone at the party will be in awe after seeing all the bubbles in front of them.
At only $36 you'll be getting a bubble gun that has rainbow-themed LED lights, looking amazing at night, you'll notice that the bubbles will reflect the colour and create an amazing effect for your party.
With this, you will be able to produce up to 9500 bubbles per minute and keep the fun going at your parties.
It is further fitted with a strong fan your bubbles will shoot through this and go far even without any wind.
The best joy bubble machine is perfect if you don't want to carry a bubble machine for the party.
All you need to do is place this machine on the floor and you'll see bubbles everywhere.
A unique function of this bubble maker is that it has a 360-degree spinner inserted which shoo bubbles in every direction.
It is perfect for kids' parties where you can't stay holding a bubble gun.
This solves a big party problem as at a lot of parties people just want to have fun and not hold a bubble machine.
Other features include an amazing battery life which will span up to 5 hours and a powerful motor that will blow thousands of bubbles every minute.
The rotator on this bubble machine has different settings you can either set the rotator at 90 degrees of rotation, 360 degrees, or no rotation.
This product is available at just $39.99
With this one Zerhunt has provided a best seller when it comes to bubble machines. Truly an amazing addition to parties, this one provides enough features that it has to be made extra durable.
It is capable of shooting 8000+ bubbles each minute through just a button. This product is powerful enough that it is backed up by a 9V charger, this should give you an idea about how powerful its motor is.
A 400ml tank is fitted in this machine, all you need to do is put the solution and your room will stay filled with bubbles for the next 2 hours.
You can get this product for just $33.95. Some additional features include an adjustable handle which makes it easy to carry and a speed switch through which you can control to speed of the motor and bubbles per minute.
If you're looking for an attractive bubble machine then this will surely work for you. It is currently priced at only $19.98 you can get the Victostar's bubble machine.
Its amazing design will make it harder for anyone to keep their eyes off of this.
Victostar is fitted with 10 bubble-blowing wands that spin through the bubble solution container and shoot bubbles when they come in front of the fan.
Easy to carry and use, it has a tank capacity of 150ml and requires a battery to work.
Made by BestJay, this bubble machine truly has an amazing design and it works well enough to match how it looks.
It has 16 wands of different sizes and you'll be seeing bubbles of different sizes coming from this.
With 8000+ bubbles coming out every minute, you can fill the 420 ml container and relax as this can keep on going for up to 8 hours.
The speed regulation control lets you reduce the number of bubbles if it is too much for you.
Along with the handle which helps you move this, there is also a brushless motor that reduces the noise of the machine.
This is an amazing product that can be a great addition to your party at just $31.99
This may be the first time you are hearing about Greatpro, but trust me their automatic bubble machine is truly something you should own.
At only $16.99 you can get this machine which can dispel thousands of bubbles every minute with just one press of a button.
If you're in the mood then attach the hanging rope provided in the package and you can hang the rope on your neck or anywhere that seems comfortable enough to carry around.
If you find any quality problems or are having any issues then you can easily return this item in the first 12 months of buying.
This takes bubble machine guns to another level and gives you a machine gun that shoots bubbles.
At just $24.99 you can get a bubble machine that will shoot up to 5000+ bubbles per minute.  All you need to do is insert the battery and go at it.
Some other notable features include a 3 air outlet design that will shoot bubbles from 3 different muzzles.
The 130ml bubble solution container also has a leak proof design, making it even more durable and long lasting.
This could be an amazing party toy, just hand it to someone who wants to run around with bubbles and you'll be making your party even better.
If you're looking for a low-cost bubble machine for the party, then you should know that this amazing product costs only $16.
Gazillion's bubble rush is an impressive bubble dispenser machine.
It is made for both kids and adults with an amazing design.
All you have to do is pour the bubble solution in the container and with a push of a button, you'll be amazed at how fast your room is filled with bubbles.
All of its parts are of good quality and fitted to be durable and easy to clean & use.
The design helps in providing the amazing visual effect where the bubbles will be dispersed straight upwards and then pop when they touch the ground on their way down.
This will be an amazing experience for your kids and their friends and at adult parties. You can just put this in the middle of the room and this will give a fountain-type vibe.
Another gun on the list, the Cosily bubble machine has an amazing design and comes in either pink or a black & red design. This is the only gun that you would want to trust your kids with.
At just $20.99 you can get this gun which comes with coloured lights, and 2 bottles of 50ml bubble making solution.
By just pressing the trigger you can shoot up to 600+ bubbles per minute, there is also a handle that is comfortable to hold on to.
Other features include a 10-hole design, high and durable quality material, leak-proof build.
Seeing how amazing this product is you'll be glad that you spent those 20.99$.
The Bennol machine gun is the perfect toy for your kids at just $13.99. This is capable of shooting up to 5000+ bubbles per minute.
It is made to be durable and has the features to be needed for a long period of time, also being leak proof.
The LED lights installed will make it even better to use this, your kids especially will be having a lot of fun running around with this.
In addition to its unique design, there is a powerful motor and an air intake radiator, this makes the bubble blowing process better with reduced noise and makes it stable.
The Bennol bubble gun is lightweight enough to carry around even by your kids.
Overall this is a pretty amazing device that has the perfect balance between affordability and features provided.
Conclusion 
Now that we have given you our pick for the top 10 bubble machines for parties, it is up to you to choose which one to go along with.
Make sure to go through the list again to make sure which one suits you and your parties the best.
Also Read: