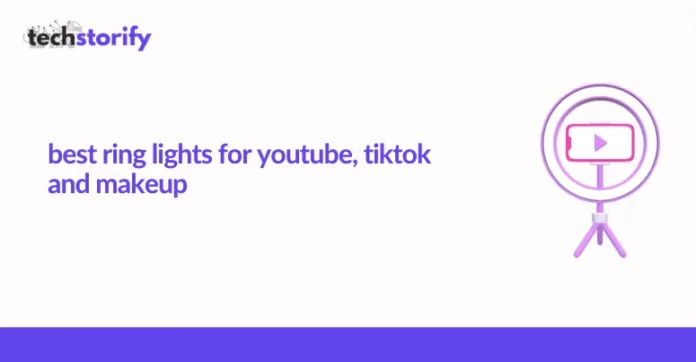 It is important for creators to maintain shadowless lighting in their videos or photos. High-quality cameras are not sufficient for maintaining the video and photo quality, therefore creators choose the best ring light for your setup.
A newbie or a professional should learn that there are various types of lights available in the market that can enhance the quality of your videos and photos. If you have no idea of which ring light is the best in the market, you are in the right place.
In this article, we will be writing down a descriptive review of the best ring lights for your setup. You can use these lights for your makeover setup, TikTok setup, and even youtube setup.
Things to consider before buying Ring lights for setup:
Brightness: You need to check the brightness of the ring light, the intensity of the light's brightness is not the same in every ring light.
Spare parts availability: Another thing you should consider before purchasing a ring light is how easily its spare parts are available in the local market or online market.
A branded ring light won't require any further expenses in the future, but if you are choosing a local and low-budget ring light, you need to ponder upon this.
Durability: Lastly, you need to check the rigidity of the ring light. A fragile ring light will break easily, therefore choose a tough one.
---
Best Ring Lights For YouTube, Tik Tok, Makeup Artists and Photographers
The best ring light should be portable and have all the necessary features with an affordable price tag. If this is your requirement too, Honly Selfie Ring Lights is a product you can consider and it is a ring light YouTubers use to shoot their videos.
The ring light is portable and can be taken to other places easily to shoot videos or take photographs with your smartphone. The 36 LED light bulbs emit high-quality light making the surrounding bright and taking amazing photos and videos.
The light can be attached to your smartphone with an adjustable clip and is compatible with all types of smartphones. One complete charge can light up your world for 5 hours straight.
Pros:
Portability
36 bright LED bulbs
Rechargeable battery with 5 hours of backup on one full charge
Cons:
Only for smartphones
Lack of tripod head and stand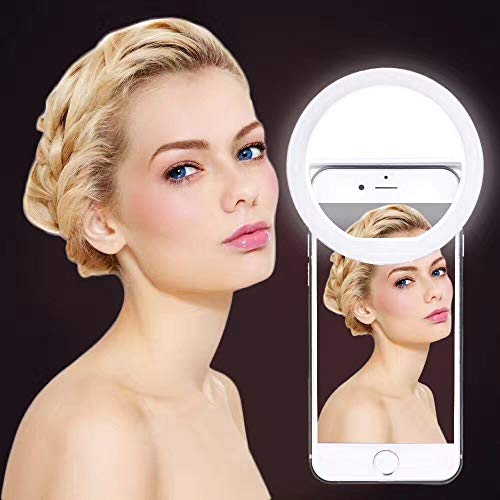 ---
If you are a photographer or a videographer who creates content for TikTok or youtube, Neewer Camera ring light will add quality to your photos and videos. It has been launched recently keeping in mind affordability, and portability.
You can attach it to your smartphone or camera, whichever you prefer. The ring light has a diameter of 14″ along with a circled fluorescent light that helps in taking shots without any lighting or shadow issues.
Moreover, it requires an AC power source to work and runs at 50W and is ideal for portrait photoshoots and shooting videos even in low light. It is portable and can be easily carried in a travel bag as it doesn't have a stand or tripod head.
Pros:
East to carry in a bag
Operates on 50W
Perfect for video shooters
Cons:
Doesn't comes with a tripod head
Lacks support for the stand
---
If you are in search of a professional ring light for your makeover setup or video shoot setup, consider reading the review of Digitek LED Ring light. There are 240 LED bulbs embedded in it making it the best ring light in this list.
To power it up, you can use AC or DC power supply, which therefore makes it handy for places where an AC power supply is not available. You can attach it to a stand and rotate it to up to 180 degrees and 360 degrees on a smartphone camera.
Pros:
Comes in three variants: 6, 10, and 12 inches
6 months warranty
240 bulbs to produce high-quality light
Cons
You need to buy the stand separately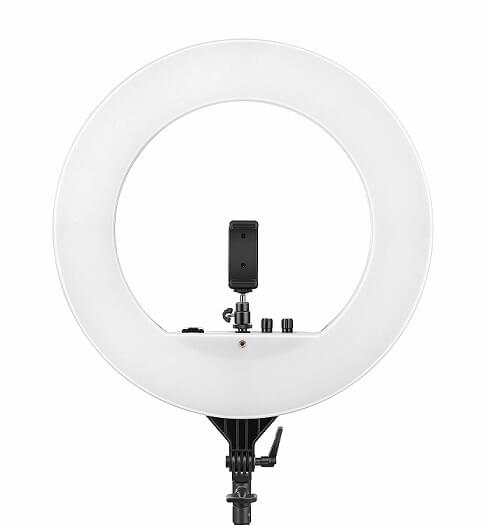 ---
Apologies for listing this ring light at the fourth position, but the best part of the story always comes at the end right? Each shot ES240 has everything you would require to shoot a high-quality video even in the worst lighting conditions.
The ring light comes with a light stand, phone clamp, and a tripod head, making it a complete lighting kit for smartphones and cameras. Everything is made up of the best raw material ensuring durability and rigidity.
It has a diameter of 18″, is powered at 55W supporting DSLRs, digital cameras and of course, smartphones. EACHSHOT ES240 is the best deal for YouTubers, tiktokers, and makeover artists.
Pros:
240 LED bulbs
Best for content creators and makeover artists
LEDs emit less heat
A complete kit with tripod head and stand
Cons:
An imbalance between white and yellow
Portability issues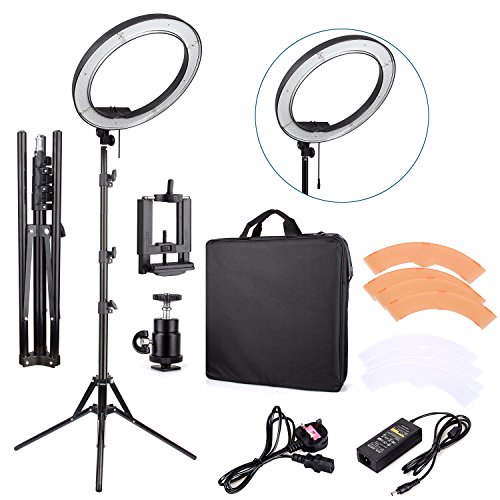 ---
Auxiwa Clip-on Selfie Ring Light is an ideal ring light for those who shoot videos and pictures from their smartphones. The durable design and portability make it a considerable ring light amongst the others.
Connecting Auxiwa clip-on to smartphones is easy and taking high-quality pictures and videos after that is easier. Youtubers and artists of the other platform can consider purchasing this ring light if there are no additional requirements such as a stand.
Pros:
36 LED lights
You can recharge the battery
Specially made for smartphones
Cons:
---
In Context…
To grow your audience and improve the quality of your videos and photos, a ring light helps in a lot.
In this article, we have penned down a review of 5 best ring lights that can be used by professionals and newbies.