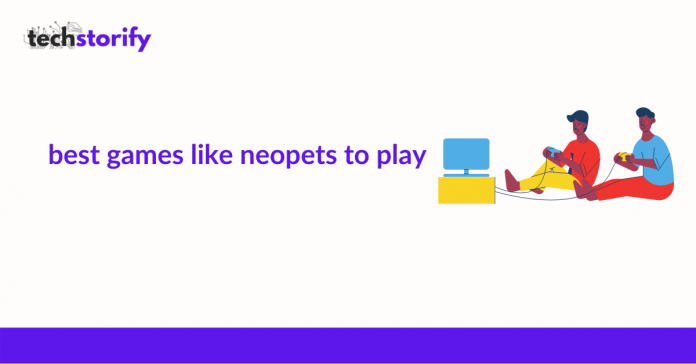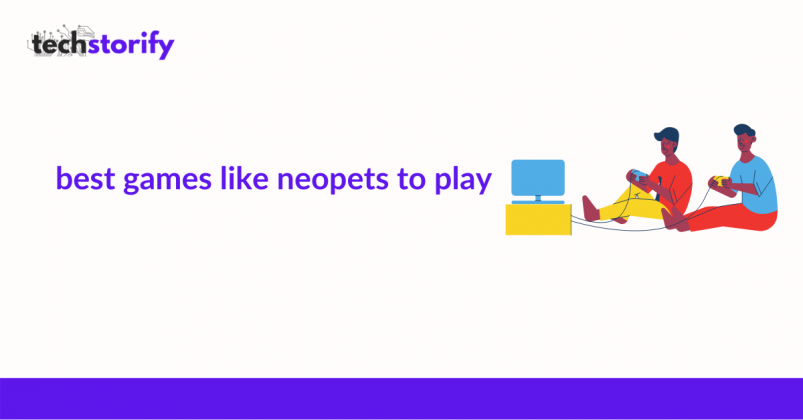 Neopets is a popular virtual pet website that has been around since the late 1990s. It allows players to create and take care of their own virtual pets, play games, explore a virtual world, and interact with other players.
It provides a real experience for all pet lovers across the globe who don't have any pets. Neopoints can be earned by performing various tasks given to the gamers and they can be utilized for buying different items for the pets from the virtual pet stores.
Over the years, Neopets has attracted a loyal following of players who enjoy the site's fun and engaging gameplay. If you're a fan of Neopets and are looking for similar games, this article will give you some ideas.
There are various games like Neopets which are in high demand.
15 Best Games like Neopets 
1. Pet jam
It is an Online, Multiplayer game that is designed for kids as well as for people who like to play online games on their PCs, tablets, mobile phones, etc. It is created by WildWorks.
Main features:
The game interface consists of 3D vivified cute pets which attracts gamers across the country.
The gamer or user can choose his creature and can customize it with various things to make it unique.
The gamer can converse with other online players, can play minigames together.
The game provides a treasure-oriented journey interface to spice up the game. So download the app, Play minigames, chat with other users, etc. Give it a shot.
2. WOLFQUEST
It is one of the major games like Neopets which is based on Wildlife Simulation technology. and creates a forest-like atmosphere and there are enormous activities to do.
This game leaves you alone as a Wolf yourself. At the start of the game, you will start behaving like a small wolf.
Main features:
The main task is to just start discovering the methods for the Wolves by associating in your introduction to the world Pack.
You can mark your own region with your friend, take care of your little dogs, feed and train them and protect them from every threat in the game.
Due to the good visuals, sound effects, and various fun activities, WolfQuest is a perfect gaming option for all the gamers out there.
3. Moshi Monsters
Moshi Monsters is one of the games like Neopets available on a digital platform. It was one of the most favorite online gaming platforms for children aging between 6 to 12.
It has over 80 million registered users. It was developed by Mind Candy.
When you enter the map of MonstroCity,  it becomes easier for you to discover the game world or play trendy video games with other online gamers, communicates with them socially, and make new close friends across the internet.
Main Features:
This online provides its own unique Economy guideline which allows you to make Rox, Virtual Currency by playing and winning games.
You can communicate, and connect with various other online gamers and play with them.
It has open-globe gameplay, attractive visuals, and advanced gaming effects.
4. HORSE ISLE
Horse Isle is an (MMORPG) first released in 2007.  Horse Isle: Legend of the Esrohs was the second edition of the game released in 2010 with more advanced gameplay.
The third version was Horse Isle 3: Infinite Wilds -released in 2019. It is based on the latest technology and is the only 3D version of this game.
Main features:
Horse Isle is built like a virtual world where the players can capture, train, breed, and take care of their horses. This game offers several breeds of horses and an arena for competitions in which the players take part in.
The minigames feature is based on educational materials, focusing on mathematics, science, and problem-solving.
The game also enables gamers to earn money and purchase their own horse ranch.
5. FANTAGE
Fantage is one of the major games like Neopets and one of the best Virtual Pet games available to play online. It is an Educational MMORPG Virtual World developed by Fantage.com which takes gamers to a Virtual globe and provides various online games as well as tasks.
It lets u explore an online game world, which is different from the world we live in. It connects you with various gamers across the globe to play competitive matches and enjoy it together.
Main features:
The game enables you to develop your Online Cartoon Avtar. Altering their outfits and designing them with all the available items like gizmos.
This game allows you to enter into a gaming world, make brand new friends, chat with them and play video games together.
6. Proptropica
Poptropica is a unique game that supports online role-playing. The game is primarily based on problem-solving through game scenarios, called "islands."
All islands provide a winning reward to their gamers which is a virtual currency. It can be used to buy costumes and other items from the Poptropica stores.
Main features:
The first version of Poptropica only had one island. It was titled Early Poptropica Island. According to the latest version Poptropica has 58 islands to be explored, each one having a different theme:
Back Lot Island has its own features. It allows the players to produce a movie, and Super Power Island, in which the target for the gamers is to defeat six supervillains.
The players can get 150 credits by reaching the final destination. They can spend it in the Poptropica Store.
Goatlings is one of the major games like Neopets. It is a Freemium MMORPG Virtual Pet World for all age groups.
You can log in and choose your own online character. As the name suggests, Goatlings enable you to adopt a lovely goat and also care for that as your Pet.
Main features:
You can train your pet dog, educate them, and visit different quests and perform all the given tasks and collect various products.
Goatlings provide you with an opportunity to socialize with other internet users, make close friends, and participate in different fun-loaded activities.
It has an advanced gaming interface, fun activities, attractive landscape sound audio and video effects, etc. Goatlings is a wonderful game to play.
8. Jump Start:
JumpStart, also known as Jump Ahead Uk-is an educational franchise for children, to improve their way of learning through various gaming activities which provide entertainment as well as serve new ways of learning for the kids.
This is one of the games like Neopets which consists of educational PC games but now has expanded to various media and now it is compatible for mobile phones too.
Main features:
The purpose of this game is to help young players in specific subjects and skills, as required by the elementary and secondary school curriculum.
To make this, even easier, the drills are supported with entertaining gameplay which attracts the kids.
It is a unique gaming platform that makes learning easy and entertaining for children.
9. Life
Life is also an online role-playing Simulation developed by Imigea Ltd and was launched by Gamevial. The video game revolves around a jungle-themed game world and offers an open environment populated with different animals.
To enter into the game, the gamer needs to represent the animals. You can customize the appearance of your pet according to your will. You can take the role of various animals starting from lion to lizard in this game and explore your gaming skills.
Main features :
The main focus of the game is to survive in the virtual globe as long as possible.
The gamers can explore various atmospheres to hunt for food, remainder, as well as water. They can connect with other gamers, chat with them, etc,
The gamers have to defend themselves from numerous wild animals and other obstacles.
The hardness of the game increases as it advances. With the best graphics, advanced functions, etc it is the very best MMORPG Simulation to play.
10. ToonTown Rewritten
ToonTown Rewritten is a free-to-play online role-playing computer game. It is a perfect substitute for Neopets as it provides enormous activities and tasks to its users.
As the name suggests the design of the game is based on a Toontown, which is attacked by the dreadful Cogs who need to transform every Toon directly into Cog and change the Toon structures directly into the Cog structures.
The cogs should be defeated to make the Toon Town cog free but not with brutality.
Main features:
The ToonTown game has various tasks which comprise battling to overcome the Cogs, makingToonTown cogs free, riding, and other assignments which can give the gamers a feeling of being a warrior.
It has exceptional and advanced gameplay, high graphics, funny activities, clear audio, and visuals that can satisfy all the needs of the modern generation.
11. Animal Crossing: Pocket Camp
Animal Crossing: Pocket Camp is one of the games like Neopets that is completely free to play.
It is a Single-player and Multiplayer game that was launched by Nintendo for mobile phones such as Android as well as iPhone.
Main features:
The gamers can decorate the village. They can gather products like cotton as well as wood for the making of furniture.
The Cartoon Avatarcan visits various places like Saltwater Shores, Sunburst Island, etc. Go, give it a shot and showcase your gaming skills.
12. THE SIMS 3: PETS
This game is the fifth version of The Sims 3 family. This recent version has more clarity and additional features than the previous versions. This game revolves around the spic and spans a local area called Appaloosa Plains.
The local area in the game is crowded with various shops and stores.
Main features:
The gamer can tailor various pet canines comprising of pet felines, canines, etc.
He can select his favorite creature, can take care of that creature in various ways, and can customize the creature to enhance its look.
The gamer can Investigate and find treasure utilizing the pets, can uncover secrets, and can perform various activities along with their pets.
13. Webkinz
Webkinz is one of the top-rated online Virtual gaming worlds for all Pet lovers across the globe. It enables gamers to get into the video game world by becoming an online Pet Avatar.
The players can sign up on the Webkinz internet site and can begin.
Main features:
Webkinz was originally introduced by Ganz(a popular Canadian toy company)
The real toys of the Ganz are the same as the toys used in the gameplay of Webkinz.
Ganz allows toy buyers to find a code that enables them to have the exact very same virtual version of the Pet. It is a very attractive marketing policy.
14. Animal Jam
Animal Jam is a  Fantasy-based Virtual computer game by the National Geographic Society. Each environment is specialized with different joint facts, games, social interactions, online stores, etc.
Main features:
Your part in this game is to act as a pet customizer.
You can improve the skills of your pets and customize them according to your will.
You can also enhance their qualities through various options available in the gameplay.
15. Animal Society
Animal  Society falls under the list of games like Neopets. It was developed by Playfish as well as Electronic Arts (EA).
It is one of the best-rated games and is highly dedicated to all Pet Lovers around the globe. Unlike other games like Neopets, it can be played only on Facebook only.
It offers a real-life experience to all pet lovers and due to the availability of the social network, it allows players to communicate with others across the internet.
Main features:
The various task that the gamer has to perform are washing, feeding, and training various other player's pet dogs.
This game has its own currency types that could be used to buy upgrades and also other essential items.
Conclusion
So, there are various games like Neopets that can provide the same virtual experience as Neopets. Even with the advancement of technology various games like Neopets have taken their gameplay to an advanced level.
The original versions of these games had multiple issues which includes-poor background and graphics, inefficient gaming controls, poor design of the game, hazy visuals, etc. But the latest versions of these games have implemented many changes to their gameplay.
Almost every game provides 3D-designed gameplay, better graphics, and clear audio and visuals. The games are now compatible with iPhones, android phones tablets, and PCs.It provides a real-life experience to the users and the gaming controls are better than previous versions of them.
Similar Games Related Articles