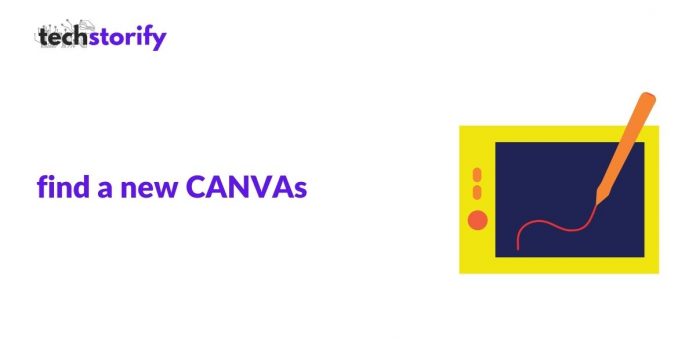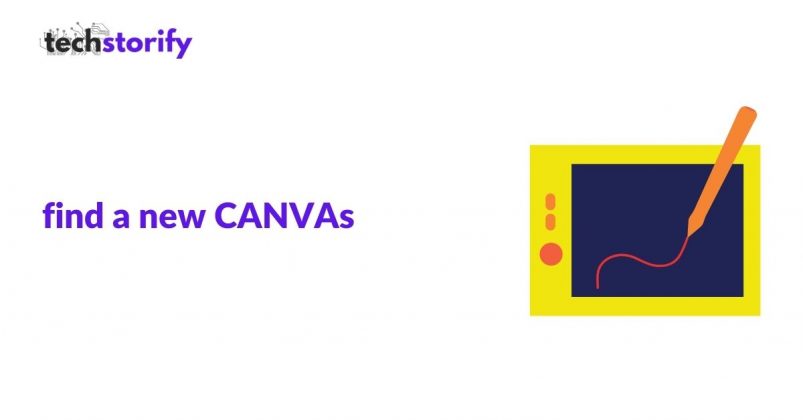 We never thought that there are so many Canva Alternatives.
Canva is one of the most popular design applications in the world after the Adobe suite. The reason why it is so popular is because of its simplicity and DIY model. You don't have to be a professional designer to use Canva. They gained popularity with their pre-made templates.
We personally use Canva as the primary design tool for Techstorify. As we are an independent blog, it is not possible to hire a designer. Hence, Canva. This is the exact reason why people use Canva so much.
Canva Overview (Before we jump to Canva Alternatives)
Canva is an Australian brand that was founded in 2013. Surprisingly, they were an instant success. They were not the first movers in the market for a DIY Design application but because of their super easy interface, they gained a lot of users.
Top Features of Canva
1. Templates
Canva has a huge library of pre-made templates. Be it a social media post or a book cover. They have covered all the major marketing collateral in their template library. All you have to do is pick a template and start editing it.
2. Stock Images
Canva also has a massive free stock image bank that you can use to design your creatives. All you have to do is search it with a relevant keyword and you will find hundreds of free images.
3. Real-time collaboration
A paid feature but an amazing one to have. If you are a Canva Pro user, you can invite your team members to work on a design just like Google Drive. This will make things faster to execute.
4. Canva Design School
One of the best benefits of using Canva is its education system. Canva Design School has a plethora of content to learn from. From understanding the basics to learning advanced tricks, they have it all.
We had also created an in-depth Canva Review in the past, you can check that article for detailed features.
Best Canva Alternatives
1 – Relay That
Relay That is a smart designing app that will make your task a lot easier. It has a similar template and stock image library just like Canva but works on a slightly different model. You can import your brand assets and then it will suggest you various designs.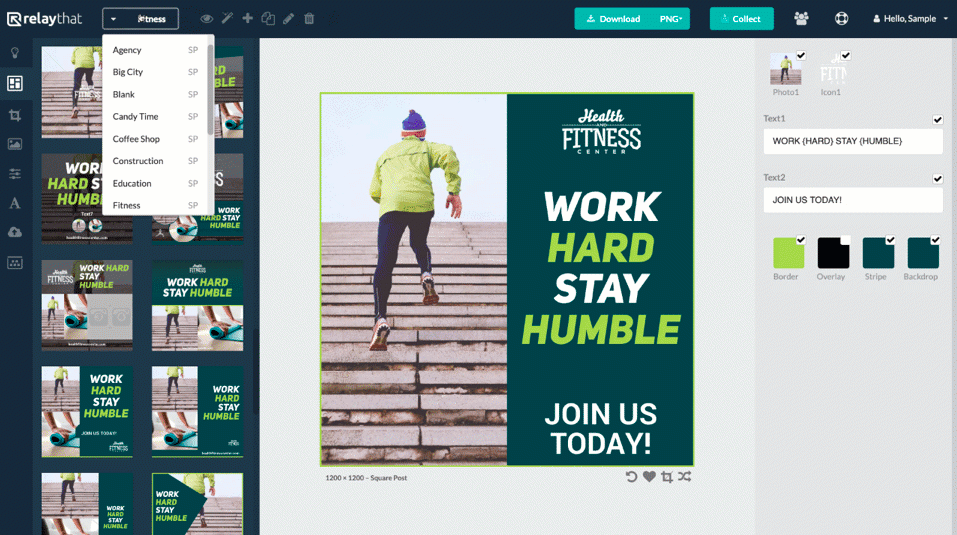 One of the good things that make it one of the top Canva alternatives is the magic re-sizing feature. You can instantly create banners, social media posts, and a lot of other marketing collateral.
Price – Paid plan starts at $25 per month.
2 – Pixlr
Pixlr is slightly different than Canva due to its image editing capabilities. Pixlr is an amazing photo editing and post creation platform. If you have a requirement that requires a lot of image editing, you should definitely use Pixlr because Canva is not that strong there.
You can do wonders without using Photoshop and is a good alternative for it as well. You can easily blur backgrounds, remove unwanted elements, and crop the image using the AI feature to crop. Overall, you can do a lot of things easily.
Price – Starts free; paid plans start at $4.90 per month, billed annually.
3 – Tyle
As we all know, video content is the most loved format on Digital. A lot of brands have completely stop creating static designs. Now, creating video content for social media might get difficult in Canva. Tyle is one of the best video creation on our list that is a great Canva alternative as well.
Price: Starts free, paid subscription starts at $31 per month.
4 – Piktochart
One of the challenges that I face with Canva is data visualization. And no, those infographic templates don't help. This is where Piktochart comes into the picture. Picktochart is one of the best Canva alternatives and data visualization tools out there.
If you are looking for something that can help you make those complex and beautiful charts and infographics then Picktochart is the one for you.
Price: Starts free; $29 per month for Pro subscription.
5 – Stencil
Stencil is like a mini version of Canva. If you are facing challenges with Canva and find it difficult then Stencil is one of the closest Canva alternatives out there. It has similar features, a lot of stock images, templates, and a simpler interface than Canva.
Price: Starts free; $9 per month for the pro subscription, billed annually.
6 – Easil
Easil is a great combination of Canva and PhotoShop. With its advanced photo editing capabilities and similar interface as Canva, it is one of the best Canva alternatives out there. You get a combination of stock images and animation templates for flexible output. You can design content for digital easily and even print them directly if required.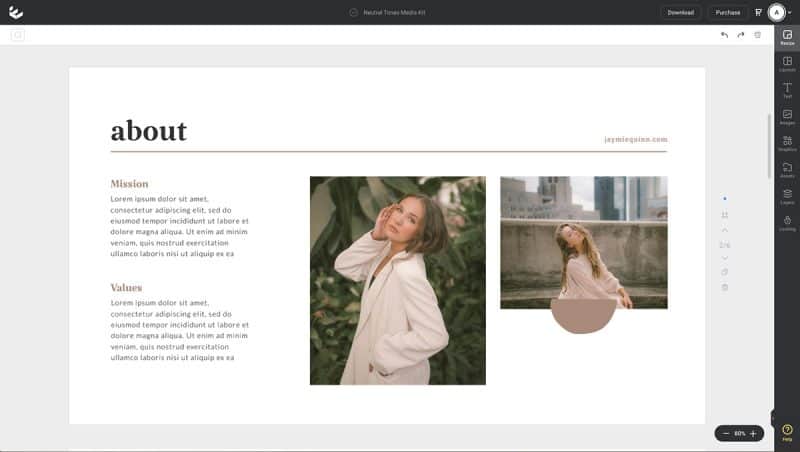 Price: Starts free; $7.50 per member per month for Plus subscription.
7 – Visme
Visme is a dynamic designing tool. This one tops in all factors as a perfect Canva alternative. You can create social media posts, charts, posters, infographics, and more marketing collateral as well. It also has an audio and video feature which is amazing for any content creator out there.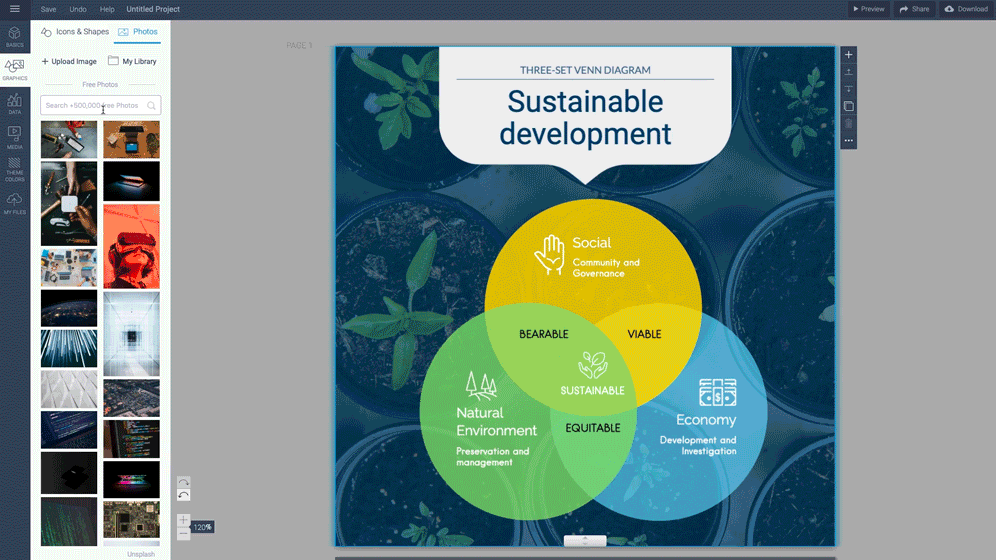 Price: Starts free; paid plans start at $15 per month, billed annually.
8 – Crello
A lot of these mentioned Canva alternatives miss one amazing feature. Animation! Canva has some animation templates and elements. However, Crello is the one that stole the show with its animation capabilities. We all know GIFs are lit AF. So, if you are looking to create social media content that has some cool animations then Crello is perfect for you.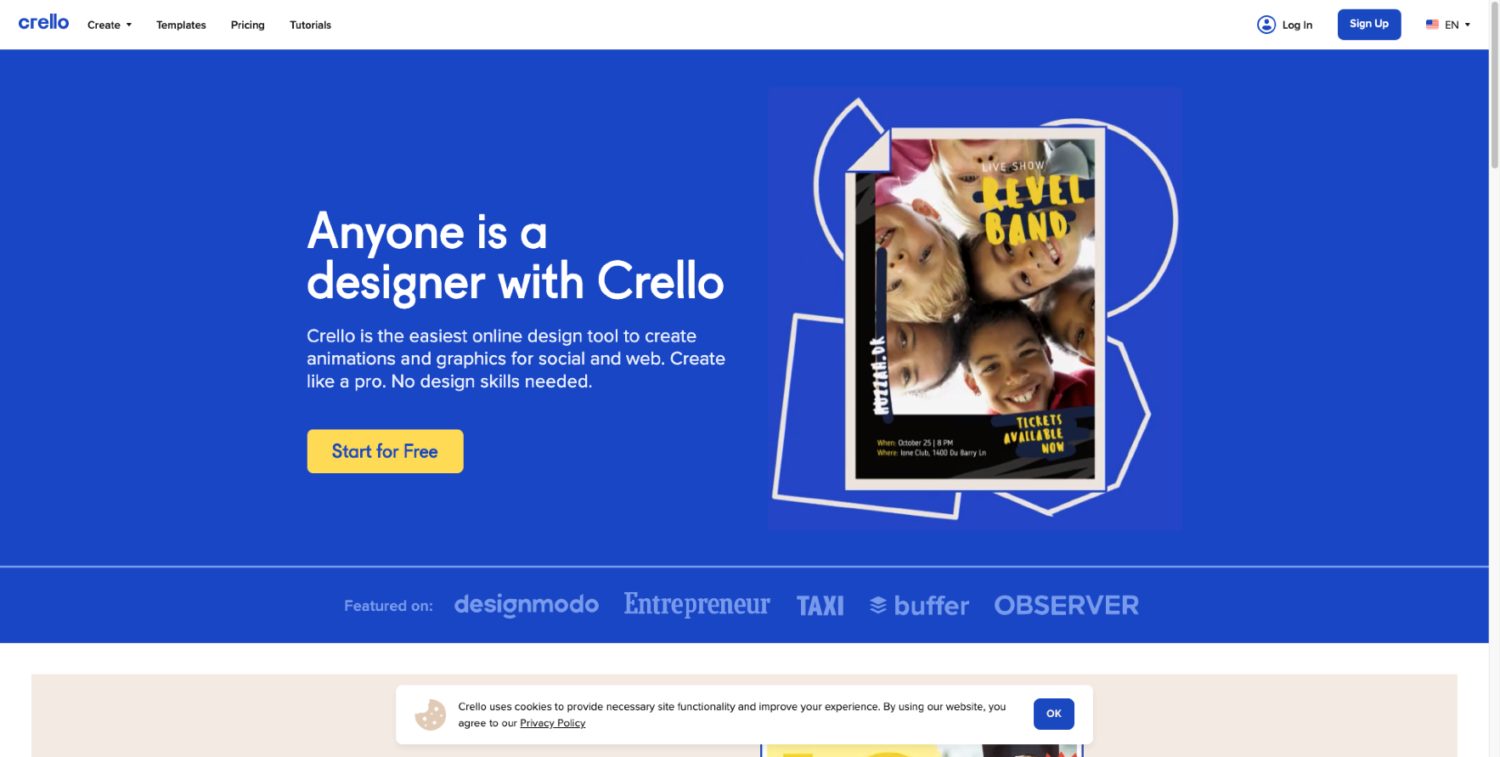 Price: Crello Pro starts at $7.99 per month, billed annually.
9 – Snappa
Snappa is yet another brilliant DIY design platform that helps you design content in a jiffy. With similar capabilities as Canva, it is one of the simplest design platforms. One great feature that we like is importing your own fonts. Earlier, Canva faced trouble with this specific feature but now they have a brand kit option in the pro version. Snappa also allows you to import your own font.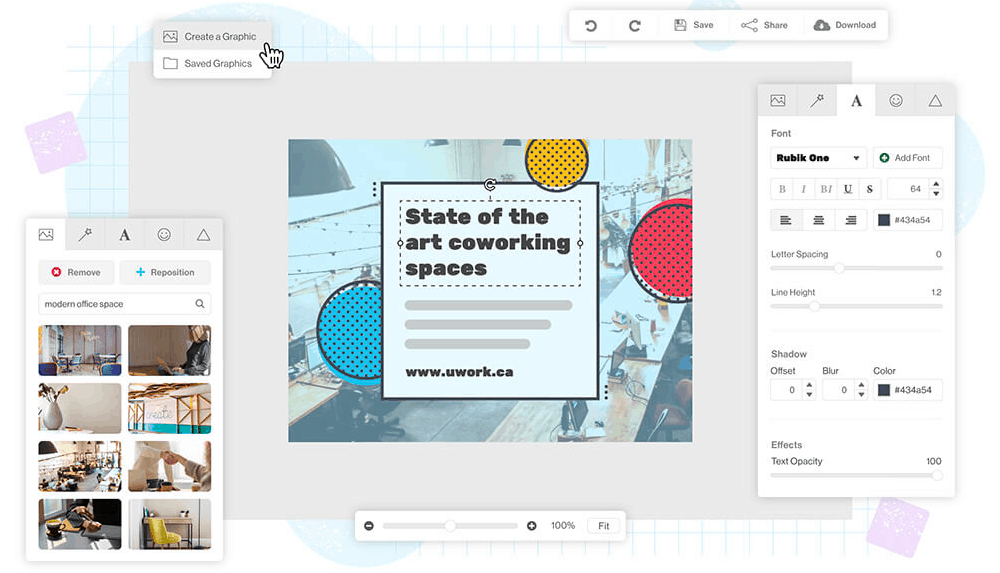 Price: Starts free; paid plans start at $10 per month, billed annually.
10 – Desygner
We are down to our last tool and it is an amazing designing platform called Desygner. It is very similar to Canva and has similar features. There are different apps for specific things. For example, if you just want to design or if you want to create a logo. You can use the specific Desygner app. I like the way they have organized certain things. It will help you do a lot more than graphic design.
Price – The free forever plan comes with restrictions while the Premium plan is priced at $9.99 per month with full access to all the available features.
Wrapping Up
Designing has been made easy by the mentioned platforms. You can always use multiple tools as per your requirement. Every site like Canva has some unique selling proposition. You should be able to understand your objective clearly so that you can evaluate these tools.
Every DIY tool will have a free version but the best features come with a price. Always look for the most relevant features and then invest.
One of the most important reasons to go for a DIY design tool is being more productive. These productivity apps are designed to help you finish the work with speed.