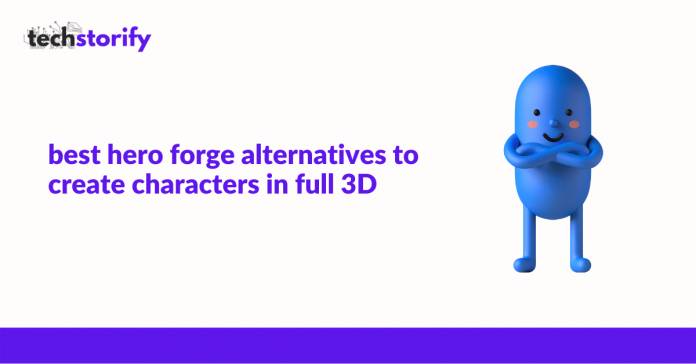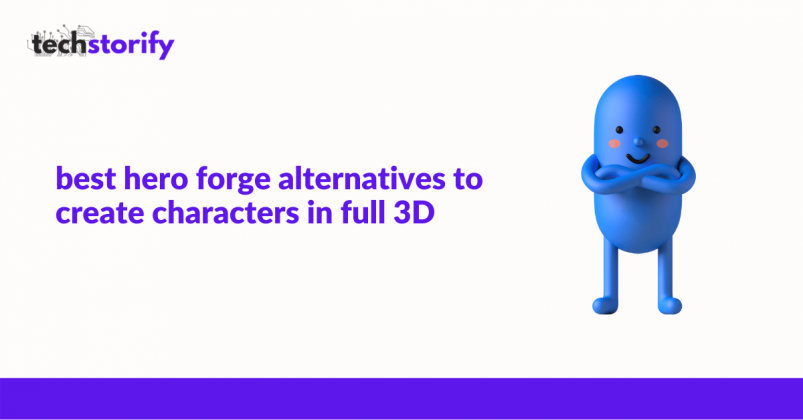 3D printing since its inception has made great strides when it comes to printing technology. Hero forge is among the best aids at your disposal for creating a model or for designing miniatures of different kinds.
Hero Forge comes equipped with a variety of options for miniature designing. As a user, you can choose the gender, change the costumes and also make changes in the expressions of the characters by using this tool.
With the help of this tool, customizing the miniature is very easy for the user. Heroforge is used much by people because it is easy to use and making changes is not very difficult.
But many users are looking for alternatives to Hero Forge for customizing their 3D models. We have compiled a list of the ten best alternatives to Hero Forge that you must know about.
Best Hero Forge Alternatives To Create Characters in Full 3D
This tool is well known for the 3D characters that the user can create with it. It also has great modeling capacities.
Eldritch Foundry is pocket-friendly when compared with Hero Forge. It also is equipped with pre-set and designs for different characters.
You can select from a wide range of clothes and different poses for the 3D characters.
Using this tool, a user can share their innovative ideas with other on different social media platforms like Twitter, Facebook and so on.
Eldritch Foundry is user-friendly and any user can use this application for making amazing 3D miniature designs.
2. Hero Mini Maker
This is another good alternative to Heroforge that one must know about. Every aspect of the miniature that one creates must be perfect and also unique.
Otherwise, it will not attract the eyes of the audience. With Hero Mini Maker you can make modifications to every part of the design.
This tool is preferred by many users because it has a clean and very user-friendly interface. It also has great offerings and amazing features.
One can make miniatures by selecting them from over eight hundred styles available in the tool.
Are you looking for different poses?
Then do not think much as this tool has a variety of poses for the benefit of the users. You have different poses for the legs, hands, and also different shapes of the body.
The designer gets the option for mixing and matching from the available options for bringing the character to your mind in the form of a miniature.
One can also add costumes and other add-ons to the 3D character. Helmets, cloaks, masks, or dresses- you can change anything and everything on this tool. This can be regarded as a boon for miniature designers.
3. Desktop Hero
The next good alternative to Heroforge is Desktop Hero. If you have a budget constraint, this can be a good tool for designing 3D miniature designs.
This is the most pocket-friendly alternative to Hero Forge that one can find. One can find the same number of options that they can find in Hero Forge but at a low cost. Hence there is a demand for this tool among miniature designers.
It comes with different functions and helps miniature designers immensely. You can customize every part of the 3D miniature that you design using this tool.
Select the gender, alter the pose and change the facial expression using Desktop Hero.
Using Desktop Hero is better because you can share your work on different social medial platforms and let other designers know about your creations.
You can also see the work done by the other designers and get inspired. This will help to better your 3D miniature art.
4. Thingiverse
Thingiverse is another alternative to Heroforge that you must know about. This tool does not have as diverse features as you can find in Hero Forge.
It is also not comprehensive like Hero Forge. However, it has the basic tools you need for creating 3D designs.
With the help of the simple user-friendly interface and the adjustable designs, it becomes easy and configures the 3D miniatures.
You can create poses for the characters, design action figures, or even animals using this tool, Thingiverse.
One can also add dress and armor to the characters and this makes designing even better.
5. Anvl.Co
If you want an alternative to Heroforge that comes with a good user interface, easy workflow, and amazing features, then Anvl.co is the answer to your search.
With the help of this tool, you can easily design 3D miniatures from the expansive library of designs and characters.
This pocket-friendly tool has endless options for miniature designers. Design your character, give it a good costume, provide the character with necessary weapons and armor and make it the ideal miniature design of your dreams.
Anvl.co has an existing library and you can get good ideas from the library for making great 3D miniature art.
Using this tool is very easy as it comes with an easy interface.
6. Creature Caster
This is regarded as one of the best alternatives to Heroforge. As the name suggests, this tool enables users to make miniatures of their liking.
Each miniature that you make using this tool is a perfect one with elaborate designs.
You can use this tool for making resin miniatures and statuettes. This tool is indeed the go-to tool when you are designing resin miniatures.
You can use the wide array of choices for mixing and matching and making an innovative character.
This is one of the best alternatives to Hero Forge because when you compare the work done using this tool, it is better than the others. Hence, this tool is very popular worldwide.
7. Cults
If you are looking for a Hero Forge alternative that can give you access to a huge database of designs, then Cults is the best option at your disposal.
Cults have about sixty-five thousand designs for users. It can be described as a warehouse as all the renowned characters that one has watched or read are available with this tool.
The options for creating 3D miniature models are endless using Cults.
It comes equipped with a simple UI and the workflow is also easy to handle. The site gives designers and printers a great platform for showcasing their creative skills.
8. MyMiniFactory
As the name suggests, MyMiniFactory is a tool that comes with an expansive 3D model library for users.
It also has a printable form. One can get access to action figures, and animated characters in detail using this tool.
Most of the 3D models on this tool are free. However, there are some models for which you have to make a payment.
The software is user-friendly when you compare it in terms of interface with the other tools.
9. PcGen
It has been seen that most individuals who are working in the field of miniature designing, often search for open-use software.
In layman's words, this means that the software will be available for free for the users. This is a great and free alternative to Hero Forge.
The tool comes with many customization options for designing 3D miniatures.
The benefit of using this tool is that despite it being open-use software, there is no problem with bugging or ads when you will be working with it.
One can go on designing without any interruptions with the huge range of choices available with this tool.
10. Gambody
Another alternative to Heroforge that the users must know about is Gambody. This site has a great collection of 3D designs and different characters for the benefit of the users.
The mythical characters from different games and stories found in this tool are also of much use to the users.
The collection is so expansive that you will be at a loss to pick up the best characters for your needs.
Another added benefit of Gambody is that you have the option of printing the designs that you have made.
This is an ideal place for users who require 3D printing models for purchasing and selling purposes.
The price will vary depending on the nature of the character that you will be designing. The more you add to your 3D character, the more will be the price.
This is helpful for the designers as they are aware that they will only pay for the designs that they will be adding to this character.
This is an important reason why users prefer Gambody over other tools.
Conclusion
3D miniature tools like Hero Forge and others are a new trend that is here to stay. With the help of tools like Hero forge, a user can make new 3D miniature models for their use.
This enables them to explore the field of 3D miniature printing and designing.
Most of the tools that we have discussed earlier are at par with Hero Forge. Some among them are even better than Hero Forge while others can help you out by giving models at affordable prices.
This pricing is often the reason why users look for alternatives to Hero Forge.
If you choose a tool that has a library of its own, designing will become easier for you. However, if you want to make an exclusive 3D design, then start from the start and make a new model.
Select a tool that will make your work easy. This will help you to bring your inner creativity to the forefront and design amazing 3D models.
Happy designing!!