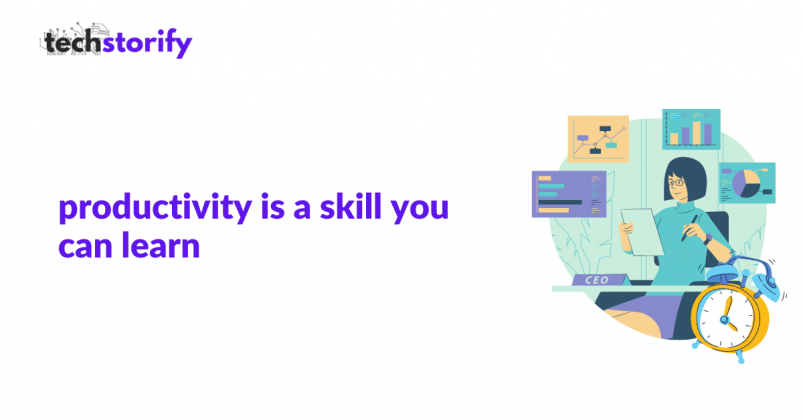 Does Productivity Apps work?
As Bruce Lee said, "If you spend too much time thinking about a thing, you will never get it done."
Productivity is all about prioritization and focus. We spend a lot of time contemplating a task that leads to procrastination and eventually it is delayed. If you are someone that has a lot of tasks on your plate, you might want to organize them first before starting them. Everyone has their own style of working and having different productivity levels. Some are checklist freaks who always are in a hurry to finish tasks and some are stuck in simple tasks only.
We are lucky to be a part of a generation that has the perks of a beautiful thing called technology. Today, there is a plethora of such productivity apps that can help you be more productive.
We have curated 15 such productivity apps that can help you perform better. 
Best Productivity Apps
1: Serene (macOS)
$49/year, free trial available
The first app that we are listing is a macOS app that helps you organize your day better and make sure that you are hitting those targets. Quite popular among freelancers, Serene helps to breakdown your daily target into micro tasks and assist you throughout the day to stay on track and finish them.
You can actually operate like a productivity machine with this app. It has the basic features of a daily planner but some amazing features like – Website blocker, ad blocker, focus music, session timings, and breaks. All of it helps you achieve your daily goal without a miss.
2: Wunderlist (Windows, Mac, iOS, Android, Chrome, Safari)
Free or $4.99 per user
Wunderlist is an excellent task management app that is designed for individuals and teams. A lot of features are like Trello but much better. You can create individual task folders and manage your daily to-do list conveniently.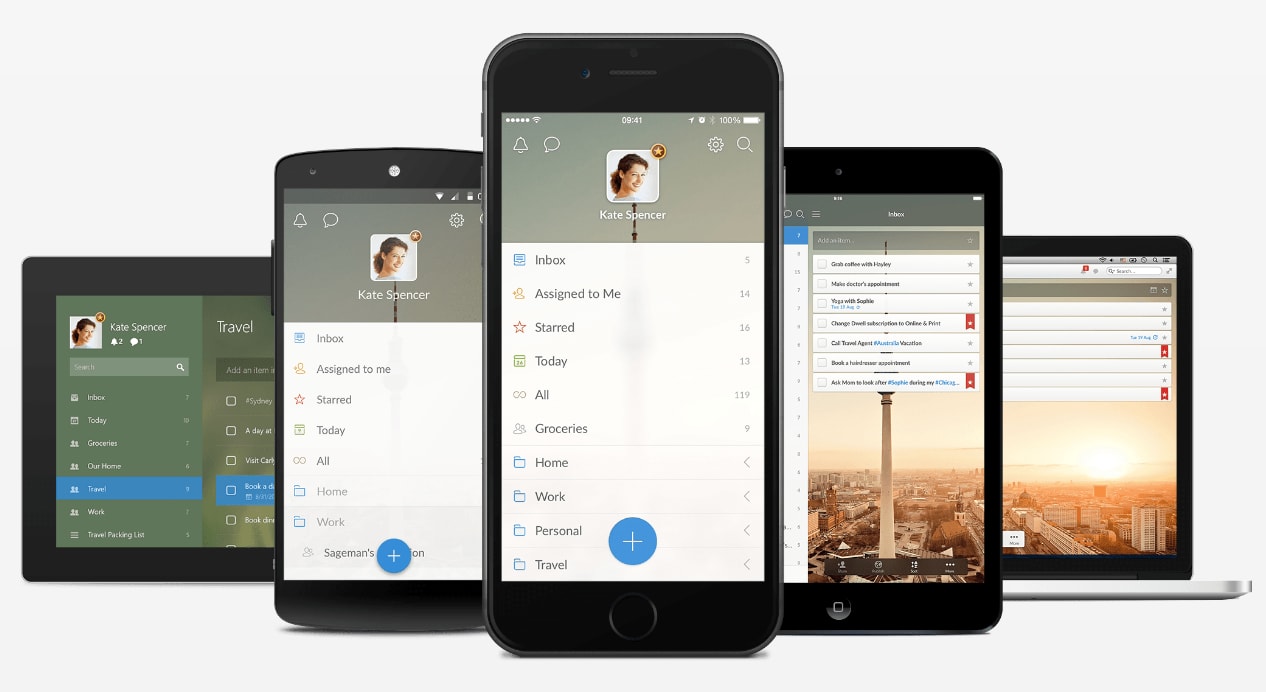 They have a free and a subscription model that completely depends on the user.
3: Slack (Windows, Mac, iOS, Android & web)
Free version, paid options from £5.25/mo per user
You must have heard of our next productivity app. Slack is a communication platform that helps your team to break the monotony of e-mails. Packed with amazing features like channel creation, zoom integration, data sharing, and conversing.
Slack is one of the most used communication tools in startups. Even their free version is impactful and you can always upgrade to a pro account with advanced features.
if you're a startup or small business, you might want to check out one of these 17 slack alternatives.
4: Airtable (Windows, Mac, iOS, Android)
Free version, $10/mo for Plus, $20/mo for Pro
Airtable is quite popular among teams who are comfortable on a spreadsheet format tool like excel. You can simply say that Airtable is sort of a modern take on excel with some amazing features.
Imagine your excel sheet is transformed into this kick-ass project management tool. Yes, that's Airtable. You can manage projects and collaborate with your team. It might be slightly difficult to use if you are not well versed with spreadsheets and formulas. But, do not worry, you can always check some of these Airtable alternatives.
5: Toggl (Windows, Mac, iOS, Android, Chrome, Firefox)
$9/mo, $18/mo or custom pricing for enterprise businesses
Toggl is yet another productivity app that helps you track time. Time management is key to high productivity. If you manage your time well, you might even finish all the tasks well before the deadline.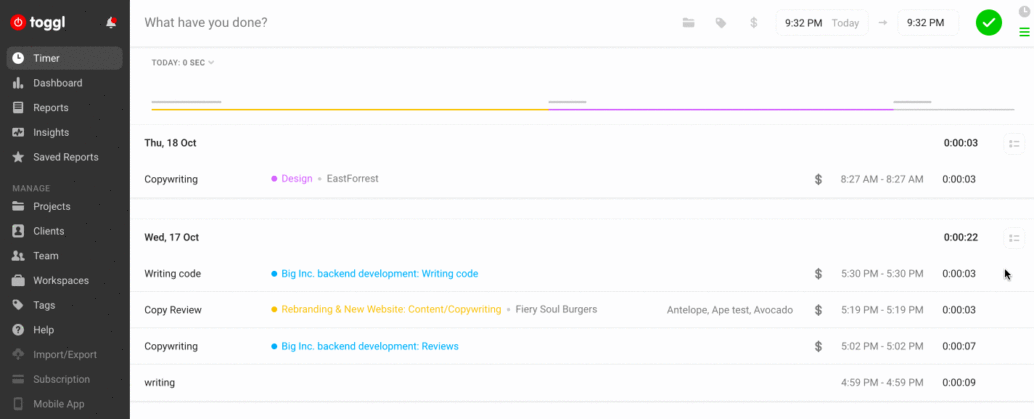 Its time tracked feature is something we always wanted in a productivity app. Sometimes we don't realize how much time are we spending on various tasks. This can hamper our productivity. Toggl enables you to understand efficiency using time. \
6: Pocket (Windows, Mac, iOS, Android & web)
Free
Have you ever faced a situation where you are spending a lot of time trying to find an article that your boss shared? Pocket is a brilliant free productivity tool that helps you save webpages to read them later. How cool is that? There are a lot of times when we don't have the time to read an article or watch a video.
Pocket can save that web-page for you to read it later.
8: Spark (Mac, iOS, Android)
Free version, $6.39/mo (per user) for Premium
I am sure, you must be flooded with e-mails and might have thousands of e-mails in your inbox. Sometimes, you want to locate a specific mail but due to the volume, you are not able to. Spark comes handy there. It automatically organizes the mailbox for you. It categorizes the mails and also can prioritize which one to look at first.

You can also set up team mails, notifications for priority mails, and a lot more.
9: RescueTime (Windows, Mac, iOS, Android)
Free version; Premium version $9/mo or $72/year
One of the biggest challenges we face when it comes to productivity is screen time. We are so involved in the Netflix of the world that we are distracted from the actual work that we were supposed to do. RescueTime can help you analyze that. It runs in the background to capture your screen time.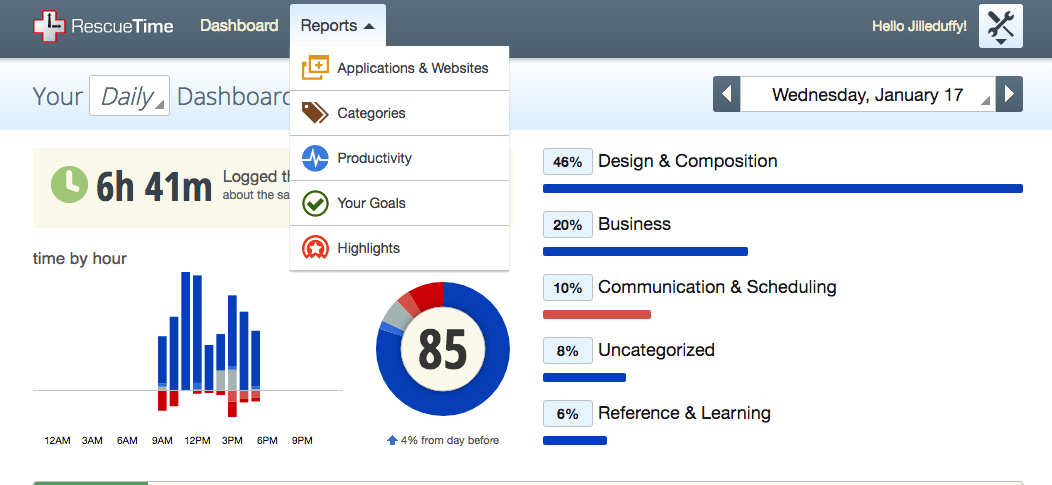 We all need an alarm when to move away from our smartphone to actually live.
10: Y-Productive (Windows, Mac)
Pricing: €59 one-off fee, €6-€7/month, free trial available
Sometimes you want someone else to tell you that you are wasting your time. Everyone has 24 HRS, you can't buy time. Still, we have people performing at different levels. Y-Productive gives you a detailed analysis of how you are managing your time. What are the distraction elements when you are working? It helps you manage your time well that results in productivity.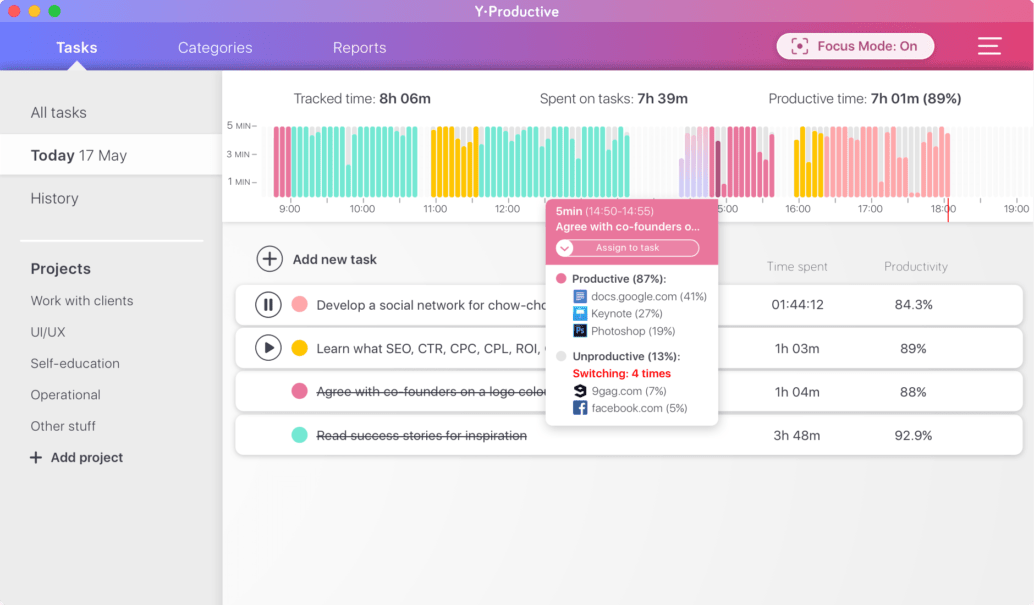 11: Clockify (Windows, Mac, Linux, Android, iOS, and web)
Free version, optional upgrades from $9.99/month
Charging per hour? Well, Clockify can make things easier for you. As the name suggests, it is a time-management app that enables you to actually track your time for any project that you are taking. If you have a team, you can also evaluate the time investment done for various projects. You get a detailed report of any project with respect to time.
12: Trello (Windows, Mac, iOS, Android & web)
Free version, Business Class version $9.99/mo per user
Trello is a simple task management app that can organise things for you very well. You can create boards for individual tasks, collaborate with other team members. Minimalistic task management to help you organise and prioritise your projects in a simple way to boost your productivity. Trello is also known for its free version which is used by millions of people.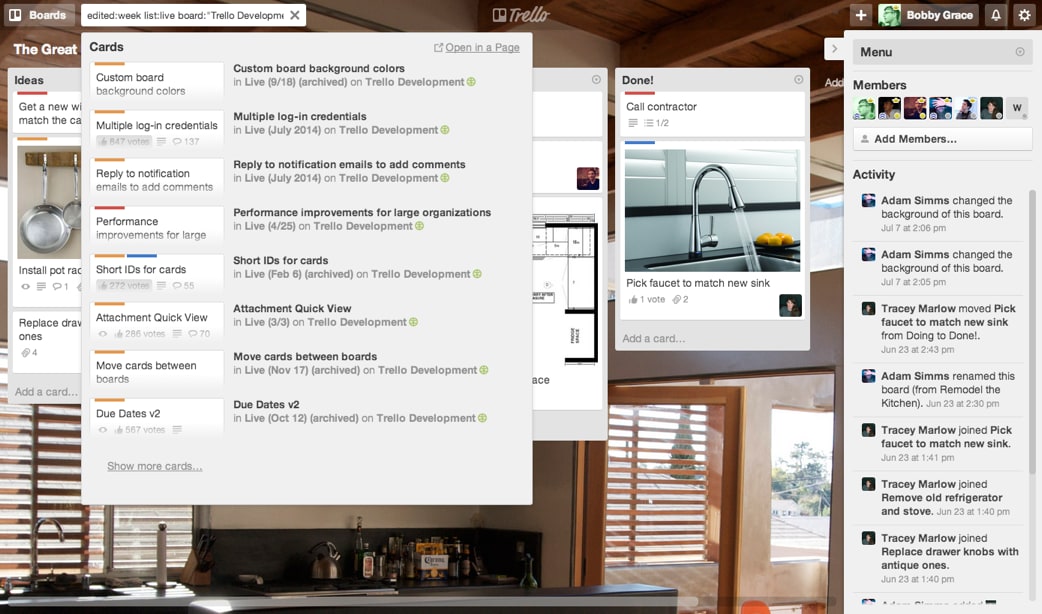 13: Zapier (Windows, Mac, iOS, Android & web)
Free for 100 tasks/month, $19.99/month for 750 tasks, team package for 50,000 tasks, $299/month
Zapier is an automation tool that can help you save a lot of time. Essentially it is designed to share data with multiple tools that you are using and automate the process which can be avoided to be done manually. It is like two apps are talking to each other, understanding and implementing a task for you that would have taken a long time if done manually.
14: Done (iOS, Android)
Free version available, premium version $2.99/month
Done is of the best productivity apps out there. It is simple and designed to serve you and make those lifestyle changes that can help you work better and achieve better. The vision for Done is to create good habits so that it contributes to the bigger picture. You can create tasks, goals etc. The best thing about is the interface of the app that is insanely calming and can elevate your mood.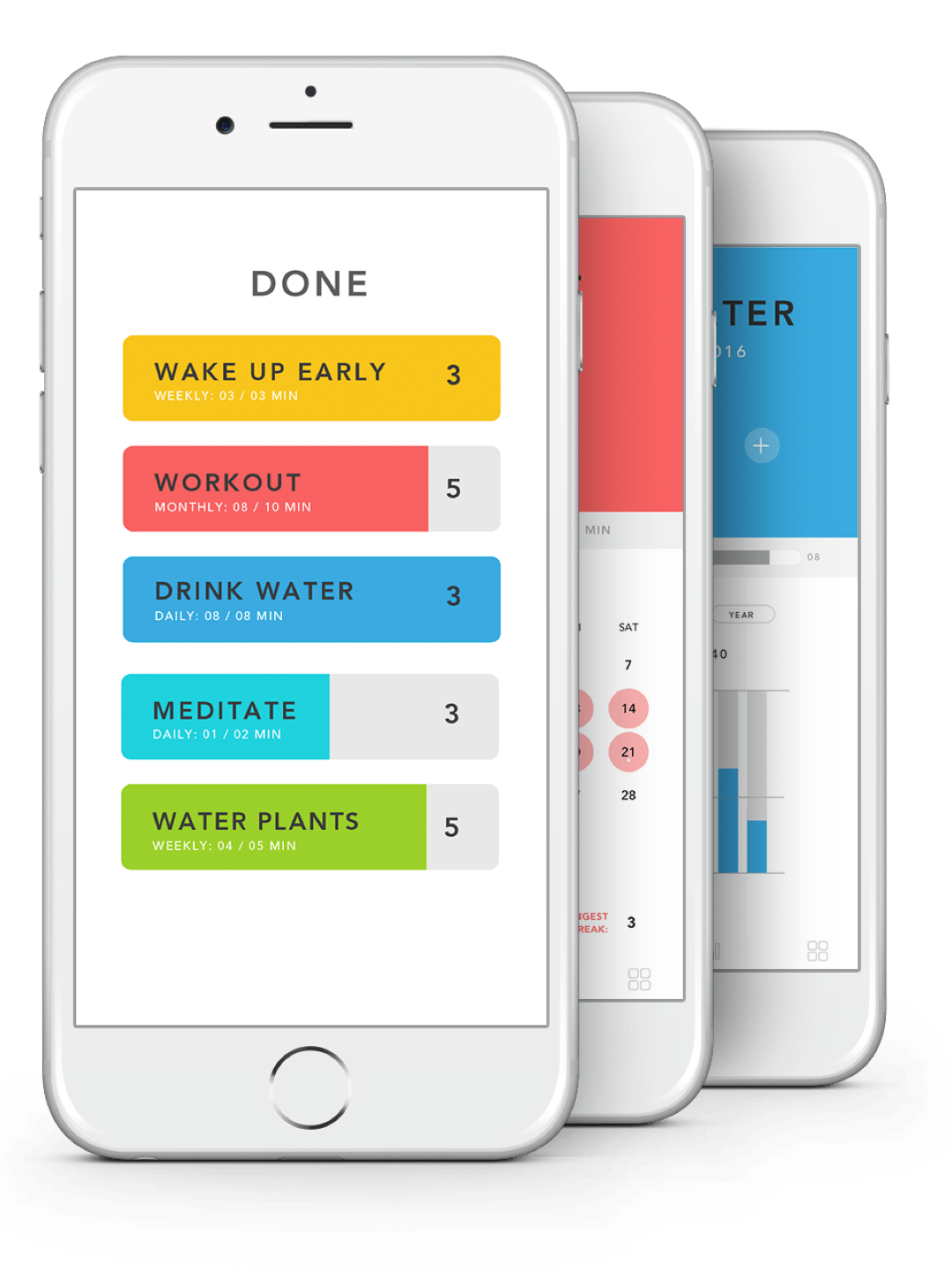 15: focus booster (Windows, Mac, iOS, Android)
Free, $2.99/mo or $4.99/mo
The last app on our top 15 productivity apps is Focus Booster. It works on the concept of  Pomodoro Technique. It is a popular time management concept where you work for 25 minutes and then take a quick break and then jump again. Studies have shown that these 25-minute sessions followed with a small break can enhance your productivity.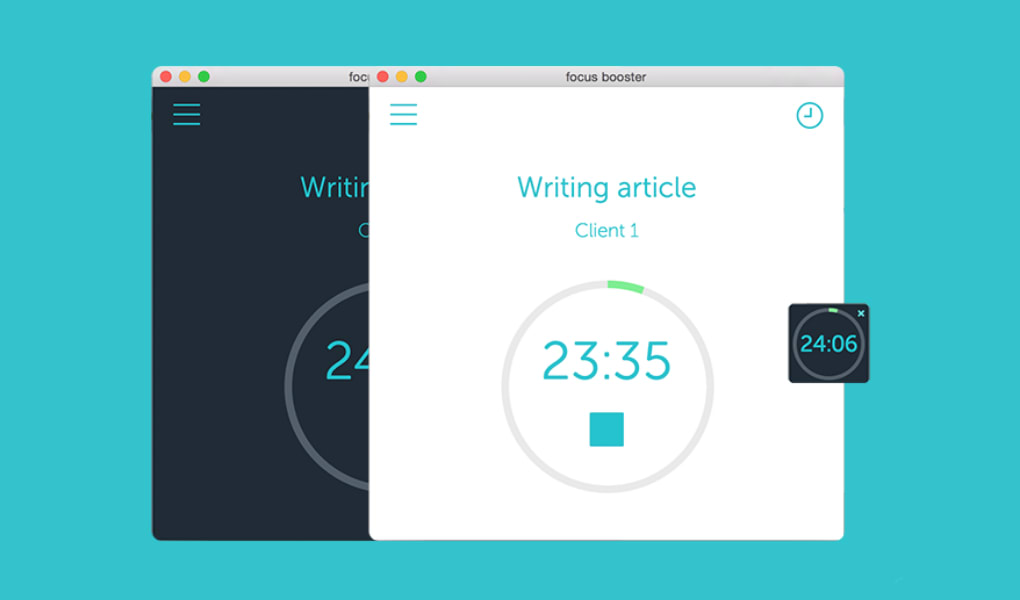 Wrapping up!
We all know, it's our approach for anything that can define the result. If we manage time well, we can do more and improve our productivity. Understanding distractions can be helpful to take actions and try to avoid them so that they don't hamper your flow.
All these 15 productivity apps are a combination of time-management, task-management and creating a structured process while doing any tasks.