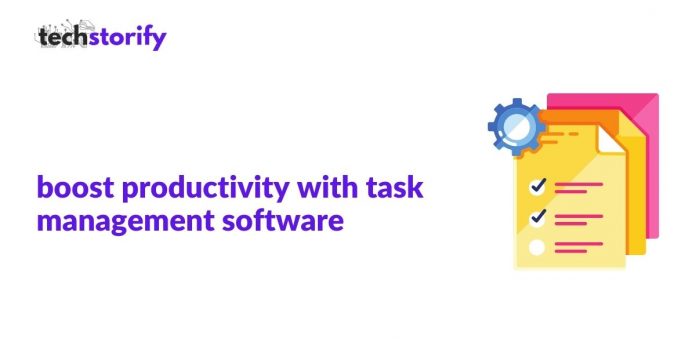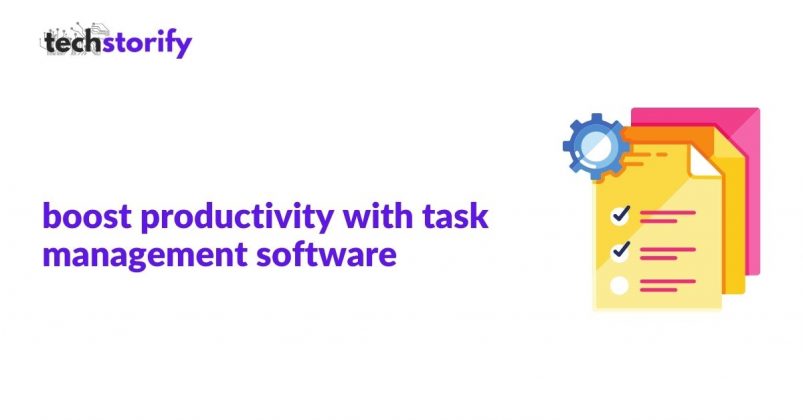 Task management software to boost your team's productivity. 
Managing tasks efficiently at work can be quite a tedious and time-consuming task, but it's integral to the growth and success of a company.
Nobody wants to deal with a company that is not disciplined when it comes to deadlines, a company that is poorly managed or we should rather say, mismanaged. 
That's where task management tools come into the picture.
So, what actually is task management software?  
A task management software is a software that makes organizing, planning, and executing various tasks at work so that you can deliver the promise in time. It increases the productivity and efficiency of the team, by eliminating every scope of miscommunication. 
The software rules out the possibility of missing a deadline because organizing work takes up most of your time, or going overboard a set budget. In simple words, task management software is like a computerized version of a project manager.
So, if you a project manager, then a task management software can help you fulfill your responsibilities with much more ease and efficiency. With a powerful tool in hand, you will be able to create & assign tasks, prioritize them, set deadlines, and even track the time spent on them. 
Here's a list of 13 Best Task Management Software Tools for Teams that you can explore!
1 – Airtable

 
This collaborative tool helps you stay focused on the work that matters. With several customizable task management features, Airtable is one of the most incredible task management software to have.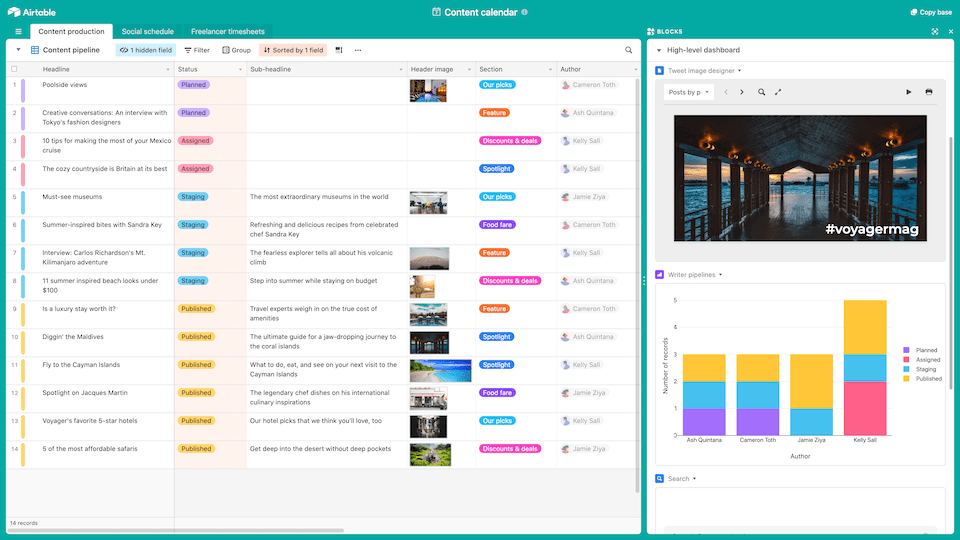 FEATURES 
The tool allows you to create and arrange your work the way you like it with its powerful filtering, sorting, and grouping features. 

Allows you to automate your workflow by creating custom notifications, automating repetitive tasks, and integrations. 

Allows integration with hundreds of app & services. 

Airtable Sync is a great feature to interconnect various teams inside your company or even beyond. 

With Airtable mobile and desktop app, you can always stay connected with your teams. 
PRICING 
4 different plans – Free, Plus (starts from $10), Pro (starts from $20), and Enterprise (visit site)
Don't Miss – Airtable Alternatives
2 – Nifty
This one simple, yet powerful tool is all you need to manage projects, tasks, and communication in just one place.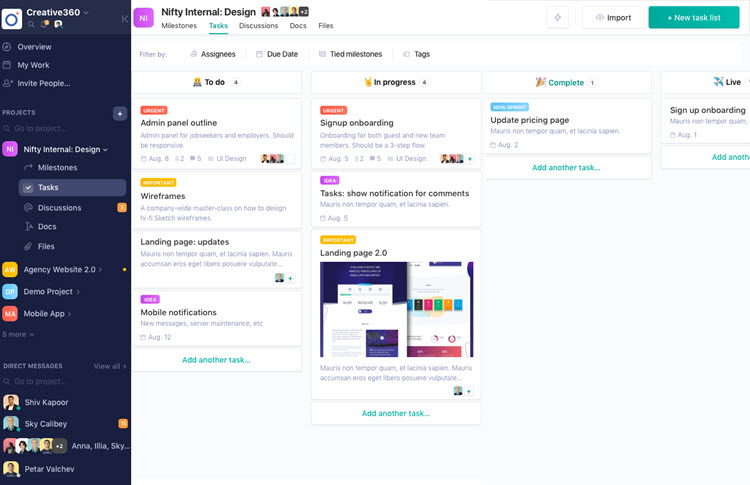 The tool gives you the flexibility to organize, collaborate, and prioritize work. With Nifty you can not only increase the productivity of your team, but you can also transform the way your teams work. 
FEATURES
The Kanban-style tasks let you flexibly organize, collaborate, and prioritize work.

Stay on top of all work assignments assigned to you with the MY WORK section.

Allows you to automate the entire task assignment. 

Automate recurring tasks. 

Allows you to add custom tags & fields to tasks.

Make use of Nifty's Time Tracker to know how much time was spent on a particular task. 
PRICING 
4 different plans – Starter (starts from $39), Pro (starts from $79), Business (starts from $124), and Enterprise (visit site).
3 – Asana
The cloud-based project and task management enable you to manage, organize, execute, communicate and collaborate. In short, Asana is a modern way to work together.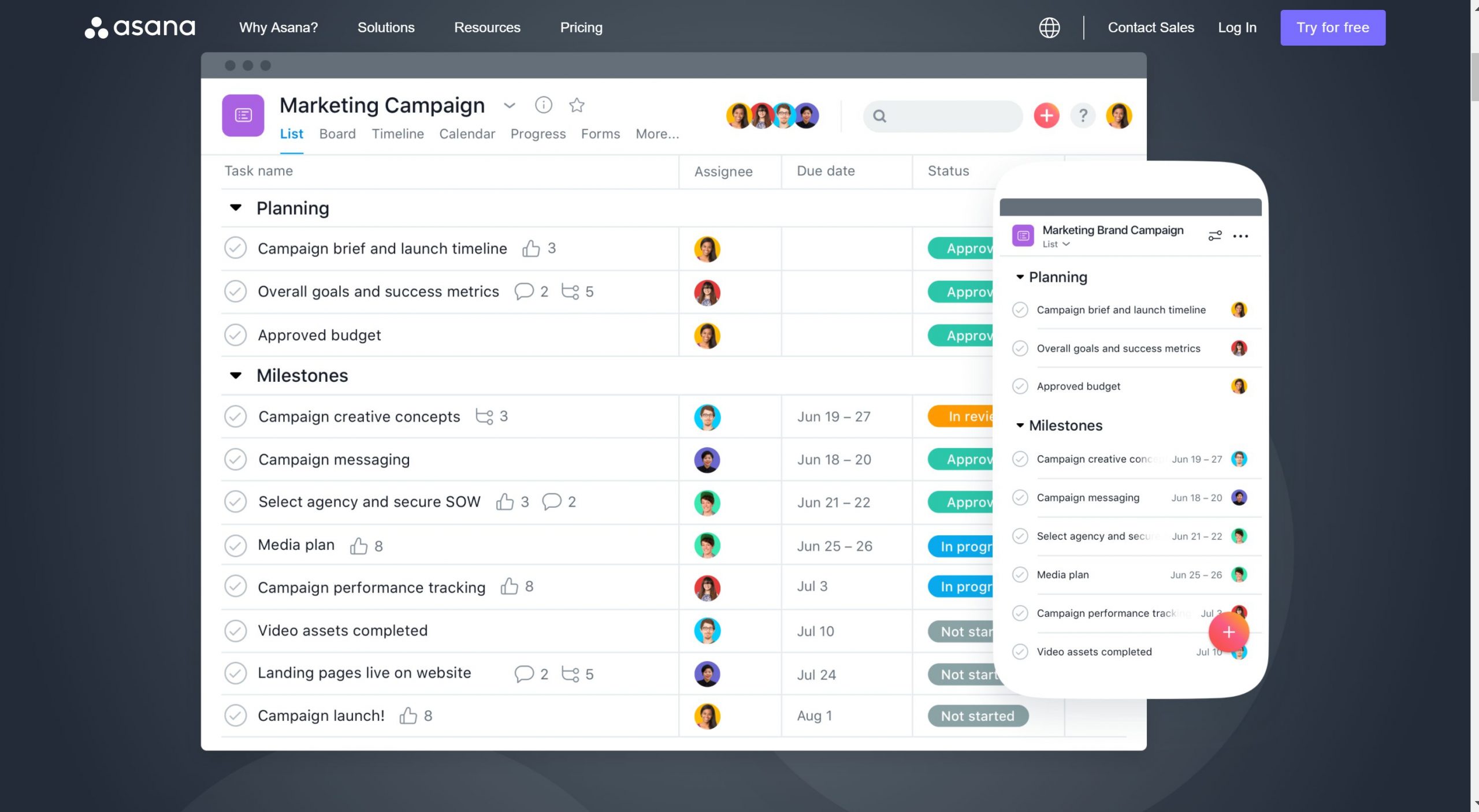 With Asana, your teams know what to do, why you should, and how to do it. The tool cuts through all that email mess because it not only allows you to track and coordinate, but it also helps you share files, etc. 
FEATURES 
The list feature of Asana allows you to organize and assign a task. The team can see what needs to be done, which tasks are on priority, and when is the deadline. 

Create work maps to manage dependent, overlapping, and unscheduled tasks. 

You can get real-time charts, and other visual highlights to keep work on track.

Automate and streamline the process.

Stay connected and updated with Asana mobile app. 
PRICING 
4 different plans – Basic (Free), Premium (starts from $ 10.99), Business (starts from $24.99), and Enterprise (visit site).  
4 – Basecamp
Basecamp is truly a base camp for your work projects. This yet another popular task management tool makes work from home/Remote work easier.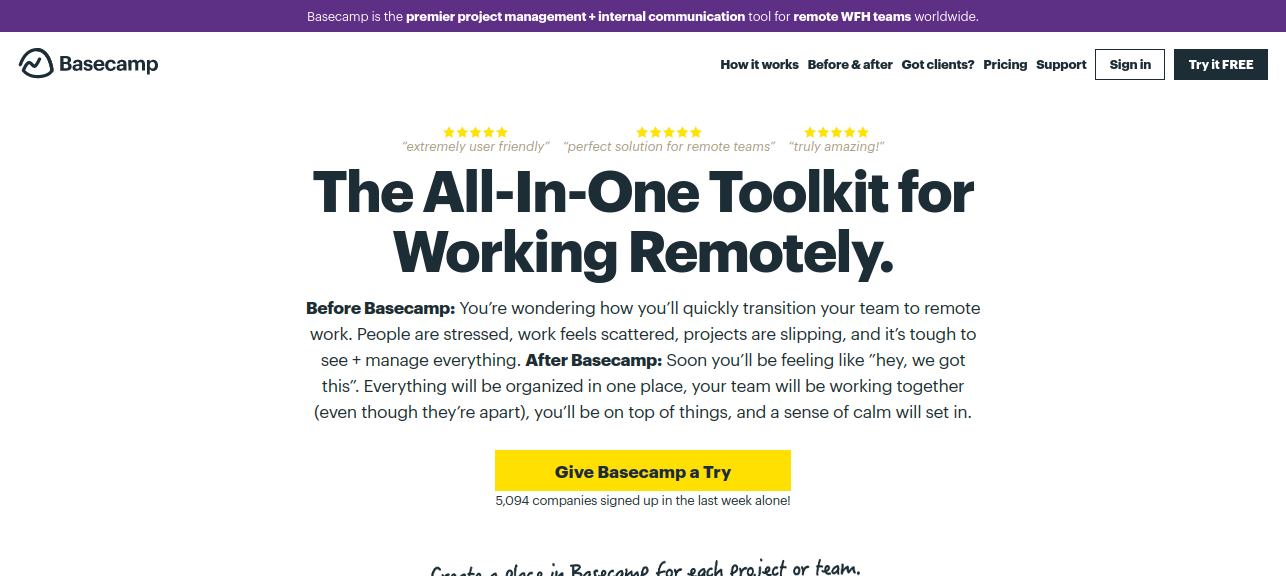 Organize everything in one place, be on top of things, and work together even when you are miles apart.
With Basecamp you can improve the efficiency and productivity of the team because you exactly get to know what needs to be done and when. You can also look at some Basecamp Alternatives. 
FEATURES 
You can post announcements, feedback, progress updates. 

With the to-do feature, you can make a list of work, assign items, set due dates, and discuss. 

Allows you to share docs, files, images, and spreadsheets. 

With the Group chat feature, you can uphold conversations. 

With Automatic Check-ins you can create recurring questions.

The My Stuff feature lets you view everything that's on your plate. 

The Basecamp mobile app lets you stay connected and updated. 
PRICING 
2 different plans – Basecamp Business (starts from $99), and Basecamp Personal (Free)
5 – Quire
Visualize your workflows and interactively track your tasks with Quire. This task management tool makes arranging, prioritizing, focussing, and collaborating with teams easy and quick.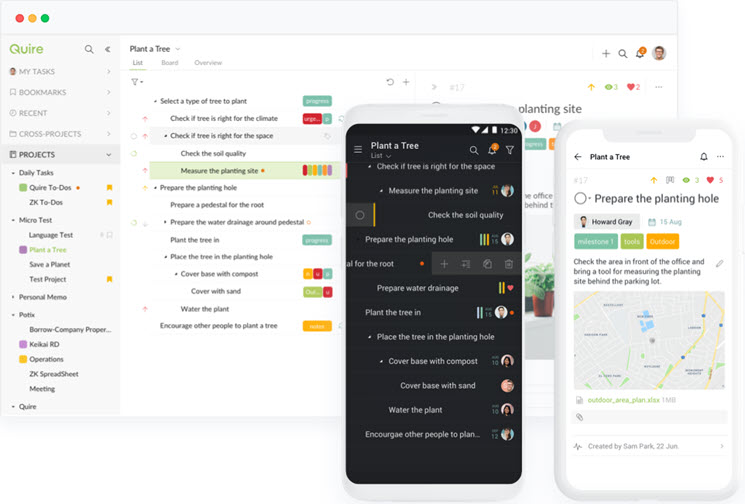 FEATURES
Gives ultimate control on Workflow with Quire's Kanban board view. 

Simple & intuitive.

Designed for small teams. 

Get progress stats to understand the ups and downs of the task, project, and team. 

Let's you create subtasks, and add comments & descriptions.
PRICING 
FREE
6 – Monday.com
Monday.com is one of the powerful and popular task management tools and resembles a customizable spreadsheet.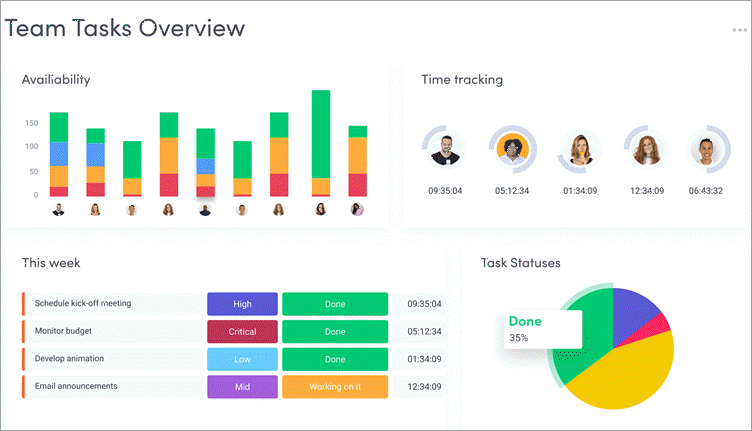 With Monday.com you can very easily create customized workflows, assign tasks, set due dates and dependencies, and prioritize. You can also check Monday Alternatives.
FEATURES
Offers plenty of template designs to choose from. 

View data as maps, calendar, Kanban, timeline, etc.

Provides real-time insights so that you have a clear picture of the task. 

Also, if you wish to centralize your data, then it is easily doable by integrating other tools. 

Monday.com has a mobile app too so that you can stay productive even on the go. 

Interactive interface

24/7 customer support

Let's automate repetitive tasks. 
PRICING 
4 different plans – Basic (starts for $8), Standard (starts from $10), Pro (starts form $16), and Enterprise (visit site).
7 – Jira Software
If you are an agile team, then Jira software is the best project management tool for you. You can efficiently plan, track, release, and report your project with Jira Software.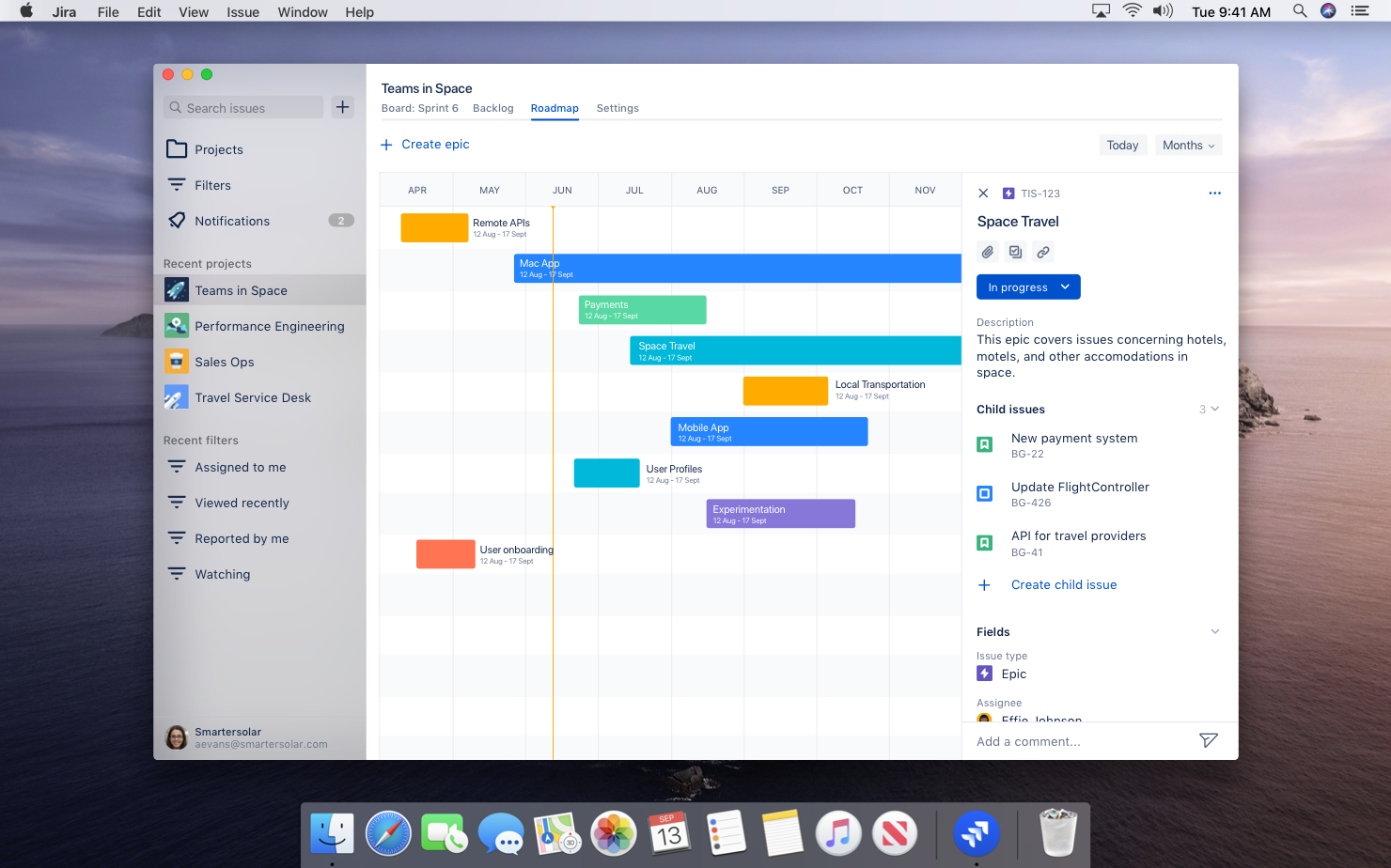 FEATURES
Scum Boards and Kanban Boards give your flexibility to deliver the best possible outcome in minimal time. 

The roadmap feature lets you plan and track your progress.

You can create multiple versions of your roadmap.

You always stay up-to-date in real-time because your roadmaps are always in sync with the work and your team. 
PRICING 
4 different plans – Free, Standard (starts at $7), Premium (starts at $14), and Enterprise (visit site).
8 – Zoho Projects
Cloud-based project management lets you plan your work, schedule it, execute it, and track it. 
Zoho Projects also makes collaboration with teams easy. The tool has almost all the features you would want from a project management tool and that too at an affordable price. 
FEATURES
Makes remote working easy and efficient. 

The Zoho Gantt Charts helps your build a project and keep a track of your scheduled tasks. 

Gantt Charts show deviation if any between your planned and actual progress. 

Drag-and-drop interface makes automating the routine tasks easy. 

Generate invoices from your timesheet with Zoho Invoice.

Integrate seamlessly with Zoho Apps and third-party apps. 

Keep your projects by your side with Zoho Mobile apps.
PRICING
4 different plans – Standard (starts from Rs. 210), Express (starts from Rs.280), Premium (starts from Rs. 350), and Enterprise (starts from Rs. 420)
9 – Casual
Think it, make it. Organize tasks and ideas exactly the way they look in your mind with this visual project and process management tool.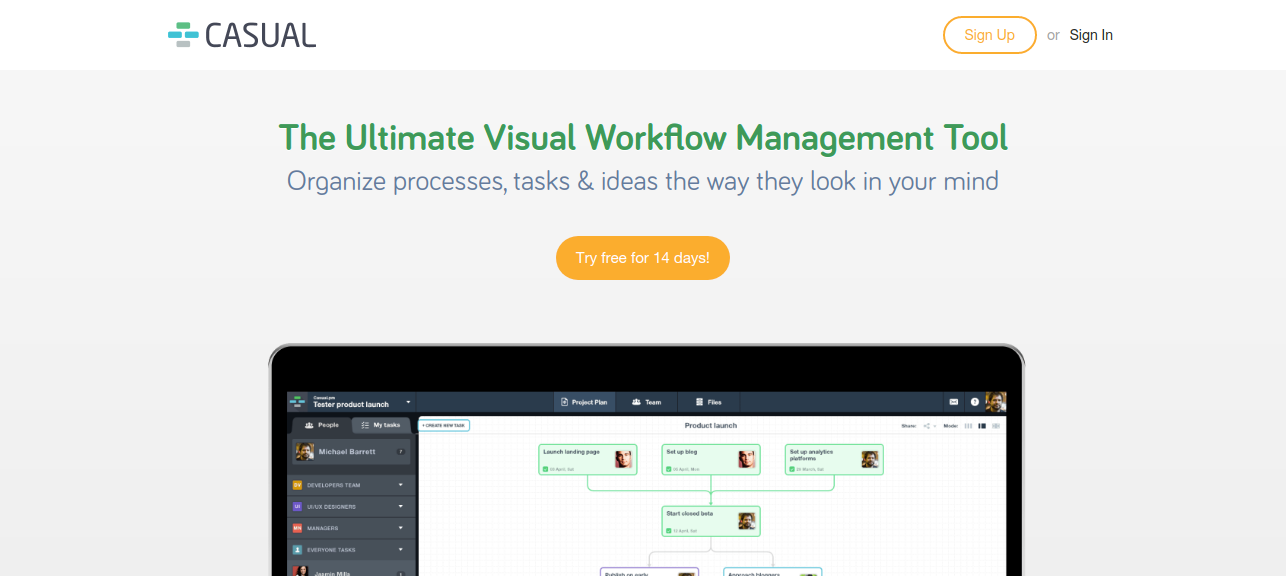 Casual is one of the most intuitive project management tools available in the market. The online tool helps you plan and execute projects with simple yet detailed workflows. The tool is ideal for small or growing teams. 
FEATURES
Easy-to-navigate

Drag-and-drop interface
PRICING 
Starts at $7/month 
10 – Teamwork
This easy yet powerful task management tool is perfect to manage multiple projects with efficiency and less-efforts.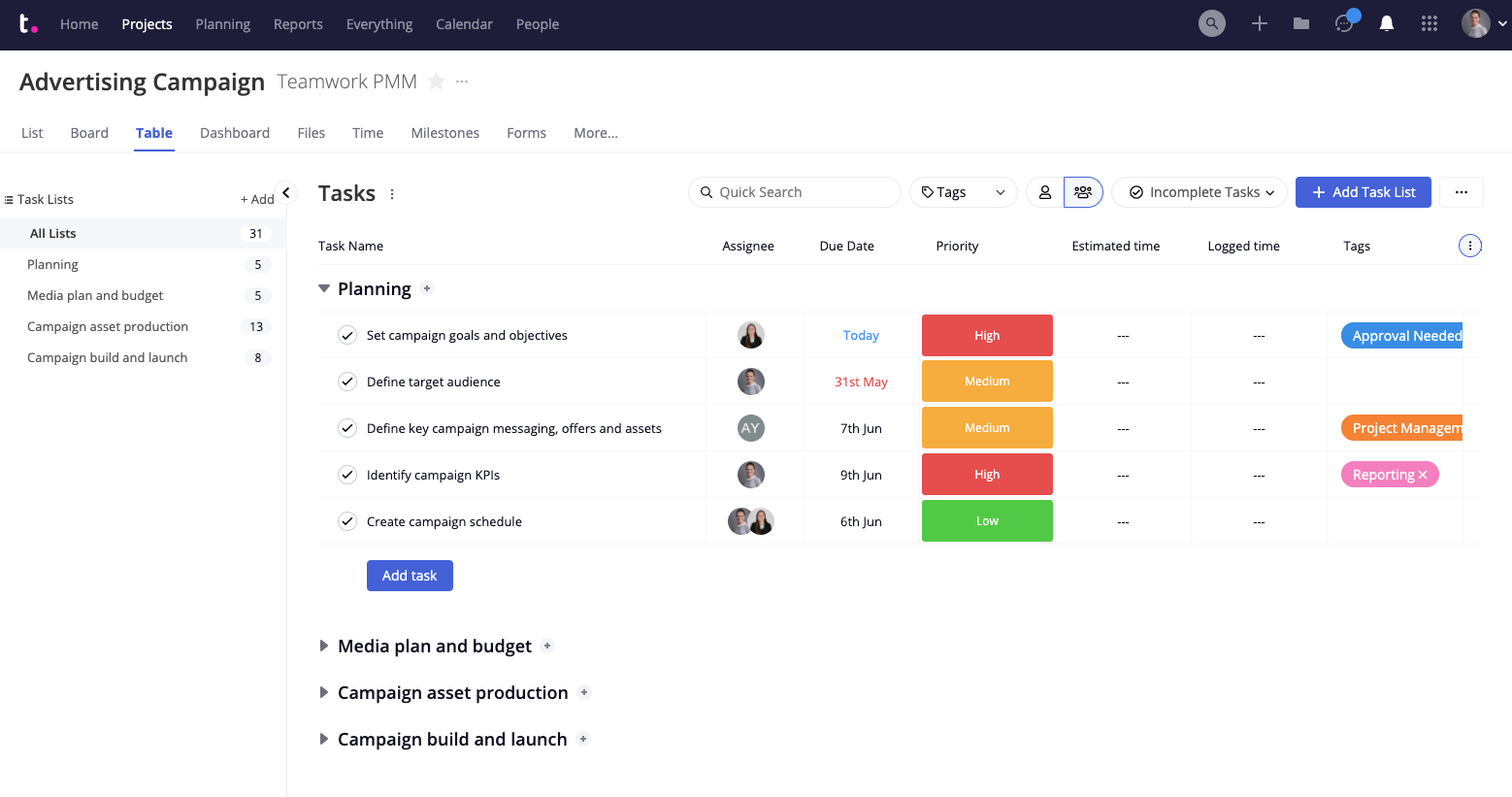 Trusted by more than 20,000 companies across the globe, this tool has all the project management essentials that you need. You can easily create tasks and projects, upload files, add comments all in one single place. 
FEATURES
Highly flexible – you can view your projects the way you like it. Choose between task list, Gantt chart, or board view. 

Offers advanced features like portfolio management and workload management. 

To keep a track of the complex projects you can use dashboards, board view, and project health status updates. 

You can use their time tracking feature to measure the time that goes into a specific project. 

With workload management, you can get insights into your team's resources.

Integrating Teamwork with other tools like Google Drive, Slack, Zapier, and more is easy. 
PRICING 
4 different plans – Free Forever, Deliver (starts form $10), Grow (starts from $18), and Enterprise (visit site) 
11 – Proggio
Proggio is a great task management tool to have on your side in the Covid world. Whether you want to manage your project portfolio or want to keep a track of your projects and task, this tool is there to assist you.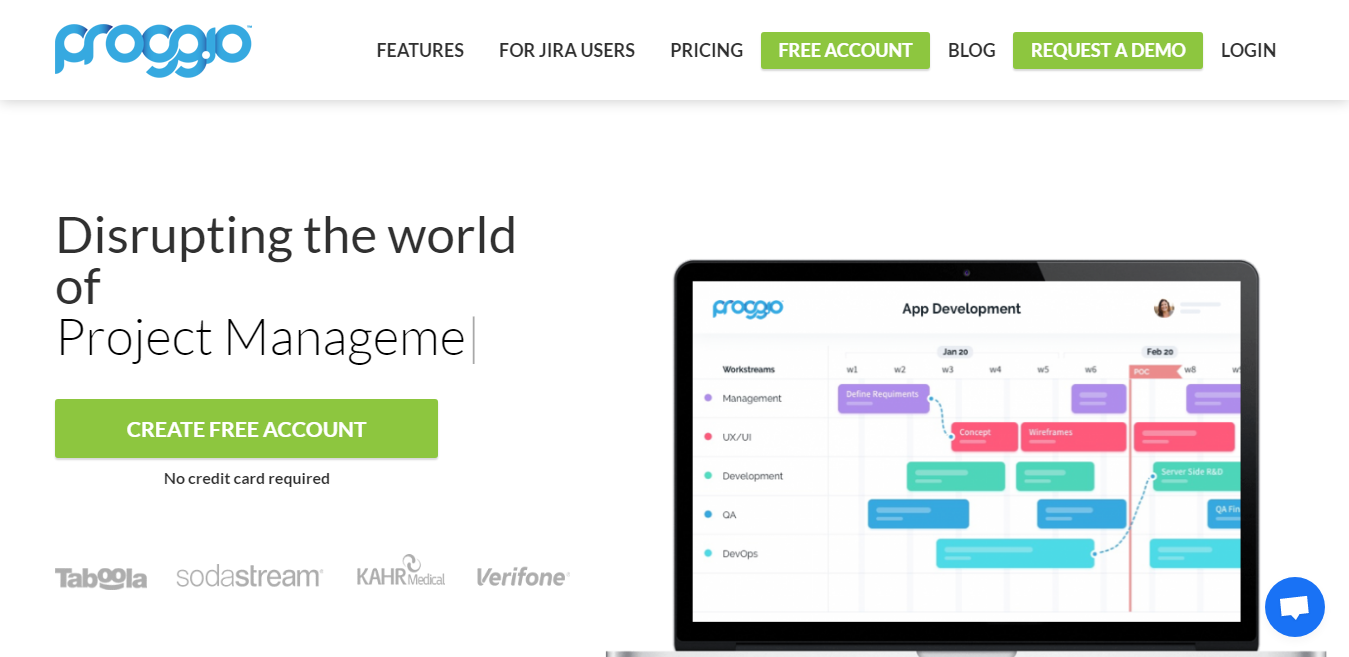 The tool provides innovative solutions to plan, share, and collaborate with all the stakeholders. 
FEATURES
Keep entire team coordinated and manage tasks efficiently with kanban board view and list view.

Lets you plan a project with dependencies, milestones, and deadlines.

You can create visual task roadmaps,

Provides you with customizable templates. 
PRICING 
3 different plans – Starter (free), Business (starts from $19), and Premium (visit site). 
12 – Liquid Planner
This dynamic project management solution is designed for fast-moving teams. Liquid Planner is trusted by thousands of companies like Clif, G5, and many others to manage projects better and faster.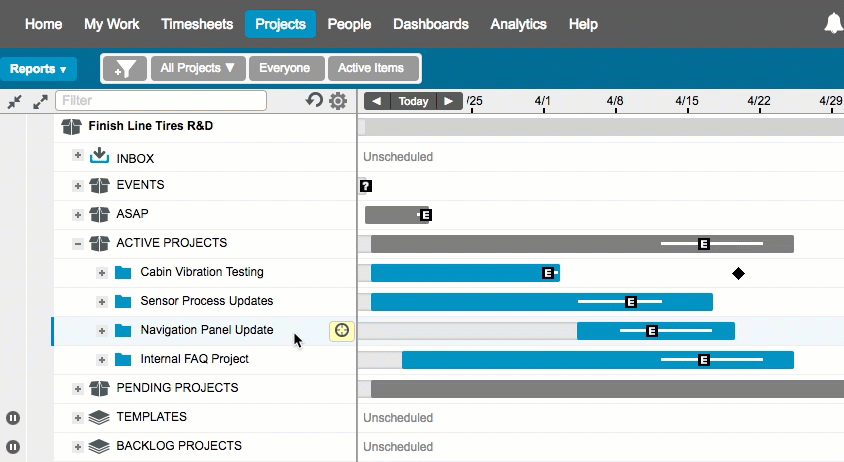 FEATURES 
The tool automatically adapts to changes of any form with the Time Tracking feature. 

Easily manage resources and dependencies. 

Get instant insights into the progress, risk, and budget of your projects. 

Liquid Planner is the only tool with automated scheduling and forecasting solutions. 

Offers cross-platform visibility.

Automatic Resource Levelling and Resource Workload Report a good way to track everything your resource does. 
PRICING 
3 different plans – Free, Professional (starts from $45), and Enterprise (visit site).
Microsoft Project is one of the most popular & oldest project management tools. It helps you organize, focus, and take charge of any and every project you take on. Be a boss of any project with the powerful Microsoft Project.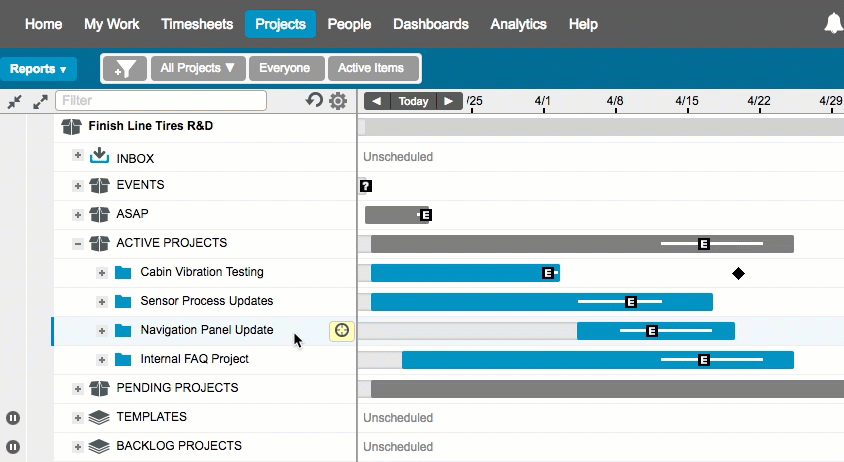 FEATURES
Easy and simple-to-use. 

You can use Microsoft Project along with Microsoft Teams to manage projects with efficiency to collaborate, share files, and more. 

The dynamic scheduling helps you easily plan your projects based on efforts, duration, and resources. 

You can create interactive dashboards.

Pre-built and customizable reports are readily available. 
PRICING 
3 different plans – Project Plan 1 (starts from Rs.660), Project Plan 3 (starts from Rs.1985), and Project Plan 5 (starts from Rs.3, 635).
Wrapping Up
Managing tasks efficiently has become extremely important in this competitive environment. It becomes all the more important for you & your team to accomplish every given task on time and to help you out with that, there are these task management software and tools.
This list has thirteen task management tools that you can consider for your business/team. Do try them to see which one fits your business model and requirement before making the final purchase.