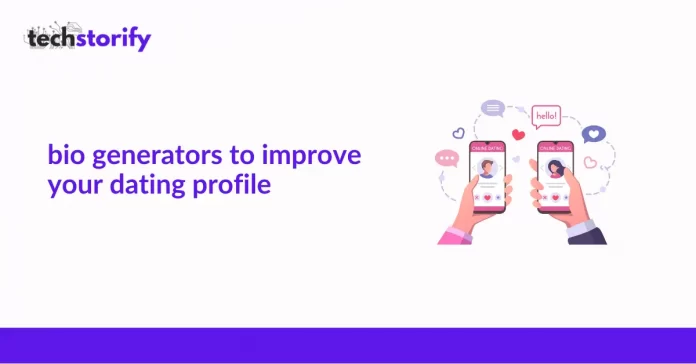 The online dating industry is only growing with time. And while Tinder was the only popular dating app available for quite some time, many companies quickly established their position, like Match, Bumble, etc.
Well, I must admit that I have used these dating apps quite a few times, and so have many of my friends.
And when you come across someone for the first time in the virtual world, it is natural to go through their profile in detail.
And let's be honest, we have all judged someone based on their bio. It's pretty natural!
Finding love on the internet is tough, and you only have a few factors in hand to decide whether you want to meet that person or not. And the bio plays a significant role in making that decision.
However, coming up with something funny or witty is not everyone's forte, and some people express themselves better verbally rather than in words. Many friends and colleagues have shared this issue with me, and soon after, my curious mind went ahead to find answers.
The internet has a solution for almost everything today and also does this dilemma. A dating profile bio generator can help make this job more manageable. I tried and tested multiple options, and fortunately, I have found some favorites to share with you.
So if you are someone who wants to upgrade your dating profile with a catchy bio that can make a good impression, I have some excellent recommendations for you in this article.
Keep on reading till the end!
Also Read: Best Free Live Chat Room Apps To Make New Friends
What is the importance of a dating profile bio?
A massive number of people are using dating apps today. And you may think that the profile picture is the most critical component of a dating profile.
Well, it is significant, but so is a bio, and maybe even more.
Your bio is the first window into your personality for any person looking at your profile. It will give them an idea about your general interests and the kind of aura you have.
And believe me, when I say it, there is a very thin line between appearing intelligent and funny and overconfident and arrogant.
While one line can make you seem attractive and hilarious, it will take just another line to make you seem creepy and weird.
And it's not about just a dating profile; your bio on any social media platform, including Facebook, Instagram, etc., is vital in determining what kind of people you attract to your profile.
And when so many people use a particular app, your goal is to make your bio stand out from the rest.
The bio is about giving a sneak peek at the genuine you and sparking that interest in the people you want to attract.
Feeling the pressure? Well, don't worry.
That is the entire point of this article- to help you instantly create the perfect bio for your dating profile.
So let's get right into it.
5 Best Dating Profile Bio Generator Websites
Different dating profile bio generator websites work in different ways.
While some ask you questions and help generate a bio based on those answers, others develop random dating profile bios.
Tinder Bio Generator falls in the latter category.
It is excellent if you are just starting online dating and want to start with something basic to build up from there.
Let us suppose you are in a hurry and wish to create a dating profile for the sake of it, and you are okay with adding a quick bio for now.
This tool will be helpful in those scenarios.
Well, some bios generated by this tool are pretty good, and you might not want to make any changes to them.
Or else, you can take inspiration from the bios it generates for you and put your spin on it.
The name of the online tool suggests that it helps you come up with Tinder bios, but you can use them on any dating website and app.
The method of using this tool is straightforward. As soon as you visit the link and launch the tool in your browser, you will see a random bio generated at the top.
You can click the "Get a different one" button if you do not like the current generated bio.
You can repeat this process several times unless you find something you want to use. I have checked out a lot of bios from this tool, and most of them are witty.
Features
The tool is straightforward to use.

You do not need to answer any personal questions.

You can click the "Get a different one" button to see a new bio.

The website allows you to go through an unlimited number of bios.
I am sure you might have heard of Cosmopolitan magazine. It is one of the trendiest magazines that includes the latest fashion trends, makeup looks, and even dating advice.
Cosmopolitan often includes fun quizzes in their magazines, and you can also play them on their official website.
The quiz I am talking about here is "What should your tinder Bio be?". It is somewhat different than other quizzes you will find online, as it does not directly generate a complete bio.
I am giving this warning beforehand because when I took the quiz, I thought it would generate a full bio for me based on my answers.
However, the quiz results offer you better clarity on what you like and how you can improve your dating profile.
Questions are primarily based on Tinder; as you might have already guessed from the quiz name, questions are mainly based on Tinder.
What I like about this quiz is that the results feel like solid advice from a friend. It tells you Talati to attract people who match your needs.
Attempting the quiz will hardly take 5-7 minutes. It is entertaining, and you do not want to miss out on it.
Features
It is quite an entertaining quiz.

You must answer a few questions regarding your dating preferences and Tinder usage.

It does not offer a direct dating profile bio.

You will get insights on improving your bio in your dating profile.
Buzzfeed has been one of my favorite channels for a long time now. And their quizzes are so addictive there is no way you can stop at one.
When I came across a particular one where the channel creates a dating profile for you, I just had to try it out. And I am glad I did, to be honest.
It is slightly different than the Cosmopolitan quiz, as Cosmopolitan offers insights on improving your dating profile, but this quiz creates one for you.
You must answer a few questions, like your ideal date, dream holiday, favorite food, dream job, favorite dessert, etc.
And after answering all the questions, Buzzfeed will assign a particular profile based on your answers and offer you a profile bio too.
The quiz was interesting, and I enjoyed reading the different bios. Most of them were humorous, and you could get inspired.
Features
There is a short quiz with interesting questions.

You can take the quiz for free.

It assigns you a profile based on your answers.

It gives you a short profile bio at the end of the quiz.
It is one of my favorite dating profile bio generators. In fact, the entire tool is specially created to help you build a better dating profile.
It comes with a poem generator, a love calculator, and so on.
What I like about using Masterpiece Generator is that it not only creates the bio but can also help curate your entire dating profile.
It is not a random generator, and just like Buzzfeed and Cosmopolitan, you will have to complete a quiz first.
Using this tool is straightforward. Once you launch the official website, you must click the "Date Profile" button on the home page.
Then you will come across a quiz you must complete. Now, this has a lot of questions, more than any other tool mentioned in this list. But I loved how thorough it is.
The questions range from the vibe you want your profile to give off, your relationship status, adjectives to describe your physical characteristics and personality, your job, your hobbies, skills, relationship preferences, and many other questions.
It also covers questions on what personality and physical traits you are looking for in a partner.
And once you complete the quiz, you receive a long and detailed dating profile with a bio. You can copy the result to the clipboard and paste it on your preferred dating app or website.
Of course, you can also tweak the result as you see fit.
I like this tool because it not only creates a random dating profile but also considers your likes, dislikes, and overall personality traits.
Hence, the results feel somewhat personal. The only disadvantage of using this tool is that the results are incredibly long and usually surpass the character limit on a dating app like Tinder.
So editing and leaving out a few parts becomes necessary.
Features
One of the most detailed dating profile bio generators.

The tool is free to use.

The list of questions is pretty long.

It takes into account your preferences and dislikes.

The results are long, and some parts might have to be omitted to stay within the character limit.
This one was recommended to me by a colleague, and it's an excellent tool for generating a dating profile bio.
I feel the results from the stool are pretty catchy, and you can use most of them as it is without having to change anything.
First, you'll have to enter some personal information to give a basic idea about who you are and what you do.
Then you can select the tone that you want for your bio, like friendly, relaxed, professional, adventurous, witty, etc. And finally, you just need to click the "AI Write" button.
That's it!
The tool will generate a bio you can use on your dating profile.
I only noticed that, like Masterpiece Generator, it does not consider your personal preferences before creating your dating profile bio. Nonetheless, the results are still decent.
Features
The tool is straightforward to use.

You do not need to fill up a long question list.

You can select the tone of voice for your bio to make it sound a particular way.

You must create a new account or log in using your Facebook or Google account to use it.
Mistakes to avoid while creating a dating profile bio
Writing a catchy dating profile bio to attract the correct type of people is somewhat tricky. And there are a lot of common mistakes that people often tend to make, sometimes even unintentionally.
Even one incorrect word can give a wrong impression and ruin your entire profile.
Here are some common mistakes to avoid while creating a dating profile bio.
1. Going into too much detail
It is one of people's most common mistakes on their dating profiles.
Your bio must be a short, catchy version of your personality, not a detailed essay.
Just 2-3 well-written lines are sufficient. Also, I feel your bio should not be too personal; it should just be a sneak peek into your personality.
You can share intimate details later on chats.
2. Being too negative about yourself
Everyone appreciates honesty, and it's even attractive. But it's about owning your flaws and being confident in your own self.
Being too critical of yourself in your bio, even if done humorously, can be considered self-deprecation.
And that is not attractive. It projects an image that you do not think you deserve to date a good woman.
Maintain a stable balance between being confident and maybe a little humorous in a humble way.
3. Being too sexually forward
It has to be one of the worst ones. I am not here to judge how you live your life.
If you are on a dating app for just hookups, it might make sense to put a sexual spin on your bio.
But it has to be done in a classy way.
Being overly direct in the wrong way can creep off anyone to the extent that they can feel unsafe.
4. Listing down

all 

your hobbies
Isn't it frustrating how "I love to travel," "Wanderlust," "Foodie," and something similar along the lines of these are present in almost every other bio out there?
These are some interests that almost everyone shares in the world.
So there is no point in adding cliche interests like these. It will only come across as boring.
5. Being too vanilla
A plain generic bio that does not tell anything about your personality and interests at all will hardly be able to attract anyone.
It's okay to play it safe at times, but not here. Not 100% of everyone looking at your profile will you.
But having that slide edge and standing out will help immensely.
Conclusion
I understand the pressure is real when building the perfect dating profile bio. But once you get the basics right, it is not difficult to determine whether a bio looks appropriate and can be used.
And even if you find that process challenging, that is what the dating profile bio generator websites are there for.
I have shared 5 of my favorite recommendations in this article, which are thoroughly entertaining.
But if I have to pick a winner, it will be the Masterpiece Generator. Before generating a bio, this tool tries to know the user personally about their likes and dislikes.
It is purely a personal preference, and you can pick any tools from the list as they do the job well.