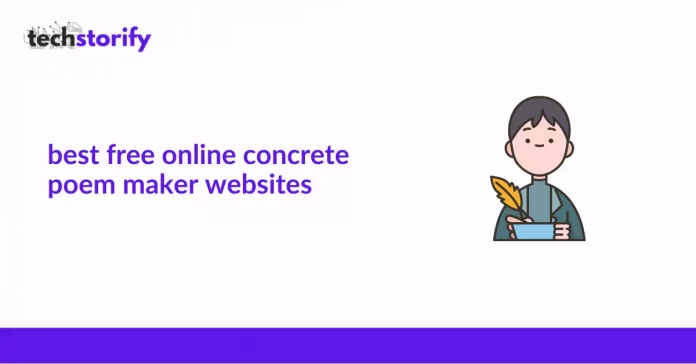 The concept of concrete poetry is something I was not very familiar with until a couple of years ago. I have always loved reading poems, and the sense of creativity that the writers have in their mind while creating these beautiful pieces always fascinate me. But concrete poetry takes it one step ahead.
My aunt writes these incredible poems, and while discussing one of my favorite ones, she expressed her desire to post her poems online. And that is when I started digging deeper and researching more on this field.
Everyone in this world is attracted to creativity in some way or the other. And while a poem does an excellent job of conveying thoughts and emotions, you can still make the experience even better for the reader.
Irrespective of whether it is a general piece of information or a creative poem, it will capture the audience's attention much better if it is visually appealing. And that is where a concrete poem maker comes into the picture.
If you are unsure what a concrete poem maker is, we will discuss that in the next section in more detail.
Since I started helping my aunt post her poems online, I explored multiple concrete poem-maker options online. And I realized very soon that there weren't enough discussions on this topic.
Plus, I have come across many people who asked me for recommendations for the best concrete poem maker. And that is precisely why I have this article here.
I will discuss what a concrete poem maker is and what it does. And I will also share my recommendations for the 5 best free online concrete poem maker websites to help you pick the best option according to your requirements.
So without delaying it any further, let's get right into it.
Also Read: Best Free Online Limerick Poem Generator Websites
What is a concrete poem?
Before covering my favorite concrete poem makers, let me quickly go over the basics for those not well-versed in this concept.
If I have to tell you in a single sentence, the fundamental objective of going for concrete poetry is to make a poem visually appealing.
In other words, you can format the words and sentences into various shapes, sizes, font styles, and even colors. Many people wrap the poem's text into a specific shape that can better illustrate its meaning.
This is where a concrete poem maker can be your companion to complete the job. When you use these tools, you do not have to worry about choosing the perfect shape or size which can fit your poem perfectly, editing it, etc. The tools make your job easier by helping to create concrete poems within a few minutes.
All you need to do is put the required words in the concrete poem generator, and once you click the Generate button, the tool will create the poem in any shape you want.
Multiple concrete poem generators are available online and mostly use the same process. And once the tool generates the poem, you can share it on numerous social media platforms with your family and friends.
You have complete freedom in your hand. You can create any poem, like sonnets, quatrains, tanka, etc. And with every new piece, you come up with, you can explore different colors, shapes, font styles, etc.
So which concrete poem maker works the best? Let's have a look.
5 Best Free Online Concrete Poem Maker Websites
Let's create concrete poems using these websites.
Word Art is one of the first concrete poem-maker tools I came across, and it is a favorite for many.
The first aspect that attracted me was that it is a free concrete poem generator website. And the second factor was the highly user-friendly interface.
Like on most poem-maker websites, you must insert the words you want to appear in your poem.
You can enter any words that you see fit. Apart from the words, you can also choose the shapes, font style, layout, etc. When I first came across this website, I was expecting generic shapes.
But the collection they have is quite impressive. Some of my favorites are a snowman, UFO, a cute heart, and a man.
Now, when it comes to inserting words, Word Art gives you different methods to do it. You can choose a text-containing CSV file and import it to the website. Another option is to copy and paste text from an excel sheet.
But no matter which method you follow, you must remove any numbers, commas, and stemming.
Once you are done with all the customizations, the next step is to click on the 'Visualize' button on the screen's bottom right to view the result.
Another convenient feature of this website is that if you want a hard copy of the concrete poem, you can also print it.
Word Art does the job well and makes generating concrete poems quite fun.
Features
The user interface of the website is straightforward to use.

You can try various shapes, font styles, layouts, etc.

You can insert the text via a CSV file containing the text or by pasting text from an Excel sheet.

You can print hard copies of the final result.

Word Art is free to use.
Again, it is a viral concrete poem generator, and I came across it while researching this topic.
A lot of users have recommended this tool. And once I started using it, I could understand why.
It is famous for all the right reasons and comes with all the necessary features to ensure that the user can easily create a concrete poem.
Using the concrete poem generator, you can create various concrete poetry styles, like a limerick, concrete, acrostic poem, etc. You must follow two sections to create a concrete poem using this website.
You must select the shape you want to associate with the poem in the first part. The chosen shape will contain the poem's text in the final result.
You will see a drop-down button for selecting the shape, and a wide range of options are available, like dog, ghost, monkey, cat, pumpkin, Santa Claus, etc.
You can also mail it if you notice that none of the shapes look exciting to you.
The next step is to input the words into the Poem Generator. You have complete freedom here to choose any type of word you want.
It can be an adjective, a random color, or any noun, for that matter. Another feature I like is the 'Suggest' button, which will show you ideas for random words.
There have been times when my aunt asked me for help on some particular line of her poem, and I went blank. The Suggest button has been beneficial in this scenario.
Once you are done with all the necessary changes and ready to see the final poem, click on the "Write me a poem" button. Your final concrete poem will appear in the shape you chose during the first part. You can now share this on different social media platforms.
Features
It is suitable for creating different poetry styles, like limericks, acrostics, etc.

The website is free to use.

There is a wide range of shape options available on the website.

It allows the creation of concrete poems by implementing a two-step process.

The website allows sharing of the final result on social media platforms.
This free concrete poem-making website is by 'Language is a virus.' Quite a quirky name, isn't it? Trust me; the name attracted me too.  
Another reason why I like this one is that I get control over the outcome style. The tool is easy to use and even lets you create shapes independently.
First, locate the text field and type your poem in it. It is better to prepare the poem beforehand because this tool does not generate the poem for you.
Next comes the customization steps, where you can choose the text color, maximum size, minimum size, and background color.
Once that is done, you can click anywhere on the page and hold the mouse to draw any shape you prefer.
This is the part I like the most. The website gives you the total freedom to let your creativity flow.
You can draw any shape you like, like a moon, leaf, ball, cake, or literally anything else. Then you can save your drawing in an image format to convert your poem into visual poetry.
And that's it! If you want to go for a second round, you can just click on Clear.
My aunt loves using this website as it offers some exciting features, but it is not complicated to get the hang of it.
Features
The website is free to use.

You can create any type of concrete poetry.

You have the freedom to create any shape you want to use with the poem.

It has a user-friendly interface.

You can customize the minimum and maximum size, text, and background colors.
Creative Communication is when you are in the mood to go the simple route. This free website is offered by Poetry Games, and you can create concrete poems like acrostic, haiku, quatrain, etc.
I used this when I wasn't too sure about using shapes to depict Concrete poems. And I still continue to use it whenever I feel a simple waterfall layout will help express any poem better.
The process of using this website is pretty simple. First, you will be asked to enter the title of the poem and then the text according to each line of the poem.
By default, you will see only three lines in the beginning. But you can always add more by clicking on the "Add Line" button.
There is another button to help determine if you want the poem to be placed in the center.
Once you view the final result on the screen, you can always edit it until you get a satisfactory result.
Features
It is a free website.

It is a simple, concrete poem-maker website without any complicated features.

The text of the poem can be entered in terms of different lines.

You can keep adding lines as you go.

The website allows you to place your poems in the center.
Last but not least, here is another concrete poem generator that I have enjoyed using. Irrespective of the type of poem you want to write, this free-to-use website will help depict it in the best way possible.
The process is pretty straightforward. First, you must click on "Get Started." You will be asked to select a preferred shape in the next step.
Many different options are available, like a heart, dog, cloud, boat, and many more. Next, express the subject of your poem using a few words. And then, when you click on "Generate poem," your concrete poem will be ready in front of you.
Sometimes, I feel that the poem is somewhat incomplete and needs some changes. And what I like about this website is that I can always edit the poem, make those changes, and then click on the "Update" button.
Once satisfied with the final result, you can print the poem to save a hard copy.
Features
A free concrete poem-making website that is very convenient to use.

There is a decent variety of shapes to explore.

The process of creating a poem is straightforward.

You can always edit and update the poem according to requirements.

You can print your poem as a hard copy.
Conclusion
So here are my recommendations for the best free online concrete poem maker websites. You can create any poem you want using these and display them via beautiful, visually appealing shapes.
I have been using them for quite a while now and hence can vouch for all the options as they deliver good performance.
If I had to pick my favorite from the list of recommendations, it would be Visual Poetry. The world of poetry is all about creativity, and I feel that this website takes customizing up a notch.
I like that I can draw any shape and convert it into a visual poem.
I hope this article has been helpful and you can come up with lovely concrete poems and portray them using beautiful shapes.
Pick any of the above options, and I assure you that you won't be disappointed.