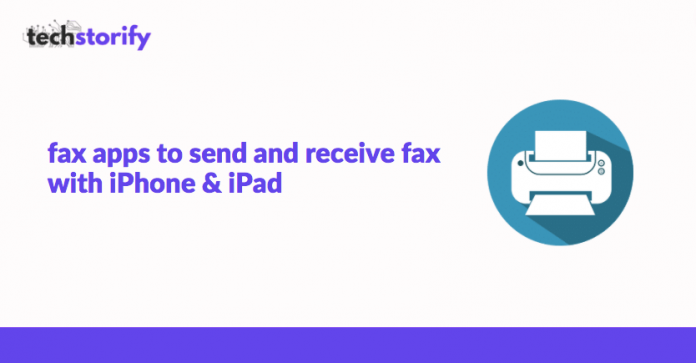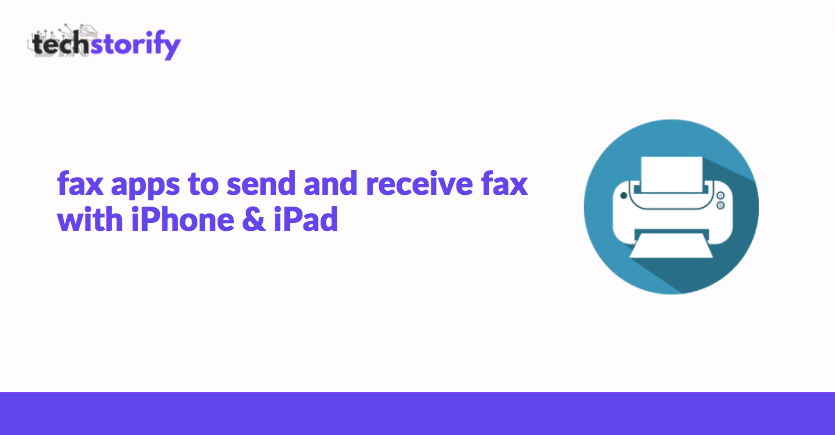 We all should thank the fax apps that let us send and receive our fax via iPhone or iPad and receive faxes on email securely and quickly.
These apps are handy and instantly send documents, and on the other side, the user can immediately receive them without any issues. Fax apps eliminate the need for a traditional fax machine.
Many apps are available on the App Store for iPhone users to send a fax directly from their smartphones. So let's not waste more time and explore the best fax apps for iPhone and iPad.
Best Fax Apps for iPhone and iPad
1 – FAX from iPhone
FAX from iPhone is one of the best apps to send fax quickly. The app is handy, and it requires no usual machine, or you don't need to go to a fax office. It lets you send any document anytime, everywhere.
This application lets you fax from iPhone in 90+ international countries. It offers advanced document scanning and image processing. The user will get the best quality no matter what type of document you are sending.
In addition, the Fax from iPhone is capable of combining multiple documents into a single fax. You can preview the document before sending it.
Using this app, you can send any file type as fax, including PDF, DOC, JPG, PNG & TIFF, HTML. Also, it is easy to create new documents with images. The app helps you import any type of documents from Dropbox, iCloud, Google Drive, or any other source.
Moreover, the app offers a powerful tracking feature that helps you track sent document status.
2 – Genius Fax
With this app, you can quickly send and receive faxes with your iOS device. Faxing with Genius Fax is simple, fast, and secure.
To send a fax, you can choose a file from any cloud service, including Dropbox, Google Drive, Box, or from any other iOS app.
To receive a fax, you need to subscribe to a number. You receive documents as PDF and can preview them or open them with any other app.
This fax app can scan your document with its built-in scanner. You can even pick a document from the Files or the Photos app. The application offers some additional options- you can add a title, sender, description, recipient details, and enable the cover page. Genius Fax has a simple and beautiful user interface.
The app lets you send a fax to many international destinations. You don't need to worry about the fax you sent, as you will get notified when your recipient successfully received your fax or if it failed to send.
3 – Easy Fax
Easy Fax is another one of the best fax apps for iPhones and iPad. It works as a powerful fax machine for documents, photos, and receipts. With this app, you can fax anywhere, anytime.
The application allows you to send images from your phone's gallery, or you can use your phone's camera to scan. Also, you can fax documents from cloud storage such as Dropbox, Evernote, Google Drive, OneDrive, etc. It also provides an import facility means you can import documents from other apps to fax.
All in all, this is a feature-rich, powerful fax app that can save time and money. It eliminates the need for a fax machine and makes your work easier.
4 – Fax Burner
If you are looking for an easy and fast fax app, Fax Burner could be the best choice for you. It's a free iOS fax machine that is trusted by millions of users worldwide.
Faxing with this app is easier than ever. You just need to get a fax number, take photos, and send faxes from anywhere. The app allows you to sign documents, complete forms easily, and fax them back out without printing.
FaxBurner's free plan will let you send and receive faxes, which is quite distinct from other freemium plans. You can send up to five pages and receive up to 25 at no cost. After that, you have to pay per page or upgrade your plan.
The app sends you a notification once your document arrives at the receiver's end.
5 – MetroFax
MetroFax is an affordable faxing service that offers some of the lowest price-per-page rates. With this app, you get so many features, local or toll-free numbers, and the ability to fax to more than 170 countries.
The app supports most of the common document and image formats. You can upload files and transfer PDFs to your cloud storage. One of the best things about this fax app is that it automatically retries failed sends twice, and notifies you immediately once your fax has gone through.
Another advantage of using this service is that it allows you to add five email addresses to a single Metrofax account.
6 – eFax
Another best fax app for iPhone and iPad is eFax. This faxing app provides the easiest and fastest way to send and receive faxes. The app has a clean design and is easy to use.
It provides options for organizing your faxes into folders. You can access all of your important account settings, such as your associated email addresses and billing details, as well.
The app lets you sign documents either by drawing a signature or uploading a picture of one. Using this fax app, you can send faxes to 200+ countries worldwide. It can scan documents with your camera and upload files from cloud storage. You can even include an optional custom cover page.
7 – mFax
mFax is our next pick in the list of best fax apps. It offers a free trial period, after which you will have to pay for the service.
The app can scan documents, open PDFs from Mail, cloud apps, and gallery to fax. Once you send the fax, you will receive a delivery notification instantly. The app lets you scan with auto edge detection, perspective correction, and shadow removal.
Using the app, you can either send a single page or multiple page faxes. Also, it allows you to fax to international countries.
You can import documents, files, pdfs, receipts, and more from other apps to fax. Creating a fax from your photo library is also an easy task.
Moreover, you can combine multiple files into one single fax and add a cover page to your fax. It supports many document formats for fax including office documents, PDF, JPG, PNG, etc.
8 – JotNot Fax
This fax service offers the easiest and fastest way to send and receive faxes. With its built-in scanner, you can scan any document using your phone's camera.
The app provides you with the fax number that you can use for sending and receiving faxes. With a free JotNot account, you can sync faxes and credits across multiple devices and other platforms, including iOS, the Web, and more.
Plus, the app will send you a push notification to let you know when you've received a fax, or when the fax that you've sent has finished.
The free cover pages are another perk. You can add them to your fax to make it more impressive. The app provides proof of transmission for each successfully sent fax, so you don't need to worry about anything.
9 – FAX.PLUS
FAX.PLUS is one of the leading fax apps that allows you to receive and send fax from an iPhone or iPad. This powerful tool for faxing documents lets you send a fax without any cost. You can get an online fax number and receive faxes on your phone as well.
To send a fax, you just need to use the built-in scanner to scan the document you want to fax, add the recipient's fax number and then send it. You are also allowed to attach documents from your local storage or iCloud Drive.
On the other hand, the receiver will get an online fax number from supported countries worldwide, and will be notified via push notification as soon as there is new fax in their inbox.
Moreover, after receiving fax, simply add your signature and send it back. There is no need to print it!
You can even enable the Retry for failed faxes feature, to ensure delivery. All failed to send faxes will be re-sent at an interval you define.
10 – PamFax
PamFax offers a complete fax solution that promises to provide the best security for private data. The app is free to use but if you want to send bulk faxes, you can go for a paid subscription.
PamFax allows you to send faxes in 31 countries with the fax number. To fax a document, just take a picture with a default camera or import files directly from cloud-based services like Dropbox, Google Drive, Box, OneDrive, etc.
The app comes with premade templates that you can use as the cover page. It offers free fax to other PamFax numbers. Moreover, you can manage and view all fax and account activities from within the application.
All in all, PamFax is a great app that is totally secure and offers fully encrypted transmissions.
Final Words
So these are the best fax apps for iPhone and iPad to send and receive fax fastly and securely. All of the above apps have great features. Using these services, you can easily send and keep track of faxes on iOS devices without any hassle.