You love music and hate to compromise with the voice clarity of your favourite music. However, we wouldn't recommend you to do that too. That's why Techstorify compiled a Top 10 list of the best-integrated amplifiers under $3000. Also, we created a buying guide to choose the best-integrated Amplifier for you. So there will not be a single drawback to please your inner audiophile.
What is an Integrated Amplifier?
No matter how bad mood you're in right now, just play your favourite music. And you'll feel a sudden change in your mood (in a good way).
Surely, you can't compromise the quality of music you get from an integrated amplifier.
But what is an integrated amplifier? And what exactly a best-integrated amplifier does to improve the music?
The meaning of integrated is something with combined parts or united by two or more separate things.
That's what an integrated amplifier is.
An integrated amplifier is a combined device of two major components.
1. Pre-Amplifier:-
It accepts the inputs of a device that you want to play. And, then it allows you to add some necessary modification to the output result such as volume, bass or treble etc.
2. Power Amplifier:-
After that Power Amplifier increases or modifies the power of an input signal. And, play the input signal on an output source such as speakers, headphones, transmitters etc.
Here's an infographic for better understanding:-

So either you need a set of Pre-Amplifier and Power Amplifier or you can just purchase an Integrated Amplifier.
I would go for the second option. So let's get forward with the list of things you should consider before buying an Integrated Amplifier.
Things to Consider Before Buying an Integrated Amplifier
1. Audio Input Connections:-
Every Integrated Amplifier comes with different kind of audio inputs. Just make sure the Amplifier you're buying support the input device you want to play with it.
Here's a list of Audio Inputs which will help you to understand better:-
RCA Audio Inputs— Almost all Integrated Amplifiers comes with RCA audio inputs. It is useful in playing common Music devices such as DVD Players.
RCA Phono Input— This input is useful to connect a source that has a very low level of signals and also require extra equalisation such as a Phonograph.
Balanced XLR— These audio inputs are useful to connect heavy-duty and high-end audio sources by a 3-Pin Connector.
Optical Input Port (Toslink)— Toshiba was the first who introduced the Optical Input Port in1983. They made it to use for their Compact Disc Players. That's why this port is also called as Toslink.
USB Type-A— It is a cable generally use to connect a computer or its devices. Also, it's useful to charge a device or transfer the data.
USB Type-B— This port is for plugging in a mobile device, USB thumb drive or connecting a Printer too.
Ethernet— You can easily connect to the internet or a computer with an internet connection using this cable.
2. Power Wattage:-
This solely depends on the sensitivity of your speakers or output device you're connecting to an Integrated Amplifier.
The numbers of power, a pair of speakers will consume to convert it in a particular amount of sound, the same numbers of power you'll need in an Integrated Amplifier.
No less no more.
In short, the bigger amount of power a speaker will consume, the higher amount of power wattage you'll need.
As a simple rule of thumb, you can also see the minimum output device recommendation on a manufacturer manual guide. It could be 8 ohms or 4 ohms.
3. Connectivity:-
Nowadays, almost every electronic device is going wireless. And it is better than a bunch of tangled wires behind your stunning device.
It is recommended to buy an Integrated Amplifier with WiFi and Bluetooth connectivity to play wirelessly.
4. Size:-
Integrated Amplifiers come with all sizes and shapes. We can choose it according to our needs and accommodations.
A big sized Amp comes with more connections and modifications. If you got a big place and really want to mess up with enough output sources then go for it.
On the other hand, if you got a little room to place the devices, a compact size Amplifier works well for you.
These are the basic factors that you must consider before buying an Integrated Amplifier.
Honestly, if I will write further, this post becomes a little technical and filled by technical abbreviations.
Still, if you want to go little deep you can check these recommendations:-
Also read:- 10 Best 75-Inch 4K TVs Under $2000 to Buy
Best Integrated Amplifiers under $3000
Now let's move on with the list of best-integrated amplifiers under $3000 by starting from the number 1.
Yamaha is a well-known brand for making reliable instruments and better audio devices than others. Obviously, we choose Yamaha A-S1100SL Integrated Amplifier to be the number #1, on the list of best-integrated amplifiers under $3000.
It has a shiny silver-coloured body which is enough to get your attention in an instant. The front panel's knobs are made by aluminium. On the front panel, you'll see controls of Large bass, Treble, Input selection switch, Balance, Large Volume and a headphone jack of 1/4-inch. And if you look into the side the wood panels will give you a retro finishing look.
The level meters of the front panel comes with soft Led lights. And, you can adjust them accordingly. Set them to peak, VU, or just turn them off.
If we talk about the connections, you will find the following connection inputs in Yamaha A-S1100SL 2 Channel Integrated Amplifier:-
A and B Speaker Connection Options
Audio Record in/out (Compatible with CD recorder, Audio Cassette Deck etc.
Three sets of analogue RCA inputs
Preamp Out
Phono Turntable input
Yamaha A-S1100SL 2  Integrated Amp comes with a remote control alongside a connection of remote in/out. You can use this feature to control certain functions using an external controller.
The weight of this Amp might bother you, which is around 51.4 pounds. However, if you have a big space this Amp is definitely a pick. It is sturdy, durable, produces a natural clean sound. And, it comes with a Vintage theme to bring back your nostalgic moments.
Floating and balanced power amplifier with MOSFETs

Sleek and Shiny Vintage Design

Symmetrical amplifier layout

High Wattage power supply

configured phono amp

90 W + 90 W (8 ohms, 20 Hz – 20 kHz, 0.07% THD)

Dynamically Level Meters

(peak / VU)
2. Roksan K3 Integrated Amplifier

For the number #2 of the list of best-integrated Amplifier, we picked up the Roksan K3 Integrated Amplifier.
Roksan, a British-based brand, known for producing versatile and reputable Amplifiers in the market.
K3 Amp is a successor of Roksan Kandy K2 Integrated Amplifier. And it is an all-rounder performer to run all the necessary actions. With enough power of 140W per channel into 8 Ohms and all the available input connections make it worth the attention.
K3 Amp comes with an elegant and sleek design. Also finishing off the aluminium faceplate and simple intuitive controls give it a premium look. Settings and Input selections are easy to use.
Plus it includes aptX Bluetooth, 5 line-level inputs, with a headphone jack of 3.5mm and a Phono stage with MM (moving magnet). Pre-out and bypass for your left and right channels are also available.
An integrated amplifier with aptX® Bluetooth
A reputed and well-known brand for winning 5-star reviews
Five additional line inputs with MM phono input
Premium build quality
Symmetrical amplifier layout
High-quality signal output relays
Pre-amplifier outputs and Headphone socket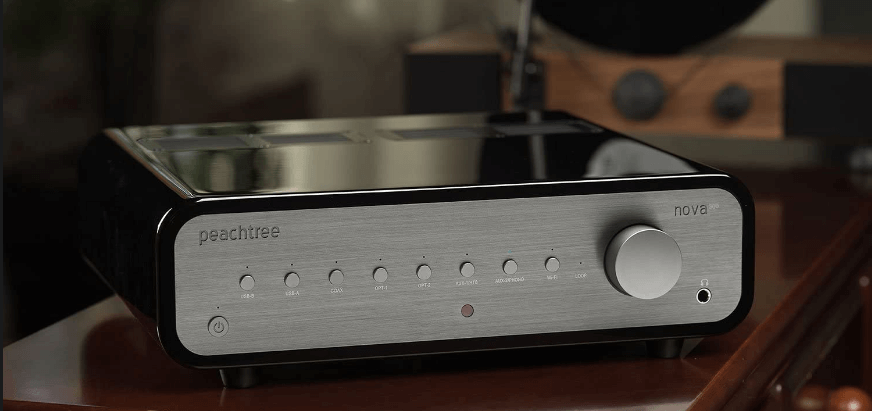 Everything Peachtree says about this amp is true.
That is the title of a review which got 27 people upvotes. I thought it'd be unfair if I'll not share this Integrated Amplifier with you.
Peachtree Audio Nova 300 comes with awesome performance and features that you'll not find most of the Amplifiers in this range. Like the previous in the list, it also has an elegant design and a compact size.
However, you can't place it in a small room because of its powerful voice. It has a DyNEC feature that eliminates unnecessary buzzing noises from input devices. And, turn them into a crystal clear and natural clean sound.
The company featured a
built-in DAC
(digital-to-analogue converter) and a USB input to connect a computer or mac without any complications.
Also, it comes with a remote control to access you certainly features from distances. Front panel's controls come with illuminated LED which you can control accordingly.
I heard Peachtree Audio nova300 comes with little overheating issues. However, a big and ventilated space can impact on this factor in a good way.
300 Watts Power Per Channel
Compact and lightweight than others Amp (17.86 pounds)
Remote control connectivity

DyNEC (Dynamic Noise Elimination Circuit) technology

Easily integrated with Home System
Supports Range of Input Connections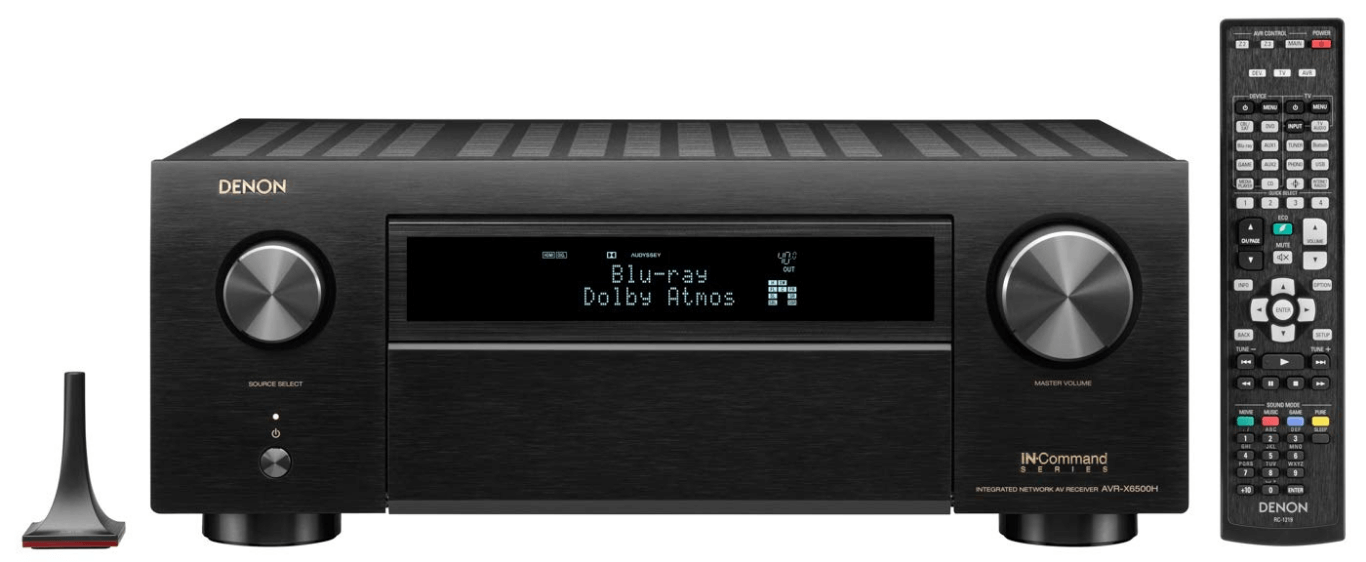 Denon AVR-X6500H is an Integrated Amplifier that has a good reputation in the geek community. It allows you to control its functions by giving the voice commands. Yes, it supports Alexa voice controls.
However, it comes with a big and sturdy look with a weight of 32.2 pounds. Still, its double-layered design, metal finishing look and shiny Aluminium Controls make it quite attractive.
It supports 11-channels with built-in amplification, Auro-3D, Dolby Atmos, and DTS:X. It comes with multiple HDMI connections of 7-HDMI inputs and 3-HDMI outputs. Alongside the 4-composite and 2-component video inputs as well as outputs.
Plus it allows you to set up a Bluetooth and WiFi connection. And you can easily control its functions through remote control.  Definitely one of the best-integrated amplifiers under $3000 you can consider buying.
11-channels
Multiple connection options (Wi-Fi, Airplay, and Bluetooth)
Compatible with Alexa
Dolby Atmos, DTS:X, DTS Virtual:X and Auro-3D
Audyssey MultEQ XT32 for better sound
Supports Home Automation Sytems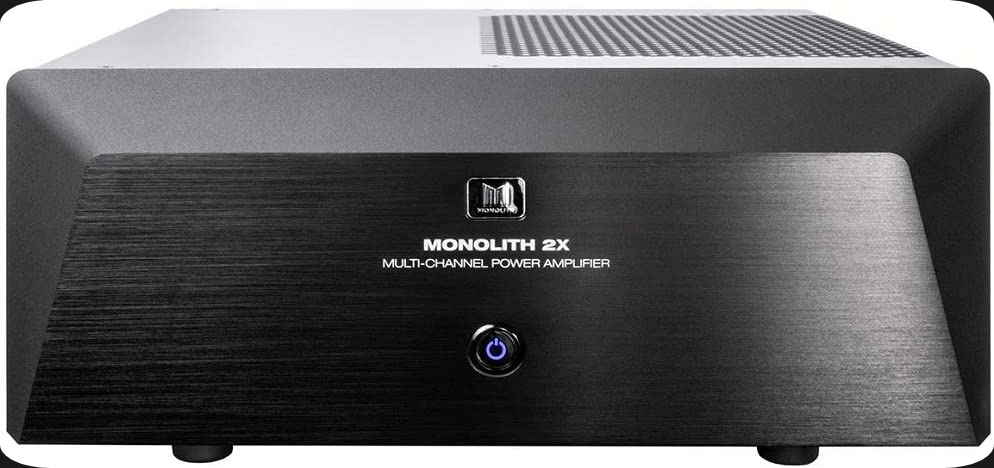 Monopriceis is another famous brand for manufacturing high quality and durable audio devices. Also, it is well known for making different kinds of electronic appliances.
I put it on #5 on the list of best-integrated Amplifier just because of its heavyweight which is 86 pounds. Although it comes with certain amazing features which you'll not find in another Amp. Such as Silent Cooling.
It supports 9 channel- 3 channels support 200Watts per channel and the other 6 channel supports 100 watts per channel. The company also mentioned that they measured it by using full power bandwidth of 20Hz to 20kHz into 8-ohm loads. Sounds powerful.
Also, it comes with an AB class design with a 100dB signal to noise ratio. Which is well known for producing premium quality and natural clean sound.
2, 3, 5, 9, 11 channels are also available to choose it according to your need.
Customize channels options available
Black coloured sleek design
No Effect by current fluctuations
Silent cooling

High-Resolution Audio delivers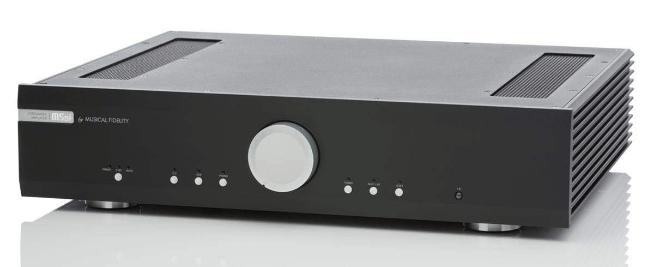 Music Fidelity is a well-known name in the industry musical instrument. And here we're introducing you to an amazing Integrated Amplifier created by the same brand.
With a Metalic black coloured finishing with silver-coloured big volume button never fail to catch your eyes. Also, a line of little pushbuttons and a little signature on the upper left side give it a premium look.
Pushbuttons allow you to control functions related to Power, CD, USB, Balanced, Phono, Tuner, Aux 1/HT, and Aux 2.On the rear panel, you will find two pairs of plastic-over-metal speaker binding posts, triggers and heavy-duty ground post inputs as well as outputs.
Also on the bottom, a pair of balanced inputs, a USB input, 4-line level inputs (RCA), and IEC inlet will be available. Plus you'll see a phono input too.
The Musical Fidelity M6si has a power output of 220Wpc into 8ohms with a wide frequency range of 10Hz-20kHz. As a result, you will be able to listen to the crystal clear and smooth voice of your favourite artist.
Stylish and sleek design
Durable and easy to use
Multi-purpose Input Connections
The wide frequency range of 10Hz-20kHz

Distortion is at less than 0.005%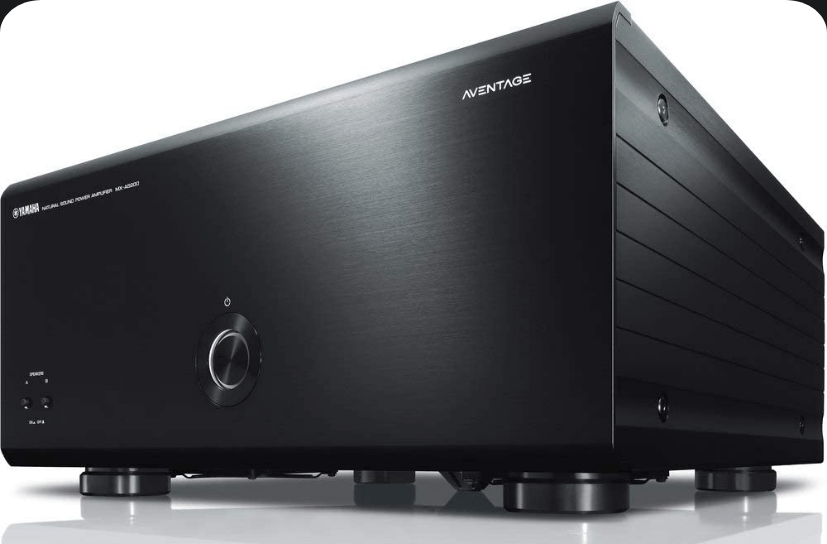 Here's another Yamaha Amp which is worth a place in the list of the best-integrated amplifiers under $3000. It got a 4.6 out of 5-star ratings with a couple of positive reviews.
Shiny and glossy Yamaha AVENTAGE has dimensions of 18.1 x 17.1 x 8.2 inches and weight of 58.2 pounds which is quite big. However, the bigger Amp comes with great features and extra components.
It has a sturdy frame construction with a double bottom base. Alongside you'll see steel vibration control plates of 1.6mm. It helps to reduce the vibrations while cutting down the buzz sound.
This Amp provides 200W per channel alongside the two high-capacity block capacitors. Also, it has a wide frequency range of 20Hz-20kHz.
The Yamaha Aventage comes with balanced XLR connections for 11-channels. This helps to make them sound more clear after reducing the unnecessary noises.
Aesthetic and Sturdy design
The wide frequency range of 20Hz-20kHz
Bridge-tied load support
11-channels with XLR connections
Auto Standby Function
Good signal to noise ratio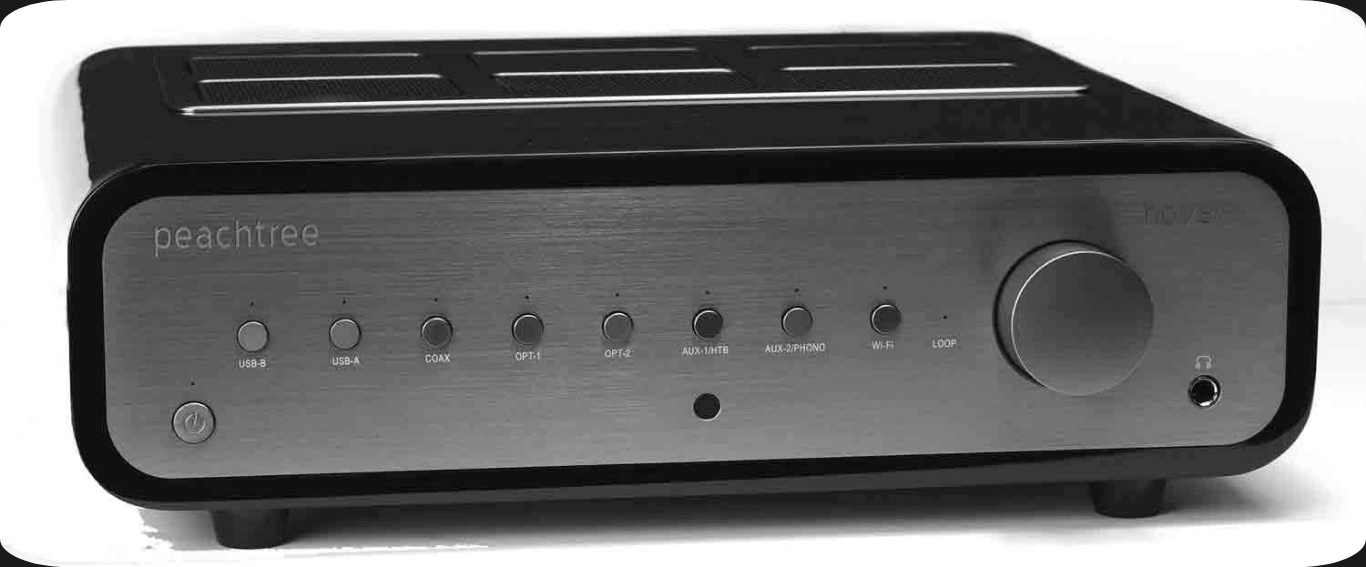 If you're looking for an Integrated Amplifier with enough power and compact weight, here it is. Peachtree another Integrated Amplifier but with 500 wattages of power. Isn't it above average?
Peachtree Audio Nova 500 has the dimensions of 18.6 x 17.1 x 9 inches and it weighs around 19.96 pounds. It is extremely lightweight if we compare it to the other Amp.
It comes with a blackish brown colour on the rear and silver finish on the front panel. Also, a black line around the front panel completes it. And gives it a polishing and sturdy look at the same time. A big volume button with a straight line of 8 touch buttons and a brand's signature make it sleeker.
It comes with 500 watts per channel of 8 ohms and 800 watts per channel of 4 ohms. Also, a 32-bit/384kHz design of Nova 500 supports all the essential file formats. Plus, it has AUX1 and AUX2 inputs as Home Theater Bypass, moving magnet phono or standard line-level inputs.
The High-resolution DAC makes the voice clearer and natural. Also, the remote convenience let you access the Amplifier's features with more flexibility. It is definitely one of the best Integrated Amplifiers with more power and less weight.
Home Theater Bypass for multi-channel watching
Integrated with Equalizer

Dynamic Noise Elimination Circuit

Remote convenience
Lightweight and Powerful

Cambridge Audio CXA81 is the Integrated Amplifier that comes with almost no cons. Also, you'll see ratings of 4.8 out of 5 stars. However, it's only from 9 users but still its 4.8.
This Amp comes with a dimension of 16.9 x 13.4 x 4.5 inches and weighs around 21.7 pounds. It comes with a lunar grey textured colour with a black box on the front panel. On the front panel, you'll see a big Volume button and a little Power button. Also little touch buttons in the black box of the front panel.
CXA81 delivers a power of 80 watts per channel. Also, it supports RCA inputs alongside balanced XLR sockets. Plus you'll get Bluetooth connectivity with aptX technology and ESS Sabre ES9016 digital-to-analogue convertor. However, it comes in the list of best Integrated Amplifier under $2000. Still, you can consider it as a low budget option.
Elegant and Sleek Design
One of the Best Amplifier in this budget ($2000)
Wireless Connectivity
Lightweight and Handy

Here's the Amp that ranks on the #10 among best-integrated amplifiers under $3000. Well, if you'll visit the Amazon buy page of this product, you'll see nothing but complete silence. However, I recommend you to not judge the product by this first impression as I did.
To clarify, I read a couple of reviews about this product. And, I was amazed by the positive ratings this Amp got.
MOON 240i Integrated Amplifier is manufactured by Moon (by Simaudio). It is known for creating musical instruments and devices with great quality. Also, this brand has received over 400 awards to date.
MOON 240i Integrated Amplifier comes with Output Power of 50 Watts per channel at 8 ohms. Moreover, you'll get a frequency response of 10Hz – 80kHz +0/-3dB with a Signal-to-noise Ratio of 100db. As a result, you'll get a better and clean sound performance.
Also, this Amp has 5 digital inputs include USB (hi-res audio), SPDIF (2), Optical (2). Alongside you will get 3 line-level inputs including a 3.5mm mini-jack for personal media players.
Also, this Amp comes with a Moving magnet phono preamplifier input, 6.3mm jack headphone output and a DAC that supports up to 32-bit/384kHz. In short, it leads you to better connectivity options. And at a price of $2500, it definitely worth a place in the best-integrated amplifiers under $3000.
Elegant design with an Oled display
Crisper and Clearer Sound Performance
Include Remote Connections with a multi-feature Remote
Lightweight and Handy (weight 24 lb)
Conclusion
Choosing a Best Integrated Amplifier in a particular budget could be a hectic task but if you get the best one you're the one who will be in the advantage. However, we tried to help you a bit by creating a list of best-integrated amplifiers under $3000.  And hope it will help you to find a perfect product for you.
Again, don't forget to consider the power wattage, size, connectivity and available input options according to your priorities.
Also, tell us in the comments if I missed out on something important. Similarly, let's know which Integrated Amplifier works best for you?
Now spread some love by sharing this post with your one to find the best Integrated Amplifier for him/her.
Have a cheery audiophile journey.
Also read – 10 Best Drones You Can Buy Under $300
Also read:-10 Best Projectors Under $200 With Premium Quality