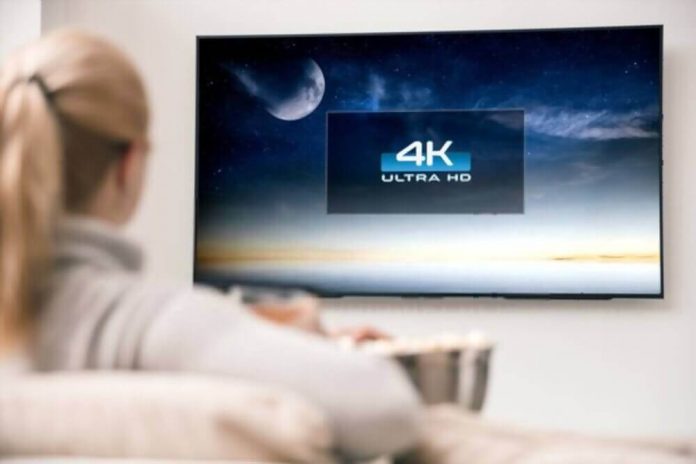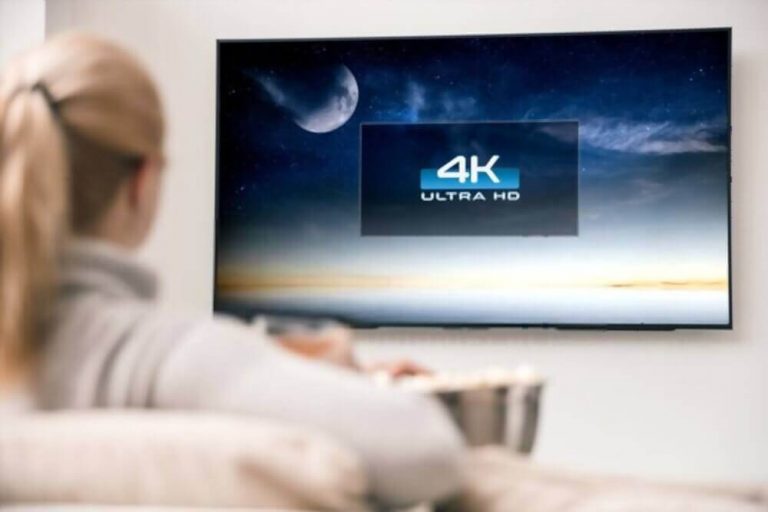 Best 75-inch 4K TVs under $2000?
If you've already made up your mind to purchase a new TV with a big HD screen. And you can afford up to $2000, here's a good piece of news.
There're many popular brands in the market that launched 75-inch 4K TVs with a price range of $2000. Plus, you'll get a couple of amazing features too.
However, you shouldn't spend your hard-earned money on a random 4K TV.
Now you'll think, then how to choose a perfect 4K TV that complete one's home entertainment system?
Relax, that's why Techstorify created a list of best 75-inch 4K TVs under $2000. Also, we'll give you a few tips to find perfect 4K TV, within your budget.
Things to Consider When Buying a 4K TV
Which TV Resolution You Should Choose- 4K, HDR10, HDR10+, Dolby Vision or 8K?
HDR is a new feature that you'll find in most of the 4K TVs (not available in TVs with 1080p resolution). And, if a TV hasn't HDR don't ever think to buy that TV. HDR – the high dynamic range, which helps to deliver content with vibrant colours, more contrast, and a better amount of brightness.
The standard dynamic range of HDR is HDR10, setoff by an industry trade group- UHD Alliance. However, some of Samsung's premium TVs have an upgraded version of HDR10 which is HDR10+. It supports a better picture quality experience to its viewer than HDR10. Still, you'll find a lack of HDR10+ content. Also, most of the Bluray doesn't support this format.
Moreover, there is a more demanding and better version of both which is Dolby Vision. Although, it's only found on TVs sets that pay a standard licensing fee and meet the Dolby's technical standards. Still, you can find this technology on some of the premium companies such as LG, Sony, and Vizio.
Further, there are few brands that already manufacturing TVs with an 8K resolution (7680 x 4320 pixels). 8K TVs present a better picture quality with the eye-popping details.
Still, we will not recommend you to buy an 8KTVs because of the abundant shortage of 8K content in the market.
In conclusion, a 4K Tv with HDR standard quality will be fine but if you can afford, go with Dolby Vision version of HDR.
1. Screen size:
It's is one of the major factors you must consider before buying a 4K TV. However, we already consider a 75-inch 4KTV would be a great option for you. Still, you can look upon some factors such as how many people will watch Money Heist on a new TV? If there are 3-4 people you can choose a TV with a screen size of 65-75 inches.
Also, you can look at the dimensions of the room where you're planning to place the new TV. Plus, how close you'll sit in front of your TV? Well, obviously, it's common sense but here's a rule of thumb that can help you. You should watch TV from a distance that is triple the height of your TV.
However, there's not a certain rule to find a 4K TV with a perfect screen size. But a little common sense and a priority list can help you a lot. Also, you can check the tom's guide advice to calculate the proper TV screen size.
2. Refresh rate:
Refresh rate means how many times a picture will be refreshed on the TV screen in one minute. And, it can be described as Hertz (Hz). These days a TV comes with a standard refresh rate is of 60Hz per second. Although at this rate, some of the fast-moving or action scenes can present a blurry image. To solve this problem some brands launched 4K TVs with a refresh rate of 120Hz or more.
There's a myth among the gamers that more the refresh rate, smoother the game will run. Somehow this could be possible but with a gaming console of 60Hz and a 4K TV with the same rate can work fine for you.
In short, don't bother to buy 120Hz TV just because of gaming, especially if you got a 60Hz gaming console. However, A TV shopper can consider a 4K HDR TV with that refresh rate.
3. Extra Features: HDMI Ports, Smart TVs, Extended Warranty
You got a screen, refresh rate, and HD quality but don't ever forget about HDMI ports. you'll plug-in your gaming console, will connect your PC, and lots more. However, you can't rely on 1 HDMI port on your 4K TV. Also, try to look out the version of the HDMI port. However, some of the TVs are available with HDMI 2.1 ports to give a better content transfer rate and smoother the playback experience. Still, it's not the thing, you'll find in every 4K TV.
As a conclusion, the more number of the ports better the experience. Also, look out for the HDMI 2.1, if you can.
Moreover, most of the 4K TVs come with Smart TV features such as WiFi services to stream services like Netflix, Playing online games, on-demand movies etc. Big brands like Google and Amazon also jumped in with their services. Like Amazon launched its Amazon Fire Edition TVs from Toshiba. However, not every Smart TV comes with the exact same service as compare to its competitors. It's recommended to first check the smart services you want on the TV you're buying.
Whenever you'll buy a TV, the company will ask you to add an extended warranty. But the chances are pretty low that you'll use this extended warranty. Most of the time, the 4K TVs you'll purchase aren't that weak, neither their components.
Almost every company gives you a 30-days return policy alongside at least one year of product warranty. So, you don't need to buy an extended warranty. However, you can ask your bank or Credit Card company if they provide a special discount or a protection policy.
That's a few factors you should consider before buying a 4K TV.
Also read:- 10 Best Integrated Amplifiers Under $3000 [Buying Guide 2020]
And, here are our Top 10 picks of best 75-inch 4K TVs under $2000, worth a consider.
10 Best 75-inch 4K TVs under $2000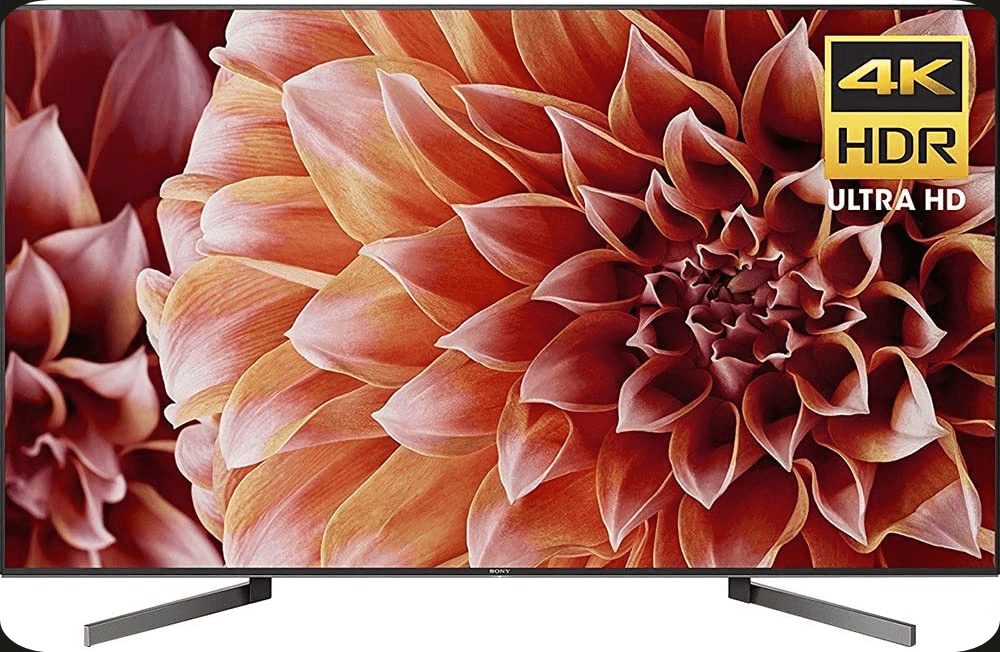 Sony is a world-famous and well-known brand for its premium quality product. We start this list by placing Sony XBR75X900F on #1 which is one of the best 75-inch 4K TVs under $2000.
Sony XBR75X900F comes with X900F 4K HDR technology to give you a better viewing experience which feels like a blessing, especially for the sports lover. Also, the powerful 4K HDR X1 Extreme processor comes with a better image processing speed than its competitors. As a result, you'll experience your favourite movies with ultra-detailed and upscaled Quality.
Moreover, it has an Xtended dynamic range PRO 6X XDR Contrast feature. This ensures you vibrant colours and brightness balance even playing dark scenes or movies like Harry Potter. Plus IMAX Enhanced and Dolby Vision are enough to give you real-life and engaging viewing experience.
Sony TV is also a perfect partner for gamers, especially those who love to play Ps4. However, some of the users reported input lag while using it for gaming. I don't think it's a TV for gaming.
On the other hand, Sony XBR75X900F is compatible with Google Assistant and Alexa. And you can play Youtube, movies etc by giving voice command into your remote. Also, it features 4 HDMI, 2 USB2.0, 1 USB 3.0, and 1 Composite port for a variety of input/output options.
Also, it comes with a 5 screen size options to choose from 49-85 inches. Still, we consider Sony XBR75X900F TV as one of the best 75-inch 4K TVs under $2000.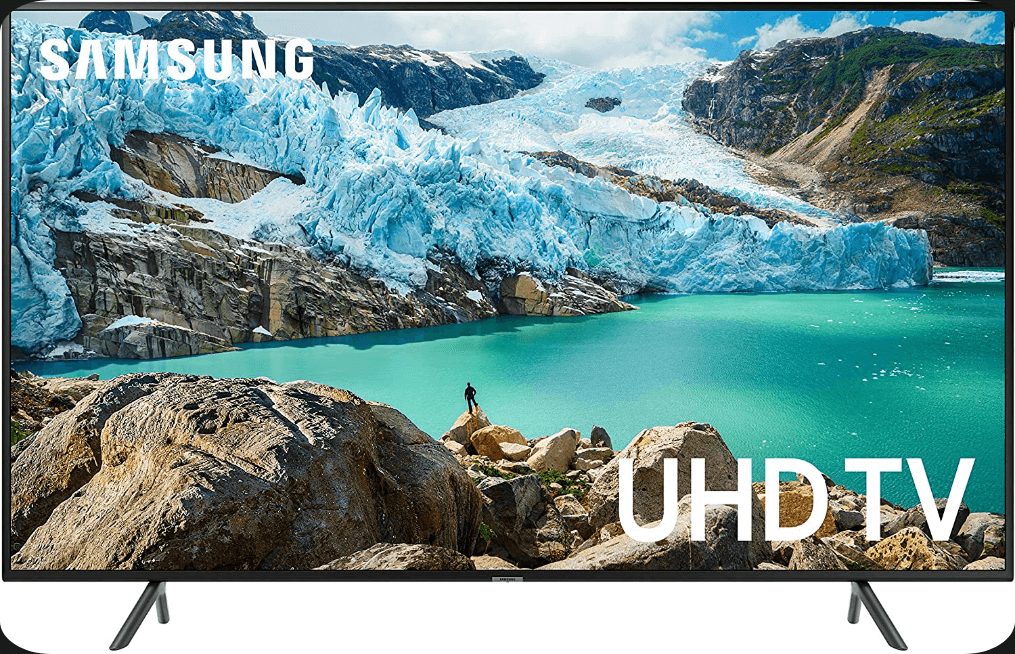 On number 2 of the list, you'll find a Samsung UN75RU7100FXZA which is also one of the best 4K UHD TVs you can find at this price. This TV comes with an ultra-slim and elegant design that gives you a polished and clean look.
The 4K UHD technology optimizes the TV's performance and shows you a better 4k picture quality. Also, 4K HDR and Purcolor technology present a fine-tuned image with well-detailed colours.
Smart TV features come with a universal guide to find a better piece of content for your special moments. Universal control allows you to control all devices with one remote. Also, Samsung UN75RU7100FXZA has Alexa and Google Assistant with smart speaker expandability.
plus it comes with 3 HDMI ports and Bluetooth compatibility. However, it only supports audio profiles such as Ear Buds, Headphones, and Soundbars.
Best 75-inch 4K TVs under $2000 With Smart Features
If you're looking for Smart features or tend to use online services to find suitable content then this
TCL
5S425 75 TV is the best pick for you. It comes with a Smart Roku TV that
Also, it comes with a 4K UHD technology to give you better picture quality. The High Dynamic Range of Dolby Vision presents your favourite content with balanced colours, contrast, and life-like detail.
And, it comes with a standby power consumption of about 0.5 watts. So you don't have to worry about paying huge electricity bills to get a cinematic movie experience.
The simple to use Roku TV Remote has only 20 buttons. Also, you can use your smartphone, tablet as a remote, and voice control with Alexa
and Google Assistant
compatibility.
Moreover, it has
3 HDMI 2.0 with HDCP 2.2 (one with HDMI ARC), 1 USB, RF, Composite, Headphone Jack, Optical Audio Out, Ethernet for better connectivity options.
If you're looking for a 4k TV with better Smart Features, this is one of the best 75-inch 4K TVs under $2000.
If you look at the top 100 list of
LED & LCD TVs
, you'll see most of the TVs from Sony and
Samsung
brand. However, we'll give you a list of some hidden gems too. Still, our first preference is quality so here we're with another Samsung TV.
This is the Samsung Class RU8000 Premium Smart 4K UHD TV. The sharp 4k UHD allows you to experience movies and TV shows in vivid colours and stunning sharp details. Dynamic Crystal Color shows well-balanced colour shades to present a real-like picture quality.

Also, it has some amazing features like Real Game Enhancer for real-time lower-lag gaming speed, Smart features with a universal guide, 3 Voice Assistants, and Clean Cable Solution.
And for connectivity supports, it has 4

HDMI

ports, 2 USB ports, 1 Ethernet (LAN) port, 1 Digital Audio Out (Optical) and 1 RS232C.
Best 75-inch 4K TV with Nanometer LED
If you want a real-like viewing experience with natural and vibrant colours with sharp details, this TV is definitely one of your top picks.
LG  75SM8670PUA has an amazing 75-inch display with 4K UHD Smart LED NanoCell technology. This technology combined a display's nanometer-sized particle to give you well-detailed images with stunning and vibrant colours.
Enhanced contrast and black levels present a playback with balanced contrast and brightness level. The a7 gen 2 intelligent and powerful processor make an ultra-smooth playback with great colour schemes.
In the connectivity section, you'll get 4 HDMI ports (2 rear, 2 sides), 3 USB Ports (v 2.0) and 1 RF Connection Input. Google Assistant and Alexa and Airplay 2 is also available to access the voice commands and share content from your Apple device.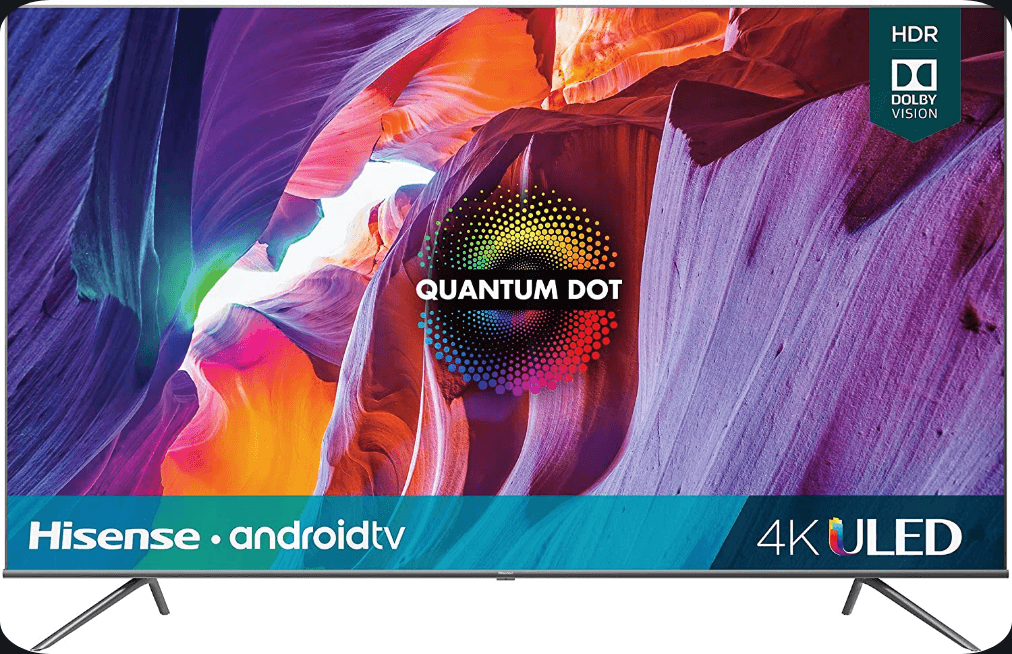 Hisense 75H8G is another UHD 4K TV comes with unique features that you won't find in its competitors. Also, it is a 4K TV that has a budget-friendly price range.
You can use the Android TV platform with this TV to download content and browse the internet. Also, the ULED screen with an H8G's billion-plus colours presents a great 4K resolution. The 700 nits of brightness and 90 local dimming zones produce picture quality with well-balanced brightness and contrast.
the Hi-View engine and chipset automatically adjust the lighting according to the movie you're watching on TV. Also, it has a game mode that detects automatically when you play a game to give you a lag-free experience.
Alongside the Alexa voice command, this TV has 4 HDMI inputs, 2 USB ports, and Bluetooth connectivity to connect all your devices and game consoles in an instant.
And, it has a price tag of $1300. Definitely, one of the worthy and best 75-inch 4K TVs under $2000.
Samsung all product promises you amazing features with premium quality. However, the company made this TV to boast its features which is better than its predecessor.
Samsung UN85TU8000FXZA has a crystal 4K processor with an ultra-fast respond to show you stunning and smoother picture quality. Also, the High dynamic range and crystal display give you a wide range of colours and visual details, even in a darker scene.
Moreover, this TV has a Game mode that automatically detects when you play a game. And do the best settings to give you a smoother gaming experience than before. Plus, it has a couple of smart features that you can access with a single remote controller or by giving the voice command to Alexa or Bixby.
To connection inputs, you'll get 3 HDMI ports, 2 USB ports, Rf connection and Bluetooth compatibility to access the various devices and content from it.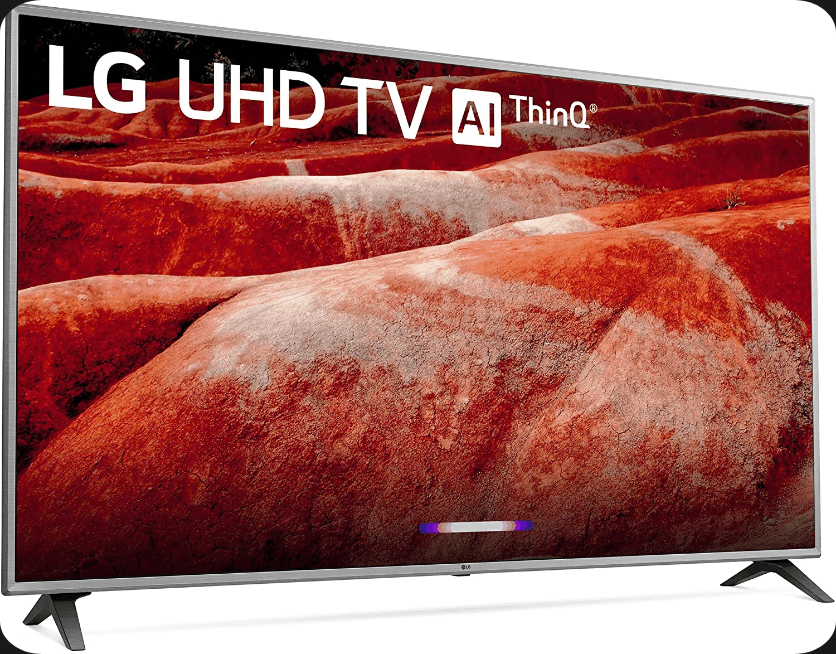 Let's reveal a fact.
LG was the company that made the very first 4K TV.
However, at that time this TV has a price tag of $40,000. Fortunately, you don't have to pay that amount to buy a fine 4K TV.
LG 75UM7570PUD is one of LG's best 4K TVs under $2000. It comes with a Quad-Core Processor that reduces the motion blur, enhances the sharpness and quality of the images. Active 4K HDR makes a better scene by scene adjustments and presents a life-like picture quality.
Moreover, the virtual sound channels let you experience the sound effects and soundtracks with a clear and cinematic virtual sound.
LG AI Think, Alexa and Google Assistant allow you to access certain functions using voice commands. Also, LG WebOS supports popular streaming services such as Netflix, Hulu etc.
Also, you can connect your devices with 4 HDMI ports, 2 USB ports, Bluetooth alongside the Airplay 2 to pair your Apple devices.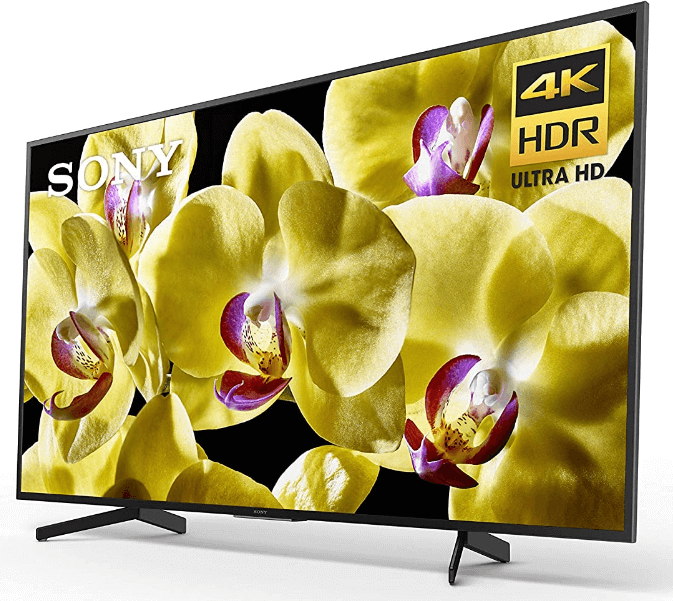 Just like any other Sony TVs, it comes with an excellent design and a premium quality. However, Sony XBR-75X800G comes with a better smart Android connection.
From movies, TV shows to all the thousands Android apps and games. This TV let you access all the content just by giving a voice command to it. You'll able to access the number of apps via Chromecast-built-in. Also, you can control the popular app's functionality, available in the Play Store such as YouTube, Netflix, Amazon. For example, control the videos from Google Home or by giving a voice command to Alexa.
Moreover, The Motionflow XR let you experience your favourite sports and action movies with life-like and sharp picture quality. The HDR into X800G renders perfectly separate the dark and bright scene to create a well-detailed and contrast picture.
Moreover, this device comes with 4 HDMI input connection and 2 USB ports, TV stand, power cord, and IR blaster.
Best 75-inch 4K TVs under $2000: Recommended & Underrated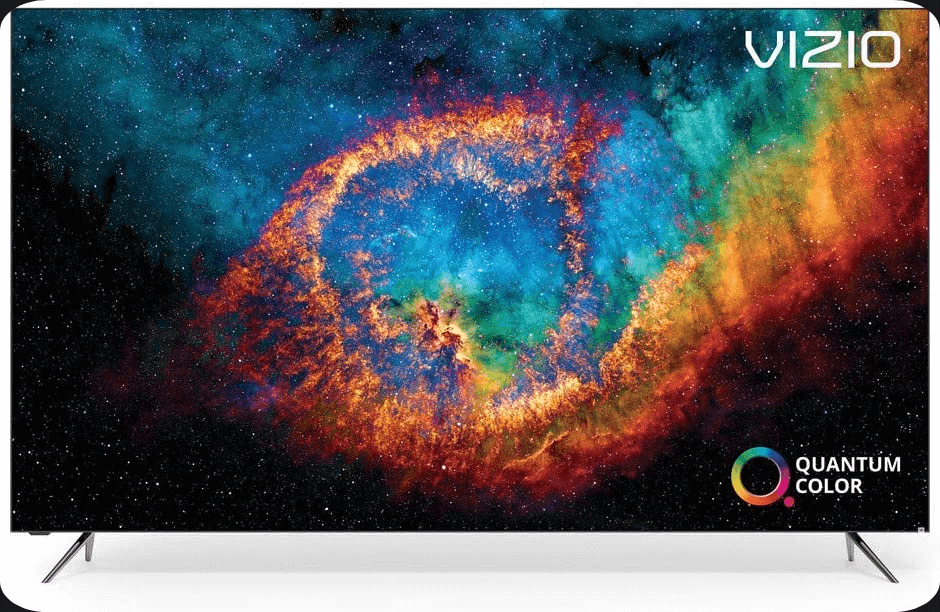 This is the TV that ranks #10 on the list of best 75-inch 4K TVs under $2000. If you've not heard about Vizio's product, let me tell you.
This TV is recommended by many high authority publications. They said it has the overall best features and image quality under a budget of $2000. However, it has a lack of smart features and Chromecast service is just fine. Still, we can't ignore its other amazing features.
The highlight feature of this TV is its brilliant hues that provide a well level brightness. This TV also supports Dolby Vision HDR which gives a wide range of colours and a cinematic experience. Alongside the Dolby Vision, it also supports HDR10 and HLG content.
4K Ultra HD screen With over 8 million pixels which are 4x the resolution of 1080P provides you with a life-like and detailed experience. Also, the Octa-Core processor and Clear Action 960 let you enjoy sports and action movies with motion clarity and faster image processing.
Moreover, VIZIO PX75-G1 comes with the support of Siri and Google Assistant. Plus, features like Laptop Screen Mirroring, Chromecast built-in, VIZIO WatchFree, Black Bar detection, Smartcast, and DTS Studio Sound II make it feature-loaded TV under that price.
Also, it has 5 HDMI ports and USB ports with Airplay support to transfer content from your Apple devices.
Conclusion
I hope this post will help you to find the perfect TV for you in your budget. However, you can consider a product outside the list. By using a little common sense, and by being aware while purchasing a 4K TV can help you a lot. No matter, you're doing it offline or online.
Just for a re-view consider the HDMI ports, HDR quality, included Smart features, a resolution with better contrast and quality. Just by considering these tips, you can choose a better 4K.
Let's know in the comments which TV you're going to buy. And, share this post with the person who is confused about a Television Shopping.
Also read:- 10 Best Drones You Can Buy Under $300
Also read:-10 Best Projectors Under $200 With Premium Quality