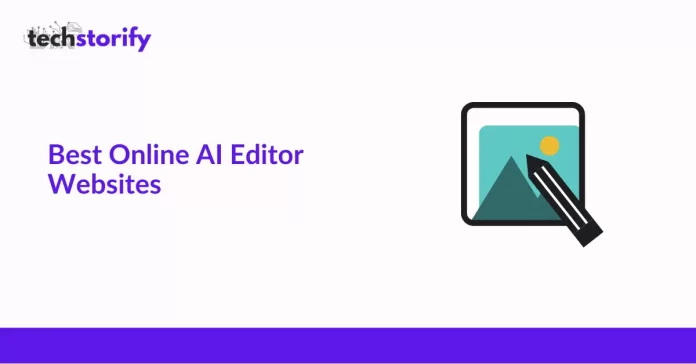 Want to edit some AI images or photos but don't want to set up any software? Here's an alternative. To help you, we've put up a list of the 5 greatest AI editor websites you can use for free.
Adobe Illustrator is a widely used program for creating vector graphics.
While it is primarily used by graphic designers, many photo editors also rely on Adobe Illustrator for tasks such as creating designs, illustrations, logos, and web graphics.
Even better, most of these AI picture editors don't require you to log in or sign up. The next time an AI file needs editing, just use one of these free online editors to get the job done.
While it's not as widely known as Photoshop, Illustrator is nonetheless an essential tool for many designers and artists.
If you're looking for the best Adobe Illustrator editing software of 2022, you've come to the right place.
In this blog post, we'll be taking a look at three of the best AI photo editors currently on the market.
5 Best Online AI Editor Websites
Editing for all major operating systems is included in these editors, including independent apps for Windows and Mac.
Let's have a look at some of the free online editors for Adobe Illustrator.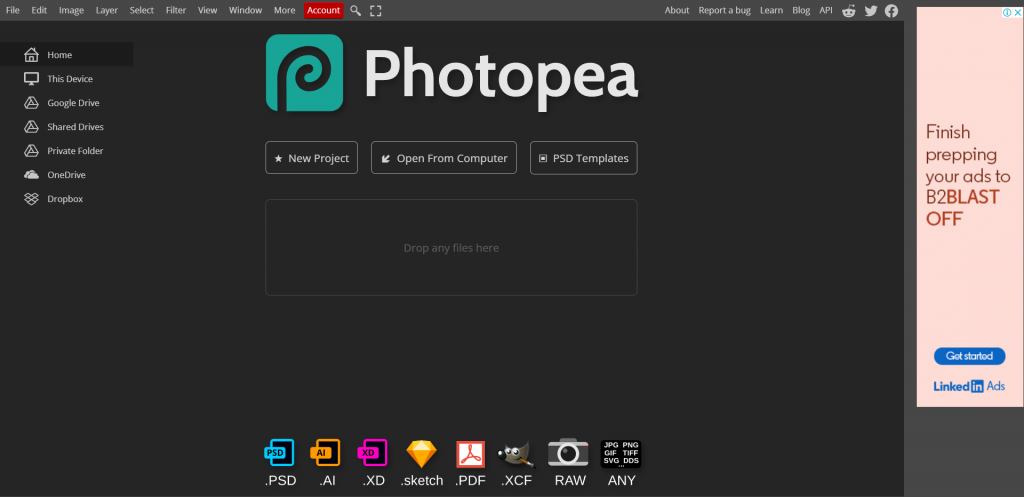 Photopea is a free online photo editor that offers many of the same features as its paid competitors.
With Photopea, you can create layers, use masking tools, add text, and more. Plus, Photopea supports PSD, XCF, sketch, and other files so you can open and edit files from Photoshop, GIMP, and other popular tools.
But what really sets Photopea apart is its advanced manipulation tools.
With Photopea, you can perform complex tasks like removing objects from photos and changing the perspective of images. These advanced features are usually only found in paid photo editors but Photopea offers them for free.
One of the best things about Photopea is that it runs directly in your browser, so there is no need to download or install anything.
This makes it extremely convenient and easy to use. Whether you are a professional photographer or someone who just likes to play around with photos for fun, Photopea is a great option.
Another great thing about Photopea is that it is compatible with all of the most popular image formats. This includes JPEG, PNG, GIF, TIFF, and RAW files. This means that you'll be able to edit any type of image file with ease. You can also export your edited images in any of these formats.

Inkscape is a free and open-source vector graphic editor with capabilities similar to those of Adobe Illustrator. It is available for Windows, macOS, and Linux. Inkscape has a comprehensive set of features and can be used for both simple and complex illustrations.
Inkscape has all of the standard features you would expect from a vector graphic editor, such as support for multiple layers and a wide variety of export options.
However, Inkscape also has some unique features, such as the ability to create live previews of your work-in-progress projects.
One of the main advantages of Inkscape is its price tag (or rather, lack thereof). If you're on a tight budget, Inkscape is definitely worth considering. However, it should be noted that Inkscape isn't as user-friendly as some of the other options on this list.
Gravit Designer is a free vector graphics editor with features similar to those found in Adobe Illustrator. It's available for Windows, macOS, Linux, and ChromeOS.
Gravit Designer offers a wide variety of features, including a pen tool, shape tools, text tools, layers panel, and more. Plus, it has an intuitive user interface that makes it easy to use even if you're not familiar with vector graphics editors.
It offers all the basic shapes, text, and controls you need to create vector graphics from scratch or edit existing designs. The interface is very similar to Vectr's with a tools panel on the left and your work area on the right.
One feature that sets Gravit Designer apart from other vector editors is its support for multiple pages in a single design project. This can come in handy if you're designing something like a business card or flyer that has multiple pages/sides.
Gravit Designer also supports multiple export formats, making it easy to share your work with others. However, one downside of Gravit Designer is that it does not have as many built-in templates or resources as some of the other editors on this list.
4. Vectr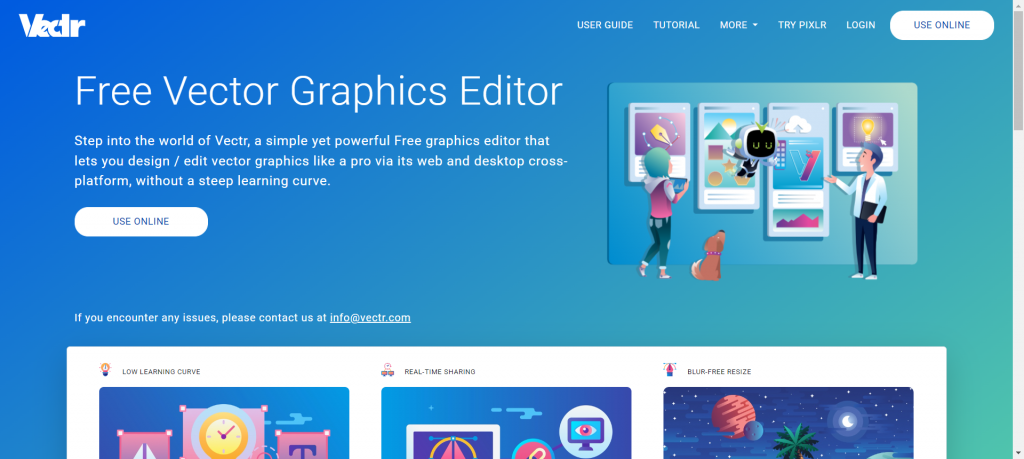 On our list of free online AI editors, we have Vectr next. It is also available as a desktop application for Windows, Linux, macOS, and ChromeOS. As a result, you have the option of using it online or installing it on your computer.
This editor is good for those who want to create vector graphics from scratch or edit existing designs. Vectr is available as a desktop app as well as an online editor.
This vector drawing program is free to download and use. It has an intuitive interface that makes it easy to get started with, and it comes with all the essential features you need for creating detailed vector illustrations.
Plus, Vectr is available for both desktop and mobile devices, so you can continue working on your projects even when you're away from your computer.
If necessary, you can save the design in SVG, PNG, or JPG format after making the necessary adjustments.
Lunancy is an AI-powered photo editing app that gives you the power to find the perfect photo for your project in seconds.
It is a free and open source photo editing software that offers a wide range of features for both amateur and professional photographers.
With Lunancy, all you need is a few keywords and the app will do the rest. That means no more sifting through thousands of photos that don't fit your needs. Lunancy is also very easy to use, making it a great choice for anyone who wants to edit their photos without having to learn a lot of complicated software.
Lunancy is packed with everything you need to make your photos look their best, from basic editing tools to more advanced features like layers and masking.
And because it is built on the cross-platform Electron framework, it runs equally well on Windows, macOS, and Linux.
Platform: Mac, Windows, and Linux
Verdict
Whether you're a seasoned designer or just getting started with vector graphics, these Adobe Illustrator editors will help you get the most out of this powerful program. With so many features and tools available, it can be difficult to know where to start, but this list will help you find the best editor for your needs.
Also Read: