A lot of people are unaware of how important a Dash Cam is for the road.
Driving is an easy enough task but often enough with other people on the road it can be the cause of a lot of stress. Even if you're an excellent driver, chances are that you'll be stumbling upon others who can't even drive straight.
With rising cases of accidents and road rage, the demand for Dash Cams has increased by a lot. In the event of an accident, a Dash Cam can present the evidence needed to prove your innocence.
As a rational driver, you should definitely invest in a Dash Cam for your car. Usually, insurance companies demand evidence in the event of damage to the vehicle, having a Dash Cam Can greatly help you solve the situation.
If you're still new to Dash Cams then you should read this article as we have mentioned the best Dash cam under $100 only for you.
Seeing what these Dash Cams are capable of doing, you can then choose the one which suits you.
Just make sure to go through the information offered and see what these products offer to you.
A good Dash Cam is able to capture high-quality videos even at night and jt has to be durable enough to keep on going for large periods of time.
While a Dash Cam is enough, not every Dash Cam is enough. That's why we have compiled this list of best dashcams under $100.
10 Best Dash Cam Under $100 In 2022
The JVC KV-DR305W might be one of the best dash cams on this list.
The features it provides will surely cover its expenses and provides you with something which you need on the road.
It is fitted with an integrated GPS which measures your vehicle's location at all times with other information such as speed, latitude & longitude.
All the information is recorded and can be accessed through its dedicated PC software.
This dash cam also includes a 3-axis G-Force detector which can detect the impact on your car from 3 different sides.  It can also detect sudden movements from the front, left, and right, you'll be seeing a lot from the 114° wide-angle camera lens.
Being equipped with a WDR (Wide Dynamic Range) which reduces headlight glares on the road and also shadows that you normally see when in a high contrast environment.
At just $99.9, you'll be getting a dashcam that will record in full HD with 1920 × 1080 quality.
This will ensure that every number plate on the road will be visible on the screen. Sudden brightness changes will be adjusted.
The built-in WIFI feature will allow you to connect this to your phone and computer easily.
This is surely one of the best dash cameras under $100 on this list. While you should definitely buy this, you should see what the other options can do for you.
Another great dash cam, the iZEEKER is a phenomenal device that can surely satisfy your surveillance needs on the road. Being the product of years of market research, the iZEEKER GD500 is equipped with a 2.5K dual dash camera.
This will capture the rear and back sides of the road.
It also solves a big problem as it is also equipped with a SONY IMX335 Sensor which is easily one of the best you can find on the market.
The iZEEKER also has advanced night vision and also equipped with an accident recording feature which will record a 30-second video before and after the collision.
The iZEEKER GD500 can be purchased at only $99.99 and it has many more features which will benefit you.
Another product for $99.99, the REXING V1 is one of the most reliable dash cams on the market. If you're looking for the best dash cam under 100 then this will surely be the right answer.
The features of REXING V1 include 4K resolution video recording, loop recording, and super capacitor which makes this dash cam durable enough to handle the high temperature in extreme environments.
The 170° wide angle lens will cover the whole road and your data will stay protected in the event of an accident with the collision detection feature.
The data on this dash cam can be easily accessed through your phone. In a time of serious need you'll be grateful to have bought REXING V1.
When looking for the best dashcams under $100, what you really need is a set of eyes that will record what happens on the road & the Kingslim D1 does that very well.
It is cheaper than the previous products, this one can be purchased at only $79.99 & you'll be getting amazing features.
Kingslim D1 has a front and rear camera, both recording at 1080P & 720P at an angle of 170° & 140° on the front & back side.
It offers a 64 GB of storage you'll also be getting a loop recording feature with a G-sensor which will create evidence upon sensing any collision. Overall Kingslim D1 is an amazing product that offers way more, it definitely deserves a look through.
Certainly one of the best dash cam under $100 in the market, a Rand McNally dash cam in your car would look cool.
The Rand McNally captures the footage of the road at 1080P resolution and also creates a time-lapse of your journey.
You'll be grateful for the time and date feature which will let you know when the video was recorded. Also, the snapshot feature will start taking additional pictures after an accident would get reported from the G-sensor which automatically creates a video when detecting a collision.
The Rand McNally can be purchased at only $92 and will surely be of great help to you in times of need.
6. UltraDash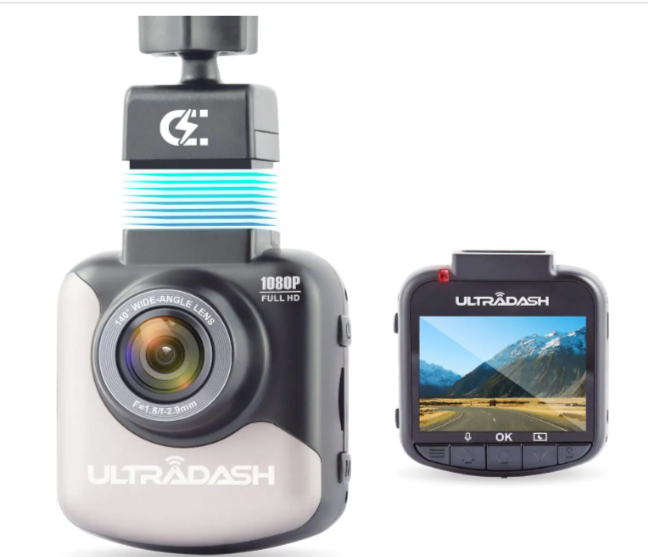 At just $69, you can buy one of the best dash cameras under $100 on the market.
UltraDash can do many amazing things for you. It offers insane features like a magnetic charging mount, high-end HD night vision, 6 layers of F.18 glass, and a 140° wide angle lens.
Being a reliable dash camera, this will record and create evidence with its G sensor feature which detects a collision and creates video evidence that can be used in court or for insirance purposes.
Not to mention that this has superb camera quality and overall you'll be able to use this car accessory easily.
The Kenwood DRV doesn't disappoint as it is worth the $99 you're gonna have to pay.
It can record HD videos even at night you'll be using a dash cam which will be accessible straight through your phone. Putting this device on your car, you'll be saving yourself from any future troubles.
It continuously records footage and loops it which can save you the trouble of doing it. Also letting you access the footage from your phone, its smartphone app makes it even `easier for you.
It is equipped with a supercapacitor this can even handle extreme weather. Another great thing about the Kenwood DRV-A301 is that it has a parking mode that activates and keeps on recording even when your car is parked.
A product of a long-time manufacturer, the Whistler D28RS promises to be the answer when looking for the best dash cam under $100.
Providing every feature you expect from a product from this list, the Whistler D28RS records in 1080p and comes with WIFI & GPS.
All the features mentioned above only make it easier to utilize this amazing tool.
Other important features include a G-sensor and loop recording.
Doing what is needed for car safety, Whistle makes sure to do it the best way by recording at a 120° angle and also using advanced imaging technology to capture the number plates of vehicles even at night.
ORSKEY certainly being one of the best dash cams under 100 makes this entry surely something that you should look at.
The ORSKEY CameraCore costs only $44 and still provides some of the best features by the market standards.
It performs recording at 1080p, even at night it has cameras on both sides of the car with the front one being 170° wide and the rear camera being 140° wide.
In the event of an accident, the built-in G-Sensor will automatically record a video which will be legally deemed as evidence for insurance or in court.
It provides all the amazing features that you need to make sure is that you drive safely on the road.
If you're worried about surveillance in your parking space then don't worry as this dash cam has 24-hour parking monitor which will keep on going when you're asleep.
The Minolta MNCD60-BL is a high-performing Dash Camera. Something which will definitely do the job right, this dashcam offers many features which ensure that you will have extra eyes on the road.
Making sure that you will get the best camera quality, Minolta offers 1080P recording at a 140° angle. The loop recording function keeps on recording new footage and removes the old one automatically.
A Major feature of this is the advanced driver assistance system which has warning systems installed that will let you know about lane departure and front collision with the help of GPS.
Another feature that Minolta provides is the front move alert at only $89.99.
Conclusion 
Now that we have covered our best dash cam under the $100 list it is up to you to choose the dash cam which works best for you.
Something which you should know is that some of these dash cams offer more features than others, & every dash cam has its own area of perfection.
When choosing a dash cam, make sure to search thoroughly and take a look at customer reviews if you can.
Also Read: