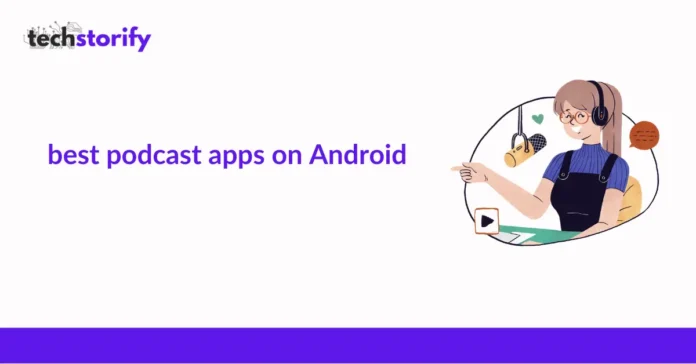 A podcast is something people listen to learn new things, get some news or maybe to laugh. In the age of WiFi and 5G internet, the podcast is rising at a fast pace. It is a great way to listen to experts and there are many podcast applications to choose from. But when any market gets crowded, to choose the best app gets harder.
To solve the problem, here is a list of best podcast apps for android. The list has a mixed collection of free and subscription-based applications, so select the one which suits your needs the best.
Best Podcast Apps for Android
Castbox is one of the most used podcast applications. There is much reason behind the popularity, to start with, it has a collection of over one million podcasts. Many of the podcasts are taken from iTunes and other places. Moreover, Castbox has support for 70 languages. Google Chromecast and Amazon Echo are also supported and it comes with cloud synchronization feature.
Another reason for the huge user base is Castbox is free and does not have any adverts. If you want to support the developers behind, there are in-app purchases.
We are talking about Android, so how can Google fall behind? Google Podcasts is another standard podcast application which has features like playback speed controls and the ability to skip silence segments. But if you look closely, Google has two other ways to stream podcast also. Google Play Music also comes with podcast support, and many people upload podcasts on YouTube as well.
Google Podcasts, when first launched was a bit too bare-bone, but with time it has updated a lot. Also, the app is completely free to use.
Pocket Casts is one of the solid podcasts available on Android and it basically has all the podcasts you can ever ask for. When the competition got harder, the developers redesigned the app and relaunched in 2019 with cross-device syncing and a bunch of playback features.
With the redesign, Pocket Casts is now a free application, with an optional subscription price.
Spotify is known to be the best music streaming service around the world. In 2016 it also started doing podcasts.
Yes, the availability of the podcast is limited, but hopefully, they will be adding many more in the near future. If you are already using Spotify for streaming music, you do not need any extra app for podcasts.
Both music and podcast streaming is free in Spotify with adverts but if you want to get the full experience, the subscription costs $9.99 per month.
TuneIn Radio is known for being a really good radio application. But in case you missed, the app also includes podcasts and audiobooks in the library.
It does not get podcast from any other services, but the owners have to manually add their podcasts here.
If you opt-in for the premium subscription it will provide you access to live NFL, MLB, and other sports games also.
The free version of the application is worth checking out. If you love both radio and podcasts, you may spend $9.99 per month for the premium version.
Podcast Go is relatively a new application on the market with good feedback from users. It comes with all the basic feature, like downloading podcast episodes, variable speed playback, sleep timers, and more.
On the UI part, it grabs all 5 stars for the material design. The app boasts over 300,000 available podcasts.
If you can live with some advertisements, the app is free to use. For the premium subscription, it will cost only $2.99 per month.
Podcast Addict is also an up and coming podcast application with a massive library. It also boasts audiobooks, live streaming radio, and more. Other than these, it has support for YouTube and Twitch channels, Chromecast and SONOS. When it comes to features, it has variable playback speed, skip silence options etc.
Just like Podcast Go, Podcast Addict is free with advertisements. For the full experience, you have to spend $2.99 per month.
Podbean comes with a different colour scheme, comparing to most of the other apps in the list and has a long list of podcasts in the library. You can subscribe, stream, download, and listen to those. Chromecast, Android Auto and Amazon Alexa – all of these are supported. So you can play it everywhere. Podbean also has lock screen controls and various audio effects.
The app is free to download from the Play Store and to get the premium features it will cost up to $9.99 per month.
DoggCatcher is one of the oldest podcast players for Android. But the developers have tried to keep up with the competition pretty well.
The app has support for Android Wear, Android Auto and Chromecast. Importantly, the library is massive to choose from. Variable speed playback, themes, and various automation and customization features can also be found in DoggCatcher.
Sadly, the app has no free version, but on the bright side, you will have to pay a one-time fee of $2.99 once and for all.
Just like Spotify, SoundCloud is another application which is primarily made to be a music streaming service. But it also has many podcasts in its library.
The app is also pretty good when it comes to arranging playlists and tracking your subscriptions to individual artists. You can subscribe to your favourite podcast not to miss any episode.
The app is free to use with adverts and if you want to get rid of those it will cost $4.99 per month.
Himalaya launched this year and that is also with a bang. Himalaya is both a podcast player app and a service for podcast creators.
With a good quality interface, it boasts a large collection of podcasts with many categories. It also features podcasts depending on the time. Have to admit, their recommendation is great.
Himalaya is free to use and without any adverts but has a few in-app purchase options.
Luminary is another app launched in 2019 and comes with a soothing interface. With the premium subscription, you will be able to get access to all its original programs, which includes Hear to Slay with Roxane Gay and Tressie McMillan Cottom and The Axe Files with David Axelrod.
On the other hand, some big networks like The New York Times and Gimlet Media are withholding key shows from this platform.
The premium subscription is going to cost $7.99 per month and to be honest, the free variant is not that useful.
Wrapping Up
So these are our picks for the best podcast apps for Android and hopefully, you will love many of them. In case you are thinking about making your own podcast, you might want to check Anchor, which is solely made for this purpose.
If you have any other podcast app in mind, let us know in the comments and happy listening.