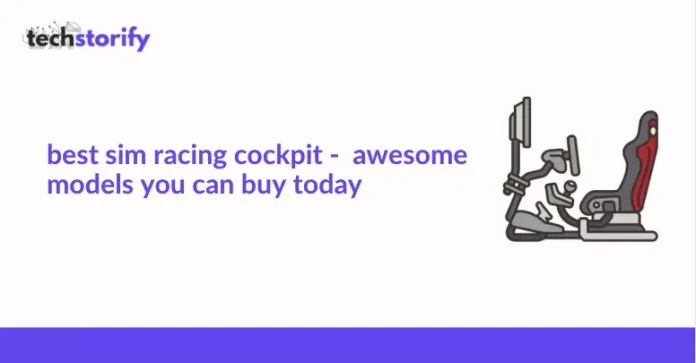 As a fan of racing games, what do you expect to experience in the real thing? With the developments in the gaming industry, the standards for realism are exceeding every year, and this has resulted in the introduction of new products like racing simulator cockpits, racing wheels, and pedals. A sim racing cockpit, works as a support for your steering wheel and pedal, completing the setup needed to see what the latest racing games can provide.
It's an improvement from attaching the steering wheel and pedal to your desk and allows serious gamers to get a better racing experience.
In this article, we will provide you with a list of the 10 best sim racing cockpits that will help you experience a more realistic virtual setting and feel how virtual driving actually feels like.
These racing simulator cockpits also provide comfort while racing, so keep an open mind and take in all the information to choose the best sim racing cockpit.
Best Sim Racing Cockpit & Seats Round-Up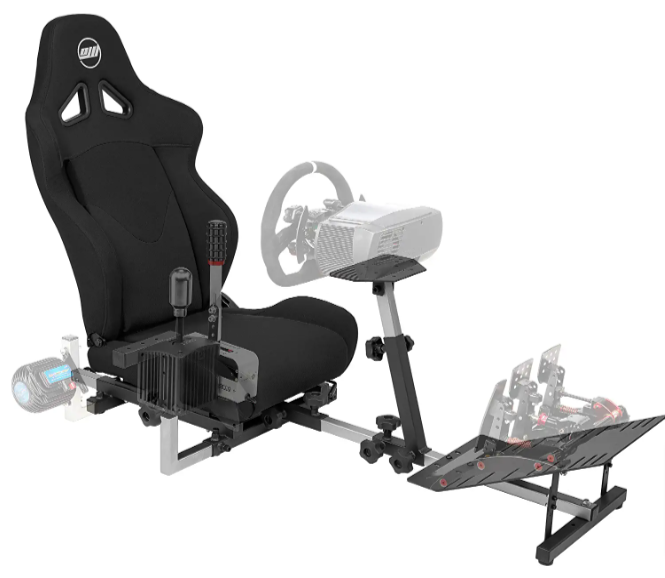 The OpenWheeler GEN 3 contains every feature when it comes to sim racing cockpits. Compatible with Xbox, PC & PS4 devices you will be having a lot of fun while racing with the OpenWheeler.
OpenWheeler is designed and manufactured to provide the most realistic and comfortable virtual racing experience.
It is included with a gear lever bracket that is adjustable, it is possible to convert the cockpit for left-side or right-side driving. It is a feature that you won't be seeing in other racing simulator cockpits.
The big size of OpenWheeler might give the impression that it will take up a lot of space but it is a compact product that is easy to store and move.
You can put this right beside your gaming equipment and take it out when you're in the mood for some driving.
OpenWheeler is designed to be customizable, while it may not provide you with every accessory you need while driving you can easily install your other equipment like multiple screens, a keyboard, and a cup holder.
It weighs only 65 pounds which makes it easy to store and move. Being 37 X 16 X 23 inches when fully formed the racing simulator cockpit will surely fit in your room.
For just 499$ the OpenWheeler GEN 3 aims to provide you with a racing experience that will push you more into the sport and will allow you to appreciate the modern-day racing games even more.
An amazing product that delivers what is needed the OpenWheeler is surely something that you should purchase.
The Playseat Challenge Black is a compact racing simulator cockpit as it is foldable. It is created to fit and not take much space, the Playseat challenge black can be installed and assembled in seconds.
It has a unique folding design which is one of the best things about this cockpit.
Using this you'll find that it is adjustable for your comfort and also very stable despite its thin structure.
The superior build quality will support your weight and desires for many years as you will play different racing games. The design of Playseat Challenge Black is quite similar to the real cockpits in racing cars.
Being different from other racing cockpits, Playseat is a product that aims to take it one step further when it comes to realism.
This product is compatible with all the major consoles and will connect with all currently available racing simulation gear like Thrustmaster, Logitech & Fanatec.
The dimensions of this product are 32 X 23 X 8 inches and you can easily carry this product around as it is lightweight.
Currently, the Playseat costs around 250$ and by buying it you can grant yourself an amazing virtual gaming experience.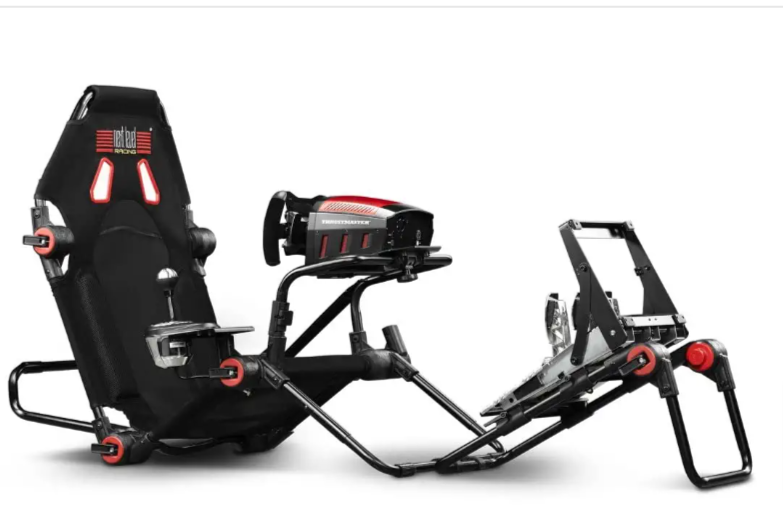 Next Level Racing F-GT Lite really takes it to the next level when it comes to racing simulator cockpit.
Truly one of the best sim racing cockpits currently, this product is constructed with a design that will allow to you truly enjoy virtual gaming and do it according to your comfort.
This one is a customizable product and you can adjust this racing simulator cockpit and change your position according to different cars.
You can switch to a position that resembles formula one cars, another which matches a sports car or anyhow you feel comfortable. The cockpit allows for quick adjustment and the material is durable enough to last many years.
The gear lever can be installed on both, the right and left side & the seat allows for maximum comfort level which you can spend hours on.
This easy-to-store product will fit right beside your gaming equipment and any steering wheel & pedal of yours will be compatible with it.
The Next Level Racing F-GT Lite will cost you around $300, this product is very versatile when it comes to being adjustable and comfortable at the same time.
4. Dardoo Racing Wheel Stand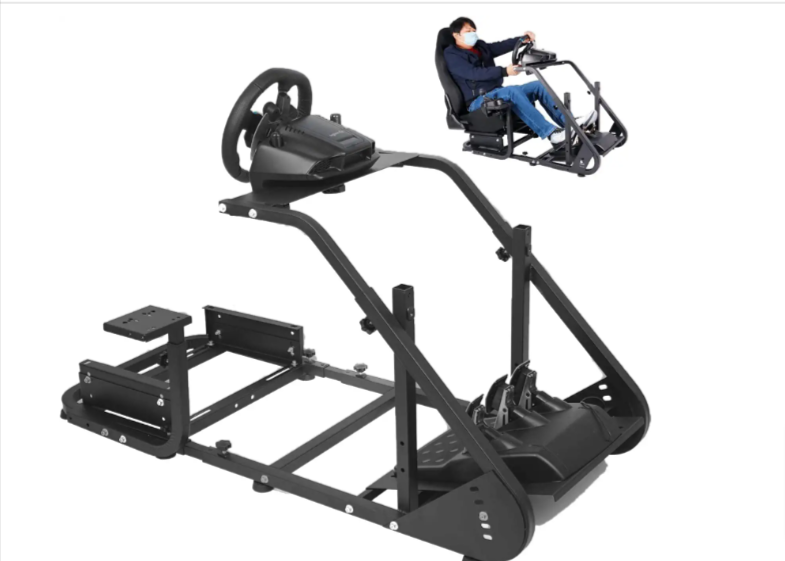 Dardoo has provided many products to gamers, and this one is surely a treat and great support for gamers who are in need of a genuine sim racing cockpit.
For just $159, the Dardoo racing wheel stand ends up providing your steering wheel, pedal and chair the support it needs.
Each joint on the Dardoo racing wheel stand is fixed through four large screws, it aims to provide gamers the stability and structural strength they need for an amazing virtual driving experience.
Dardoo is perfect for someone who is serious and committed to virtual racing & driving. The Dardoo racing wheel stand is created to replicate a real racing car, making the gaming experience feel similar to a real car.
With holes and joints reserved for more equipment, you can easily replace your previous racing cockpit and get an upgrade with the Dardoo racing wheel stand.
Not to mention that Dardoo is compatible with every other gaming equipment out there.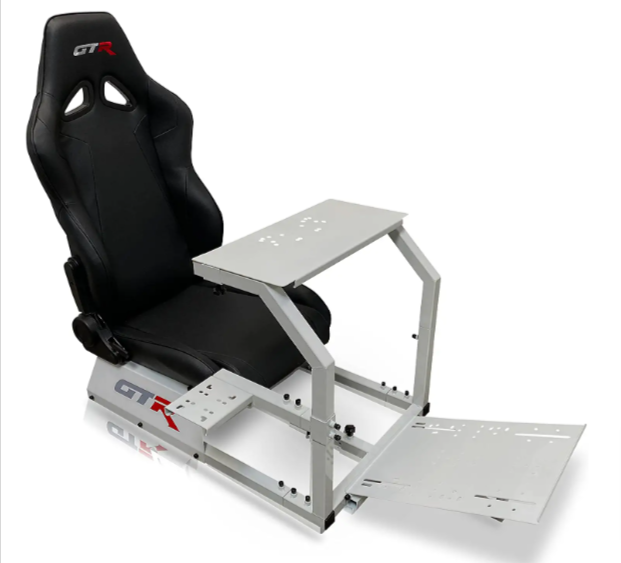 You really need to pay attention to this product, as the GTR Simulator GTA Model is one of the best racing simulator cockpits you can find on the market. As it costs around $509 it also gives you all the features you need for virtual driving and racing.
The comfortable design of this product will make you feel more confident while you'll be in the driving seat and will surely improve your driving skills.
Fitting in your steering wheel, pedal, and gear lever you can spend hours on this.
The GTA model of the GTR simulator is adjustable you can try out 14 different positions and see which one suits you the best. Both strong and durable, it is the perfect addition to anyone's gaming journey.
What makes this product great is the manufacturer who only wants to give their customers the best experience. This one is available in multiple colors if you're not satisfied with the GTA model then you can easily return this no questions asked.
GTR simulator GTA model weighs only 70 pounds and its dimensions are 58 X 23 43 inches.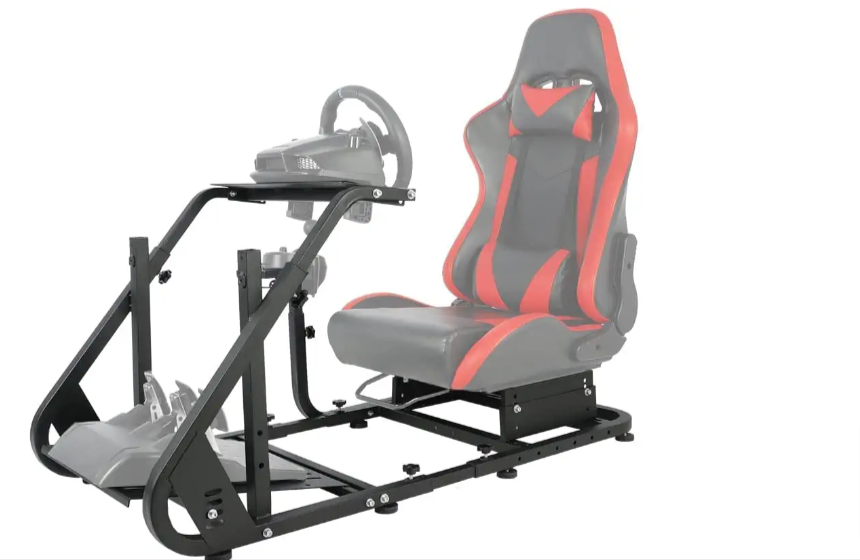 Hottoboy G29 Driving Simulator Cockpit is another addition to the list of strong & durable cockpits which every gamer needs. What makes it more worthwhile is its compatibility with Logitech & Thrustmasters Steering Wheels & Pedals.
If you have a chair, wheel & pedal around your desk then you need to combine them with this and ensemble a racing cockpit.
It is fully capable of handling intense gaming the Hottoboy G29 has a strong bearing capacity and weighs only 40 pounds.
The wheel stand is made to be highly durable and something which can support all of the force you'll be exerting on the wheel. The structure is designed to be different from other products and also serves as an improvement from other racing simulators.
All for providing you the best racing simulation experience this cockpit is a great buy that you should definitely make.
7. Dshot Racing Wheel
Dshot racing wheel is one of the best sim racing cockpits of 2022. Fitted with an amazing reclining gaming chair, the Dshot racing cockpit costs only $277 and is surely something that you should give to yourself if you're a fan of virtual driving.
Dshot made with carbon steel & PVC makes it one of the most well-made cockpits of the industry. Also adjustable, you can change how your chair is stationed and also increase or decrease the steering wheel height.
It is compatible with both Logitech & Thrustmaster products, users of Playstation are going to have a lot of fun while sitting on the Dshot racing wheel.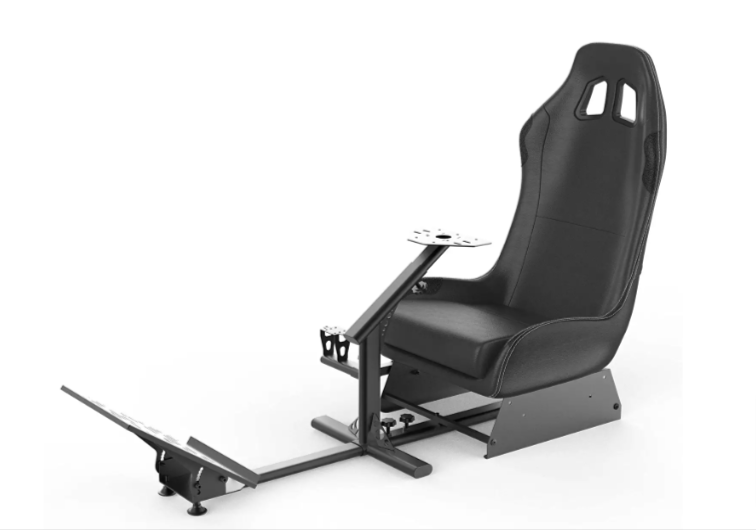 Cirearoa is a more comfortable option when it comes to the list of best sim racing cockpits.
Having the perfect balance between providing an amazing racing experience and being a strong/comfortable product, the Cirearoa is something that you should consider when looking for a racing cockpit.
It is fully adjustable to the needs of the driver and can be adjusted at different angles and distances. Every gamer can find a different position from which they feel comfortable driving.
A flexible pedal range which you'll be able to enjoy even more through your seat which can come back & forth.
Taking only 10 minutes to assemble, you can stretch out for a long period of driving on the Cirearoa and have all the fun you were looking for.
Its cost is only $277 the Cirearoa is worth a buy.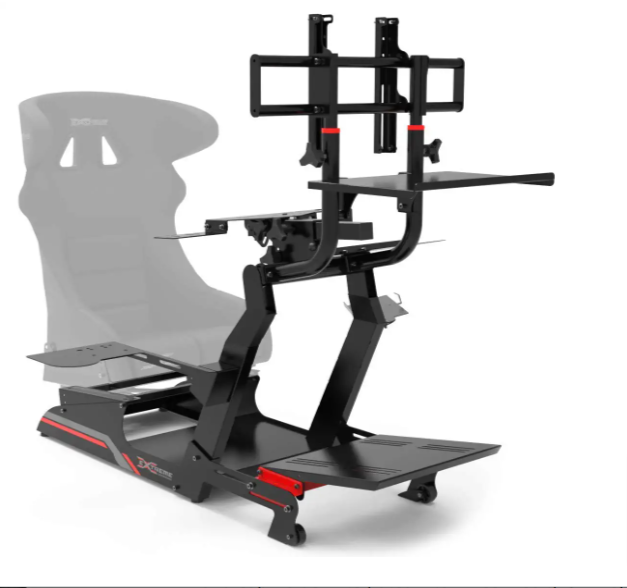 When it comes to sim racing cockpits the Chassi 3.0 provides a unique structure, & it ends up working for its users as it ends up being a great addition to the gaming experience.
The integrated TV stand will be of great help to you as it is a great improvement from any other previous racing cockpits.
Created to be strong, the Chassi 3.0 is made with carbon fiber and it provides a solid performance. Being something comfortable and adjustable for gamers, you won't be making a wrong decision by choosing Chassi 3.0.
You can even fit your monitor, keyboard & mouse with your steering wheel & pedal on the Chassi 3.0.
With this feature being something only Chassi 3.0 may have made possible, it is the ideal choice as a racing cockpit. While this product will cost you $849 you'll be making the right decision as when it comes to gaming equipment being an investment what you'll get in return is worth spending all the money on.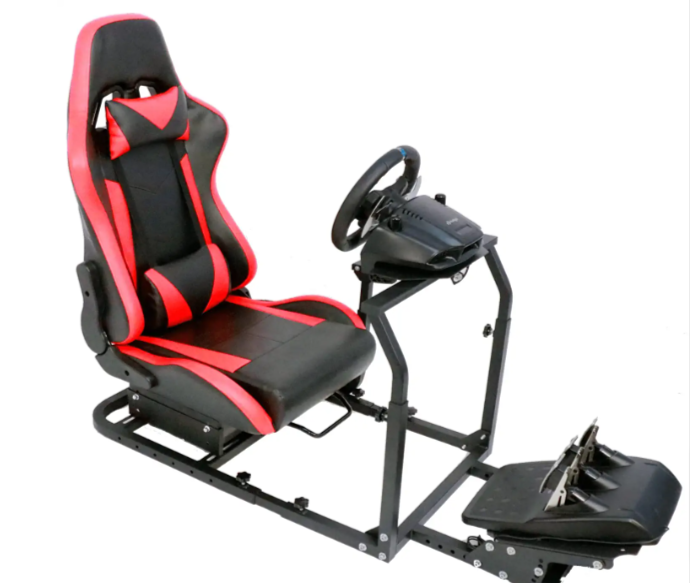 Anman Racing cockpit is a great choice if you're looking for support while gaming. This can connect with PC, PS4, XBOX 1, Logitech, Fanatec, Clubport, and Thrustmaster.
Anman is made with carbon fiber and is known for its durability. What makes it even better is it has been coated with antioxidants to be rust-free.
Being a cockpit that can support a wide range of products, it is also adjustable, with the integrated seat support you can change the height of the steering wheel.
The best thing about the Anman racing simulator is that driving through this you'll be getting close to the real deal as its designers were very serious to represent the professionalism aspect while making this racing cockpit for simulation.
Also, Read
Conclusion 
There you have it. These were our selections for the top 10 best sim racing cockpits in 2023. Picking the perfect sim racing cockpit, some may say, is an art.
Something you should notice is that while all the products in the list represent sim racing cockpits, every product in the list still manages to stand out from the rest and do something for you.
While some of these are complete cockpits, some are just standing, some are fully adjustable others can only adjust a little.
What you should know is that each of these products is made for someone, & looking for a sim racing cockpit you should know what you're looking for.
So feel free to go through the list again and see what every cockpit can do for you and your desire for driving at high speed.