Imagine, attending a live gaming session of straight 5 hours, even on a plastic furniture chair. Arghhhhh. And if you're already doing that, please I request you to think a little about your health too and invest in a new comfortable and best gaming chair. And if you're low on a budget I have already got it right. Here is a list of 20 best gaming chairs that comes with premium quality yet at an affordable price.
Best Gaming Chairs
The gaming industry is getting a lot of booms in these days. Well, I think COVID-19 Pandemic is one of the reasons. Every gamer is spending an average of 3-5 straight hours on a gaming session. And you'll not be able to concentrate on the game that long if your body starts paining just after 1 hour. That's why a chair is a necessity if you want to be a professional gamer at all.
In this article, I will introduce you to the best gaming chairs at a budget price. So you will be more focused on your favorite gamer rather than your neck pain.
Let's get started then by number 1.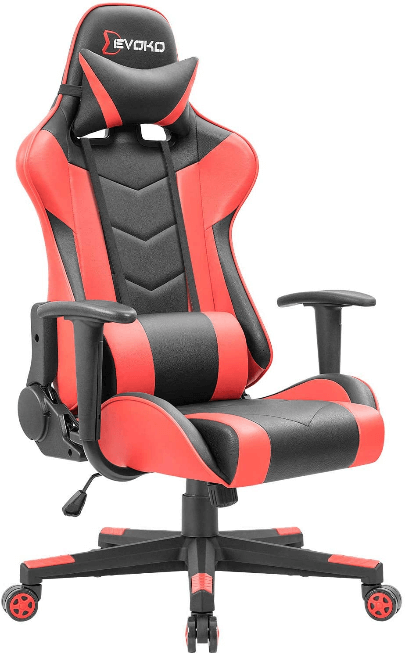 Devoko Ergonomic gaming chair is one of the cheapest and best gaming chairs in the market. Especially who is looking for a gaming chair with a modish design. It looks like a premium and expensive gaming piece of furniture. Also, it has a comfortable posture design and a sturdily built frame to support you in long hours gaming sessions.
Moreover, it comes with a seat height of 13.4-16.7″ and a seat width of 14.9″ with a seat depth of 19.6″. Also, you can tilt the backrest up to 90-180 degrees. Plus, this chair features adjustable arm-sets, lumbar pillow, neck pillow with a max load of 330 lbs. And it costs you around $99. Why shouldn't you choose this one?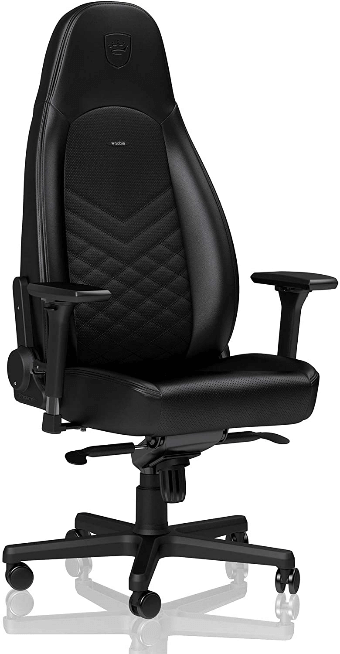 If you're into gaming but don't like a gaming chair with a vibrant design on it then Noblechairs ICON gaming chair is perfect for you. It can work as a multipurpose chair. You can use it for office work, homework, or for a gaming session. It comes with a simple yet elegant black design with a check design on its backrest.
Noblechairs is a known brand for manufacturing quality products. And the same type of premium quality you'll find in this chair. It comes with a covering of Premium top-grain leather, comfortable cold-foam upholstery, 4d adjustable armrests, two comfortable pillows included, and with a max load of 330 lbs.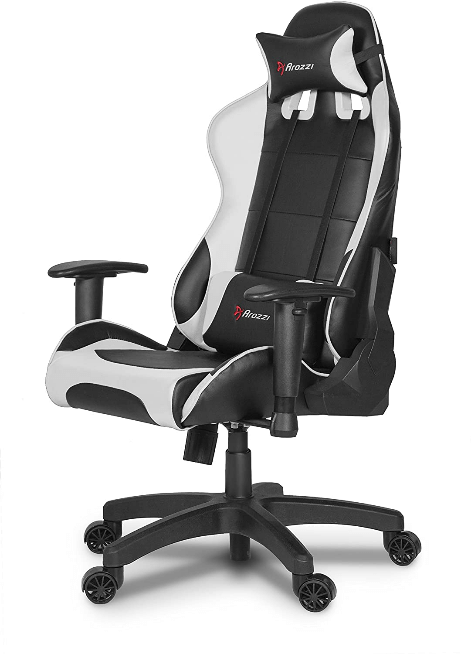 This chair could perfect for you if you're looking for a chair to gift it to your little brother, who's new to the gaming world. Or your kid started a new gaming channel and somehow you want to support him. This chair could work better for you.
Arozzi Verona Junior is an ideal gaming chair for people under a height of 5 feet 4 inches. This chair comes with the dimensions of L x W x H 19.29 x 18.7 x 48.62 inches and weight of 39.7 and is a comfortable one for users with a weight of 39.7 pounds. You can choose your favorite color from color combinations of black-red, black, blue, black white, and full black. Also, it comes with a support pillow for neck and back for support users in the long run.
This gaming chair is one of the best gaming chairs you'll see on Amazon. It comes with a price tag of under $150, eye-popping features, and extremely positive ratings and reviews of 5,333 people on Amazon. It comes with a covering of Quality PU leather, alongside the neck and lumbar pillows, and adjustable armrests. Also, you can tilt this chair up to 90-170° round out this chair nicely.
This chair comes with a vibrant and eye-catching gaming design. Also, the company allows you to choose from 10 color styles. However, the leather could get warm in the little hot atmosphere and some of the parts are not much durable. Still, it is one of the cheapest yet best gaming chairs of the list you can consider.
5. Secretlab Omega 2020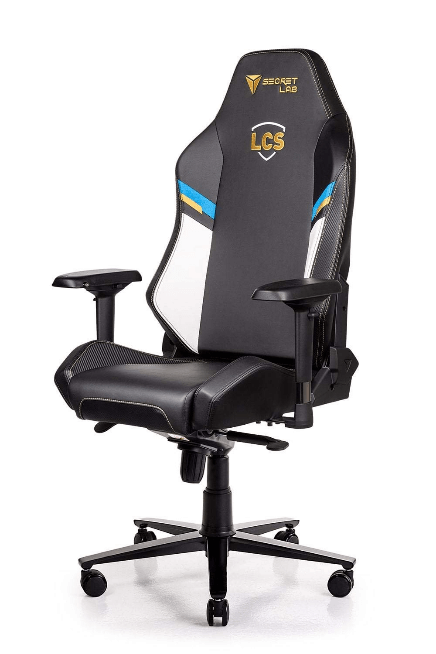 Secretlab Omega 2020 is a successor model of its previous version named Secretlab Omega 2018. And, the company has mentioned a lot of new features you'll find in this new version.
First of all this chair comes with a unique and Sci-fi look with a covering of PRIME 2.0 PU Leather. The company mentioned that it is more comfortable and durable than normal PU leather. Alongside, you'll get a thicker layer of cold-cure foam for an extreme cushioning and a comfortable experience. Plus features like a Full-length Backrest Recline, Aluminium Base, and extra safety of Class 4 hydraulic pistons make it worth the investment.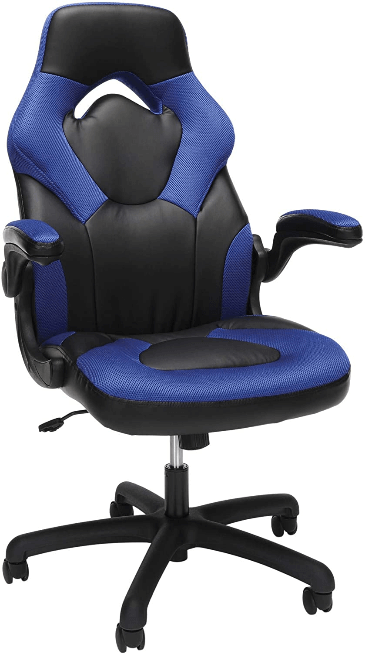 Like its name this chair looks like it just pulled out from a racing car and out of sale now. OFM is a trustable brand for making premium products with unique and modish design. This chair comes with multiple colors to choose your favorite one.
Alongside this premium and catchy looks, this chair comes with quality leather, center-tilt height adjustments controls, and flip-up arms. Also, you can swirl this chair up to 360 degrees with 275lbs users capacity. The strong build quality of this chair help to use it in the long run. Still, if you got some problems, you'll get a lifetime warranty from the company. Moreover, you'll see Amazon gave an "Amazon choice" tag to this product. I think there's already enough reason to call it one of the best gaming chairs of the list.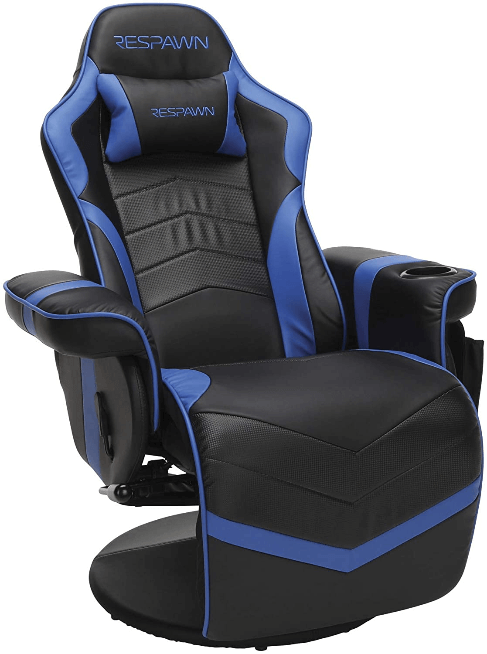 Respawn 900 Reclineris the latest model from the manufacturer company Respawn. Well, this chair comes with features that you won't see in most of the chairs in the market.
It comes with a removable and easy to an accessible pouch on the left arm stick that hangs off the left arm. Also, you will find a continuous surface from the chair to the footrest. As a result, you'll find more comfortability for your legs and no more wires will be tangled on it. Alongside this, you'll see a removable headrest pillow for your comfort. Plus, you'll get a 360-degree swivel base to comfortably recline up to 135 degrees.
Moreover, this chair got 4.5 out of 5 ratings from 1000+ users with an "Amazon Choice" tag. More than proof to consider it one of the best gaming chairs for racing gaming.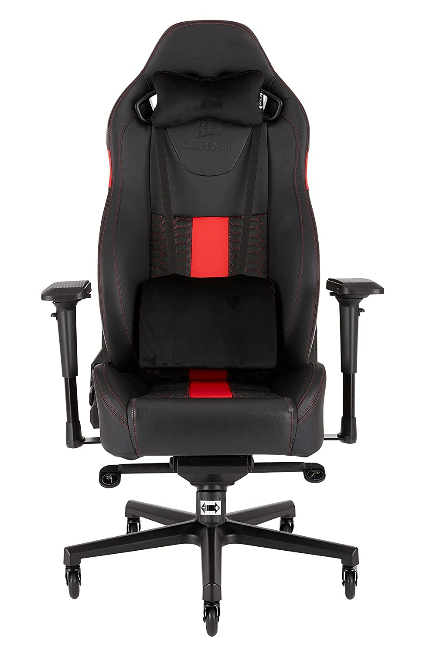 Corsair is another famous brand for manufacturing high-end PC components. As a result, you'll see one of the best gaming chairs in the competition. No matter, you're talking about comfort or style.
The company created a wide and long cushioned seat to provide you a comfortable gaming session experience. Also, it comes with solid steel construction to provide you a comfortable experience for the long term with its durability. Moreover, you'll find rollerblade wheels in this chair that allows you to move it around without worrying about the scratches on the floor.
The thing I like most is the 4d armrest and you can freely move both armrests in any direction. It's easy to assemble, comfortable, modern-looking but come with a little costly price tag. If you got a budget, you must consider this.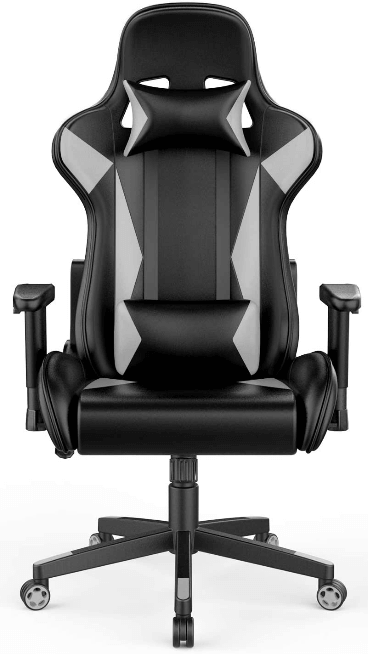 Amazon is creating its own products with the Amazon brand name. And almost all products promise great quality at a reasonable price.
With a private label brand, AmazonBasics started manufacturing gaming desk and chairs. And, the chair we're going to talk about doesn't comes with eye-popping premium features but it got exceptionally good what it's charging for.
This chair comes with a combination of PVC materials that is easy to clean up. Also, a durable metal frame to give it a long-lasting life. Plus, features like stylish modern design, high backrest, soft PU leather upholstery, and lumbar plus headrest pillows.
And all these features in under $150. Amazon made a great deal for people with limited budget to experience their favorite game in comfort.
Well, Anda Seat is a lesser-known brand but they made a chair which is known as one of the comfortable chairs you'll see or feel in life.
This chair comes with an exceptionally large space to sit on it comfortably while enjoying your favorite game. Also, it comes with PU leather with memory foam large size pillow. You'll also get the high backrest with a detachable padded headrest and lumbar cushions that will support your neck and spine and save you from computer tiredness. You'll also see the armrest that can be adjusted in 3 dimensions. Alongside the armrest, every part of this chair is adjustable.
Moreover, a heavy-duty metal gaming chair base with smooth-rolling castors gives you a sturdy and stable experience. Also, a 6-year warranty on parts from the company is enough to give you peace of mind.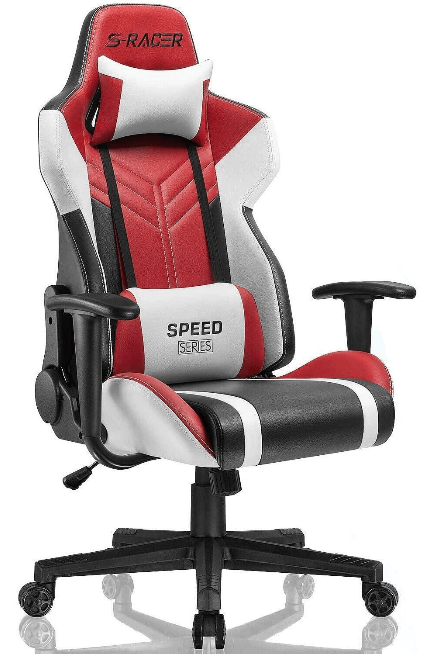 Till now, we're talking about gaming chairs for kids alongside the adults with a height of 5 feet 2 inches. I think we should talk about a chair for a person who has a big body than an average person. Homall high-back racing chair is here to fulfill the wish of enjoying the experience without worrying about the breakage of the chair.
This chair comes with a Class-3 gas lift verified by SGS that supports up to 300 pounds. This chair comes with a PU leather material with a headrest pillow and lumbar cushion. The height-adjustable gas cylinder allows you to set it according to your height. Also, the 360 Degree Swivel let you tilt the backrest from 90 to 180 degree.
However, it comes with 7 different colors to choose from and a price tag of around $150 makes it one of the best chairs for gamers with a heavy body.
12. Respawn RSP-800 – Best Gaming Chair with Sturdy, Comfortability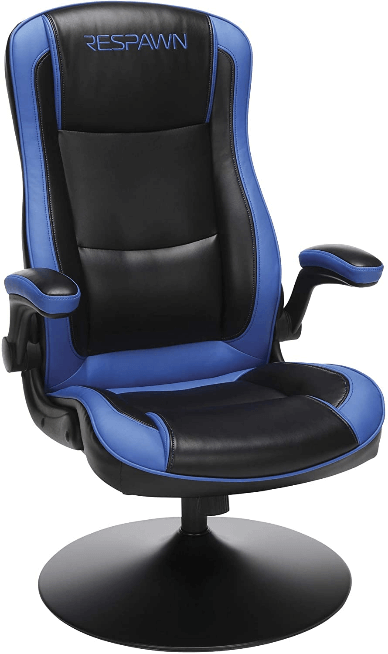 If you don't have enough budget to buy an expensive chair plus you're not much interested in features like scratchless wheels, neck-head pillows, 360-degree swirl then why not pick the cheap yet the better one.
Respawn RSP-800 comes with a high backrest segment with extra cushioning for neck and headrest. It comes with a frame material of Polyvinyl Chloride covered with a strain resistant bonded leather which is enough to feel a comfortable gaming experience than average furniture chair.
Moreover, the pedestal base of this chair gives you sturdy support while you can swivel the backrest up to 360 degrees. And, it comes with built-in lumbar support that can support weight up to 275 lb.  Also, it comes with 7 different colors to choose from with a limited lifetime warranty by the company. Definitely one of the cheapest and best gaming chairs with 100 percent recommendation.
13. Herman Miller Embody – The Best Gaming Chair for Comfortability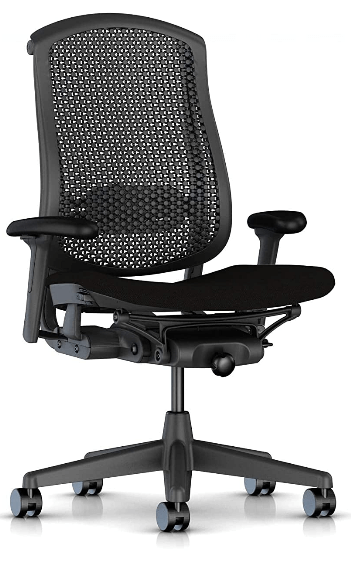 Yes, our first priority is to make a list of best gaming chairs in budget price but I think it'd be offensive to this list if I'll not add this chair in it.
Herman Miller Embody is the chair that cost you more but if you can afford this could be one of the best investment of yours. The manufacturer says that they made this chair for health-conscious people and the embody is so great that it lowers your heart rate and reduce stress rate by stimulating the blood and oxygen flow, even while you sit.
Well, this seems too good to be true, but it has features like Graphite Cellular Back with Black Upholstered Seat Cushion. Also, I don't think so the company put Cellular Suspension Synthetic Fiber in this chair just for namesake. They added this chair will automatically adjust according to your sitting posture and sitting position. However, this could cost you more than a low-budget PC. Still, as a perspective of posture and comfortability, this is one of the best gaming chairs which is not budget-friendly.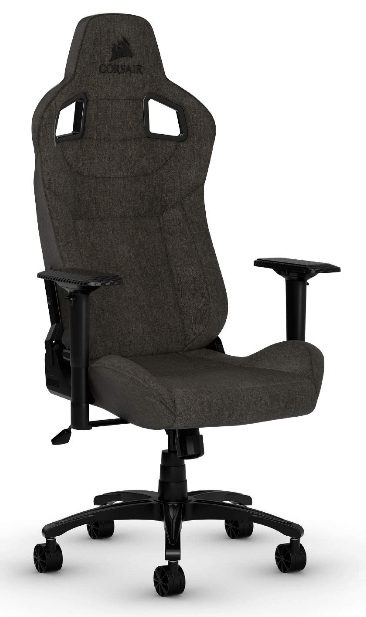 Here's another Corsair chair that comes with insanely comfortable material and a design that makes any movement easy. It comes with a comfy adjustable neck cushion and lumbar support with memory foam. Both parts of the T3 rush come with push microfibers. Also with aT3 rush's breathable soft fabric, you will experience the minimal heat, and more comfort while attempting a long hour gaming session.
Moreover, the steel frame runs through the chair base and back makes it sturdy and supportive in the long run. 4d armrests allow you to adjust them in any position and angle. Also, the height-adjustable feature is quite good to get a comfortable viewing experience. Alongside, this, the T3 rush only comes with a single color. Still, we've added this to the list because it really deserves it.
Gamers who're looking for a gaming chair with a sassy design, vibrant color, and a price tag of $250, must check out this one.
Respawn 200 comes with an innovative mesh back technology that is breathable. As a result, you'll feel less heat while sitting on it for long hours. You can swivel the chair up to 130 degrees and also can lock the position with an infinite angle lock. Ergonomic steel tube construction made it sturdy and durable for the long run. Alongside, the 2d armrests, depth, and height-adjustable features are also here to give you a comfortable experience.
Also, you'll find an adjustable lumbar and headset pillow in the chair. However, some users complained that it's a little difficult to adjust. Still, if you like some funky and modish gaming chairs under $250 this could be one of the best gaming chairs for you.
16. Steelcase Leap – Best Multipurpose Gaming Chair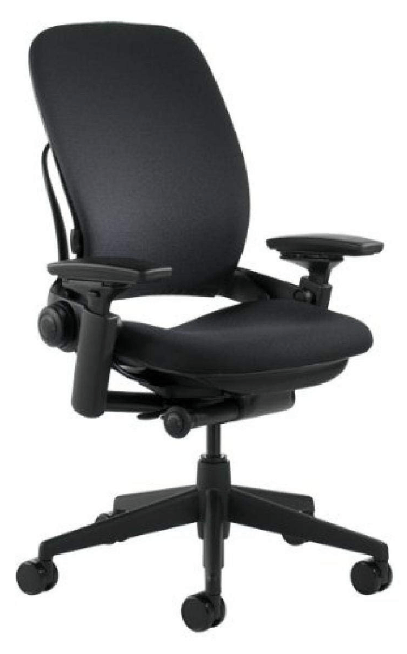 This chair comes in the category of Steelcase's best selling chair. Also, it has won a couple of awards such as Wirecutter's best office chair of the year. Well, you think, the best office chair of the year? How it can be in the list of best gaming chairs.
Steelcase leap comes with a Live back technology that automatically adjusts the position according to the person posture and sitting position. It means it is supportive of all sizes and shapes. Also, it gives separate controls to support lower back firms while upper back firms support to adjust accordingly.
Moreover, it comes with control of the angle of recline and allows you to lock position by choosing from five positions. Also, you can change the positions of arms sets in four directions (height, width, depth, pivot) according to your comfortability. Also, features like lower back firmness, adjustable lumbar, and usage up to 8 hours make it worth the investment.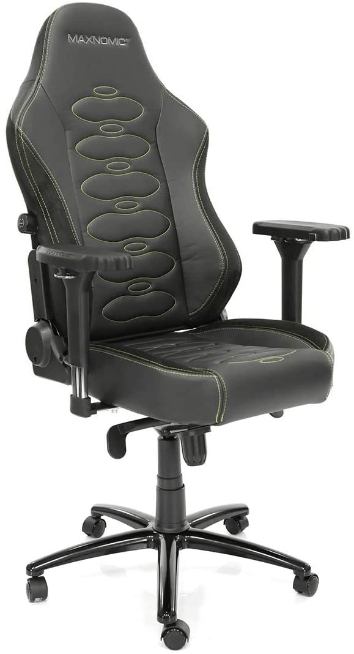 This chair is the latest edition of the Maxnomic brand; which is famous for manufacturing premium office and gaming chairs. And the company has already manufactured more than 40 range of chairs.
Maxnomic Ergoceptor comes with a multi-layer PU leather, high backrest, padded with a cold-cured foam which gives you a comfortable experience in the long run. Also, it features a durable class 4 cylinder, fully adjustable 4D armrests, and a dedicated lumbar support knob. The tilt-lock mechanism allows you to lock a chair position at a certain angle. However, it doesn't go lower as compared to other chairs. Still, it has an ergonomic anti-heat fabric, attractive stitching pattern and it's easy to assemble. And, surely, it can be one of the best gaming chairs for you.
18. Respawn 110 – Modish, Comfortable and Affordable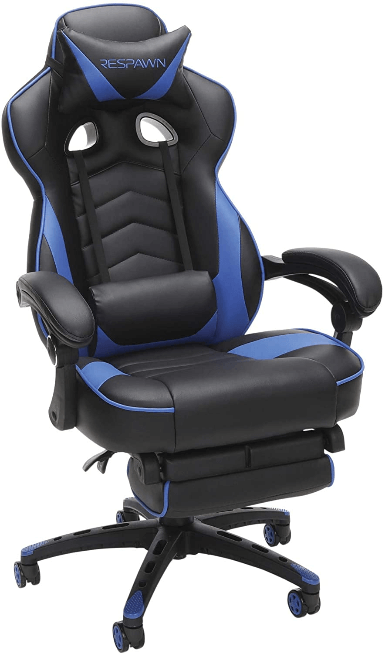 Respawn RSP-110 is one of the best gaming chairs for people who're looking for comfort, effective cost, and sensational gaming design. Like the makers said- "you don't have to spend the cost of the ultrawide monitor to get a comfortable gaming chair.
RSP 110 has a bonded leather, padded fixed armrests for elbow relief. Alongside, you'll get an adjustable lumbar and head pillow to support you comfortably for long hours gaming sessions.
It comes with other comfort features like segmented padding, contoured support, and 155 degrees tilt functionality. But the more standout feature of RSP 110 is the expandable footrest. It has a weight capacity of 275 lb, features in 10 colors, and costs you around $159.99 – $400.00; according to which theme you choose. With OFM Limited Lifetime warranty and the amazing features at this price, you must include this chair into your buy list with a tag of best gaming chairs at affordable prices.
19. DXRacer Iron Series – Best Gaming Chair with Brand Goodwill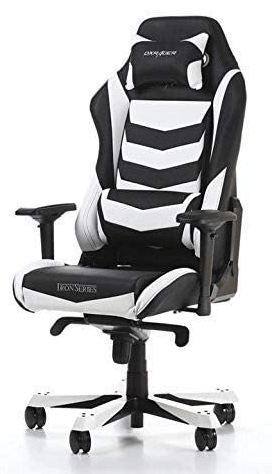 Are you tired by the back pain you got from sitting all day long? Or a premium leather backrest is your first priority, then this chair is a solution. DXRacer is one of the top brands that create gaming chairs and very popular in the eSports community.
This chair is mainly designed for people who work for extra long hours in front of the computer screen. And if you check out the reviews, everyone is feeling extremely grateful for having this chair.
DXRacer Iron series comes with full-grain leather, 4d adjustable arms, robust ergonomics, Headrest cushion, and lumbar cushion. It has the extra higher backrest to save neck and spinal with a flexible seat back with adjustment. The company mentioned that this chair got a multi-directional design backed by 10 years of research. Also, you'll get a lifetime frame warranty and a two-year warranty on parts. 100% deserves the place in the list of best gaming chairs for a comfortable experience.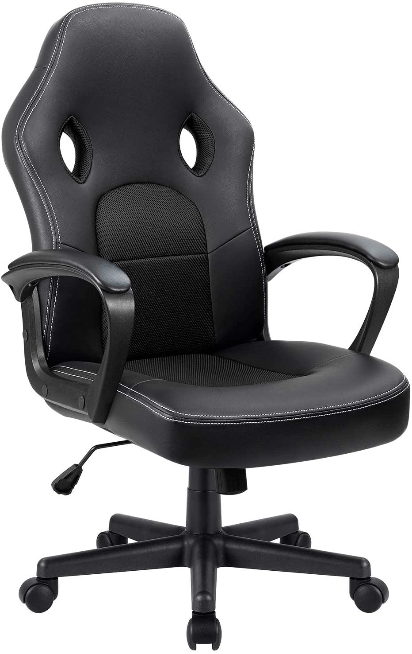 It's the gaming chair that I'd like to put in the list of ultra-cheap one yet fine gaming chairs for your gaming sessions. Thanks to how it looks, you can use this chair for both office and personal gaming usages.
It comes with a leather and bucket seat with padded armrests alongside the Pneumatic seat-height adjustment. Also, 5 star base with 360-degree swivel wheels allows you to move around on the floor without getting any scratches on the floor.
The thickness of the padded seat is around 3 inches and 2 inches of the backrest for comfortable and long hour seating. Moreover, Conventional Tilt Mechanism and height adjustment feature allows you to adjust it accordingly to get a comfortable work or gaming session.
Yes, it still lacks the quality of other chairs in the list but what you got at the price of $65- $79 is still sounds a profitable deal. Gamers who can't afford much choose this chair. After all, this is the best gaming chair you'll find at that price.
Conclusion: Best Gaming Chairs at Affordable Price
Suppose you spend more than enough to create a High-End Gaming PC. Now you can't spend more than 2 hours on it without tiredness. Thanks for your plastic furniture chair. In short, it's essential to invest on a chair with a comfortable backrest.
With the tag of "Amazon Choice" and more than 4 out of 5 ratings the chairs we added in this list are the best gaming chairs in the market. Most are at an affordable price, a few are little expensive but with more premium features. You can choose according to your budget and feature priority.
Also, check out another Techstorify's gaming guides to complete your gaming system:-