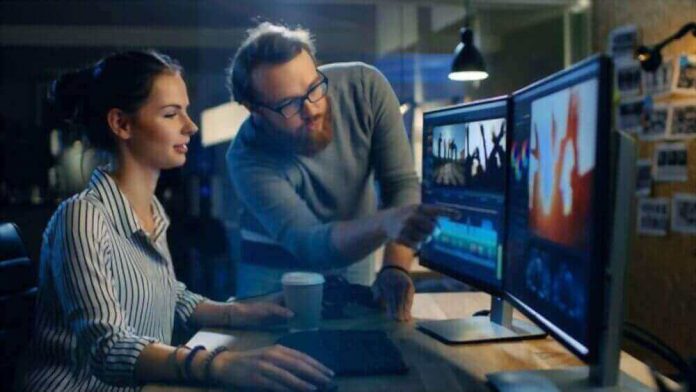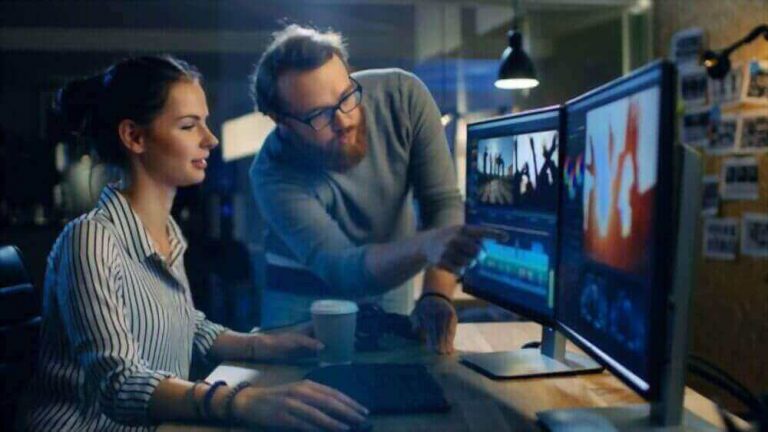 After recording your next Youtube video, you copied it in your PC's video editor. And after trying to edit this footage for about 35minutes, you noticed something. Your graphic card is not working anymore and full of lag and delays. Seems like you need a new graphic card. And, like always, Techstorify is here to help you with a list of 8 best graphics card for video editing without lags and delay.
No worries, there are a couple of trusted manufacturers like AMD or Nvidia who released the 2020 updated graphic Cards for video editing. The new graphics cards come with enhanced performance for better rendering and speed-up your editing tasks.
However, don't forget to make a list of a specific budget tag, features, specifications and performance to get the exact product, you got in your mind. So without any delay (Pun intended) let's get started.
Best Graphics Card for Video Editing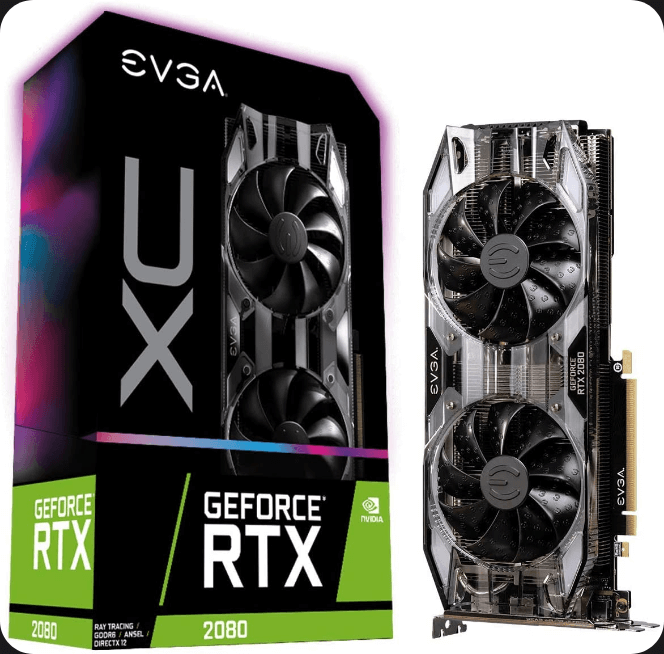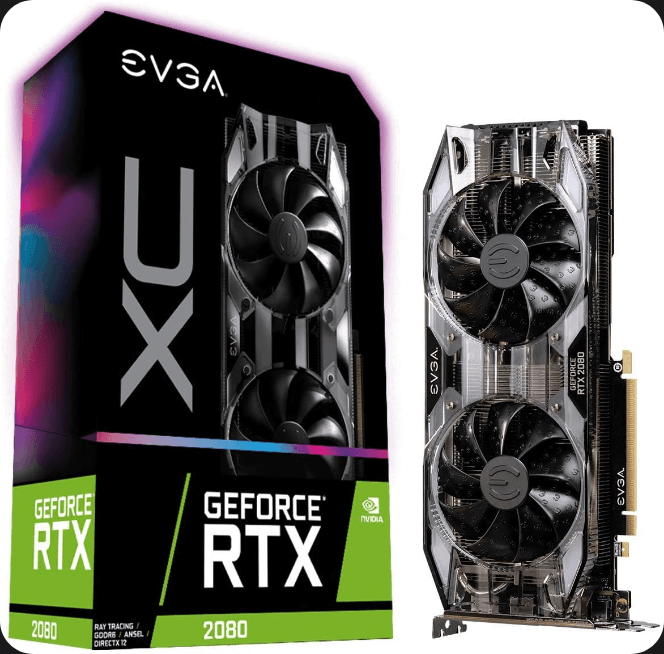 EVGA GeForce RTX 2080 is manufactured by Nvidia and is definitely the best graphic card for video editing. It has Nvidia Turing Architecture with a new version named EVGA Precision X1, such a great predecessor of EVGA Precision XOC with a solid number of features.
It's an AI-enhanced graphic card with a real-time ray tracing ability. In short, you can easily overclock it and edit your clips smoothly without any lag and waiting for hours to complete rendering.
Also, EVGA GeForce RTX 2080 can be a great pick to do gaming in 1080P resolution. Plus it collaborates well with your system even while using it to create 3D concepts. Moreover, it comes with a base of metal plated and HDB adjustable fans. As a result, you don't have to worry about heating issues while focusing on your editing project.
Also, because of less heating issue by HDB adjustable fans, it produces almost no sound while working. Also, the company provide 3 years warranty and technical support by EVGA top-notch technical experts.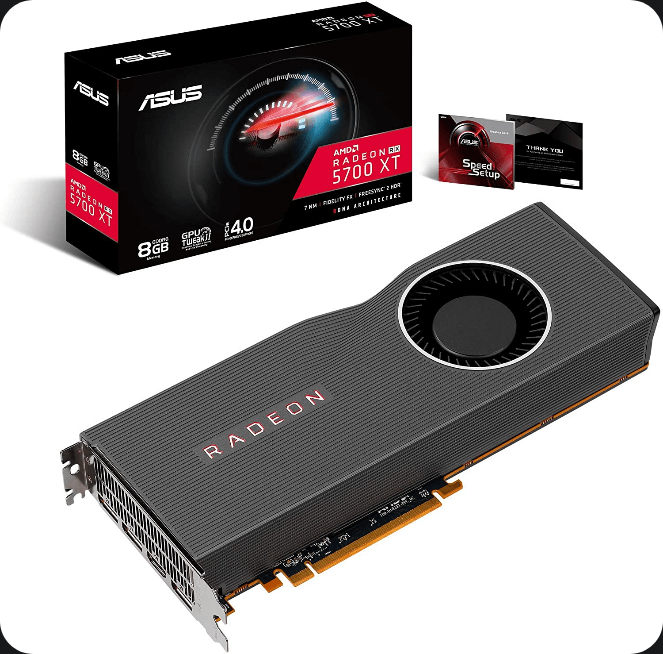 AMD Radeon RX 5700 XT is a third-generation graphics card which is able to run games smoother and lag-free. It comes with an 8GB memory and the memory speed of 14Gbps, which is suitable to run high-end games at 8k resolution.
You can play games in 8k resolution at up to 60Hz and 5k resolution at up to 120Hz. Also, it allows you to add up to 6 monitors which are simply more than enough.
If we talk about the video editing, it's the best video editing graphic card of AMD. It comes with powerful stream processors that render 4k videos faster than most of the Video editing GPU.
In addition, it comes with the PCIe 4.0, which is twice the memory bandwidth PCIe 3.0 of an ordinary PC or desktop. Also, it comes with an improved 42% faster storage capability. The power consumption rating of RX 5700 XT is very low. Still, if we compare it with Radeon VII, it consumes 25% less power and 10% less than the Nvidia GeForce RTX 2070 Super.
On the other hand, you'll notice that it has an overclocking drop, from 1905MHz to a drop at around 1700MHz which is quite disappointing. Still, if we look at the price and features we get in that range, it is the best video card for editing and a fine graphics card for 1080p gaming.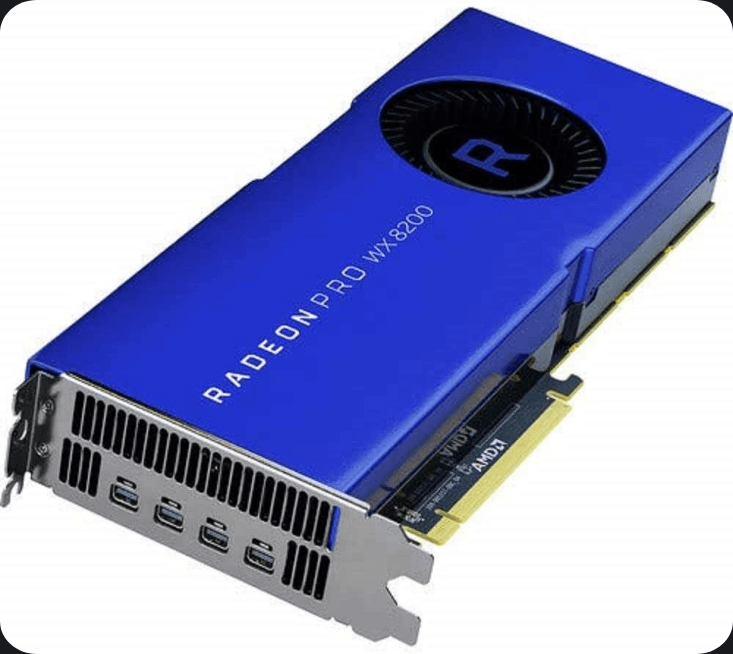 The AMD Radeon Pro WX 8200 card has Vega Architecture, with stream processors 3584  which provides 10.75 TFLOPs for single-precision performance. On the other hand, you'll get 672 GFLOPs of double-precision performance and 21.5 TFLOPs of half-precision (FP16) performance. It's available with 3584 cores and an ultra-fast HBM2 memory of 8GB which comes with a memory speed of 8200 MHz.
Moreover, it comes with a 4k resolution and can easily support up to 4 displays. Also, it offers 10-bit display colour and 3D Stereo output. Plus it comes with the S400 Synchronization Module too.
Also where most of the lower end cards come with a single slot, the WX 8200 has two slots. The card comes with a Thermal Design Power of 230W. To complete the requirement of PCI Express power feeds, you need 2 cables one is 6-pin and second is 8-pin.
However, it doesn't have even a single rating and review on Amazon. Still, if you'll check WX 8200 on other reputed publications, you won't find it with less than 4/5 ratings. In conclusion, you can definitely consider it as the best graphic card for video editing.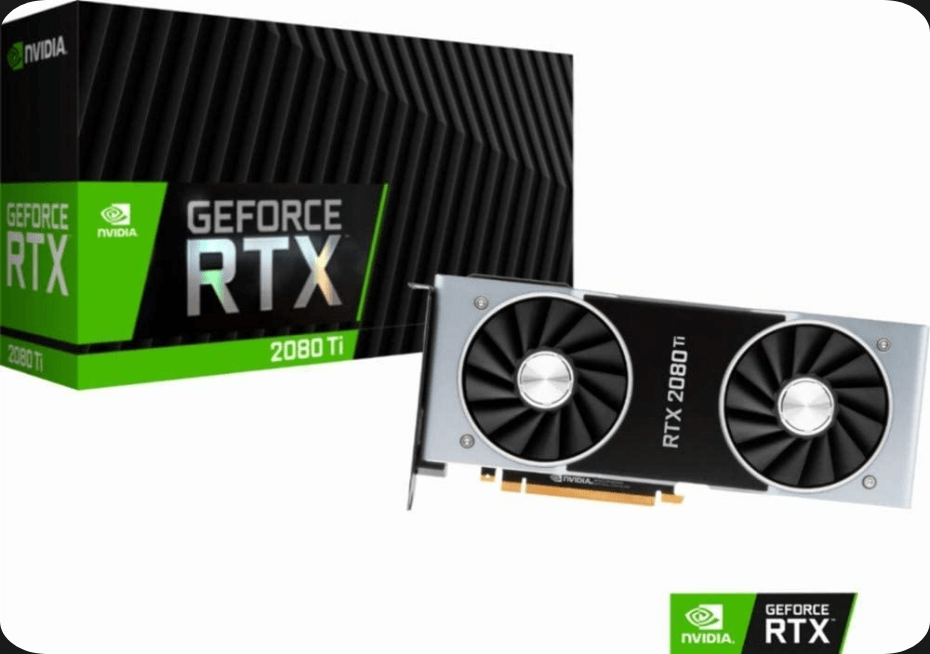 Nvidia is a well-known brand for manufacturing best GPU for video editing or for gaming. And we pick Nvidia GeForce RTX 2080 (founder edition) for rank #1 on the list of best graphics card for video editing.
Nvidia RTX 2080 (founder edition) comes with a real-time ray tracing technology. It is the first turning RTX architecture map with an overclocked rate of 1800MHz. Also, it supports the resolution of up to 4K with a high refresh rate.
Moreover, it uses newer GDDR6 8GB memory with higher bandwidth. The new version of this GPU got increment in Cuda cores. Tensor cores are available in it for three-dimensional arithmetic. Also, you'll find dedicated hardware RT cores for ray tracing.
Also, the manufacturer gives a guarantee of the overclocking and optimization of this card. The enhanced performance updated features and compatibility of this GPU makes it one of the best graphic cards for video editing.
It could be the best graphic card for video editing of 2020. Especially, if you're going to edit the footage in 4K or 8K resolution.
This card comes with a VR ready technology and an HBM2 memory of 16GB which you can overclock by 1,800MHz. Also, the 7nm Architecture and 1 TB/sec memory bandwidth allow you to perform the heavier and demanding video editing tasks at the increased performance of 25%.
Radeon VII doesn't come with ray-tracing cores. However, with the support of DirectX® 12 and Vulkan, you'll get ultra-smooth and lag-free gaming experiences with high framerates in 1440p, ultrawide and 4K.
Moreover, it supports a PCIe 4.0 technology which works better and without the limits come with PCIe 3.0 connector. Also, features like WINDFORCE 3X cooling system features 3x 80mm unique blade fans, alternate spinning fan, heat-pipe direct touch and 3D active fan functionality provide the best system performance by maintaining the low temperature.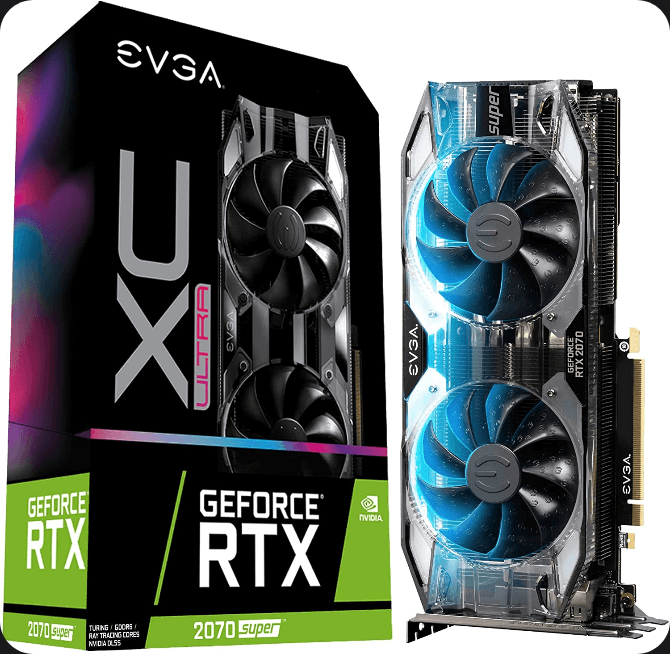 RTX 2070 Super is another powerful GPU that can help you a lot by saving enough render time, even if you're rendering 4K videos. It comes with Turing architecture, more cores and higher clocks. As a result, you'll get 25% faster performance than the original RTX 20 Series.
RTX 2070 comes with super-fast ray tracing, powerful AI performing and processing technologies. These features don't just make it a best graphic card for video editing but also make a better performer for 3D animation and real-time gaming.
Moreover, the advanced AI of Nvidia Turing GPU architecture improves the card's performance at a rate of 6x. Also, dedicated RT cores are available with 10 Giga Rays/second even when you process it with a heavy workload of your big video projects.
This card comes with a memory speed of 14Gbps. And you'll also get Dual fan cards in 2 and 2.75 slot varieties, a single fan blower model and 3 years of warranty by EVGA.
As a result, you'll experience a smooth playback and faster rendering speed of your 4K videos or live broadcast streams with a peace of mind.
Radeon is one of the best brands which manufacturer powerful gaming graphic cards with premium features. This graphics card has 3rd generation 4nm process Technology and 4th generation GNC Architecture with 32 compute unit that improves the gaming experience by increasing system performance and lowering the lag.
Moreover, this card specially designed for gamers, animators, and editors because of its enhanced video quality. It has an2048 stream processors and base clock 1168MHz, which you can boost clock (OC) 1244MHz. As a result, you will experience each pixel and small detail in a 1080P resolution on your display without any stuttering.
Gigabyte Radeon RX 570 allows you to play games like Resident Evil 7, at a frame rate of 65-75 frame rates at medium graphics settings. On this graphic card, you'll get Windforce 2x with 90mm Blade Fan Design. As a result, you'll get a lag-free and smooth performance without the heating issues.
Also, the features like pure copper heat pipes, semi-passive fans, cutting edge intuitive interface, Stylish Metal Back Plate and RGB Fusion 2.0 make it a worth #7 on the list of best graphics card for video editing.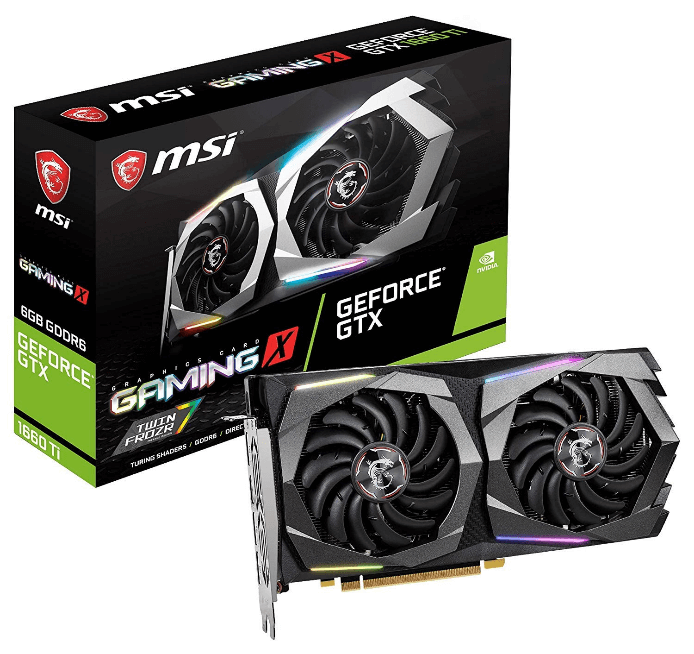 Finally, we reached the #8 rank of the list of best graphics card for video editing. Here we pick GeForce GTX, 1660 Ti which is one of the best and powerful graphics cards for video editing and rendering, as well as for gaming.
This card is based on Nvidia Turing Architecture, ensures better performance than before. It is ideal to do multitasking such as animation, rendering and video editing. This card comes with a 6GB GDDR6 memory with 288GB/s memory bandwidth. However, it seems a little slower than other graphic cards still it allows you to do heavy editing tasks in real-time without lagging and delays.
GeForce GTX, 1660 Ti is a mid-range graphic card that comes with great picture quality and meets all the gaming standards. It's also a great gaming card that allows you to play your favourite games in 1080P with 60FPS.
With 1536 CUDA cores, 12Gbps memory speed, a base clock of 1500MHz which you can boost up to 1770MHz and a price tag of $350. Also, the TORX Fan 3.0 with heat dissipation process gives you great performance while keeping your system cool. However, it doesn't come with ray tracing yet in this budget it's the best graphic card for video editing and gaming without any lag or delay.
Also read:- 10 Best 75-Inch 4K TVs Under $2000 to Buy
Conclusion
There is only 2 type of graphic card available in the market- Nvidia and AMD. Some people like Nvidia and others prefer AMD. Techstorify picks best graphics card for video editing from both to choose them accordingly. At last, I'd recommend you to take a look at your current system, the software you want to use, video resolution you work with and your system compatibility.
Let's know in the comments which graphics card you're using right now. Also, share this post with a person who wants to buy a new graphics card for video editing or to play his/her favourite games.