Online Gaming has become one of the top recreational social activities in recent years. People of all age groups are tending towards the gaming realm and enjoy them. The entire worldwide online gaming market is growing at a fast rate from a projected 1.72 trillion U.S. dollars in 2015 to an estimated 2.2 trillion U.S. dollars by 2021.
We can no more picture a gamer as 'A nerdy guy all alone in a dark room with headsets, controlling some computers with packets of chips and coke near him'. With their artistic visions and variety of genre atmospheres, online gaming has been welcoming men, women, teens alike. And the best part is they can play with any gamer across the globe who has shared interests and skills.
Why gaming Server?
Multiplayer games like Minecraft, Counter-Strike, etc work in a server and client model where the server engine keeps track of all the game players and game logic. The game client handles graphics, audios, and play controls. So basically servers keep track of scores and ranks and it also makes sure all the players are in sync and have real-time playing experience.
There are three types of servers to choose from to host a gaming platform
Here you share server resources with other users who are accessing at the same time. There will be a performance issue, security issue and the overall gaming experience wouldn't be very good.
2) Virtual Private Servers
Virtual Private Servers, or VPS, also work on the principle of sharing but a user is assured of a fixed set of resources. Though it is better than Shared hosting, performance would still suffer in high-traffic games.
3) Dedicated Servers
Dedicated Servers works just as the name says- is dedicated to only your needs. Users will have access to processing speed, storage, security and can configure as needed to cater to game needs. Hosting a game server on dedicated will be pricey but worth it for smooth and best gaming performances.
You do not need to be a super gamer to set up a gaming server where multiple players can play the game.
Things to consider when choosing a game server hosting:
Specifications of server:

Main technical specifications to consider would be Processor speed, RAM, bandwidth, storage, latency requirement as per game(s).

Security:

Security is an important factor to consider when you collect personal or payment details from users. As gaming servers tend to be the target of hackers it is a vital factor to consider.

DDoS Protection:

A Distributed Denial of Service (DDoS) attack is when hackers send concurrent requests to a server and halt the gaming. Strong firewalls and Anti-DDoS features are must to consider so that server is never a target of hackers

Customer Support:

Hardware is very important for the speedy performance of your game server and since

servers are located at the host's data centers, it is very important to have quick and reliable support for any hardware issues that may occur. It will be necessary to have good support for configuration issues that may arise or any other escalations you might have

Uptime:

Since gaming runs as a global market it is needed to have uptime guaranteed and reliable servers 24/7

Pricing

:

Generally gaming servers can range from $5 per month to $150 per month. The cost of a game server depends on how many player slots you want, and the type of game you're playing.

You can also check if they have modular pricing options- this ensures you only pay for resources you use and not make a mandatory monthly payment.
8 Best Game Server Hosting Platforms for Everyone
Let's look at 8 best game server hosting platform available today:
1) HOST HAVOC
Host Havoc is one of the most popular game server hosting platforms. They are particularly known for custom tools and features that are constantly updated as per game updates that happen. A gamer has options to choose from 25 different games like Counter-Strike, Minecraft, Atlas, ARKRust, DayZ, and many more.
Why choose HOST HAVOC?
Most reliable uplinks and hosting in best data centers

Offers 24/7/365 support with an average response time of fewer than 10 minutes

Instant server set up

Hardware powered by NVMe SSDs 

Has ultra-fast processors with speed up to 4.6 GHz

Offers 3 days money-back guarantee if not satisfied with features

Offers free DDoS protection

Provides daily backups
2) ScalaCube
Scalacube provides game server hosting for Minecraft, ARK, Rust, Hytale, Valheim. It has a great user interface and a lot of video tutorials that support the usage. This is very recommended if you are looking for game server hosting for Minecraft.
Why choose ScalaCube?
Unlimited free traffic without bandwidth throttling

User can choose between HDD or SSD storage, however, SSD is preferred for speed

Guaranteed 99.99 % availability for the amazing gaming experience

Provides DDoS protection
3) Google Cloud
Another simplified Game server hosting platform is Google Cloud. It automatically scales game events and easily manages multiple versions of your game server code.
Why choose Google Cloud?
Has customized autoscaling of game server as per needs of the game

Has simple to deploy process

Can access Agones API and tailor the game server workload to an amazing gameplay experience
4) OVHcloud
Game dedicated servers of OVHcloud focus on performance for game designers and streaming platforms. They offer servers for multiple games like Counter-Strike Go, Rust, Minecraft, Ark, Arma, Garry's Mod, Team Fortress, or services like Mumble, TeamSpeak. OVHcloud from its inception focusses on including innovative technologies to ensure users have lag-free experiences. They employ NVMe, SAS, SATA Storage systems for better performance of the server. Their pricing starts from 95$. They ensure their anti-DDoS is optimized to the latest version of any video game.
Why chose OVHcloud?
Global data centers allow you to choose a data center that is closest to your gamers ensuring low latency

Employs the latest generation of AMD Ryzen processors for optimal server performance

There is no downtime of service with the Anti-DDoS Game solution that comes with the game server

500 GB of backup space, dedicated for storage of data and configuration files 

Supports add on features- Additional IP addresses and Additional back up storage
5) Amazon GameLift
Amazon GameLift is a dedicated game server hosting platform that leverages AWS for a fully managed solution or just for a feature you need. AWS leveraged ensures the best latency possible and maximum cost savings. Several vendors vouch for close to 30% cost savings after switching to Amazon GameLift dedicated game server from traditional methods.
Why choose Amazon GameLift?
Offer seamless gameplay experiences with minimal latency-global median latency is 45ms

70% cost savings when compared to on-premise deployments 

Flexibility to chose if you need whole of services or only specific modular pieces

Game servers can be deployed across 12 AWS region across 5 continents

Autoscaling feature can start up to 1000 instances simultaneously or close unused instances in minutes

Safeguards servers from DDoS attacks

There is no monthly commitment for servers- you can pay as per the usage of resources
6) Fozzy Game Servers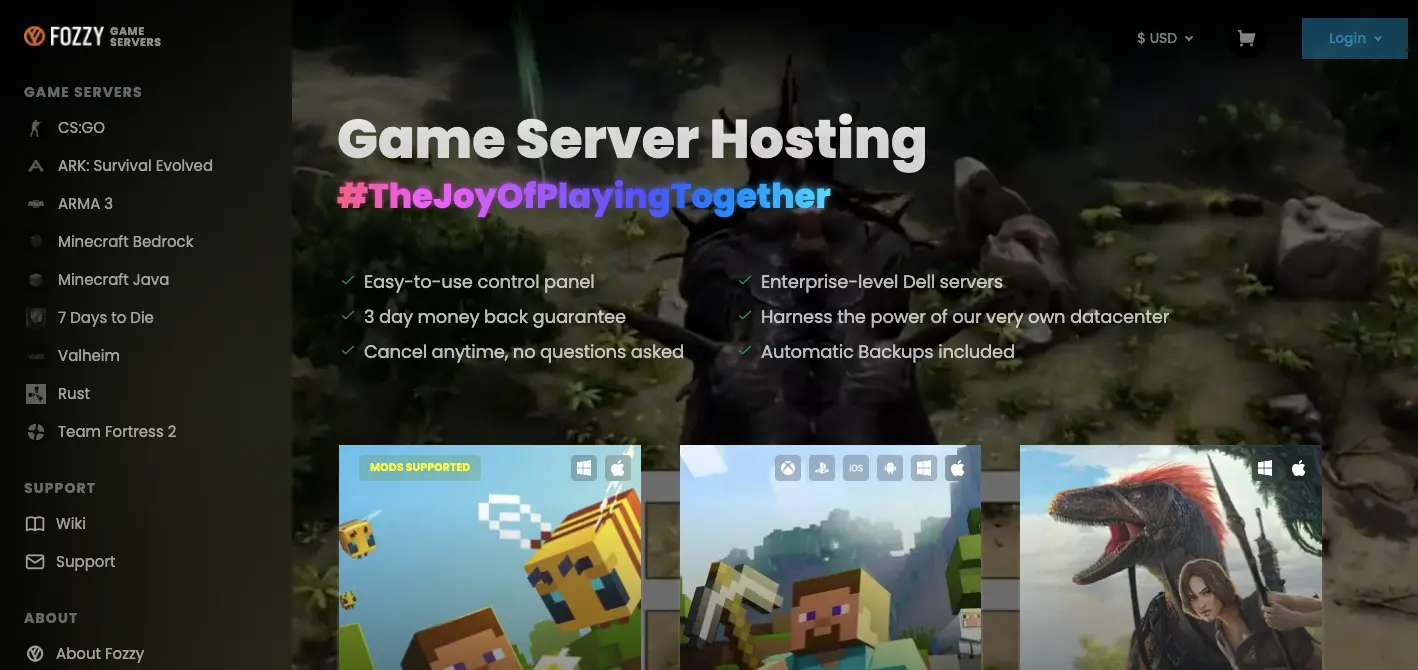 Looking for a dependable game server with a friendly approach? Then Fozzy Game Servers is your solution. 
Hosting a range of popular games including Minecraft, ARMA 3, Rust, ARK, CS:GO, Team Fortress 2, Valheim, 7 Das to Die, and more, Fozzy offers diverse server configurations based on slots, RAM, CPU, and disk space. For certain games, weekend-specific plans are available to avoid unnecessary costs. Your gaming server will be set up within just 10-15 minutes.
Fozzy's focus is on creating an enjoyable gaming experience for everyone. Their human-centered communication and super-friendly support, as evident in reviews, cater to both casual and experienced gamers alike.
Testing Fozzy's servers is hassle-free. You can assess reliability on their public servers or take advantage of the 3-day money-back guarantee. Being a direct Dell partner, Fozzy utilizes enterprise-level Dell servers with powerful 5 GHz processors, ensuring high reliability.
The user-friendly game panel is employed for server control, regularly updated for ease of use, making server management accessible to all.
With a robust global network, Fozzy Game Servers safeguards against DDoS attacks. Enjoy a 99.99% uptime, quality hardware, and responsive customer support with Fozzy Game Servers.
7) Citadel Servers
Citadel servers are another option for the best game server hosting platform. They offer reliable, super quality game servers for a variety of multiplayer games like Counter-Strike, Don't Starve Together, Atlas, and many more. They are very well known for the rapid customer support they offer.
Why choose Citadel Servers?
Amazing 24x7x365 support

There is no lag in usage with SSD Drives and 1Gbps connection

Hosting provides Anti-DDoS protection

There are loyalty benefits in pricing
8) IBMCloud 
IBM Cloud bare metal servers and high-speed Network backbones ensure gamers have a smooth gaming experience. They offer both pre-configured gaming servers or custom configured with exact requirements of RAM, processors, SSD, and other specifications.
Why choose IBM cloud?
Control to set up gaming environments. Users can tailor rules, install modifications, isolate a team, and many more.

Allows unlimited scaling real-time by adding memory, processors.

Has global deployment of data centers across  18 timezones

Transparent pricing with monthly or hourly payments
9) So you Start
So you Start is yet another option for you to consider in the game server hosting platform. Their servers have optimal specifications with very minimum latency. It lets users host Minecraft, TeamFortress 2, Counter-Strike games, or services like Mumble, TeamSpeak. They host their servers in OVH data-centers.
Why Choose So You Start?
16 IPs with no monthly fees to handle failover IPs

24/7 protection against any Anti-DDoS attack, regardless of size or duration

Offers 100 GB backup storage- can increase up to 10 TB

The routing infrastructure is with the expertise of OVH and Cisco company.
There are still few more options of game server hosting platforms for you to explore like BlueHost, A2Hosting, InMotion Hosting, and many more.
Conclusion:
With the dedicated game server hosting platform, you can have the best multiplayer gaming experience without worrying about latency, DDoS attacks, or lags in usage. Now that you know the available best hosting platforms for your gaming server you can make a wise choice based on the game you want to play, team size, storage and other specifications, cost of the server, and support that will be offered.
Happy Gaming.