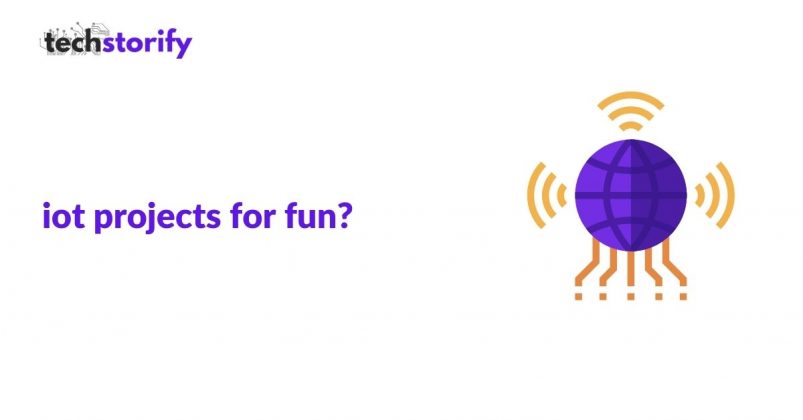 IoT enables companies to automate processes, reduce labour costs, and cut down on waste and improved service delivery, making it inexpensive to manufacture and deliver goods. IoT projects let people live and work smarter and get complete control over their lives and automate tasks helping to improve the quality of a business's services and reduce the need for human intervention.
The Internet of things, or IoT, is a system of interrelated computing devices, digital machines, mechanical devices, objects, etc. that are provided with unique identifiers called UID's and carry the ability to transfer the data over a network without needing a human-to-human or human-to-computer interaction. 
Working of an IoT in three simple steps-
Collect data

– With the use of IoT devices, e.g., sensor, antenna, and microcontroller.

Collect and transfer

– Collects and transfers data to IoT hub or IoT gateway

Analyses data, take action

– Create Final, end-user interface, e.g., Smartphones, human-machines; Analytics of business application e.g., customer relationship management,

ERP; Back-end systems.
Best IoT Projects Ideas That You Can Make Use Of 
In this article, we are exhibiting the best Internet of Things (IoT Projects) Projects:
1. IOT Electronic Door Opener: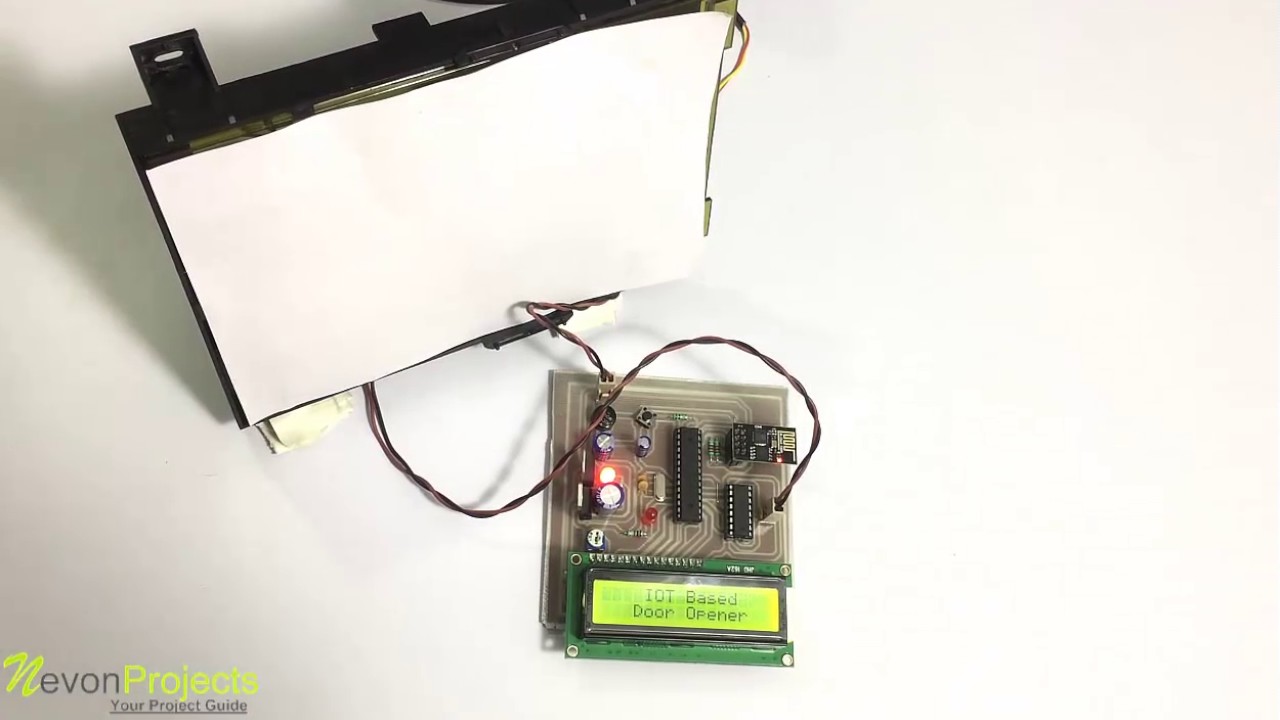 IOT electronic door opener project's objective is to deliver automation and security. Electronic door opener automation will let you implement an advanced door open cum locking system.
The purpose of this IoT is to maintain automation and security using the connectivity of the project with the IoT Gecko website. This IoT project will be communicated over the Internet using a Wi-Fi module.
IoT electronic door opener will use the WIFI module for communication. When the command for open is given over the smartphone, the door will fully open or close. And when the command is given for locking, the lock will snap, and the door will be locked through remote access.
To operate this project, the authorized person has to log in and get direct access to the door to open or close it, no matter how far the door is from the user.
2. Asset Tracking System
Asset Tracking System an IoT project is developed to pinpoint any entity's location to the exact room it is currently located.
The asset tracking system is proficient in telling you the exact position of an entity within a building or on a particular floor or any other space. The purpose while building this Tracking system would be to locate objects, goods, personnel, etc.  
This project could be built using rf technology along with IoT to achieve the completion of the project. Once done, the monitoring system now transmits the location of the tracker circuit to the online system. The circuits will only catch the mounted tracker devices' presence in a 2-3 meters range.
Developing this IoT project idea involves the use of mini rf circuits as a tracking device. The tracker circuits mounted over the objects. One perk is that this system will not locate objects not in your vicinity
3. Smart Mirror with News & Temperature
Love reading news, looking up for weather reports and headlines in your morning routine? If you hate missing on news headlines as you follow your grooming routines? It is an easy way to catch up to the news, and your morning routines are with a smart mirror.
A smart mirror with news and temperature will have you wasting no more time than the time you invest grooming for the day. Keep up your morning news and news routine with his easy smart mirror.  
This smart mirror IoT project will use raspberry pi based processor board along with the display. Initiate it with IoT Circuit and precisely position it; however, you want to use it.
4. Early Flood Detection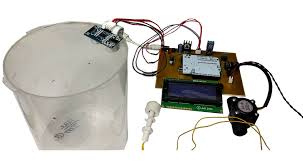 Flooding can be a challenging time. Even if you take all the prevention measures, it could still, on a higher level, knock the balance out and become the cause of loss of life and valuable assets.
With Early flood detection IoT projects, a system is built that monitors and tracks different natural factors that can become the cause of the flood. 
If any of these measures scale anywhere near not a safe level, the sensors will go off and will alert for effective actions.  
5. Smart traffic management system
People take interest in having a conveyance of their own, which has increased the unavailability of space for driving or parking the vehicles. And hence the need for managing space arises.
 It has now become a problem of every day, where, as we drive to our destination, be it near or far, there is just too much traffic at some point on the roads, and so the congestion problem comes up.
An awesome digital solution to a traffic problem can be a smart traffic management system IoT project idea. This smart system will effectively manage traffic on roads and free pathways.
The smart traffic management system is intelligent, meaning it can choose between an emergency vehicle that needs going first. It will clear out the way for such vehicles.
6. Based Home Automation
One of the most attention given Internet of things projects ideas. Based on home automation, IoT project is developed with a technology that lets you control the hardware devices through the Internet. So, automating modern homes through the Internet is one of the topmost presented ideas.
Based home Automation IoT project will allow a user to control home appliances through the Internet easily. For example, turning on and off a fan, AC, Door< TV, kitchen appliances, etc.
This Internet of thing project will only work when the system has received commands by t=a verified user, operates on the commands, and displays the status over the system's LCD.
This IoT project will work over a WIFI module and lets the user operate the system remotely from a smartphone.
7. Air Pollution monitoring system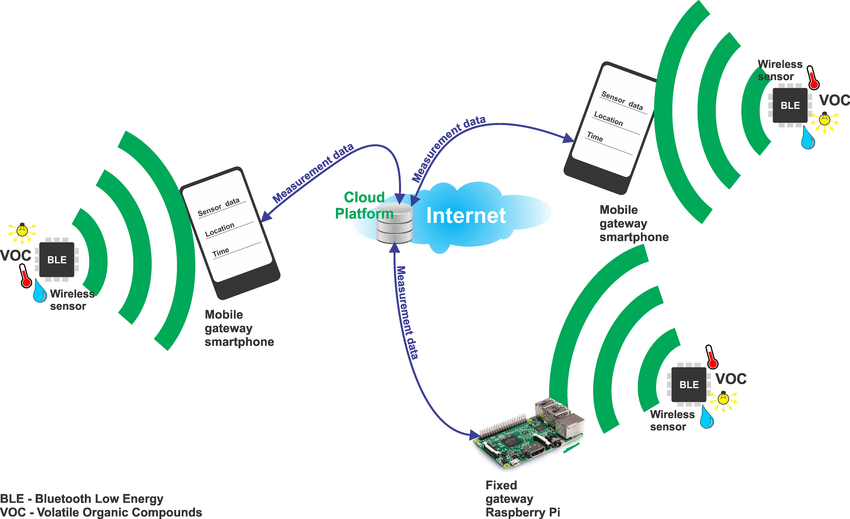 If you are looking for an experimental project to develop, get your hands on an air pollution monitoring system. While many factors lead to air pollution but managing them had not been possible yet.
Long-term health effects from air pollution can include heart disease, lung cancer, respiratory diseases, etc.. It has become crucial to have a monitoring and reporting system to record and then sent data for policy changes.
Monitoring air pollution and measuring ambient air pollution levels in an area can easily be achieved by Air pollution monitoring system. The monitoring system will collect data, over the long term, over the Internet and tease out patterns that will help support the air pollution control policy.
8. Healthcare Monitoring System
This health monitoring system is designed to allow patients to connect with their doctors/health care providers remotely. It could be difficult for any healthcare professionals to keep track of their patient's health reports.
It becomes a tough process for collecting a patient's vital data very frequently when a patient is remotely based. 
With the IoT healthcare monitoring system, it becomes a lot easier for doctors to monitor their patients' reports. Both the patient and the doctor need to log in to the monitoring system for any time access to reports stats.
The doctors can provide immediate solutions and guidance to the patient if any sensors are triggers. The patient requires immediate attention, which can be time-consuming and hectic in a mundane way of doing things.
9. Weather Reporting System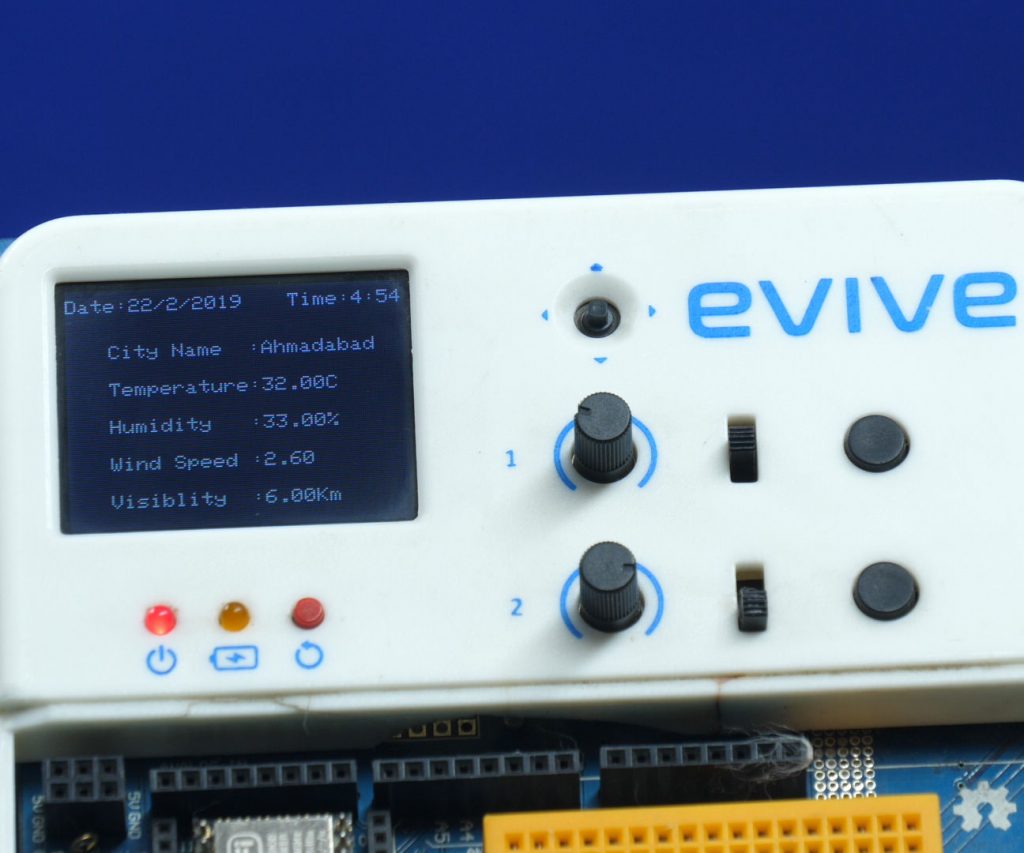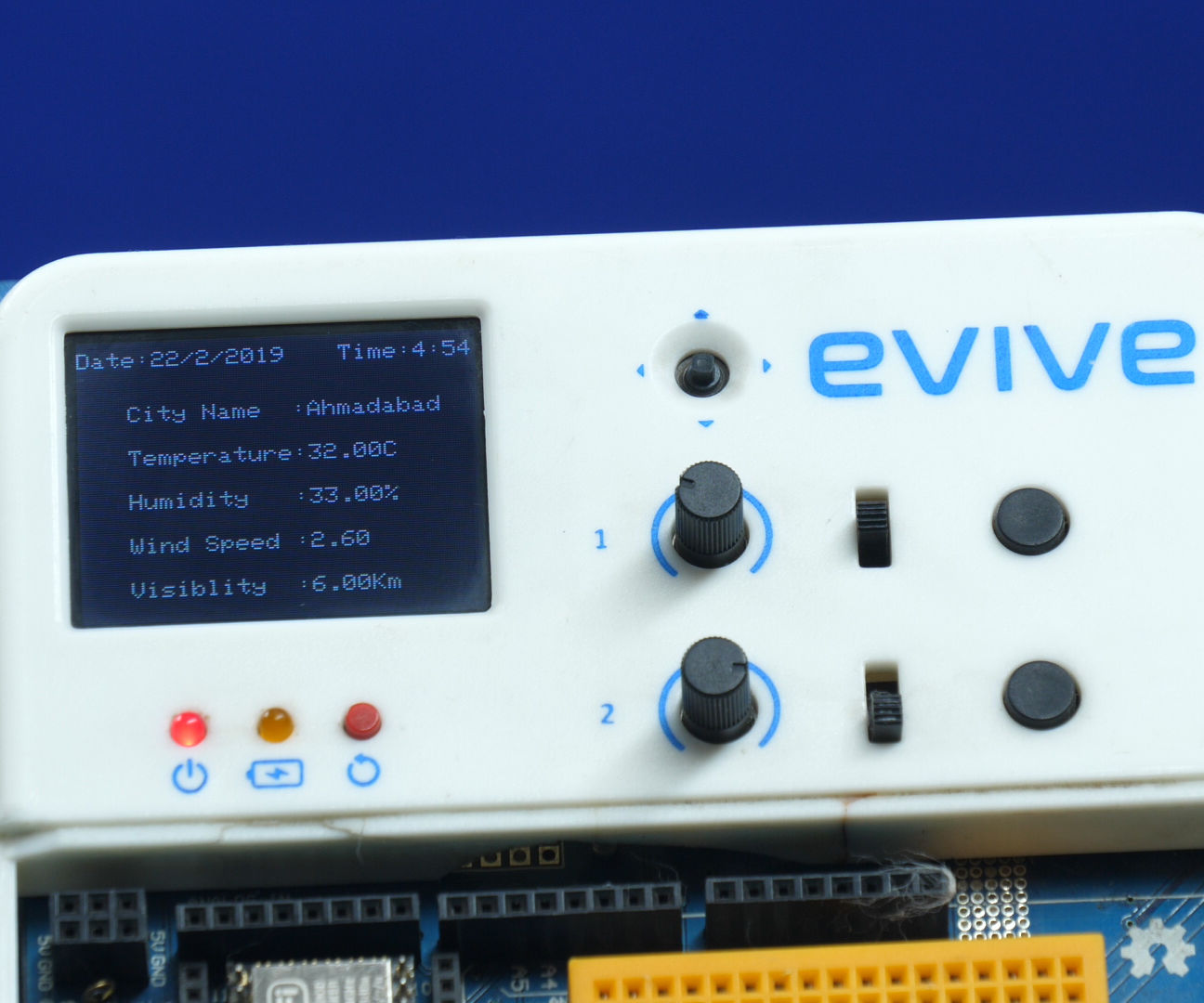 One of the best IoT Projects ideas to try if you are beginning with developing IoT projects. An excellent project on weather reporting over the Internet. 
The weather reporting system will allow people to directly look up weather statistics online without needing a weather forecasting agency.
This system will use temperature, humidity, and rain sensors to monitor the weather and provide the user with the weather reporting details.
As the system is developed using factors and stats that are life, whenever there will be a change in the input data, the weather reports will be updated instantly.
This Internet of things project will allow a user to set alerts and alarms for specific instances. The system will generate an alert as soon as it meets a weather alert factor.
10. Solar Power Monitoring and Control System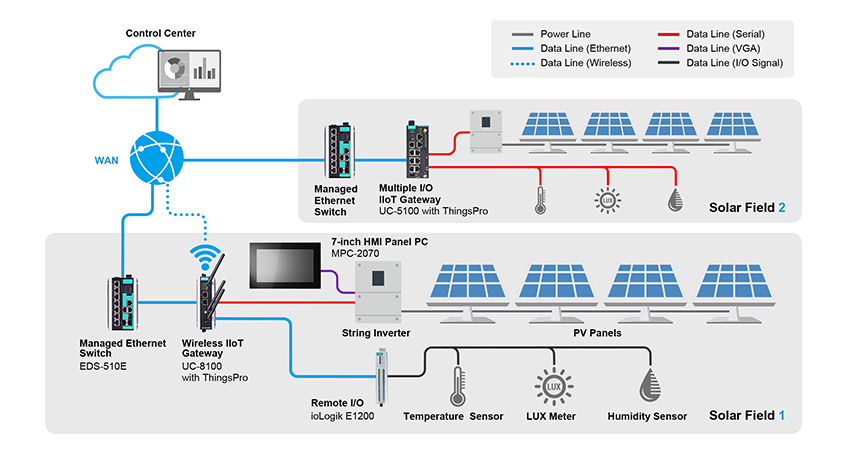 Solar energy, also called clean energy, has a power capacity of more than 50MW and can feed future consumption as more plants are being built to meet the growing demand for solar power.
Hence, managing and controlling these plants through the Internet's ease could become much more crucial in the future. 
The IoT monitoring system will give you remote access, data logging, protocol conversion, remote monitoring, etc.
Solar power monitoring and control systems will continuously monitor the solar panels and transition the power output to the IoT system. It will display the parameters and alerts to the user when the output falls below specific limits.  
11. Air & Sound Pollution Monitoring System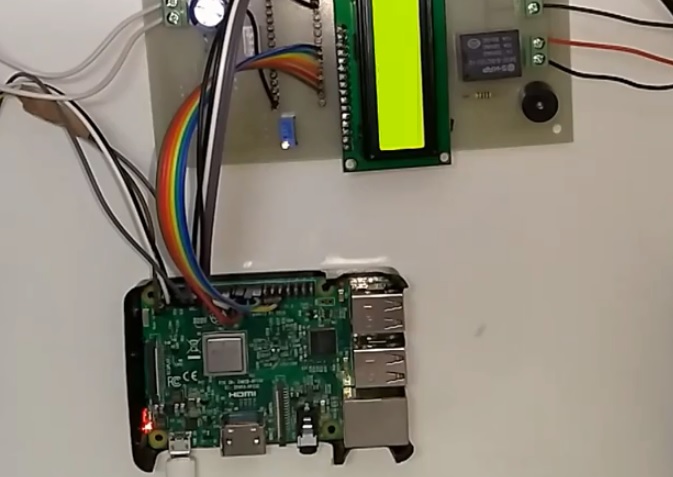 Where noise pollution poses a high environmental risk to human health, air pollution isn't causing various respiratory problems and health issues. Both can be direct and indirect and can lead to harmful adversaries on human health.
While air pollution is the largest single environmental risk and a leading cause of diseases and death globally, it is crucial to monitor air and noise pollutants.
Air and sound pollution monitoring systems will have sensors interact with microcontrollers that will send the data over the Internet to the authorities monitoring data in different areas and taking action against it.
Some places that will need air and sound pollution monitoring system would be no noise/sound pollution near schools, no air pollution and sound pollution near a hospital. And once the data sent, the traffic or the pollutants can be controlled accordingly through action.
12. Industry Protection System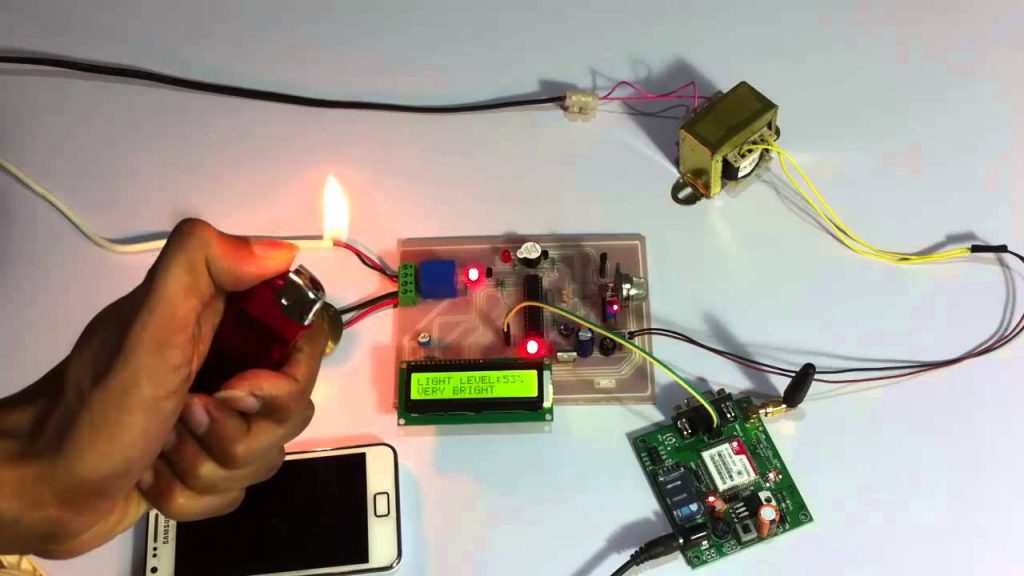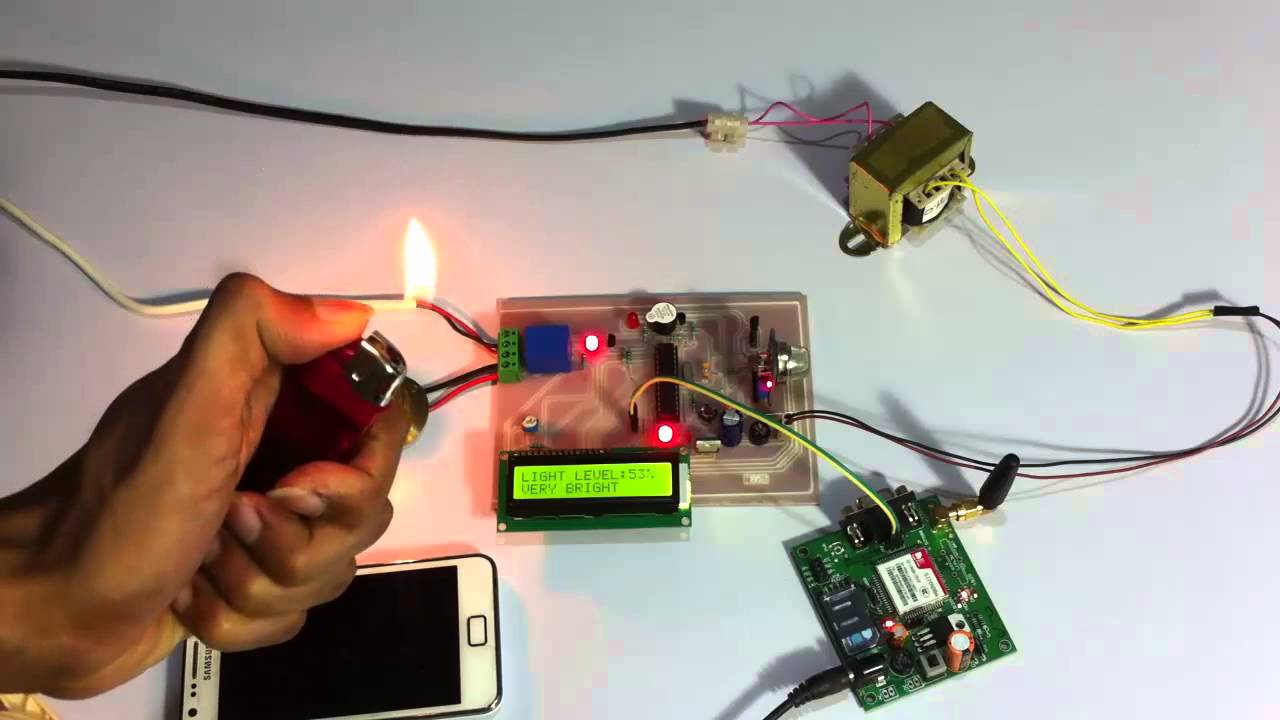 This IoT project idea is designed to provide industry protection by using Arduino. The IoT project is developed to protect industries from financial catastrophes due to accidents, such as gas leaks, fire hazards, flooding, short circuits, etc.
Loss in the industry can cause a loss of millions per day and change overall profit and loss for an entire year.
Having a reliable monitoring system that will continuously monitor critical asset parameters such as light, gas, and temperature using infrared sensors with Arduino and LCD screen.
The data collected would be scanned and record values and check for fire, gas leakage, and low light, etc. later, the data will be transferred online to the authorities. The server then will display the information online to achieve the desired output. The WIFI module will be used to develop this Industry protection system.
13. Smart Energy Grid
The smart energy grid IoT projects will test if the energy grid becomes faulty and the availability of another energy grid to switch the system transmission lines towards a new grid, thus making sure uninterrupted electricity supply to the particular region with the energy grid OFF.
The use of a bulb is included while developing this system. The bulb is used to demonstrate the difference between a valid customer and an invalid customer for an easy electric theft identification.
Smart Energy Grid will monitor the Lines, and apart from monitoring the Grid, this system will monitor energy consumption and even detect theft of electricity.
Through the Smart Energy IoT projects, the Grid makes sure the electricity supply is continuous, and it helps to maintain the record of consumption and electricity theft information. It notifies the authorities every time the line is switched over the IoT interface.
Conclusion 
There are hundreds of IoT project ideas out there, and we have only covered thirteen. These are just a couple of suggestions about how the IoT technology can be used and implemented to form useful and, in some cases, extremely needed monitoring and control systems.
Once you have chosen that interest you the most, out of the above IoT project Ideas, you can quickly start developing your own IoT project ideas.
Also Read: