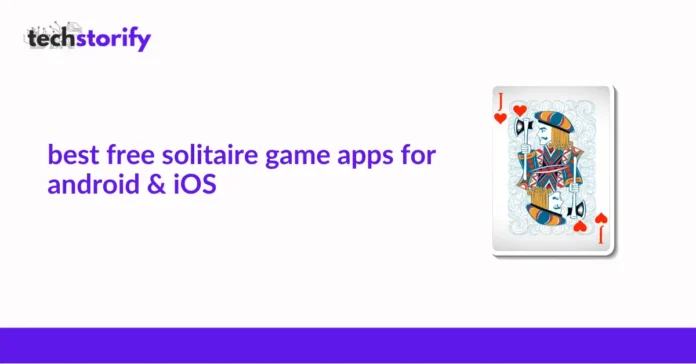 Whenever I think about my school days, one memory always pops up in my mind. And that is playing Spider Solitaire on the PC during computer lab classes. I did not only enjoy that game at school, but I also played it at home on my PC.
Technology has been developing tremendously over the years, and the pace is only increasing.
And it is due to technology that you are not limited to playing computer games like Solitaire only on your PC anymore.
It is now also available as an app that you can access on your Android or iPhone devices.
And it has become much more convenient to enjoy this classic game anywhere and anytime you want to.
Moreover, it's incredible to see how such an old game is still so popular and is loved by present-day kids and teenagers as well.
I have hardly met a few people who do not like this game. I feel one of the reasons behind the popularity of Solitaire is also the fact that it is pretty easy to understand and play.
It is one of those games you can even enjoy alone, and it is both challenging and calming simultaneously.
At this point, I am sure many of us are tired of playing conventional and popular role-playing and simulation games.
While I will not say that they are not fun, it is still nice to have a change in the routine and play something that is not tedious or stress-inducing.
If you enjoy playing Solitaire and looking for an app to play it on your phone, or if you haven't tried this game and you are willing to, this article is precisely for you.
I have tried out multiple solitaire game apps, and I will share my top recommendations here.
So if you are looking for the best free solitaire game apps for Android & IOS, please keep on reading till the end.
Best Free Solitaire Game Apps for Android & iOS
After trying and testing multiple Solitaire game apps, I have learned that even though there are many options on the Apple store and on Google Play Store, finding one with a friendly interface that you can enjoy is a challenging task.
However, you do not need to put any such efforts here because I have got you covered with these recommendations. So let's get right into it!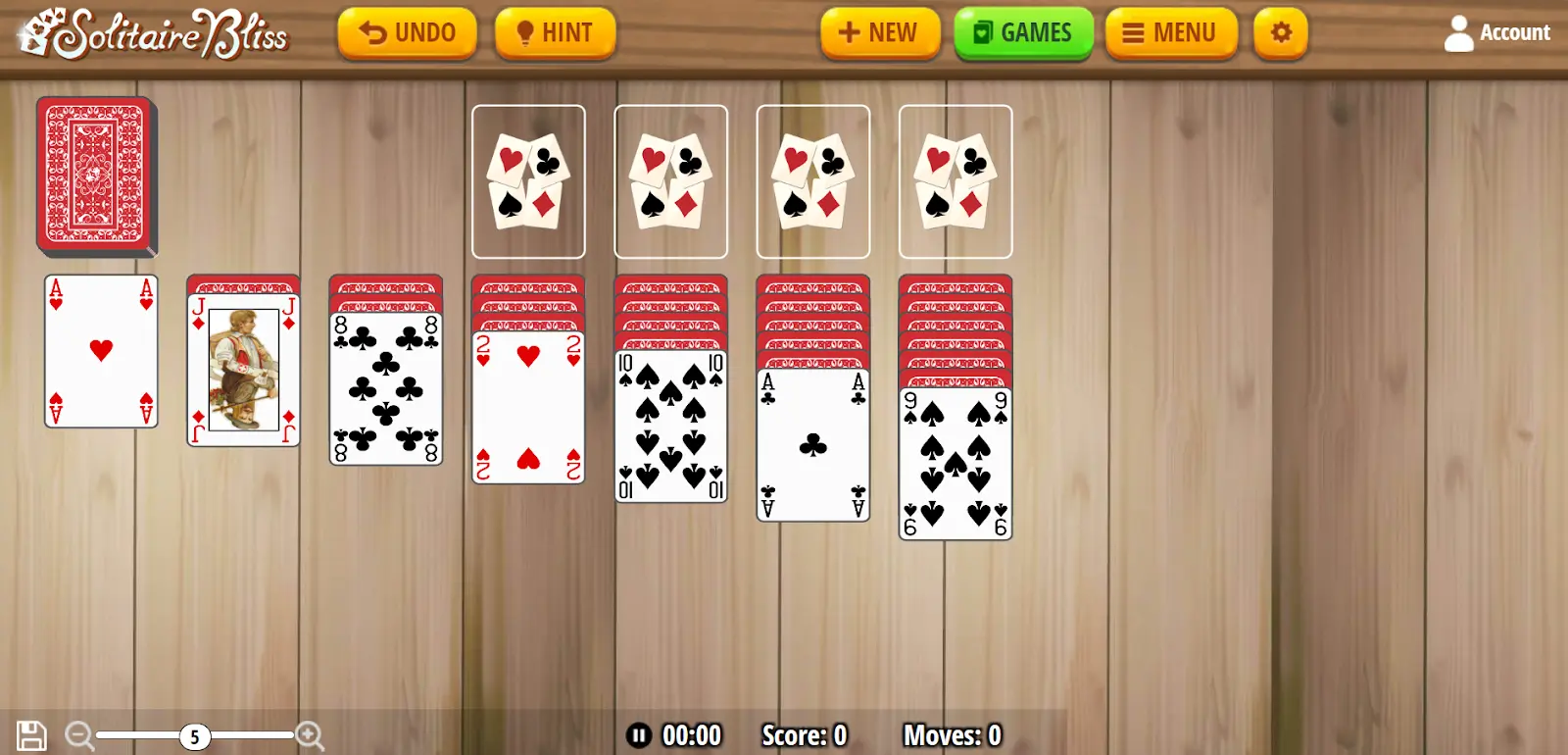 Solitaire Bliss is one of the most popular Solitaire gaming apps available for Android and IOS platforms.
I was pretty impressed with its rating on the app store and hence wanted to try it out to see if it was worth all the hype. And I have to say that I do agree with the ratings.
This app came into existence in 2019 and has been growing incredibly since then. The best part is that you can download it for free.
Apart from that, there are 30+ variants of Solitaire for you to play, ranging from Klondike, Freecell, Spider Solitaire, Pyramid, Yukon, and many more.
And since there are so many variants of Solitaire present on the app, you'll hardly ever get bored. Moreover, there are other special features to explore, like statistics tracking, unique card sets, solvable-only game mode, backgrounds, and many other customization options.
If you want to get a closer look at your game board, you can zoom in or out so that the cards can appear smaller or larger.
One feature that I really appreciate about this application is its accessibility. Let us suppose your smartphone is away from you, and you can only access your PC or laptop at that particular moment.
That won't be a problem either because Solitaire Bliss is also available to play on your web browser.
I had a great time using this app, and I would highly recommend this to anyone who wants to play Solitaire.
Features
The app is available for both Android and IOS platforms.

You can download and use the app for free.

There are more than 30 variants of Solitaire to explore on the app.

You can try a variety of features, like unique card sets, statistics tracking, and more.

The app allows you to zoom in or out on your game board.

The application is also available to play on your web browser.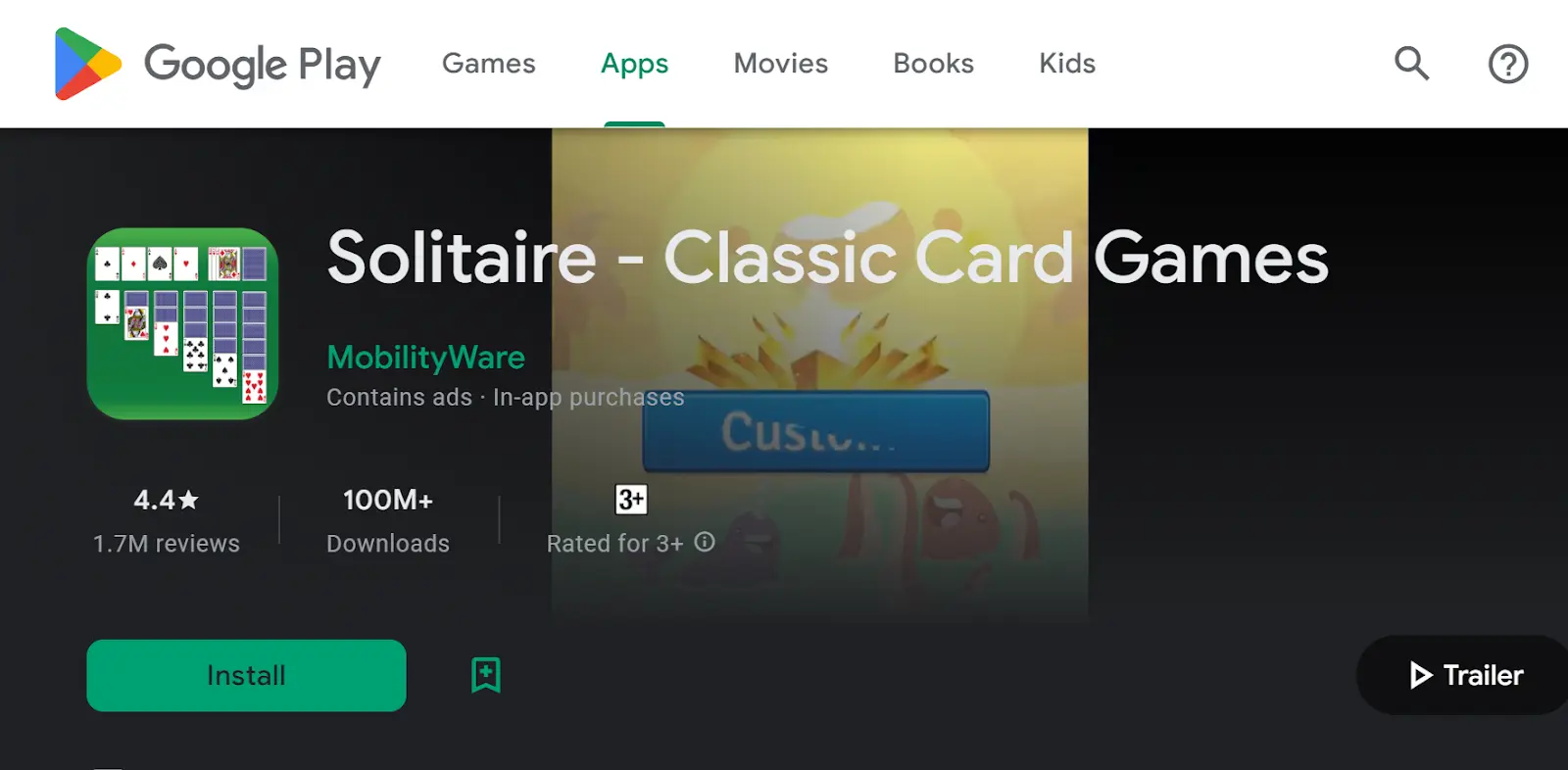 This app has been my go-to for a while now, and I can assure you when I say that it is one of the most authentic Solitaire game apps I have ever tried.
The app is available for both Android and IOS platforms. The app has managed to build a reputation for itself and is one of the most downloaded apps today.
Apart from the classic Solitaire game, the app offers you a lot of challenges, and you can win trophies and earn points whenever you win.
Moreover, there are many other features as well. The app is free to use and download, you can customize the cards and tables according to your preferred style, and you can even use the statistics tracker to monitor your progress.
Even if you are in a remote area with no Wi-fi connectivity, you can still play this game offline.
Don't want to play alone?
You can participate in the multiplayer mode and play against other users. The only slight con that I faced on this app is that there are many ads.
However, you can always make an in-app purchase to turn them off if they feel extremely annoying.
Features
You can install and play the game for free.

You can enjoy daily challenges and puzzles.

The app is available for both Android and IOS devices.

You can earn points and trophies on completing each challenge.

The graphics and interface are really impressive.

The app offers a lot of customization features.

You have to face ads, but they can be turned off by an in-app purchase.
3. 

Pyramid Solitaire Saga

This one takes your regular solitaire game and elevates it to make it more enjoyable. It is one of the most unique Solitaire game apps I have ever come across, and it includes 3D characters and sounds.
What I especially loved about Pyramid Solitaire Saga is that there is a storyline that got me hooked immediately as soon as I started playing.
The main objective is to pair up with the heroes and find out all the secrets and wonders of ancient times and discover magic and treasure along the way.
It is super interesting, and there are many levels full of adventure where you have to solve complex card puzzles to progress in the game and reach the main goal.
I love how the developers came up with a unique approach to this game, and it is the perfect blend of Solitaire and Treasure Hunt.
And I would highly recommend trying out this one if you haven't already.
Features
The app is available for both Android and IOS devices.

It includes colorful 3D characters and sounds.

The game has an interesting storyline that includes hunting for treasures in ancient times.

You get to solve complex card puzzles.

You can also play with your friends and compete for the highest score.
4. 

Tripeaks Solitaire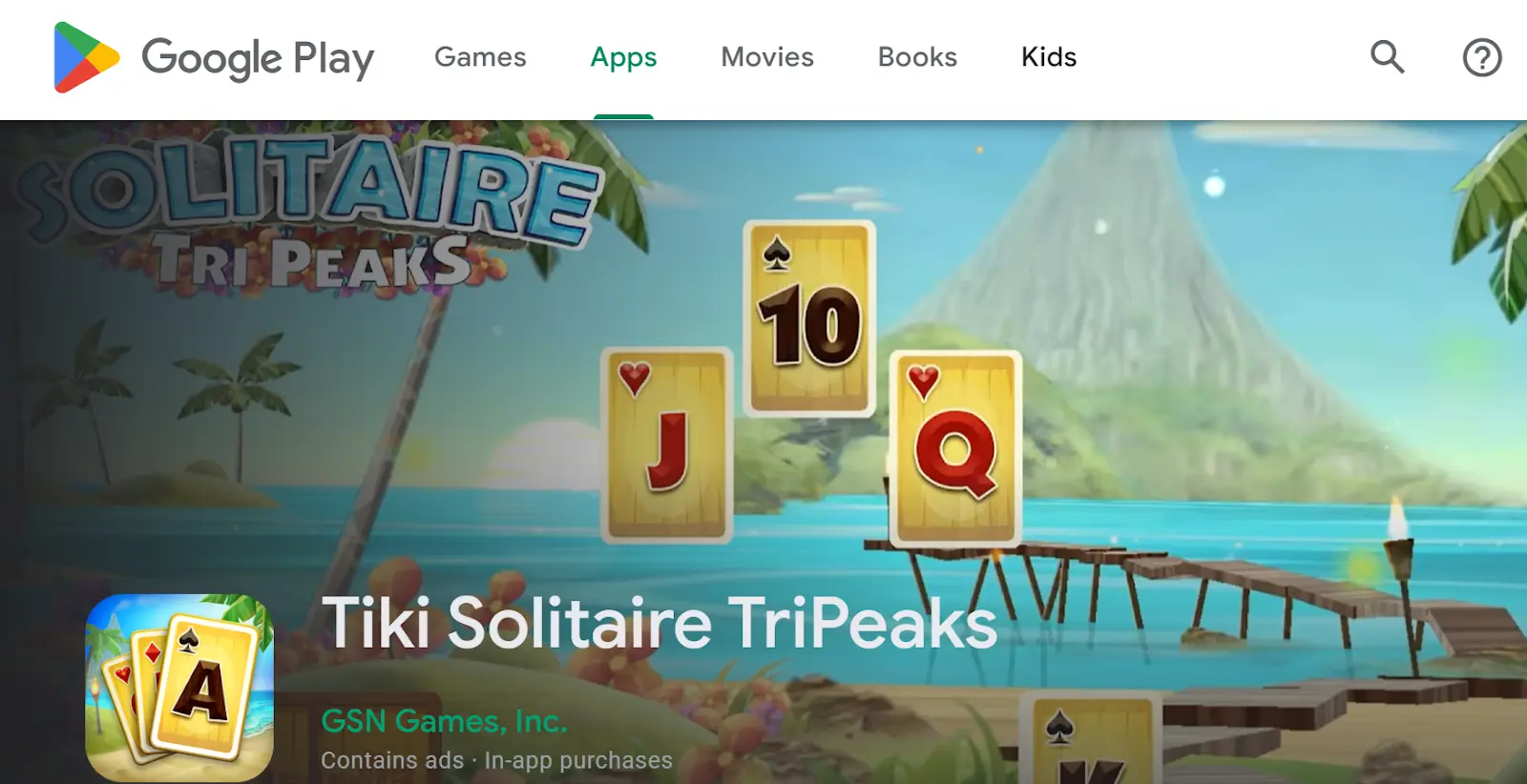 I usually recommend Tripeaks Solitaire for absolute beginners who do not have much experience playing Solitaire.
Starting with this app will give you a basic idea of the concept behind classic Solitaire, and it is even suitable for use if you want to teach kids how to play Solitaire.
The game has a very fun and relaxing vibe to it. And the part that I like most about Tripeaks Solitaire is that the developers have included characters, a variety of sounds, and fun graphics.
Factors like these definitely help to enhance your experience of playing Solitaire.
You do not have to worry about the gameplay either, even if you are a beginner, as it is extremely simple.
The rules are extremely simple- all you need to do is tap on the cards and arrange them in a stack, either in ascending or descending order.
You must do this till the deck is complete.
I will also have to say that even though it sounds extremely easy, challenges will definitely tickle your brain cells, and the game will help you enhance your capabilities for thinking critically.
Overall, Tripeaks Solitaire is a great app to start your Solitaire journey.
Features
You can play the game on both Android and IOS smartphones.

It is an extremely beginner-friendly game.

The graphics are fun, and the game includes characters and sounds.

You have to arrange the cards in stacks of either ascending or descending order.
5. 

Freecell Solitaire: Card Games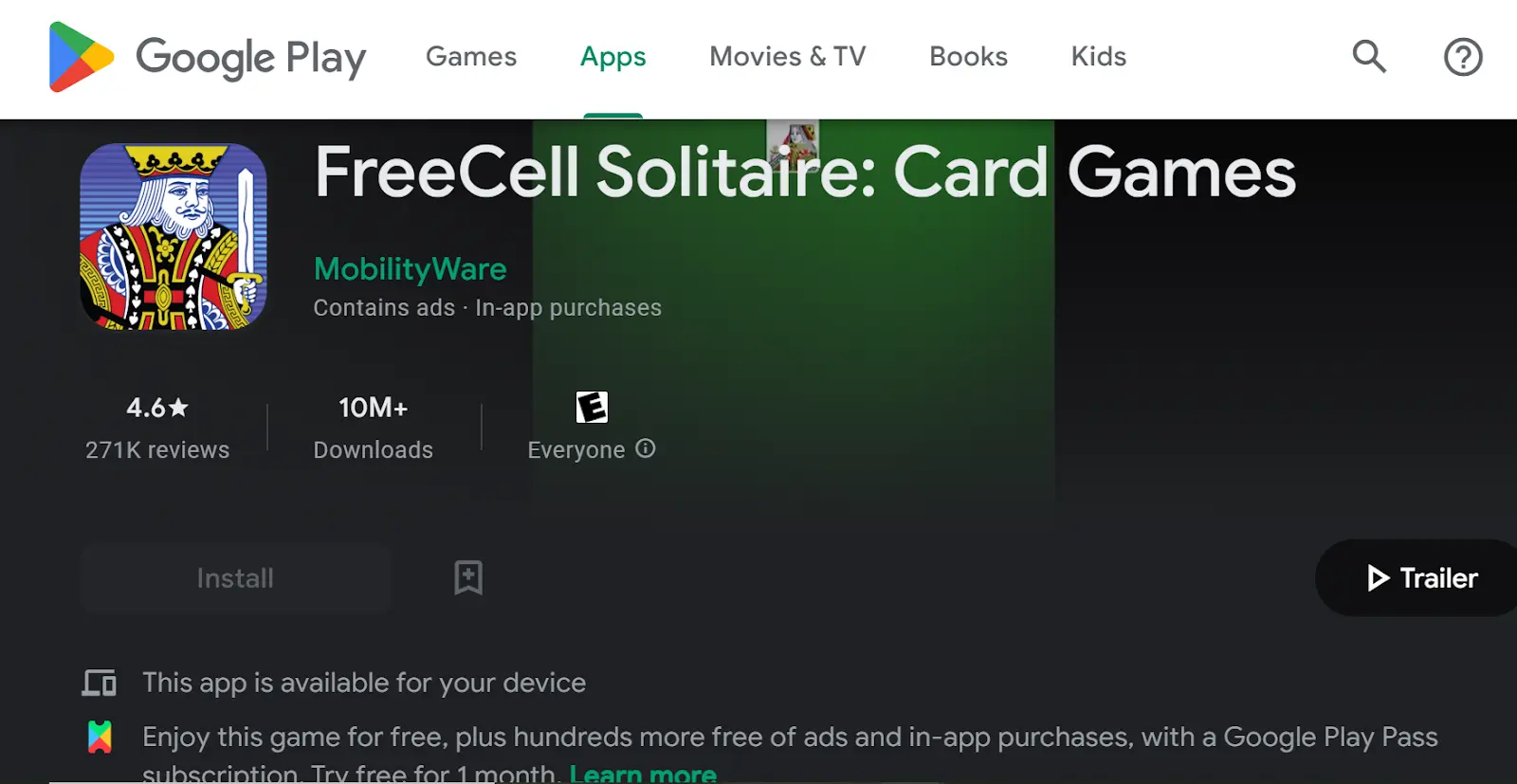 I have another option for you from MobilityWare, and it's a great one too. Freecell Solitaire is one of the games you will be thankful for when you download it on your device.
I wouldn't even blame you if you get addicted to it and start spending hours playing the game. Because that is exactly what I went through when I first came across it.
Freecell Solitaire is available to download on both Android and iOS devices and is a fun, brain-teaser card game that is extremely popular worldwide.
If you are already familiar with the basic concepts of Freecell, it will be easier for you to get the hang of this one.
The game also includes daily challenges they are pretty fun. The game has multiple levels that will help you make progress and move ahead.
I have thoroughly enjoyed this one and recommended it to my cousin as well.
Features
You can play this game on both Android and IOS smartphones.

It is a fun brain-teaser game.

The primary mechanics of the game is based on the classic Freecell.

There are multiple levels and daily challenges that keep it interesting.
6. 

Solitaire Arena

Solitaire Arena also takes the concept of a classic Klondike Solitaire game and gives with a unique spin. Irrespective of whether you own an Android or iPhone device, you can play this game on both.
I was introduced to this game by a colleague, and the thing I found the most interesting about the app is that it features an all-day tournament, and you can participate in it to showcase your Solitaire skills.
If you want to play with your friends, you can include them in the tournament, as there can be up to 8 players in each round.
And if you are in the mood for playing alone, your computer can be your opponent in an AI gaming session.
I would highly recommend this game if you want to try a twist on classic Solitaire.
Features
The app is compatible with both Android and IOS devices.

It is a classic Klondike Solitaire game with a unique spin.

There is an all-day tournament that you can participate in along with your friends.

There can be up to 8 players in each round of the tournament.

You can even compete against your computer as an opponent.
7. 

Flick Solitaire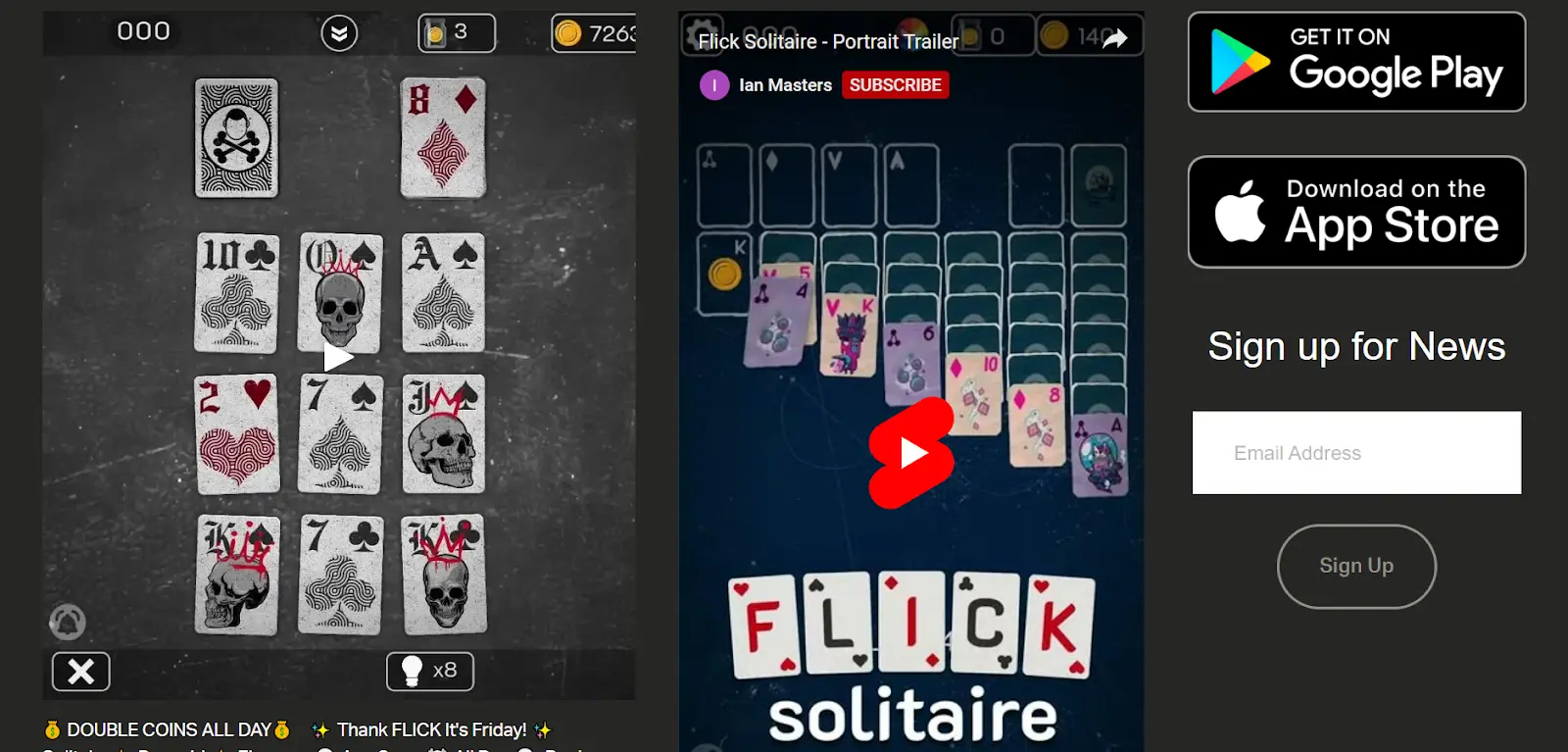 I was instantly drawn to Flick Solitaire as soon as I installed the app and started playing it. This application has an entirely different vibe, and it is completely unique.
The cards in the game and the background designs are very artistic and have an aesthetic appeal to them. In fact, there are many cards that have been designed especially by artists, and they are absolutely stunning.
If you are someone who loves art, I feel you will be really impressed with this one.
And along with beautiful card designs, the game also includes hypnotic sound effects that elevate your experience further.
Once you enter the game, there is a very modern-era feel, and it almost seems like you are playing the game in real life.
Flick Solitaire has different variants of Solitaire, like Klondike, Pyramid, Spider Solitaire, and many more.
I am pretty sure once you start playing this one, it will be very difficult for you to stop.
Features
The game is available to play on both Android and IOS devices.

The cards and the background designs have a very attractive and artistic appeal.

The game also includes hypnotic sound effects to enhance your gaming experience.

There are multiple Solitaire variants to explore on this app.
Conclusion
I have shared my recommendations for the 7 best free solitaire game apps for Android &  iOS.
All of them perform extremely well, and they are great options to enjoy playing Solitaire, irrespective of whether you are a beginner or a pro.
If I had to choose a winner among these, it would be a tie between Pyramid Solitaire Saga and Flick Solitaire.
I absolutely loved how the developers of both these apps have put such a unique spin on the classic Solitaire game.
While the former has an adventurous Treasure Hunt element, the latter includes a stunning, artistic vibe to the whole interface.
But despite its uniqueness, it is still based on the classic Solitaire game, and that is precisely what you will get to experience.
I hope this article has been helpful for you and that you find your favorite Solitaire game app.