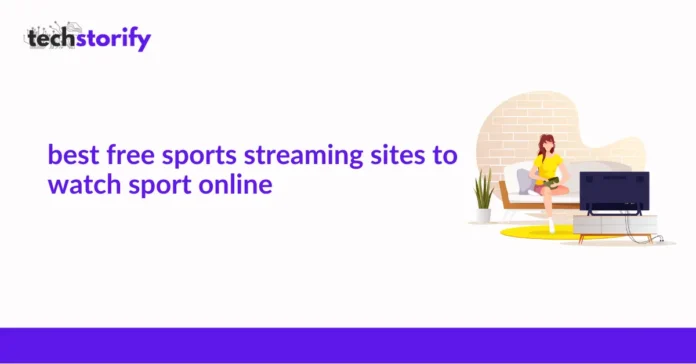 Do you want to watch your favourite sport online on free sports streaming sites? Your search ends here!
Sports enthusiasts will always want to watch sports whenever possible. And if you have played any sport when you were you that makes it more passionate to follow your favourite teams and players.
A lot of people are crazy about sports, even if they don't play them. Sports is one of the best forms of entertainment for us.
It's difficult to watch sports when you are travelling or not in front of your television. However, there are some sports streaming sites on the web that can be useful to watch sports online.
We have listed the 13 best sports streaming websites that can become your go-to place to watch your favourite sport online.
Also Check: How To Live Stream Sports Like A Pro
List of Best Free Sports Streaming Websites to Watch Sports Online
The first such sports streaming site is Hotstar, which is a Star property now owned by Disney. From Live matches across the world to match highlights and some old collections as well, they have got it all.
Apart from sports it also gives you access to a plethora of movies and tv series.
Hotstar offers two viewing plans, one is free of cost with limited access to the content they have and a delay in live matches. Their premium package gives you all access to the content.
[appbox googleplay in.startv.hotstar]
As we all know ESPN stands for Entertainment and Sports Programming Network and is one of the oldest sports broadcasters.
When it comes to watching live sports ESPN has always been one of our favourites. Their WatchESPN website is perfect to stream sports online.
You can check out live updates, schedules and highlights there.
It is as amazing as their TV version. One challenge for users is that it is geographically restricted to the States only.
[appbox googleplay com.espn.score_center]
Stream2Watch is an amazing sports streaming website that has gained a lot of popularity. Its dark theme design is easy on the eyes and perfect for indoor setup. You can browse all the sports in their home section.
They record live matches as well so that you can watch them later as well. Stream2Watch is a no-brainer if you want to stream sports in HD.
If you are not satisfied with Stream2Watch and looking for similar websites with all the required features, then go through this list of alternatives to Stream2Watch.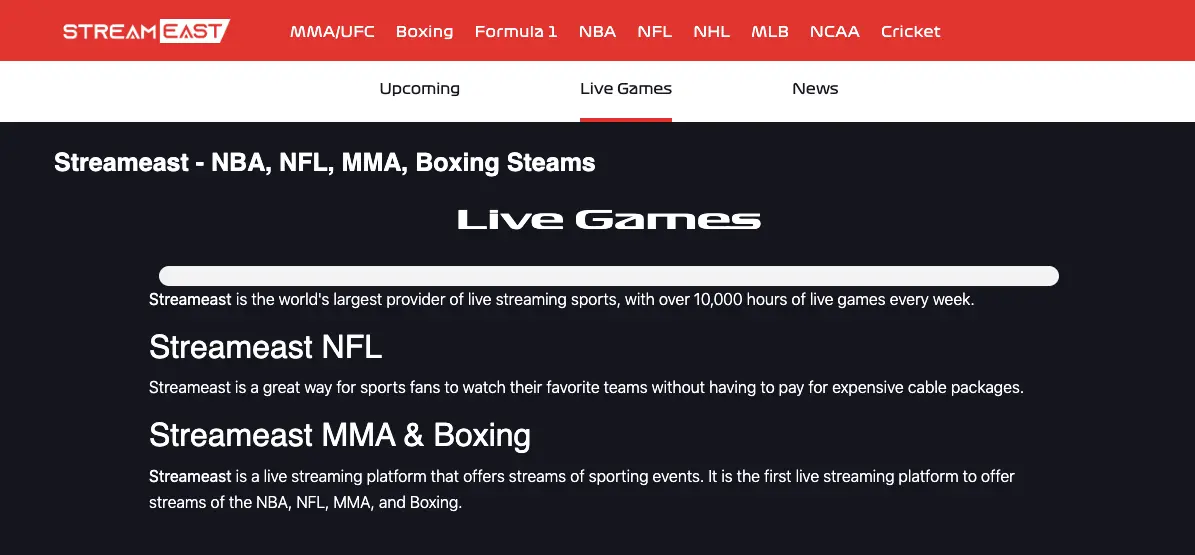 What sets StreamEast apart from other sports streaming sites is its user-friendly interface. The site offers support for multiple languages, including Italian, Arabic, French, and Spanish, making it accessible to a wider audience.
StreamEast also offers a seamless streaming experience across all devices, allowing you to watch your favorite sports wherever you are.
Additionally, StreamEast offers a clean homepage with minimal ads or promotional banners, making it easy for users to navigate and find the game they are looking for.
If you're looking for alternative streaming options, check out our list of top StreamEast alternatives for live sports and events.
If you are interested in watching multiple sports online, LiveTv.sx is a wonderful website for the same. The design is slightly old-school but it serves your purpose.
You can select the sport that you want to watch on the left side section of the website and then enjoy the stream as smoothly as butter.
One great thing about this is the multilingual feature on the website. The content can be viewed in multiple languages.
No, it is not just a Cricket streaming website. We know the website name can be deceptive but rest assured CricFree offers a lot more just than Cricket.
It is one of the top sports streaming websites in the world and is loved by millions of sports fans. You can watch Football, Baseball, Basketball and many other live sports online here.
Related Article – 10 Best Football Streaming Sites for Soccer Live on TV
One thing that helps CricFree to get more people in their community chat system. Yes, you can interact with other viewers online.
So, if you are a person who would want to talk about team tactics, and discuss the game, CricFree is the platform for you.
Apparently, a new entrant in the sports streaming business but quite popular with Northerners(I am a GOT fan) in the States.
Although it doesn't have fancy features but is loved for its simplicity and flawless experience. It might be restricted to a few countries but VPN is the answer to those restrictions.
One of the best sports streaming websites and we strongly recommend checking it out.
It's been ages since people remember Yahoo as a search engine but they are still alive and have got decent users in the United States.
Yahoo Sports is one of the best sports streaming websites out there. One quick suggestion of why you should go for this is because many people don't visit the site.
Less traffic means a smooth watching experience. Apart from watching sports, you can also read articles written about the same.
Again. don't judge a book by its cover. VIP Box is an absolutely free sports streaming website. With more than 20 sports categories, this one is a total treat for sports enthusiasts.
You can browse the content category-wise and enjoy your favourite team playing. Another cool thing about VIP Box is the time zone setting.
No matter wherever you are, you can set the time zone accordingly so that you don't miss out on an important match.
Sometimes this platform fails and for that reason, people are searching for VIPBox alternatives to rely on.
One of the challenges that many users face are those annoying ads. StreamSports.me is absolutely ad-free and no-nonsense website.
It allows you to stream any sport without any interruption. Well, all you need on a weekend is a mug of a chilled bear with some nachos to enjoy the game.
VIPLeague is similar to most live-streaming platforms and contains all sporting streams in it. The service is quite easy to use around, and it gives some nice streams.
The website does have ads displaying and also the common ads when attempting to run the stream but the norm of streaming, as you know. VIPLeague also gives TV channels as well, and allow you to watch and enjoy them. Unluckily, there aren't loads of channels, but there are a few you can opt from.
One thing I will agree, all these sites might be a great option but you always face one common issue, links not working.
Anway the temperature is on the higher side, thanks to us for Global Warming but SportLemon.tv makes sure you get a working link to stream your match online. Hence, this one is the last for you.
With all the needed features SportLemon.tv is one of the best sports streaming websites out there.
#13. BatManStream
BatmanStream is a free online best sports live streaming website and offers plenty of online sports like watching soccer, basketball, handball, NFL football, hockey, baseball, rugby, tennis, motor, and many other sports live for free with a web browser on any device.
This free streaming BatmanStream site searches the web for free live sports streaming and makes it available to the sports lover in just a few clicks.
We have highlighted Sites Like BatmanStream also.
Click. Watch. Play
These were the 10 best sports streaming websites available online for you to enjoy live streaming of your favourite sport.
We understand, that there might be some paid versions that can give better features and exclusivity but these 13 sports streaming sites are the top websites if you want to watch sports online.
In case we missed any, please write them in the comment section, and we will add them to the list.
Stay tuned for more updates on live sports streaming sites.
FAQs
1. What are some of the best free sports streaming sites?
Some popular free sports streaming sites include ESPN+, Laola1, Stream2watch, and SonyLiv.
2. Can I stream live sports for free on these sites?
Yes, many of these sites offer live streaming of sports events for free, however, the availability of certain events may vary by region and some may require account registration.
3. Are these streaming sites legal?
Most of these streaming sites are legal and operate within the boundaries of copyright laws.
However, some may not have the proper licenses to stream certain events and may be considered illegal. It is the user's responsibility to ensure they are using legal streaming options.
4. Do I need a high-speed internet connection to stream sports on these sites?
Yes, a high-speed internet connection is recommended to ensure smooth and uninterrupted streaming.
5. Are there any ads on these streaming sites?
Yes, most free streaming sites rely on ads to generate revenue. However, some offer ad-free options for a fee.
6. Can I use these streaming sites on my mobile device?
Yes, most of these sites offer mobile compatibility and can be accessed on smartphones and tablets.
7. Are there any sports not available on these streaming sites?
Availability of sports events may vary by site and region, some of these streaming sites may not have the rights to stream certain sports events.