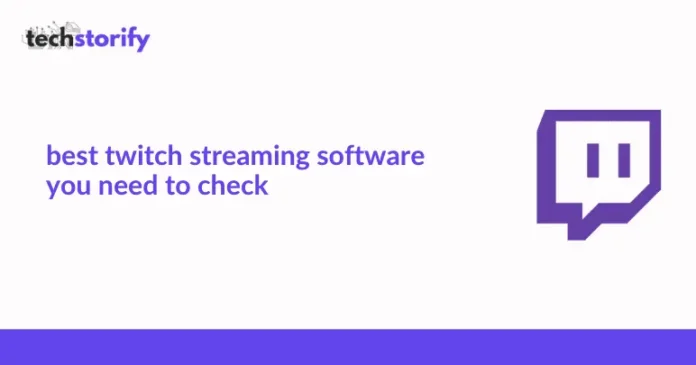 Twitch is one of the most famous and widely used platforms for live streaming. Mostly used by gamers and musicians for their online live performances, twitch has established itself as a prominent streaming platform.
To be able to stream yourself playing games or doing stuff on Twitch or maybe other platforms such as Facebook Live, mixer and youtube, you need to have streaming software. In this article, we will be listing down the best Twitch streaming software that can also be used for other platforms.
---
10 Best Twitch Streaming Software Options
1. OBS studio
Starting off with one of the most widely used free streaming software for Twitch. It is a basic and feature-packed streaming software available for free but also has a premium version.
It is considered an outstanding Twitch streaming software for macOS and has recently received updates that allow the use of new plugins with the OBS software providing users with options to customize the OBS studio according to their own requirements.
The user can switch to a multi-view screen, this allows you to see multiple scenes at a time, similar to what happens at a tv station.
This feature is useful as you can clearly see what is being displayed to the user and prevent yourself from hiding important information on the screen.
Pros:
Free to use
Highly customizable
Compatible with different OS
Cons:
Lacks some editing features
Too complicated for new users

---
2. Nvidia Shadowplay
Nvidia Shadowplay is a free Twitch streaming software that can record and stream your gameplay simultaneously. It comes along with the Nvidia equipment such as a gfx card for free.
You shouldn't expect much from Nvidia shadowplay as it can do only the basic stuff such as recording the gameplay and streaming it on the platforms. But there's one feature that makes it stand out from the rest.
When you get a big kill during the game, Nvidia's shadowplay will record it automatically, you just have to keep it running in the background. Moreover, you can edit the recorded gameplay and make GIFs in 4k quality, well that's quite amazing in this software.
Keeping the good things, on one hand, the biggest drawback of this software is that you need to own Nvidia equipment to be able to get access to the software. It is not friendly for new users as the navigations will give you a hard time getting along with the software.
Pros:
Free to use
Lightweight
Automatically records the best moments
Cons:
Supports only windows
Need to purchase a product to get access to the software.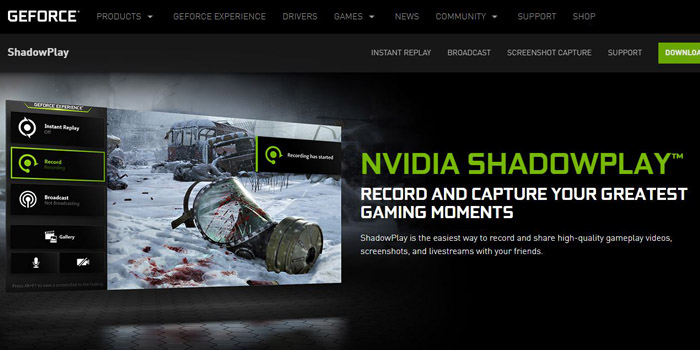 ---
3. Player.me
Another addition to our list of best Twitch streaming software that does its job of streaming on platforms like Twitch and Mixer. Player.me is a simple yet outstanding streaming platform that brings ease to the user.
You can connect all of your social media profiles to the software and access all of them with just a click of a button. You can link your Facebook account and other social media and post updates about your upcoming stream moreover you can stream on multiple platforms simultaneously.
Features:
Overlay templates
Live streaming and recording
Your own gaming profile
Cons: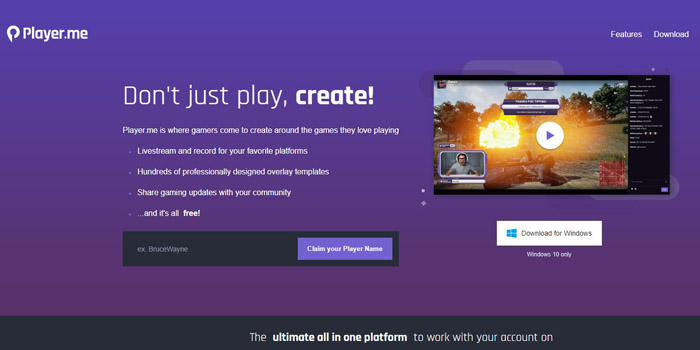 ---
4. Lightstream Prism/Studio
Moving forward to another simple yet amazing free Twitch streaming software that is suitable for non-technical streamers. Lightstream Prism removes all the complications one would face to stream his first live video.
However, removing these complications also resulted in removing some features like overlay templates, and some customization features and leaves you with very basic features.
The software has two variants, Prism & studio, where the prism is for gamers who are looking for simple streaming software and Studio for creating beautiful and unique videos.
Pros:
Completely free
Less complicated
Light in weight
Cons:
Supports only Chrome web browser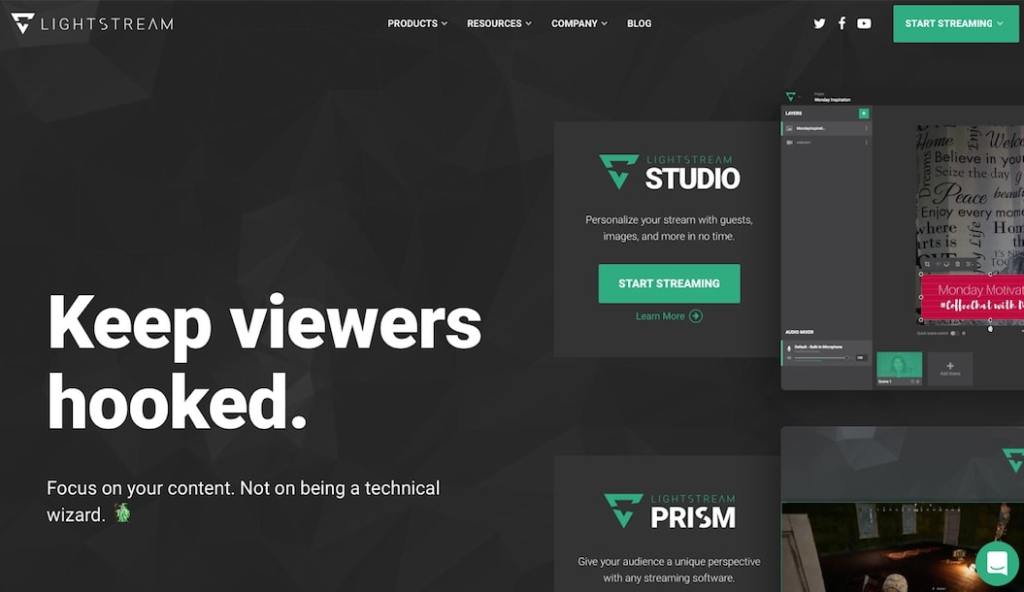 Visit here
---
5. Xsplit Gamecaster
Xsplit Gamecaster is another streaming software for Twitch that has a free and paid version. The free version comes with the basic features and the paid version has everything that you would seek in a Twitch streaming software.
The Gamecaster is the version specially for gamers and is a child version fo Xsplit Broadcaster.  Developers are working hard to make it the best streaming software for users by fixing bugs and constantly adding new features.
Alongside Twitch, you can also broadcast on youtube and Facebook. The only thing that would force you to a second thought of getting this software is that it's available for only Windows and costs a bit more.
---
6. Streamlabs OBS
Streamlabs OBS is a top-notch Twitch streaming software and the first preference of every professional streamer out there. It has the highest ratings among the other streaming software and the best part is that it is free to use.
The software gives the user the liberty to customize the streaming display and make it look professional. Moreover, you can personalize the stream without having to download additional plugins for every minor customization.
Everything is cool with Streamlabs OBS but, it is available only for the Windows Operating system, not for macOS, Ubuntu, and Linux. So if you are a programmer and wish to do a live stream on your Twitch channel while coding, you will have to switch over to Windows.
Pros:
Optimized x264 settings
Overlays templates and face masks
Vast theme library
Integrate your website
Cons:
Still in the beta version
Only supports Windows OS

---
7. Bebo
The seventh free Twitch streaming software on the list is called Bebo. It is a new horse in the race and still has a lot of features missing, so there's no point in comparing it with the other Twitch streaming software in this list.
Beginners can easily get along with the software and stream on Facebook, Twitch, and Youtube, chat with the viewers and collect super chats and donations. Moreover, the developer support is pretty amazing and your issues will be fixed in the meantime.
Pros:
Neat user interface
24*7 Live chat support
Stream on various platforms
Cons:
Consumes a little more CPU than it should
Still in alpha version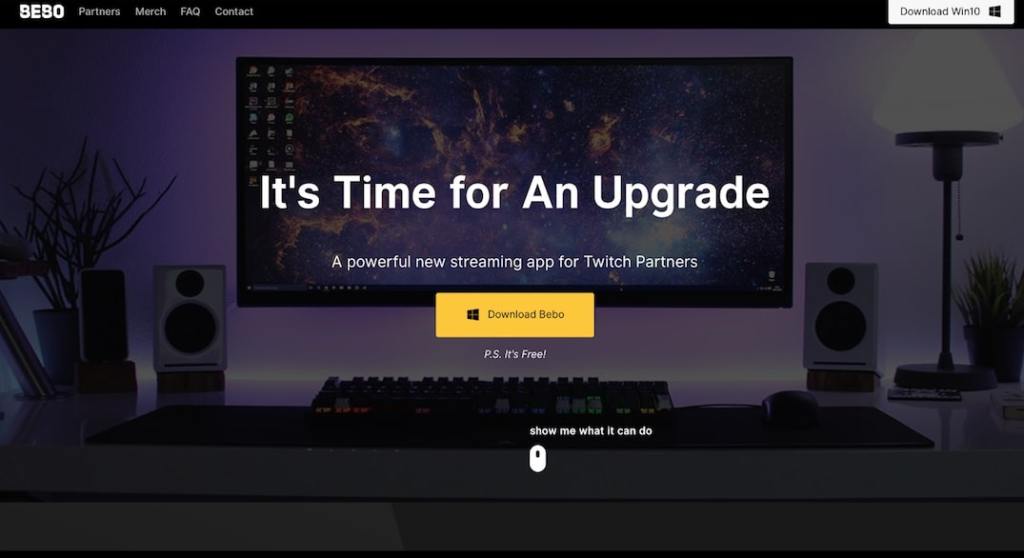 ---
8. VMIX
VMix is a high-end best Twitch streaming option that is quite similar to Wirecast. You can edit, add transitions, and let the guests join your live shows in a matter of a few clicks. The software is packed with tons of features and components.
It has around 13 transition effects, and animated graphics and is easy to use providing you with high-quality live streaming. Here are some more features:
HD virtual sets with HD Real-time chroma key
Add Up to 8 remote guests via call
Web browser input
Audio mixer
Input multiview
Live video effects
Supports touch screen devices with a touch screen web interface.
Here's a full list of features.
Pricing
As aforementioned, VMix is not ordinary streaming software, but professional software that is used by TV stations also. The image below is the pricing chart of vMix.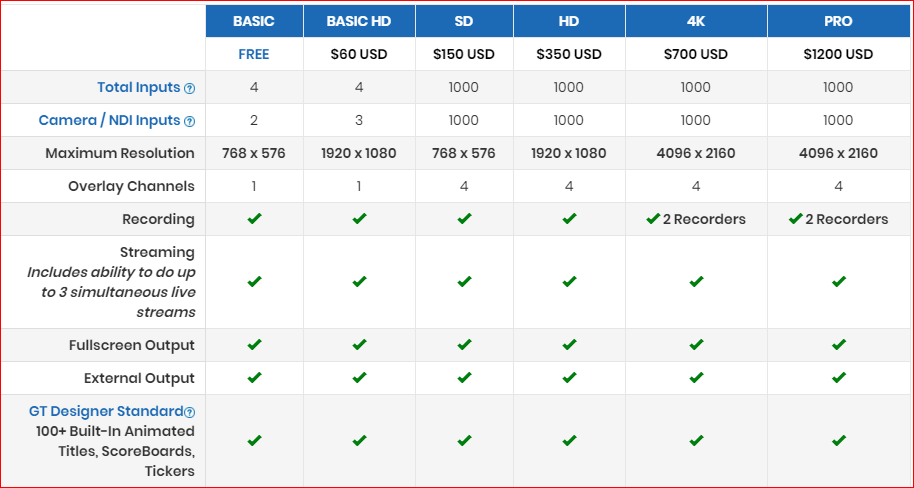 You can also try the software for free for 60 days.
---
9. Wirecast
Wirecast is another high-end live streaming platform suitable for streaming on Twitch and other platforms. You will have complete control of the live streaming and can add 3D animated titles, do video conferencing and has up to 250 layers.
The pro version of the software adds some more features like NDI output along with ISO recording from individual tracks and also provides an option of multi-track recording. Moreover, the software comes with 3 virtual sets, an instant replay button, and a live scoreboard.
Pros:
Compatible with Mac and Windows
Multiple bitrate streaming
GPU accelerated encoding
Comes with 3 virtual sets.
Cons:
Requires a high-end system
Quite expensive for an average game streamer
---
10. FFsplit
FFsplit is still in the early stages of development, that's the only thing that bothers me as it may have bugs and you might get disconnected in the middle of your live stream. Overall, it is a great Twitch streaming software.
Visit here
---
Wrapping Up
So that's the end of our list of the best free and paid Twitch streaming software. In this article, we have thoroughly discussed the features of every software along with the pricing.
If you have a recommendation that can be a great addition to this list, let us know in the comment section.