The video game industry has taken the Internet by storm with the evolution of so many games in various genres. One such game is ARK: Survival Evolved with adventure and fun-filled missions.
Well, we are not going to talk much about how this game works but about the best ARK server hosting for playing the game. 
Time has evolved with ever-changing technologies, visual advancements, 3D and 4D and you definitely need a faster server to host games like ARK Survival Evolved. 
There are various blows and whistles that you would consider before choosing an appropriate ARK survival evolved server hosting for you. However, we have considered only the factors that matter. 
About ARK: Survival Evolved
ARK Survival is a charismatic sandbox game that is open-source and adventurous at the same time. The theme of the game is based on a player stuck in the wilds between savage animals including the pre-historic age dinosaurs. 
The objective of the game is to survive till the end and fight off the vicious enemies using various tools by crafting and confiscating from the others. You can choose the character of your choice and chase down others to become the best player in the game. 
Why Do You Need ARK Server Hosting?
You are probably looking for the answer to this question: Why ARK Survival Evolved Server Hosting Is Important?
ARK Survival Evolved is an addictive game and needs a lot of your time and practice to become a warrior. From spear to a ranger in hand, you can even tame the dangerous dinosaurs here.
And, when the going gets tough, you can't afford to play the game on a slow server. As compared to the sturdy server gameplay, the quick ARK server hosting makes your game faster and worth experience. 
Here is how it helps you: 
Full Server Control:

This is why I would recommend choosing your own server for playing games like AKR Survival Evolved. You have got the full control on your server and you can play it the way you want. 
24/7 Availability:

There is a difference when you host your game on a PC or console and when you host it on a server. Once the host shuts down, your game will end it wherever it was. With ARK server of your own, you can play as long as you want with your buddies. 
No Lags:

One of the major reasons to choose the ARK Survival evolved server hosting is to avoid the game lags. These game lags often occur due to the game being hosted on OS. A server hosting consequently puts less strain on your OS and you don't have to deal much with the game lags. 

Decide Who Can Join:

On random ARK servers, chances are that you might get kicked anytime and this hinders your progress in the game. When you have an ARK server to host, you can invite your friends and family and play with anyone you want for fun. 
Choosing a hosting server for ARK: Survival evolved is not a cakewalk. You should consider various factors before choosing the right one that suits your needs. 
In this article, we have shared the Best ARK Server Hosting Of 2021 that you can choose now. 
12 Best ARK: Survival Evolved Server Hosting In 2021 
1. Survival Servers
Survival Servers is one of the best hosting servers for games like ARK. It is tailor-made for ARK Survival evolved with all the features that you need for uninterrupted gameplay. 
You can quickly set up the game server on your PC or the gaming console. They have a customized game control panel that gives more authority over the game. 
With just a few clicks, you can make changes and updates such as install modifications, conversion modes, switch locations, and steam workshop content. 
To enhance security, you can use advanced DDoS protection along with the server-pass looking feature. 
Survival servers have various hosting locations including Germany, France and the USA. 
2. ScalaCube
ScalaCube is another top-notch ARK game server that administers the changes and gives restart options. It gives complete control to the user on their control panel. 
If you are not happy with the recently made changes, you can go back to the basic server application using the control panel. Users can even update the servers to check the latest updates available and install them. 
With high uptime guarantee, this hosting server also gives privileges to some players and liberty to unban players with specific IP addresses. 
Along with the free domain, the game server empowers SSD drives, ScalaCube has server locations in North America and Europe with one in London. 
3. Nitrous Network
Nitrous Networks is one of the easiest and most popular ARK server survival evolved hosting. With over 136k+ customers worldwide, the server hosting focuses on eliminating the ping and increase the game speed. 
It comes with various features including the International POP filtering that saves from malicious DDoS attacks. 
It has the latest and most adaptable hardware needed for the active ARK gameplay to ensure the low lag and better experience. The NITRO PRO panel gives more control over the servers and you can choose any server you want. 
NitrousNetwork has 8 server locations including 4 in the USA and 1 each in Canada, UK, Netherlands and Germany. 
4. Nodecraft
Nodecraft is yet another easy to manage server hosting for ARK games. It has a customizable and unique control panel called the NodePanel. This control panel installs the game in few seconds and gives you full control over the server. 
The best part is that the NodePanel has a streamlined application that is available in Google Play Store which lets you manage and configure the servers through mobile. 
The server is so easy to maintain that even the first-timers can play and manage the servers easily. To reduce the strain over servers and avoid lag, Nodecraft only allows 12 players on a single device. 
Nodecraft has server locations in USA, South-America, Asia-Pacific and Europe. 
5. Fozzy ARK: Survival Evolved Server Hosting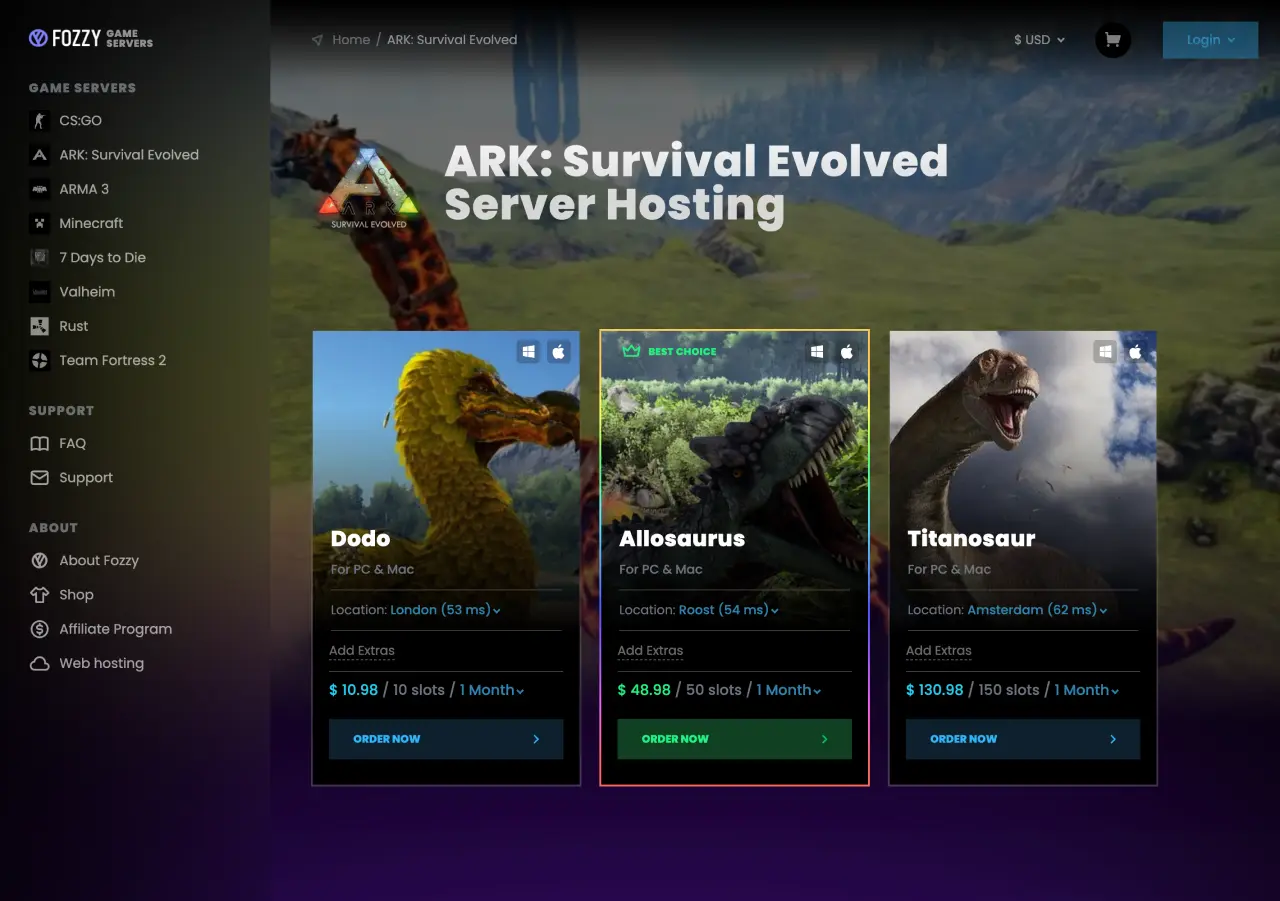 When it comes to personal game servers for ARK, Fozzy Game Servers stands out as a prominent choice. This platform offers the opportunity to engage in this online game with your friends while simultaneously establishing your own tribe. The versatility of Fozzy's servers becomes apparent through its array of customization options, ranging from minor tweaks to substantial gameplay alterations. 
Fozzy Game Servers has plans for any requirement for a different number of players. The most popular ARK server hosting plan features:
CPU 5.00 GHz

4 GB RAM (DDR4)

48 GB NVMe SSD Storage

50 slots
One noteworthy feature is its robust support for mods. With just a few clicks, you can effortlessly install and activate mods from the Steam Workshop, breathing new life into your gaming sessions. This capability opens doors to a realm of possibilities, allowing you to introduce unique elements such as creatures, landscapes, dinosaurs, outfits, and weaponry.
Fozzy's commitment to a seamless user experience extends to its customer support. If you encounter inquiries or challenges, Fozzy's customer support team is readily available to assist you. Known for their friendly and helpful demeanor, they are dedicated to ensuring your hosting journey is as smooth as possible.
In conclusion, if you're seeking a combination of exceptional server uptime and user-oriented support, Fozzy Game Servers emerges as a top-tier choice for your ARK hosting needs.
6. Shockbyte
Shockbyte started in 2013 and considered a trustworthy game server with a strong base of 100k+. It provides high-quality hardware and eliminates redundant servers. 
Setting up the server is really with Shockbyte. All you need is to choose the game and the number of players. On payment, you can add friends and family to your ARK Survival Evolved server hosting. 
It has a robust control panel that allows server configuration and automatic mode setup. You can ask for a refund within 24 hours of payment. On upgrading the plan, you would access to features like 100% uptime, automatic updates and backups, free subdomain, server console, and DDoS protection.
7. GameServers
When it comes to pricing, GameServers is one of the most expensive ARK server shooting but worth every dollar. The robust custom control panel gives access to features like FTP file upload, add administrators, switch servers, and installation of mods and plugins. 
It allows easy migration of servers to any location using the control panel. There are various options to choose server locations to avoid the game lag. 
GamServers has different servers in different locations including 9 in the US, 2 in South Africa and each one in  Japan, Poland, Italy, France, Australia, Brazil, Russia, Denmark, Netherlands, UK, Spain, and Canada.
8. HostHavoc
HostHavoc is the fastest and the quickest ARK server hosting for everyone. Users can choose any map, mods along with the free clusters that make your gameplay smooth. 
It has one of the best data infrastructures with 99.99% uptime availability. HostHavoc supports various DLC and you can swap maps anytime. HostHavic provides a high level of security using SearchEngine query intrusion.
For the servers, they offer a file manager and FTP access so that you can restore and backup the saved data manually. HostHavoc has 11 global server locations including the USA, Australia and Europe.
9. ServerBlend
ServerBlend hosts various games on its server and is one of the most intuitive ARK Survival Evolved server hosting presently. 
It has a dedicated admin- TcAdmin which comes with extensive tools. 
ServerBlend gives full control over servers with the command-line editor and the settings editor. It has an amazing security feature against the DDoS attacks tp avoid the game lags even during the lowest pings. 
There are various hardware options to choose for the gameplay which various server hosting doesn't give. It has 13 server locations including the US, UK, Canada, New Zealand, Netherlands, France, Germany, Poland, and Australia.
10. GPortal
GPortal works completely different than most ark survival evolved servers. You have complete control over the server and you can add changes as per the demands. 
GPortal has an amazing server hosting that offers high-end subscription and servers can be deployed in less than 3 minutes. GPortal has an amazing renting and buying options with a simple prepaid plan. 
You can also choose the subscription-based plan that allows the quick switch between different games in the cloud. GPortal installs and deploys server in less than 3 minutes along with low ping interface. 
It has multiple servers in the locations such as London, Germany and Moscow. The servers allow protection against DDoS attacks and file transfer via FTP access. 
11. LOW.MS
LOW.MS is the latest addition to ARK server hosting providers with state-of-art hardware and low pings. The servers are deployed quickly and with powerful SSD hardware. 
The server also comes with Intel 5Ghz Intel processors that reduce latency. Low.MS has one of the most secured servers with up to 10 Gbps protection against DDoS attacks in all locations. 
It has around 12 global servers at present including 4 in Europe, 6 in the US and 2 in Asia. It is further expected to expand more.  
12. Citadel Servers
Citadel Servers are somewhat different than others because of its wide connectivity and ability to connect to various local servers. This way, you can play with the players around the world. 
It lets you install mods and updates anytime you want. Along with this, you can also re-install or stop the updates as you want. 
Furthermore, you can schedule the time and tasks at a certain point and also add scripts to it. 
Managing the servers on Citadel is a cakewalk. You can change the name of servers manage passwords and even switch logs here. Citadel has around 20 locations globally including US, UK, Europe, Japan, Singapore and others. 
13. MyBlackBox
MyBlackBox servers are the intuitive ARK Survival server hosting because of its impressive flexibility choose multiple maps. 
It offers an automated tool for the mod updates. Once the server needs updates, the user receives the detects and warning for the urgent need to install updates. 
The wow factor about MyBlackbox is that it keeps the backup in an offsite server once your server is stopped. It has a smart script that uploads all data to the offsite servers. 
MyBlackbox servers quickly automate the game servers and the client area is perfect for both beginners and pros. They have server locations in 8 cities including the UK, France US and Australia.
Also Read:
Wrapping Up 
ARK: Survival Evolved is one of the most adventurous and addictive games ever. For games like these, you can't afford to lag behind the others.
The list of ARK Server hosting listed below come with excellent uptime, faster redundant networks, modifications and flexible control panel and stellar customers upper. All this comes at a reasonable cost. 
In case, we have missed some better ARK Server hosting, do let us know in the comments.