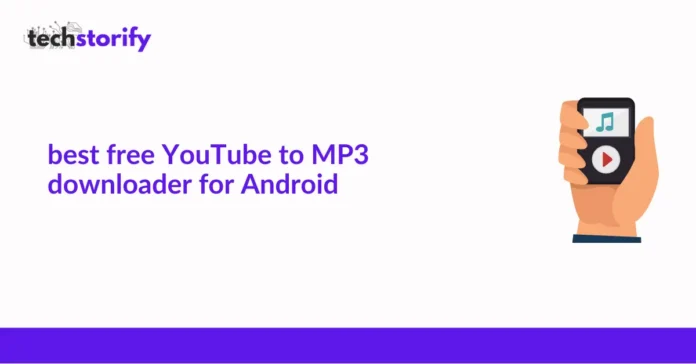 Do you wish to know how to download MP3 music without spending money? Here we bring you the best 10 YouTube to MP3 downloader for Android to help you convert the videos to MP3.
We missed the good old times when music was so easy to download on our computers and that too for free. With music streaming becoming very popular, people are not downloading music anymore.
Music streaming is famous now, which is the reason why most of these music streaming apps are paid.
If you're still the old soul who loves to download music on their phones and enjoy it whenever they want, here's YouTube to MP3 Downloader that can help you do just that. YouTube is such a fantastic host for every type of music that existed.
Let's have a quick look at the ten best free YouTube to MP3 converters for Android.
Best YouTube to MP3 Downloader for Android Phone
One of the most straightforward YouTube to MP3 downloader is SnapTube. It's plain and simple, and there's no fancy element to it. It gets the job done. You can search for your favourite music to easily download it on your Android device through SnapTube.
It is very fast and convenient for anyone to use. It also has the option to download only audio. However, if you love something very much, you can even download the video on your phone.
The user interface of SnapTube is very user-friendly and it can help you in downloading the songs of your choice within seconds.
#2. Videoder
A very user-friendly option for YouTube to MP3 converter is the Videoder. It is not an app that can be found on the Play Store. However, don't worry; the app is straightforward to download from the website itself. On top of that, it's free.
The unique feature of this app is that it allows you to play YouTube within the application. Also, it lets you use other social media platforms like Facebook, Instagram etc.
This is a vast, added advantage to the existing application.
#3. TubeMate
TubeMate is yet another highly-ranked YouTube to MP3 converter. It can help you download the music in MP3 format within no time. It has a fast download option which comes in handy most of the time. The downloaded videos are saved in your Android device's memory. It also supports multiple video-sharing sites.
Another exciting aspect of this app is that it has a built-in browser that lets you search for the music of your choice on various video-sharing sites.
It's up to you to choose whichever one you want. You can even set the resolution of the video which you want to download on your phone.
Another amazing YouTube to MP3 converter is Peggo. Just like many of these apps, you can't download them from Play Store. The developer's website is the best place to download Peggo, and the rest is straightforward. It can very quickly convert HD videos to MP3.
Interestingly, Peggo has different options like removing silence and normalising feature. Your music gets stored in the Peggo folder of your music directory. Along with all that, it even helps you record only a desired portion of a video file. Features like that come in handy.
YouMP34, as the name suggests, allows you to download YouTube videos in MP3 as well as MP4 format. It is a straightforward app to use, and it can be used very quickly on Android devices. Once downloaded, the songs can be listened to on a loop, and they can be very easily shared with others as well.
All in all, it is effortless to use an app that gets the job done quickly. You can find the downloaded music in your Downloads folder and then continue to enjoy your music anywhere and anytime without any issues.
#6. Vidmate
Vidmate is a very high-quality YouTube to MP3 converter. Not only that, but it also supports other online sites like Hulu, SoundCloud, Metacafe, FunnyOrDie, among others. The content from these websites can be easily converted to video formats. This unique feature is fantastic, as it includes websites other than YouTube.
The files downloaded are very high quality which is the reason why it is not very quick. However, it is definitely worth the wait.
The downloaded MP3 files can be very quickly organised on your Android device with the ID 3tags being added. This is an added advantage.
#7. KeepVid
This is a slightly different app as compared to others because it has two versions. This YouTube to MP3 converter has two versions, one is free, and the other is a premium version. It helps you download videos in HD and 4K quality which is excellent.
The premium version of this app has a few extra features which, without any doubt, are helpful. On the other hand, the free version is also convenient.
It is a very complete and wholesome application. Once downloaded, there is no need ever to download any other music downloading the app. The reason for this is it supports more than 10,000 video-sharing websites.
#8. WonTube
Another beneficial YouTube to MP3 downloader is WonTube. It can be said that it doesn't have the best user interface, but that shouldn't be considered a problem due to its fantastic functionality. It is effortless to download the app, which also directly organizes your music.
It is a free app that doesn't complicate everything with irritating advertisements. If you have an old phone, don't worry, it is compatible with older as well as modern Android phones.
#9. YouTubeMP3
Amongst all these new apps, we can not forget the YouTubeMP3 app. It is again a good and easy way to convert your favorite YouTube videos to MP3 and MP4 formats. It even supports video formats so you can download your favorite music videos on your Android phones.
#10. YMusic
YMusic is yet another YouTube music player as well as a downloader. It is a well-sorted app and lets you keep your music organized on your phone. It has a built-in music player which comes in handy. It has a fast conversion speed which we love.
Without any doubt, our favorite part is when you can listen to your music all day even when your screen goes off.
Wrapping Up
So, here are your top 10 websites that will help you to convert any YouTube video into an Mp3 file. Let us know which one is your favorite one. Also, do share any other smooth and quick website to do the job, and we will add it to this list.
Whether YouTube to MP3 download for Android or desktop, choose the most reliable app from the above list and enjoy unlimited high-quality music at all times.
FAQs on The Best YouTube to MP3 Downloaders for Android
1. What is the best YouTube to MP3 downloaders for Android?
Some of the best YouTube to MP3 downloaders for Android include TubeMate, Snaptube, VidMate, and YMusic. However, it is important to note that these apps may not be available on the Google Play Store and may need to be downloaded from other sources.
2. Are YouTube to MP3 downloaders for Android legal?
The legality of YouTube to MP3 downloaders for Android can vary depending on where you live and how you use them.
In some countries, downloading copyrighted material without permission is illegal. However, some YouTube videos may have Creative Commons licenses or other forms of permission that allow you to download and use the audio.
3. Can I download YouTube videos with these apps?
No, YouTube to MP3 downloaders for Android are specifically designed to convert the audio from YouTube videos to MP3 files. If you want to download the entire video, you will need to use a different app or website.