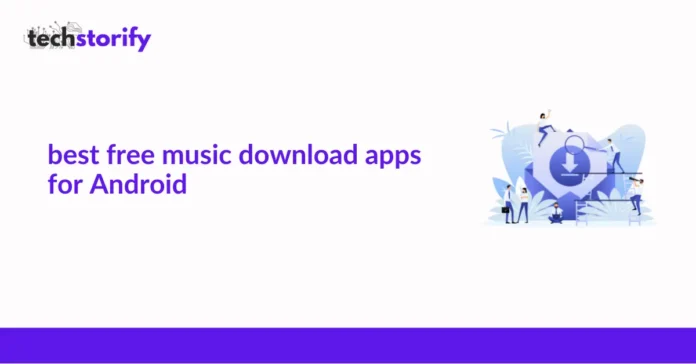 W
hat is the biggest nightmare? No internet connection on your phone! We are 100% dependent on our internet connections to stream music, watch videos, read the news, and pretty much everything.
The very second we lose our internet connection, we lose our brains! All of a sudden we have nothing to do. Even in today's age where streaming music is the buzzing trend, there is great peace of mind to have music on your phone.
This is the reason why Android users are looking forward to downloading their music so that they can listen to their loved playlists anytime, anywhere.
If you're a music fanatic, you can't let a lousy internet connection control your music. For all music lovers, here are 10 Best Free Music Download Apps for Android.
Best Free Music Download Apps for Android Devices
4shared is one of the oldest free music-downloading websites/apps still available for us to download our favorite music. It was always a go-to website when downloading music on your computers was a thing. Well, it's still available on Play Store in many countries. Besides music, users can upload other files as well, which might be useful for some.
It has about 30 million files on 4shared along with many music files. The app is not just restricted to audio but also video, images, and other formats as well. The login for the app is relatively secure and hence, can be used as an excellent alternative to music streaming apps.
4Shared can be downloaded from the Play Store but not in all countries. If you can't get it from the Play Store in your country, you can download the free APK here.
If you want an all-in-one app for your phone, look no further. SONGily is one of the lightest music downloader app found on the Play Store.
It allows you to stream music, and download it and not only, and it lets you convert music from YouTube, Facebook, and Instagram to MP3 files. This is very niche music lover's dream.
There are so many songs that are only available on YouTube and guess what, now you can download them on your phone.
The free version of this app is supported by ads which shouldn't be a problem if you get to download your songs for free.
Another old yet trusted music downloader app for your phone is the GTunes Music Downloader.
The concept of this app is just like the websites that we use on our systems back in the day.
It lets you search for a song and then presents several downloadable links from a variety of spaces.
It even has a built-in music player which allows you to trim your favorite songs into ringtones and other purposes.
So if you're looking for something that can download free music to your phone just like in the old times, you've got yourself a good app.
Another cult favorite for music lovers is the MixerBox app. It is straightforward and easy to use music downloading the mobile application.
You don't have to get into the hassles of creating many accounts. Log in using your Facebook credentials, and you are good to go. MixerBox is an excellent alternative to your regular music player.
On the plus side, this completely free app lets you play Youtube videos as well as discover music all in one place.
Don't have to keep switching tabs from Youtube to the music player while enjoying songs on your phone.
[appbox googleplay mb32r.musica.gratis.music.player.free.download]
There's nothing a music enthusiast loves more than being updated with new and trendy music. Audiomack keeps you on track with the latest music.
It helps you download music, curate music, and allows you to listen to good quality music.
This app also gives a few artists a platform which is always a plus to all the music freaks. All the emerging talents in the Hip-Hop, Electronic and Reggae arenas can be found here.
[appbox googleplay com.audiomack]
In the world of music streaming apps, there will always be people who love listening to music on YouTube. TubeMate, like the name suggests, allows you to download any song from YouTube. The app in itself is not explicitly designed as a free music-downloading app.
It helps you in converting YouTube videos to different formats, including an option of audio-only. What else do you want, right? YouTube is one of the best places to listen to music, and now TubeMate makes it even easier for you.
You can download TubeMate here (Google doesn't allow this in the Play Store, presumably because it encroaches on YouTube), and when you try to download videos as audio (M4A or MP3), you'll also get prompted to download MP3 Video Converter, which syncs up with TubeMate to convert video to audio.
Straight up, FrostWire is not a regular music-downloading app. Go back to the old, old days; when Torrent was everyone's savior. FrostWire is a torrent downloader app. If you're one of those music fanatics who enjoy downloading full albums, FrostWire is an app for you.
It helps you download music, and it also acts as a music player. If you're new to Torrent and its ways of downloading, FrostWire might not be the app for you. However, if you were totally into Torrent downloading then go for FrostWire without any thought.
[appbox googleplay com.frostwire.android]
Another fantastic app for music geeks is the KeepVid app. It is another app like TubeMate. It is very user-friendly and has an ultimate user interface. It is also well-linked with Sound Cloud if you have the app on your phone.
Another music app with the main focus on fitness freaks. Now, this isn't an app that helps you chill in your room. It has a vast collection of hyped-up electronic music that instantly pumps you for your workout and running sessions.
This is an app for fitness enthusiasts rather than music lovers because the playlists are curated to make your gyming sessions super fun.
[appbox googleplay com.rockmyrun.rockmyrun]
It is a very trusted and old app for music lovers is the SuperCloud Song MP3 Downloader.
A million songs are available on this app which will leave no music lover sad. The app is associated with old downloading websites and hence holds credibility. Sometimes it might not be available on Play Store, but you can easily download it from certain links.
Wrapping Up!
There is nothing more comforting than your favorite music downloaded on your phone at all times.
Don't worry, we've got you covered! These were some of the best free music download apps that you can use to download your favorite song.