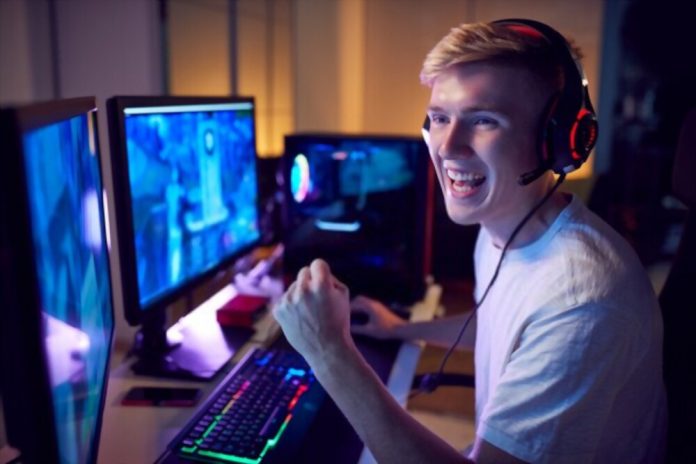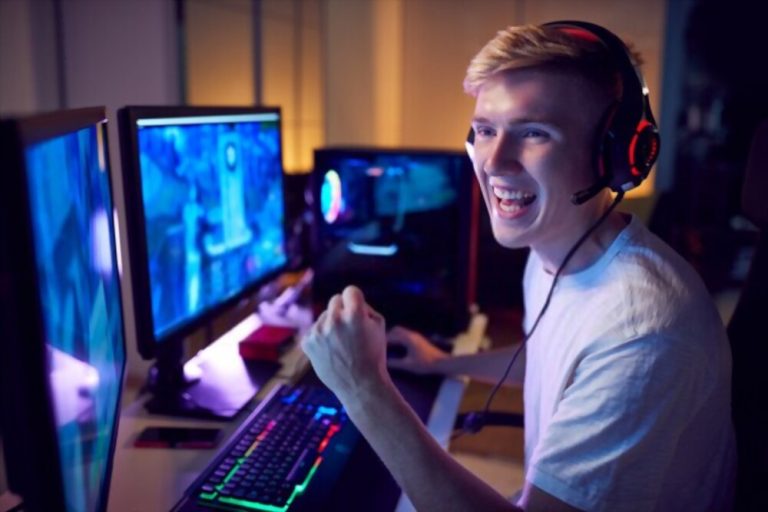 Today we'll help you to find the best gaming desk of 2020 for PC and Console gamers both.
There're a couple of gaming desks available in the market under different price tags. Also, every gaming desk comes with its pros and cons.
However, it depends on which thing you prioritize first.
Some users prefer a gaming desk with large surface area to place multiple monitors on it. Other prefer a gaming desk with features like sturdy frame, adjustable height, better cable management or more drawers.
Best Gaming Desk for PC and Console Gamers
As I said, it depends on what a consumer expects from a product. Still, confusion occurs.
Therefore, to make your decision easier, Techstorify compiled a 2020 updated list of 12 Best gaming desk for PC and console gamers.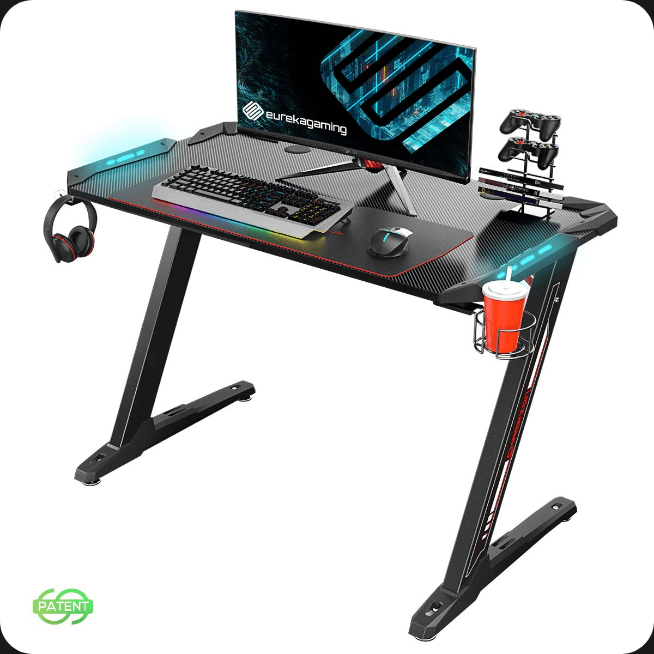 The Eureka Z1-S gaming computer desk is a great combination of style and functionality. It is lightweight, got some useful features and comes at a reasonable price.
It comes with a dimension of 44.5" long and 24.2". As a result, you'll get plenty of room to place two monitors alongside your gaming accessories.
The Eureka Z1-S gaming desk is made from a laminated Carbon Fiber texture. And this gives you a sturdy and premium look at the same time.
Also, the Z-shape design extra-large space allows you to put all your accessories on it such as keyboard/mouse pad, cup holder, headphone stand and controller stand.
As a cherry on the top Z1-S features Blue LED Lighting, that looks really cool while attempting a gaming section.
Overall, Z1-S is the best gaming desk for PC and Console Gamers that has great features and a low-budget price.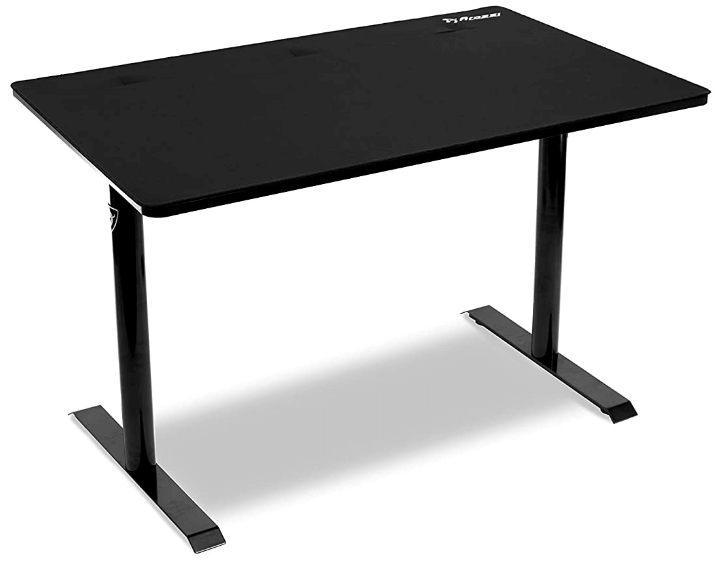 As for our #2 pick for best gaming desk, we chose the Arozzi Arena Gaming Desk.
This desk comes with a basic design, sturdy construction, and enough space you need to place your system and its accessories.
Arozzi Arena doesn't come with any height elevated features for a monitor. However, it's made, to place up to three large monitors.
Also, the surface is completely made out of microfiber cloth surface which is water-resistant with a full mousepad surface. As a result, you'll never face the frustration of losing mouse sensitivity while playing a game.
Arena comes with five attractive colours, red, blue, green, white and black to chose from, accordingly.
Also, you'll find 3 cable management cutouts, height adjustments in $329 which is worth to choose.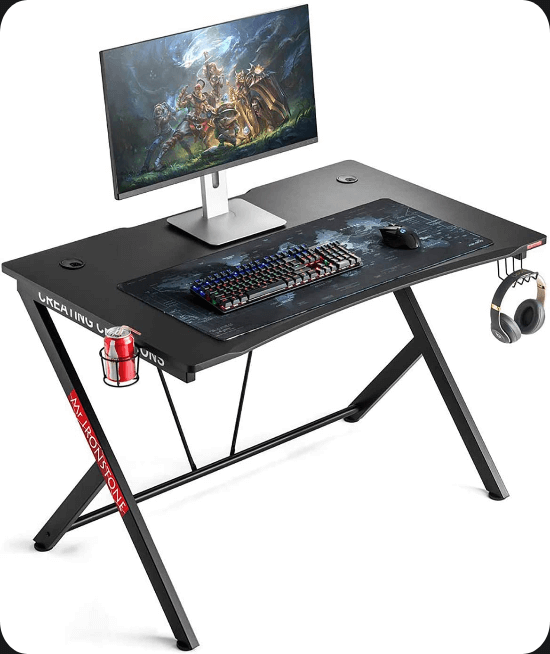 This desk comes with a technical complexity yet have all the necessary features to fulfil your gaming needs. A headphone rack and a cup holder is a fine combo to let you a little break from a gaming session.
Moreover, it comes with a modern elegant design which has two dedicated holes for better cable management. It is manufactured from universally sturdy materials and give you a wabble free experience.
If you're looking for a stylish gaming desk for single pc and gaming console under $150, Mr IRONSTONE Gaming Desk could be a great option for you.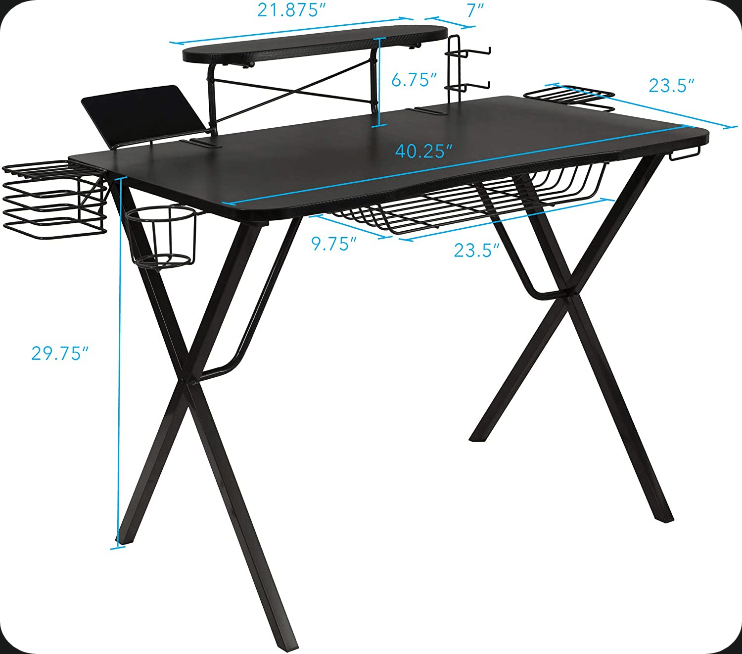 Atlantic 33950212 Gaming Computer Desk Pro literally a complicated one yet gives you a wide range of accessibility.
It's a decent desktop rack to place your screen on it. The power strip holder for electrical plugs is here too. Also, the left and right side got a DVD holder and collect 5 DVDs in each which seems a considering feature for a movie buff.
Moreover, there is a glass holder on the left side and a headphone spot to enjoy your coffee break. Also, a mobile phone holder is available here where you place up to 2 phones or 1 tablet while charging.
In conclusion, it a sleek, Carbon laminated, lightweight yet a sturdy and best gaming desk under $200.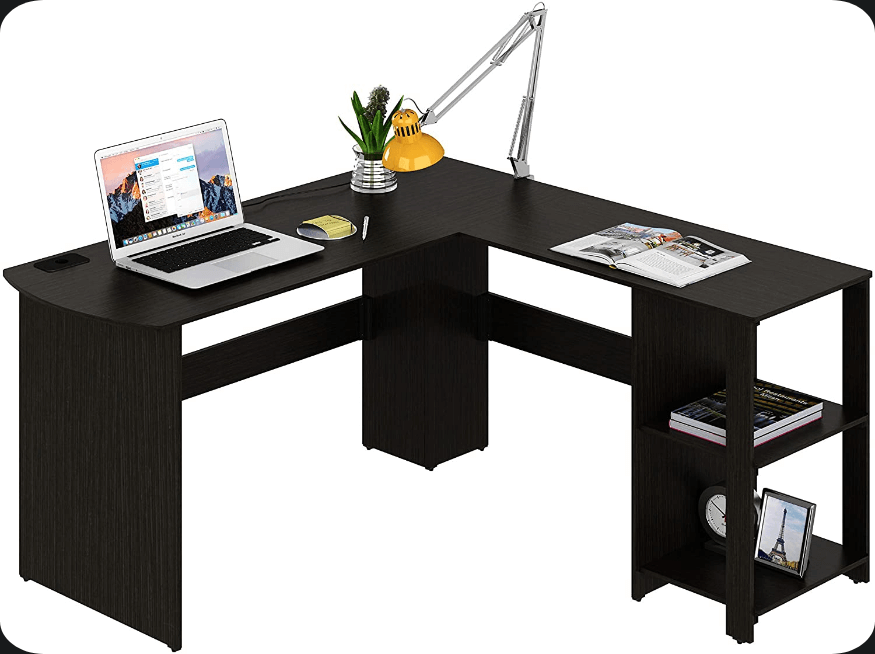 The SHW L-Shaped is named as Home Office Corner Desk. However, it' has a sturdy design and a new concept attract everyone's eye easily. And, you can use it as a gaming desk too.
Also, it is one of the top product of Amazon that you can purchase under $150.
It comes with a sturdy design and an elegant L-shaped look. Although this desk doesn't have any cabinets still you get plenty of working space for your work/gaming accessories.
The SHW L-Shaped desk has a steel frame and tempered safety glass with a powder-coated finish. It's gaming compatible, easy to assemble, comes in Black, Nickel Silver, and Walnut colour.
Definitely the best gaming desk under $150.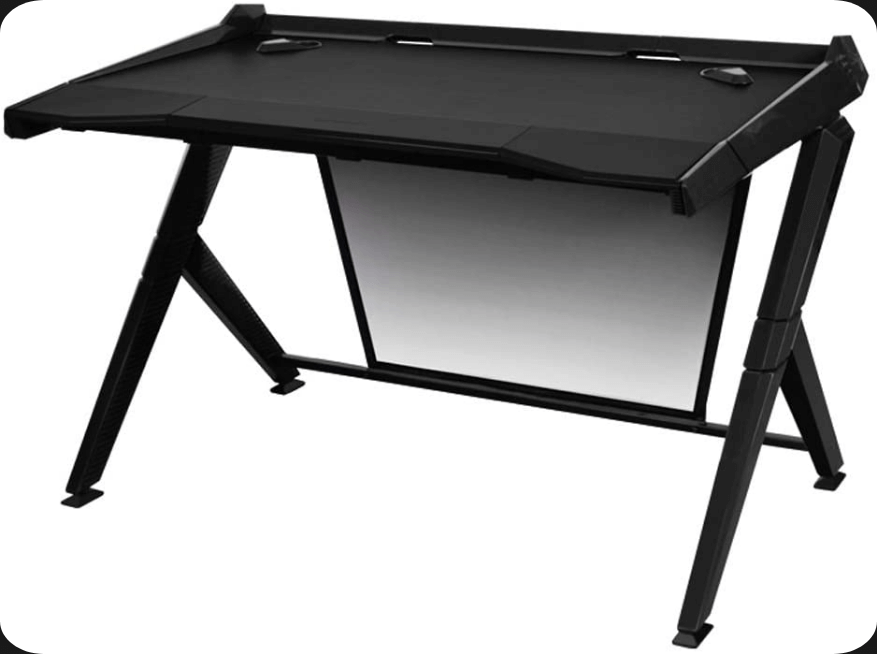 DXRacer is a well-known brand for designing premium furniture and ultra-comfortable gaming chairs. In short, while choosing a DXRacer product don't worry about the quality compromise.
This gaming desk is great for a single PC and gaming console. It's modern-looking, unique and comes with a sturdy build. However, the assembling part could be a little difficult for some of the people. But it's not the same for everyone. You'll get clear instructions that are easy to follow.
The materials come with this desk are wood, metal, and carbon fibre. And together they give you a durable gaming desk with a sturdy look.
DXRacer Newedge Gaming Desk is 360 degrees rotatable, comes with a 10 Degree Slope, and massive cable management which makes it one of the best gaming desks for PC and gaming.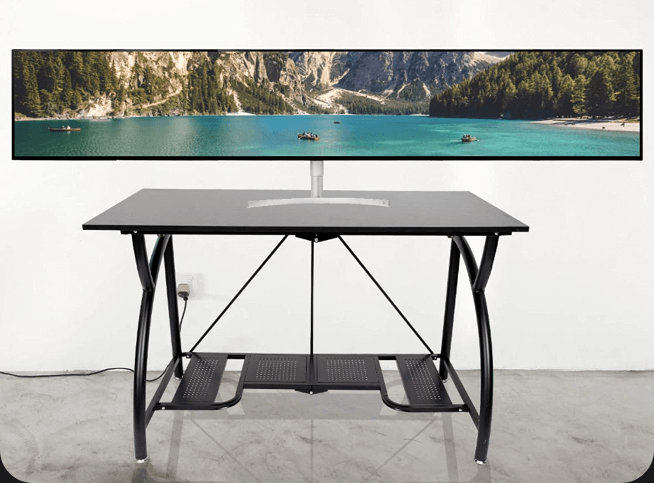 Origami RDE-01 Foldable Desk is a desk which lightweight, modern and comes with a solid built. It comes with a strong material yet easy to carry from place to place.
It comes with enough amount of space to place up to two large monitors. Also, the large space on your feet allows you to place CPU on it to save it from dirt and liquid spoil.
It comes with an uncomplicated assembling procedure that allows you to open and fold up in less than 40 seconds. Also, it has a two-piece folding mechanism with dual locks. As a result, you get a comfortable experience while playing your favourite game.
What more you're looking for?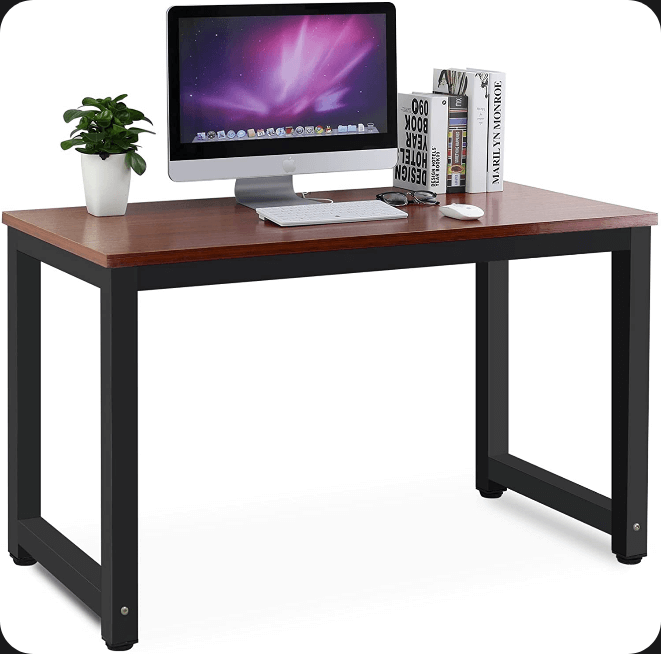 If you're looking for a simple looking gaming desk for a gaming console or PC which has enough space for a single gaming setup, go nowhere.
Tribesigns Modern Simple Style table could be a great pick for you.
Also, if you're out of space and want a table which gets fit into your single room, this could help too. It doesn't cover enough space and gives you a clean and modern look.
Tribesigns Modern Simple Style table has a stainless steel frame which gives this table stability and a sturdy look. It comes with light colour with a calm amount of brightness. You can easily hang out your computer accessories on the sides of the table.
Moreover, you can assemble this table in under 30 minutes. And this desk could be perfect for a person who has a little amount of room space yet want to get fine gaming experience.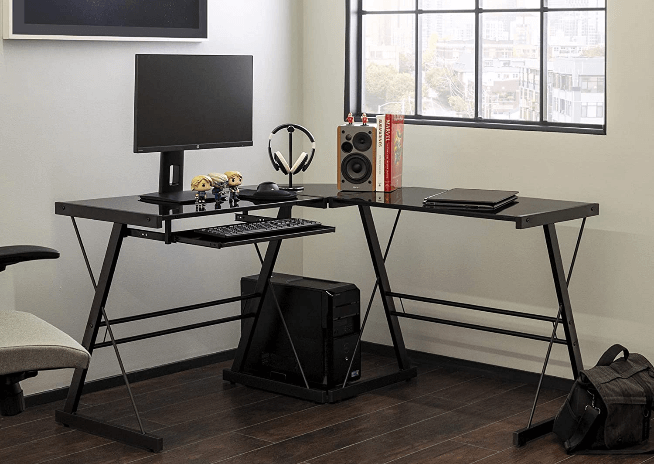 Walker Edison Soreno 3-Piece Corner Desk is an excellent combination of sturdy build, premium look as well as budget pricing. It's an ideal desk for an average PC user, a gamer and specially designed for creators.
This desk features enough space, holders to place computer accessories and a trackable keyboard tray. Also near the footstep, it has a place to put your CPU on it. As a result, you get a clean and elegant look.
It comes with an L-shaped design alongside high strength materials and components. Moreover, you're allowed to separate desk into two pieces as standalone. So it's a nice option to choose from, accordingly.
The glass used to build this desk is shatterproof. And due to its durability, it's ideal for gaming stream setup. Also, the glass is polished clean yet allows you to use your mouse on it perfectly. At last, with a price of $152, it's a great gaming desk deal you would see.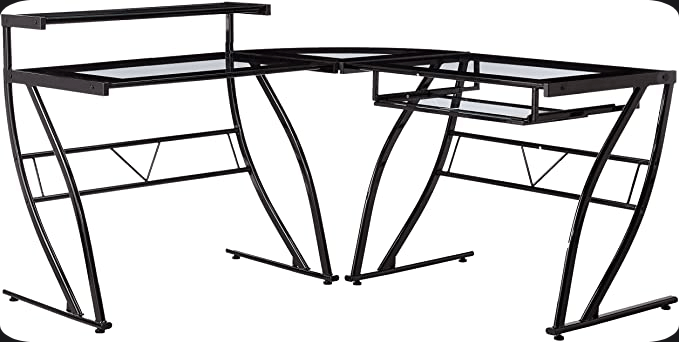 The Z-Line Designs Felix Glass L Desk is an elegant piece of furniture which comes with multi-usages. You can use it as a gaming setup or also you can use it for your home office.
It comes with a hardened piece of tempered glass. Also, the material around the mirror comes with the great build quality. This gaming desk comes with metal frame legs that allow you to place your high-end gaming system on it.
It comes with a central shelf and after joining it with two pieces, it becomes an L-shaped unit. You can also place your loved-one photo, a small flower pot or some certifications on it too.
It has a powder-coated frame, Pulls out keyboard tray, and Raised monitor shelf which makes it best gaming desk for PC and gaming consoles.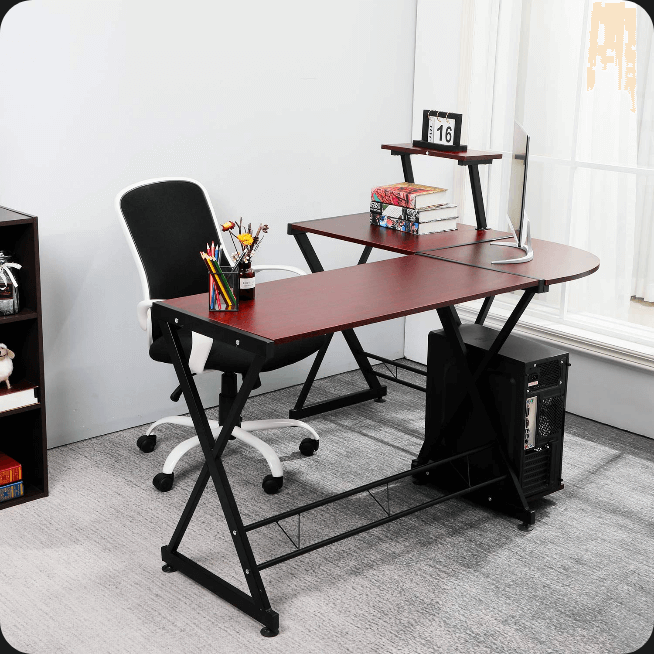 Greenforest L-Shaped Gaming desk is another best gaming desk that is admirable for providing a great value.
However, at first look, you will see it as an office desk but it works really great as a gaming desk.
The modern look and the darker colour of this desk give you a premium feel. It comes with open-ended sides shelves with 3 different angles. And it comes with a massive cable management system. Also, the right-hand side of the shelf allows you to keep your all gaming accessories in one hand.
It comes with 3 pieces of constructions and a sturdy frame which could be complicated to assemble. However, you'll receive the tool with this table. And at a price of $141, it is the best gaming desk for you, if you like L-shaped tables.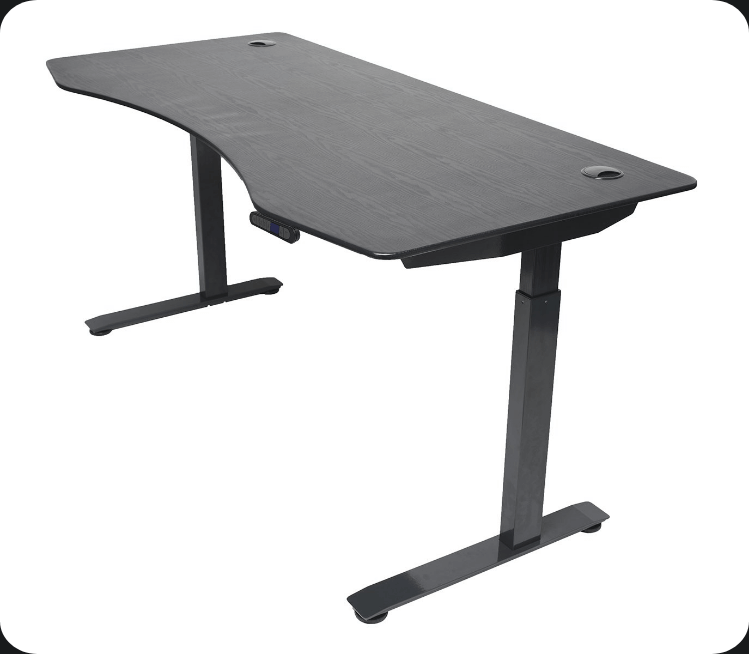 This desk is simply amazing especially if you use to change the table's height time by time. It changed it electronically and work by pushing an electric button you'll find under the desktop.
This desk is simple and sturdy yet gives you an ultra-premium look. The build quality of this desk is great. It is heavy but if you're looking for a desk to place your heavy gaming setup, definitely consider this one.
The table comes with a dual motor, scratch-resistant coating and easy to assemble.
At last, it comes with an expensive price tag still if you can afford, this could be the best gaming desk for you to give your set-up a real sturdy and premium look.
Conclusion
There are a couple of gaming desk in the market that you can consider to buy.
However, make a clear mind first on things like how many monitors you're going to use, would you place accessories on the table or do you need drawers to put some extra gadgets on it.
After that, it would be an easy task for you to make the right decision.
Finally, this was a list of best gaming desks for PC and gaming console you must consider.
Also, let's know in the comments which gaming table you'll buy. And, don't forget to share this post with a Gamer who is looking for a new table to buy.
Also read:- 8 Best Graphics Card for Video Editing Without Lags or Delays