When it comes to getting a VPN, picking out the one that's perfect for you leads you to indecisiveness. With a market jam-packed with too many brands that all claim to be the best, you can never decide which one is actually best for you.
A VPN keeps you safe, anonymous and secure. An ideal VPN not only helps you maintain anonymity, but with a correct VPN you can browse the internet freely and undetected. And if anonymity is important to you, you need a VPN that respects your right to stay anonymous and well protected.
Here, we are enlisting the best VPN for Australia that will help you get total freedom from fear of being identified. Use these VPNs for your business anonymously and safely with our top VPNs for Australia.
With our enlisted best VPNs for Australia, you'd get server connectivity across the globe, lightning-fast connection and hundreds of IPs that you can choose to use. We have enlisted both the best VPN for Australia and the best free VPNs that you can use if you are based in Australia or if you are travelling.
What is a VPN?
A Virtual Private Network (VPN) allows a user to connect their device to a private network, creating an encrypted connection that masks the user's IP address for a secure sharing of data and souring of the web.
It protects the user's identity online. A VPN works by encrypting a user's data between their computer and the server.
The encrypted data can only be read by the correct decoder to maintain privacy even on a public network.
Things to consider while getting a VPN
– Free VPN- Free VPN is not really a free VPN. The companies either run ads on the software or suffice by selling user's data.
It is not good news to users that prioritize high security and anonymity. Free VPN might sound great and is good on your pocket but in fact, gets you slower connection speed and very few features.
– No Logs- Without a VPN your ISP monitors your habits. It tracks and stores anything that you do online. ISP can even, without your knowledge, sell your data to advertisers or any third-party actors.
No Logs makes sure that this doesn't happen. No Logs maintains your anonymity and declines ISP the ability to track and store your data irrevocably.
– Bandwidth and performance speed.
– Kill Switch capability.
– Available on multiple devices etc.
The Best VPNs for Australia
NordVPN is the top VPN contender for Australia. Nord VPN has claimed to be the fastest on the planet with 5498+ ultra-fast speed servers around the world. It operates servers in 60 countries.
It unblocks media streaming platforms for HD movies, live sports, and hot TV shows to be watched at an ultra-fast speed. Nord VPN excels at bypassing geo-restricted services and unblocks the Netflix proxy firewall in the US and Australia alike.
Nord VPN has a No Logs Policy that would restrict providing any user details to third parties even if they asked.
Features-
– Protect against DNA leaks.
– Unblocks Media Streaming platforms- Netflix, amazon prime video, BBC iPlayer, HULU etc.
– Encryption protocols include 256-bit AES, Nord Lynx, IKEv2, OpenVPN.
– Let 5 devices be connected simultaneously.
– Platform compatibility- Windows, Mac, Android, iOS, Smart TV etc.
Pricing-
2-year plan- $4.89 per month.
1-year plan- $5.75 per month.
1-month plan- $11.95 per month.
If you have been looking for a VPN that unblocks media streaming apps such as Stan, Disney+, Netflix, HULU, BBC, YouTube, Amazon prime Videos etc. express VPN unblocks not just these but 10 other media streaming applications and platforms.
Express VPN has high-speed servers on 160 locations. Has servers in 94 countries all over the globe. Comes with unlimited bandwidth.
Features-
– Lighting fast speeds for streaming local as well as international content
– Have your own Australian IP or choose from 3,000 servers in 90 countries
– Have up to five device connections
– Highly compatible with platforms including windows, mac, iOS, Android, Linux, Apple TV, routers etc.
Pricing-
Monthly plan – $12.95 per month.
15 months plan- $6.67 per month. (includes 3 free months) Billed $99.95 first 15 months and 12 months thereafter.
6-month plan- $9.99 per month. Billed $59.95 every 6 months.
CyberGhost VPN exchanges a user's IP with a VPN powered IP address. This ensures the activities a user performs remain secured and unmonitored. It conceals the user's network from any prying eyes, giving a user power of anonymity.
CyberGhost unblocks more than 35 popular streaming platforms, including Netflix, Disney+, Amazon Prime, Hulu and many more. It confers HD streaming on local servers.
Cyberghost has 7,100 servers in 90 locations all over the globe that can be used for streaming, torrenting and gaming. Cyberghost has military level encryption, a kill switch and other customised extra features designed just to keep the user safe and protected.
Features-
– No logs.
– P2P optimized servers for torrenting.
– Designed for ease of use.
– Long-distance servers
– Platform compatibility- Mac, iPhone, Android, Linux, Raspberry etc.
Pricing-
Monthly plan- $12.99.
1-year plan- $5.99 per month.
2-year plan- $3.69 per month.
3 years plan- $2,75 per month.
4. Private Internet Access
Private Internet Access grants its own DNS address for surfing the web that prevents any DNS leaks to keep a user protected.
A user can configure their own plan where they can select the level of encryption and data authentication, handshaking methods they require as per their needs.
Private internet access VPN does come on the heavier side of subscription plans. Though it is a highly worthwhile option and is eminently affordable if you can commit to their three years plan.
Features-
– Prevents DNS leaks
– No logs
– Unrestricted torrenting
– Kill switch
– Highly configurable
– Gets access to OpenVPN and WireFuard.
– Unblocks Media streaming platforms.
– Bypasses geo restrictions.
Pricing-
2-year plan- $2.69 per month.
1-year plan- $3.33 per month.
Monthly plan- $11.95 per month.
IPVanish is presumably known to be the best VPN service. It has the best security and private connections. IPVanish has high-speed connections and assures users that all their devices are protected.
IPVanish not just protects Smartphones or computers, it protects routers too! How crazy Is that! IPVanish also delivers a 360-degree protection against hackers and peepers.
And if that wasn't enough, they offer unlimited bandwidth and give supreme access to torrenting and p2p sharing.
Features-
– Gives you multi-platform protection.
– No logs that prevent tracking of identity.
– Have unlimited bandwidth and unlimited p2p traffic.
– Multiple VPN protocols to further improve security and user privacy.
– Platform compatibility- Windows, Mac, iOS, Android, Linux, Apple TV, routers etc.
Pricing-
Monthly plan- $3.4 first month, $9.99 thereafter.
Yearly plan- $2.62 per month for the first year, $89.99 thereafter.
6. Hotspot Shield
Hotspot Shield is another free VPN for Australia. It is a powerful VPN that bypasses geo-restrictions and gets access to regional content. If you are a user looking for a VPN that ensures web anonymity and provides high-grade encryption.
Hotspot Shield also provides security against malware attacks. It ensures the websites you are visiting are malware-free. It shields a user's IP address or masks it to protect critical information such as bank accounts, credit cards etc. it ensures that the user's data such as accounts and passwords are encrypted strongly.
Hotspot Shield also has a family plan
Features-
– Ultra-fast speed for gaming.
– Connects with one Australian server to bypass geo-restrictions while travelling.
– 256-encryption to protect online activities.
– Unlocked media Streaming platform includes- Youtube, Spotify and Kodi.
– Platform compatibility- Windows, Mac, iPhone, Android and more.
Pricing –
Free version- ideal for secure and private browsing.
Premium plan- $7.99 per month. Comes with antivirus, password manager and spam call blocker, 115+ locations.
Family Plan- $11.99 per month. 5 member accounts and connects 25 devices, 115+ locations.
7. WindScribe
Windscribe has a tons of advanced features that are carefully curated and is a privacy-centric brand. Windscribe offers the best VON services to its users. It is also an ideal VPN for users looking for the best free VPN in Australia.
Windscribe has servers located in 62 countries and comes with unlimited simultaneous connections.
It has kill switch features that protect you from any mitigating sophisticated attacks over the web. It supports open VPN UDP and TCP, /ikev2 protocols that conform proper security and privacy to the users.
Features–
– Good speed for web browsing and using social media.
– 10GB of free data per month. Users can only stream Kodi and YouTube.
– Windsscribe has servers in 60 countries. User can easily get around geo-restrictions with many countries, including the US and Uk.
– Doesn't unlock streaming platforms.
– Has no-logs feature.
– Provides DNS/IPv6 leak protection.
– Platform compatibility- Windows, Android, iPhone, Mac and more.
Pricing-
Monthly plan- $9.00 per month.
Yearly plan- $4.08 per month.
Build a plan at $1.00 per location, per month.
8. ProtonVPN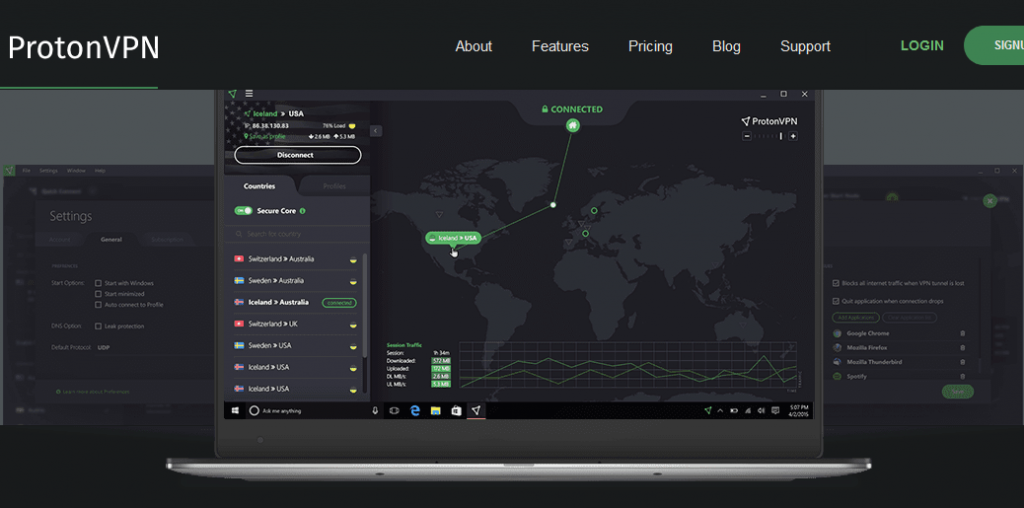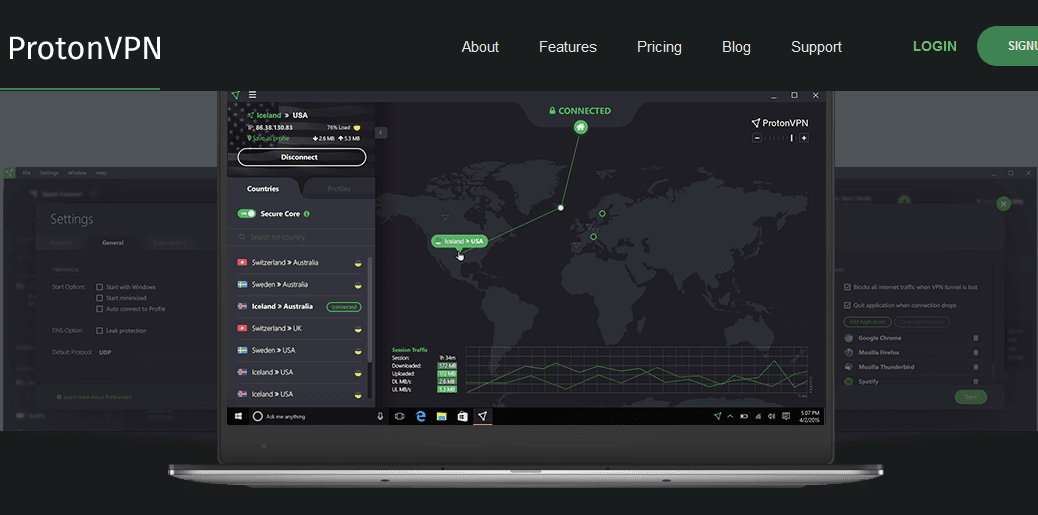 ProtonVPN is one of the best free VPN Australia, also the highest-rated VPN that not only has a free version but also gives its user free no limited data usage. It has 500+ servers all over the globe.
If it is your first time getting a VPN, starting with ProtonVPN is the easiest and the safest.
It has fairly inexpensive plans with features that secure you on a proper level over the web. It prevents DNS leaks, has no logs feature that further provides you with privacy and saves a user from prying and snooping eyes.
It also has a kill switch that protects IP addresses even if you lose connection and routes a user's traffic through privacy-friendly countries to prevent a user from any sophisticated attacks.
Features-
– Provides a den of unlimited data.
– Have servers in 54 countries. Countries include the US, Japan, Netherlands and more.
– Has a smart secure core feature that improves data security and ensures anonymity.
– Has no-logs policy for ultimate privacy.
– Unblocks- Spotify, youtube and Kodi.
– Platform compatibility- Android, Mac, Linux and more.
Pricing-
Free version- 1 VPN connection in 3 countries. Medium speed.
Basic plan- €4 per month/ €48 per year with 2 VPN connections in 34 countries. High-speed.
Plus plan- €8 per month/ €96 per year with 10 VPN connections servers in 55 counties. Highest speed.
Visionary plan- €24 per month/ €288 per year with all plus features.
FAQs
Question 1- What are some of the risks of using a Free VPN?
Answer– The very first couple of things you should always remember when getting a VPN is to make a list of features that you are looking for and the features the VPN you are pursuing has.
On noticing, you'd find Free VPNs are not as rich in features as a paid VON. Nor do they ensure an equal level of security.
Problems with Free VPN-
– Intrusive ads or selling user's data to third parties.
– Limited access to features.
– Lacks Speed
– Lacks several servers, safety and security features.
Question2- Is it okay to use a free VPN in Australia?
Answer- Free VPN software is not as safe as the paid ones. Free VPNs have limitations. You can use a free VPN in Australia, but it will fail to deliver the same features and high level of encryption as the paid ones.
Conclusion
Using a VPN creates a safe connection between your device and the web. A VPN is the easiest way to protect yourself over the web. All of the above-mentioned VPNs can be used for torrenting and P2P sharing and best at providing excellent services.
While we have tried our best to enlist the best VPN in Australia, coming up to a conclusion which VPN fulfills your requirements and expectations depends on you.
We hope the article has helped you figure out the best VPN to use if you are based in Australia or to include a VPN in your travelling plans. It is important to stay protected and stay connected. While these VPN ensures you stay protected, we ensure you have the information and advice you need around tech issues.
Let us know in the comments which VPN worked for all your needs! Thank you.
Also Read: