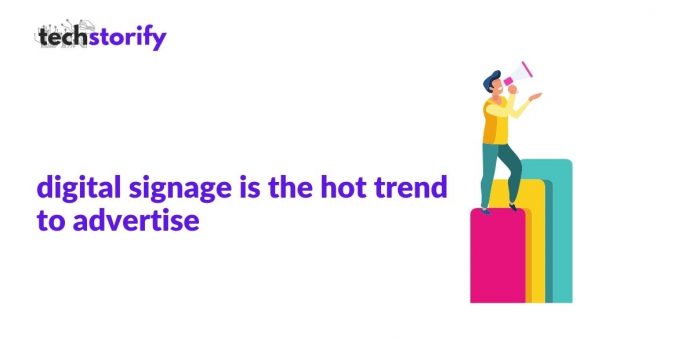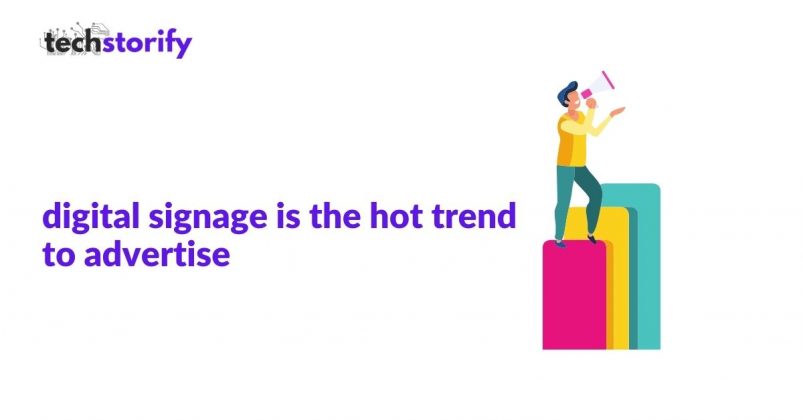 As a business person, you don't have to visit your team to share a monthly plan with them. We're living in 2021 where everything is on the path of digitalization. Yes, we still don't know when we'll see the flying cars. But technology can help you to save your time and energy a lot than before. Digital signage software is a great example of this.
What is Digital Signage Software?
Digital signage becomes an innovative and popular way to display your business' content to a wide range of audiences. Your audience will consume that content through display screens such as LED, LCD, projection, etc. And, digital signage software allows you to create, customize, and publish that content on screens, accordingly.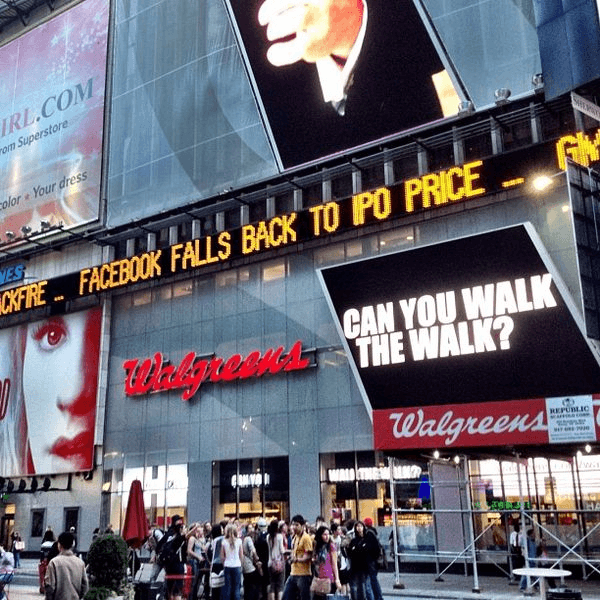 Therefore, It's a must-have for you if you're working remotely. Also, if you're handling a remote team from different countries and parts of the world. Digital Signage Software allows you to share your work through a video presentation too.
However, you have to use other hardware like a projector, e-pencil, white screen, and much more. But Digital signage software is essential here. It helps you to manage or control the content the way you want. For example, do you want to record the displayed content? Is your presentation for multiple users or one to one? Do you want to make a particular part of your presentation accessible or not? And much more.
Also, you can use digital signage software with content management software. Knowing more about digital signage software could be a little confusing.
Best Digital Signage Software Programs
Now there are tons of digital signage companies with their "best digital signage software." However, not every individual or business person has the same requirements as others. As a result, it becomes a little tough to choose the perfect digital signage software for you or your business. To help you choose, Techstorify compiled this post with the 14 best digital signage software that you can consider to buy in 2021.
So without wasting much time, let's get started.
1. Hexnode Digital Signage Solution – Overall Best
Hexnode digital signage allows you to manage content in a powerful way. You can play almost every media file such as audio, video, and image through this software. Also, you can manage your screens remotely by login into Hexnode with a few clicks.
This software also comes with a Kiosk mode that allows you to locked down before the deployment of devices. This mode allows you to display the contents you want to show. For example, an advertisement. Also, a Kiosk Screensaver option allows you to add a screensaver over the screen of the Android devices that you locked down in Kiosk mode.

Key Features
Supports all major media formats such as

JPG, PNG, MP4, MKV, MP3, etc.

Create subfolders with an added file limit.
Arrange media according to various terms such as name, type, etc.
Simple and easy to use UI.
Customize multiple animation effects such as

animation scale or animation effect.

Display content over multiple screens from a single device.
Pricing
It comes with 5 pricing plan that costs you $1-$5.8/per month for a device. Also, you can get access to every plan free by activating the 30-day free trial.
2. DigitalSignage.com
Digital signage is a great signage tool to come up with a great presentation. You get complete control over all display facilities. Also, it allows you to present content the way you want. As a result, It becomes a better signage software for small and medium enterprises, no matter what your industry is.
Moreover, Digital signage features a wide range of useful widgets. Plus, you can run it on all major devices such as Android, Mac, Windows, iPad, and from a web browser.
Key Features
Media library with useful content.
Schedule your content accordingly.
Responsive template and design.
Analytics with advanced tracking features.
Visual and graphical UI.
Kiosk supported.
Pricing
Digital signage comes with three pricing plans- Free, Enterprise edition, and privately hosted. The free edition comes with unlimited screens, 1 email, and a storage capacity of 1GB. Enterprise edition starts from $49/month and rises as you add extra features. Privately hosted account has a price tag of $895 and supports all features for a lifetime.
3. Reach

This digital signage software came from a Minnesota based company, founded in 2005. And, this company earned a great amount of goodwill in the digital signage industry since then. It's known for its ease of usage and its affordability.
Moreover, it comes with feature-rich software and lots of useful apps. Alongside it has some fine responsive templates that you can use in your presentations. Also, they are well designed to use them for social media and upcoming events too.
Key Features
Simple and easy to use.
Customization options for remote users.
Easily modify your content- video, photos, or text content.
Multiple themes for different locations.
Supports touch screen integration for better communication.
Free trial available.
Pricing
Reach signage software allows you to request a demo before starting with a paid plan. You just have to fill this form with basic details. Later you can start using the paid plans that start from $30/month. At this price, you'll get multiple layers per player, an unlimited number of user accounts, unlimited support & training for your clients, and much more.
4. Concerto

Concerto is a web-based Linux program to fulfil your digital signage needs. This digital signage software is compact and supports various types of content. Moreover, the team behind Concerto works great. And updating it frequently with new and enhanced features.
Also, there are a couple of smart communication options available in this software. As a result, you can manage and communicate with your team through video, text, and images.
Key Features
APT and Linux based program.
Supports multiple types of content such as MP3, MKV, JPG, etc.
Supports multiple screens.
Allows you to schedule content, accordingly.
Supportive community members.
Best for developers.
Pricing
You can download Concerto for free. It is an open-source digital signage software, so you don't need to pay anything to use it. However, it has a steep learning curve. Still, for free, you can easily use this software for advertising and other content management needs.
5. DisplayMonkey – Free and Open Source Digital Signage Software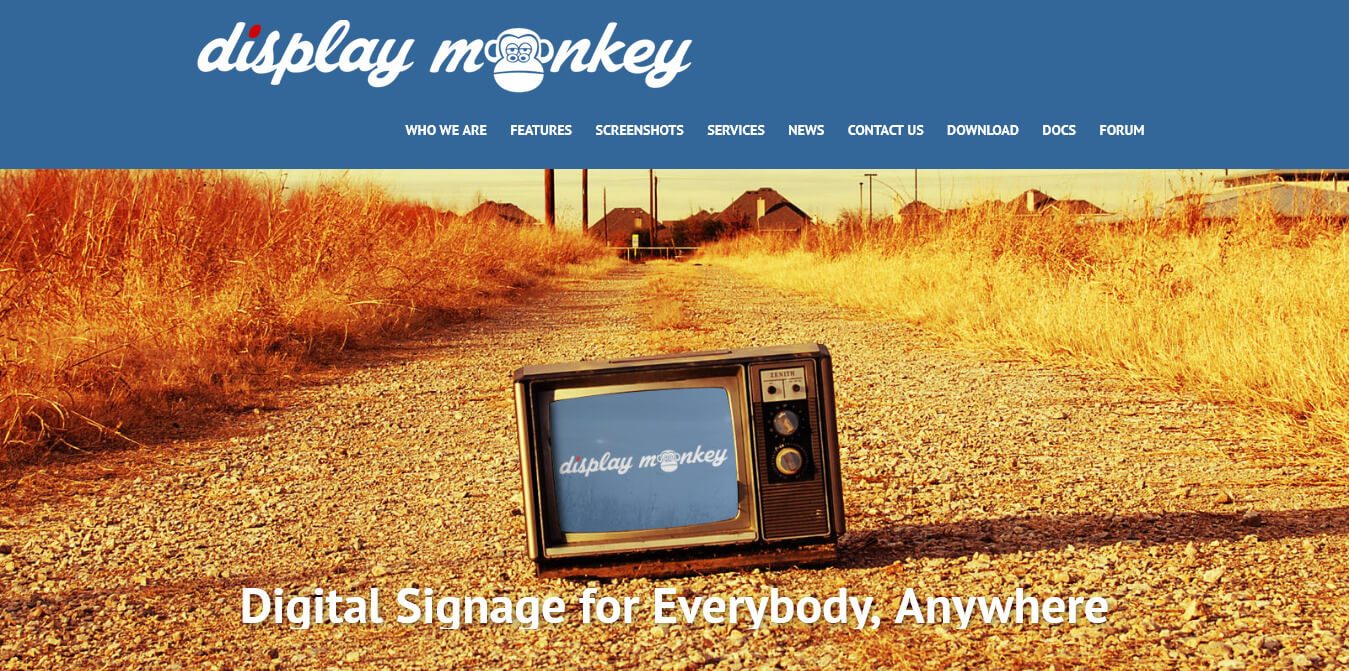 DisplayMonkey is another cloud-based digital signage software tool for your content management needs. It is an open-source program with multiple useful features. Also, you'll love the creative and visual layout of this software. Also, it has a user-friendly interface so you won't find any problem to get used to it.
Moreover, you can access DisplayMonkey from multiple platforms. The customization options of this software are amazing. And you feel stuck somewhere, technical support will be available here to help you. Also, the features like location support, CSS templates, Power BI, and flexible layout make it one of the best digital signage software.
Key Features
An unlimited number of SQL Server Reporting.
Link your Youtube videos with all available settings.
Upload and share videos of all the common formats
WYSIWYG HTML to customize the page accordingly.
Built-in CSS templates
Location support services
Pricing
DisplayMonkey is a free and open-source digital signage software so you don't have to pay anything. You can download the desirable version by visiting the official website.
6. QuickESign – Digital Signage Software with Roku devices Compatibility
QuickESign is a digital signage solution that allows you to add and manage the content on your digital screens the way you want. You can show text-based content, video, images, weather, or Twitter widgets by creating a dynamic layout for your screen.
It comes with a drag and drops editor that ease your workflow of adding content to your screen. You can also set a Roku screensaver which will start automatically when power fails. Also, QuickESign allows you to create your own customized layouts with your favorite widgets. Overall, it's the digital signage software that you must consider to buy in 2021.
Key Features
Plenty of widgets available to customize it as you wish.
Easy to use and simple interface.
Preview feature to get a quick view before starting a presentation.
Multiple presentation support
Available for Roku devices- Roku Sticks, Roku TV, etc.
Pricing
However, QuickESign offers you four types of pricing plans- Light, Standard, Pro, and Enterprise. But it starts from low as $5/month for one screen and with basic features to $20/month per screen and premium features. In addition, you can use the QuickEsign price calculator to calculate the price according to your budget, plan, and number of screens. Meanwhile, all four plans come with a 7-day free trial to give it a try first.
7. Info Beamer – Best Digital Signage Software for Non-Tech Users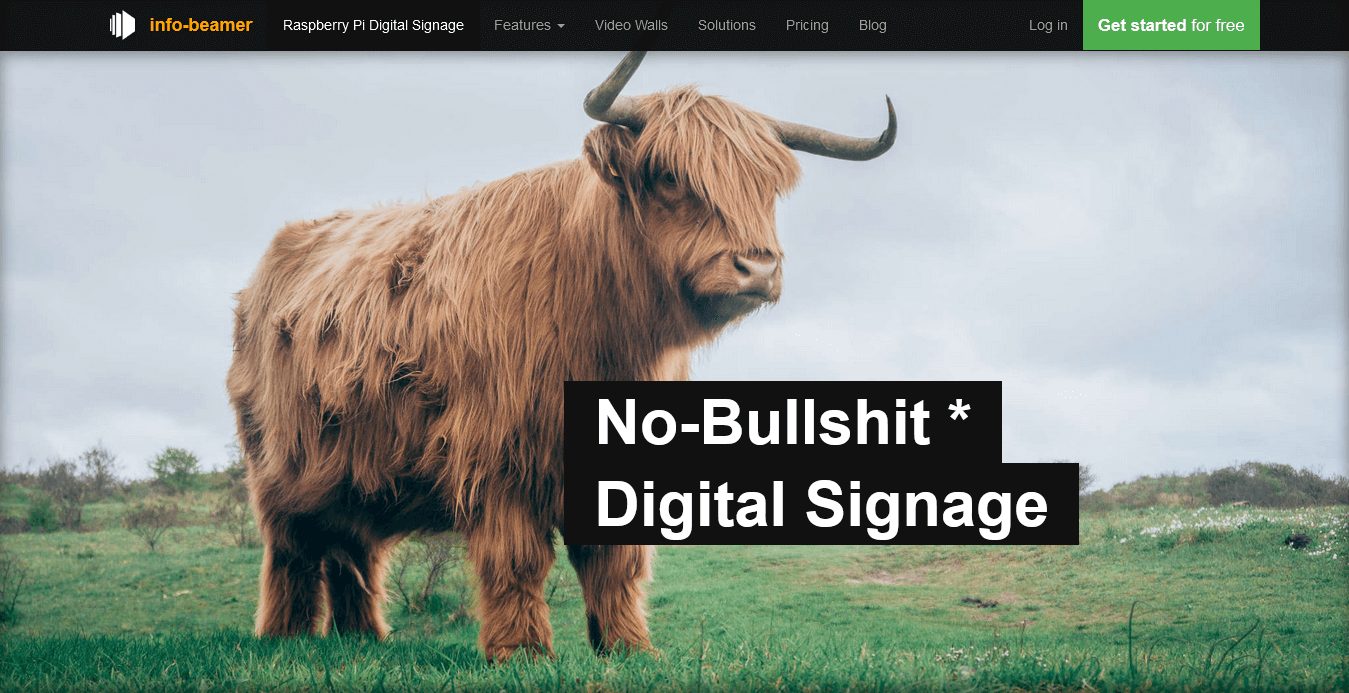 If you're looking for digital signage software with less technical settings, then here's your deal. Info Beamer is a well-known digital signage software to customize your screen without getting through any technical knowledge.
Moreover, it is a simple web-based UI to give you a great user experience. Moreover, the blog and the user-friendly team support will always be here to help you in confusing moments. The standout feature of Info Beamer is the scheduling of content in real-time.
Key Features
Lua-based source code to modify content the way you want.
Easy to use and modify all the tasks.
Encrypted and high-security service.
Incredibly easy to install and display content on screen.
synchronized screens or create their own video walls.
Affordable signage installations.
Pricing
Info Beamer explains its pricing plan in a well-detailed way. You can see the calculator on the pricing page. Moreover, it comes with a free plan that offers you 1 device and 1 GB of storage. And you can add an additional device at €0.25/per day and an additional GB at €0.02 per day.
8. ScreenHub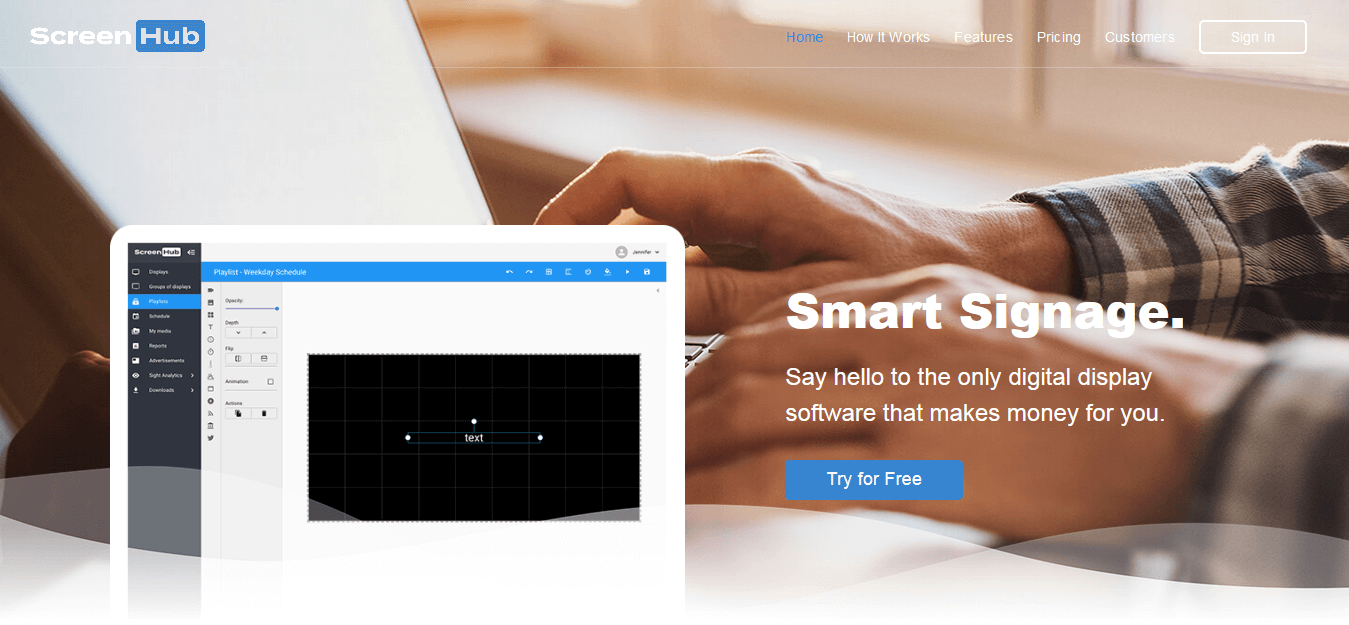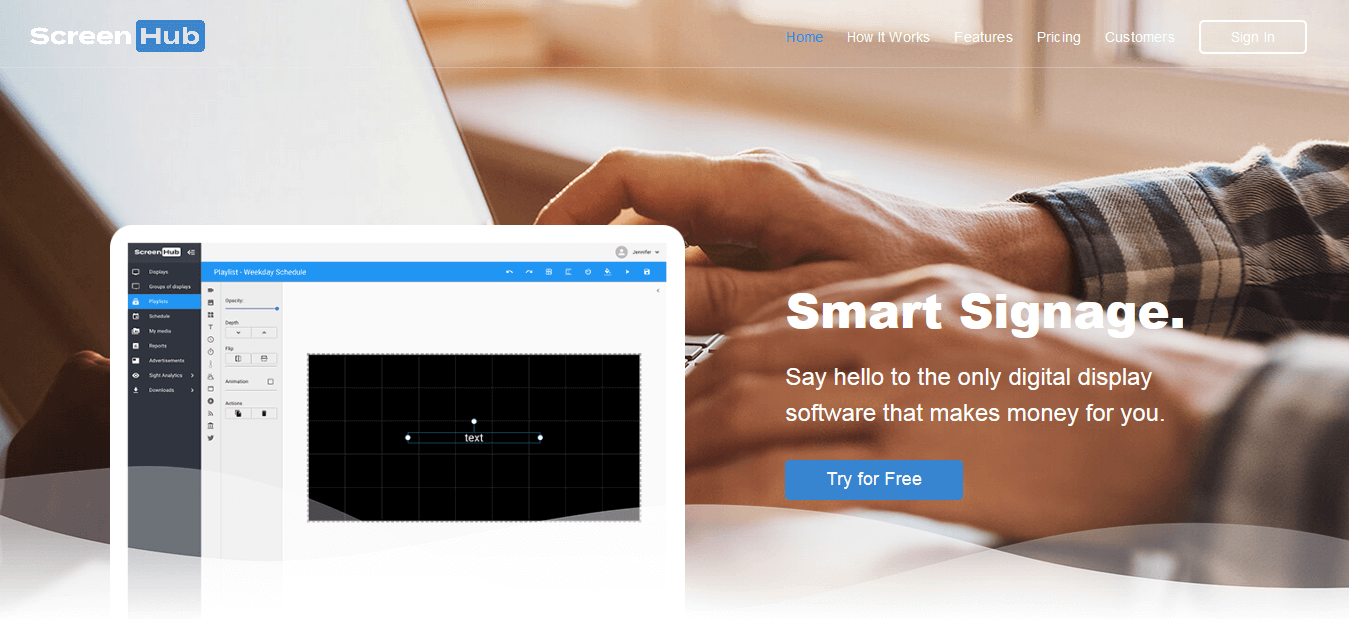 ScreenHub is a Linux and Windows-compatible digital signage software. It allows you to add, customize, and control the content on the screen from anywhere. Also, it supports all other major devices. So you can complete your tasks from any device having an internet connection.
ScreenHub is one of the great devices that work on all aspect ratios. Also, the easy to use and intuitive allows you to create, edit, schedule, and customize the content. You can do it from any OS and any device. Overall, it's a complete digital signage software to manage and customize your content.
Key Features
Well-detailed and graphical analytics to understand your customer better.
Schedule a playback list to reply to the same content.
Intuitive and powerful content editor.
Hardware monitoring to see device compatibility settings.
Social Media Integration.
E-mail support.
Pricing
ScreenHub comes with a free plan that offers you 1GB storage, basic features, and e-mail support. Moreover, the Standard content package costs you $39/month. And offers you 10 additional screens, 5GB storage, and other basic features. In the Pro plan, you get 15 additional screens, 30GB storage, and costs you $99/month. However, if you want more storage or screens you can choose an enterprise plan that has custom pricing.
9. RiseVision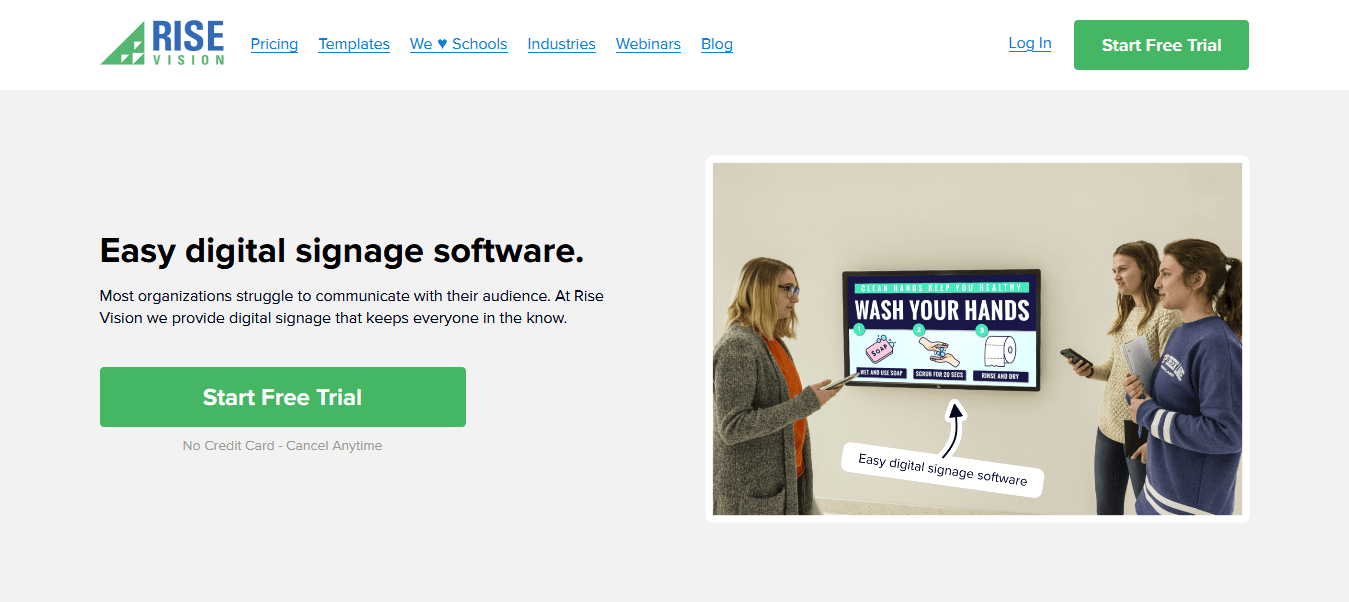 RiseVision is an efficient tool that you can access through multiple platforms and devices. It's a web-based open-source digital signage software. And, it is a time saver that allows you to create, and customize your content in an instant.
Over 9000 organizations and big brands are using it to spread their content all over the world. The list consists of Godaddy, Montana State University, Marriot, etc. It comes with 300+ templates that you can easily customize. And every week they update these templates. RiseVision is a simple, and interesting digital signage software to unleash your creativity.
Key Features
Supports content scheduling.
Best for visual branding and advertising.
Comes with a free trial.
Media library with amazing content design.
Supports multiple screens and devices.
SupportS Chrome OS, Windows, Raspberry Pi, and Linux media players.
Share your message to digital signage, websites, personal computers, etc.
Pricing
RiseVisionis an open-source software and costs you nothing. However, it comes with limited features. You can also pay $11/month to add an additional display to your account. Also, you'll get features like subaccount, email notifications, emergency alerts, and much more.
10. NoviSign Digital Signage – With Wide Range of Widgets
NoviSign Digital Signage is another simple and amazing software to add interactive content on your screen from anywhere. It features 20+ drag and drops widgets to add various content, weather, and website integration on your screens.
Moreover, you can add live social walls, feeds, and messaging boards. Moreover, you can track screens and multiple media players from the dashboard of it. It works well on Chrome OS, Android, and Windows. So you won't have to worry about the device compatibility. As a result, you can get early access and change the content from different locations.
Key Features
Fast upload time for the content.
Wide range of widgets to customize your content.
Syncs and updates automatically after 2 minutes.
Supports dynamic slideshows, and RSS feeds.
No requirement for any technical knowledge.
Multiple templates are available for different industries such as hospitals, retail, healthcare, etc.
Pricing
NoviSign Digital Signage comes with 2 pricing tiers:- Business and Partner. The business plan costs you $20/month. And, in this plan, you'll get 10 File Conversions,100MB File Size, and 500MB Storage, and other features. On the other hand, You have to contact the sales team to know the price of the partner plan. In this plan, you'll get a 500MB File Size, 10GB Storage, 100+screens, and much more than a business plan.
11. Yodeck – Best Digital Signage Software with a Steal-Deal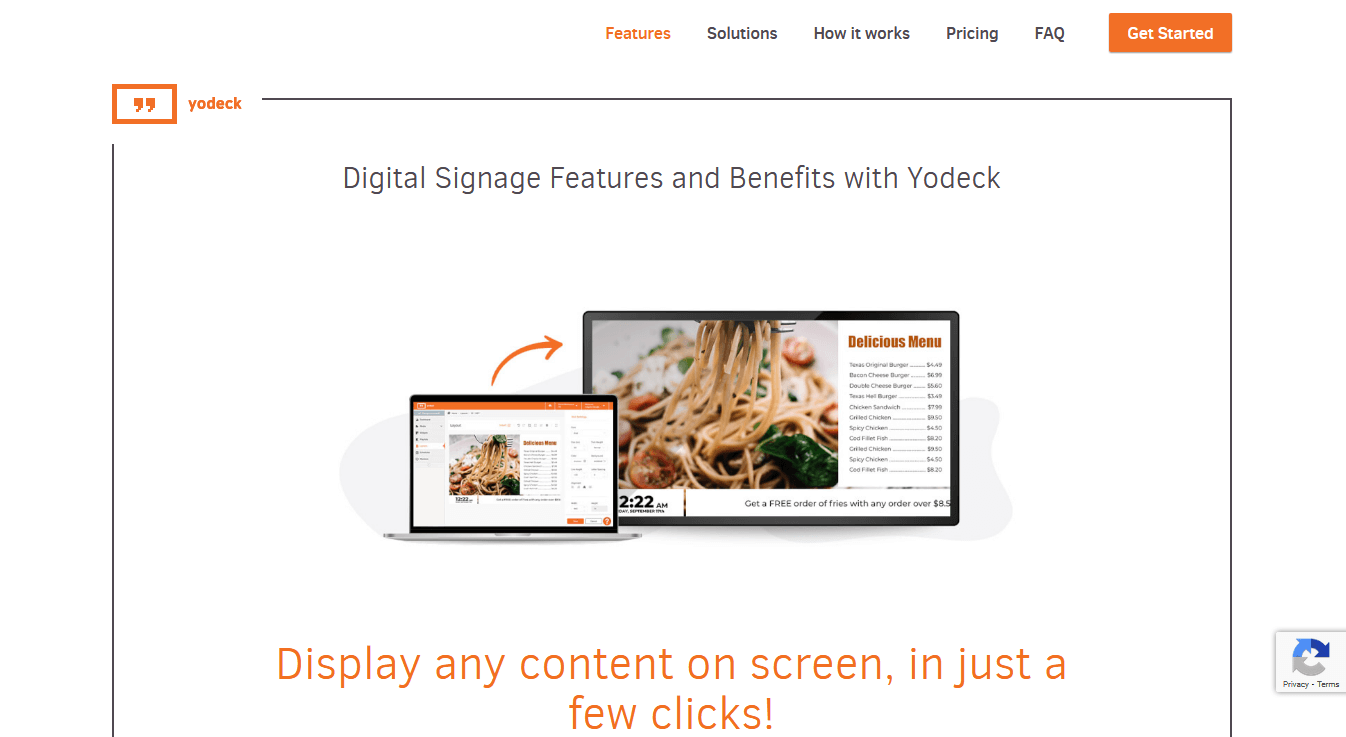 Yodeck is a digital signage software that allows you to create content in a wide range. From text-based content to images, videos, and even dashboards, you can create almost anything in it. As a result, they have some of the big brands as their clients such as Adobe, Addidas, Delta, Autodesk, etc.
Moreover, Yodeck is a web-based digital signage software. So you can access this from anywhere. You just have to have smartphones and desktops with an internet connection. Also, it is easy to install and configure without having enough technical issues. And you'll get a free player to try it yourself which makes it a steal-deal.
Key Features
Upload any video and image files.
Simple and user-friendly dashboard.
High-level encryption, firewall security.
Plug and play just like a USB drive.
Drag and drop layout editor.
supports Ethernet, Wi-Fi networks, proxies, static IPs
Pricing
Yodeck offers three pricing plans- Standard, Pro, and Enterprise. The standard plan costs you $7/month for each screen. Also, you'll get the basic features for typical usage. Pro plan costs $9/month for a single screen and comes with extra pro features. On the other hand, the Enterprise plan costs $12.99/month for each screen. And, it gives you complete control and high-grade security. Moreover, in all its plans, Yodeck offers you one screen for free.
12. Screenly
Screenly is a well-known digital signage software that provides you with lots of customizations without paying a buck. It is simple yet powerful digital signage software to create, edit, and finalize a better presentation. And, it got over 10,000 screens for Pepsi, NEC, and Tata, etc.
Moreover, it supports a wide range of media formats- HD videos, live webpage, calendar, and weather forecast. And you can install it in a few minutes. Also, you can schedule your content before weeks without any interruptions.
Key Features
Media Library with creative content.
Schedule your content.

Runs Screens Offline through Locally-cached content

Supports SD Card.
Add an unlimited number of screens.
Add multiple user logins for a single account

Supports two-factor authentication
Pricing
Screenly has two different versions- Screenly OSE(free) and the paid ones. Screenly OSE is an open-source digital signage software that works with Raspberry Pi. It is 100% free but comes with limited features. Also, you have to learn Linux to run it perfectly. On the other hand, you can pay $29.95/month per screen. This version is easy to install, has professional support, and allows you to add multiple screens to one account. Moreover, if you choose an annual plan, you also get the required Screenly player for free.
13. UPShow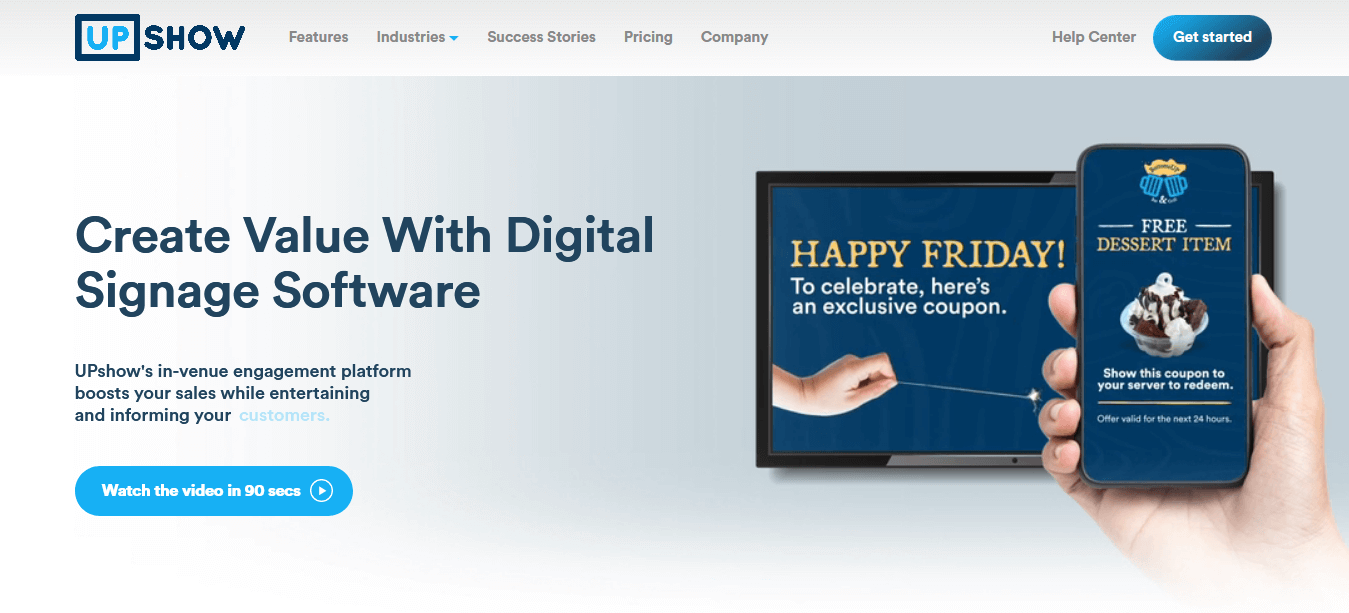 Upshow is one of the best digital signage software with 4.7/5 ratings on Capterra review. Also, it comes in Entrepreneur.com's top 360 list of best business growth and marketing software. Upshow is solely focused on customer interaction. And, it allows you to add, and customize various content-related games, entertainment, and sports-focused industry.
It is simple to install and use. Just plug and play to show your content on the screens. It's the best digital signage software to show creative and entertaining content on your screen. However, some publications found a limited number of editing options and default colors which are hard to read.
Key Features
Simple and straightforward dashboard.
Schedule different slides and content.
Social media filter.
Drag and drop media.
Add QR codes, SMS, short links to manage engagements.
Track customer engagement in real-time.
Pricing
Upshaw offers you three pricing plans- Basic, Professional, Enterprise. The basic plan costs you $95 and good for startups and small businesses. Meanwhile, the Professional plan costs $195 and offers professional features. And Enterprise is for large industries and you can contact the sales team to know the price of this plan.
14. MangoSigns – Best Digital Signage Software for Social Media Presence
MangoSigns is best for individuals and entrepreneurs who're looking for digital signage to create a Social media presence. It helps you to show your Social media posts, to create Menu Boards, or to communicate with your employees.
Moreover, it is ready to connect digital sign software. And you can simply plug it into the compatible smart TV to play your content on it. Moreover, you can install the MangoSigns player from Play Store, Chrome web store as well as Microsoft Store.
Key Features
Hundreds of pre-built Templates.
In-browser content editor.
Supports tons of apps and integrations.
Schedule content for flexible time periods.
Easy to install.
Multimedia support with RSS feeds.
MangoSigns players are available on all major platforms.
Pricing
MangoSigns offers you three kinds of pricing plans- Basic, Premium, and Enterprise. The basic plan costs you $8.95 and comes with 30 slides, single users, and basic integrations. On the other hand, the premium plan offers you Unlimited Slides, up to 10 Users, and premium integration. And it comes with a price tag of $13.45. Moreover, the Enterprise plan costs you $22.95 and comes with unlimited slides and unlimited users.
Meanwhile, you'll get 10% off while choosing an annual plan. Also, MangoSigns offers a free trial for every plan.
Conclusion
Digital Signage software becomes a new and effective way to represents your content for your audience. Also, the Wikipedia page on digital signage shows a quote below:-
the digital signage market is expected to grow upward to US $ 21.92 Billion by 2021, with a CAGR of 8.04% from 2015 to 2021.
Digital Signage software makes your content stands out and convert better than traditional advertising. Also, it helps in paper wastage reduction. Further, digital signage software made the process of creating and editing content in much effortless way. Similarly, you can control the content of your screens by using a single internet-connected device.
As a result, there are lots of digital signage companies that are growing and developing in this golden era. And, we sum up the best digital signage software from these companies. Hope this post will help you to find an ideal one.
Let's know in the comments which digital signage software you like the most?