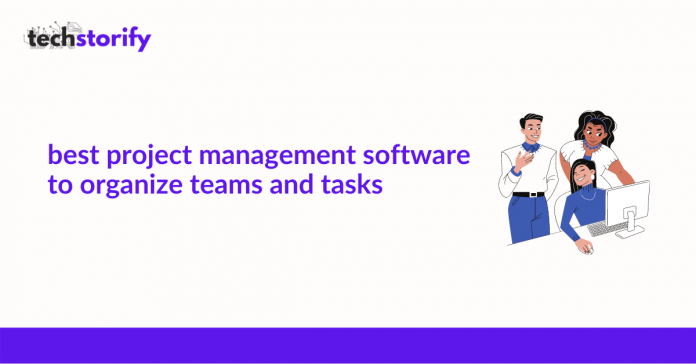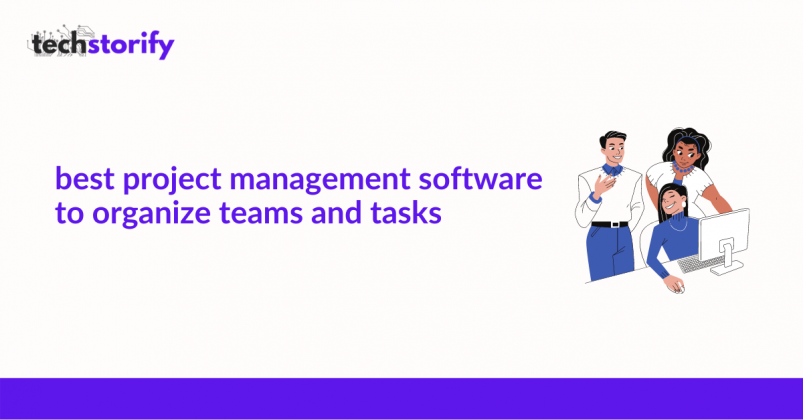 If you are looking to compile all your projects in a single place, then you must read this article on the Best Project management software. What do these Project management tools do? 
Project management software can be used by all sizes of businesses to collaborate and keep track of their projects on a single page. 
For quick and effective management of projects, Project management tools provide an easy path to collaborate in one place. 
How Does Project Management Software Work?
Project Management Software work by gathering all your tasks in a single place. Your task can be divided into micro-tasks and set as a goal. These goals are then marked as complete, in progress or incomplete on the basis of their progress. 
Collectively, a project management tool has some features as same as the workflow software. 
A project management tool must have the following features: 
Advanced Features

Cloud-Based Platform

Integrations

Security

Messages and Chats

Quick Reporting

Data Storage

Automated Invoices
Hence, if you are looking for tools with the above set of features, you are right here! We have compiled the list of 10 Best Project Management Software that You Must Use To Keep Your Team On Track. 
Best Project Management Software That You Should Try 
1. Project.co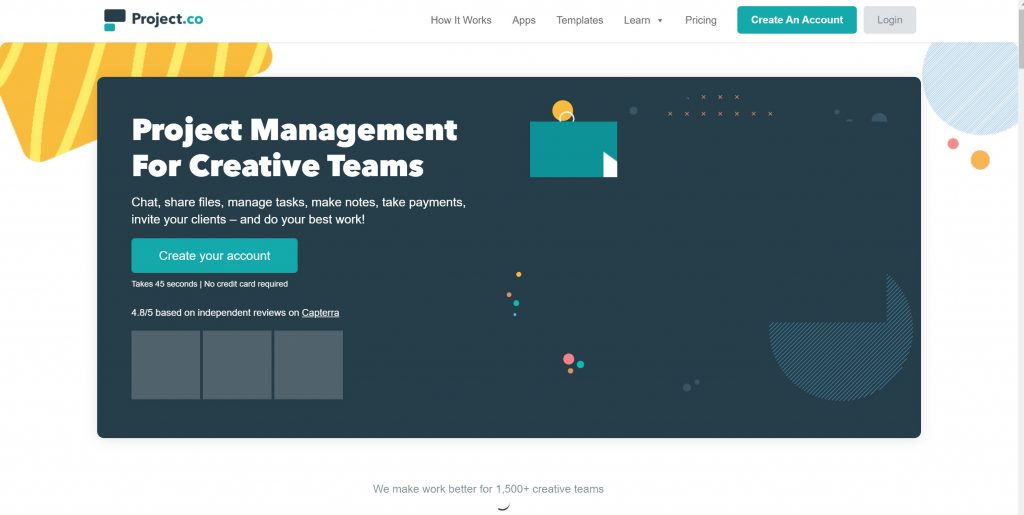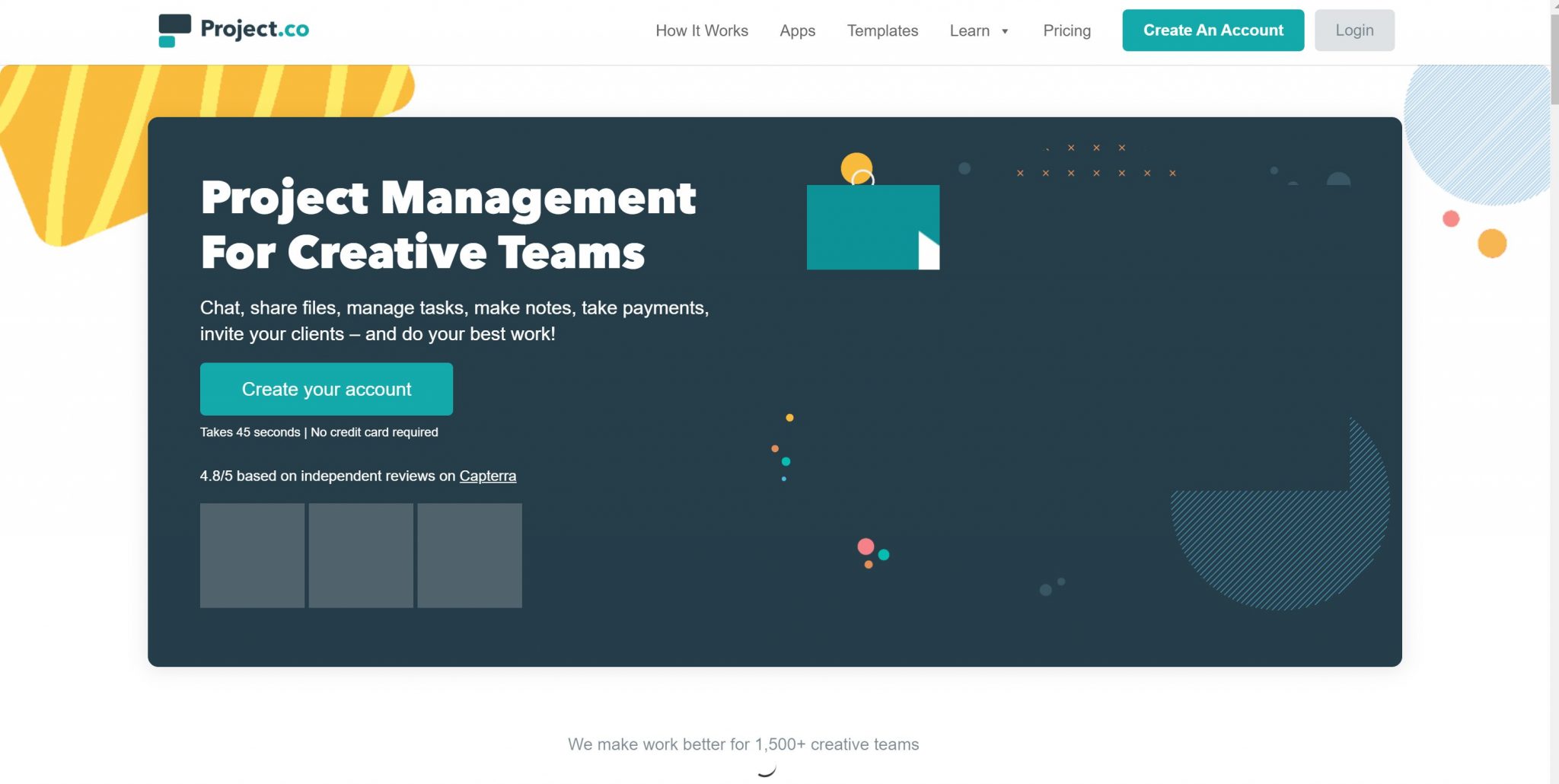 Project.co is a project management software that can be best utilised by the agencies that are willing to connect with their client's teams. 
A single dashboard has everything that you would need to manage your projects. 
The project has its own notes, chats, discussions, templates for project and also tasks and team payments. 
Furthermore, you can even track the time spent by each employee on the project. 
Quick Features: 
Quick Reporting tools to check the most profitable projects

Mobile App for Android and iOS

Different task and project views including Kanban view

Separate discussion feed for the teams. 

14-day free trial
Pricing:
Project.co is free up to five projects. Above that, you need to pay $10/user/month. 
2. Toggl Plan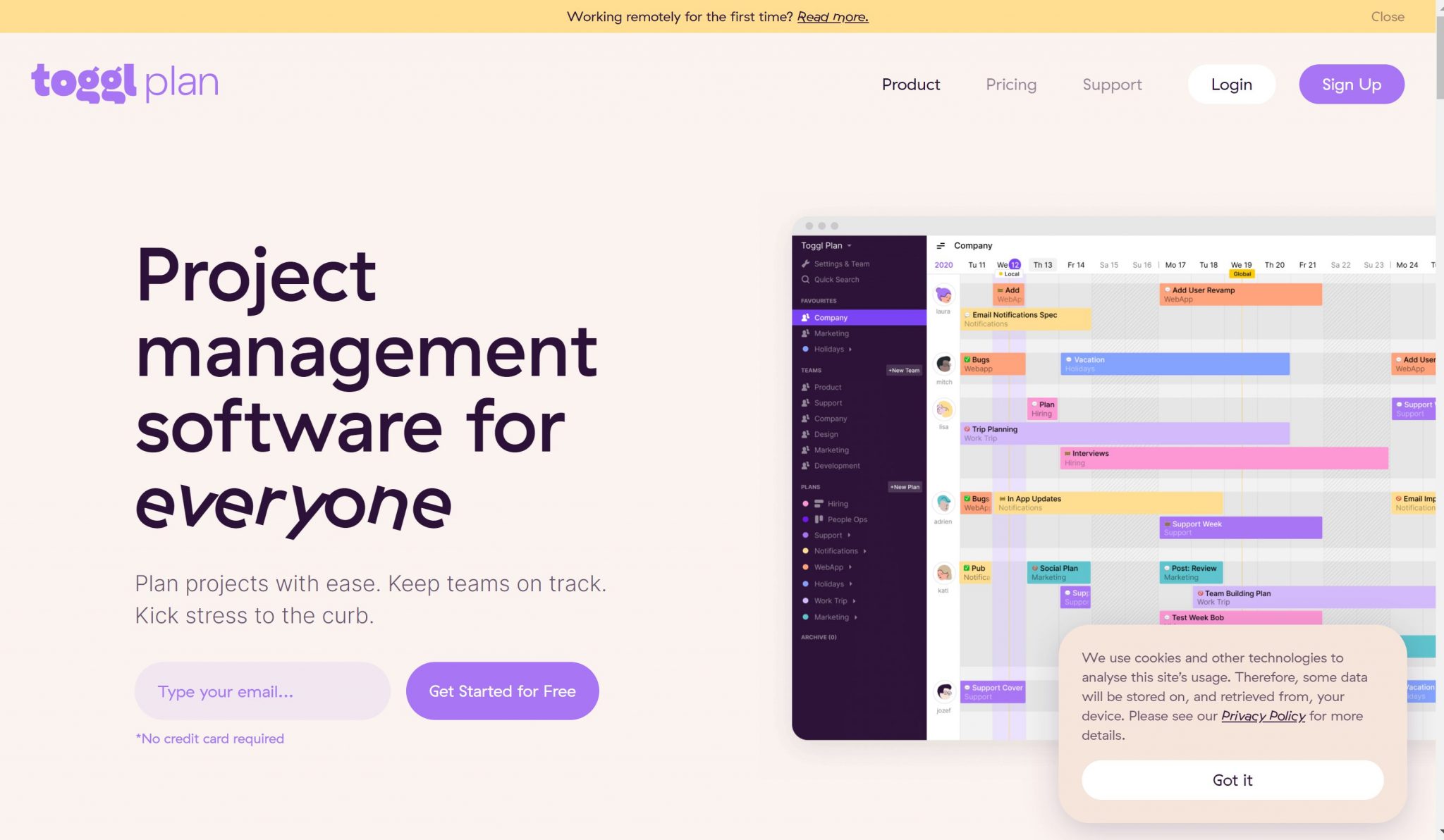 Toggl Plan is a top-notch project management software that is designed for everyone. It helps to collaborate and work on a different project at the same time. You can mark the projects as complete or incomplete based on their status. 
With Toggl Plan, you can manage the projects using the team view dashboard. Like Trello, you can create boards to manage your tasks in a project so it becomes an easy process.
Quick Features:  
Drag and Drop Functionality is available to add or remove tasks. 

You can share the project links directly with your team members 

Gantt chart view to track deadlines

Team members can comment and mention others for quick actions. 

Integrates seamlessly with Slack and other platforms. 
Pricing:
Free Up To Five users for a month. After that, you can buy the premium license for $9/user/month. 
3. Zoho Projects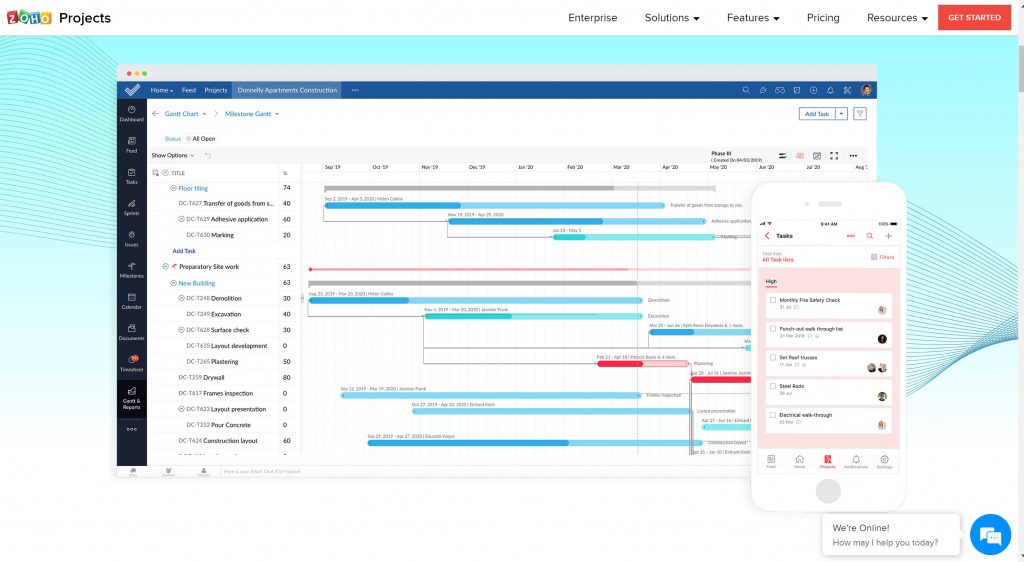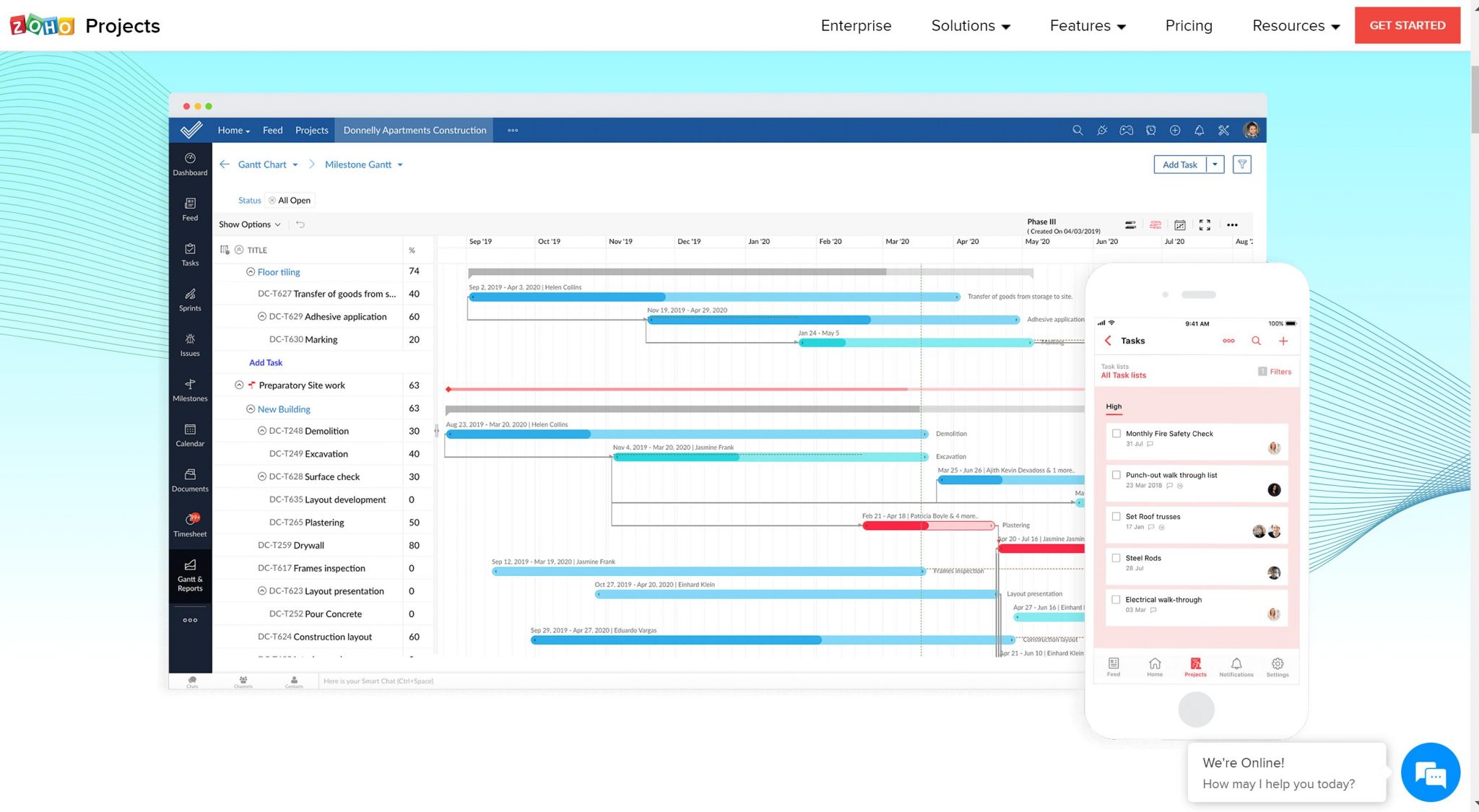 Zoho Project is a cloud-based project management software and tool for large teams and medium-sized teams. 
Powered by Zoho, this project management tool has everything that a user wants in streamlined projects. Zoho is one of the best automation project workflow software due to its robust dashboard. 
Zoho project is most suitable for businesses in construction, software development, testing and real estate and marketing. 
Quick Features: 
Gantt chart view for easy management of tasks. 

 Zoho Timesheets can be used to track the time spent on projects

Timesheet is integrated with Zoho Invoice which creates an invoice on the basis of time spent in the project. 

Create personalised and custom flowcharts, dashboards and charts for a better user experience.

Integrates seamlessly with Slack, Zoho CRM, Google Drive and other platforms. 
Pricing:
Zoho offers a 10-day free trial. After the trial period, you can also get their free plan with up to 3 users and 2 projects. 
4. nTask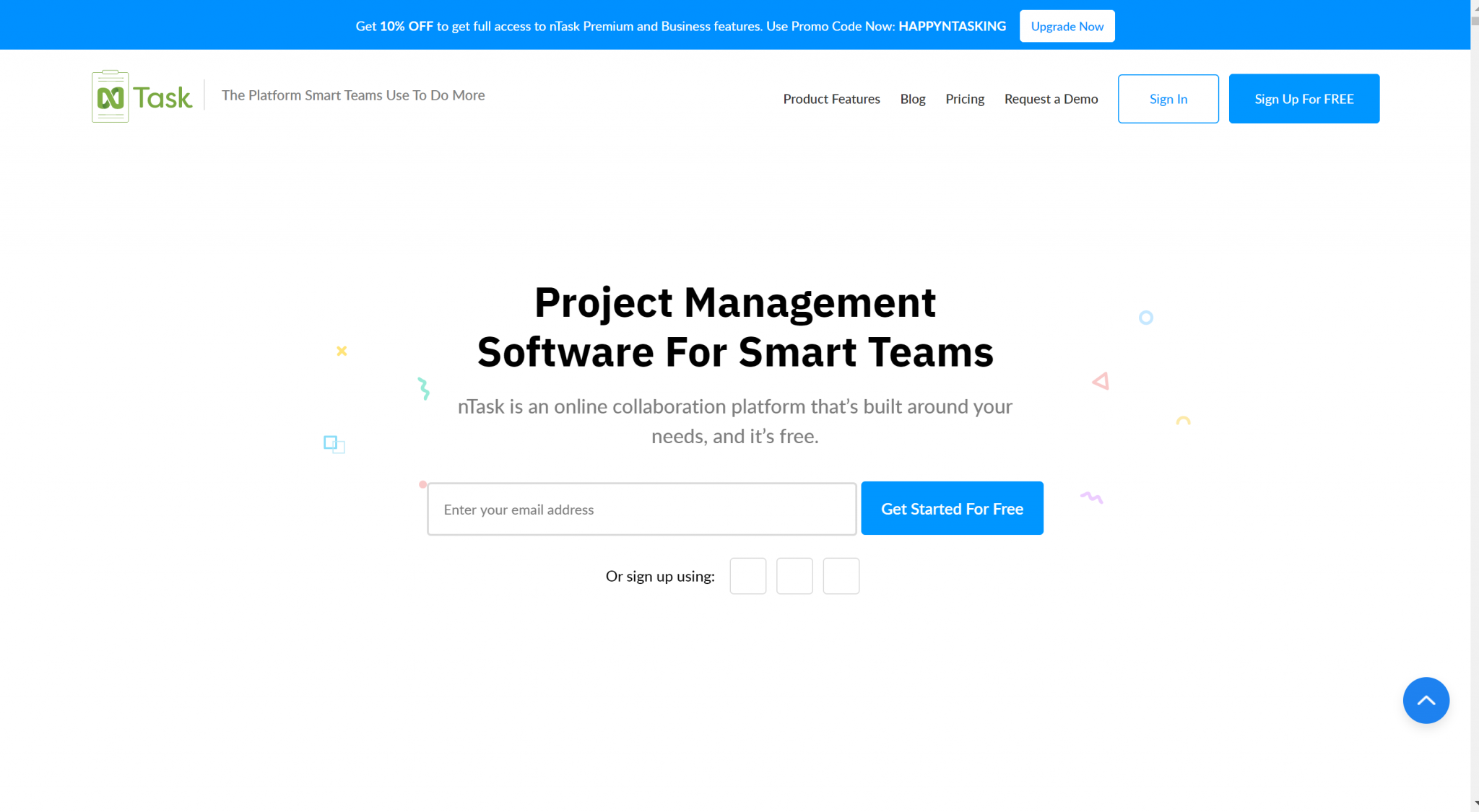 nTask is a free online project management software for individuals or a small team of professionals. This software has a couple of free tools that can be designed to keep your team on track.
With nTask, users can create multiple projects and assign roles to each team member. Furthermore, you can set the time deadline for each individual project and create a budget milestone as well for better functionality. 
Quick Features: 
Drag and Drop feature

Gantt chart view for aligning tasks

 Integrates with 3rd party apps like Slack and GitHub

You can also create and schedule meetings regarding the tasks and note down the points of discussion. 

Quickly find out the potential risks involved in tasks. 
Pricing:
The free plan of nTask offers an unlimited workspace with up to 100 MB of storage. Extremely reasonable, its Pro Plan costs just $2.99 per month with unlimited features. 
5. Basecamp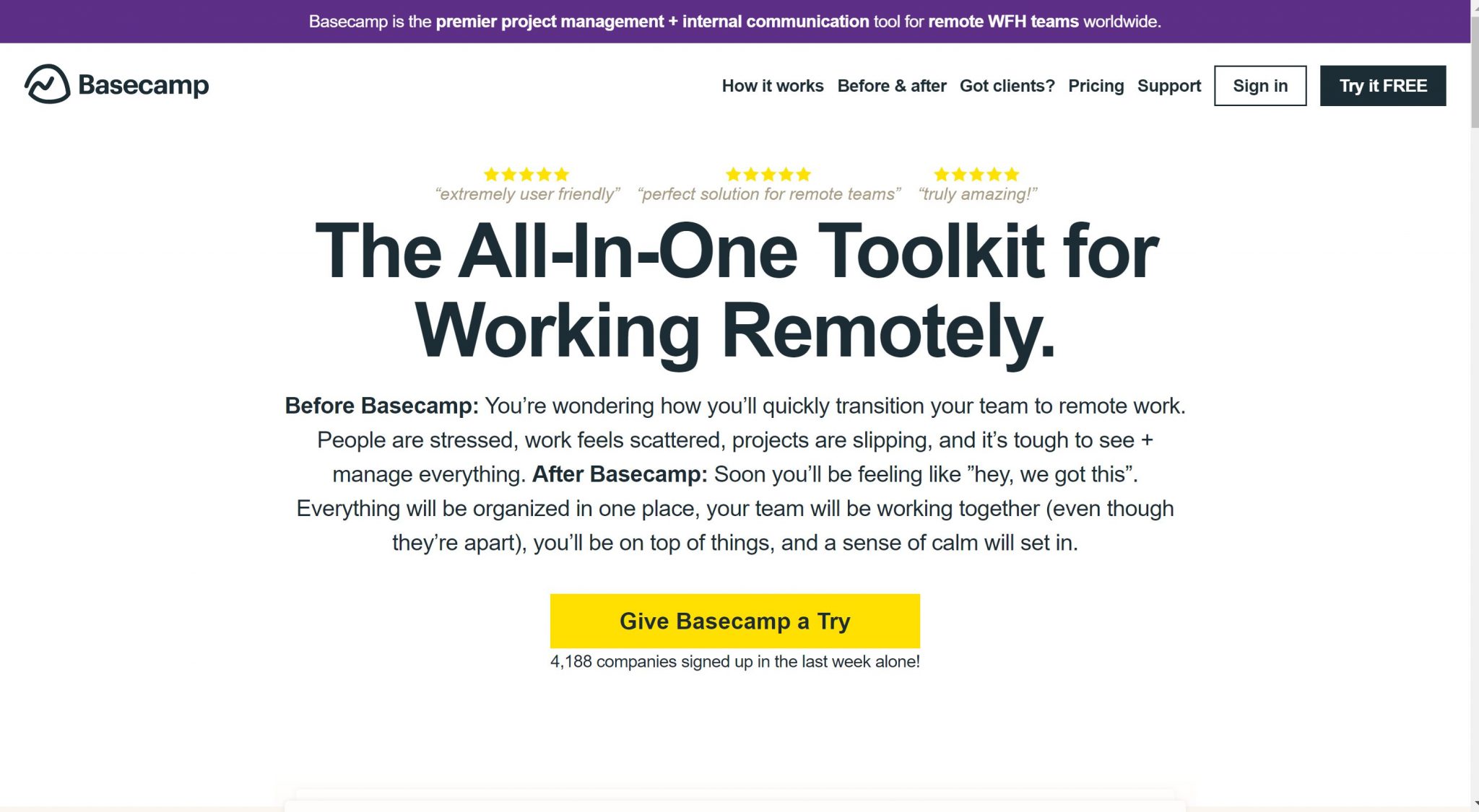 BaseCamp is a leader in project management software and collaboration tools. It has a unified dashboard to combine all the projects in a single place. 
Basecamp has a plethora of tools to discuss, create to-do lists, set up meetings and set projects quickly. 
Basecamp accomplishes the task of most of the platforms such as Jira, Google Drive, and others. The users can share files, proofs and information in a single dashboard. 
Quick Features:
Message boards and to-do lists. 

File storage and document storage

You can also tag team members 

Easy to use interface
Pricing:
Basecamp offers a 30-day free trial. After the free trial, you can get the premium license for just $99/month which is worth choosing. 
Also Read: Best Basecamp Alternatives For Team Collaboration
6. Teamwork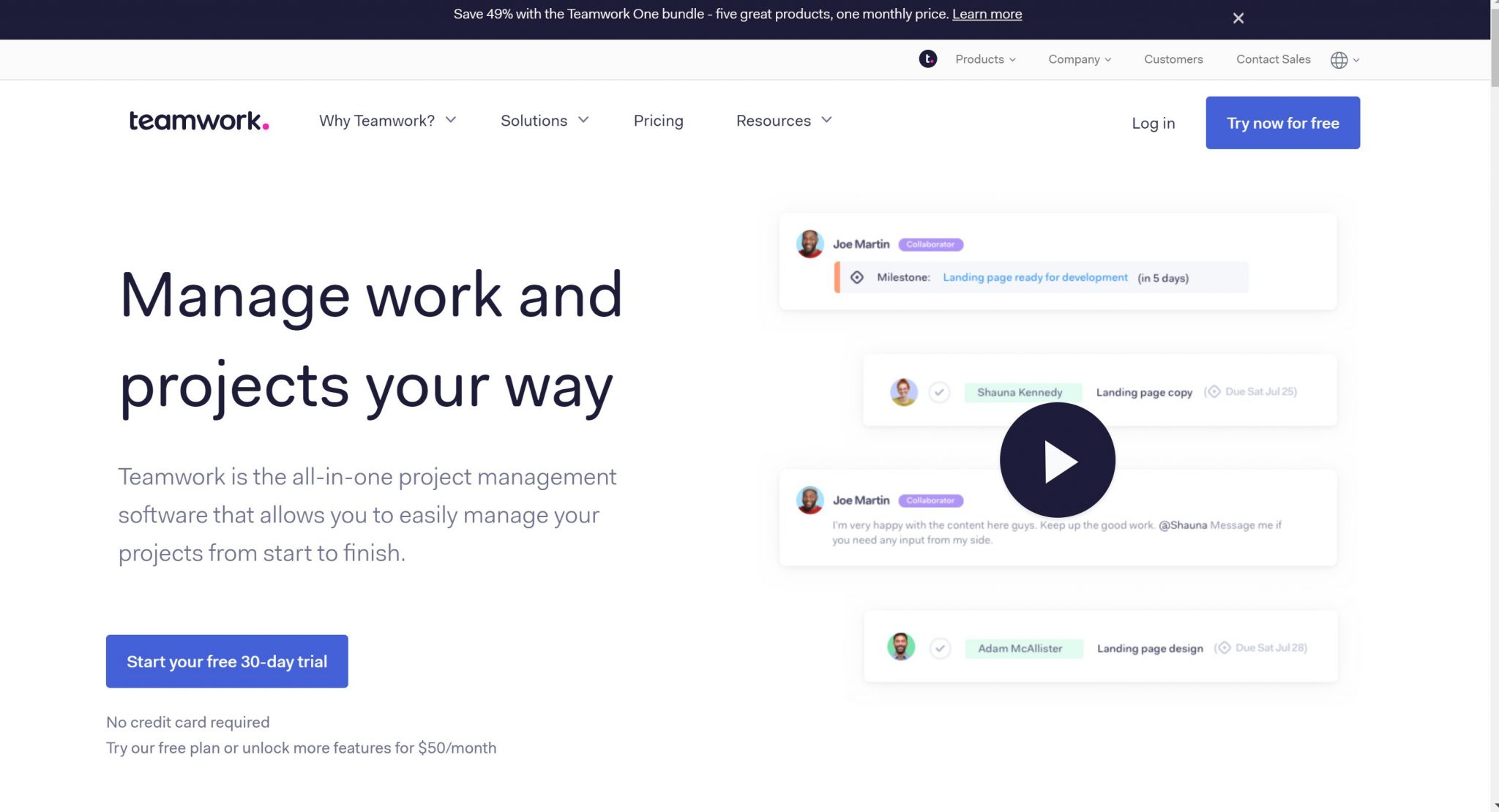 Teamwork Project is the best project management software to manage your remote teams. It comes with various sets of features that no other project management tool offers.
It comes with a Workload feature that allows the team workload capacity and collaboration. It includes task assigning, task prioritization, Gantt chart view, real-time tracking, and task monitoring. 
However, the learning curve for Teamwork is a bit complicated. So, you need to start with some ongoing webinars, live tutorials and guides to start with. 
Pricing: Teamwork offers forever free plan. If you want to upgrade, you can get the premium license for $10/month for managing up to 300 projects.
7. ProjectManager.com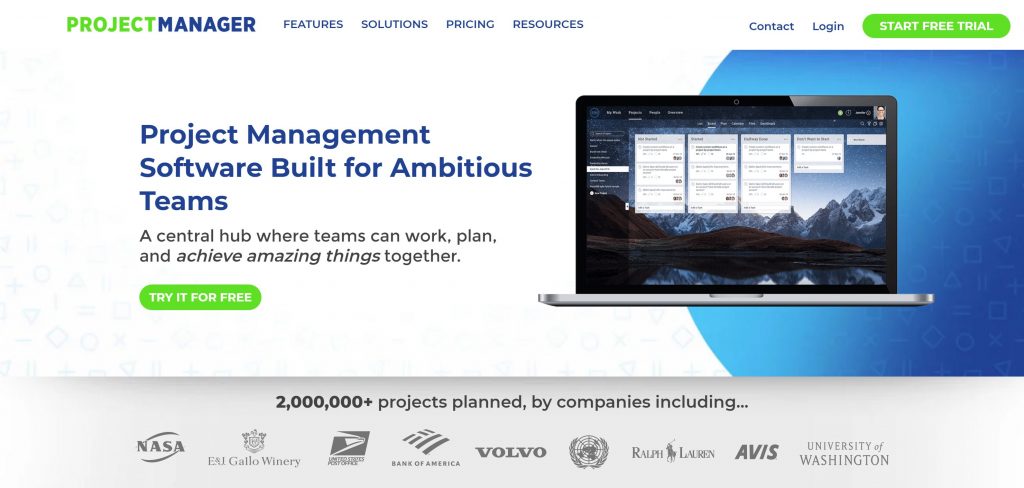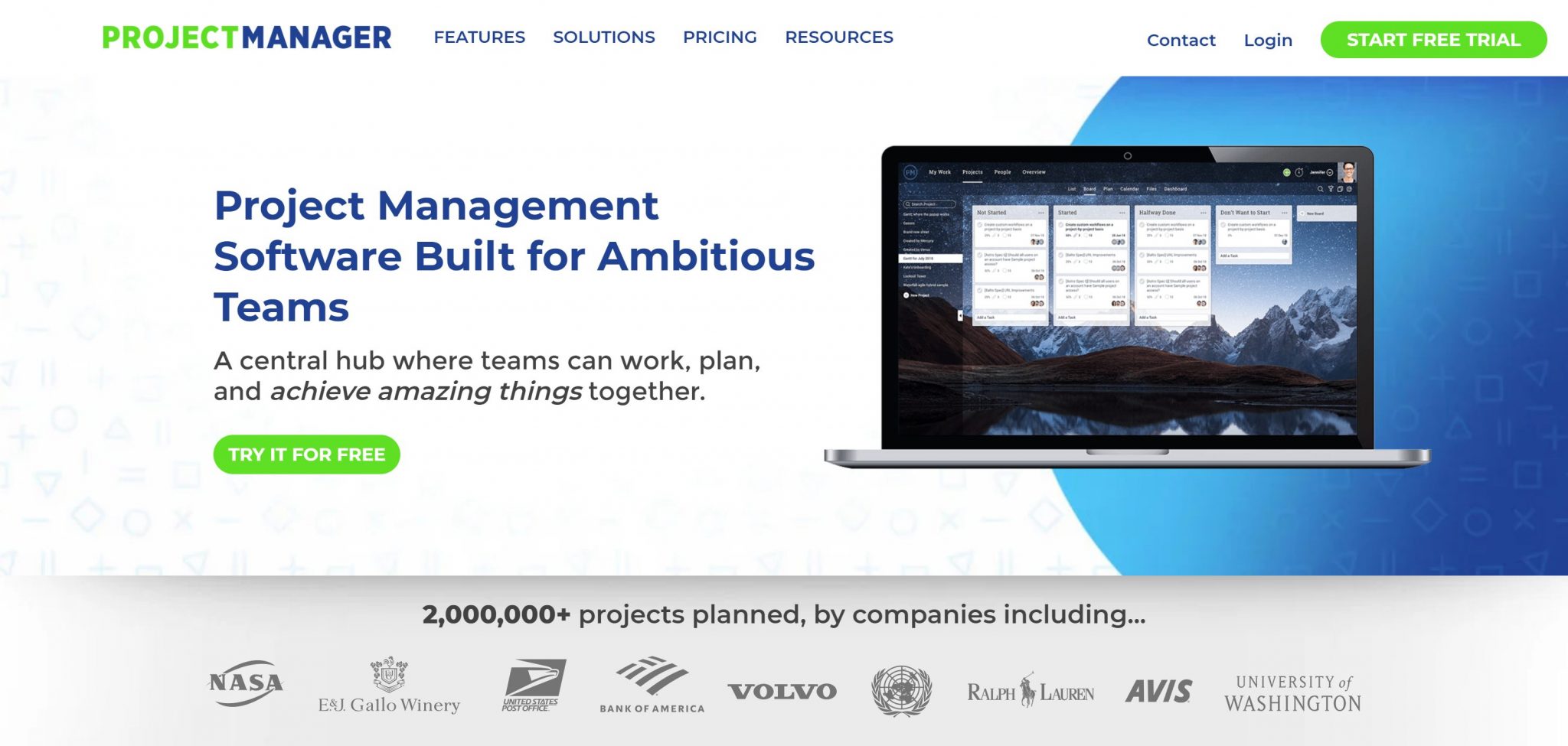 ProjectManager is yet another robust project management tool for ambitious and reactive teams. The users can set, track and assign new tasks and projects with ease. 
With Project Manager, you can manage a team, and also manage google documents with ease. 
Quick Features: 
Variety of project views; Gantt, Kanban, Tasks List and others. 

Monitor progress, track time and report each project live

It has a project management timeline. The users can create Agile and Waterfall projects which makes it more versatile. 

Real-time dashboards to display each metric. 
Pricing: 
You will get a 30-day free trial. After the free trial, you can get unlimited features at just $15/month. 
8. Asana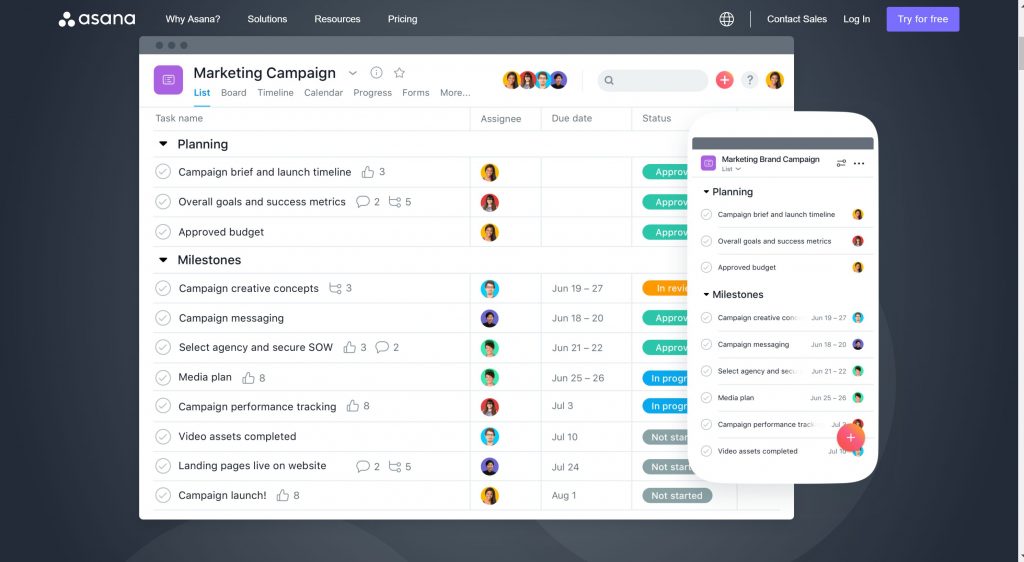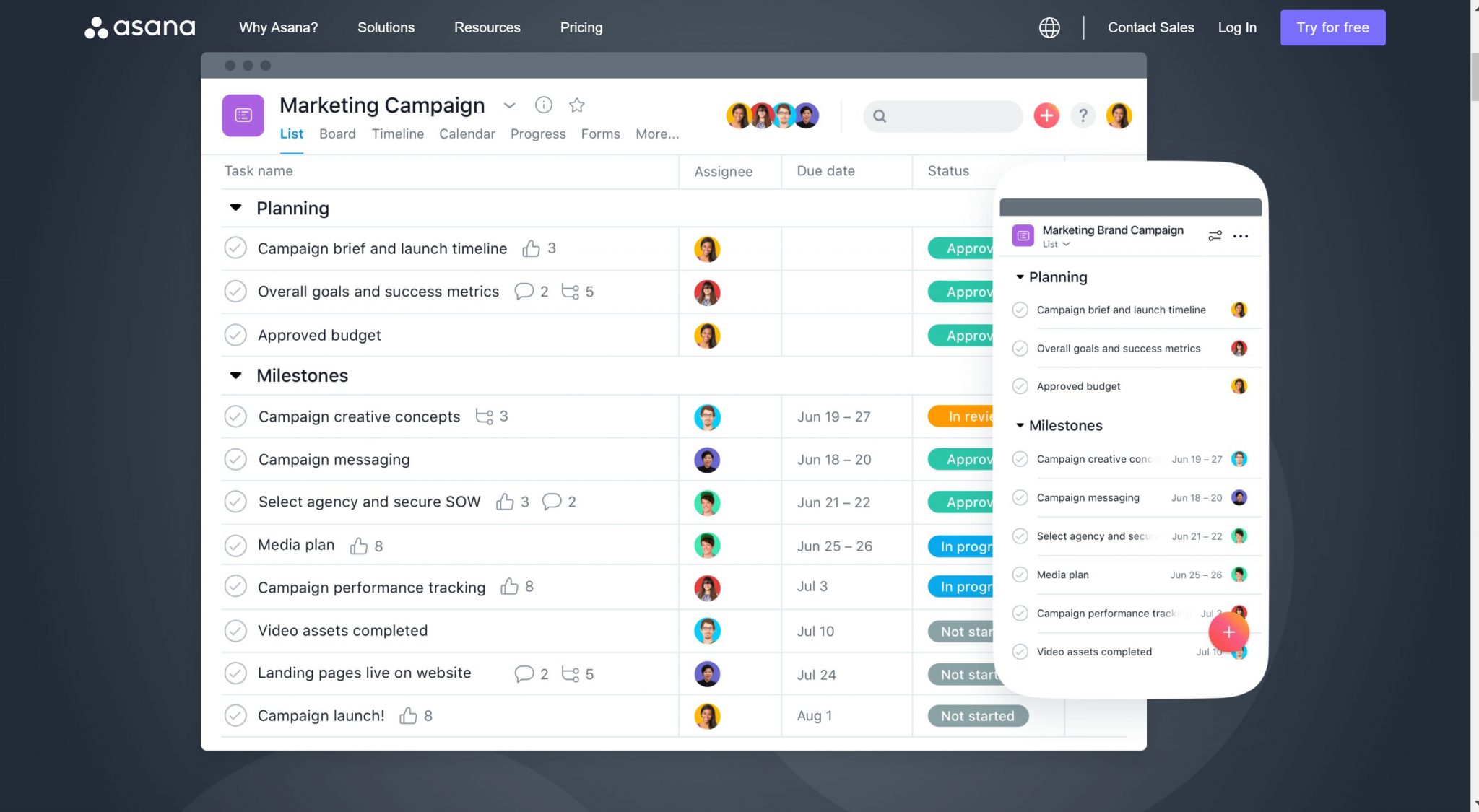 Asana is a global project management software that is used by millions in over 192 countries. It is an all-in-one project management and workflow software tool that can be used by small to large enterprises. 
With Asana, you can create tags, assign due dates, and mention other team members. It is simply a SaaS-based software tool. For this reason, you can use this software from almost everyone. 
Quick Features:
Gantt view for each project

Pre-designed templates for each project

100+ integrations for automated workflows

Create email alerts and set personalized inbox 

It also offers quick 'HOT Keys' to quickly access each project. 
Pricing:
Asana is free for unlimited projects for a team of up to 15.  The paid plan offers unlimited everything starting at just $9.99 per month. 
9. Orchestra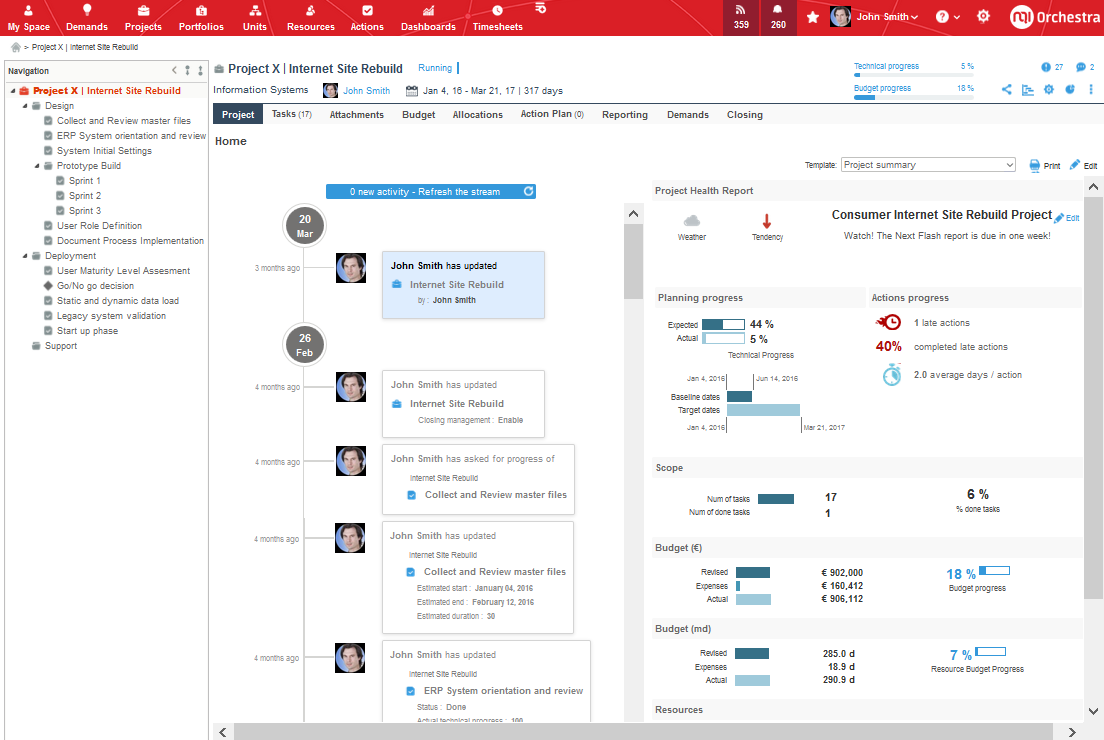 Orchestra is a project portfolio management tool that brings all your project stakeholders together in a single place. 
You can quickly create tasks, boards, create a task list and comment on each task. Orchestra also lets you assign the roles and also share the tasks with the coworkers in a single cloud platform. 
Quick Features:
Quick Collaboration tools

Manage and create ideas with your team members using Orchestra 

It has various pre-made templates so that you don't waste time and effort creating a new template for new projects

You can also manage your tasks and map your overall progress using the tracking feature. 
10. Nifty Project Management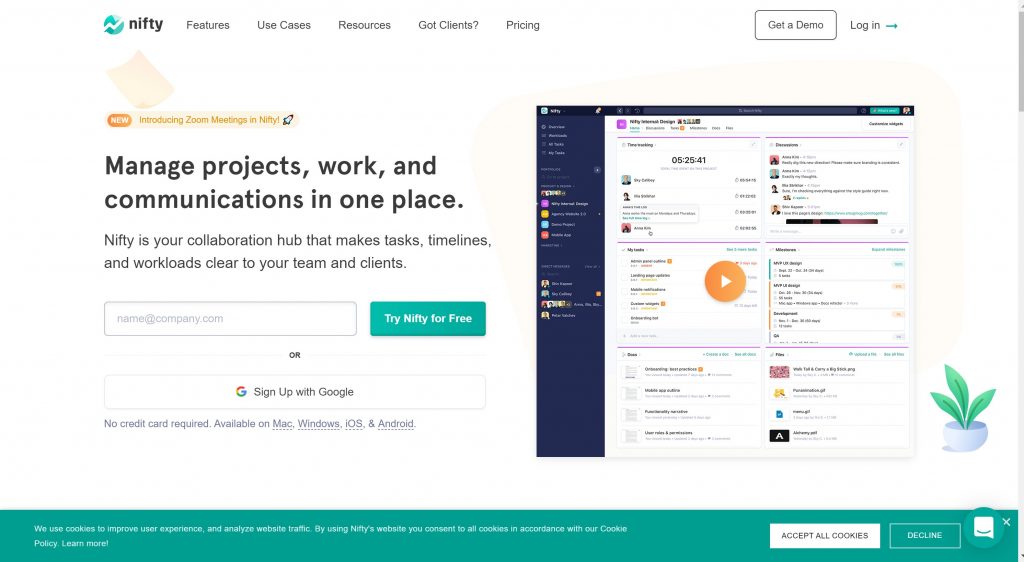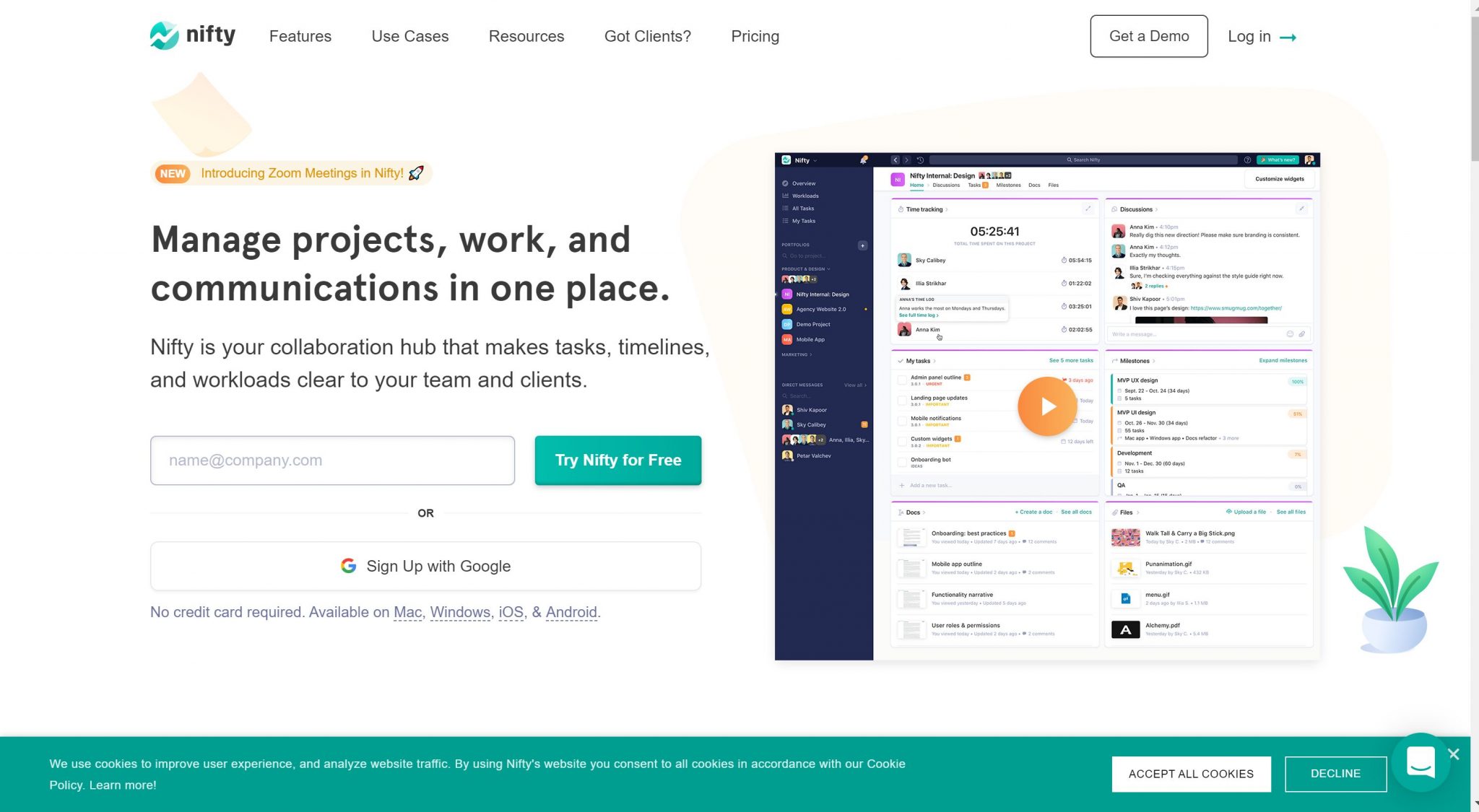 Nifty is a collaborative project management tool that lets you manage projects, add tasks, add boards and discussions. It sets the goals and reduces the effective workload by setting up the milestones and assigning due dates. 
In the dashboard, you can set project timelines, set collaboration tasks, and discuss and empower projects to share ideas. 
Quick Features: 
Manage tasks through Kanban view or Gantt view

Integrates seamlessly with Google Docs, and tools like Google Calendar, Slack, Zoom and GitHub 

You can also import data from tools like Asana, Basecamp, ClickUp and Trello. 

14-Day Free Trial
Pricing: After the 14-day free trial, you can start with just $49/month with limited features. To upgrade further, you can get the Business plan for $149/month. 
Conclusion:
To conclude, I would suggest it would be best to consider the project management tool with a set of features and affordable pricing. 
Do not forget to keep in mind its holistic view, interface, set of features and quick reporting. 
This was our list of Best Project Management Software Tools that you must try to keep your team on track.
Quick Links: