Looking for the best antivirus software for Chromebooks? Why do you need antivirus for the Chromebook?
This post will help you find all the answers.
As we all know that prevention is better than cure and so is antivirus software for Computers.
In this article, we are going to mention the top Antivirus Software for Chrome books.
In today's world, Laptop is not just the replacement for the traditional desktop, but the necessity of every individual.
We cannot treat the gadget as a luxury item anymore, in today's growing world of technology, it is as important as any other essentials. Very similar to insurance for humans, Antivirus is important for keeping your system safe.
Chrome books are so much accepted in today's world among people just because they are secure and help work proactively without any difficulty.
Do You Need Antivirus Software on a Chromebook?
A Chromebook is like any other computer and it can be hacked. You may hear that a Chromebook does not need anything else because it has built-in protection but it still needs one.
The Chrome OS is not 100% safe; criminals will find a way to hack your machine. Do not trust the Chrome OS too much, install an antivirus program to protect your laptop or tablet from viruses.
This OS is so much accepted by users indulged in official works as they can easily protect themselves from third-party unauthorized links and web pages.
For making it 100% secure we are going to introduce top-notch Antivirus Software for Chrome book in 2021.
Such software will not only protect the Chrome book from Viruses but also warn you before you try connecting to any suspicious websites and extensions.
The entire Antivirus in the list is easily accessible as they are available on Amazon.
List of Best Antivirus For Chromebook
1. Malwarebytes Security
As its name suggests it helps to get rid of all kinds of malware and malicious content.
It is capable of handling Viruses, Ransomware, and Trojan all alone, even its free version is capable to serve your system with basic protection requirements and more than you expect.
It can be easily downloaded from Google Play Store and its paid version will leave you with no worries for any malicious behavior on the system. You can easily opt for Monthly or Yearly Plans on it and pay a negligible cost of around 10$ to 15$ for the services.
Yearly plans are mostly preferred by users since they do not need to worry for a longer period. Malwarebytes Security is a premium Antivirus Software for Chromebooks and serves all your expectations without any haphazard.
If we talk from the point of view of past users, it has a rating of 4.7/5 on the Play Store with loads of positive feedbacks. The user who once starts using this Antivirus Software for their Chromebook has never looked back for any other Antivirus Software.
You can rely on it as it will never let you down in any consequences by making your system slow or other malevolent behavior unlike other Antivirus Software for Chromebooks.
Pros: 
Free plan
Great performance
Minimal CPU usage
Sleek Interface
Cons: 
No live chat or phone support
Lacks firewall protection feature.
2. Avast Antivirus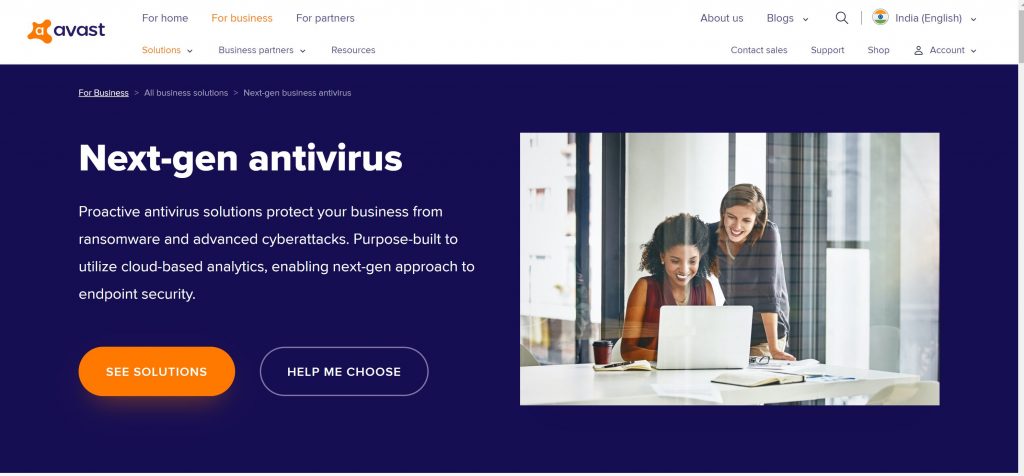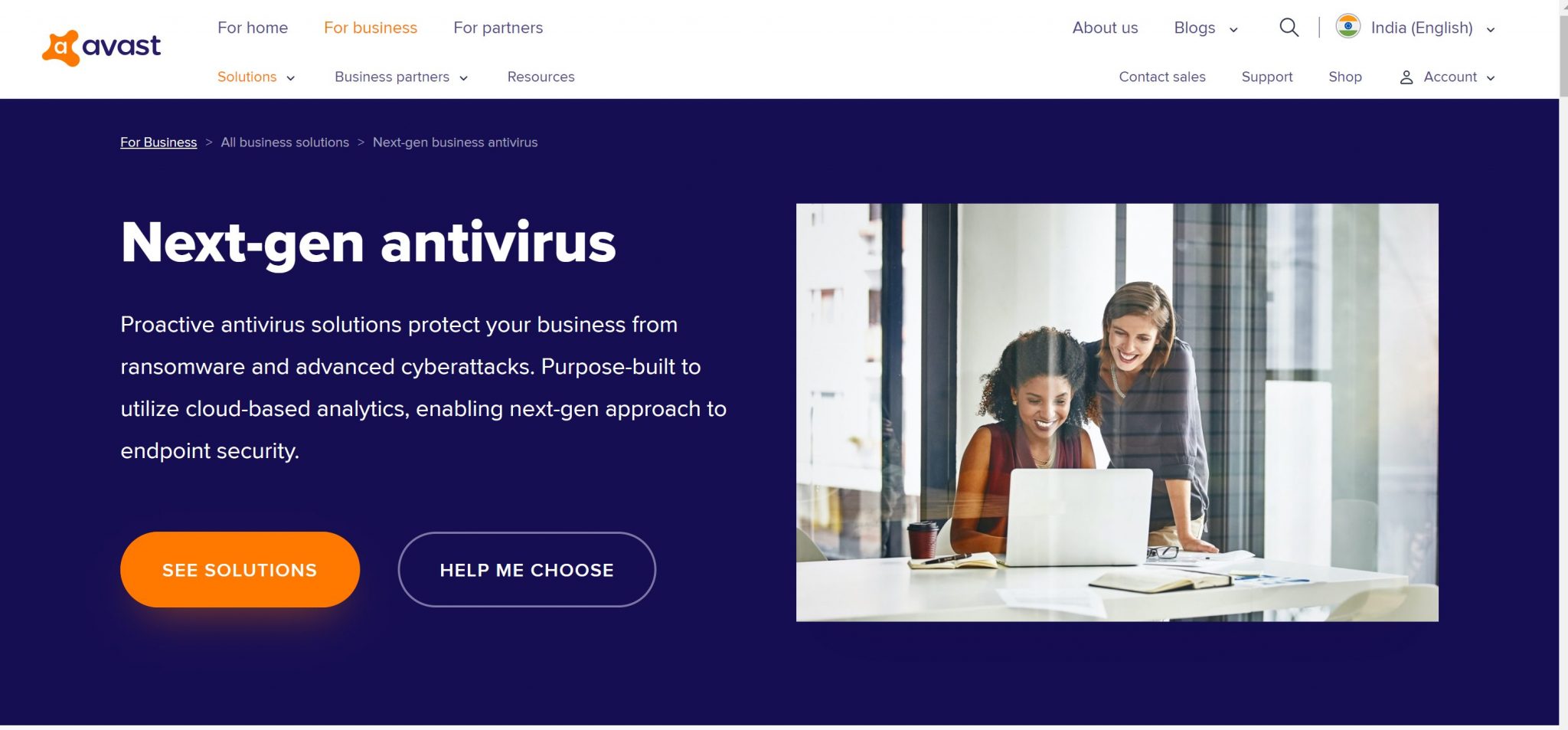 It is one of the popular Antivirus Software for Chrome which is trusted and used by thousands of Users.
Its differentiable features make it commendable. As it is serving as the Best Antivirus Software for Windows and Mac OS for a long time and now it also provides its features to Chrome without any hectic steps, has made the game tough for spiteful bodies to hack your system.
Avast does not allow the Malware to spread in your system by creating a sandbox which makes the virus confined and destroys it from there itself.
Avast Antivirus keeps a check on all the extensions and websites used by you frequently and has a 'Browser Cleanup' feature, which helps you get rid of unwanted extensions and other processes which have not been used over a period of time.
So that this will not affect your system and contribute to making your system works at an ideal speed. It not only protects but also catalyzes its work performance.
You can opt for its Yearly subscription at 20$ to 30$ and use it for a longer time without continuation disturbance.
It has distinguished features for Chromebook which no other Antivirus Software for Chromebook provides; this makes it trustworthy as well as attractive for Chromebook users.
Pros: 
 Impressive detection removal rate
User-friendly interface
30-day money-back guarantee
Free mobile app
Cons: 
Scans can be slow
Not available on iOS
3. AVG Antivirus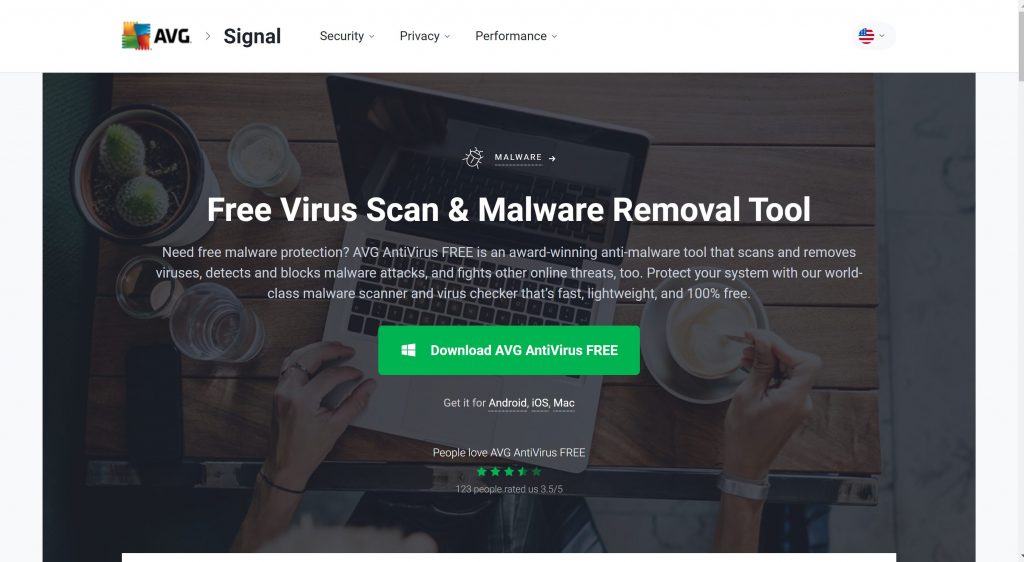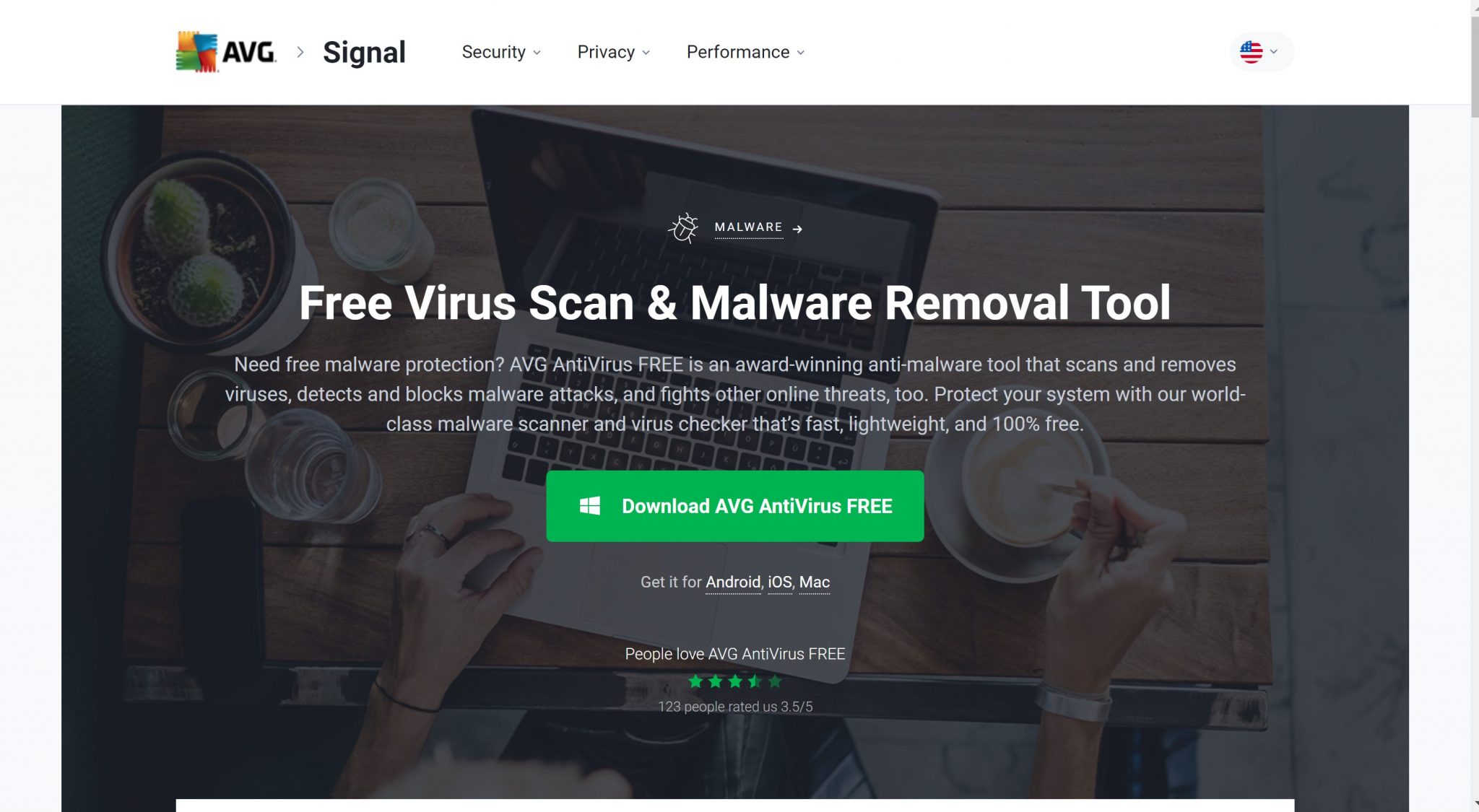 It is one of the oldest and trusted by millions of Antivirus Software for Chromebooks as well as another Operating system.
It has been serving for the last two decades, and the price point provided by it is very reasonable with no compromise in quality. It provides all the premium services as provided by any other Premium Antivirus Software for Chromebook.
It has much additional functionality included apart from protection from viruses, it serves much more on your table like App Lock feature, Photo Vault, Wifi Security Scan, Hack Alert, and much more. According to the price point and trust for two decades, it is adopted by many.
You can easily download it from the Google Play Store which comprises 100 million downloads and more than 10 million reviews in which most of which lie on the positive end. You can further get the subscription easily from Amazon.com on a Monthly and Yearly basis. The storage space required for it is also less than 30 MB, which is easy to store and utilizes its commendable features.
It helps you to scan your browser on a real-time basis; you will also be notified if your password gets leaked. Above all features makes it worth it to add to your application list for protection.
Pros: 
Identity Protection
Free version available
AVG anti-theft camera option
Ransomware Protection
Cons:
Unhelpful knowledge base
Free version lacks various features.
4. Norton Antivirus
Another trustworthy Antivirus Software for Chrome, which is widely accepted because of its Cloud backup feature, now you can save your data in the cloud without worrying about data leakage and privacy issues.
This feature makes it very different from any other Antivirus Software for Chromebook. Apart from this, there are multiple other features that contribute to it. It is ideal for protection against malware, spyware, phishing attacks, and ransomware, and many more contemporary world online and offline virus threats.
You can easily opt for an automatic payment option, you will get reminders before it's done. Also, you can cancel it method as and when required through your Norton Account.
It provides up to a 2GB secure backup option so that you can save your data simultaneously. It can also help you to manage your passwords and other confidential details such as credit card details with proper safety and security.
It tracks the communication between yours and others system and blocks any unauthorized traffic coming towards your Chromebook. The price is at the affordable point as per the features provided; hence you can go for it, without any second thought.
The user reviews are quite satisfying to opt for; if you are a first-time user you can rely on its features and give it a try. It is available on Amazon in the range of 10$ to 15$ yearly.
Pros: 
Perfect malware protection
Ransomware detection
Lightweight application
30-days free trial.
Cons: 
Expensive when compared to others.
Various features are not useful.
5. Bitdefender Antivirus
Bitdefender Antivirus for Chromebook works as its name suggests, it is eligible for finding bits of malware in your system. This is beneficial for those users who carry very confidential data in their system, and leaking such data can be of great loss.
You can safely do your confidential transactions without worrying; Bitdefender will make sure your transactions are safe.
If you are taking it for one PC it will cost you more, go for three PCs set and you can get it within 20$.
User's reviews on this are overwhelming for the Software provider. Just because this serves as one of the acceptable software because of easily adaptable tendencies.
It is smooth in working and features are quite user-oriented, which makes it acceptable at every point of work.
It provides some amazing protection techniques such as Real-Time Data Protection, File Shredder, Multi-Layer Ransomware Protection, Game/Movie/Work Modes, Anti-Phishing, Network Threat Prevention, Social Network Protection, Anti-Fraud, Rescue Mode, Bitdefender VPN (200 MB/day), Password Manager, Vulnerability Assessment, and much more.
Pros: 
Top-notch Firewall security
5-minutes setup and installation
Quick Malware detection
Secure system mode for various situations
Cons: 
Doesn't work well offline.
Scanning may take a little longer.
Also read: Bitdefender Antivirus for Mac Review
6. McAfee Antivirus
This is the Award-winning Antivirus Software, so we need to add it to the list, it is one of the trustworthy software to rely upon.
It provides secure and safer web browsing. You can expect free customer service through chat, calls, or online for yearly subscribed users.
The price point is reasonable like any other Antivirus Software for Chromebook, but the feature is quite unique, not like every other Antivirus Software for Chromebook.
It protects your system from all types of online phishing while browsing. McAfee Antivirus Software for Chromebook is so much in demand because of its malware detection power.
It makes your browsing smooth and helps the system get rid of any malfunction before you realize it.
It provides both online and offline protection to your data.
This Antivirus Software for Chromebook also comprises Cloud storage which can help you protect and store your data forever, without any second thought of getting ruined by hackers.
This feature is likely adaptable according to the current requirement.
Pros: 
Stellar customer support
A single license covers 10 devices.
Light on system resources
Cons: 
Cloud backup is limited
Many features are paid.
7. Kaspersky Internet Security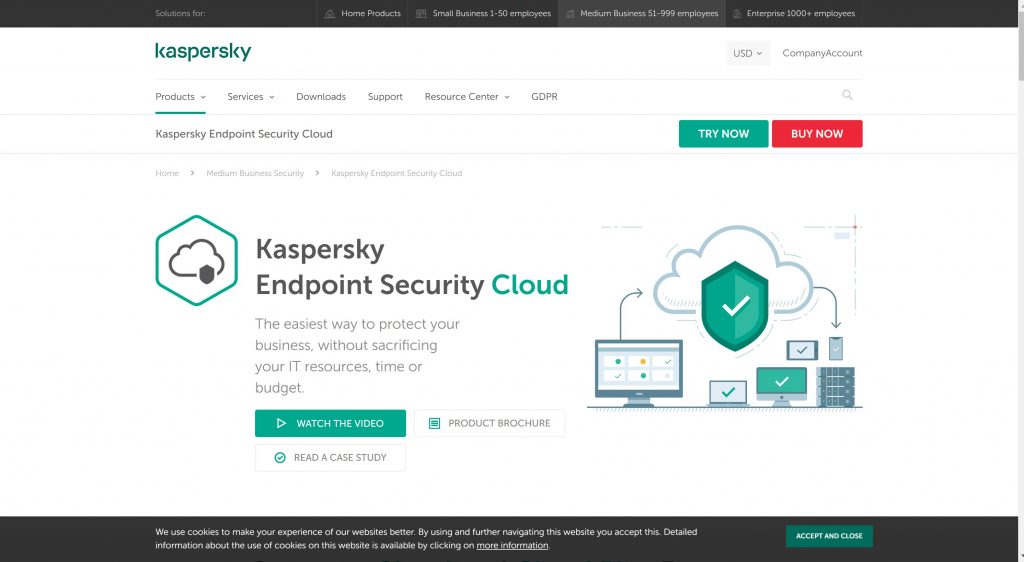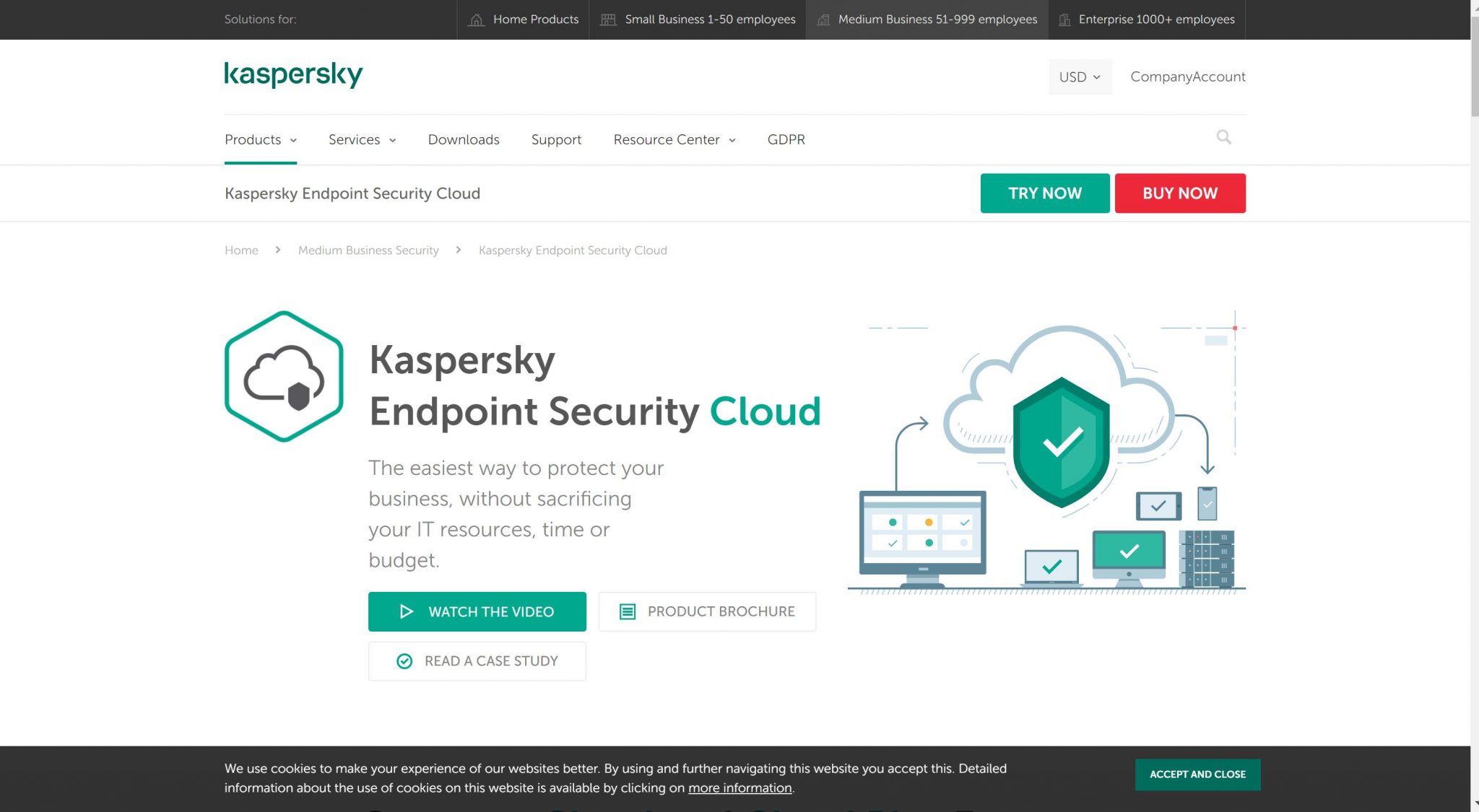 Kaspersky Internet Security is the best antivirus option for Chromebooks, according to a review from PCMag, which awarded the security software four out of five stars.
The review says that the antivirus is simple to use and serves as a complete security package for Chrome OS, but it lacks parental controls and doesn't offer a password manager in its free version.
Kaspersky Internet Security offers antivirus protection, performance optimization tools, an ad blocker, and a website rating system.
PCMag said it is "one of the best free antivirus suites available" on Chrome OS.
It has multiple layers of protection that include a firewall, anti-spam/anti-phishing filters, and app reputation technology.
Kaspersky comes with the performance booster to speed up your computer and a powerful real-time protection against internet threats.
You get the real-time traffic analyzer to monitor internet activity. Kaspersky Safe Kids add-on that lets parents manage their kids' activities online.
Pros: 
Uses optimal CPU.
Online banking protection
Comes with parental controls.
Provides excellent antivirus test results.
Cons: 
Conclusion
All of the above-mentioned Antivirus Software for Chromebook is well renowned and easily accessible at a very affordable average price.
Most of the features of this mentioned Antivirus Software are similar to each other, still, all of them have some unique quality that differentiates them from one another and you can choose one according to your budget and requirement priority.
These Antivirus Software for Chromebooks are mentioned after lots of thoughtful self conversation and research to provide you with the best affordable and user-oriented top and popular with easily accessible options.
Hopefully, these all will help you get rid of all the different malicious and suspicious activities going on your Chromebook.
Also read: