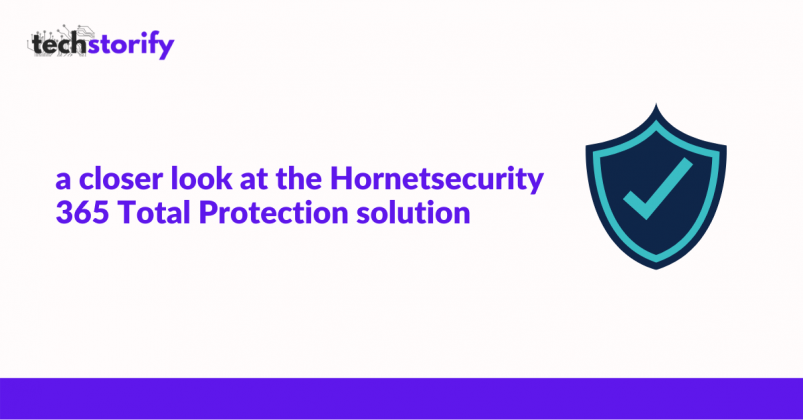 Microsoft Office 365 is one of the most popular collaboration tools that organizations, whether big or small, widely use. It works on cloud architecture and provides the best of experience, reliability, and features for its users.
But when it comes to Office 365 security, we always look for an additional layer that keeps us informed & protected regarding the security of our Microsoft office 365. That's where Hornetsecurity 365 Total Protection plays its role. It offers complete protection for your cloud emails and shows real-time information related to each email received.
It offers a wide range of security-oriented features that every Microsoft Office 365 user should be using in order to keep the company's data and critical information intact.
All that being said, we should now explore a bit more about Hornetsecurity.
What's Hornetsecurity?
Do you know, according to Statista's report, 54% of ransomware attacks happen through spammy and phishing emails, followed by poor user practices. Why does it happen? And can it happen to you as well?
Well, sadly, the answer is yes.
Hackers are always a step ahead and know how to create a clickbait email that receives clicks. If you fall into this trap by any means, it can be dangerous.
But to tackle this, Hornetsecurity offers a complete security package that fights against such emails by monitoring your emails 24/7 and taking action in real time. The award-winning cybersecurity company offers top notch services to over 50,000 customers all over the world. There are a lot of features offered by Hornetsecurity's services that you should know. Let's have a closer look at them.
Features of Hornetsecurity 365 Total Protection
Maintenance-less security
Hornetsecurity doesn't require you to establish a full-fledged cybersecurity team to do the work. The entire security revolves around smart AI technology that keeps getting better with time.
There's no need to invest in additional hardware and software while using Hornetsecurity 365 Total Protection.
Real-time email analysis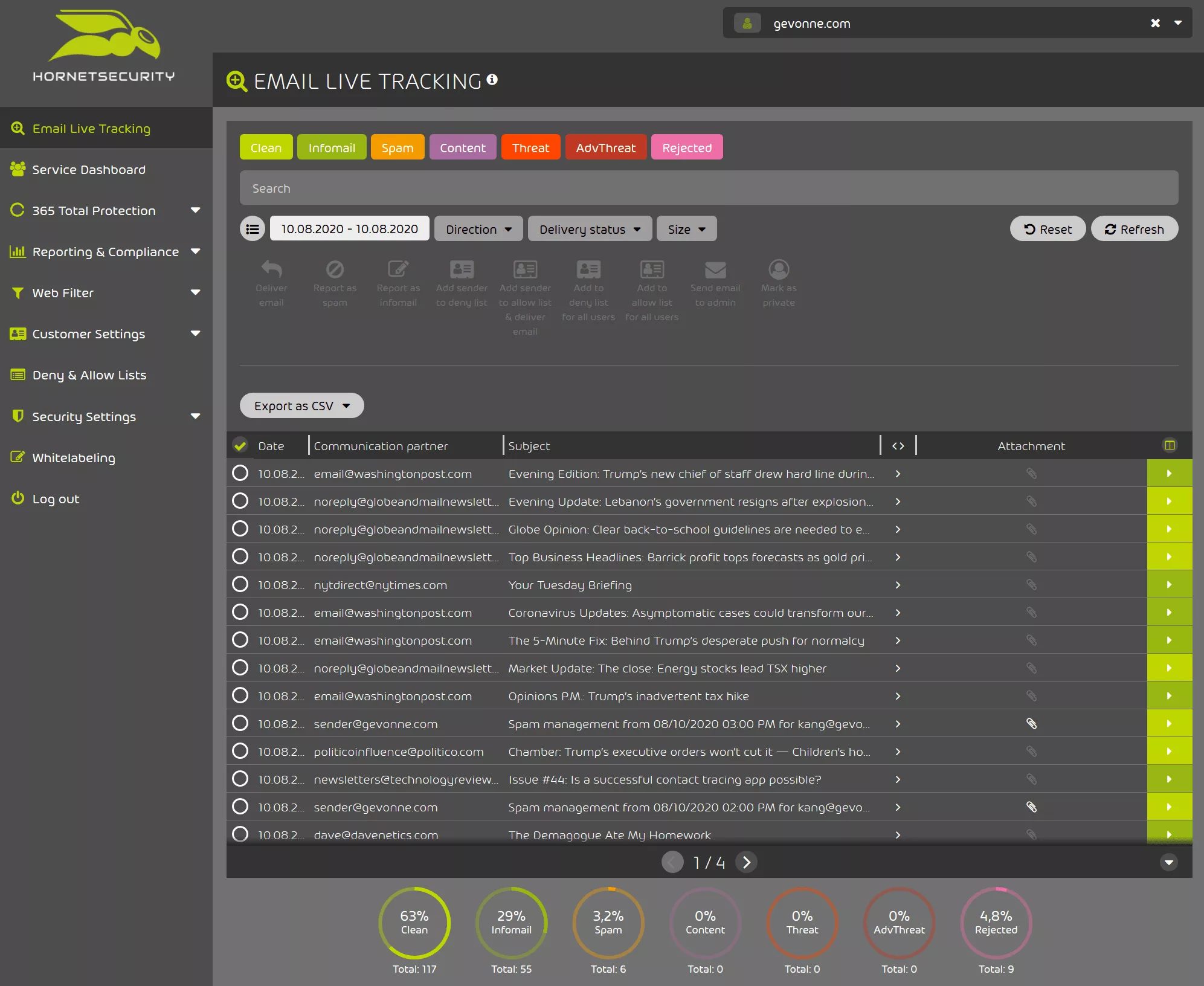 Imagine clicking on a clickbait ransomware mail and getting notified after a week in a weekly newsletter. I know you'll start scratching your head and curse the security company.
But Hornetsecurity isn't a tortoise, but an eagle that keeps an eye on all your emails in real-time. With Email Live Tracking you can monitor your email communication in real-time, receive detailed information about the encryption level used by the sender and receiver, and the classification of the different emails.
The filters provided help you to quickly find out the important emails and you also have the option to perform activities on your allow and deny lists.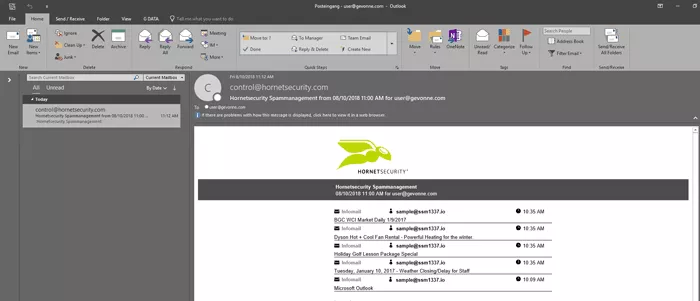 Do you want to avoid users getting spammed by info mails, such as newsletters, news updates, or anything that's distractive for an employee or businessman? That's where the infomail handling feature of Hornetsecurity's 365 Total Protection comes to the rescue.
Set file attachment restrictions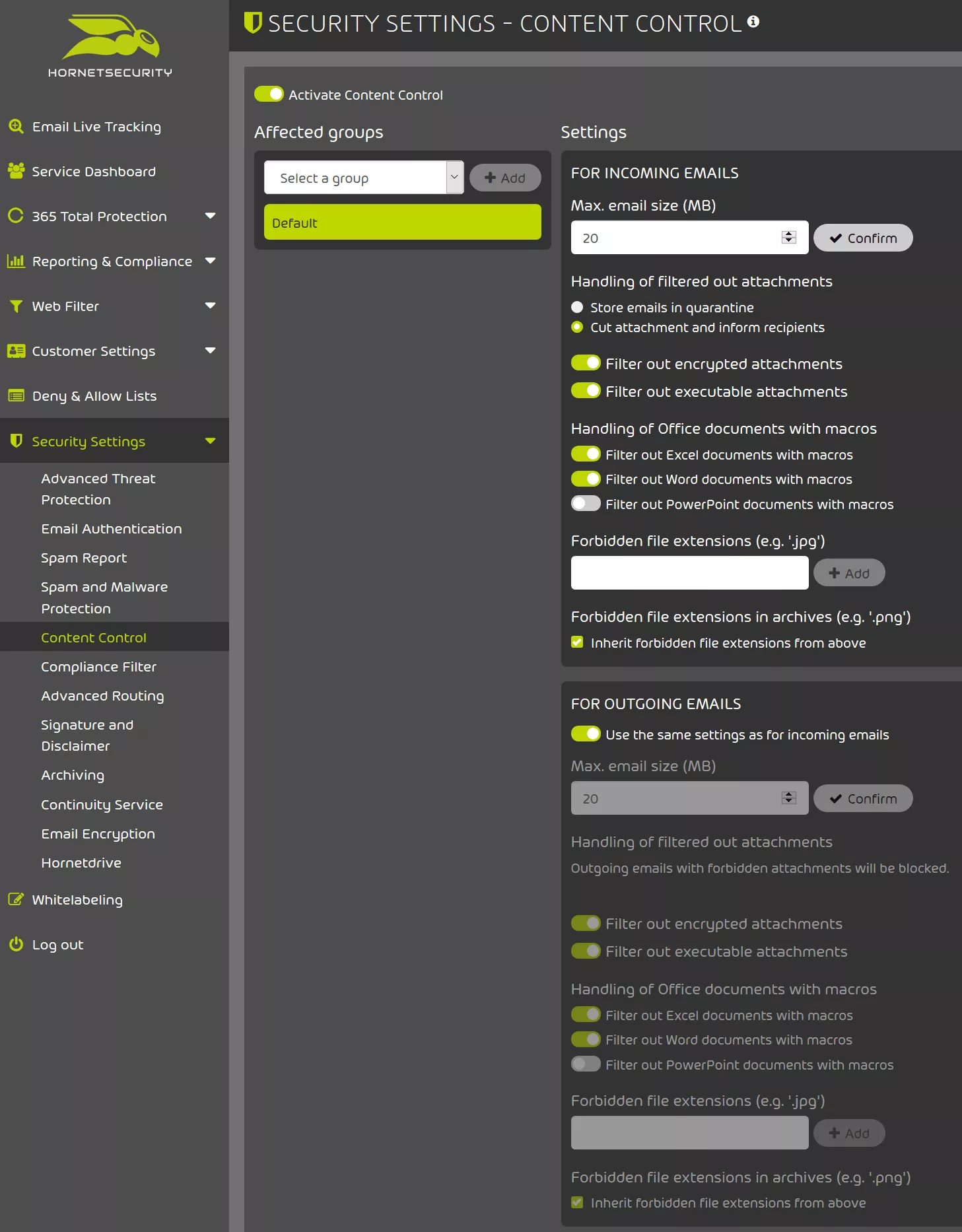 This feature is unique and helpful. You can create groups for specific teams and allow only specific types of file attachments to be sent and received by them. For example, the content marketing team only requires sending and receiving .docx, .pdf, or any word related document.
You can exclude other file types such as .exe and .msi from sending or receiving that'll help them avoid opening any unwanted executable file that could have potential risk.
Spam and Malware Protection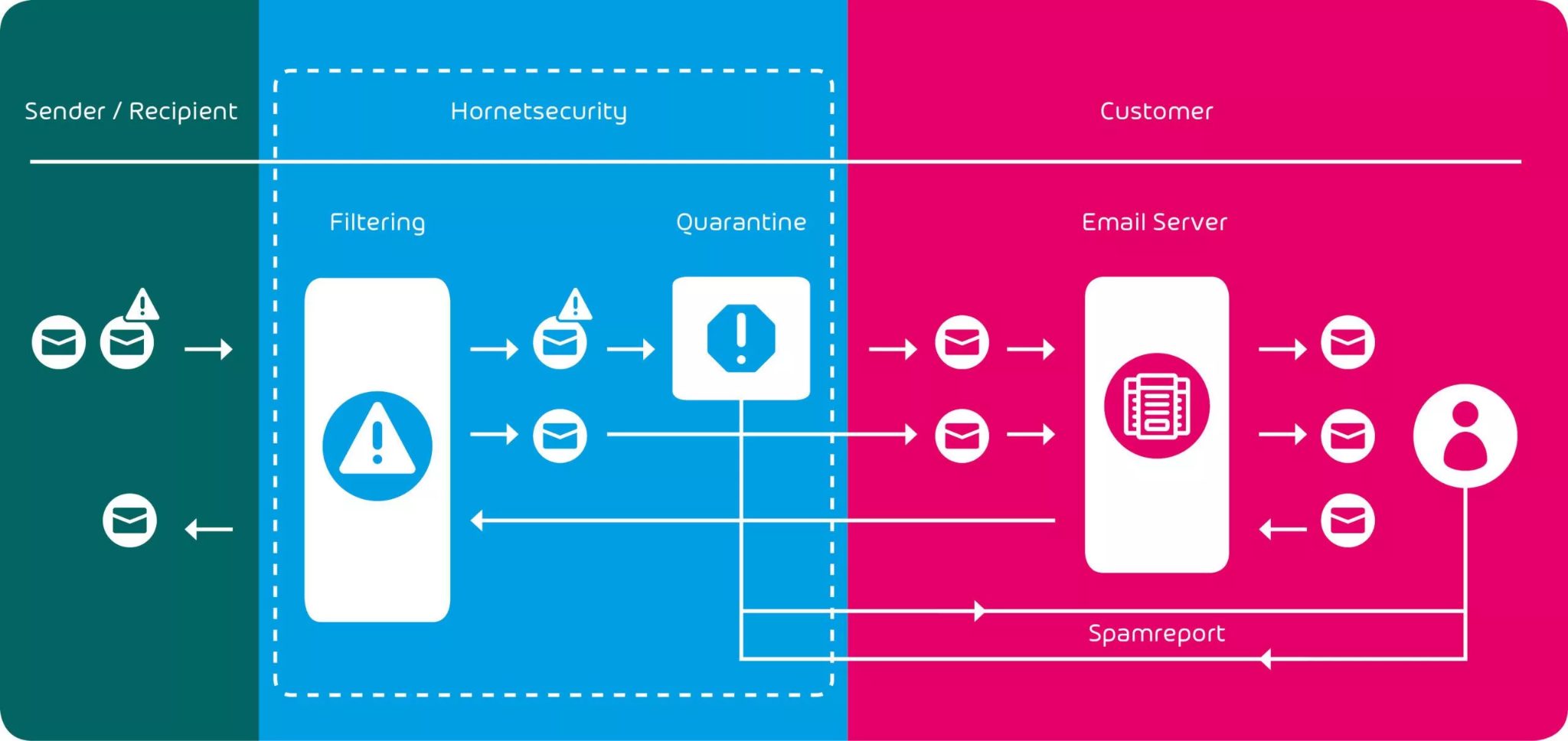 Spam and Malware Protection automatically detects threats that you may receive as an attachment in your mailbox.
It promises a virus detection rate of 99.9 percent and a spam detection rate of 99.99 percent and immediately blocks emails that have a high risk of malicious attachments.
With the help of AI, machine learning, and other required technologies, Spam and Malware Protection keeps your mailbox spam- and malware-free.
These were some of the key features offered by Hornetsecurity 365 Total Protection. Other features it offers includes:
Global SMIME/PGP Encryption
Secure Cipher Policy Control
Email-Archiving
Windows-based endpoint backup and recovery
Realtime Threat Report, and more.
Plans & Pricing
"With great features comes a great price." No, Uncle Ben, you are wrong here. Hornetsecurity is pretty affordable, considering the features it offers. Since it is only for businesses and enterprises, you won't find a plan for individual users.
It offers three plans:
365 Total Protection Business
365 Total Protection Enterprise
365 Total Protection Enterprise Backup
The 1st plan is pretty basic, and costs only 2 USD per user per month, while the business plan provides access to additional features at just 4 USD per month per user.
The enterprise plan adds features like backup and recovery to the Enterprise versions features. This plan costs 6 USD per user per month. The onboarding process is super easy, just enter your company details, connect with your Microsoft organization account, and have your emails protected.
Summing Up
Email protection at an individual level may not be as necessary as it is on an organizational level. An employee receives dozens of emails every day. Even if they are totally aware of ransomware and phishing emails, an accidental click can result in a massive loss to the organization.
Hornetsecurity 365 Total Protection provides complete AI-based security for your emails and keeps you informed about the attacks in real-time. We hope this brief information about the service will help you out in some way or the other.