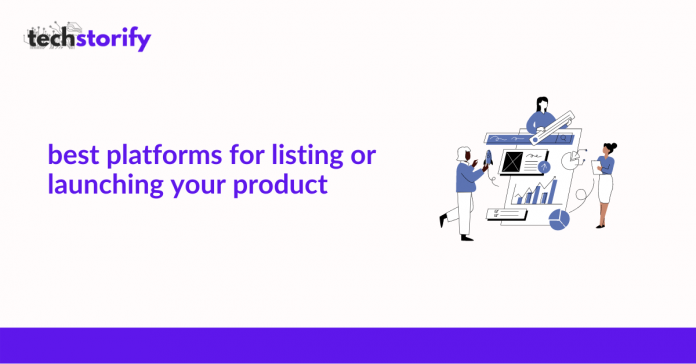 Are you looking for the best Platforms for listing or launching your product?
Now that you've developed a new product, you know it's going to be a hit with your customers. Even so, marketing your new product effectively can be quite challenging.
There are a lot of things involved when you launch your new product. But, getting your target audience to know about your new product is the biggest roadblock ahead.
Using digital marketing channels and SEO strategies is one thing, but that might take some time to grow. So, how do you gain popularity in less time?
The answer is- by using the Product launch or listing platform.
Anyone from web apps to eBook or mobile apps can benefit from using these product launch platforms because the product launching platforms use categories to sort these products.
The following are 15 of the best product launch tools for launching a successful product.
Best Platforms for Product Launch and Listing
Nowadays, there are a number of popular product listing platforms that startups and businesses use to launch their products.
Here are our best recommendations for the best product launch platforms.
1. Product Hunt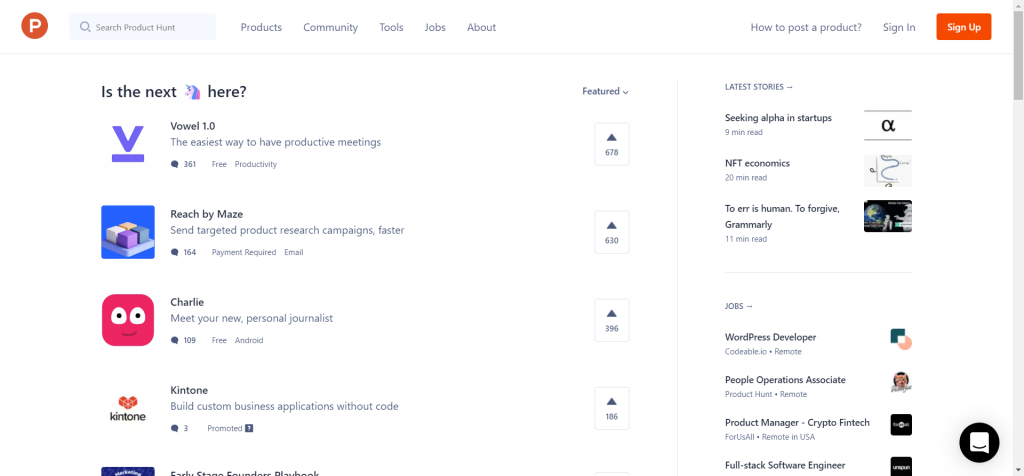 Product Hunt is a product listing platform that helps startups and businesses launch their products to the masses. It's especially popular among early-stage firms, as it provides visibility for new products without having to pay expensive ad campaigns or develop a large user base first.
The home page of this website features recently launched products. You can get featured here if you own products in niches like technology, productivity, artificial intelligence games, wearables, marketing analytics or fitness startup.
Users can also upvote their favourite products on this free website, which attempts to promote new products to its community. This voting system has the ability to make your firm go viral and attract investors and potential customers. Provide a concise and detailed description, as well as a video, to have your startup included in the Product Hunt.
You can also see the upcoming products and participate actively in community discussions.
2. BetaList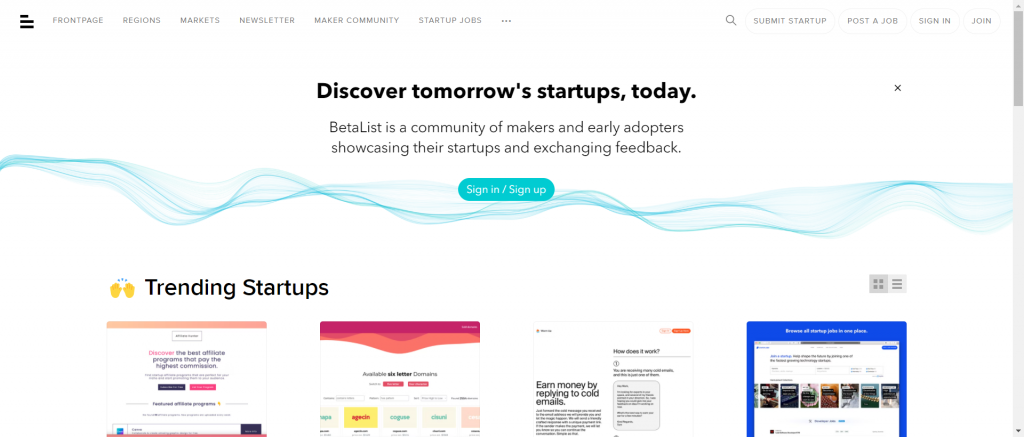 BetaList is a website where you may exhibit your startup for others to discover if you are an entrepreneur who owns a small firm.
Early adopters, bloggers, investors, and journalists are among the members of this community website. As a result, you can ask for feedback and critiques from a community of professionals about your startup.
The website sorts the startups and products in order of the date they are posted.
You can select between free and paid subscriptions on the platform, depending on your demands. Make sure your company is a hardware or software-based technology startup before applying.
However, you can't include newly launched products that haven't gotten any press or haven't had any marketing activities.
Once you add your product to the queue, it goes through a review process. If your product is approved, you can start promoting it on the website and on social media.
BetaList asks for unique product descriptions, custom designs and styles.
3. AlternativeTo
AlternativeTo is a website that helps you find alternatives to the products and services that are available in the market. The website compiles information on popular items, suggests new ways of using them, and offers reviews of various substitutes.
This online community can be great for startups because it gives potential customers an idea about what your product or service does and how it compares with other similar offerings in the marketplace.
It's a website that compiles a list of SaaS, desktop software, and mobile app alternatives. You may quickly sign up and recommend your product or website as a viable alternative to any popular tool.
Any suggestions you submit, however, will be made public after they have been reviewed.
This platform, unlike traditional app directory websites, does not arrange applications by category.
Instead, each app has its own list of alternatives, which provides consumers with a more personalised listing method. End users can also utilise the software tags to identify related apps or filter the results by supported platform and licence type.
4. Startup Stash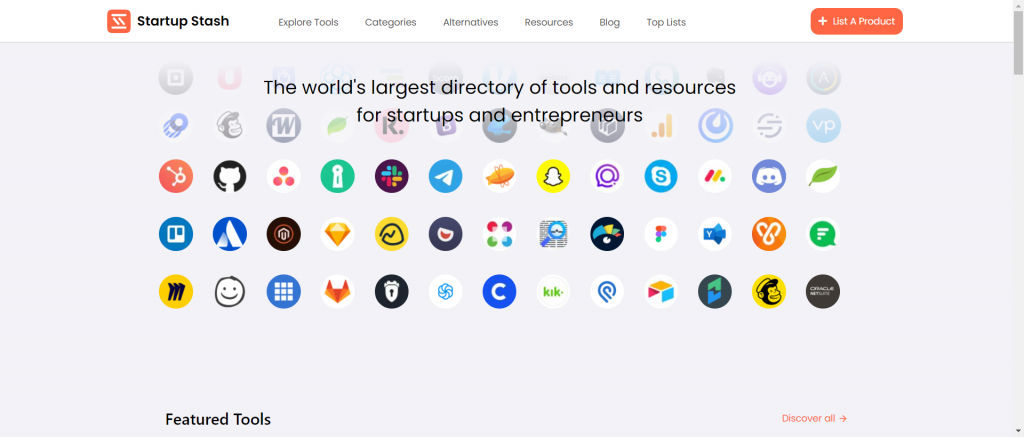 Startup Stash is a directory of startup resources, including articles, white papers, case studies and more. The directory provides startups with all the information they need to grow their businesses and get noticed in the competitive landscape.
Startup Stash also promotes entrepreneurship through events and educational workshops that are open to everyone.
It has a curated library of over 600 products in 50 categories, as well as a section where you may list your firm.
Some of the most popular categories are  Accounting, Agile Project Management, App development, Billing and Invoicing Software, Business Management, Digital Asset Management, Human resources, Internal Communications, leadership, Marketing Analytics, Payment Processing, Productivity, Remote Work, Time and Expense, and Website Builder.
The platform includes hand-picked tools and resources, each with its own dedicated website with extensive information on the software.
5. Hacker News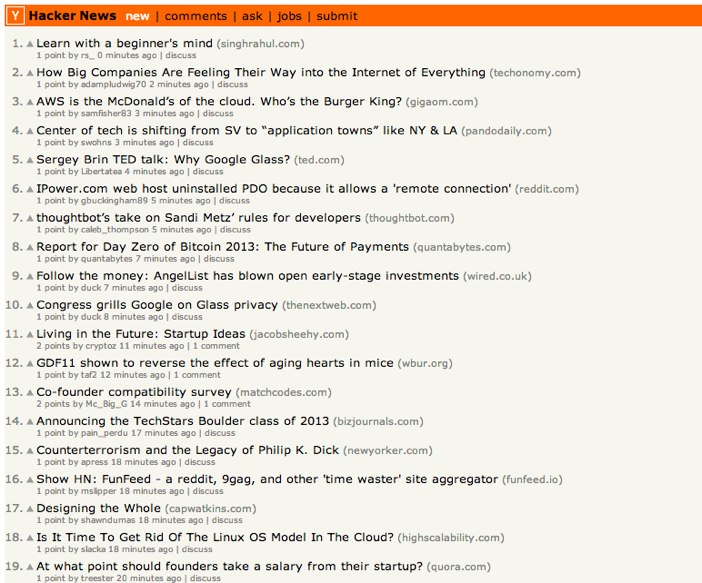 With over 150k users, Hacker News is a social platform for startups.
The website has over 2 million monthly readers who are interested in everything tech-related. The website also hosts contests and gives away prizes to its most active users.
As a result, you can use this free platform to let the IT world know about your firm. Hacker News is a great platform for branding because it allows you to advertise your firm by posting tech and startup-related news. Furthermore, you can also publish the latest entrepreneurial posts and updates about computer programs.
Hacker News does not allow self-promotion of any kind. The information you provide should be educational and add value to the readers' understanding. You must also include the news story's original source.
6. AppSumo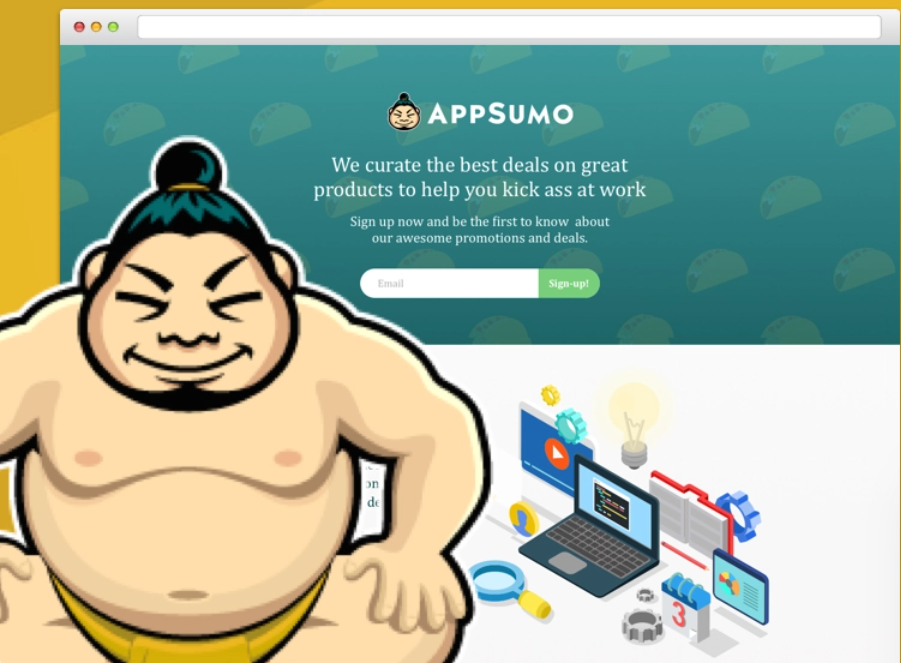 AppSumo is a platform that allows you to sell digitally distributed items and online services. You should use it as a digital marketplace for entrepreneurs rather than a listing website. This marketplace lists the products' lifetime deals and discounts in the software category.
You may quickly reach out to the AppSumo platform's more than one million users and solicit feedback from them.
Software, online courses, WP plugins, template library, Chrome extensions, eBooks, PDFs, stock pictures and videos, design components, low-code/no-code apps, and conference tickets can all be sold on this platform.
If you're a startup company, you may concentrate on product development while AppSumo handles the marketing. You can offer your digital items here for free, yet the website will receive a percentage from your product sale.
7. StartupBase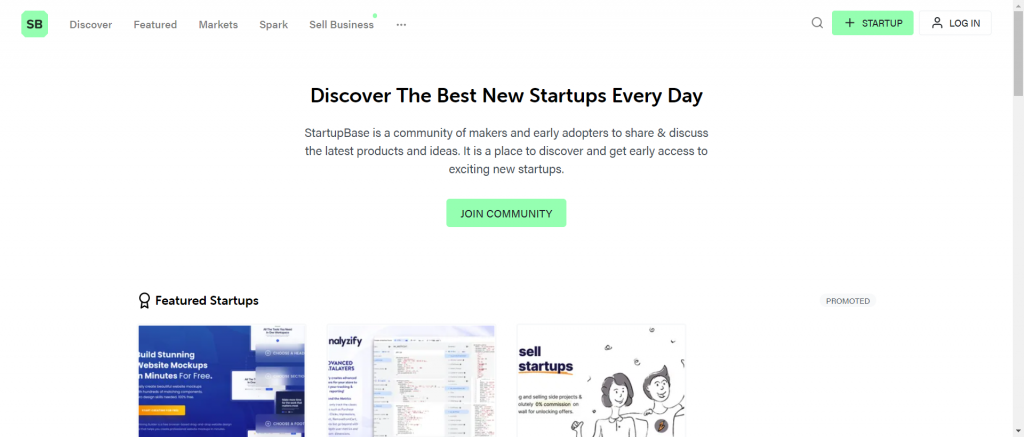 StartupBase is a discussion and sharing network for product developers and early consumers of new products and ideas. This platform can be used by startup entrepreneurs to introduce their company and themselves to the community.
You can also network with other makers, entrepreneurs, and investors on this platform. Additionally, the portal provides significant resources to entrepreneurs.
StartupBase, on the other hand, exclusively allows submissions from SaaS, mobile apps, innovative software and hardware, IoT, Google Chrome extensions, and AI projects.
8. Angellist
Angellist is a platform that connects entrepreneurs with investors. This portal can be used by startups to solicit investment and find collaborators.
You can list your startup's products, services, team members, and finances on this website. You can also engage in discussions with other entrepreneurs to get feedback about your business model or product.
It is a great social media platform to connect with high net worth investors and businesses to receive funding. Startups and web apps like Tinder, Hinge, Medium have used Angellist to get investors' attention. Users need to create profiles and add the bio including role and location.
The platform also requires you to post custom and unique designs for your product.
9. Launched!
Launched! is a community where you can show your products to beta consumers and gather feedback in order to launch a successful product. To attract investors, you may also list your startups and tools here.
While this is technically a site that connects people with business ideas, uses it for startup advice and resources.
Most of the startups listed here are e-commerce companies that start late in their concept's development stage.
Each website on this list features informative content to help your investment decisions. Additionally, the user has ratings and reviews written from users who have interacted directly with each product or service advertised by the entrepreneur launching an idea on Launched!
This platform allows you to communicate with other members of the community and grow your network.
To stay current, you can also read about the newest news from the startup sector. Here you can find websites related to a startup or a product. However, review the checklist to see if your company qualifies for enrollment.
10. Launching Next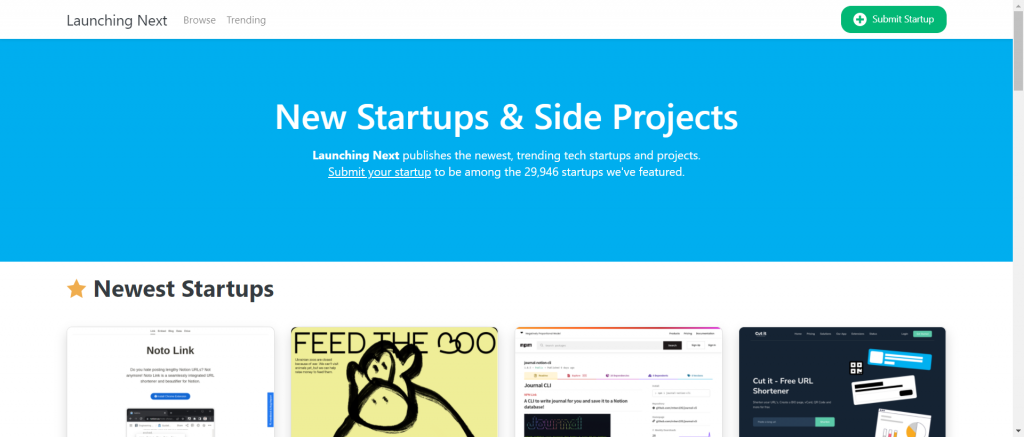 Launching Next is a community that connects tech startups and entrepreneurs with funding and incubation opportunities. The website hosts introductions from angels, venture capitalists, and other investors. You can also connect with mentors to help you grow your business.
You can keep track of your freshly launched firms and startup ideas and sort them by list. It also allows you to plan, develop, launch, and change your small business.
All you need to do is to submit a short description of the products that the startup has launched. After the submission of the description, you can publish your website free of cost.
Launching Next also conducts one-on-one interviews with startup founders to learn more about their experiences. It also includes a direct link to your startup's website, so readers can learn more about it.
11. SaaSworthy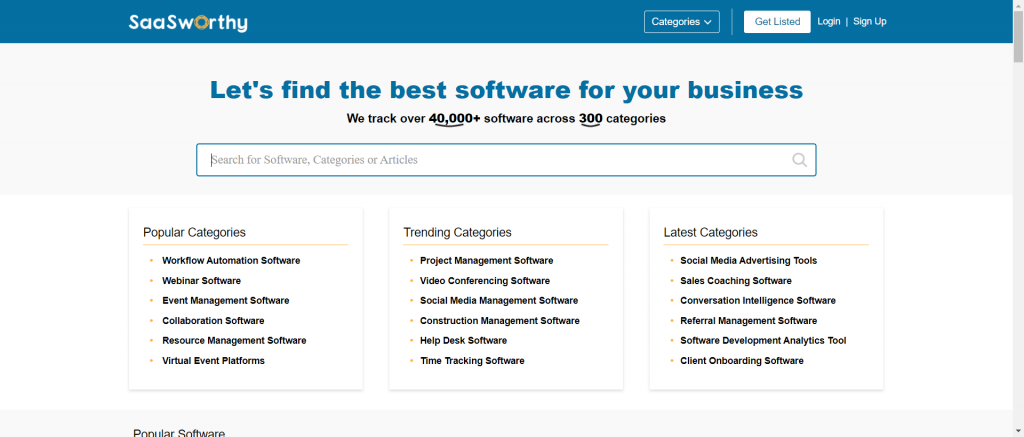 SaaSworthy is a website that connects buyers with the resources they need by recommending the appropriate technology.
After applying for SaaSworthy product listing, someone from the team will contact you and do the necessary research. They will then post about your product for free.
The website also provides community recommendations, in-depth product information, and unbiased reviews to help you generate high-quality leads and enhance your sales.
SaaSworthy has a huge collection of products in over 300 categories like CRM, E-Commerce, IT Management, Supply Chain & Logistics, Development tools, Vertical Industry Software, Marketing Services, Collaboration & Productivity, Content Management, Financial/Accounting Tools, Digital Advertising, Marketing, Project Management, and HR.
12. The Startup Pitch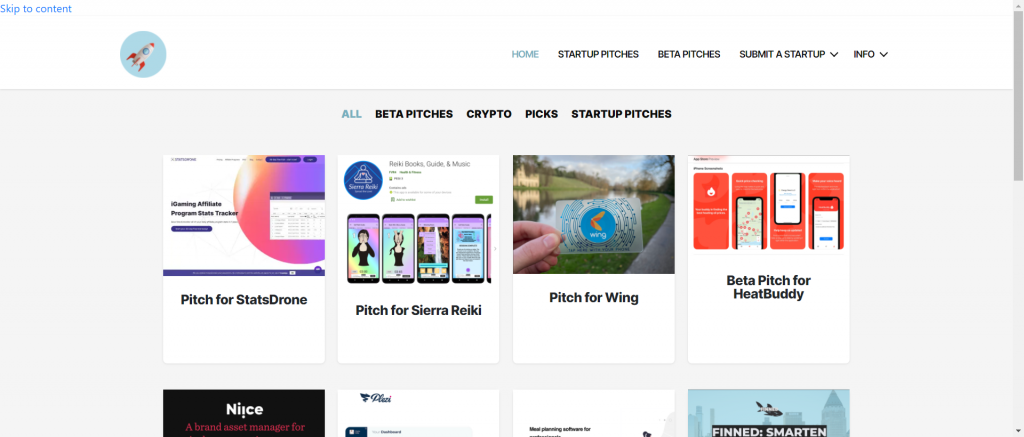 The Startup Pitch is a platform tailored for startups and small businesses. This platform works the same way as to how the pitch works for a journal website.
The Startup Pitch has over 25k subscribers that give you valuable feedback on your startup and even promote your startup pitch by sharing it everywhere.
The best part is that it is completely free to get featured. However, you should not pitch websites that include coupons, or adult websites.
13. SideProjects
SideProjects is a website where you can sell and buy side projects. This should be your go-to platform if you are a full-time professional who also wants to sell your side business. This platform's community will also be beneficial to you by providing feedback and helping you expand your side project.
You can sell your side projects here by posting about them on the site for free. And, you don't have to pay any commission for selling your side project.
You can also participate in discussions and get valuable feedback and validations from the audience.
14. SaaSHub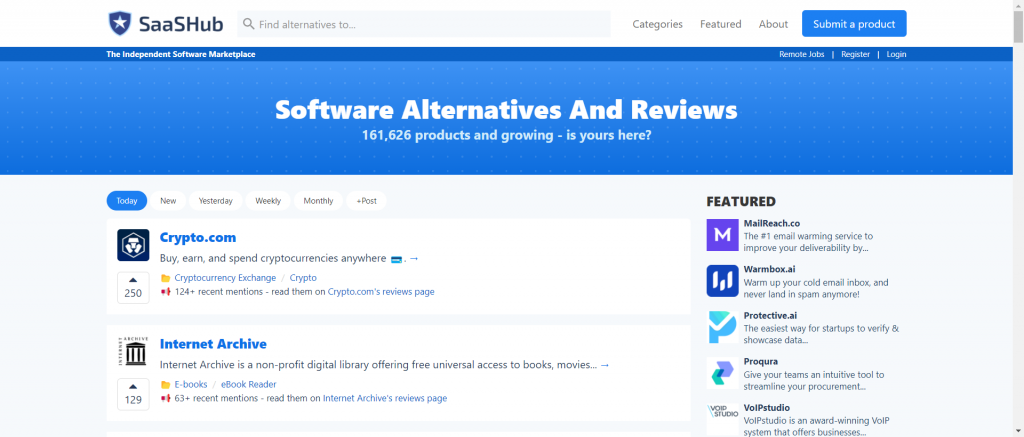 SaaSHub is one of the best platforms for selling software and finding product alternatives. SaaSHub verifies each product to ensure that users only receive genuine and up-to-date information about the product's price, logo, description, and so on. Because it is not affiliated with any affiliate programme, more users rely on it for an objective list.
Some of the best categories of SaaSHub are eCommerce, Monitoring Tools, Project Management, Marketing Platform, Productivity, CRM, Email Marketing, ERP, Design Tools, Communication, Note Taking, and Education.
15. Make.rs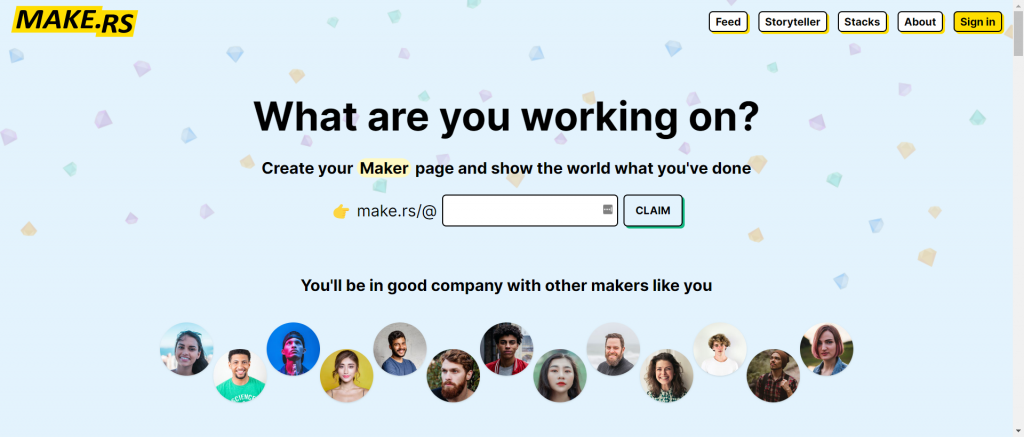 Have you just started working on a product and want to share updates with your users or potential clients? If yes, Make.rs is for you.
Make.rs is a website where you can share your creations with the world and track your progress as you develop a product. You can post about your product for free here.
This site is a great platform for individuals rather than businesses where they can share their creativity and professionals can flaunt their achievements. Other users can provide feedback on your work, which will help you improve. You can also draw inspiration from the work of others.
16. Indie hackers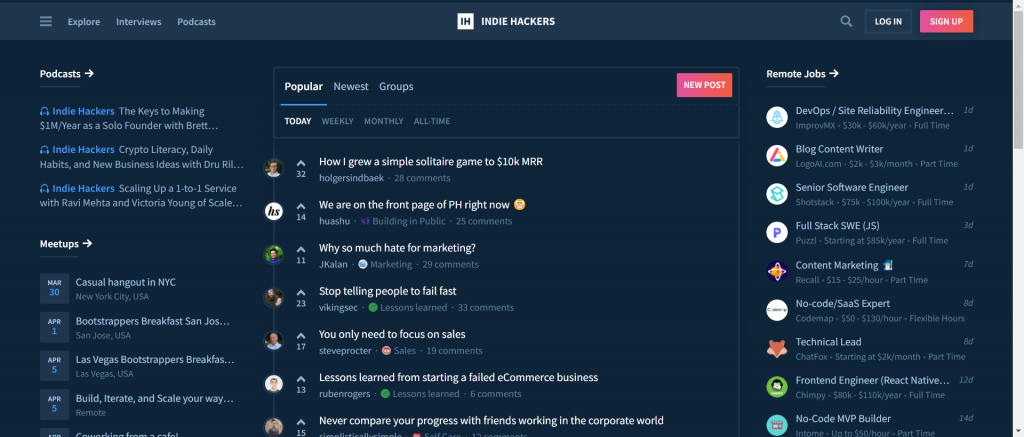 Indie Hackers is a community for entrepreneurs and startups for listing profitable businesses and side projects. You can also share your knowledge and experience about the product here.
Developers can leave feedback on products, find a product and post their creations. Overall, Indie Hackers is a great pick for budding developers.
Conclusion
Startups, developers and entrepreneurs are always looking to build brand awareness and make products familiar to the customers.
Thus, these types of product launch platforms have proved to be phenomenal to make sure that businesses are going on the right track and reach the right type of audience.
This was our list of Best Platforms For Listing Or Launching your products. Apart from this list, there are a number of other platforms that you can use to launch your products.
Also Read: