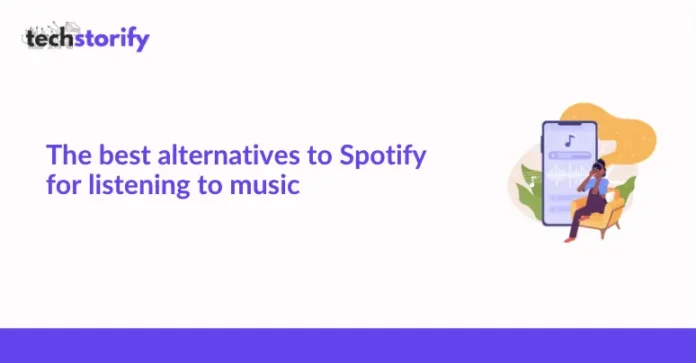 If you enjoy streaming music, chances are you have already heard of Spotify. While it's the biggest music streaming service available right now
Music is a moral law. It gives soul to the universe, wings to the mind, flight to the imagination, and charm and gaiety to life and everything. – Plato
Music is one of the biggest forms of entertainment. Music was introduced to humans early while we were evolving, and it is still with us as the best thing ever. From Beethoven to Beyonce, we have evolved in music and made it as big as the movie industry.
The digital age was the platform to boost the music space. Earlier, it was costly to buy music and listen to your favourite artist. However, after the boom of apps like – Spotify, everything has changed.
Spotify is the world's best music platform as of now. It has all the possible songs in the world and also is adding new music by a new artist every day. The best thing about Spotify is the discoverability feature which lets you listen to new music by various artists across the world. If you have a Spotify and it not working you can check this tutorial to fix the issue.
There are many other apps apart from Spotify to enjoy music on your smartphone and laptop. Today, we are going to share seven best Spotify alternatives for music streaming.
Best Spotify Alternatives For Music Streaming
1 – Apple Music
Before Spotify took over the music streaming market by a storm, the best app to stream music was Apple Music. It is only for iOS users and comes with a similar price as Spotify. However, you can't deny the extensive collection of 50 million songs that Apple Music has to offer you.
At $9.99 per month for an individual plan and $14.99 for a family plan (after a 90-day trial), Apple's Apple Music gives you epic customisation for your feed, allows you to organise your library and suggest songs as per your listening history.
As we all know, YouTube is the biggest video streaming platform in the world. Recently, they launched their Music App for Android and iOS. YouTube Music is slightly expensive than Apple Music and Spotify. The subscription for $12.99 per month (after a one-month trial) is justified with the features they offer.
Also, if you are already subscribed to YouTube premium, which allows you to experience ad-free YouTube content, then YouTube Music is free of cost.
You can grab the iOS and Android versions and check to see if the browser-based version is available in your country. The paid version costs $9.99 a month, gets rid of ads and lets you listen on your phone with the screen off. Pay just $2 more a month, and you get YouTube Premium which gives you access to YouTube's original shows and movies – a solid upgrade.
3 – Amazon Music
Amazon Music is the streaming service by one of the biggest brands in the world, Amazon. It comes free with Amazon premium subscription and allows to listen to music from their 2 million songs library.
The app structure is similar to Spotify. You get curated playlists, suggestions basis your taste, and a vast collection of songs to be played. If you don't have a subscription for Amazon Prime, then Amazon Music will cost you around $7.99, which comparatively lower than Spotify and Apple Music.
4 – Pandora Music
Pandora music is another Spotify alternative that curates music according to your mood. They have multiple plans as per your need. You can go for whichever suits you. The most expensive plan is Pandora Premium, and that will cost you $9.99 for all the access.
Pandora Music is available for both Android and iOS.
5 – Tidal
A music app by one of the best rappers of all time – JayZ. Yes, this is among the best music streaming apps. Tidal is not only a music streaming app like Spotify, but it also has a video section dedicated to consuming content.
Such a dynamic app will cost you slightly more than the usual $10 mark, but it is all worth it. Another great feature is playlist sharing. Yes, this is something that everyone wants to have. On Tidal, you can easily share your playlist with your friends.
6 – Soundcloud
No one in this world who loves music hasn't heard of Soundcloud. Soundcloud started as a platform for Independent artists as it is a free platform to upload and promote their music. However, it has gain popularity after celebrities have started putting out there content as well.
Now they have two paid models, one is a $5.99 model, and another is a $12.99 model. You can select whichever is suitable for your listening experience.
7 – Google Play Music
Last but not least is Google Play Music, one of the tp Spotify Alternatives out there. Google is known for creating brilliant apps, and Google Play Music is a perfect example of the same.
The great thing about Google is that it has two music streaming apps in the market. YouTube Music and Google Play so With a $9.99 subscription ($14.99 for a family plan), after a 30-day free trial, you'll enjoy playlist creation, offline listening, and ad-free YouTube Music with YouTube Music Premium. If you're already paying for YouTube Premium, then Google Play Music is free
So, here are our 7 Best Spotify Alternatives for Music Streaming. Spotify is fantastic, but you can look at these other 7 apps that also has some fantastic features.
Have something to say about this article? Comment below or share it with us on Facebook, Twitter, or our LinkedIn.