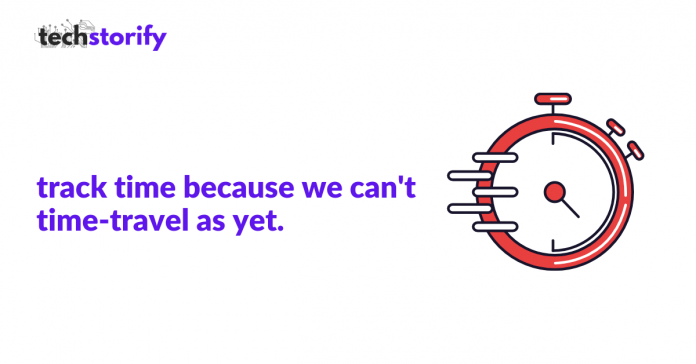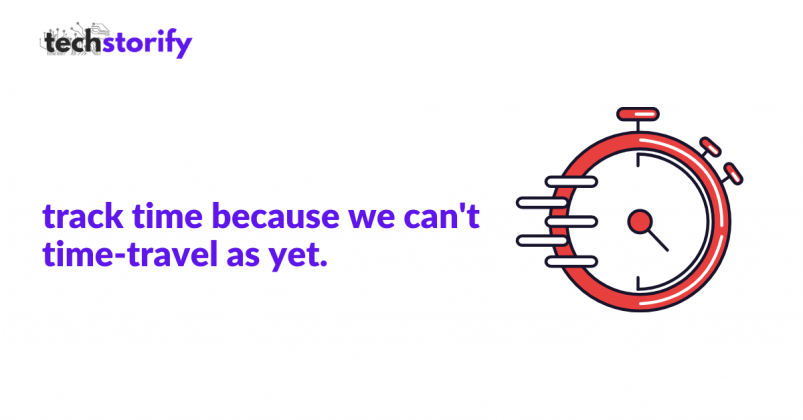 Time tracker apps are used for recording and analysing solo user or team member's time spent on jobs and tasks
These time tracking apps are built very intuitively for both solo and business running.
It is a business requirement for an ideal time tracking app to work across multiple devices, easy creation of new projects, produce and analyze visual reports and timesheets, proper payment processing and client management. 
The best time tracker should inhabit all the requirements of the user and hence, the tracker platform should include the best features, size of your team, hosting, monitoring, hours tracking etc.
Choosing the right time tracking platform can be difficult, there are bigger options into the pool to choose out of. But not all these apps meet the requirements of the users and so we've created an easy go-to list to help you find the best time tracker for you. 
In this article, we have shared the list of Best Time Tracker Apps for boosting efficiency.
Best Time Tracker App and Software To Try Out
1. Harvest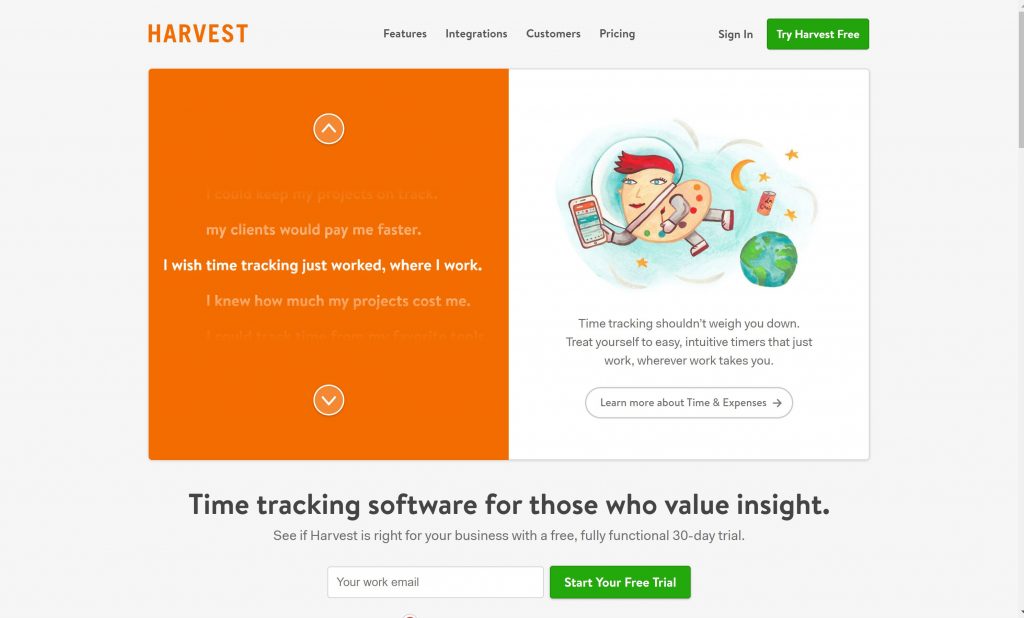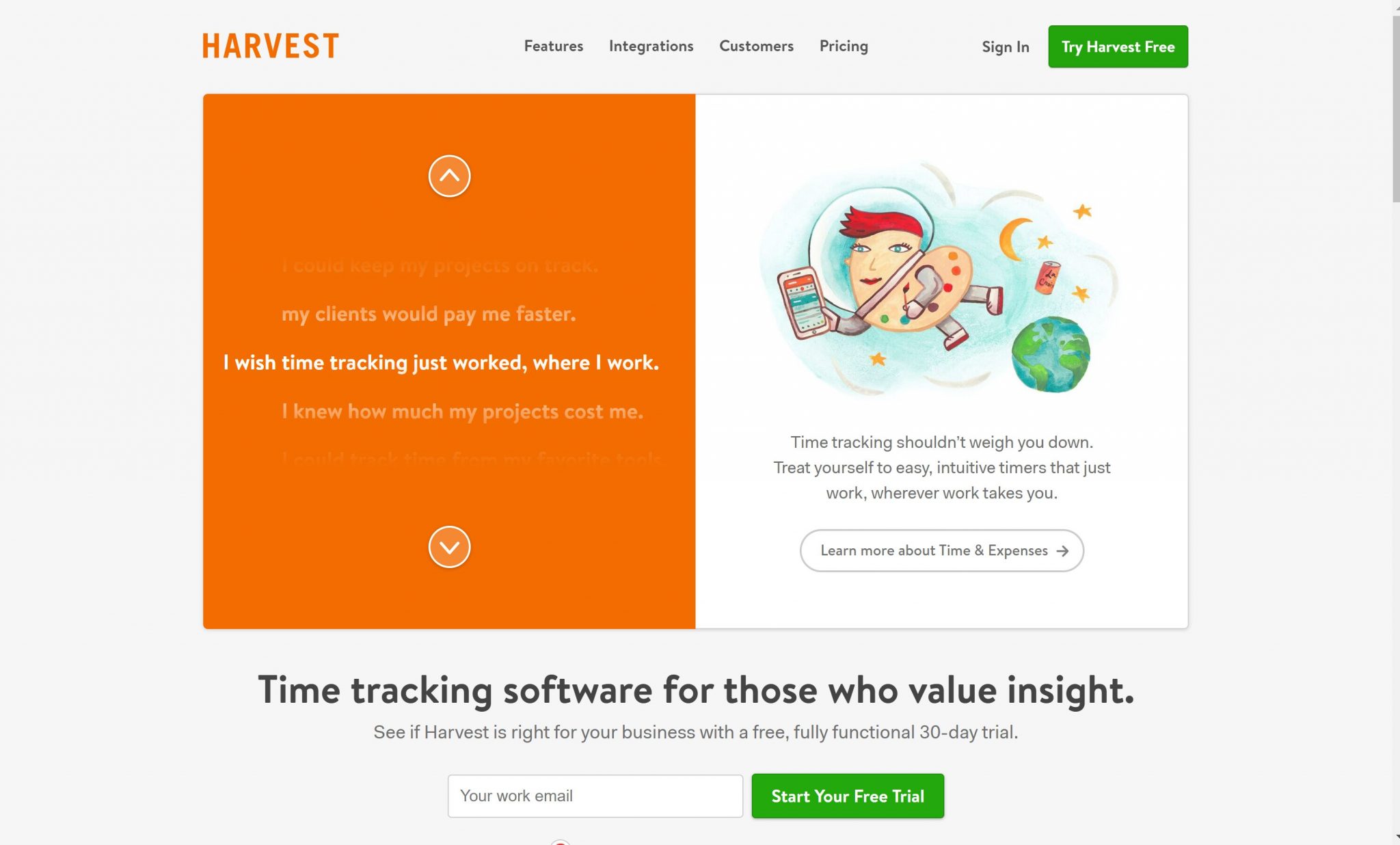 One of the most preferred, recommended and widely used app, Harvest is the top option for both teams and solo entrepreneurs.
This time tracker has an Intuitive interface design tested and refined for best user-friendly experience.
Harvest makes it extremely competent with tracking time from desktop, phone, and integrates with other web apps through integration with apps like Asana, Basecamp, Slack, Trello etc. It is accessible through multiple devices, ranging for web to desktop to mobile apps.
The software is the simplest to use, it allows invoicing, viewing of income reports and sending the client reminders on payments and allows them to make online payments around the world. 
With harvest's platform setting up timers according to user needs (weekly or monthly) and catching up on timesheets, visual reports on the dot for analysis and updating are just simplistically easier than any other timer apps.
2. Toggl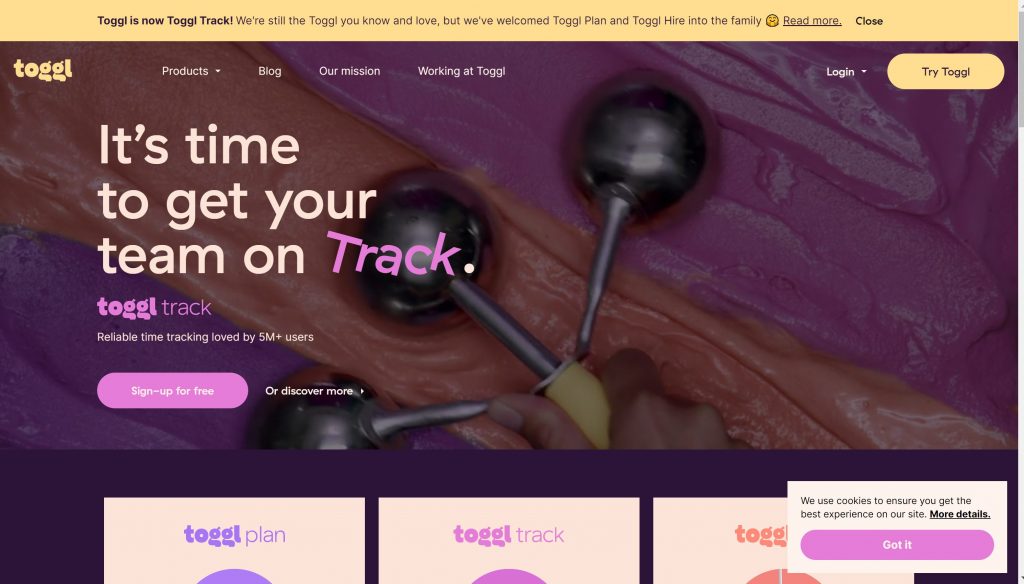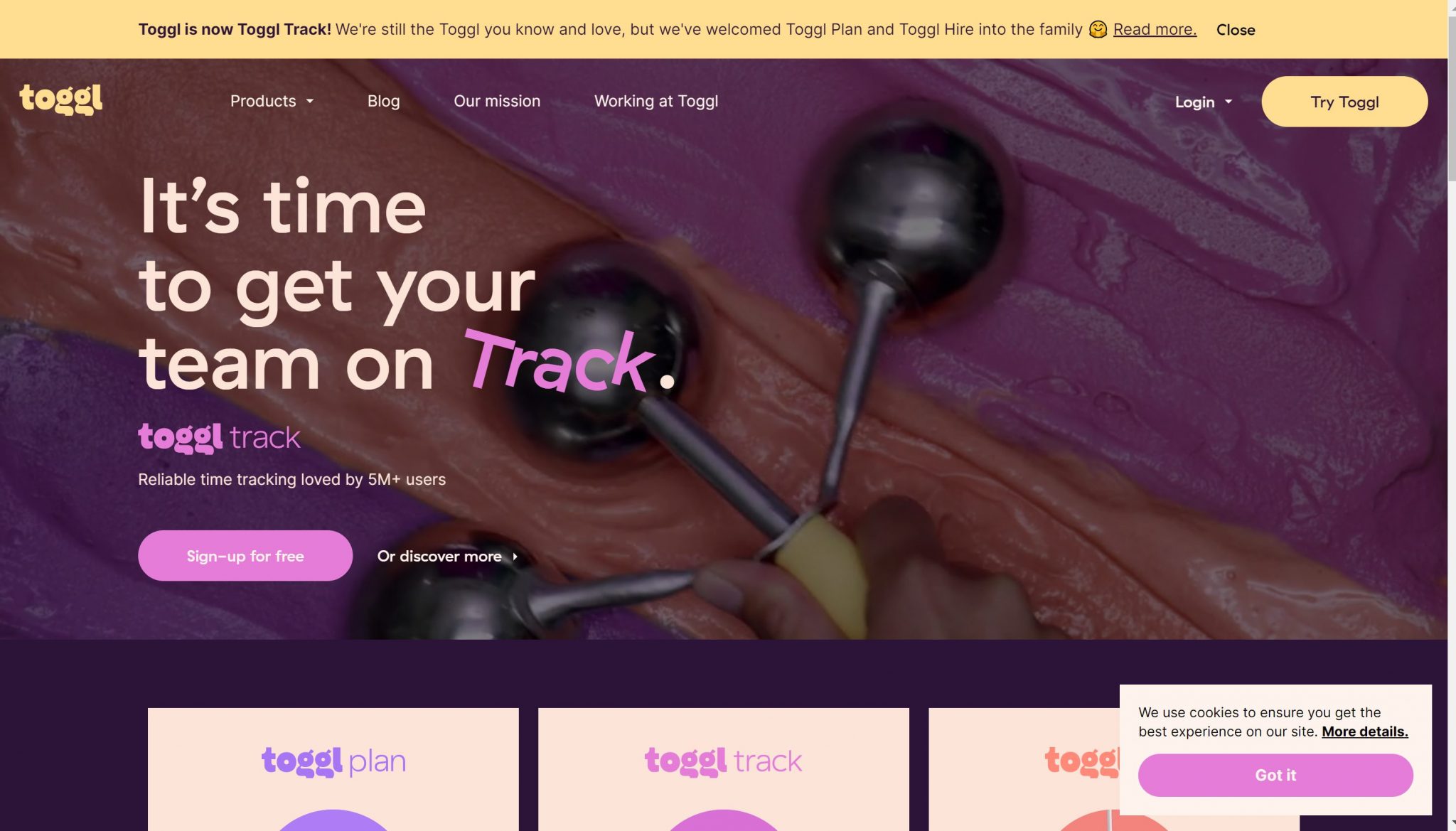 Toggl offers very basic tracking options, but the best about toggle is it offers 100+ integrations. Recommended for its ease of use, features, ability to categorize tasks, and tracking hours in a flexible way that doesn't need any extra training giving an overview of productivity and profitability. 
Toggl is a cloud-based time tracking software mainly used by both small and larger teams and businesses. 
Toggl will generate reports, time usage graphs, timely reports that can be shared via emails, public links amongst the users.
It allows billable and non-billable hours, billing and invoicing, mobile time tracking, offline time tracking, multiple billing rates etc. though it doesn't support automatic time capture, timesheet management and vacation and leave tracking.
With toggl, the user has ease of ability to create projects, clients, and tags, and this puts Toggl leaps and bound above similar products in the market.
3. Everhour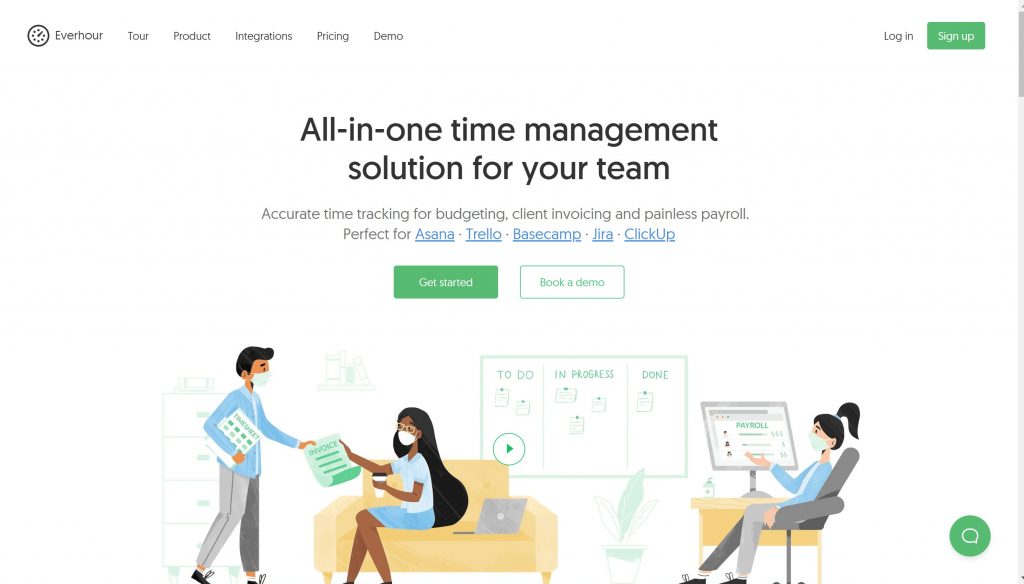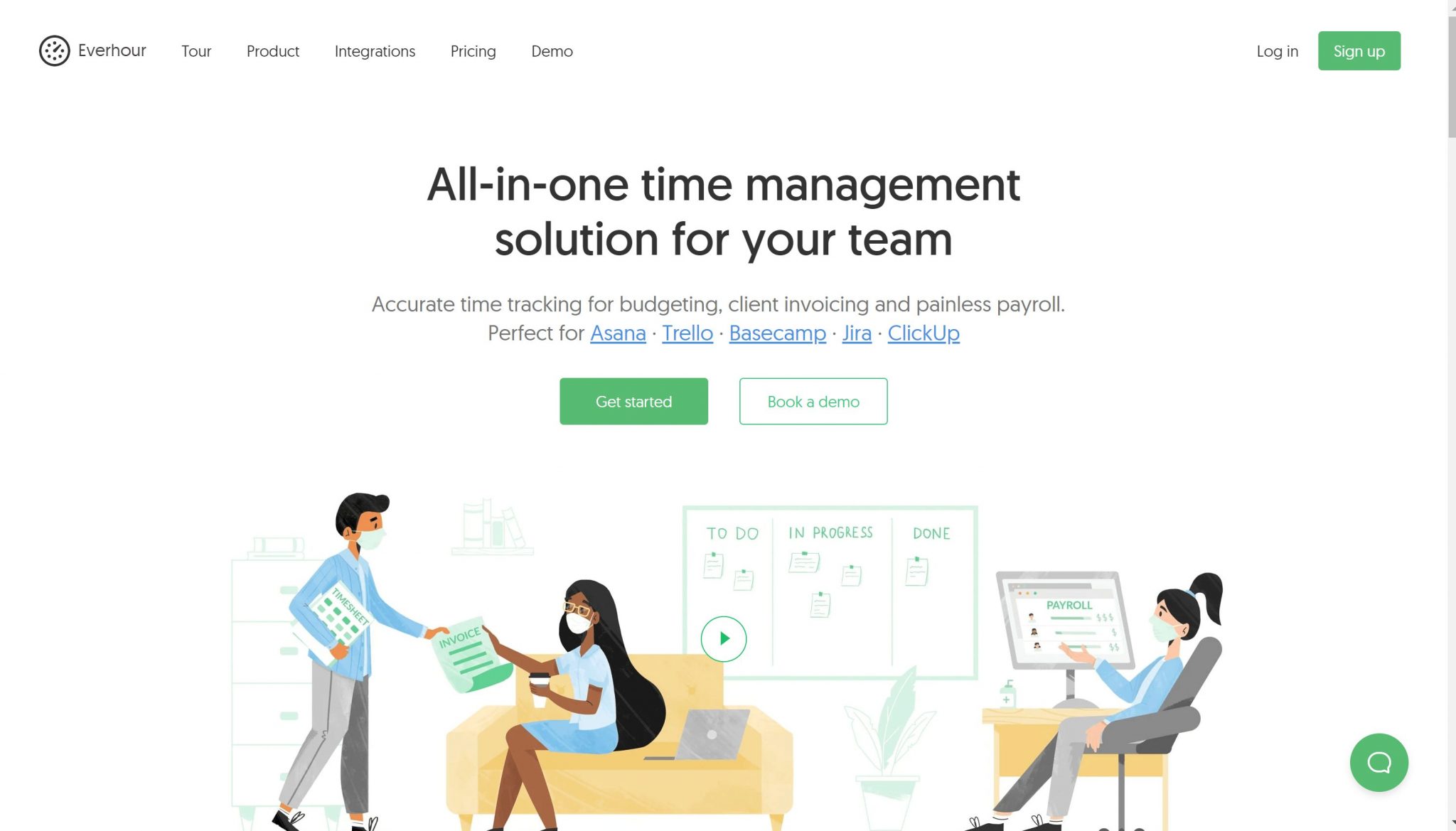 Everhour is admirable for both individual and team for tracking projects, setting budgets and schedule threshold alerts, it supports both billable and non-billable hours, client portal, time and expense tracking, and resource management. 
It is web-based and very easily integrates with Asana! The only problem with Everhour is that is doesn't offer any free version or trial version, while like other time trackers it doesn't have a large number of possible integrations too. 
Everhour is recommended for its zero-complex configuration and additional time tracking feature, custom fields to name, invoicing, third-party time trackers data import has consistently impressed its users.
4. Tmetric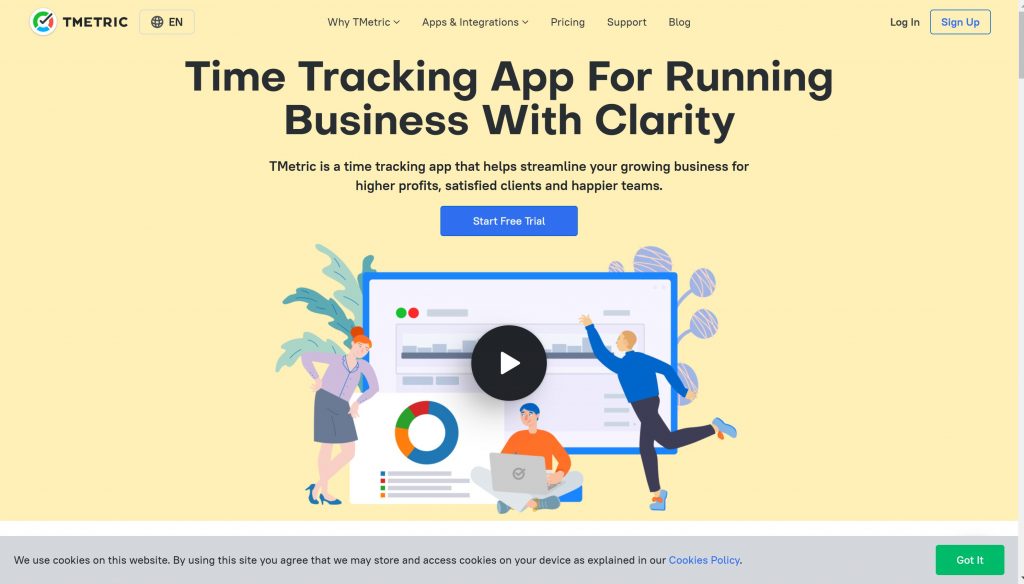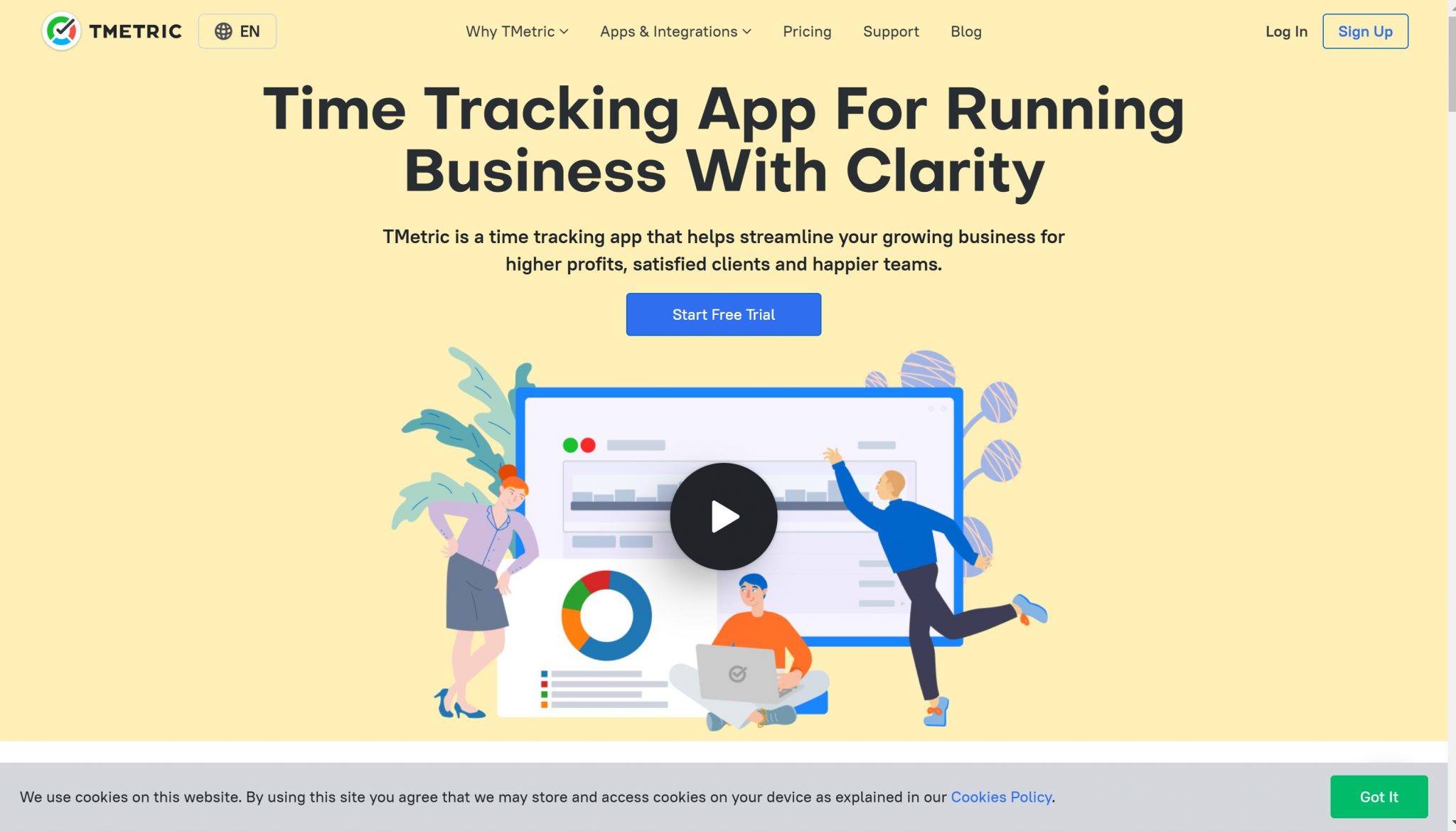 Tmetric is free of cost user-friendly online time tracker mainly designed for any size of team. Tmetric allows users to set budgets, set rates on tasks, client and team management, setting tags, procuring workday timelines, and generate time and money reports effortlessly. 
Tmetric easily integrates with Asana, GitHub, Gitlab, Jira, Basecamp. Visual Studio online, YouTrack and more. 
Tmetric is used for having the workday visualized as a timeline. Edit the work time with only one click. Easy viewing of team time with pie charts.
This time tracking software has the easiest integration with related tools like, calendar, browser, project and source code management (which reduces friction for users), and reporting exporting capabilities. Tmetric will record hours you've spent on tasks and track time as you go. 
It will record your time with just a push of a button and will manage your time beautifully.  
5. Timely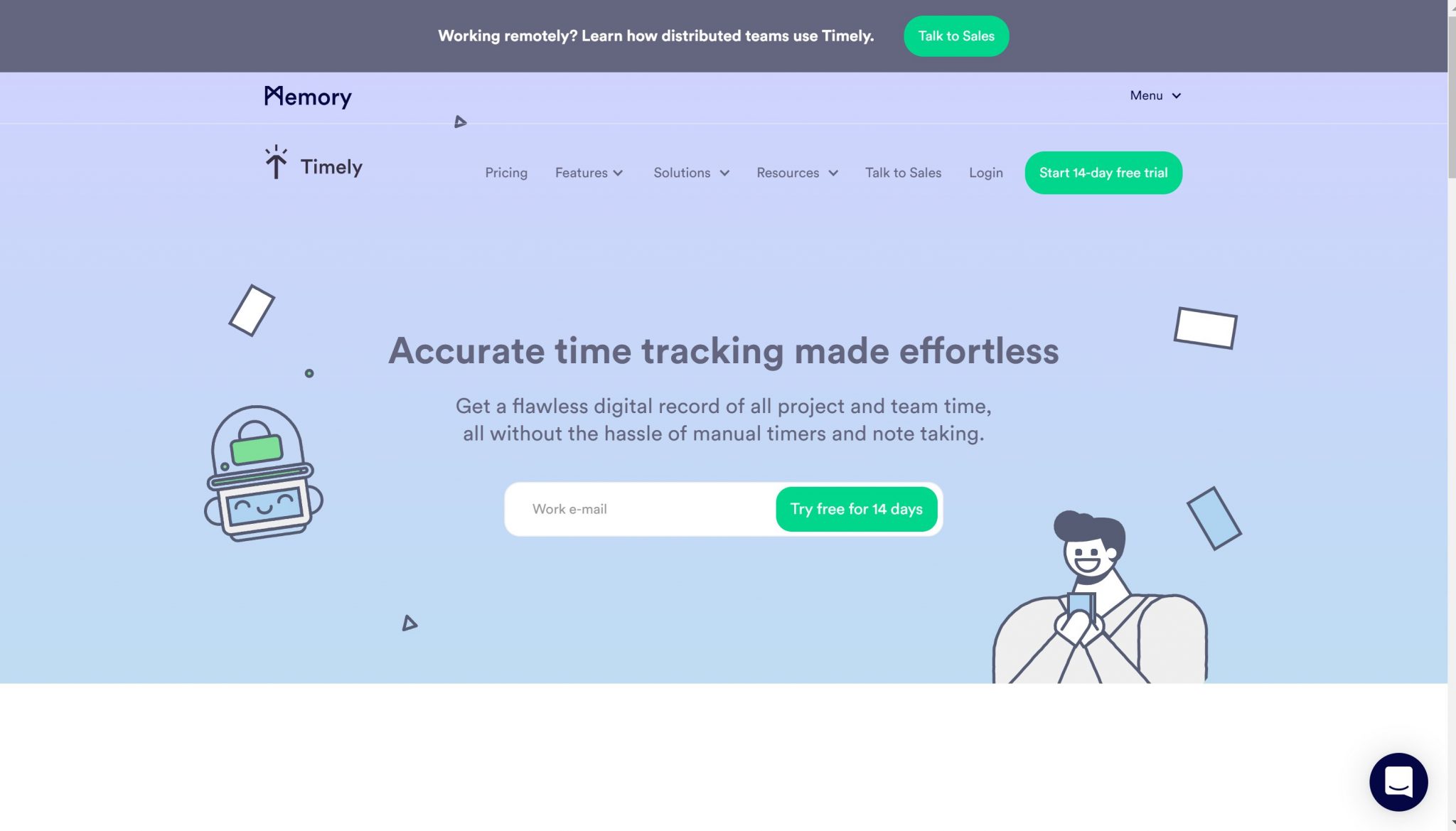 Timely will give you the fastest and most accurate way of tracking time for your clients and team members. It has the feature of automatic time tracking offer with 15+ integrations, timesheet management, overtime calculation and smart resource scheduling that assures the user's time utilized.
Its powerful reporting will help you with tracking of ongoing and future project prospects. It has the option of memory plug-ins to help you remember the work you've done throughout the day. 
Timely will keep track of what you do on your computer, it will remind you of your appointments if integrated with Google calendar. If you integrate it with you all time use apps it will fill out your timesheets for you in a heartbeat.
It has a good ability to pull reports, for example, it gives you an easy view of time/money was planned vs. accrued. 
6. Time Doctor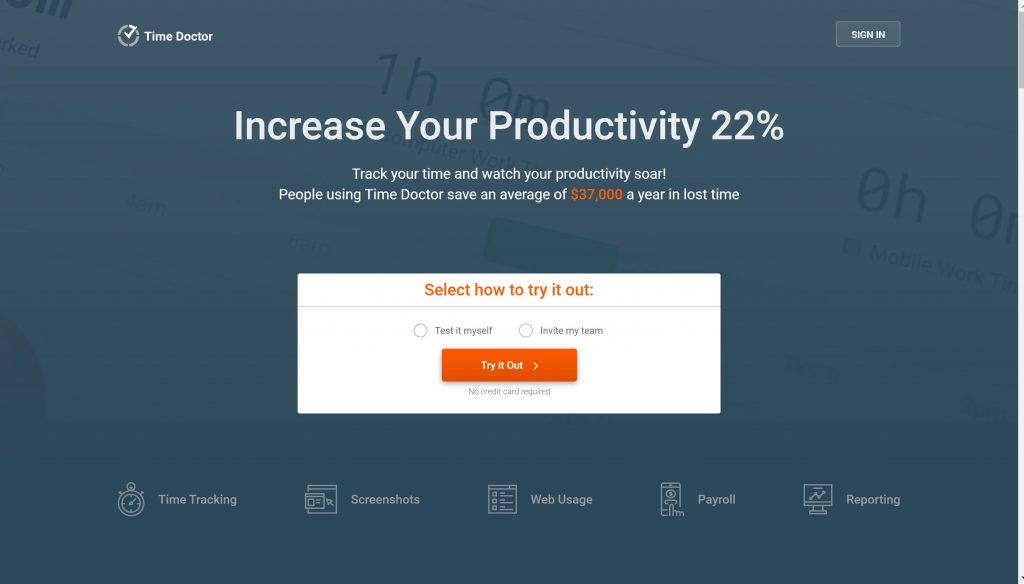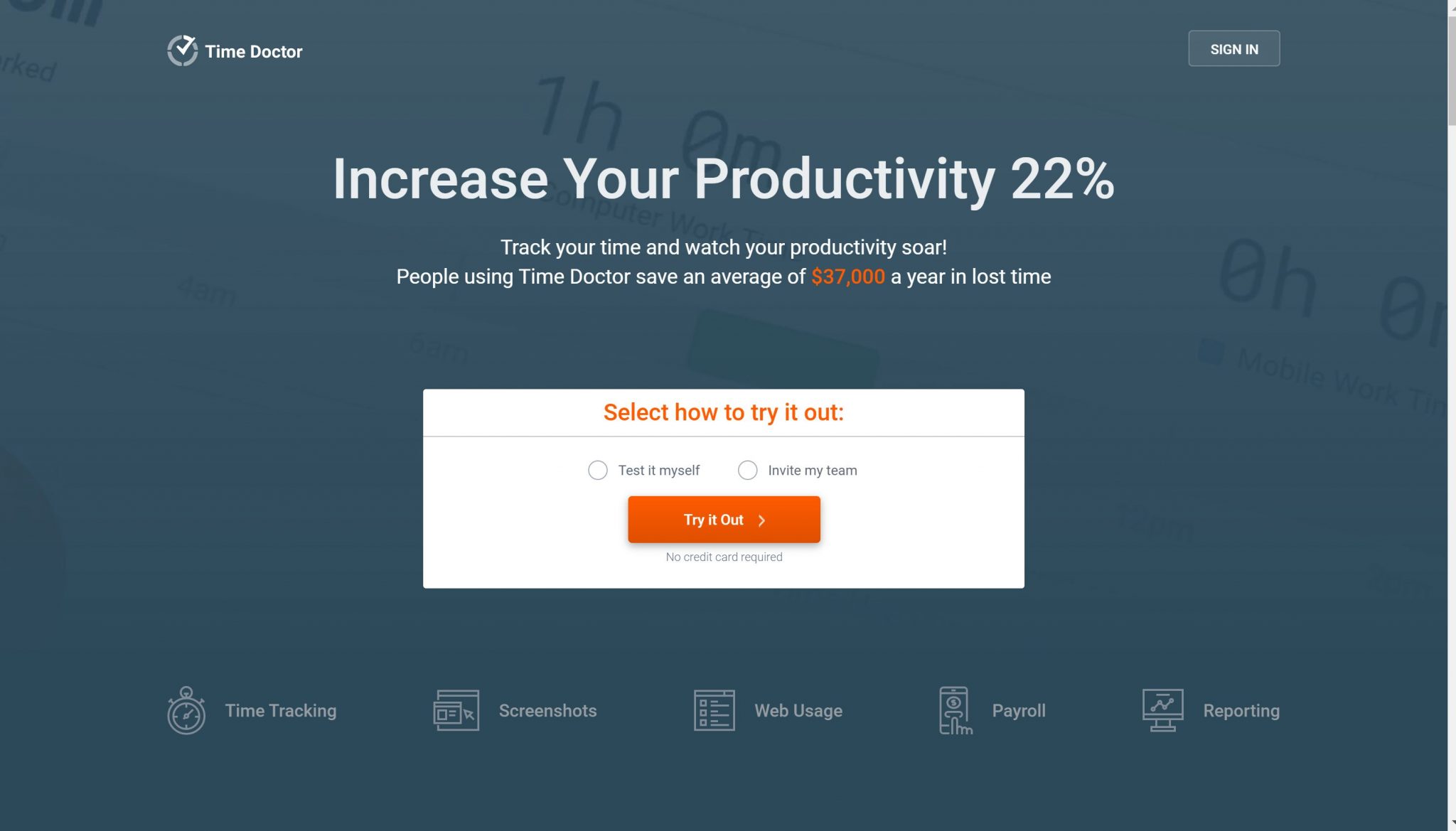 Time Doctor is a smart employee monitoring software incorporated with the time tracking feature. It can measure the productivity of your team by tracking the real-time metrics of each employee.
Time Doctors monitors the employee by taking the screenshots and also give reports as what they are scrolling. You can also use this SaaS-based tool for your personal tracking so that you can manage each project efficiently.
It also tracks how much time was spent on each project individually. Lastly, it integrates seamlessly with various project management software and tools for monitoring and reporting.
7. Rescue Time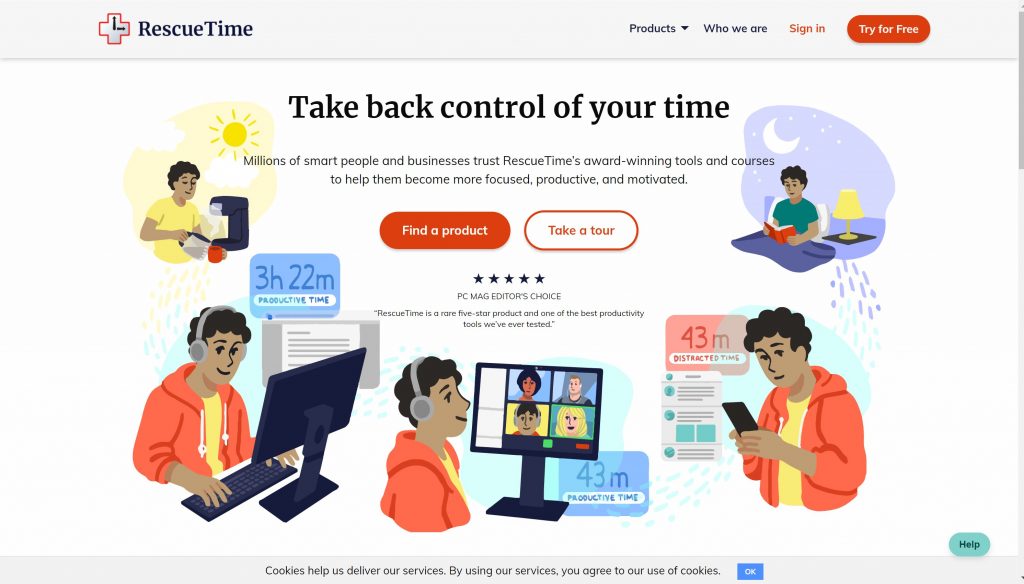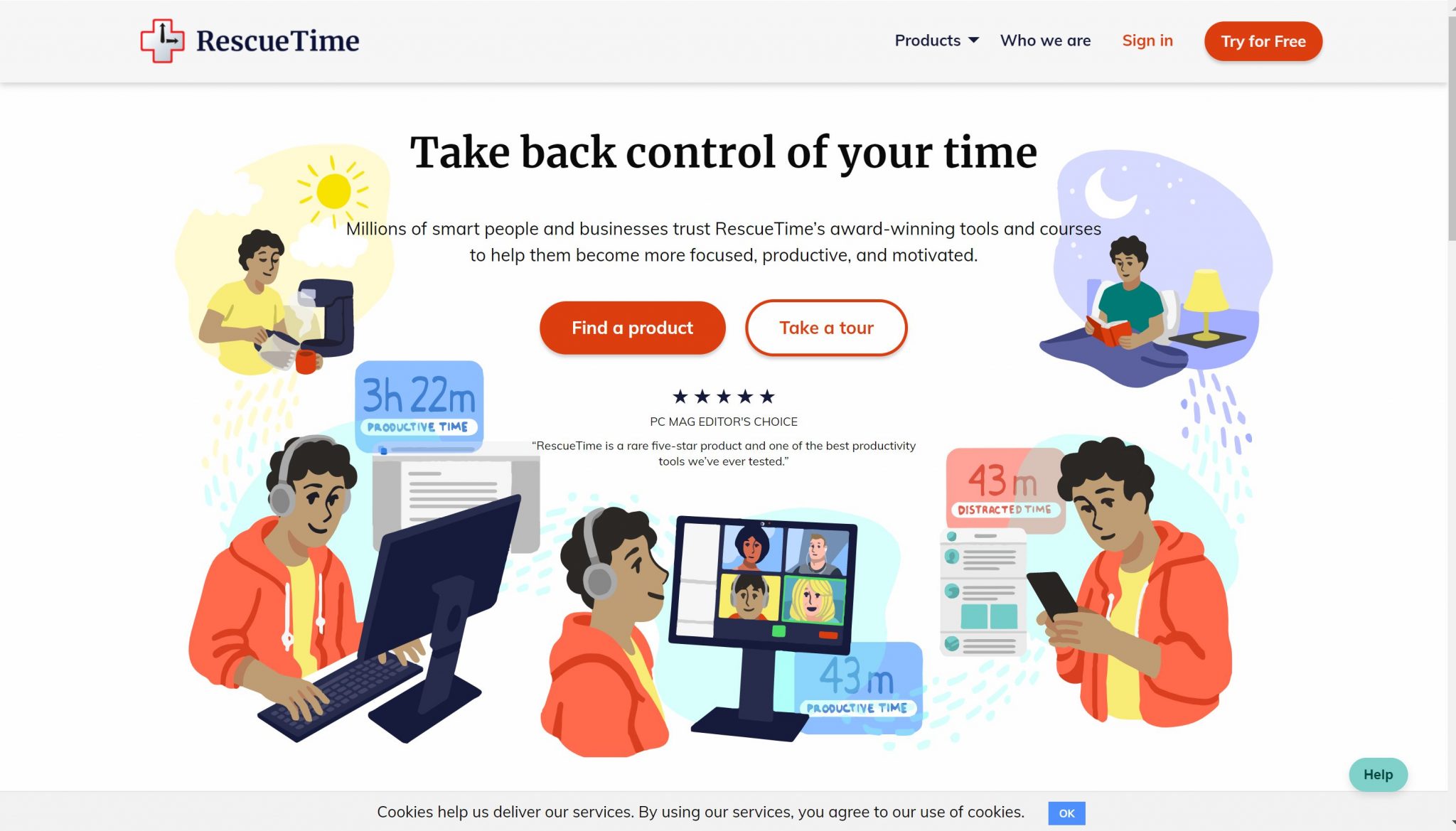 If you have no idea of where your time is going, you can try this time tracking app that comes with a 14-day free trial. Rescue time is a great time tracking software that keeps tracks of all your activity and helps to block the distractions.
By using this freemium tool, you can avoid being occupied with too many tasks and focus on one task at a time. It also sends the weekly report of your time management and what you need to improve.
8. TSheets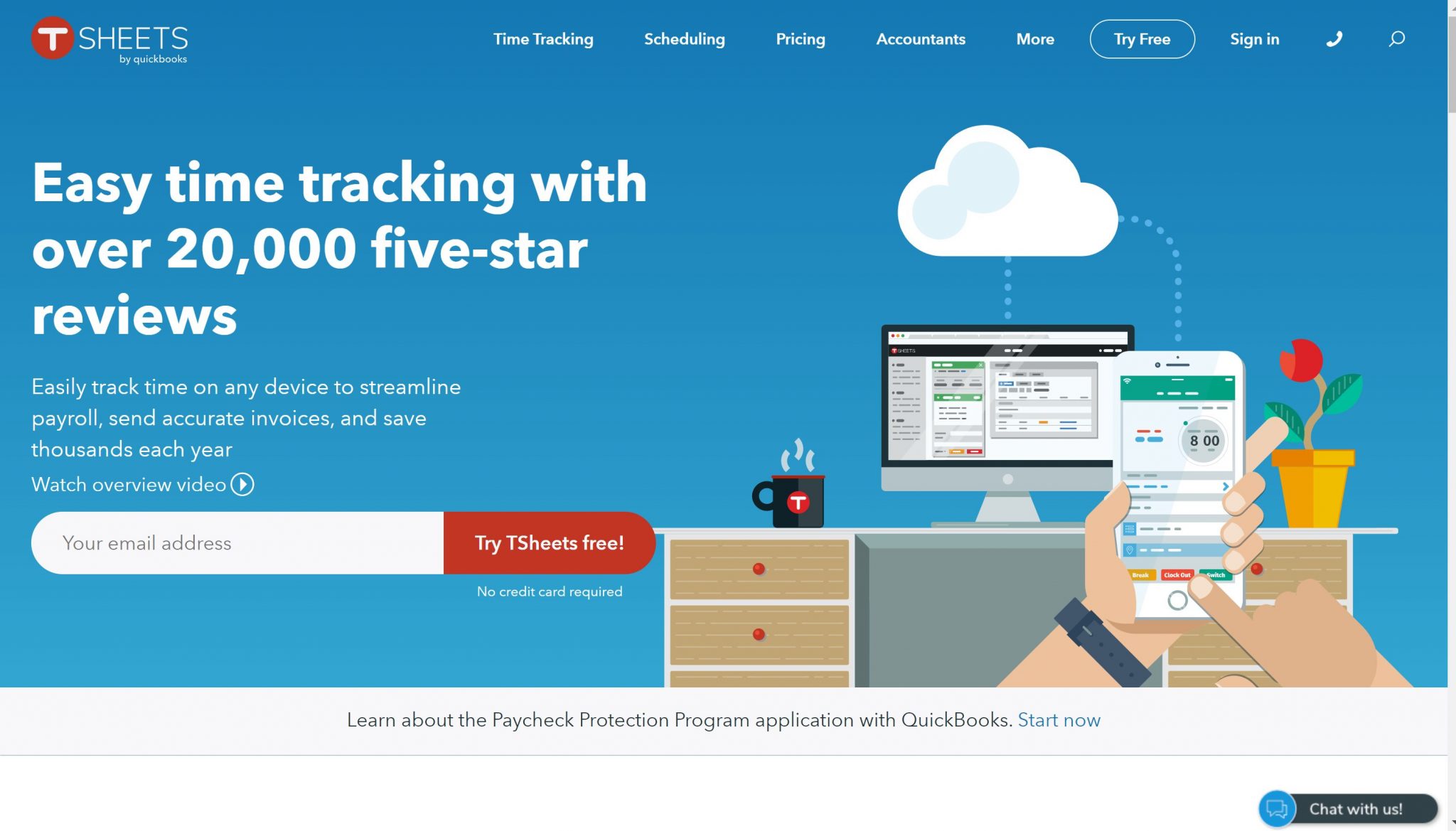 TSheets is a free to use time tracking software specifically designed for the solo entrepreneurs and small teams. But, the free tool doesn't mean it is less of any features.
TSheets come with various features such as GPS tracking, time scheduling, detailed reports, payroll and invoicing. It can be integrated seamlessly with your favorite accounting or payroll software. 
Overall, it's a great app for managing your time and stay updated through the clock.
9. HourStack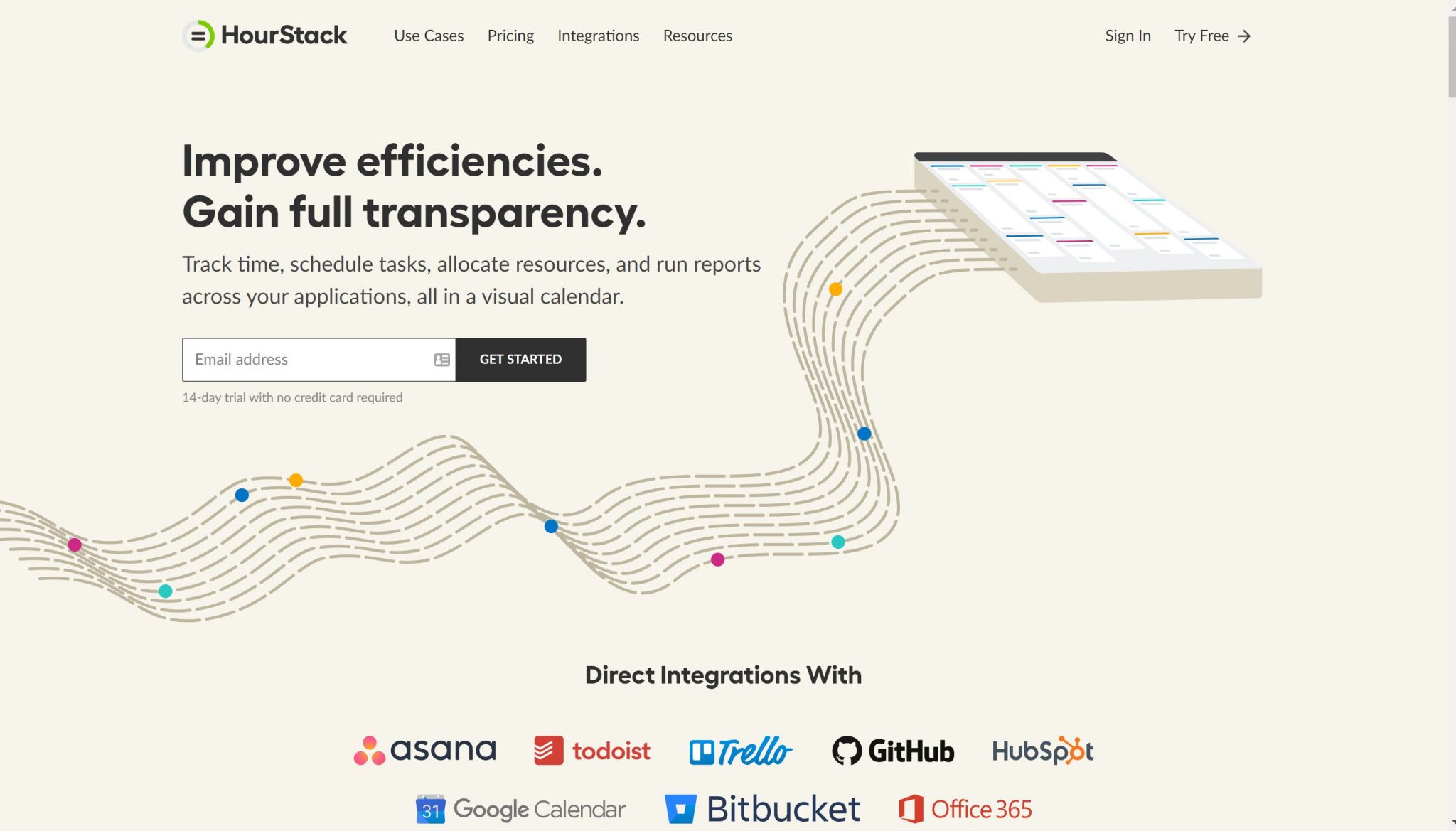 HourStack is an amazing time tracking tool that manages your tasks and time using the blocks. Add and collaborate with your time to increase the efficiency by tracking each hour.
You can shift the workflows by adjusting the blocks and set a reminder for each. Hourstack has a drag and drop interface for adding or removing the tasks.
You can add as many users as you can and track each individual's performance. Hourstack integrates seamlessly with third-party apps such as Slack, Google Apps, Zapier, GitHub and Outlook for increasing productivity.
10. Clockify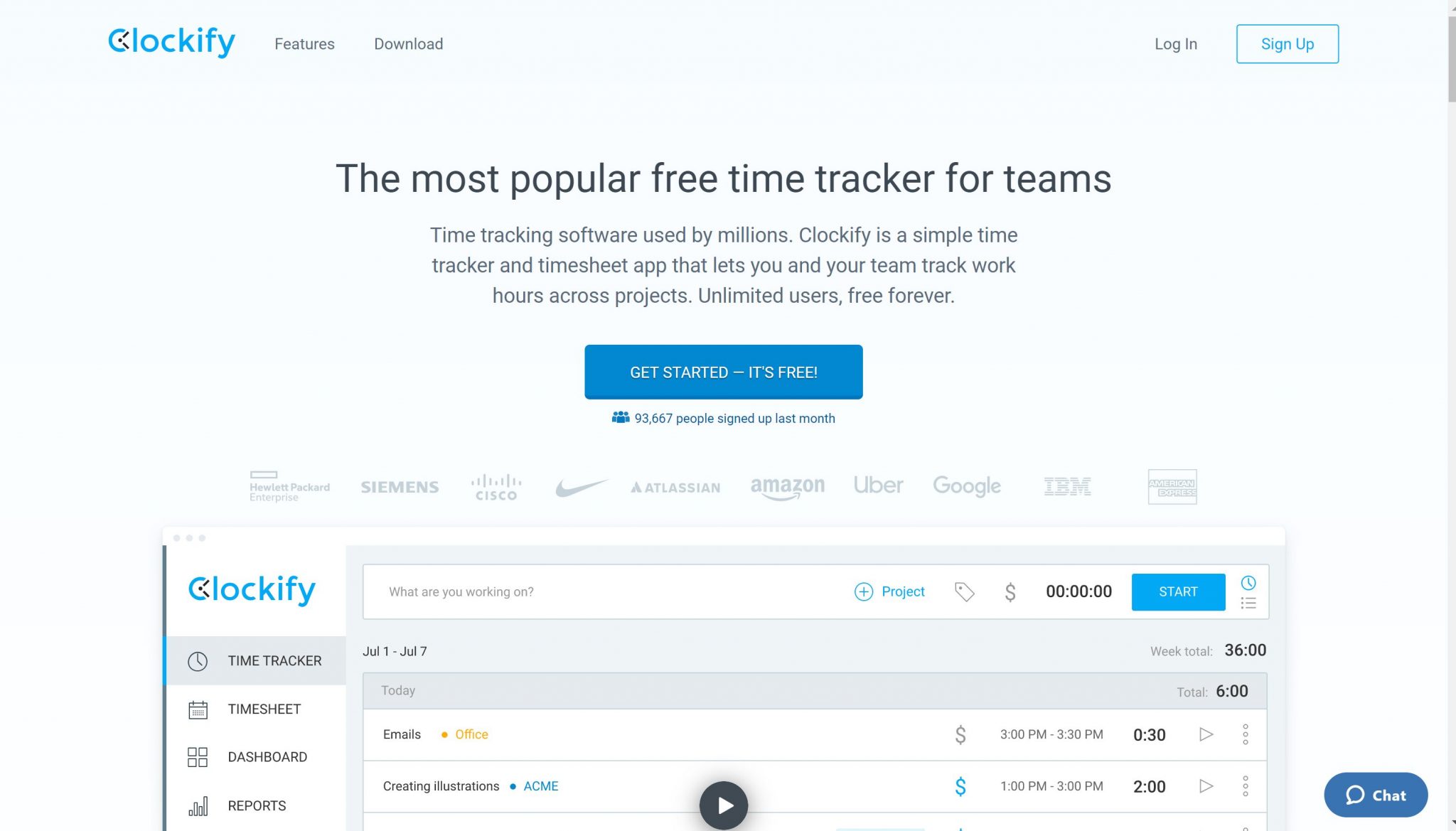 Clockify is a free forever time tracking software where you can add unlimited users any time. By paying a small fee, you can add more users and get access to more advanced features such as timesheets, admin permissions, user roles and time audits.
You can create a smoother workflow by filtering using project date, time and users.
Conclusion:
This was our list of 10 Best Time Tracker apps or software that you can get to increase productivity and boost efficiency among the team.
Time is money and you need to manage it for increased productivity. Don't forget to try these time tracking apps for free and track changes if it works.