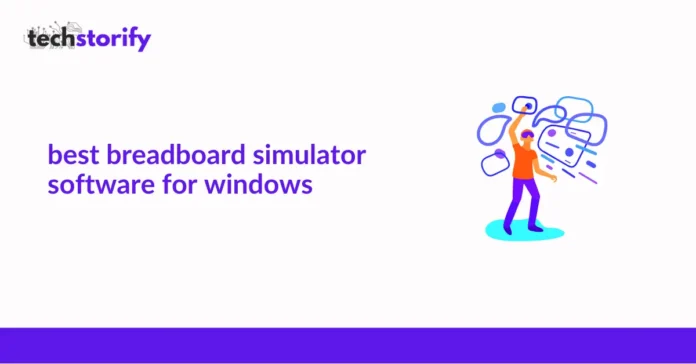 Are you looking for the best breadboard simulator software for Windows?
As an electrical and electronic engineer, a breadboard is one component I often use in the circuits I design.
But it is not always possible to access the lab, and there are many times when I have to design circuits at home on my laptop or PC.
This is when breadboard simulator software comes in handy for me. And if you have used this software, I am sure you'll agree that they are so easy to use and make designing and simulating circuits much more convenient.
Remarkably, some excellent breadboard simulator software options are becoming popular with time.
And I got the opportunity to try and test a few options. Did I find my favorite? Definitely! And that is precisely what I will help you within this article.
Many times, my colleagues reached out for recommendations in this field. And after doing some research, I found that it is a common query for many.
Hence, I have compiled a list of the 5 best breadboard simulator software for Windows that I have tried and would totally recommend trying them.
Keep reading until the end to know which of them is my favorite!
Also Read: Voice-to-Text Software That'll Help You Work Faster
What is breadboard simulator software?
If you are reading this article, I am sure you already know what a breadboard is. This electronic component looks just like a rectangular piece of grade with holes in it.
These holes are connected horizontally and help to understand electronic devices' functioning and design electrical circuits.
You can use the breadboard to connect components typically used in a circuit board, like a capacitor, resistor, LED, etc.
Now, it is easy to work with a breadboard when you have access to a lab. But what if you want to design a circuit at home where you do not have a breadboard with you?
The solution is simple- we can use a breadboard simulator software in that scenario. The best part about simulation software is that you do not need to install them.
They are cost-effective; you can visit the simulator software website and sign up to use them.
Another reason why breadboard simulator software is typically preferred is because of its easy-to-use interface.
It follows a simple drag-and-drop layout where you can add components to your workspace and simulate them.
And while you are designing circuits on your PC, you do not have to face any limitations either. Want to emulate multiple virtual breadboards? Sure, why not!
Another advantage of using a breadboard simulator software is that, unlike in the case of building circuits physically, the software allows you to export the design to keep track of it.
It makes monitoring the circuit designs much easy and more convenient. You can save it in any format you prefer, including PDF, PNG, JPG, etc.
Now let you know what a breadboard simulator software is and its function, let me move on to my recommendations for the best options available.
Best Breadboard Simulator Software for Windows
After thoroughly researching the best breadboard simulator software available online, I have settled on my top 5 favorites.
I can certainly vouch for all five options, and I am sure they will meet your requirements significantly, if not entirely.
So without any further ado, let's get onto it.
Breadboard Simulator is one of the initial simulator software that I have used. The first feature I would like to share is that this simulator is absolutely free of cost.
This is quite a bonus point, if I must say. The interface is friendly, and it is entirely compatible with Windows.
I am mentioning Windows here because that is the operating system I use on my PC. And hence all tested options that I will mention in this article will be compatible with Windows.
You can not only design a circuit on a wide breadboard by adding different components, but you can simulate it too.
Another exciting feature is that you can experiment with a wide range of electronic components.
I love how the components have been categorized in the toolbox systematically, making it very easy for me to select anything I want and add it to the breadboard.
Any component you want, including wires, resistors, diodes, ICs, transistors, etc, you can easily add them.
And once the circuit is complete, you can simulate it to see if the circuit generates the expected output.
Once you achieve the desired results, you can save the output and the project to the software itself.
This is the only major issue I faced using this particular simulator. It does not allow exporting the result in PDF or image format.
Let us shift our minds back to the advantages. Breadboard Simulator is portable software that can be used effortlessly via a USB drive.
Features
It has a very user-friendly interface.

The software supports a wide range of electronic components.

All the components are arranged systematically in the toolbox.

The software is portable and can be used with a USB drive.

Once you achieve the output, you can save the project to the software.

The simulator software does not support exporting the circuit in an image or PDF format.
Again, the first thing I liked about using Easy EDA was the no-install assembly. People are always looking for something quick and convenient today, and it feels great to see platforms like these that deliver outstanding performance without any complexities.
Easy EDA is a cloud-based breadboard simulator software that helps you create a mixed-mode circuit and offers you all the required features for that.
But what makes this simulator software worthy of being in the top five?
It is the PCB editor layout and enhanced schematic capture.
The advantages do not stop there. Its fan following is growing because it is unusual to see such a feature-rich platform that is free to use.
Another aspect I liked is the fact that the interface is very user-friendly. The simulator is powerful, and the enhanced features make this software an absolute delight to use.
Even though Easy EDA features a user-friendly interface, I must say that it might be a little bit difficult to navigate through the software for first-time users.
It can take some time to get the hang of utilizing the features, but the guide available with this software is one of the best I've ever come across.
Everything is explained very clearly, from the instructions to the guidelines, and it will help you tremendously.
Features
You do not need to install anything to use this software.

It is a cloud-based circuit simulation tool.

You can design a mixed-mode circuit effortlessly.

Easy EDA features enhanced schematic capture and a structured PCB editor layout.

It can be a little complex for first-time users.

The guide is excellent and contains all the required instructions and information.
Fritzing is another great breadboard simulator software for Windows. And if you have been searching for a good option, there are high chances that you have already come across this one.
I had how about this software multiple times before trying it out, and I am so glad that I did.
Firstly, Fritzing offers almost everything you need to design an electronic circuit.
The options you get in terms of electrical and electronic components felt quite comprehensive, and I could see a wide variety, including diodes, transistors, wires, integrated circuits, etc.
I did not feel a lack of anything while working with this software.
Another aspect I would like to mention is the ease of use. I can simply drag and drop the components from the toolbox to the workspace and rearrange them according to the specific circuit I am working on.
There is another feature worth mentioning, even though I may have to deviate slightly from the main topic.
Even if you do not want to use it as a virtual breadboard simulating software, you can try it to make electronic diagrams. If you want to work on a breadboard specifically, you can select the "breadboard" option from the toolbar.
I am sure I have already spoken enough about this tool, but there is one more feature that made the experience even more convenient.
And that is the option to export the design. I mostly prefer using breadboard simulator software, which allows me to export the design in my preferred format, making it easier to keep track of my work.
Plus, I like that the software allows how to export the file in any format I want, like JPG, PDF, PNG, etc.
Features
The software is easy to download and use.

It contains all the tools you need to design an electrical circuit.

The workspace uses simple drag-and-drop functionality.

The tool can also be used to create electronic diagrams.

You can export the design in any preferred format.
Linear Technology Corporation offers the LTSpice Simulator tool, one of today's most popular free breadboard simulation tools.
One of my distant cousins who is working in the same field recommended this to me. And after using it, I can say that this tool deserves to be on the top 5 list, without a doubt.
The software uses a multimedia program using which you can design a circuit and explore the performance of a circuit before even building the actual framework.
The MOSFET module has to be one of the most impressive features I have ever encountered in any other tool. It comprises more than 200 cooperative transistor and amp models.
The SPICE-based simulator also worked faster than most other options I have tried. I experienced that the swiftness was quite up there, which was incredibly efficient while switching regulators.
You can easily use it on your Windows OS, which works sufficiently fast in real-world scenarios.
Features
It is free to use.

The simulator software is perfectly compatible with Windows OS.

It is one of the fastest and most efficient electronic circuit simulators.

The multimedia platform can help analyze circuit board performance before building the framework.

The MOSFET module contains more than 200 operational amp and transistor models.
This simulator software is also free to use and is open-source software. I like tools where the download process is not that complicated, and this one is just 10/10 in that department.
I did not even need to install anything. Once you download the file, you can run it directly.
According to my opinion based on my experience, IC on Bread is more suitable for beginners in this field who want to design circuits on a breadboard using simple software. You'll find all the common ICs that you might need to add to your breadboard.
And, as I said, you do not need to install anything. Once you launch the tool, you will be able to see an extensive virtual breadboard.
And then, you can connect the different ICs and LEDs required to design the circuit. And once you finish the connection after fixing the wires and all the components, you can switch it on to let the current flow and analyze its performance.
The components for designing the circuit, including the ICs and the LEDs, will be present in the software tool taskbar.
However, the typical drag-and-drop method does not work here. Instead, this tool functions on the point-and-click process.
Once you select your required component, you must choose the points on the breadboard where you want to add these components by clicking on those points. The same method works for adding the wires as well.
However, there is one thing you must keep note of. IC on Bread is open-source software and is still in development.
Hence there is a possibility that the tool crashes on your system. So once you design any circuit, I recommend exporting it as an image immediately.
It will help preserve your circuit design even if the tool crashes.
Features
It is free and open-source software.

You do not need to install anything to use it.

The tool is super beginner-friendly.

It contains all the basic ICs required to design an electrical circuit.

The circuit design process works on a point-and-click system.

The software can crash at times since it is still in development.

You can export your circuit design as an image.
Conclusion
If you have been looking for breadboard simulator software for Windows, the five recommendations mentioned above are the best options I have tried. They all work great and help you design electrical circuits effortlessly.
But if I had to choose a favorite, it would be Fritzing. I have already seen this software recommended by many users, and I can understand why it is so loved.
It offers everything you want in a breadboard simulator. It has a user-friendly interface and features a solid collection of electrical components.
It is also versatile and can help you in creating electronic diagrams. And the best part is you can export your design in any format you want.
Overall, it is an excellent tool to try out and is a worthy winner of the 'best breadboard simulator software for Windows' title.