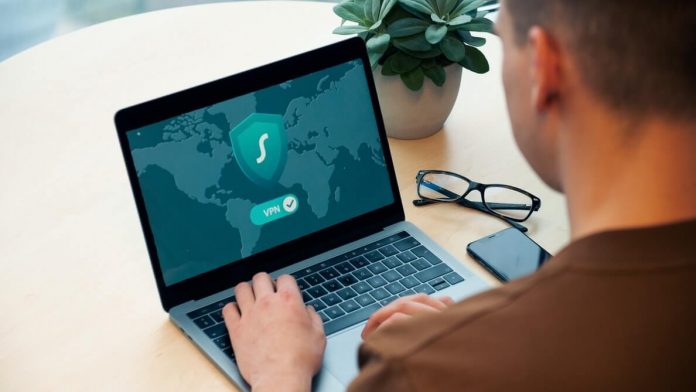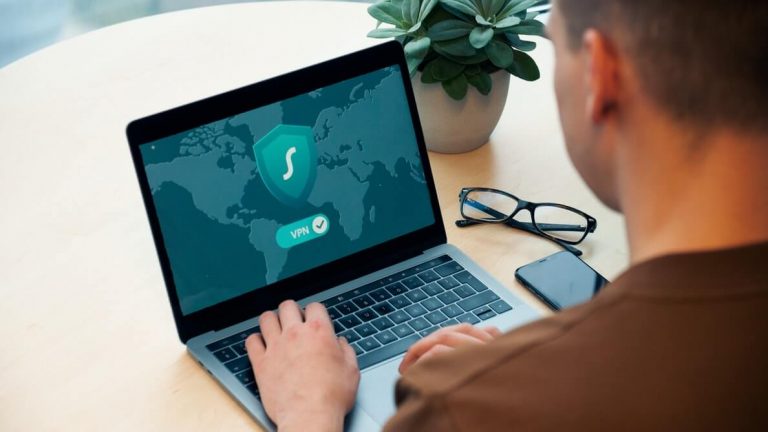 From home systems to offices, all of your data is stored and needs to be protected. Be it the confidential information or the pictures in your hard disk, and they are essential for you. Hence, something like Encryption software becomes essential to use in such a case.
You might have heard about the Encryption software often. But what is it, and what do they do?  
What Is Encryption software? 
Encryption software is a set of security of tools that encrypt or decrypt your data so that it does not get accessible by everyone. Best Encryption software tools are designed in such a way that they can encrypt your file, data, network, or any packet of data so that any unauthorized users cannot access it without permissible use. 
There might be other security tools in the industry, such as the VPNs, anti-virus, and anti-malware, but they do not serve the same purpose as the encryption software does. 
Large enterprises usually incorporate encryption software, but they have lately become affordable to all kinds of users. 
How Does Encryption Software Work? 
Encryption software is one of the most secure and top-notch security software for businesses who are at higher risk of security hacks. 
Each of the files which have been encrypted generates an encryption key that helps in decrypting the files. Once these files are shared between the sender and receiver, it can only be decrypted with the encryption key. 
The encryption software itself generates this encryption key. 
Even if the file has been hacked or extracted by the security hackers, the original content cannot be retrieved without using the encryption keys. 
Encryption software comes in various forms and for multiple purposes such as email encryption, disk encryption, email encryption, network, and data encryption files. 
Hence, in this article, we have listed the 10 Best Encryption software for all kinds of businesses. 
10 Best Encryption Software That You Must Try For Extra Security
Let's have a look at our top choices for the encryption software tools: 
1. VeraCrypt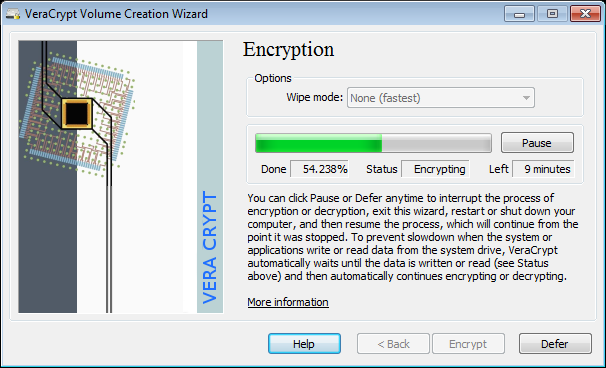 VeraCrypt is free open-source encryption software that can efficiently create the disk partitions, including the system partitions and the hard drives. 
It is undoubtedly one of the most popular encryption software that works well on Windows, Linux, and even macOS. 
The software frequently updates so that you can enhance your security each time. One of the most robust features of VeraCrypt is that even if you are forced to encrypt, you can do that by decrypting the operating system. This way, your data will remain encrypted throughout. 
Features: 
You can create a virtual encrypted disk inside a file and then display it as a real disk. 

It can also encrypt a single partition or a whole drive of your Windows operating system. 

It has wide acceptability to hide other volumed within the other volumes, which are called as the Advanced Encryption Standard. 

VeraCrypt also protects your disk or partition against the Cold Boot Attacks and prevents the data thefts.

If you have set the password for your encrypted file, no data can be extracted or compromised without the password revelation. 
Pricing: Completely free to use. 
Our Opinion: VeraCrypt is a fantastic option if you are looking for free encryption software. Above all, it is an excellent alternative to a Truecrypt, which was often considered as one of the best encryption software once. However, TrueCrypt id not on our list because it contains various security issues. 
2. BitLocker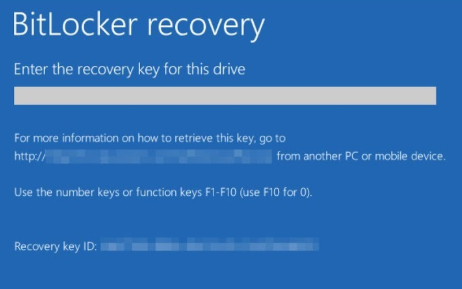 BitLocker is one of the most widely available encryption software tools. It is powered by Microsoft and can encrypt your whole disk or just a partition. 
BitLocker is built mainly for Windows and is governed by the Advanced Standard Encryption (AES). It is fully compatible with all the versions of Windows. 
BitLocker frequently updates so that your security isn't compromised with any hacks or malware. The encrypted disk is password-protected, and it can be saved to various locations on the disk so that you do not lose it when needed. 
Features:
When you encrypt your data, BitLocker will generate an automatic key. This key can be used to encrypt or decrypt files. If you lose access to the key, you can get access to the scrambled data. 

 It also helps to encrypt the USB flash drives with BitLocker Go-To Option. 

BitLocker can encrypt your entire drive, making it inaccessible for the hackers to get access to it. 

After the activation, BitLocker will encrypt every new file that you will add to your system or the disk. 
Pricing: Completely free to use
Our Opinion: In our opinion, BitLocker is great encryption software for Windows. It does not integrate with any third-party apps, and that's a plus I would consider. However, it has some flaws which might concern you. If your system is functioning normally, data can be generated quickly. 
If you are looking for an encryption software for Linux or Mac, we have other better choices for you. 
3. 7-Zip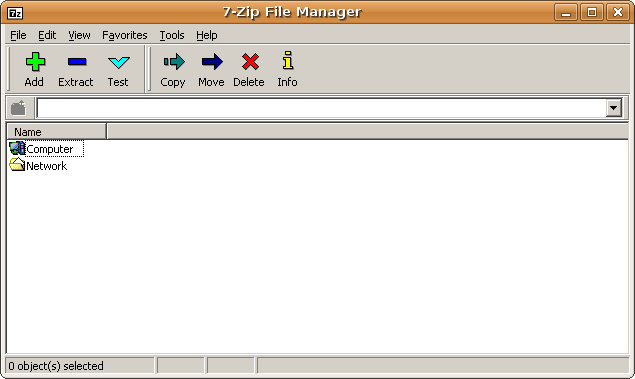 7-Zip is an encryption software that offers a complete archival program. It can encrypt and archive your data at the same time. 
Moreover, it creates a password-protected archive that also enables the 256-bit encryption for your operating system. Overall, it is excellent encryption and archival software for all kinds of users. 
The best part about 7-Zip is that it is not merely a standard password but a 256-bit key length for maximum protection of your system. 
Features:
The security hacks in WinRAR files have enabled 7-Zip to give a more advanced and enhanced feature of your data. 

It has an open architecture system. This means that you can use this open-source system that uses GNU LGPL license, which is a secured interface. 

7-Zip also uses many compression and encryption methods. It encrypts all formats of files into one form or another. 

It uses packing, compressing, or unpacking of various formats such as 7z, XZ, BZIP2, GZIP, TAR, ZIP, and WIM. 

 It supports 87 languages and hence one of the most used encryption software globally. 
Pricing: Free to Download
Our Opinion: 7-Zip can be a good option if you are looking to encrypt your specific folder or file. It is entirely free to download. However, it is not the best option for encrypting your entire hard disk. 
4. AxCrypt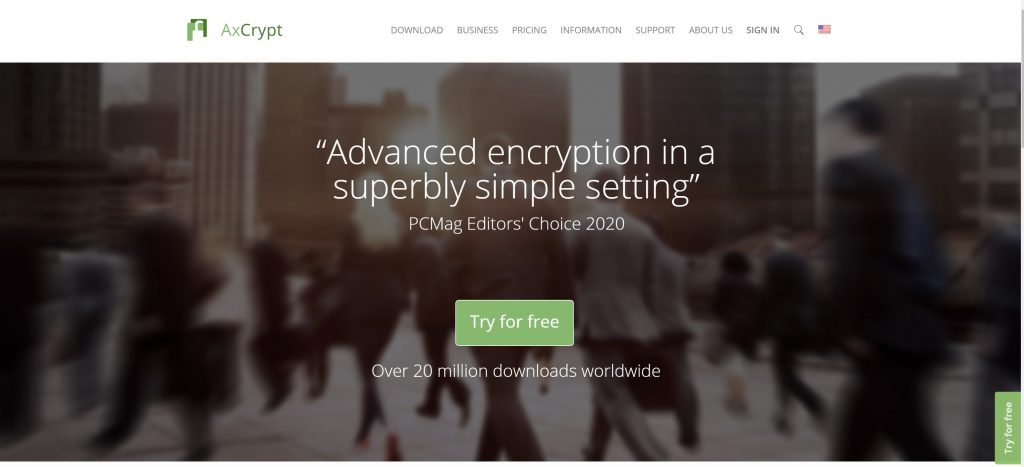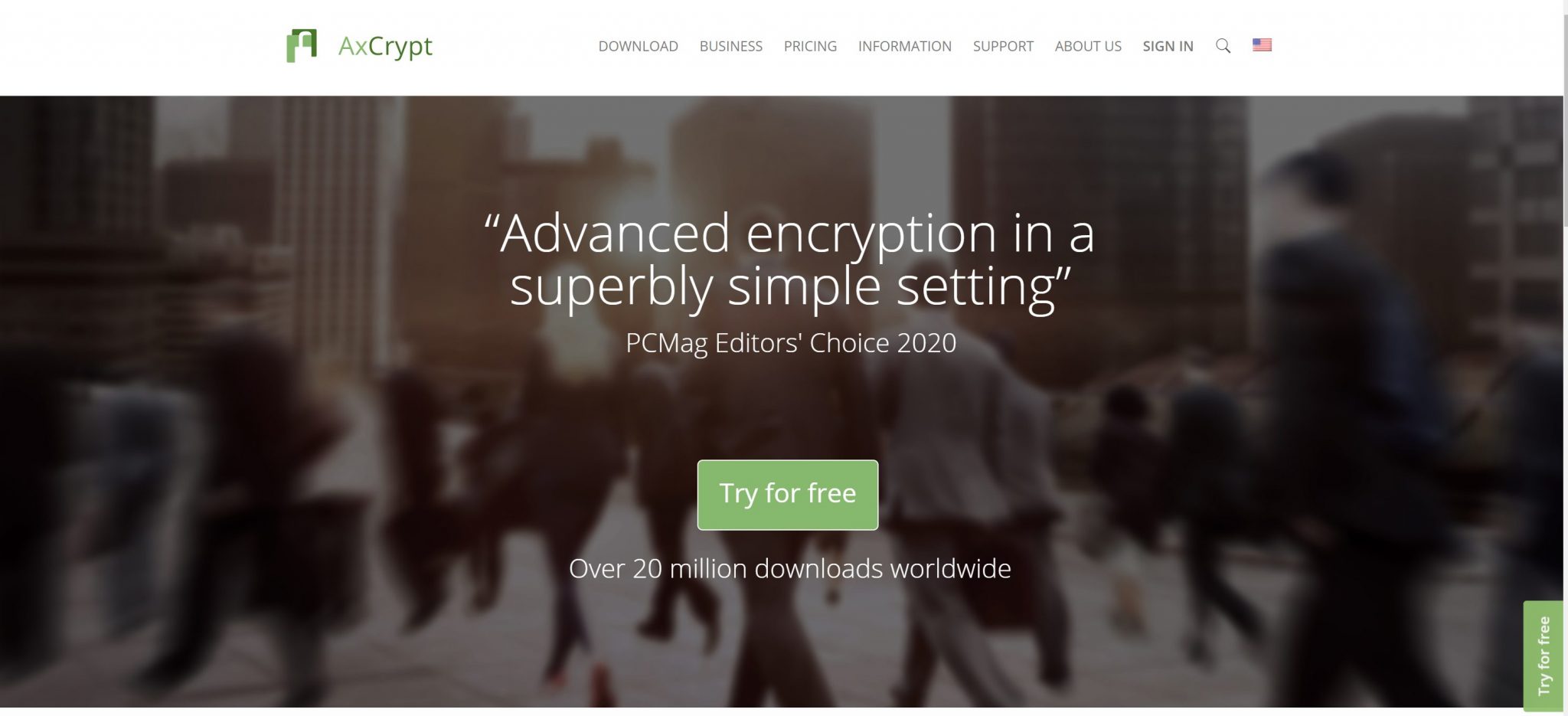 AxCrypt is another open-source encryption software like 7-Zip and Veracrypt. It can efficiently encrypt a whole disk, data drive, or partitions. You can encrypt the file for a specific time, or decrypt it when the file reached the destination. 
Features:
It works well with Windows, Linux, and macOS. 

Uses a 256-bit AES encryption. 

AxCrypt also gives the cloud storage capabilities such as in Google Drive and Dropbox. 

The standard license allows the user to share the encrypted file with contact as well. 

Similar to 7-Zip, AxCrypt has multi-lingual support such as in Russian, Spanish, Dutch, and others. 
Pricing: AxCrypt comes a free version as well as the paid version. The premium version costs $42 per year, whereas the business plan costs $87 per year with admin features and various security enhancements. 
Our Opinion: AxCrypt is undoubtedly a good encryption software that gives the user fantastic encryption. If you are a newbie and want a simple interface, AxCrypt can be a better option for you. 
5. AES Crypt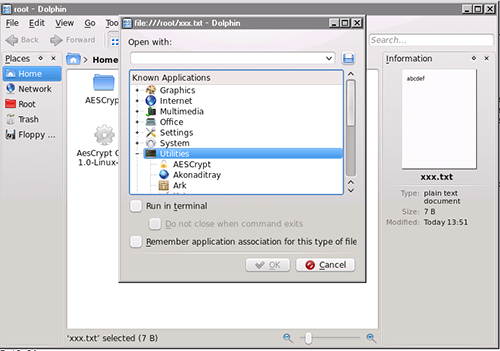 AES Crypt is designed for general users and mostly for personal use. It is not as advanced as the VeraCrypt or BitLocker. It has a simple to use interface and works well with all the operating systems. 
Features: 
You can directly encrypt the files without creating any volume of files or the storage data. 

AES Crypt uses the 256-bit encryption of file, which is used by the top-notch crypto and encryption software. 

Everything is password protected. When you click on AES Crypt, you will be able to create your user-specific password that can be used to encrypt or decrypt the file. 

The files can also be saved in your cloud storage, and hence it is a better choice for the startups. 
Pricing: Completely free to use. 
Our Opinion: As I said, AES Crypt is an excellent option for individuals. It is a better encryption software if you do not have large files to encrypt and not much to lose. 
6. DiskCryptor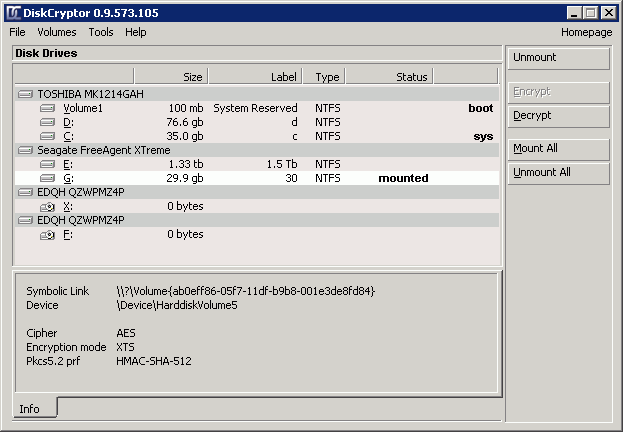 The open-source software that can encrypt your storage device, disk partitions or USB flash drives and even the other storage devices.
It can efficiently encrypt your external as well as the internal storage devices. Also, it uses various encryption algorithms such as AED, Twofish, and Serpent.
Features: 
Open License Software – GNU GPLv3

Supports Dynamic Disks

Also lets you create encrypted CD and DVDs

Disk Cryptor also does the transparent encryption of your disks. 
Pricing: Free to Download
Our Opinion: Disk Encrypt is the right choice if you want a disk encryption software for only personal uses. I wouldn't suggest it for more complex uses. 
7. FileVault2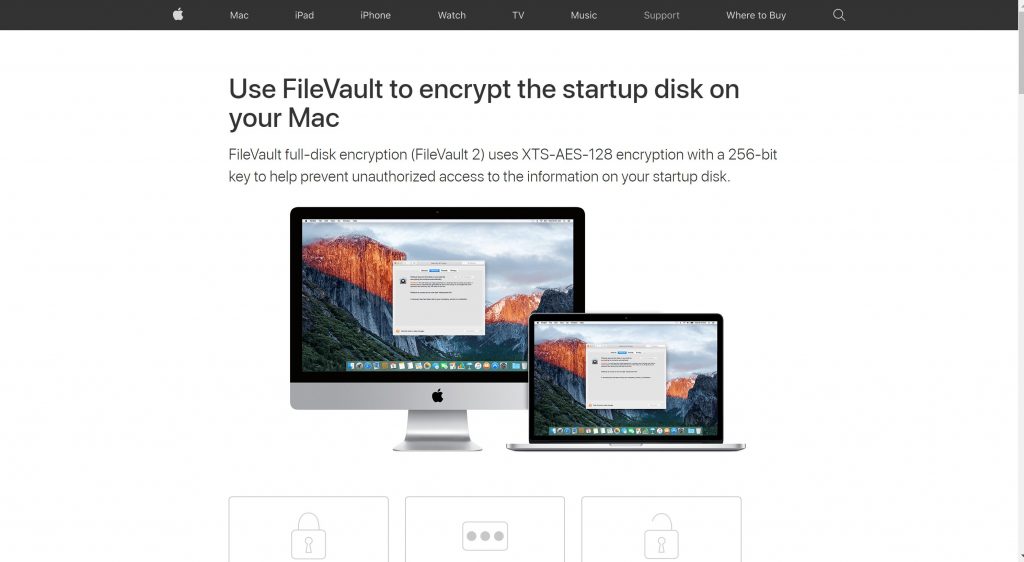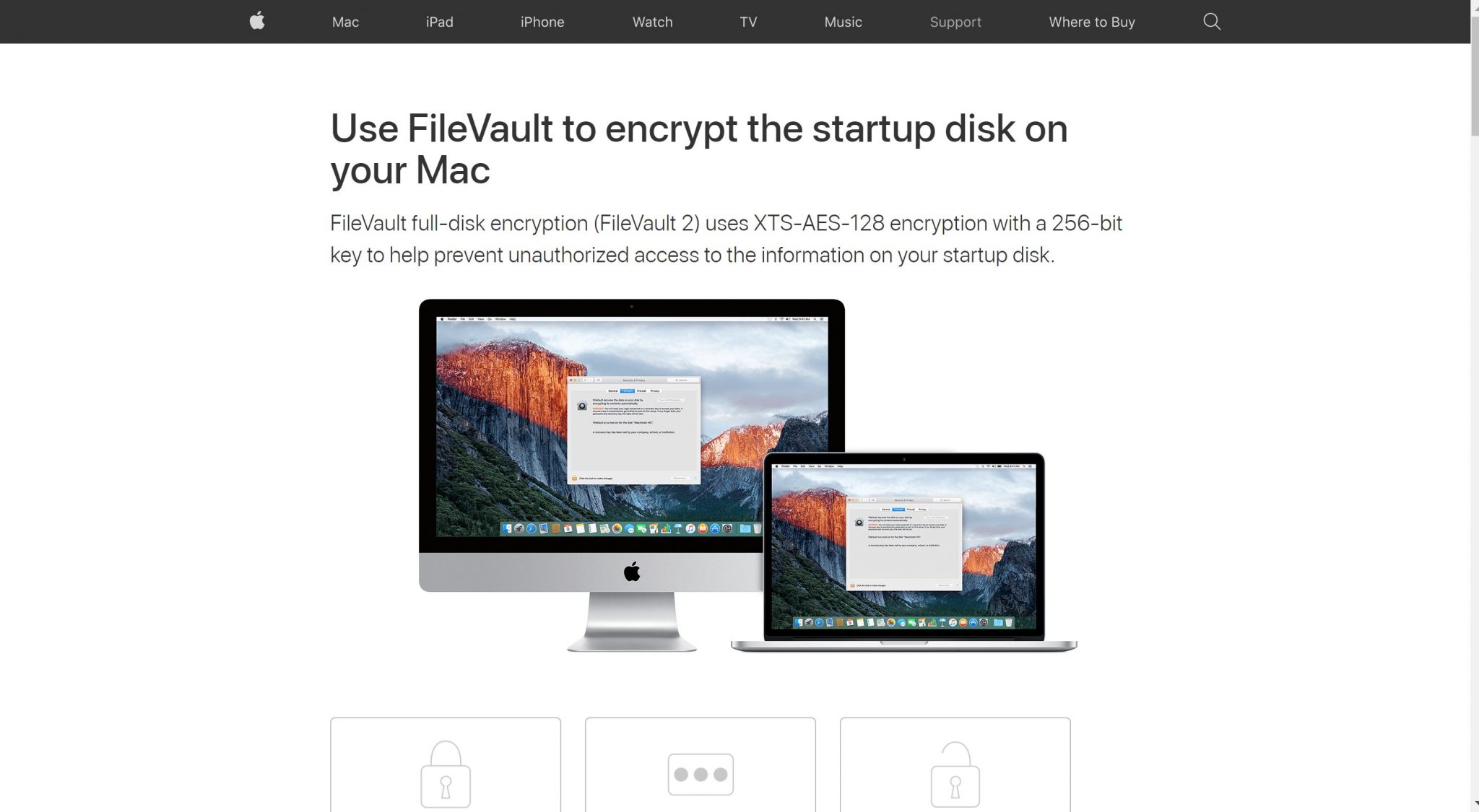 FileVault2 offers the Mac users what BitLocker offers the Windows user. It uses the 128-bit and 256-bit standard AES encryption to protect from unauthorized access od startup hard disks. 
You can encrypt your whole device even after being logged out, just like BitLocker. 
Pricing: Free to install 
8. Cryptomator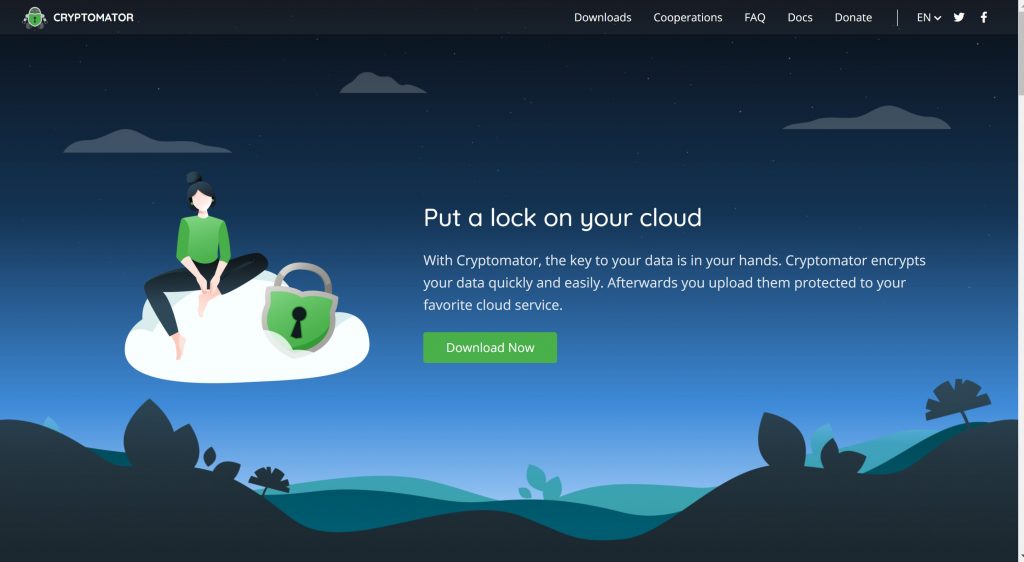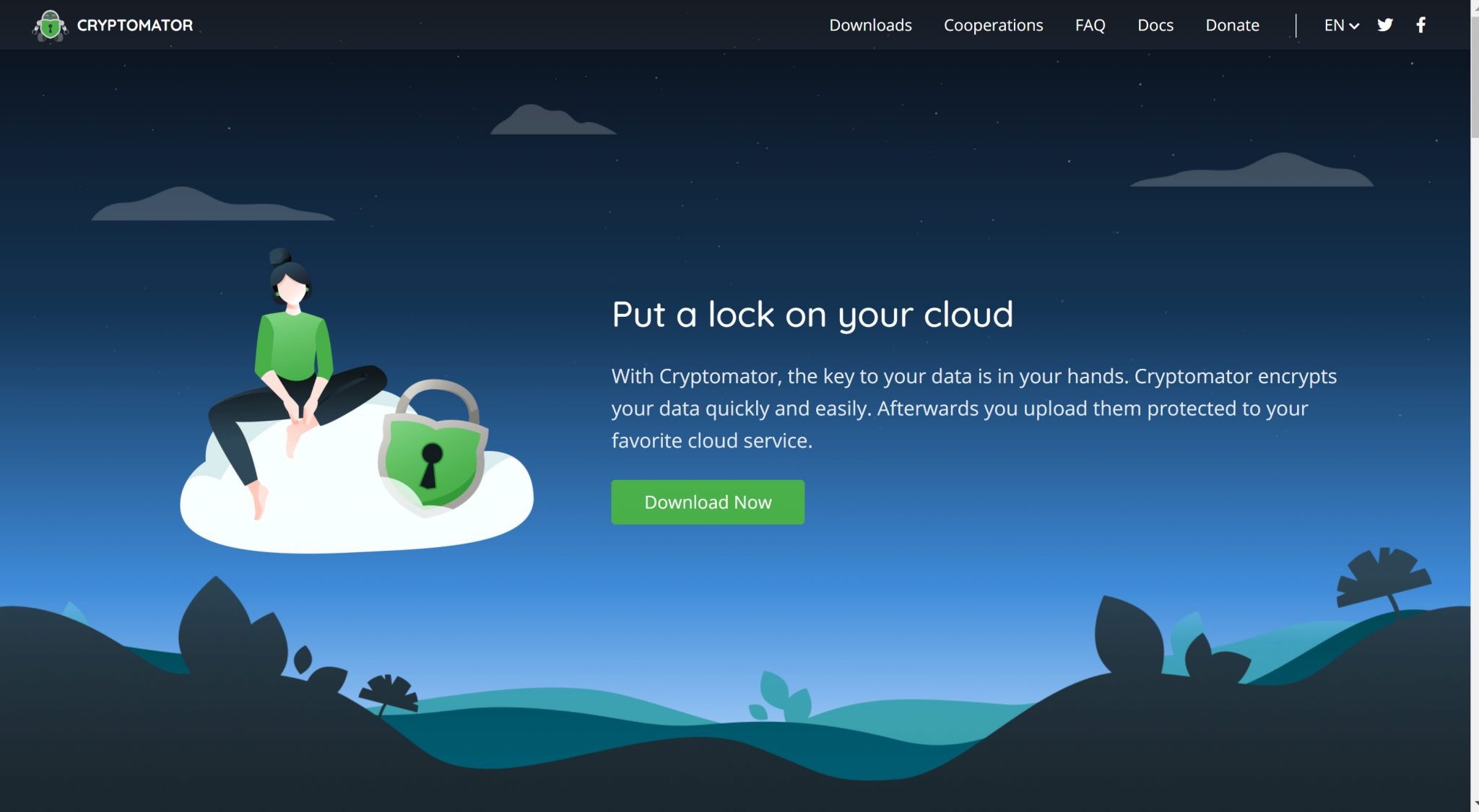 One of the most popular cloud-based encryption software tools, Cryptomator encrypts your local files. These files can then be uploaded on your preferred cloud storage such as Google Drive or Dropbox. 
Features:
It can either encrypt your file or even your whole folder with just a single click. 

These encryptions are password protected. 

It works will Windows, Linux, and macOS. 

Also, you can upload and save these files to your cloud platform. 

Cryptomator gives a virtual hard drive so that you can store your files generally, as you did. 
Pricing: Free To use
Our Opinion: Cryptomator is an excellent choice if you want cloud encryption software. If you're going to encrypt your single document, you can do that without disturbing the whole folder. It offers transparent encryption, which will save you a lot of time. 
9. HTTPS Everywhere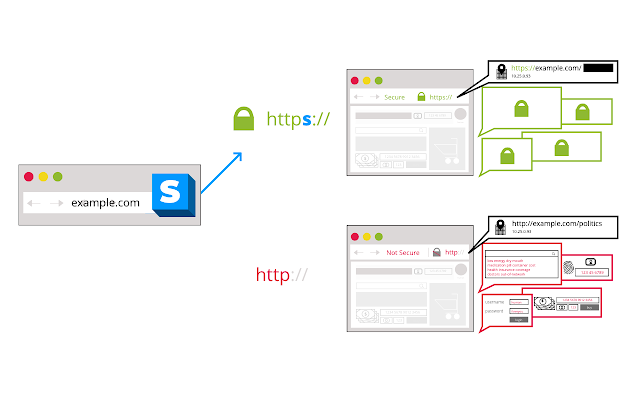 It is not enough to only encrypt your disk. While you are browsing the internet, it is equally important to encrypt your browsing and surfing. And, doing that is not a cakewalk! 
HTTPS Everywhere is an extension for Chrome, Mozilla, and Opera that encrypts your internet and works much in the same way as a VPN does. However, only paid VPNs are worth using. This extension is also created in collaboration between the EFF and Tor Project. 
So, HTTPS Everywhere forces encrypted connections to the website that are not even safe to use. Thus, even when you visit the HTTP or https version or even when the unencrypted version of the site, you will always be safe to browse using these extensions. 
Pricing: Completely free to use. 
10. CertainSafe


CertainSafe is yet another easy to use cloud-based encryption software. It lets you store and share any documents, files, videos, and photos and encrypt it within seconds. 
You can also get automated security and added encryption on all kinds of folders and documents. With CertainSafe, you can add the guests and add your colleagues to share and collaborate. 
Pricing: CertainSafe gives a 30-Day free trial. After the free trial, you can get the premium license for just $12/month with up to 100 GB and 100 guests on collaboration. 
Our Opinion: Overall, CertainSafe is a better choice if you have a team to collaborate and encrypt the files on the cloud. It is reasonable and can store up to 100GB volume per month. 
Conclusion:
This was our list of Best Encryption Software for startups and small businesses. Most of the encryption software that I have mentioned are open-source and free to use. 
Some of them may offer cloud storage, while some of them may lack this feature. You can successfully encrypt your disks, files, and even the internet browser using this encryption software. 
Let us know your suggestion about the best encryption software in the comments box!
Quick Links: