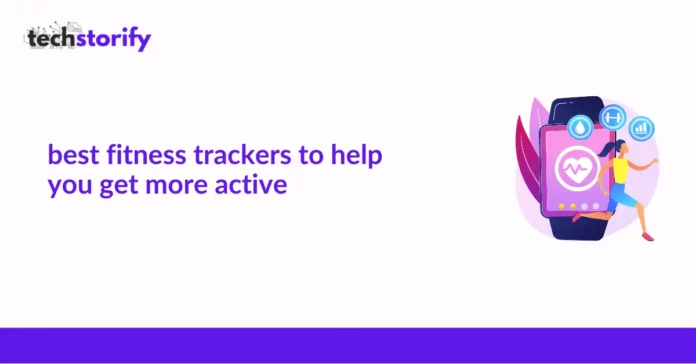 F
itness Trackers are all the rage nowadays, and with so many options out there, it's hard to figure out the best.
The merger of the fitness and technology industry has provided us with the golden era of Fitness Trackers. Everyone wants to own one and why not? Slowly and steadily, Fitness Trackers are becoming a necessity and we are here to help you pick the right.
Check out the Best Fitness Trackers
The Best Fitness Trackers
1. Fitbit Charge 3 Fitness Band
Talking about fitness trackers, Fitbit is the first brand that comes to mind. From a single fitness tracker point of view, Fitness Charge 3 Fitness Band is the ideal option. Staying up to the mark with their brand, they have incorporated outstanding features in their new version. The Fitbit Charge 3 has a smooth touchscreen design with no buttons whatsoever.
The prominent characteristic of this device is that it's feather-light in weight. Swimming and working out in the rain is not at all a problem, thanks to it being water-resistant up to 50m water depth. It is also equipped with a 15 Exercises Mode. It also has up to 7-day battery life. Hands down the best Fitness Tracker in the market currently.
2. Apple Watch Series 3
If you're looking for a fitness tracker along with a smartwatch, look no further. The combination is served well by the Apple Watch Series 3. The Apple Watch is well equipped with GPS and is a new addition to their continued series.
Along with all the smartwatch perks, it can track all your workout activities. If you wish to leave your phone at home and still keep a recorded track of your fitness, Apple Watch Series 3 is the way to go.
Related Article – Apple Watch Series 5
3. Garmin Vívofit 4 Fitness Tracker
Compatible with both Android & iOS, this is a simple and in a real sense perfect Fitness Band. It doesn't focus majorly on the design but rather on the functionality. It is a little heavier than the variety available in the market, though that doesn't hinder the comfort at all. It has an accurate heart sensor as well as GPS.
The average battery life of the fitness band is 5-6 days which is a lot. The extra features also include the Garmin Connect App.
4. Xiaomi Mi Band 4
One of the most affordable Fitness Trackers in the market is the Xiaomi Mi Band 4. Keeping up their game strong in all the electronic sectors, Xiaomi Mi Band provides several features. It allows you to choose up to 6 workout modes. It has a 20-day battery life which is very extensive as compared to the competitors in the market.
It is a definite advancement taking into consideration the previous versions of the same. This Fitness Tracker supports a coloured screen which is a fantastic add-on to the device.
5. Samsung Galaxy Fit
Another cult favorite is the Samsung Galaxy Fit. Your true companion in the fitness journey is this. One of the most attractive characteristics of the Fitness Band is its military-level durability standards. It ticks off all the standard Fitness Tracker utilities. What's not to like when it is water-resistant and, tracks sleep, monitors stress and what not?
Don't forget it supports more than 90 workouts which makes it extensive and stands out in the market. It has a coloured screen, and its battery life works up to 7 days. It is one of the most trusted and sorted Fitness Band options out in the market.
6. Garmin Forerunner 25
A Fitness Tracker made for true athletes is here! If you're preparing for a marathon and sports event, they'll track your performance. This Fitness Tracker is an athlete's dream. Also if you're a music person, their excessive music storage will not disappoint you. It also focuses a lot on safety which is why it is equipped with incident detection.
It checks off all the critical features of any Fitness Tracker. Waterproof, GPS monitor, music controls and a lot more. It is a complete package for all fitness freaks.
7. Fitbit Versa
Another basic yet comfortable Fitness Tracker is the Fitbit Versa. When talking about fitness, Fitbit is one of the most trustworthy brands. If you need a simple and easy-to-use Fitness Tracker, you've found what you're looking for. You can track the necessary steps, calories and heart rate monitoring.
It comes with 15 exercise modes which are more than enough for a beginner striving for fitness. Another exciting aspect is that it has a replaceable band. The battery life of this Fitness tracker is 4 days on average. It is a go-to and easy-to-use Fitness Tracker for a newbie.
8. Moov Now 3D
A lightweight and simple design are the two most crucial features of a Fitness Tracker, and the Moov Now 3D band includes that. Pure water and sweat-resistant Fitness Band doesn't get into your ultimate journey of fitness. It is equipped to track some of the well-known physical activities, and it does an outstanding job for it.
It does lack the heart sensor and GPS but other than that it is an ideal fit for people starting to get into fitness. It also features the 7+ minute circuit training which impressed a lot of people.
9. Fossil Gen 5 Smartwatch
Another excellent option for a smartwatch with a Fitness Tracker is the classic Fossil Gen 5 Smartwatch. If you are looking for your ultimate partner in crime to manage all your fitness as well as other professional goals, you've got a winner in hand. It has replaceable bands which allow you to be more flexible with your smartwatch regularly.
It is water-resistant, equipped with GPS, has music storage and lots more. With this, you can ditch the phone at home for your workout session with all ease.
Which one to buy?
Choosing a fitness tracker might be hard for you but keep in mind your fitness goals. A beginner doesn't have to buy a very fancy tracker, just like an athlete doesn't want a smartwatch. Focus on your fitness goals to choose the right fitness tracker for yourself!