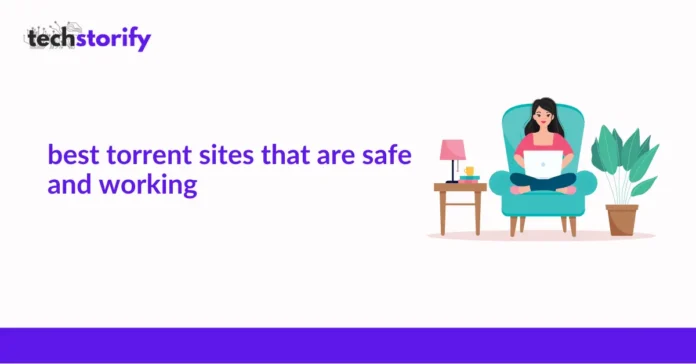 Torrent sites are the source for every type of online content you can ask for and more importantly from pirated sites, you can get all of those for free. To make things clear from the first, using torrents is not illegal.
There are contents that are official and can be downloaded with the help of software like BitTorrent.
But to be honest, most of the content users download from torrent is pirated content and downloading or distributing those content are illegal.
Still, here is the list of the top 15 torrent sites accessible from where you can download movies, music, games, or software for free.
Important
Warning: We do not support uploading or downloading any content which is copyrighted by someone else. If you do so, at your own risk, you are at risk of a civil lawsuit in countries like USA, Canada, UK and others. The more you upload or download, the higher the chance of facing a lawsuit.
Using a VPN connection is highly recommended while accessing these websites, otherwise many of them might not open on your browser.
If you do not know much about VPNs or do not want to pay for them, you can use Opera Browser as it comes with an ad blocker and VPN pre-installed and also for free.
Most Popular Torrent Sites
If you have ever used torrent, I can bet you heard about The Pirate Bay website. This is one of the best and most well-known sites to download music, songs, videos, software etc. The website has an interface that kind of looks like old school google homepage.
The website is easy to navigate and also supports magnet downloading. Governments of many countries tried to block the website but the developers behind The Pirate Bay always get passed it so there is a huge chance the site will stand strong in upcoming years.
VIP users also get a badge that indicates the legitimacy of the files they upload.
Related Article – 9 Best Pirate Bay Alternatives Working When TPB Is Down
If you want to get the data in style, 1337x is the site to visit. The user interface looks awesome and also offers a few different domain addresses in case one of them is not accessible from your region.
You can use 1337x Alternatives when other Torrent sites are down.
New content is being uploaded every hour and has icons to indicate if the files are in HD, BluRay, or any other resolution.
In case you want to upload your files, there is an easy option and if you are having any issues you can also contact them.
Although, as they might get many queries, do not expect fast replies.
Torrentz was a very known address for many users who used to enjoy downloading content fast and for free for a long time.
But with time the site got banned, and only after a day or two Torrentz2 emerged with the same experience people were habituated with.
Torrentz2 is a fast and powerful search engine to find the file you are looking for from many websites at once.
The interface is extremely basic but easy to navigate. They offer a free library of more than 60 million torrents.
If the sleek interface of 1337x is not enough for you, YTS got you covered. The website is dedicated to movies, and the file sizes are also pretty low.
So if you have a limited internet connection, it might be the best option for you.
You can search for movies with quality, genre, rating etc or go through their whole extensive collection of movies with large thumbnails.
Hovering over the thumbnails also reveals some key information about the movie. Overall it is the best-looking and least bandwidth-hungry site accessible right now.
When Google does not have all the answers, Zooqle comes in handy. It has a database of more than 3.5 million torrents which are filled with music, TV series, movies, games and software.
Recently the site is getting a lot of attention from movie freaks all over the world.
The main page has links to many categories you might be interested in. Thumbnails are also present, but in a smaller size than YTS. One of the best features is you can find movies or TV shows in any resolution you can think of from BluRay 7.1 to HD 2.0.
KickAssTorrents A.K.A. KATCR is a great alternative torrent site to download any content. The site is updated often so you should be able to find the latest film or TV series you are interested in. KATCR also contains games and software in case that is something you are looking for.
The website has a similar interface to ThePirateBay with a single search bar and a few categories on the home page. KickAss Torrents also features a login option, but that is not necessary to access their content.
Like most of the sites mentioned above, Monova has a huge collection of movies, TV series, games and software. You can log in to host your content on their website.
Although the interface is not that great, as the landing page is basically a white page with a few categories on the top.
Another big downside of Monova is they feature a lot of advertisements which might interfere with the user experience. Of course, you can use an ad-blocker to remove those.
SeedPeer comes with a simple but easy-to-access interface and an extensive torrent library of films, games, songs etc.
On the main page, you can look for the file by going through many featured categories.
They support magnet download and streaming videos from the site itself. SeedPeer also helps to find the best mirror available for your location for faster download speed.
TorLock is a great website if you are not habituated to spot fake torrent links as they have the best library of verified torrents.
One of their specialty is if you can find any fake links, TorLock will pay you.
Another interesting thing is TorLock features content that are hard to find on any other website. Most of the database of TorLock is of music, anime and e-books. The interface is also clutter-free.
TorrentFunk is an alternative to TorLock as it has indicators for fake and real torrent links. Although the uploading your content feature was disabled for a long time, it is available right now.
By logging in to the site you can give reviews on the files you have downloaded and get some replies too.
The website is updated hourly and has a collection of approx 4 million verified files with many mirror links to choose from.
Every day the site adds approx 8,000 new content to its already huge library of great content.
After the foundation of RARBG in 2008, the website is known to get high traffic and use P2P file sharing via BitTorrent protocol.
You can download a file from torrent or magnet links. As many people are using their service, the files get a lot of seeds, thus minimizing the download time.
RARBG hosts both old and new cinema, classic songs and old-school games and software that you will not be able to find anywhere else.
The site is blocked in most countries, so without a VPN accessing it is not possible for the most part.
LimeTorrents features a beautiful user interface with one of the largest collections you can find on any torrent site as of now.
You can look for movies, TV shows, games, software and anime on this website.
Users can also log in to save the history of their downloaded content for later use. For every file, LimeTorrents features an extensive information page for better understanding.
TorrentDownloads is a fancy-looking site that compiles a great number of torrent files. You can find detailed information about every TV show or movie the site features.
Users can also comment on each of the files so the possibility of downloading fake files is less.
In case you are searching for something released or updated recently TorrentDownloads has separate tabs for content uploaded today or yesterday.
There are many other categories on the home page to choose from, like TV shows, movies, games and others.
Pirateiro is a lesser-known website where you can get some great content to download. Although the site hosts music, songs, games etc the main attention is on TV shows and movies. TV shows and movie files also have a small thumbnail paired with some information.
Before downloading you can see the time when the file was uploaded, the file size and the seeds which will help you to understand the best link to go with.
The site also supports magnet download to ensure faster download speed.
At the end of the list, we have something special for all TV show lovers, and that is ETTV. But not only TV shows, but the site also has a great collection of other entertaining files, like songs, movies etc.
Today it's known as one of the best torrent sites for TV shows, with lots of active users.
The user interface is not the best I have seen, but their extensive collection does make up for that. One can find TV series from different countries and various languages.
NOTE: The above list mostly mentions torrent sites, and torrent search engines are absent. You can find some of the good torrent search engines including Torrents.me, Torrents.io, Veoble, XTORX, Snowfl, Torrentz2, and many others from our list of best torrent search engines.
Wrapping Up
Though The Pirate Bay might become your number one choice as the best torrenting or torrent site for downloading your favorite stuff, it is possible that there is a unique file that you might not find on this torrent website since we stated before that, not all websites are perfect. Instead, try browsing other alternatives and see if your luck starts there.
Before hopping on any of these entertaining websites, again I would suggest you use a VPN connection for security and accessibility reasons and an ad-blocker will be the cherry on the top for the best browsing experience.