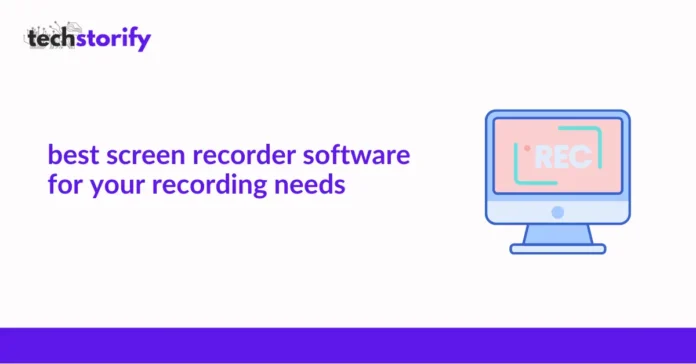 Screencasting has become one of the most important elements when it comes to making video tutorials online. You would need a good screen recorder to create your tutorials, which should be easy to use and cost-effective at the same time.
With the rise of YouTubers, tutorials are one of the top categories that you will find in the digital structure. There are a lot of creators that provide free and paid tutorials. This can be from a simple How-to video to an in-depth video editing course.
Need to clip or crop your recorded footage? Take a look at our guide to the best free video editors to find the right software for the job.
Screencasting is an exciting concept. You can record your screen and convert it into a content piece to provide detailed tutorials on any subject.
Today we are going to list down 10 best free screen recording software.
The Best Free Screen Recording Software
OS: Microsoft Windows 7/8/10/11 (32- and 64-bit)
Size: 22.1 MB
As the name suggests, Free Cam is a free screen recording software that lets you create professional-quality videos by screencasting your activity. Y
ou can record the video and also audio at the same time. There is no watermark that will come in your output.
Yes, a free tool without the watermark is a no-brainer. The interface is simple and works brilliantly with windows. Here is the demo video that you should check out to quickly know how it works.
OS: Windows XP SP3 / 7 / 8 / 10 / 11
Size: 34.68 MB
DVDVideosoft is known for its conversion software. You might have used various tools for video conversion, and we are sure that one of them must have been of DVDVideosoft.
They also have a free screen recorder to offer to their consumers. This is a lightweight screen recorder that is best for recording Skype Calls.
The video can be saved in AVI files only, but with their conversion tool, you can convert it into an mp4 file.
However, there are certain things you should know. Free tools come with a lot of paid advertisements that can annoy you as an end-user.
You can only record the mic-audio while taking a screengrab. Apart from that, it is an incredible free tool that you can use.
OS: Windows 7 & above
Size: 7.15 MB
ShareX is an open-source screen recording tool that is targeted at slightly tech-inclined people.
As it is open-source, the possibilities of customization are limitless. You can easily tweak the software according to your requirements.
OS: Windows XP & above
If you are an amateur and are looking for a primary screen recording platform, CamStudio is the best option for you.
A simple screencasting software that helps you make quick video tutorials for your page. When we say basically, it is quite necessary.
But if you need a screen recorder to record your screen, this is it.
Ezvid is the most accessible screen recording tool out there. The entire objective is to make things easier for their consumers.
It hardly takes any time to record and upload your video online.
It offers a narrative speech feature that can be easy for gamers. Also, it provides high-quality record quality to make your screengrab up to the mark.
6 – iSpring Suite
iSpring Suite is the best-in-class screen recorder. This is not just like an average screencast software but professional screen-cast recording software.
You can experience the high-quality output for free through their 15-day trial period but it is a paid tool.
The features are amazing, you will not require any other tool if you have this. A screen recorder, an audio and video editor, and capabilities to share the recordings directly to any social media platform.
Check out their introductory video here.
The next screen recorder in the list is a basic tool called, Apowersoft Online Screen Recorder. This comes with a simple interface to take the screengrabs with some editing.
This can be added to the extension and can come in handy while taking quick video recordings. If you are looking at a simple screen recorder platform then this is it.
TinyTake is another powerful scree-recording software. It is a top-notch software that can help you quickly take screengrabs and annotate your videos for social media platforms.
However, the free version files can not be used for commercial use and you will have to buy a premium account for the same.
9 –  SmartPixel
If you are a gamer and looking for stellar scree-recording software that can help you record your gameplay then SmartPixel is another option that you can pick. SmartPixel does not let your gaming experience get hampered while recording and make sure it captures the screenplay in high-quality.
In case you feel that your videos are too huge in size then its compression feature can reduce the file size for easy upload.
The last one on our list is a fancy name and yet another brilliant screen recorder. Icecream recorder acts as a dual software. You can capture a static image screenshot and a video screengrab as well.
You can drag and select the area that you need to capture which makes it interesting. A simple tool to use but comes with amazing features. You should definitely check this one out.
Wrapping Up
So here are the best free screen recording software in 2020 and we feel these will help you take the perfect screen-grab as per your requirement. Let us know if you want us to add any others to the list.
Have something to say about this article? Comment below or share it with us on Facebook, Twitter, or our LinkedIn.