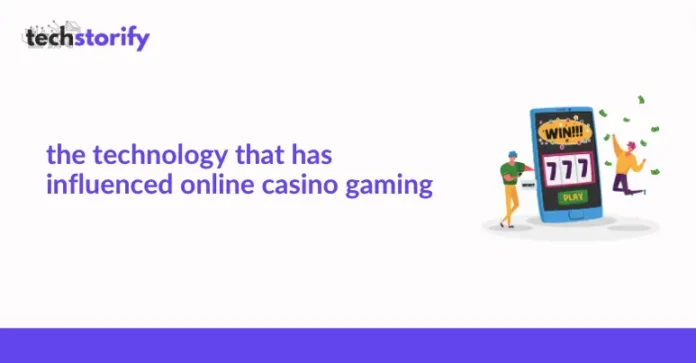 Online casinos have become a really popular way to spend some time, allowing easy access to all your favorite games from the comfort of your home. 
Playing in an online casino is a fun and exciting experience, with the added bonus of winning some money if your numbers come in. 
The experience that you can have when you are playing is influenced by technology at every turn – and without it, we wouldn't be able to play the games that we love. 
Before the internet became widespread, you would have to visit a brick-and-mortar casino to play your favorite table and card games or go to a bar to play the slots and get involved in back-room poker tournaments. 
Microgaming, a small internet company from Jersey, was arguably the first company to create an online casino back in 1994. The games were just card and table games, and they looked quite different to the online casinos that we play in today – 2D blocky graphics and much slower.
To find the best online casino for you, head to bonusfinder.com who list all of the top reputable casino sites and their best promotions on offer.  Once you select a site and sign-up, you'll usually find a bright and colorful home page, a simple user interface, and you'll be able to choose from thousands of different games, ranging from live dealer blackjack and poker through to the latest in slots – and you might not be considering the technology behind it all. 
3D Animation
The technology and innovation that brings us such realism in the movies that we watch is also being used to create really immersive and stunning games too. While we might be thinking about the big-name blockbuster games like Red Dead Redemption and the soaring plains of the wild west, or the vistas in open world games like Skyrim, when it comes to casino games the animation quality is all down to the graphical abilities of the designers and the technology, they now have access to. 
You'll see ultra realism in cutaway videos, and detailed animation between scenes in games in the casino, as well as smooth movement of cards and wheels – and let's not forget the chaos of the cascading reels and exploding wilds on the slots, too. 
VR/AR
Immersing yourself in the online casino makes the experience so much better, and now thanks to Augmented Reality (AR) and Virtual Reality (VR), it is fast becoming more possible to really feel like you are there among the high rollers and the glitz and glamour of your favorite casino. 
Put on a VR headset and suddenly you are on the floor of the casino, playing alongside other people, getting dealt the cards by an avatar. Or use AR to superimpose the casino surroundings into your bedroom, so that you are taking into the game more and can make the moves that you need to. 
It might sound futuristic, but the technology is coming – we will be able to go anywhere we want, virtually. 
AI
Artificial Intelligence and machine learning is why the games are fair and balanced in an online casino. AI and algorithms are responsible for creating truly random reel spins on the slots, and for ensuring that there are no outside tools being used to help players win at cards. 
Of course, they are also being used to gather information about players and habits, and to create simulations of games that are more realistic, creating dealers that play and respond like real humans and can even hold conversations through chat boxes.
Mobile Gaming
The prevalence of 5G across major cities around the world, and better Wi-Fi provision in public spaces has meant that you don't even need to be at home to play your favorite casino games. Now you can play a few hands of poker while you are on your coffee break or spin some reels while you are waiting for the bus – and that is why mobile gaming is on the rise. 
Live Dealer
While we love the convenience of playing wherever we want, the social aspect of being at a casino can sometimes be lacking, as can the personal touch of a dealer or a croupier. 
In live dealer games, the action is streamed live from the casino and the dealer is a real person, and you and the other players are actually able to play a real game – without going out. You can chat to each other, and even converse with the dealer – and see everything that happens through live stream video.
Safety
The last point is your safety online. When you sign up to a casino, you will need to share personal and financial information – and thanks to technology, your data remains safe. Encryption through cryptography and algorithms helps deter hackers, and you'll have to sign in using tools like two-factor authorization or biometrics to ensure that only you can get access to your account (and your funds).