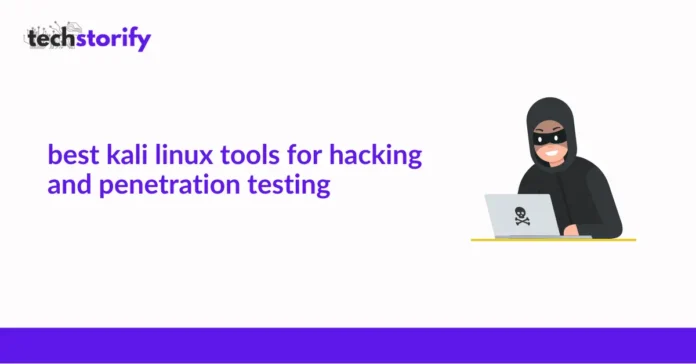 Here's our list of the best Kali Linux tools that will allow you to assess the security of web-servers and help in performing hacking and pen-testing.
If you are a hacker or a webmaster, this is one of the best spots you could arrive at.
We've previously explored the Top OSINT Tools available, and today we'll go through the list of top-used Kali Linux software.
In this article, we are sharing with you all the 15 best Kali Linux tools for hacking and penetration testing through which you can easily hack, test or even scan your web server or page. So here we go –
Top Kali Linux Tools for Hacking and Penetration Testing
Below are the best Kali hacking tools for Linux which will make it possible for you to access the security of web servers and thus hack and perform penetration testing.
The first one on our list of best Kali Linux Hacking tools is the WPScan. WordPress is indeed one of the best security auditing tools. For those using WordPress, like bloggers, WPScan is the best option to go for since it also enlists the detailed plugins that are active.
With WPScan, makes WP less vulnerable and ensures the safety of your blog. This is a free tool but is not open source. It does all the scanning required and works effectively as well.
Lynis is another great security auditing tool that can be used for hacking and penetration testing too.
This tool offers compliance testing and scanning of the entire system is done as per the components detected. System hardening is another feature offered by Linux.
Network Mapper or Nmap is another very known Kali Linux hacking tool. One can make use of Nmap for detecting a number of details regarding network security like OS Detection, IP Address, and so on.
Aircrack-ng is another password-hacking tool for WAP, WPA 2, WEP that can be used worldwide and is also considered as the best in its area. This tool works by the mechanism of taking the network packets and then analyzing them through the recovered passwords.
The Aircrack-ng makes use of the standard FMS i.e., Fluhrer, Mantin, and Shamir attack along with other attacks for optimization like – PTW attacks, KoreK attacks, etc. You can make use of this tool as a cracker, detector, analysis tool, and sniffer as well.
This basically boosts the attack and makes it quicker than the WEP attack. It also has a console interface. You can use this tool on Linux, Windows, BSD, and MacOS too.
SkipFish is another tool for hacking with Kali Linux that is quite similar to WPScan. However, its gamut is not concerned only with WordPress. This tool works really fast and is easily accessible.
In case you are looking for a professional web app security assessment, then the report from Skipfish will be useful.
It works by the mechanism of the Recursive crawl method. So now you know what kind of Web Application scanner Skipfish is.
Wireshark is another one of the Kali Linux Tools that are considered to be the most widely used Network Protocol Analyzer in the world. Wireshark makes it possible to keep an eye on the activities on the network.
The range of this check varies from minute level and has access to pcap files, accompanied by advanced triggers, alerts, reports that can be customized, and so on.
Nessus tool helps users scan the computers for vulnerabilities. It is more of a remote scanning tool that does not block the scanned vulnerabilities. However, by running 1200+ vulnerability scans, it can take them out by sending alerts whenever security patches are required to be made.
So Nessus could be a great option if you want to find vulnerabilities in a Network to which the computer is connected.
This way the computers connected to one network connection can be easily secured. The only drawback that hits us here is, Nessus is no more a free tool.
You will have to pay after a free trial period of 7 days.
NC or Netcat is one of the Kali Linux tools that can be used for creating almost any sort of connection. You can make use of this network utility for using the IP/TCP protocols for reading and writing the data across network connections.
This tool can be used for exploring and debugging numerous networks with the use of port-scanning, tunnel mode, and so on. So what are you waiting for? Go grab the amazing Kali Linux hacking tool.
The Browser Exploitation Framework, more popularly known as BeEF is a penetration tool whose main focus is on the vulnerabilities of the browser.
With the help of client-side attack vectors, the security strength can be accessed.
Thus, the client-side problems can be resolved with the help of this Kali Linux tool since it is accompanied by penetration testers in order to access the security of a web browser.
If you are looking for a password-cracking tool then one of the best options you can choose from is the Ophcrack. As the name implies, this tool can be used for cracking passwords and thus hacking the ethical way.
You can get this tool as a Live Linux CD that is based on SliTax distro with the motive of cracking passwords of Windows.
Since it is a cross-platform tool, Ophcrack can be used on Linux as well as Windows.
This tool is also very simple to use and understand because of its user-friendly interface. This tool is actually an open-source one that is mostly used for cracking passwords in lesser time. Hence, if that is your need, this is the best choice to go for.
Apktool is another Linux Hacking tool that works by the mechanism of Reverse engineering Android applications.
This tool is a great option for knowledge, education and experiment purposes. Your innovations can be introduced to the original developer through this tool as well.
Metasploit Framework is another one on our list that performs vulnerability testing and serves as the penetration testing system.
Metasploit Framework can be considered an exploitation tool. This is because it lets the user spot, validate, and exploit various loopholes.
Thus this tool is widely used for the motive of ethical hacking.
You can use this tool on Linux, BSD, Mac, and Windows Operating Systems. The tool is very much popular in its field and has within itself a number of other tools that help you create a security ecosystem for vulnerability testing. Almost every day, the latest updates are released over the tool.
This is an open-source framework through which the security experts check vulnerabilities and also run the security assessments for much better security awareness. Since this is an open source tool, new modules and various features are often added.
Hydra is one such kali Linux tool that is compatible with quick dictionary attacks for various protocols that range in number over 50 like – https, fps, telnet, and so on. One can make use of Hydra for cracking into wireless networks, Gmail, packet crafters, web scanners, and so on.
A professional integrated graphic user interface tool that is used for scanning the vulnerabilities regarding the security of web apps is the Burp Suite Scanner.
This tool is quite different from other web security analysis tools and is not an open-source tool.
You will be offered a Graphic User Interface along with a number of features here. This can work for rudimentary purposes.
However, if you are looking for professional features, you will have to upgrade.
The last one on our list of best Kali Linux Tools is the Nikto open-source web scanner that performs comprehensive testing against web items. It is mostly used in the case of web applications. It is an open source vulnerability scanner.
This tool works by the mechanism of checking through various outdated program versions, server-oriented issues, vulnerable server configurations, and so on.
Various features like host authentication, SSL, proxies, attack encoding, etc. can be seen in this tool. Thus it is used by ethical hackers for locating insecure configurations, programs, and files, etc.
Wrapping Up
Those were the best Kali Linux Tools For Hacking And Penetration Testing. I assume you have found the best Kali Linux hacking tool for yourself.
In case you know any other significant and useful kali Linux tools, feel free to let us know in the comment section below.
Have something to say about this article? Comment below or share it with us on Facebook, Twitter, or our LinkedIn.