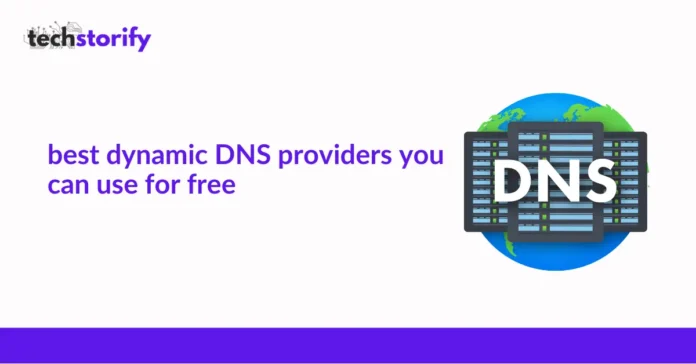 DDNS is the abbreviation for Dynamic DNS. DynDNS allows a single web address to point to a changing IP Address which turns out to be a good thing for home users as the IPs are not always the same.
In case you are wondering which DDNS will be perfect for you, here goes a complete article on the best Dynamic DNS servers.
Best Dynamic DNS Providers You Can Lookup
So here goes the list of the 7 best DDNS providers that are all free.
Note that a few of them are totally free to use while others have a free as well as a premium version that generally contains additional features than free ones.
The first Free dynamic DNS on our list is Dynu. You get a free as well as a premium version here. However, the free version provides various services for just one subdomain. However, through the paid version, you can have unlimited subdomains for yourself.
Domain registration, Email service, SSL Certificates, etc are a few of the services offered for free to name.
The free version of Dynu offers reliable DNS uptime from various servers around the globe.
This way it ensures that all the top-level domains would work too no matter what country they are from.
DNSdynamic is a Free DNS service that offers unlimited hostnames along with a wide range of domain names. Most of them are, however, domain names of the series – .com. The interface is pretty simple and the site is updated regularly.
The site is however user-friendly in the form of customer support through Twitter or Mail.
The IP Addresses on a Linux or Windows are updated to DNS names through a free VPN service.
One major drawback of this service is that you will be required to be alert while setting up your account about the data protection guidelines.
The next one on the list is the Securepoint DynDNS Dynamic DNS service that allows you to use this service with or without the 'Secure Point Device'. You can easily and seamlessly use this service provider in the Firewall.
Over this site, you are offered nearly a hundred domains and five hosts in all. The IPv6 Protocol is supported here.
You may find the user interface a bit complicated at first but with time, you will get used to it.
The process of registering is quite easy here. All you need is to give the email ID, Username and Password and you are good to go.
Another one of the Dynamic DNS providers is the DynDNS Service which offers free service.
This is a German DDNS provider through which you can create a DynamicDNS campaign ad input account data in the router.
You can opt for either the free service or the paid one that consists of more features. The setup procedure is pretty simple and all you need to do is create a free account.
You will be given three DDNS domains in the free version.
Duck DNS is one such Dynamic DNS that has been built with the help of the infrastructure of Amazon. You will find a number of tutorials in written form on this site.
Thus it will make it easy for a newbie to set up their accounts.
You can use this platform over Mac OS, Windows as well as Linux. The site of this DNS service is pretty plain and thus easy to use.
It is also very limited by the virtue of its staff which consists of just 2 software engineers.
No-IP is one such Dynamic DNS Provider that offers three hostnames for free along with a limited number of domains.
However, you will experience the premium versions of this DNS provider.
It has a free package as well as 2 premium packages. You can either use it for Personal use or Business use.
Just note that your account will be deleted if you have not confirmed it every 30 days. No-IP is the least on this list that I would recommend.
The last one is the Afraid.org dynamic DNS service that you have nothing to be afraid of. Skip the part about the meaning of why it is named afraid, the features of Afraid will only make you like it even more.
Afraid.org provides users with various free hosting along with free DNS, Static DNS services, and Free URL redirection i.e., web forwarding.
There are also premium or paid services for increased accountability.
The DNS service is really very easy to use and you can easily set up your account within a few minutes.
You get to choose from over 90 thousand domains to choose from for which you are also shown the URL Direction.
One gets an infinite number of domains for each account and there are free shared hostnames as well.
The domain hosting is free with the backup DNS also being free along with free subdomain hosting.
So what are you still waiting for? Go and make your choice!
Final Words –
So these were the Best Dynamic DNS providers you can look up for free today.
Just note that you will face a few restrictions while using any of the DynDNS services since you cannot choose any URL.
There are limited options to choose from in the case of domain names once you select the hostname.
I am hoping you have found the article of use and have picked up the right one for you.
In case you find any names missing from the list, do let us know in the comment box below. We will be glad to hear from you.
Have something to say about this article? Comment below or share it with us on Facebook, Twitter, or our LinkedIn.
Frequently Asked Questions
1. What is Dynamic DNS?
Dynamic DNS (Domain Name System) is a service that allows you to associate a hostname with a dynamic IP address, which can change over time, rather than a static IP address. This enables users to access their devices remotely over the Internet, even if their IP address changes.
2. How does Dynamic DNS work?
Dynamic DNS works by running a client program on a device that has a dynamic IP address.
This client program periodically checks the device's IP address and updates the dynamic DNS provider's database with the current IP address.
The provider's DNS servers then associate the hostname with the correct IP address, allowing users to access the device using the hostname.
3. What are some popular Dynamic DNS providers?
There are many Dynamic DNS providers, including No-IP, DynDNS, Namecheap, Afraid.org, and ZoneEdit.
4. Why use Dynamic DNS?
Dynamic DNS is useful for users who have a device with a dynamic IP address and want to access it remotely over the Internet.
Without Dynamic DNS, users would have to manually update the IP address associated with their hostname every time it changes.
Dynamic DNS automates this process, making it easier for users to access their devices remotely.
5. Is Dynamic DNS secure?
Dynamic DNS is generally considered to be secure, as long as you use a reputable provider and follow best practices for securing your device.
However, like any service that involves accessing your device over the Internet, there are security risks involved, such as hacking or denial-of-service attacks.
To minimize these risks, it is important to use a strong password and to keep your device and software up-to-date with the latest security patches.