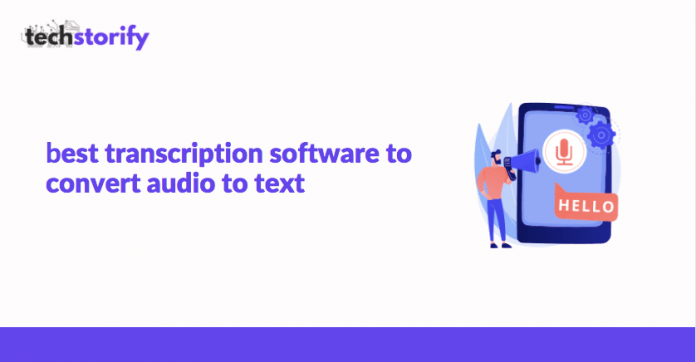 Looking for the best Transcription Software to Convert Audio to Text? Here is the complete list.
Imagine having a number of audio files to convert to text and you think of manually converting it.
Well, that's like breaking a rock with a hammer when you have got the massive hydraulic rock breaker machines.
That's what the transcription software does. It can convert your large audio into texts within minutes.
Choosing the right transcription software can be a bit daunting if you are regularly looking to convert it.
Thus, we have shared the comprehensive list of Best Transcription Software to convert your audio to text.
What is Transcription software?
Transcription is the process in which an audio file is converted into written words. It helps to make your voice messages, sermons, lectures etc into typed documents for future reference.
Transcription software can be used by anyone who would like to convert their video or audio files into text so that it can be used throughout with ease without having to refer to the audio files.
Best Transcription Software to convert audio to text (with Pros & Cons)
1. Happy Scribe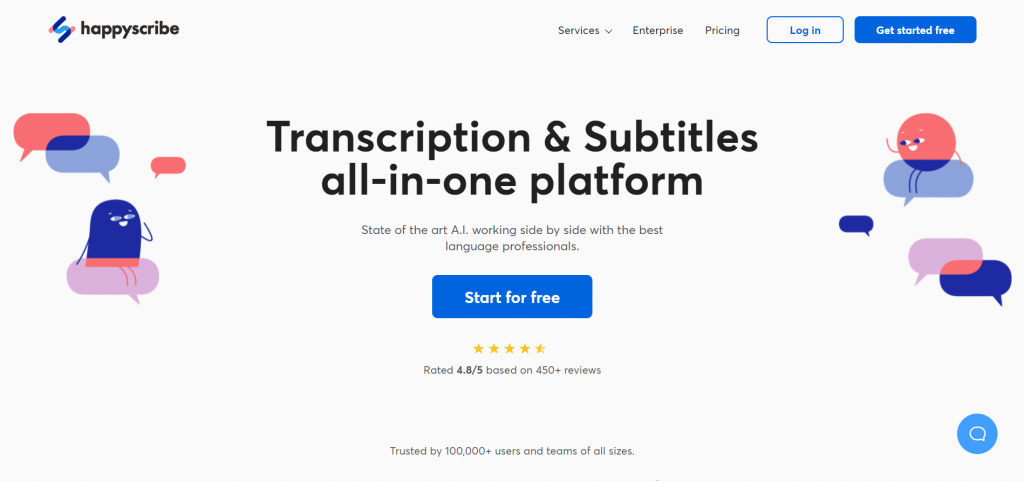 Happy Scribe is fast and accurate AI-based transcription software that has the ability to convert voice into text. It also allows you to edit your audio files within its interface by dividing them into different notes.
For you, it is a boon as it has the words per minute which help in measuring your accuracy level.
The software comes with a transcription editor that eases the way you interact with the editors.
The direct publishing option enables you to publish your transcription directly on the web.
HappyScribe claims to support over 120 languages and over 45 formats.
Pros:
Provides excellent user interface and is easy to use.
Offers direct messaging between you and your clients or colleagues.
Lets you collaborate between the team members
Offers API integration and direct integration with YouTube and Zapier.
Cons:
The software might be faulty and accurate at times.
2. Rev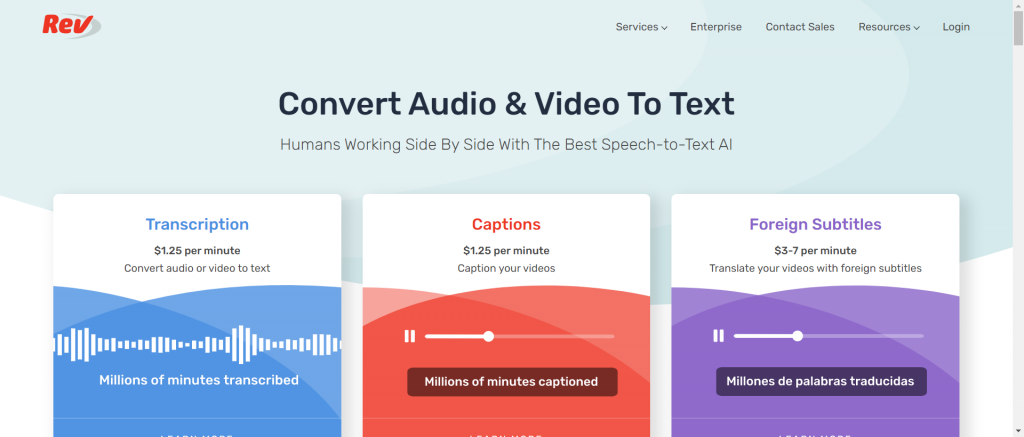 Rev is more like a transcription service rather than the software itself.  It provides transcription service to everyone at an affordable price.
You'll be charged $1.25 per minute for the audio, and the completed transcript will be delivered within 12 hours with 99% accuracy. It saves you a lot of time because all you have to do is upload the audio file.
Rev supports over 200 languages and can transcribe Audio, video or conference calls.
Pros:
Offers online editing tools that allow instant sharing of your transcripts with anyone.
The software offers a high accuracy rate as it is powered by humans instead of machines.
You can integrate with Google Drive and Dropbox to ensure faster workflow.
Cons:
You will have to depend on the translators or transcriptionists here.
3. Amberscript
Amberscript is one of the highly loved transcription software among the companies like Netflix, Disney and Microsoft.
It has a simple user interface that makes it easy for anyone to use. It also supports batch transcription so you can easily transcript multiple files at once.
The software also comes with built-in tools that allow you to automatically generate transcripts and notes as you go along, making the process even easier.
It's an intelligent tool that employs AI speech recognition to turn audio and videos into text or subtitles.
Another USP is that it also offers the transcription service by professional transcriptionists.
So, it is up to you who you want to choose for converting the audio to text.
Pros:
Has an intuitive user interface
GDPR compliance
It also offers affordable pricing for small businesses.
Cons:
Turnaround time for the human transcribers could be longer.
4. Nuance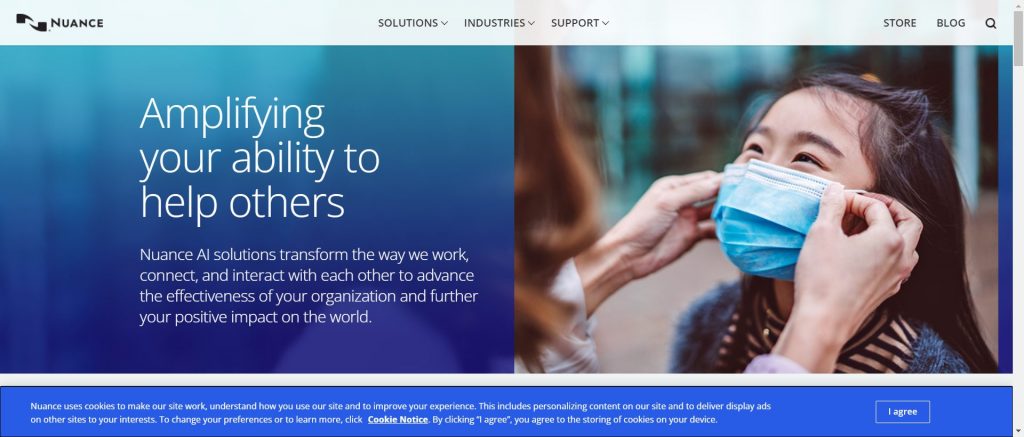 Nuance is more like a speech-to-text software but it is also a prominent transcription software that has been working in conjugation with Microsoft.
Like other transcription software, Nuance offers a simple and user-friendly interface.
It also comes with tools that help you to automatically generate transcripts and notes as you go along.
What makes it stand out, however, is its ability to convert audio into text in real-time. This means that you can easily turn around transcriptions quickly without having to wait for the human transcribers.
It's also a good productivity tool because you can utilize just your voice to manage all aspects of it. It'll just do everything without you needing to do anything, so just give commands.
Pros:
It has over 98% accuracy in transcribing.
Offers integration with various apps.
The tool calibrates with tone and accent.
Cons:
Pricing may be higher.
Customer support isn't helpful.
5. Transcribe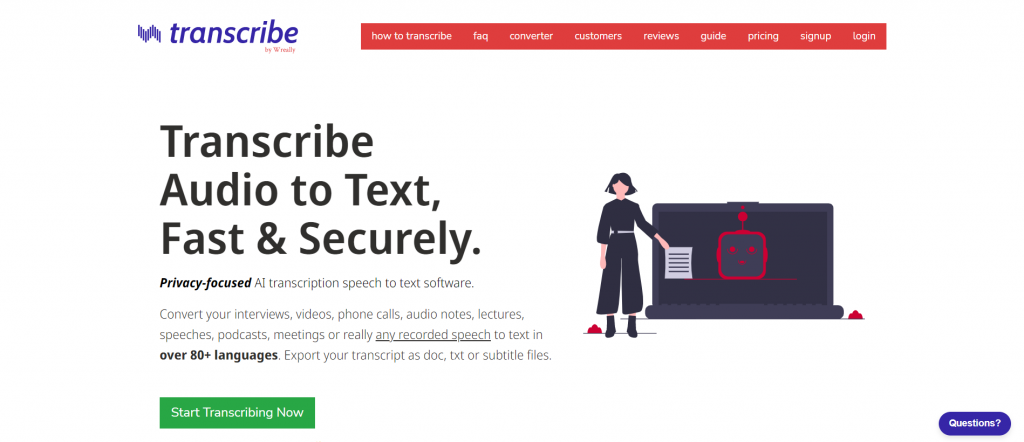 Transcribe is a popular transcription software that has been in the market for quite some time. Transcribe allows you to convert your podcasts, presentations, lectures, calls, interviews, and other audio/video formats into text in over 60 languages.
Transcribe gives clients the option of choosing from three different transcription processes. The first is Magical Automatic Transcription, which takes less than an hour to complete.
If the background noise in your audio isn't too clear, it uses the special feature to allow you to record the audio and the tool will convert it with time.
Pros:
It offers three transcription modes: Magical Automatic Transcription, Voice Type with Dictation, and Self Transcription.
This tool also works offline.
The tool also integrates with foot pedal that slows down the audio and helps in efficient typing.
Cons:
The software may be a bit expensive.
6. Trint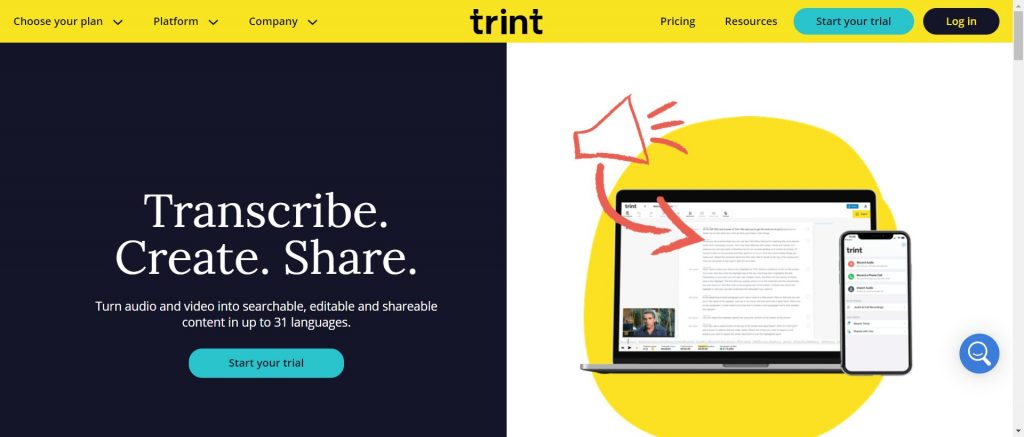 Trint uses advanced technologies to convert audio into text. It is a highly accurate tool that can convert voice recordings into text with a high level of accuracy. It can also convert the audio into text with a high level of accuracy.
This is done by using machine learning, artificial intelligence and speech recognition technology.
The process for transcribing is pretty simple. All you need is to import the audio file and the software will convert the audio to text with 100% accuracy.
That's how good it is!
Furthermore, Transcribe also lets you add markers, assign speaker names, search for key terms, and leave reminders in specific areas via comments.
Pros
It is compatible with macOS, Windows as well as Linux.
Transcribe supports various audio formats including .mp3, .mp4, .m4a, .aac, .wma, .avi, .wav, .mov.
You can also comment for team members to collaborate.
Cons:
The interface needs more organization
Expensive pricing plans.
7. oTranscribe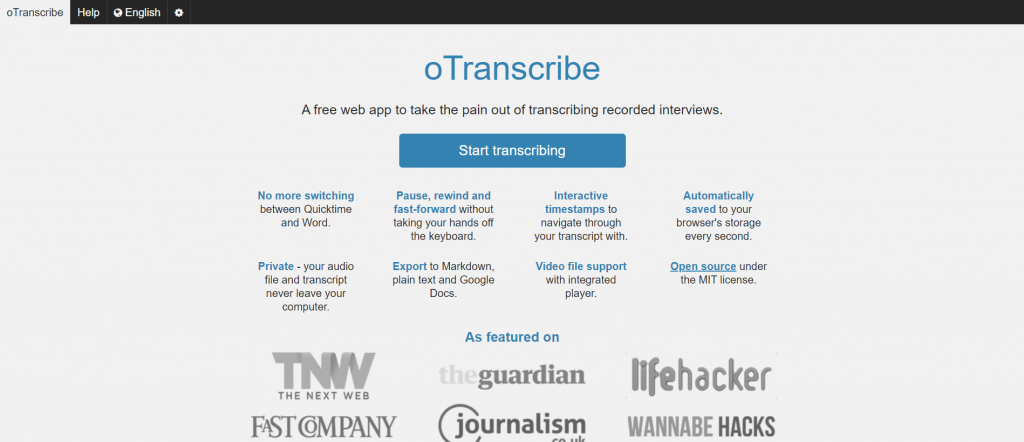 oTranscribe is audio transcription software that offers a user-friendly interface. This is completely open-source software that comes with impressive features and comes with no price tag at all.
oTranscribe saves each change automatically, so you won't lose your transcript if your internet connection goes down. It's also worth noting that your information is kept completely confidential and secure.
Using oTranscribe, you can perform various functions for transcribing audio such as pause, rewind or forward using the keyboard.
You can also use the timestamp feature to navigate to the specific timeframe and convert the desired audio to text. oTranscribe works in offline mode as well.
All of your data is stored locally on your computer, rather than on a distant server or in the cloud, to preserve the security of your audio, videos, and transcripts.
oTranscribe backs up your progress every 5 minutes, and it is recommended that users export their work at the end of each day to avoid data loss when transcribing audio.
Pros:
It offers mouse-free navigation.
Files can be exported to markdown, plain text or Google docs.
Easy to use text editor.
Cons:
Lacks robust customer support.
8. Express Scribe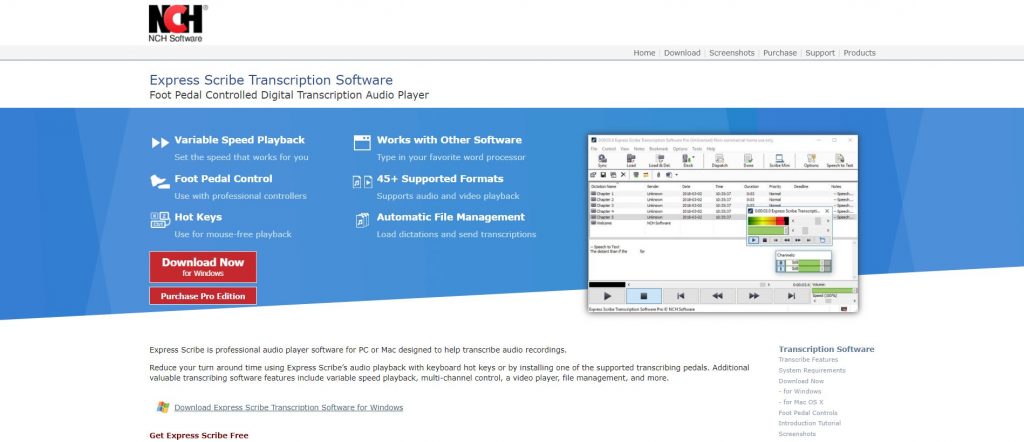 Express Scribe is transcription software that offers an easy-to-use interface, automatic backup and cloud storage. It also has a wide range of features for transcriptionists, such as voice recognition and video annotation.
The software comes with amazing keyboard shortcuts and foot pedal control.
It can handle a variety of file types, including encrypted dictation files. You may also load audio files from a CD and work on them while they are downloading.
If you set it up that way, the software can immediately email the transcription to your client once it's finished, saving you even more time.
Pros:
Comes with a free as well as pro version.
It offers integration with tools like Microsoft Word, FastFox Text Expander and text-to-speech converter as well.
Currently, Express Scribe supports over 45 different formats.
Cons:
9. Temi
Temi, which has over 10,000 users, will transcribe your audio for as little as $0.25 per minute. Their experts, who are experts in machine learning and speech recognition, built it, so you can imagine how accurate it is.
Temi offers an editing tool to help in polishing the transcripts. It also offers iOS and Android mobile apps to allow users to order transcripts anytime.
Pros:
It takes one-quarter of the file duration to transcribe.
The pricing for the software is incredibly affordable.
You can also download their mobile app for transcribing on the fly.
Cons:
It might mess up the transcription of complex files.
10. Descript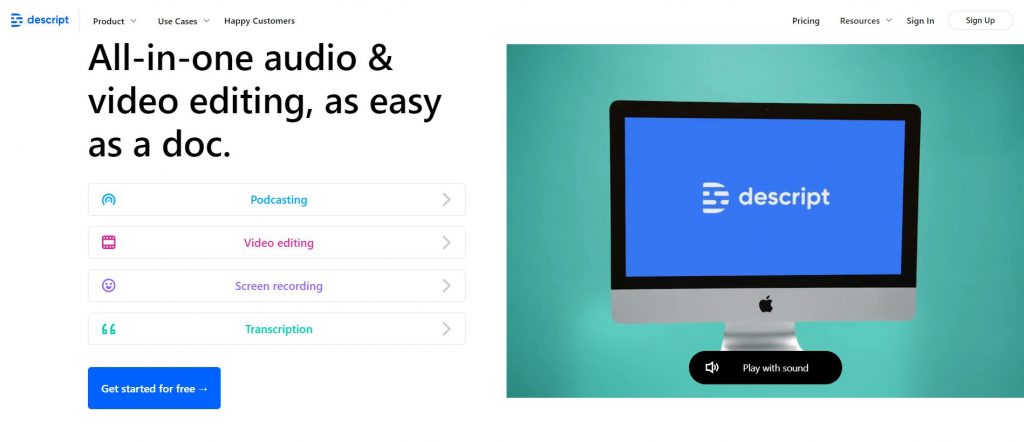 Descript is transcription software that offers users an easy-to-use interface, automatic backup and cloud storage.
Descript provides excellent accuracy as well as a variety of collaboration tools to ensure flawless transcribing every time.
It costs only $2 per minute, and you may have your assignment completed in as little as 24 hours. Descript, like the other solutions on our list, keeps your information private and secure.
You can also add the speaker labels using the Speaker Identification feature.
Pros:
It has strong data protection policy.
You can also sync files using cloud storage.
It gives the option to remove filler words using single click.
Cons:
Does not offer any integration capabilities.
11. Otter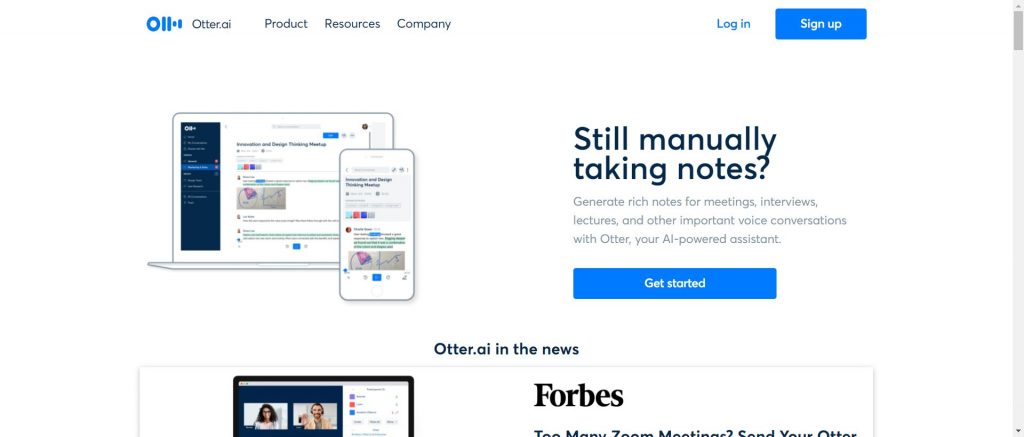 Otter is the best transcription software available in the market. It is a transcription tool that allows you to record audio from your phone or use a web browser to transcribe it then and there. The transcribed audio can be used in any other app or website. You can also add your own text, to make your own transcriptions.
Otter also offers additional features such as the ability to add notes, images, key phrases and speaker ID.
You can easily collaborate on your transcriptions by creating a group and adding members to it. Otter offers services to companies like IBM, Zoom and Dropbox.
Pros:
You can search for the keywords and jump to any of them within the transcript.
It offers free 600 minutes of transcription.
Since its an AI tool, you can train Otter to recognize the specific voice for faster transcription.
Cons:
It does not offer any mobile app.
12. Sonix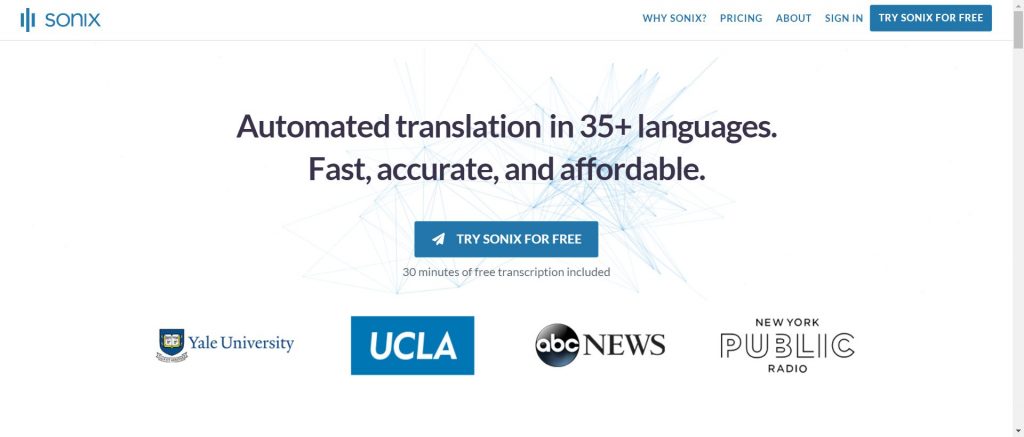 Sonix is an automatic, rapid, and free transcription service that works in minutes rather than hours. It's a simple-to-use tool that produces accurate results that require little to no post-processing.
Sonix is trusted by companies like  WarnerBros, Adobe, and Uber and by over 40 million customers globally.
It also comes with features like automatic punctuation, speaker recognition, automatic speech recognition, noise cancellation, and a global vocabulary. It supports over 35 languages in a single interface.
Pros:
User-friendly interface
Comes with built-in editor.
99% accurate result.
Cons:
Free for only 30 minutes.
13. Audext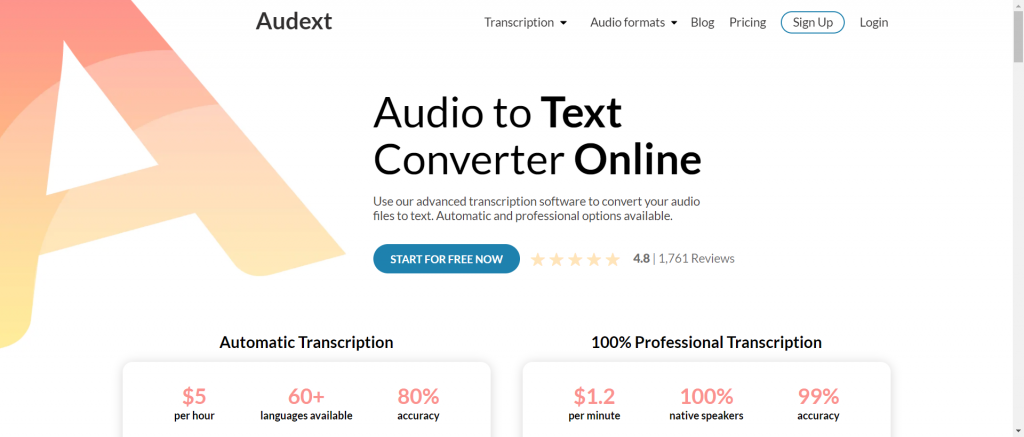 Audext is a transcription service that offers high-quality transcripts at an affordable price. You can use it to transcribe audio recordings or texts, and you can also collaborate with other users on the same transcriptions.
They offer transcription service at just $12 per hour while you can get it at $5 if you subscribe to their paid plans.
It offers potential consumers a choice of Professional and Automatic audio transcription services, with one being 99% accurate and the other being 80%. Furthermore, you can get an hour of audio transcribed in just 10 minutes.
Pros:
The transcription is done using AI.
You can timestamp each block of text.
The built-in editor along with auto save makes it a more viable choice.
Cons:
It might get slow working with large files.
Conclusion:
Whether you prefer using software or service for transcription, the above solutions cover the best of both worlds. I am certain it'll release quite a lot of load from your shoulders by automating this process.
Hope this list will help you find the best transcription software for your needs.
Also Read