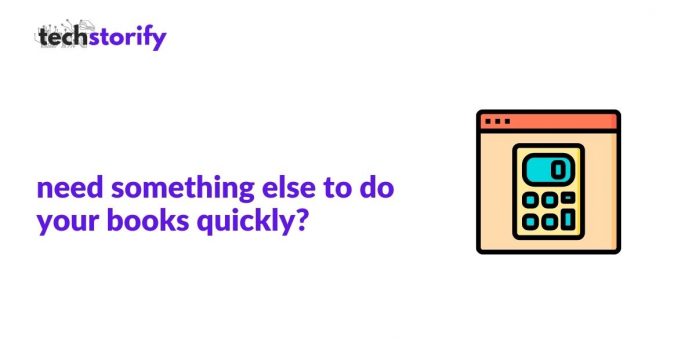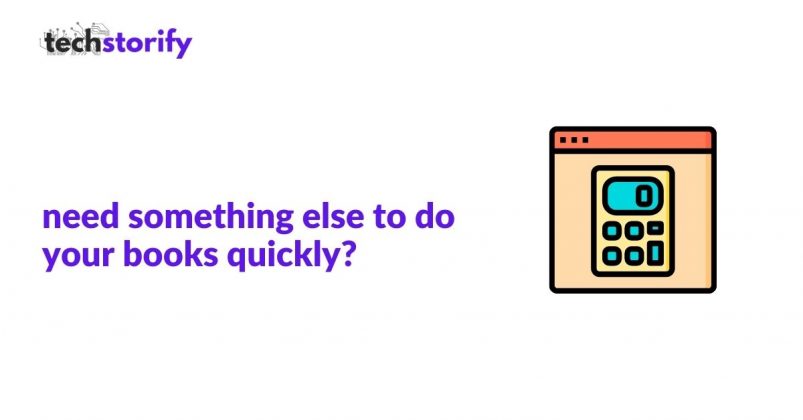 The perfect alternative to QuickBooks should have all the necessary bookkeeping/ accounting software functionalities. The alternative to QuickBooks should fit all your business needs while either you are shifting to a new accounting platform or simply looking for free QuickBooks alternatives. 
You can easily find an alternative to QuickBooks that is fit for your business' bookkeeping needs.
Below we have considered such best QuickBooks alternatives for you.
QuickBooks alternative is listed below. A business can use any of these accounting software for all financial and reporting needs.
With enlisted accounting/bookkeeping software, you can manage sales and income, keep track of bills and expenses, key reporting, easy run payroll, track inventory, accept online payments etc.
While looking for an alternative to QuickBooks or in the midst of searching for any small business accounting software that will keep track of your businesses' financial health, you should consider its functionalities and features such as-
Cloud Accounting

Invoicing

Online Banking

Accounting reports

Cash Flow Management

Time Tracking

Mobile Apps

Multiple Users

Free Unlimited Support
Best Quickbooks Alternative For Business Accounting
1. Freshbooks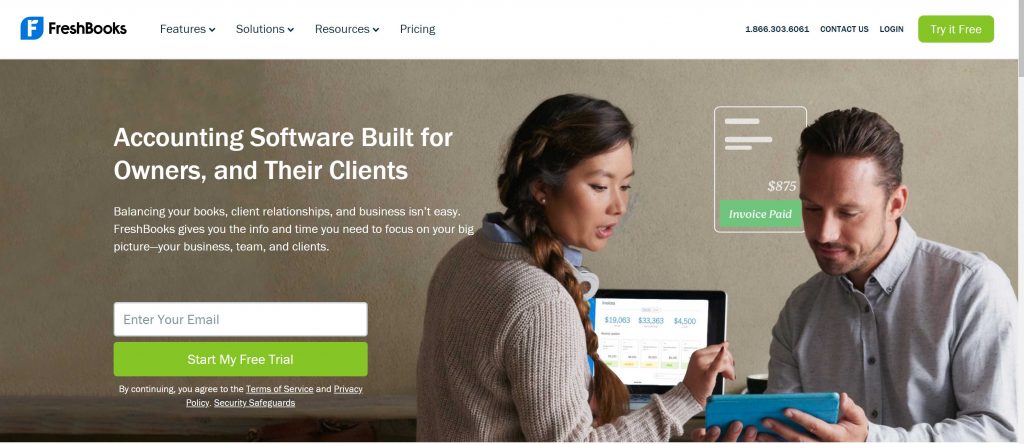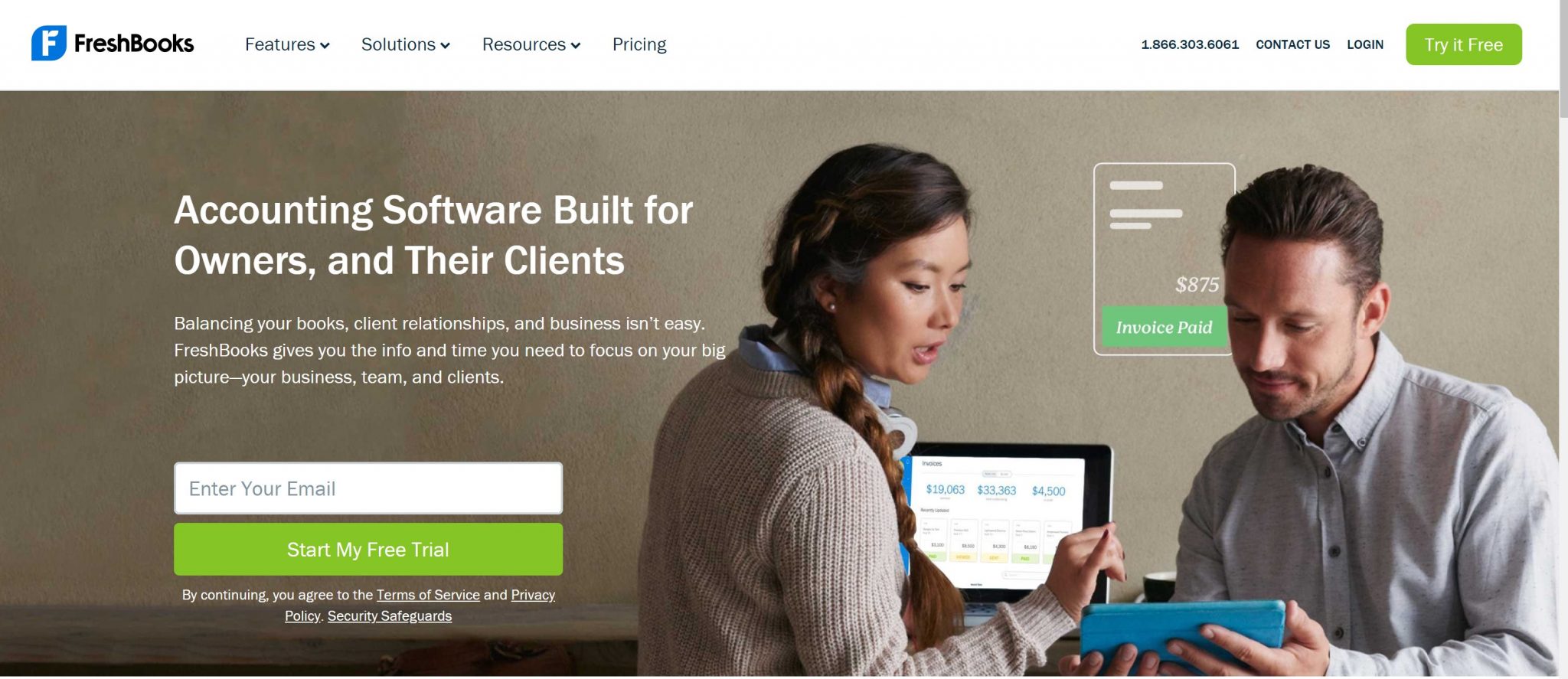 A very reputable software that millions of businesses rely on for their business functions and purposes. 
FreshBooks is an intuitive software consisting of all you need to manage your clients and projects.
Whether you need to create invoices frequently or accept online payments, FreshBooks will easily catch up to any tasks extremely quickly just by two clicks. This software will allow you to schedule recurring invoices.
FreshBooks lets you Invite business partners, employees, accountants and contractors to FreshBooks and determine their role easily.
Pros-
Ease of use

Minimal steps setup
Organized
Invites customers to projects
Cons-
Lacks inventory tracking

No batch-invoicing shortcuts
Get it over – IOS, Android, Web-based, cloud
Pricing:
Lite- $15 per month for five clients
Plus- $25 per month for 50 clients
Premium- $50 per month for 500 clients
2. Wave Accounting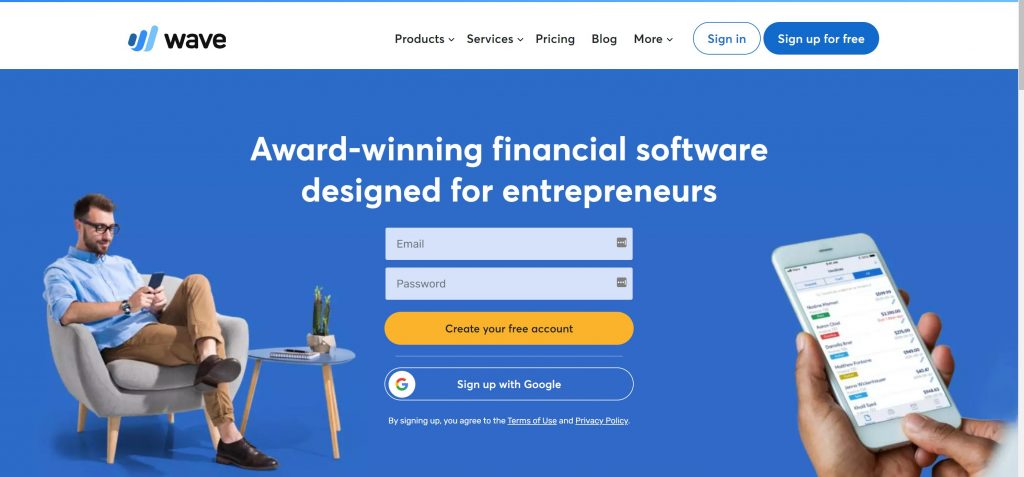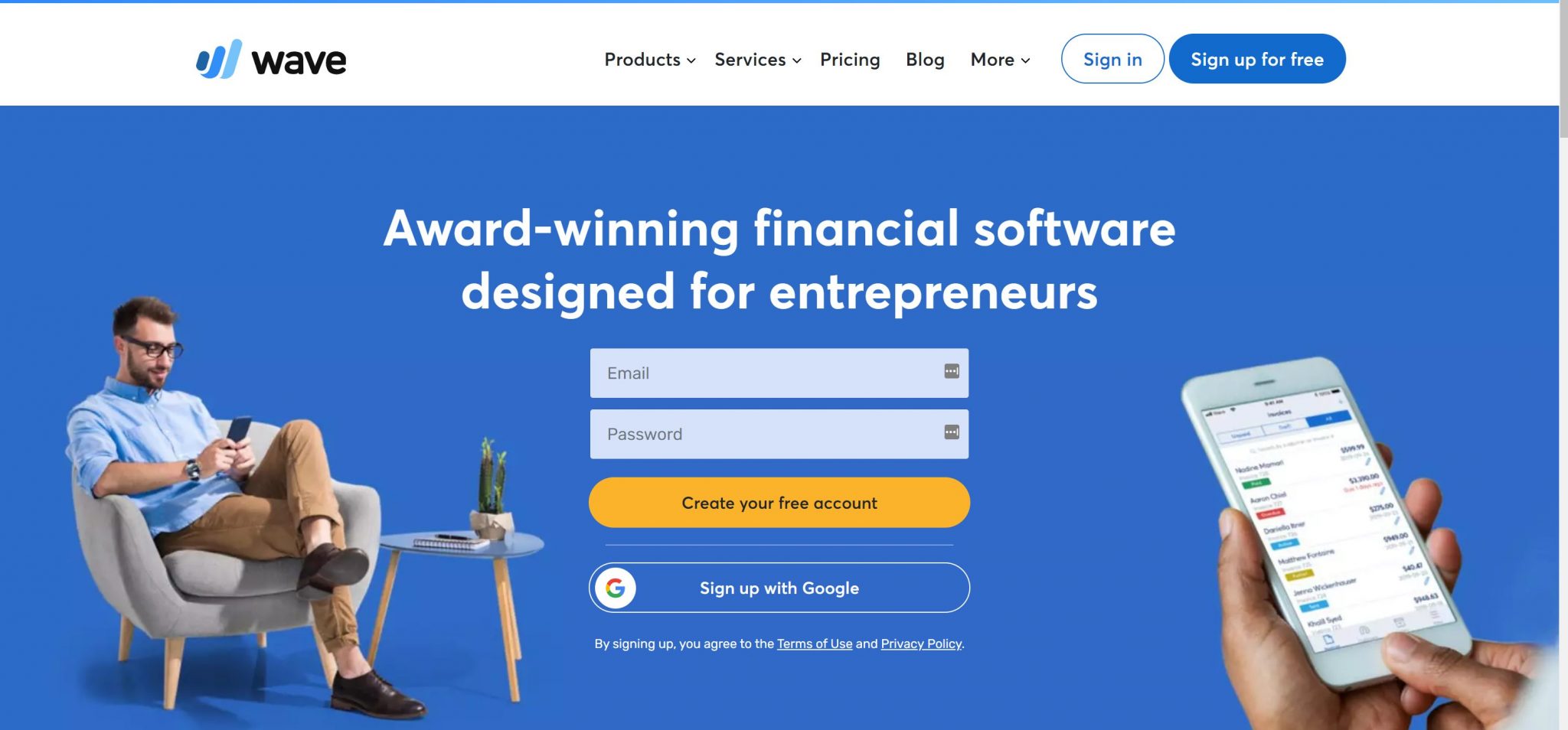 Wave Accounting is ideal accounting software for business owners that has one to ten employees, solo entrepreneurs, freelancers and consultants.
Wave will give you remote access to your dates and will generate reports that include various data such as sales tax, balance sheet, cash flow, profit/loss and more. Wave Accounting software is one of the free QuickBooks alternatives.
Wave is the cleanest, most understandable software you'd get for your small business Runnings. Wave is specifically designed for a small business owner's use, and which could be the best solution.
Pros-
Good user interface

Instant payouts
Free accounting software
Good support material
Excellent transaction management
Help from expert accountants available
Cons:
No project managing features

Limited time tracking
Limited inventory
Get it over- IOs, Android, Web-based, cloud
Pricing:
Accounting – free
Billing- free
Extra costs– payroll, worker's compensation, payment by wave, wave advisors
3. Xero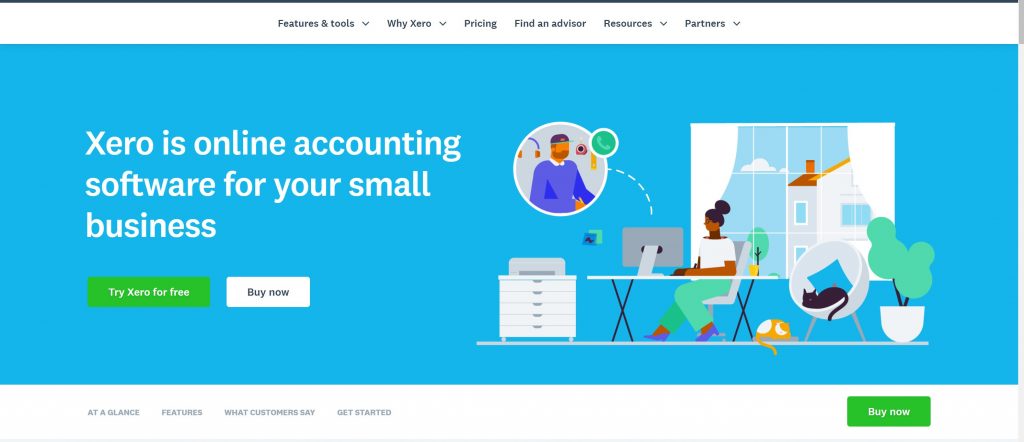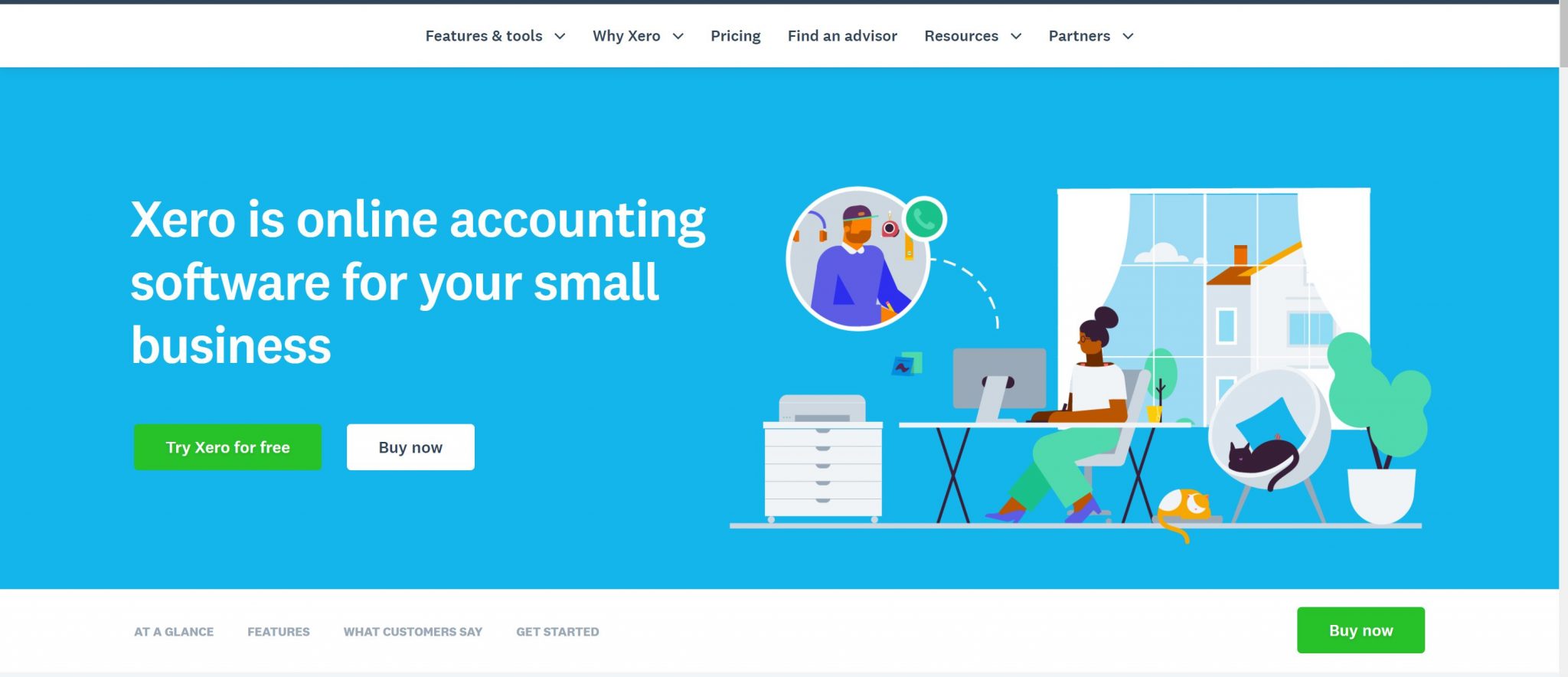 Xero is proven to be the best alternative to QuickBooks through its features of the customizable dashboard, beautiful UI, sales overview page that would show the charts and graphs to break down your invoice and estimates, to invoicing, such as: making default payments, bulk invoicing, running and including recurring invoices etc. contact management, expense tracking, bank reconciliation reports runs.
There's a lot to Xero that will work excellently for your business bookkeeping purposes, and being one of the best alternatives to QuickBooks you won't feel the need for any other accounting software.
Pros-
Time tracking

Large feature selection
Lots of integration options
Mobility
Excellent security
Cons-
Limited mobile apps

Expensive
Non-intuitive
Poor customer services
Get it over- IOS, Android, Web-based, Cloud
Pricing- (business models)
Super small – $9 per month for five invoice, bills and 20 bank transactions
Small – $30 per month unlimited invoices and bills and transactions
Large– $60 per month for multicurrency, project tracking
4. Zoho Books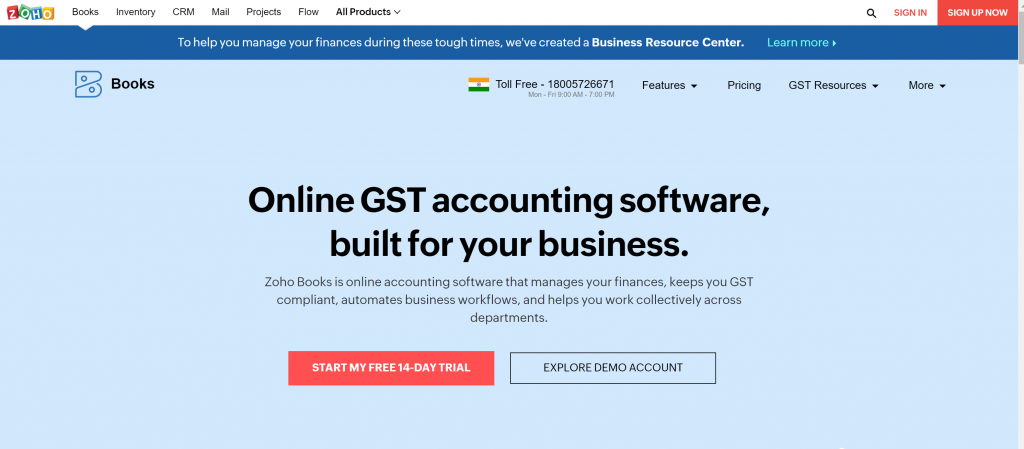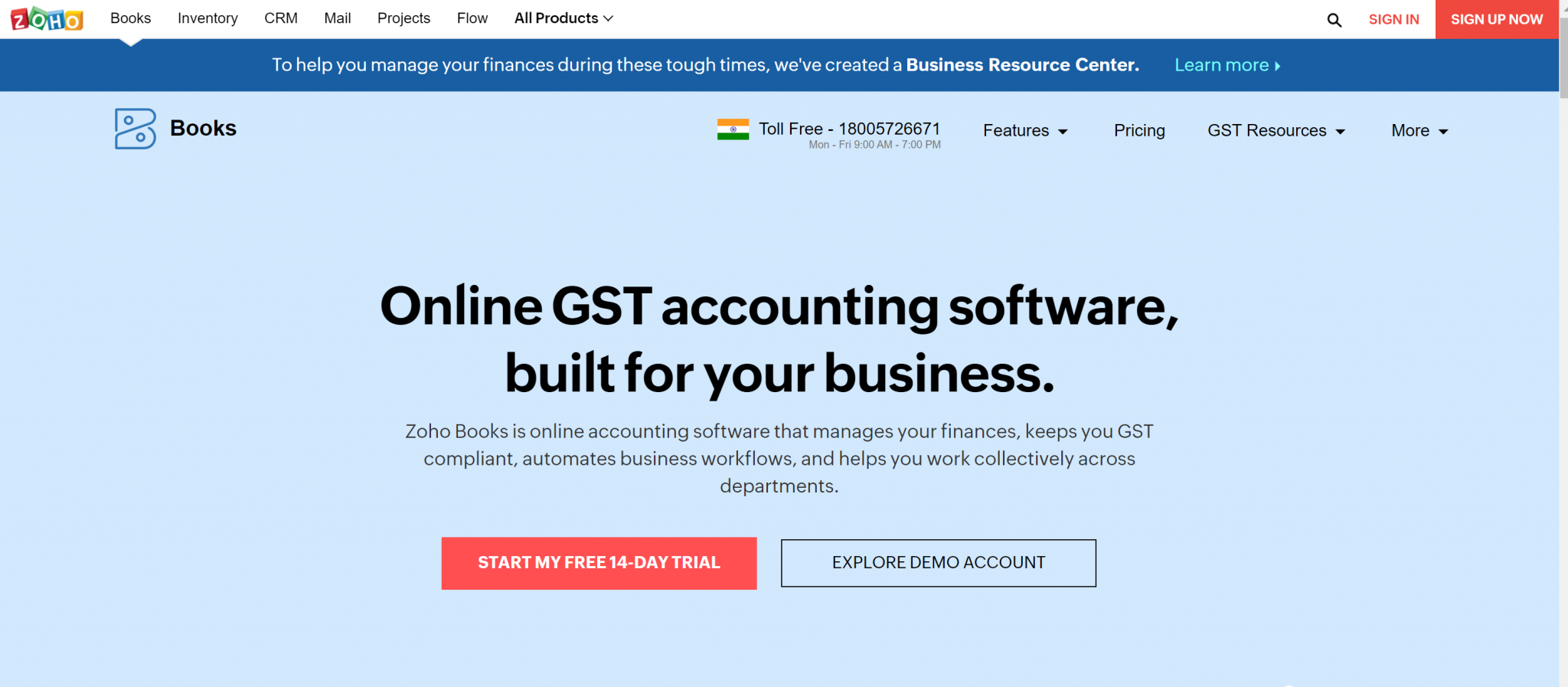 Another superb alternative to QuickBooks is Zoho Books, a cloud-based accounting solution most suitable for mid-sized businesses, organizations and sole proprietors. 
Zoho Books as QuickBooks alternative will give you the best features such as contact management, expenses, sales and purchase order and invoices easily, while also keeping your expenses in check.
Not to be confused with Zoho Invoice, Zoho Books is an exclusive accounting software is a free Quickbooks alternative that manages all your book-keeping needs. You can create multiple timesheets for different projects and tracking of expenses. Zoho also lets you integrate with other Zoho products.
Pros-
Great collaboration

Can manage multiple business tools in a single tool suite
Time tracking
Budgeting module availability
Cons-
Absence of account payable feature

Requires good learning time
Reporting tools are limited
Pricing-
Free: $0 per month
Basic: $9 per month for two users and 50 contacts
Standard: $19 for three users and 500 contacts
Professional: $30 per month and more than 500 contacts
Get it over– IOS, Android, web-based, Cloud
5. FreeAgent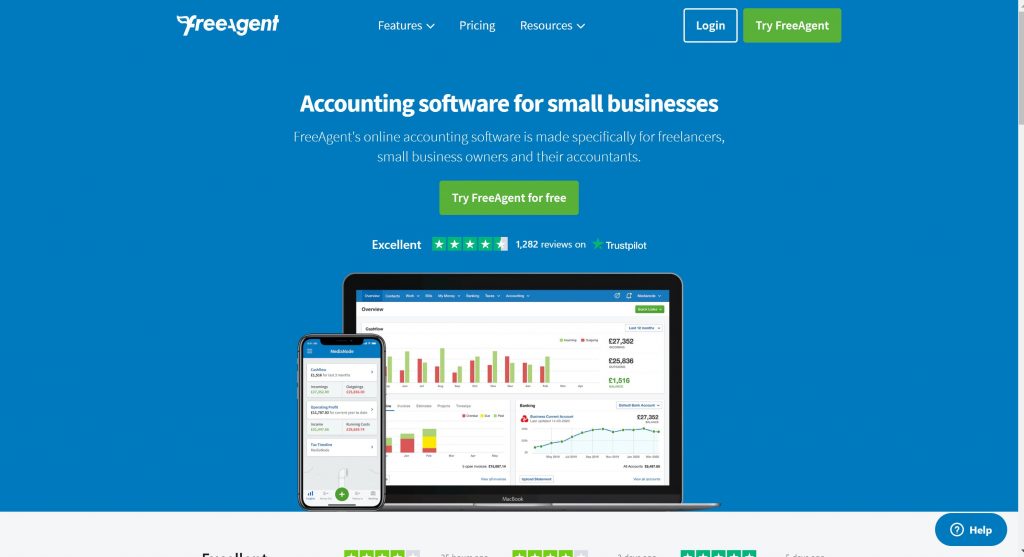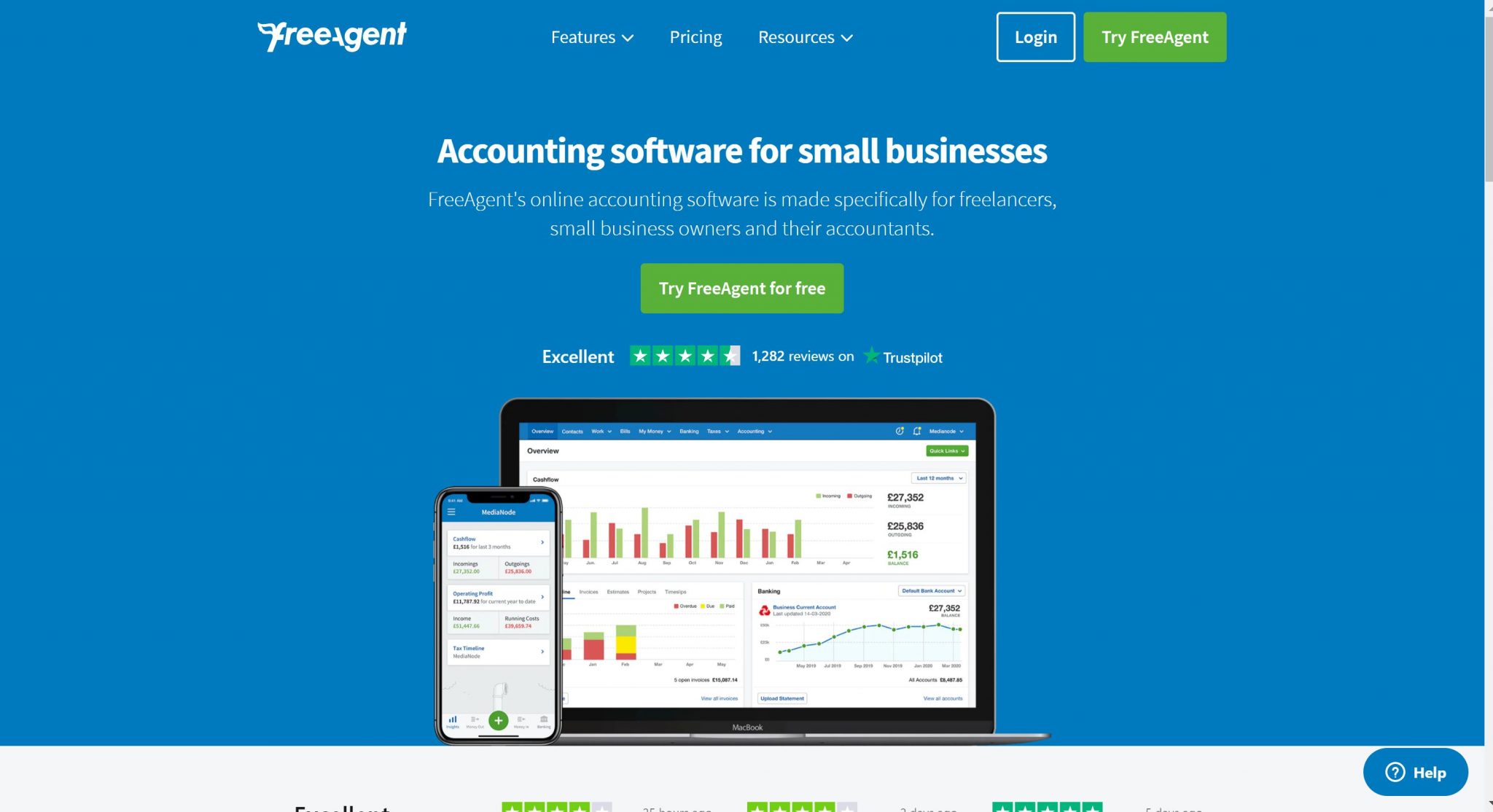 FreeAgent, an excellent option for project-based small business and freelancers that need its timesaving features (such as 1)easy attachment of unbilled items to projects, 2)easily integration with PayPal and stripe,3) automatically sends an email for payment confirmation with a thank-u note) and its capabilities, like, running detailed and high-level financial reports, estimating, invoicing and managing payments for a project in one place.
Freeagent, for you, will project manage, would do inventory, will time track, perform international invoicing, track expenses and many more. It is cloud-based hence, you can access it from anywhere.
Pros-
Manages time and monetary budgets

Smart bank reconciliation
Third-party integrations are available
Ease of use
Digitally captures receipts
Cons-
Lacks inventory based features

Lacks good contact support
Pricing– 12$ per month for the first six months, then $24 per months
Get it over– IOS, Android, web-based, Cloud
6. Harvest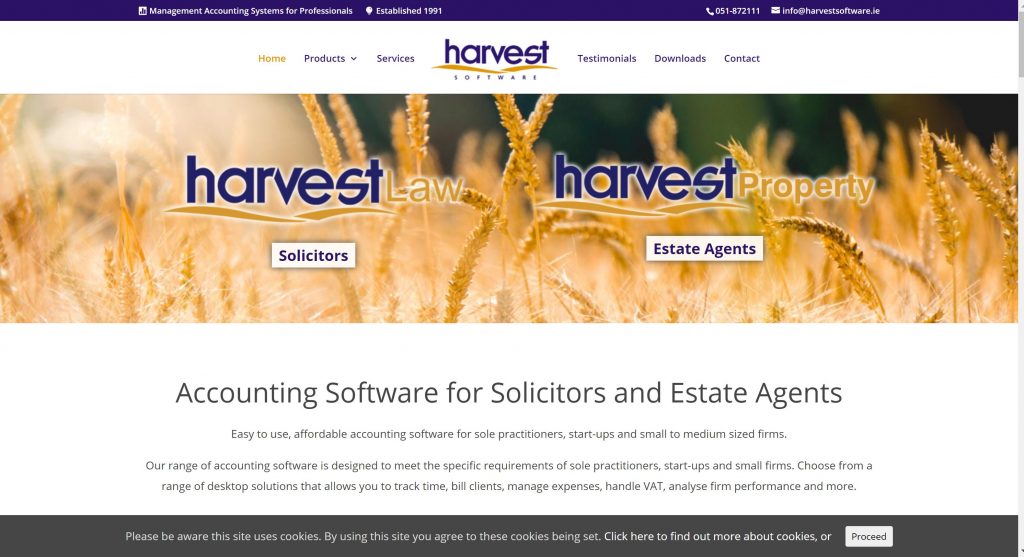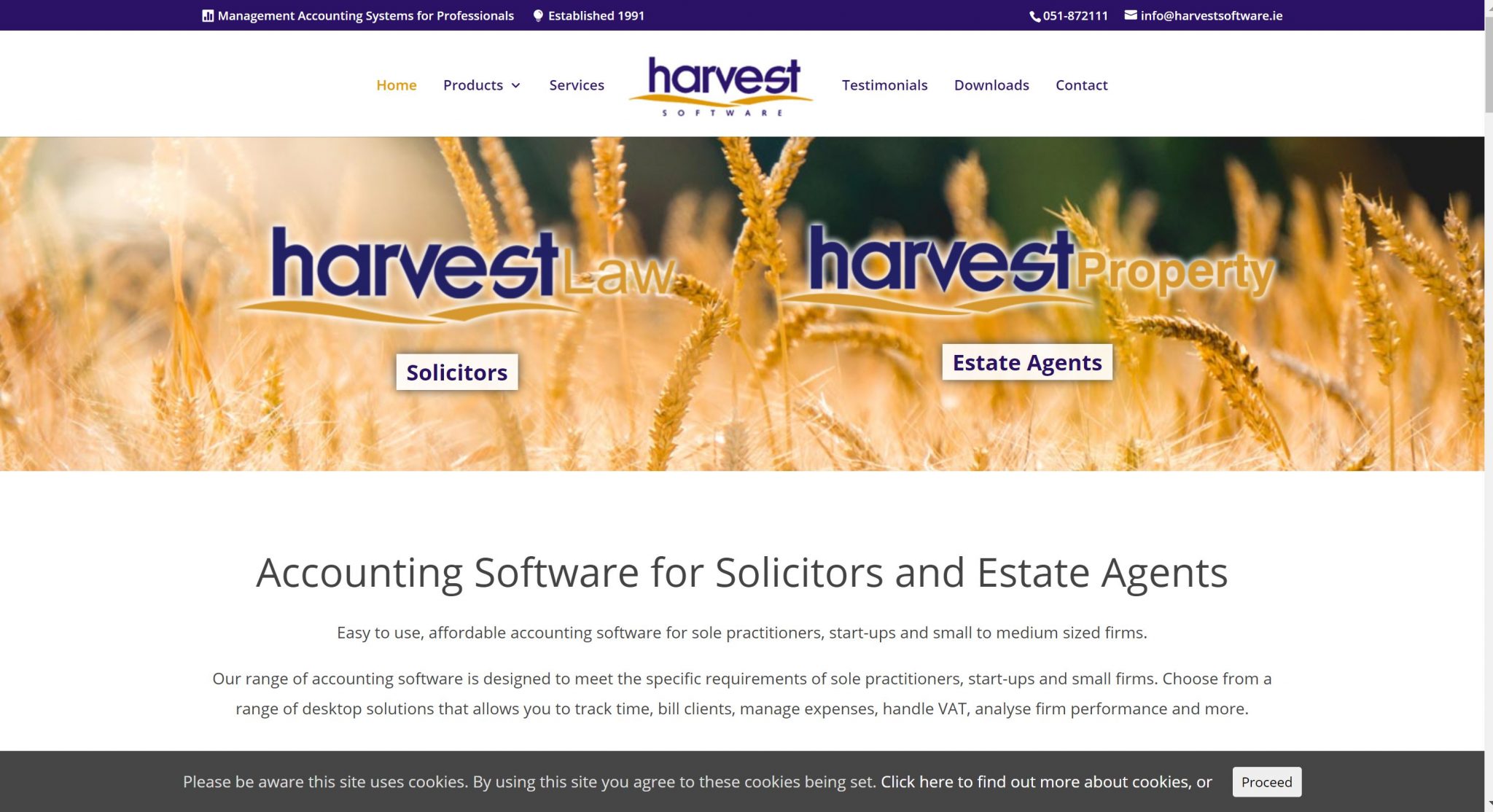 A time and expense tracking tool, Harvest will work and manage all sized teams and projects.
A business can use harvest for time tracking, expense tracking, project management, billable hours tracking, task assignment and scheduling.
Harvest easily integrates with Trello and QuickBooks, hence, Harvest automatically becomes the best alternatives for QuickBooks, comparing its stability, quality and reliability with other invoicing tools.
Use this free Quickbooks alternative for its accounting integration, electronic payments, timesheets, budgeting, cost estimating, progress tracking, customizable reporting etc. functionalities.
Pros-
Invoicing and expensing

Team management and scheduling
Good integration options

Activity tracking

Mobile integration
Cons-
Doesn't integrate with FreshBooks
Limited reports
Pricing-
Free plan costs $0
Pro plan costs $12 per month and per person, unlimited projects and unlimited invoices
 Get it over- IOS, Android, cloud-based
7. Sunrise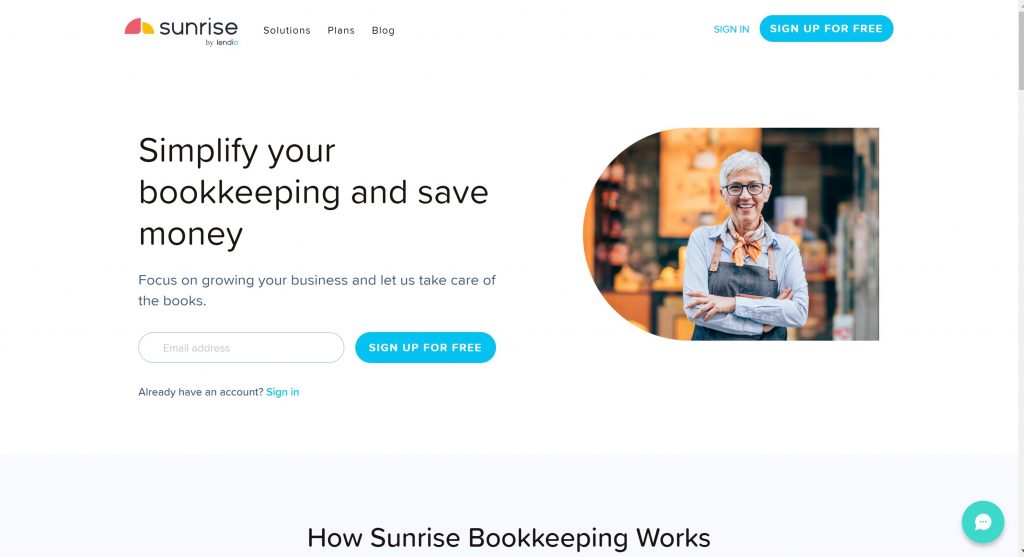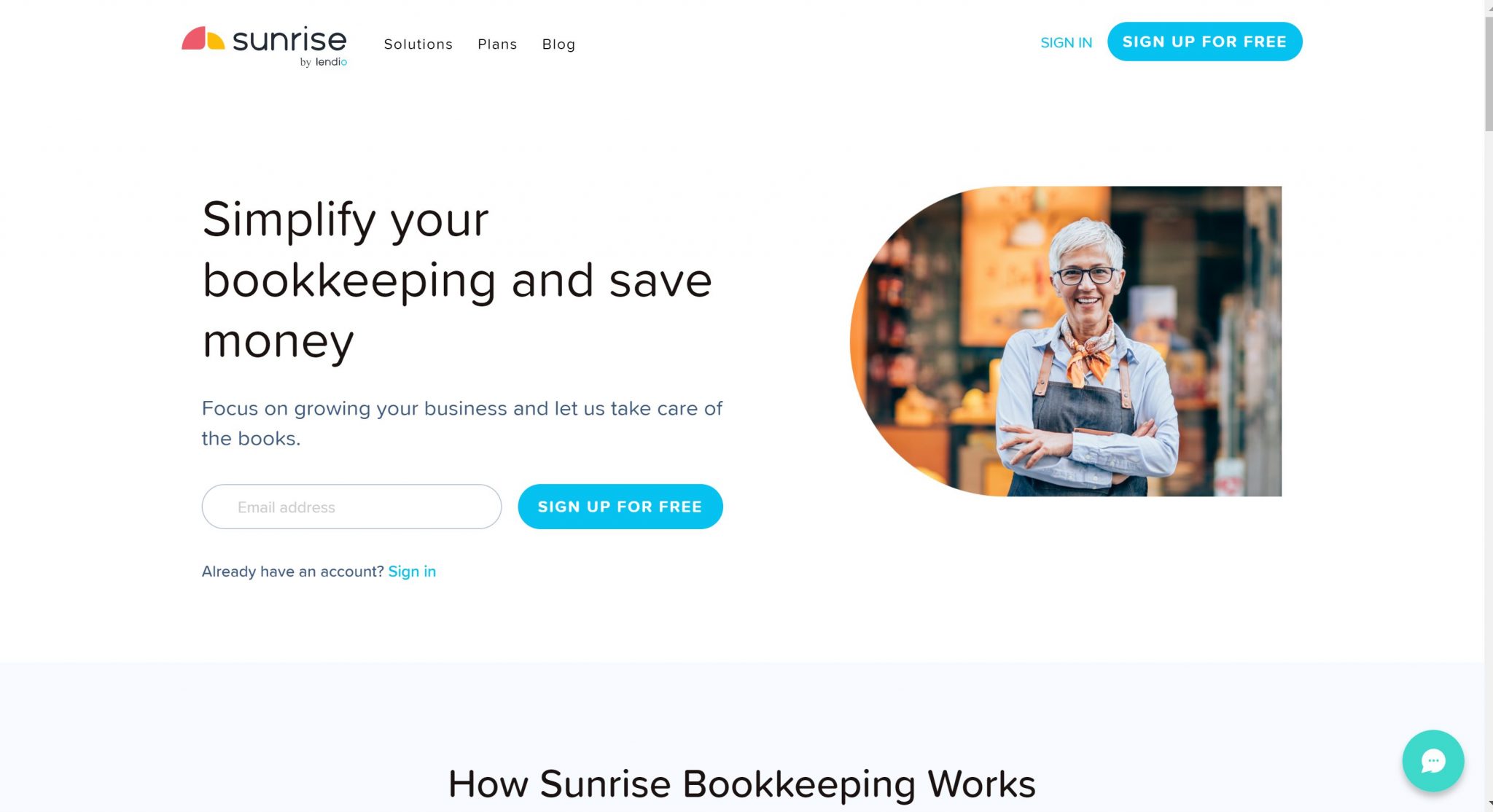 Specifically built up for small business, freelancers and entrepreneurs, Sunrise, will simply and accurately will manage your finances, cash flow and will grow your business. With its 100% free cloud-based accounting system that aims to deliver a user-friendly billing and expense tracking solution that further offers, invoices, tax assistance, and financial reports.
Sunrise is one of the free QuickBooks alternatives bookkeeping software. A small business can use
Use Sunrise for billing and invoicing, accounts receivable, expense tracking and bank reconciliation.
Unlike other accounts keeping software and tools, sunrise does not have the feature of time tracking. It doesn't control or perform payroll management, tax management, project accounting and CPA firms. Though it will set your invoices on autopilot. Every month it will bill your customers and will manage transactions.
Pros–
Double-entry accounting

Supports both quotes and estimates
Transaction timeline availability
Easy invoices and expenses
Cons-
No full mobile apps

No dedicated time tracking
No adds on
Pricing-
Self/free – $0 per month
Basic – $149 per month
Large– $499 per month
 Get it over- IOS, Android, Cloud, web-based
8. Oneup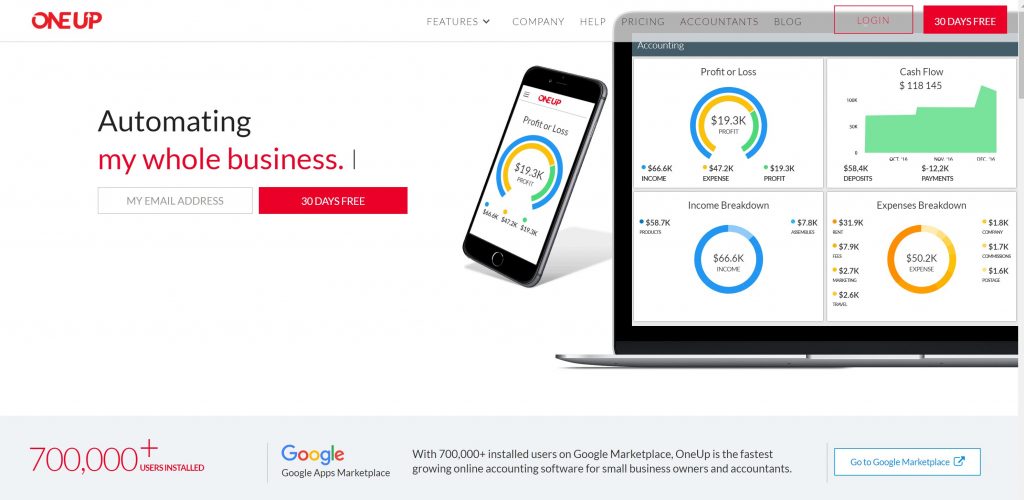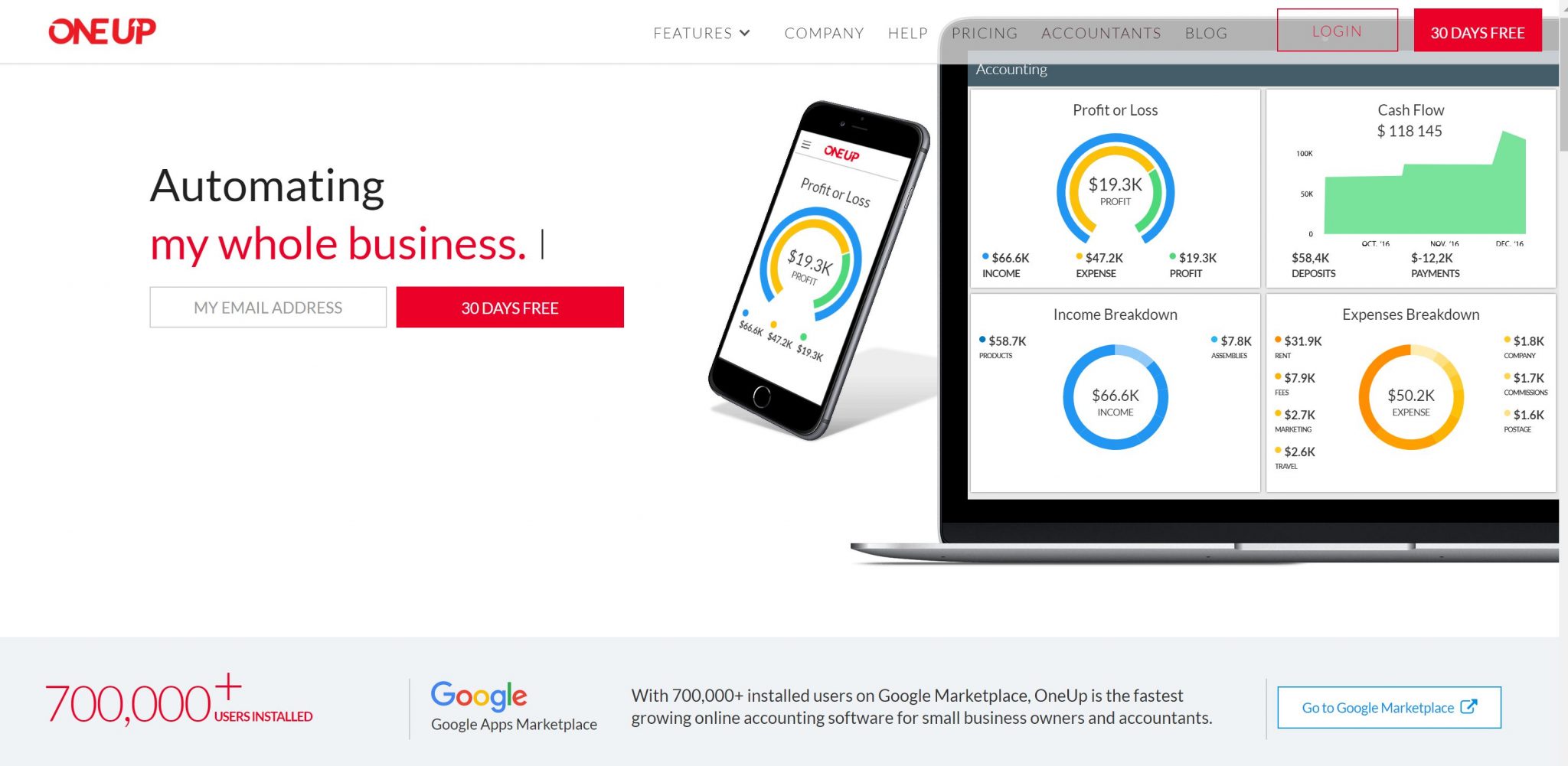 one of the least expensive QuickBooks alternatives that work great for small business needs and requirements selling physical products.
 Oneup has the best inventory system seen in online accounting software, making it a perfect match for QuickBooks. 
Its inventory management feature has its built-in CRM function that comes with such inexpensive payment plans. Oneup does not offer payroll features or any integrations. But oneup inventory management is one of the top liked and advanced systems when compared with other QuickBooks alternatives.
Pros-
Strong inventory tools

Simple CRM
Good mobile apps
Smart transactions
Great inventory and pricing capabilities
Cons-
Lacks good time-tracking

Lacks reports
No main dashboard
Pricing
Solo – $9 per month
Pro- $169 per month for unlimited everything
Get it over- Android, IOS
Conclusion
This was our list of best Quickbooks alternative that also have some free tools. You can make use of these free business accounting tools to start managing the account for your business.
Though there are many accounting software present in the market, with more and fewer features than QuickBooks. We tried our best to present you with the eight topmost bookkeeping QuickBooks alternative software. 
Other than these, there are a few that we'd like to further recommend: simpleInvoicing, Invoiceberry, ZohoInvoice, Bonsai, Slickpie, zipbooks etc.