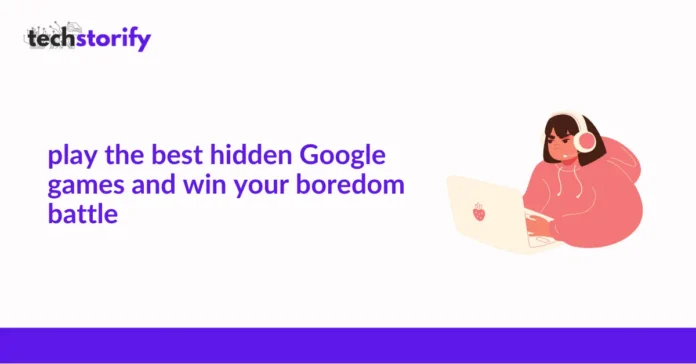 G
oogle is a world full of fun, quirk and creativity intermingled in the genius disguise of technology.
Google is no longer just a web browser; it has gone ahead to create some of the top inventions of the world. With all variants related to Google like Google Doodle, Google Assistant, Google Maps and the very original Google Search have some hidden features in them. It's not always a groundbreaking technology that Google comes up with.
It also adds a ray of fun to their products. Here's a list of the 15 Best Hidden Google Games that you should try once! What's not to like, it's free.
On top of that, let's check out these gems on Google's 22nd Birthday! Let's celebrate the love of Google with some hidden games that Google offers:
Discover the Best Hidden Google Games for Unlimited Fun
The ultimate dad of all the games, the legendary Solitaire. Anyone who owned a Windows PC back in the day has without any doubt played this game.
It is a classic game that is loved by people of all ages. You don't have to install anything, search for Solitaire either on any device and get playing!
If you want to play more solitaire games, you can check out Solitaired. They have over 100 solitaire games, including Pyramid, Spider Solitaire, and FreeCell. You can also create an account to track your personal records. 
Recommended: Best Free Solitaire Game Apps for Android & iOS
Remember the good old days?
A Nokia phone and the cult favourite pastime- Snake. The fantastic old game Snake is very well still present on Google Search.
The aim and technique of playing again remain the same. No new advancements genuinely make the playing experience even better.
Go ahead and search for Play Snake on Google Search, and you'll be good to go.  Reminisce the fun memories and pass your time with the iconic game, Snake.
3. Tic Tac Toe
Who said that checking the Xs and Os off the grid is only a kid's game? Adults love playing the tried and tested Tic Tac Toe.
It is amongst the most played games on paper, so why not indulge in a digital version?
No installments, no waiting, search Tic Tac Toe on your browser. If you think you could beat everyone in the game with the old trick, try those skills with a computer. You can also play with your friends and family.
4. Pac-Man
Another old-school gamer's favourite is an excellent game of Pac-Man. The aim and technique of the game remain the same, which is appreciated by most people who loved to play Pac-Man.
Google has added some personal touches to the game by adding their logo on the track, which for sure brings a great look to the game without any doubt.
The game is also no longer straightforward and has become trickier.
Another set of fun games that never go out of style are brick games. Though it is best experienced on the computer for sure, you can play on your phone as well.
With no second thought, Google has set its hands in efficiently providing people with the most excellent brick game of all time.
So don't forget to check this out, especially when you're bored of surfing Facebook and Instagram.
6. T-Rex
When the Internet connection says bye, you can most definitely rely on the Old but Gold T-Rex. At this time it is technically not a hidden game. Rest assured it doesn't bore anyone.
While your internet connection is restoring, you're most likely playing T-Rex on Google Chrome.
It might look like child's play, but it genuinely gets challenging when you cross certain levels. It is, in a real sense, the best game to pass your time.
7. Minesweeper
If we talk about the 80's good old games, can we even ignore Minesweeper? Minesweeper is another classic favourite of the lot.
The basics of the game are not changed. It has to be played the same way. However, the look and sense of animation have been taken up a notch.
This game is strongly recommended to be played on your laptop rather than your phone. The touch of the phone doesn't justify the fun of the game.
If you're looking for another option, try this minesweeper game. It has the same functionality found in the original Windows minesweeper.
8. A Google A Day
If you think you have the best googling skills on the planet, you might want to give A Google A Day a try.
It works on the opposite principle of trivia-based games. The trivia games encourage you not to use Google to answer the questions.
Well, A Google A Day is a fun and engaging game that proudly lets you search the items through the mentioned keywords.
The game gets tougher as the week goes on. The questions are more straightforward on Monday and get tough by Thursday and Friday. Go ahead and challenge yourself!
9. Zerg Rush
Google has always been so creative with its Google Doodles. They are impeccable, and at often they're engaging.
Once you search for Zerg Rush on Google, you'll get a few balls on the screen. The aim is not to let it touch the search result. Destroy the balls and enjoy the game.
10. Spooky Cat
Amongst the never-ending Google Doodles comes another beauty. Weird Cat is one of the best Google Doodle games.
It happened during Halloween of the year 2016. The idea is to help Momo defend the magical secrets of her school from a bunch of evil ghosts.
This game is best played on mobile, though you can play on your computers too. The game has five levels.
The animation and sound effects of the game are so adorable that you keep coming back. It's a must-try for everyone.
11. Quick Draw
Google and Doodles go hand in hand. Google came up with this AI in the form of a game.  It only makes sense that Google makes doodles more interactive.
Quick Draw asks players to doodle something and then Google searches for it in its database.
It's fun to see what Google predicts about it and most importantly, what it thinks of your doodling skills. Go doodle away!
12. Smarty Pins
If you think Google Maps was boring, you're wrong. Smarty Pins is super fun trivia games available on Google maps.
It merely tests your geographical knowledge and how much you know about different places.
13. Earth Day Quiz
There was an era where quizzes became way too popular. The buzz and craze have gone away for exams. Google has a standard Earth Day Quiz if you're keen on knowing which animal are you.
Taking into consideration your answers, the quiz results show which animals match your traits and qualities.
If you wish to get other effects, then go ahead and choose different responses. It is a simple game and can be given a shot for once.
14. Spin A Dreidel
A simple and understandable game, especially for people who know Hebrew. Spin the four-sided object to find out a Hebrew letter. It's an original game. No fancy and complicated rules. It's just a straightforward game.
15. Fun Facts
It is an original game, but it makes learning fun. Just ask questions to learn new facts every day and most importantly, in a quirky way.
It might be not very functional, but it does grab the attention of those who are into learning new things. You get to increase a little bit of your knowledge through a simple game. What's not to like?
Conclusion
Google is not just a search engine; it is also a source of entertainment. Hidden within Google's pages are games that are free to play and provide endless hours of fun.
From classic arcade games like Pac-Man and Snake to the adventurous Dino Run, there is something for everyone.
The best part is that these games are easily accessible and can be played on any device with internet access.
So, why not take a break from your busy schedule and discover the world of hidden Google games? You may just find a new favorite pastime that will keep you entertained for hours on end.