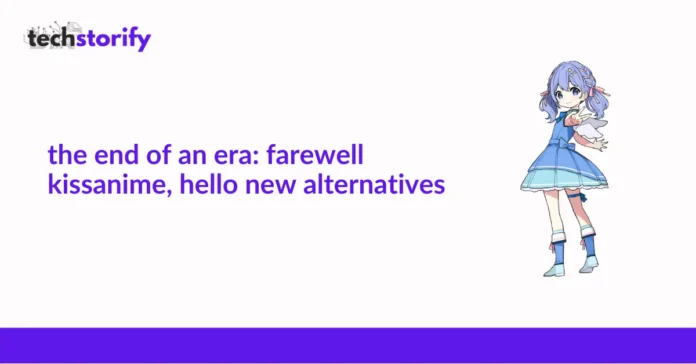 I
n recent years, Anime has got huge popularity not only in Asia but all over the world. One of the most popular
anime sites
to host Anime movie and TV series is
KissAnime
. They have a massive collection of various anime sub-genres and also constantly updating the library, adding more and more TV series and latest films.
But sometimes a change in the choice is necessary for many reasons, like for the best experience you have to spend cash for the premium subscription.
There are a lot of sites like KissAnime hosting Anime movies and TV shows and sometimes those websites offer more features or a better user interface and come without any kind of advertisements.
Before going ahead with our list of KissAnime alternatives, let's first talk about what Kissanime is. Take a look below.
What is KissAnime?
KissAnime was a popular anime streaming website that provided viewers with a vast library of anime content. The website was first launched in 2012 and quickly gained popularity due to its extensive selection of anime series, movies, and OVAs.
KissAnime had both subbed and dubbed versions of anime available and offered viewers the ability to download episodes for offline viewing. The website was free to use and did not require any registration, which made it accessible to anyone with an internet connection.
Unfortunately, in August 2020, KissAnime was shut down permanently. The site's operators cited increased scrutiny from copyright holders and other legal issues as the reasons for the site's closure.
While KissAnime is no longer available, there are many other anime streaming sites available that offer similar content and features.
Best KissAnime Alternatives
9Anime is a great alternative site to KissAnime. The interface is really clean and clutter-free. The site offers unlimited streaming of TV series and movies and the user can download those episodes for absolutely free.
Just like KissAnime, there are a lot of categories to choose from and with videos that come with subtitles, most of the videos offered are dubbed in English. Registration is also not necessary, so if you are using a VPN you can stream anonymously.
AnimeUltima is another website that hosts a great collection of anime TV series with English subtitles.
Although you can stream any episode for free, downloading is not possible on sites like 9Anime. You can see ratings and log in to create your library and mark videos to watch later.
The site has a community tab so you can connect with all the other anime fans out there. Comments are also enabled in every episode to engage but do it after watching otherwise you will get overwhelmed with spoilers.
AnimeLand is a well-organized and fully loaded site, but the user interface looks old. You can stream any movie or TV series with a choice of resolution, from 480p to 1080p making it the best site if you have capped internet connection.
Most of the videos are dubbed in English, if not you will find subtitles at least.
Although the link to the site is AnimeLand, the header suggests it is DubbedTV. The site does not offer any download option, and adverts pop-ups every time you click on an episode which can be annoying sometimes.
AnimePlanet has a massive list of categories and genres to choose from. Not only TV series, but you can also get a lot of information about Manga and all the interesting characters in the anime universe. This feature alone helps the site to stand out from others.
By signing up you make your library, add TV series or movies to watch later tab or to communicate with other viewers.
Discussion and review channels are also inbuilt into the site so you can learn about unknown TV series beforehand.
Although the site has adverts, there is no pop or overlays, and most of the ads are small and not in your face.
One of the best-looking and dark-themed website is AnimeFrenzy to stream Anime, as the name suggests.
Although the interface can be a little hard to get into at first. You will see categories like Dubbed, Movies, Genres, Popular, Stuff Pick, etc to start with.
You can also log in to the site to build your library and chat with other fans of anime.
The site also comes with a char option for both Anime related chat and off-topic channels. In case you have adblocker enabled you will not be able to watch videos here, so do whitelist the site.
TubiTV is a clean-looking alternative to KissAnime with Dark Theme. You can find it from classic blockbusters to recently aired shows as they update the site every week.
Most of the videos are subbed and dubbed and another plus for the site is the resolution and quality of episodes are better than other competing sites.
TubiTV has a lot of genres to choose from and every TV series is labeled with an appropriate audience by age.
Another great feature is the website has an application for Android and iOS to stream from smartphones easily.
Like TubiTV Stremio also has applications for Android and iOS but more pleasingly there is desktop software also.
Many people do not like to go through a website to watch Anime so this is the best option for them. Stremio has zero advertisements.
Not only Anime, but the website also offers movies and TV Series from all around the globe. So this can be the 'one solution for movie freaks out there.
By logging in the application will automatically start to TV series and movies in your library when you watch them and can notify you when a new episode is available.
As the application uses torrent links to stream, you can add more free plug-ins to add mirrors. The whole application is free to use and the UI is one of the best you can find.
Crunchyroll boasts over 25,000 episodes that are updated daily and have a simple UI to navigate. Most of the TV shows are in Japanese but many of them have English subtitles.
One of the reasons behind this is they are one of the fastest to upload videos, just one hour after broadcasting on Japanese TV channels.
The website has a subscription feature and that opens up the whole library and you can stream without any advertisements.
Crunchyroll does not offer a download option. By logging in you can check out the forum and take part in discussions.
The premium tier is also available as a 14-day trial. But even without subscribing, they offer few TV Shows to watch and get a feel if you like the site beforehand.
AnimeBam has a huge database of Anime TV series so you will always find if you are looking for something specific.
The site has a Black Theme overall but they list TV Shows by name and do not show many cover images, so it might not be the best-looking site ever.
The site also marks Series with Subbed or dubbed icons. You can stream or download videos here and there is also a discussion tab under every episode.
Just like AnimeUltime tries to avoid those comments before watching the episode.
Last but certainly not the least appreciated website is GoGoAnime in this list. After KissAnime this might be the most surfed site for Anime content.
They also have seven servers all around the globe to produce the best streaming experience possible.
If you stick to the default server which is VidStreaming you will also be able to download full episodes for free. The collection of episodes and Movies is also satisfying for any Anime fans. You can also check Best Alternatives to GoGoAnime to Watch Free Anime Series Online.
Conclusion
Although KissAnime Alternative list ends here, there should be at least a site among these that you will like. Many sites are free, hence do not have a license, but the sites mentioned here are working perfectly now. We will be updating the list if any site goes down in the near future.
Have something to say about this article? Comment below or share it with us on Facebook, Twitter, or our LinkedIn.
Remember, sharing is caring!