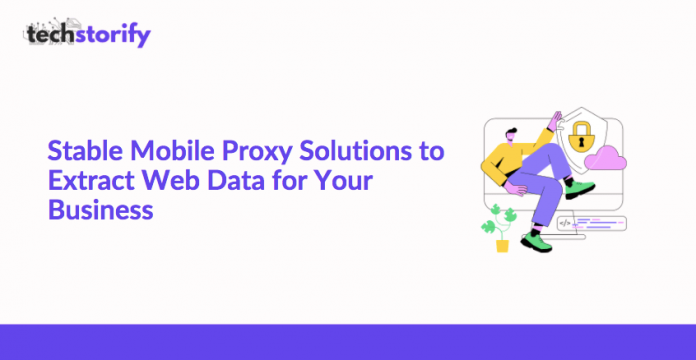 Are you looking for the best Mobile Proxy solutions for your business? Here is the list.
Mobile proxies are among the most versatile of all proxy types. It has become increasingly challenging to remain competitive in today's world.
Web scraping is being used more and more by businesses and agencies to gain an advantage over their competitors by obtaining actionable data.
As a result, many major websites have taken steps to prevent web scraping by blocking suspect IP addresses, making it harder for data miners to extract data.
Business cannot extract data if they fear being blocked, but mobile proxies provide a viable solution to this problem.
Those wondering what mobile proxies are or how they work should check out this quick explanation.
Using a rotating IP address, mobile proxies route traffic through cellular towers and mobile devices attached to 3G or 4G networks. As a result, masked IP addresses are more difficult to detect, increasing privacy, security, and anonymity.
Choosing a mobile proxy provider can be difficult, however. Speed, price, and reliability will ultimately determine your choice.
We'll be looking at the ten best mobile proxies, 3G proxies, and 4G proxies for web scraping in order to help you make the right choice.
10 Best Mobile Proxy Solutions Providers 
These are the top 10 providers of mobile proxy solutions, 3G proxy solutions, and 4G proxy solutions for web scraping: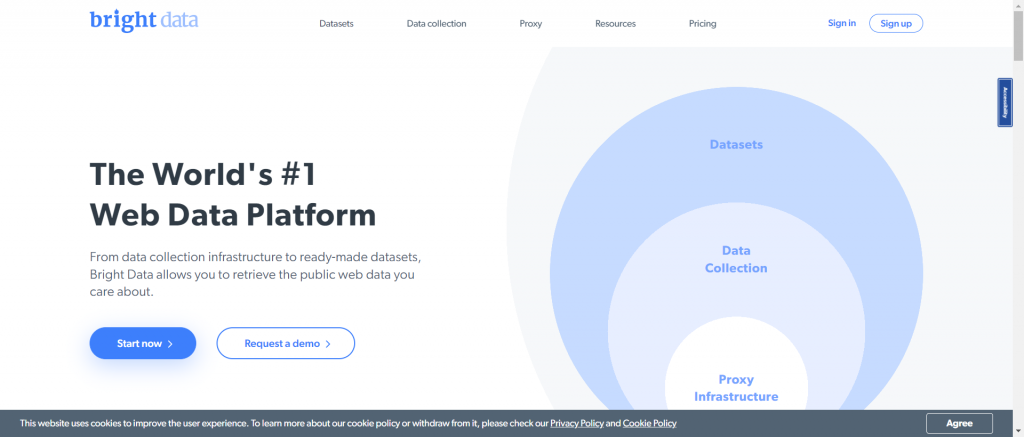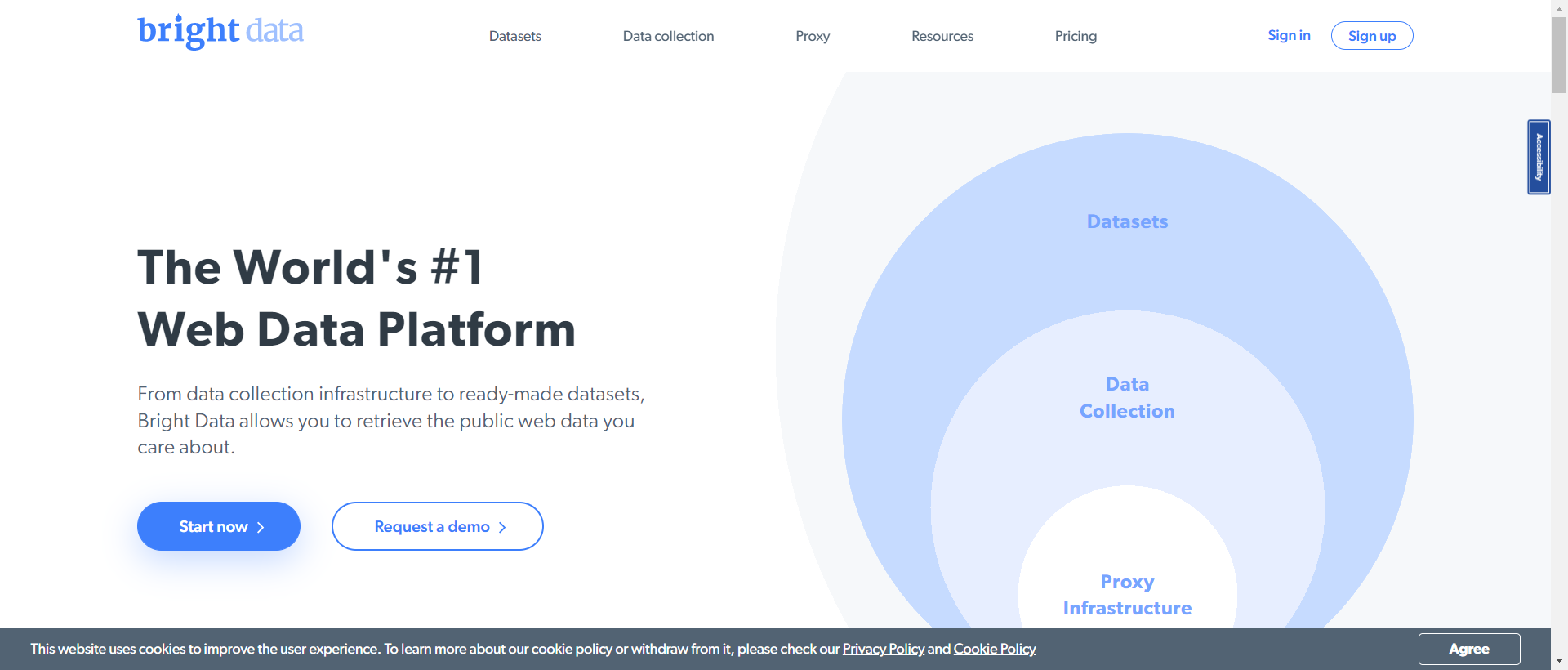 Location of top proxies: United States, United Kingdom, Canada, India, Brazil, Germany, France, Australia, Japan, South Korea
Bright Data, formerly known as Luminati, they offer the fastest and largest real-peer 3G/4G IPs available anywhere.
With over seven million IP addresses in its pool, Luminati rotates mobile proxy IPs across numerous mobile carriers, countries, and cities.
Access to rotating mobile proxy IP addresses is available for a higher price. Other features include the ability to access unlimited geolocations, unlimited users, the ability to acquire mobile IPs across the globe, and there are no limitations on the number of simultaneous requests.
Luminati's acquisition of IP addresses is one of its more unique features. In addition to its SDK (software development kit), Luminati also offers an API.
The Luminati network allows users to opt out of advertisements. The app vendor is then paid a monthly fee by Luminati.
Vendors benefit from monetizing their apps while customers benefit from having a better overall user experience due to no ads.
Pay-as-you-go is an exclusive feature of Luminati. Explore your options on the site.
Pros:
Large IP pool
Excellent Scraping Performance
Different IP Types
Next-gen Proprietary Technology
Cons:
Complex interface
Limited bandwidth
Related Post – Bright Data Alternatives for Web Scraping & Automation
2. ScraperAPI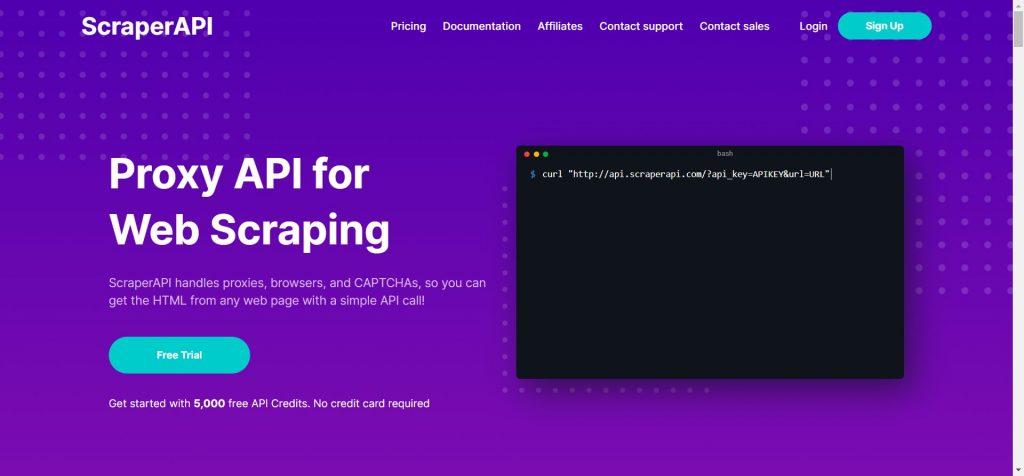 Proxies Location: Worldwide
In addition to providing premium proxy pools of mobile proxies, ScraperAPI is one of the most powerful tools for web scraping.
The customization options available with ScraperAPI make it an attractive mobile proxy provider.
Several customization options are available, including IP geolocation, request headers, and request types. IP addresses can also be reused as often as you like with sessions. ScraperAPI regularly removes slow proxies from their pools in order to ensure consistent speeds of up to 100Mb/s.
It is hard to find a better mobile proxy for web scraping, especially with over 20+ million IPs available and 99.9% uptime guaranteed.
Pricing ranges from $29 per month for the hobbyist tier up to $249 per month for the business tier. Large-scale projects can be priced on a custom basis.
Pros:
Large pool of proxies.
Amazing customization options.
User-Friendly
Cheaper than other proxies.
Cons:
You may face blocked servers.
3. Proxy Guys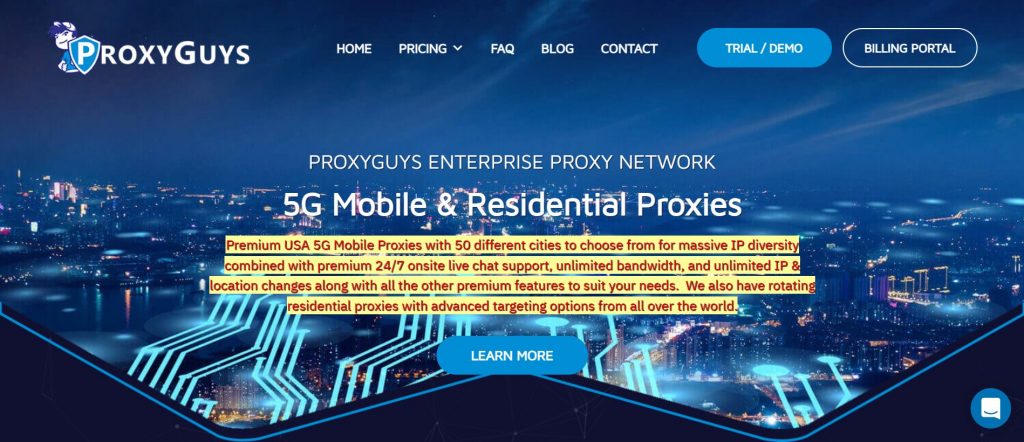 Proxies Location: United States
ProxyGuys offers users unlimited access to millions of fresh mobile IP addresses across over 1,000+ dedicated 4G/5G LTE modems located across more than 25 different sites throughout the USA.
You get unlimited bandwidth, unlimited IP changes, and a web portal in addition to firefox & chrome plug-ins and a fully documented API with their multi-location plan for mobile proxy rotation.
ProxyGuys' mobile proxies can be accessed using HTTP(s), SOCKS5, or even a VPN connection via one click, so you can use them with virtually every modern browser or application out there.
If you do not wish to use the portal, API, or plugins, an automated IP rotation timer can be set up to get a fresh IP every 1 minute to 24 hours.
ProxyGuys offers a number of plans to suit your needs and budget, including mobile proxy plans, single-location proxy plans, and multi-location proxy plans.
Pros:
60 million mobile IPs in the US
Offer States/Cites Geo-targeting (US)
25+ locations in the US
24 hours refund policy
Cons:
It only provides US proxies.
4. AirProxy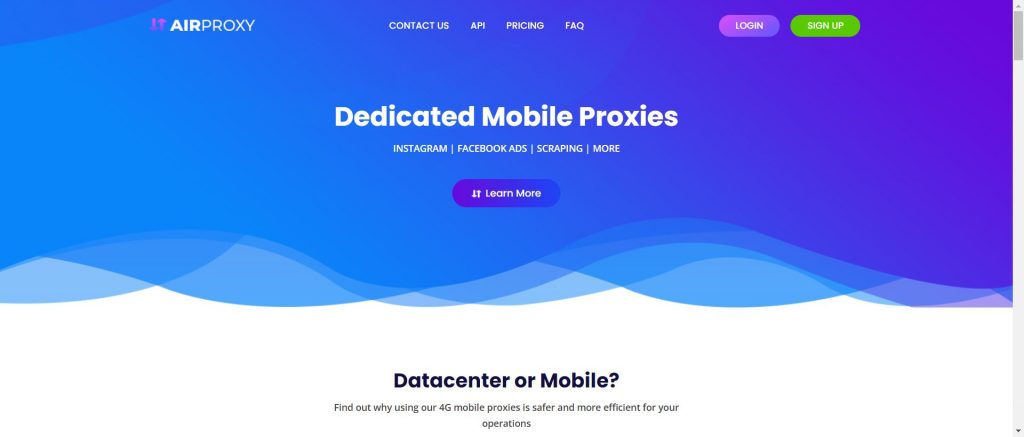 Proxies Location: Italy
A 4G mobile proxy such as AirProxy is widely used for automating social media. The service specializes in removing blockages.
However, there are many additional features.
Users can rent a dedicated connection SIM card for their account that provides a dedicated connection to AirProxy. Changing your IP address automatically allows you to remain anonymous.
AirProxy offers a 72-hour mobile proxy trial if you're unsure whether it's right for you. A monthly fee of €90 is required.
Pros: 
Easy to use interface
Automatic IP change
Clean IPs
Control over networks.
Cons:
It only provides Italy proxies.
Only one pricing plan.
5. LTEspace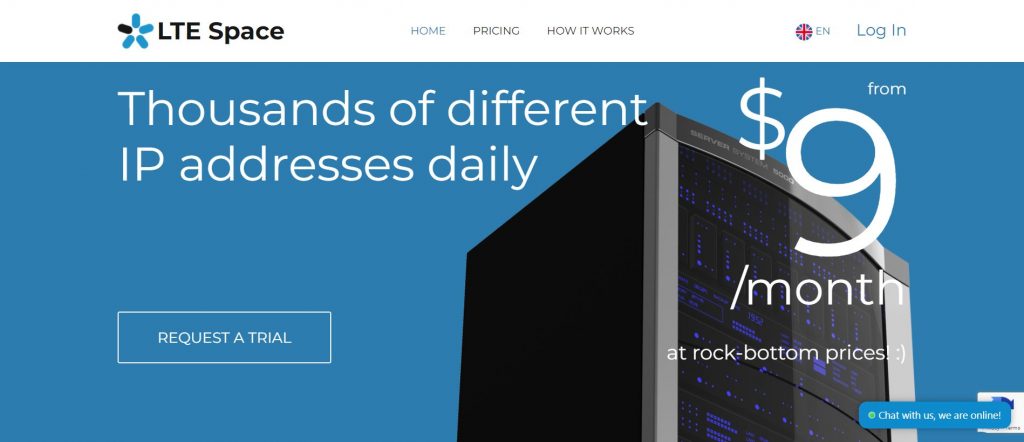 Proxies Location: Russia
LTE Space offers rock-bottom prices for a high-quality service, which makes it the most competitive choice in terms of pricing.
Furthermore, if you start using their mobile proxies, you will never be blocked again.
Besides having a rotating IP address system that changes IP addresses in two minute intervals, unlimited traffic, and connection speeds up to 45Mbps, the service also has a no-log policy, which guarantees your anonymity.
Additionally, there will only be five users per channel.
LTE space's cheapest shared proxy price point is $9 and its private proxy price point is $45 for budget-conscious web scraping operations. Cheap mobile proxy services are hard to come by.
Pros:
Unlimited traffic
24/7 Support
High anonymity
Flexible rates
Cons:
6. Proxy LTE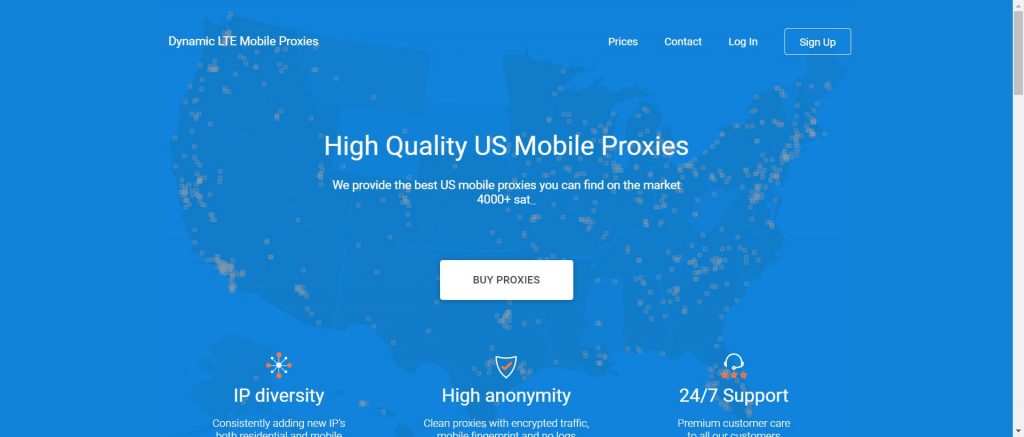 Proxies Location: United States
The tagline of ProxyLTE immediately catches your attention – "We provide clean, highly anonymous proxies."
The ProxLTE proxy pool is supposed to be updated every 24 hours with 50 different IP addresses.
Our control panel is highly intuitive and accessible to all Proxlyte customers. Designed simply, it includes a wide range of features. You can view proxy lists by location, view your plans easily, export lists of proxy IPs, and more through the control panel.
Pricing for ProxyLTE ranges from 25 proxies at $225 per month up to 1,000 proxies at $1,699 per month, with daily, weekly, and monthly tiers. In addition to government-issued currency, Proxlyte accepts Bitcoin as a valid form of payment.
Pros:
Flexible payment
Developer API supported
Supports Residential IP addresses
Also integrates with popular automation tools.
Cons:
7. 3G Proxy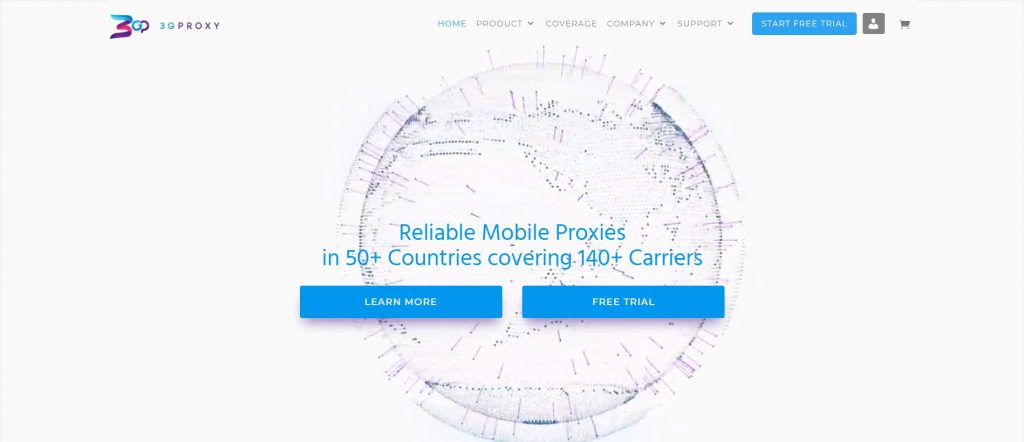 Proxy Location: The Middle East and Asia currently dominate the proxy landscape
A 3G mobile proxy testing solution from 3G Proxy is the world's most comprehensive. A worldwide network of 3G/4G modems is easily accessible through this platform.
A demo gives you the opportunity to test direct carrier billing, mobile campaigns, and SMS delivery remotely.
Its claims of fast and reliable service are backed by the fact that it has served dozens of companies in the tech sector.
In terms of popularity, this also proves 3G Proxy is among the most popular among its competitors.
Furthermore, 3GProxy claims to offer more than 130 mobile operators in more than 40 countries. Real sim cards are available, as well as 3G/4G proxies and cutting-edge security.
You can still use mobile proxies from 3G Proxy to scrape the web even though they focus primarily on online testing.
You will pay €149 per month for the cheapest price tier and €599 for the highest.
Pros:
Easy to use interface
API supported.
SMS delivery testing.
Covers 43 locations
Cons:
8. Oxylabs.io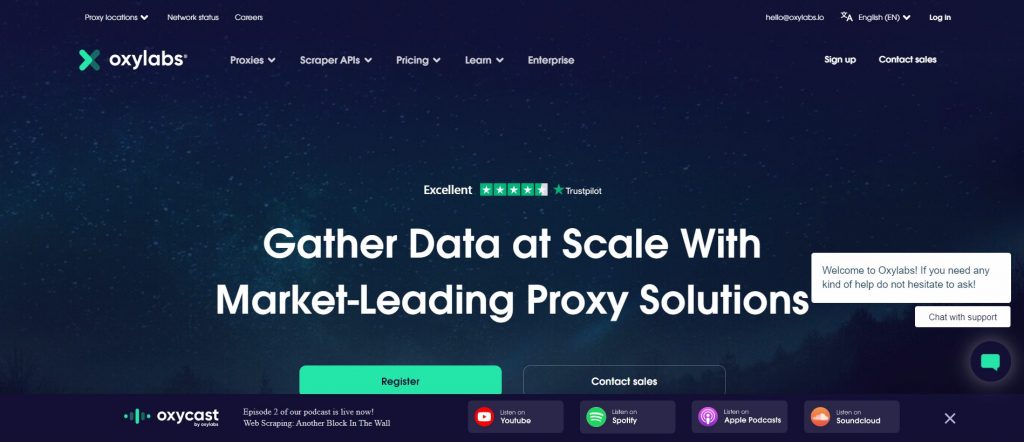 Proxies Location: United States
The largest 4G LTE modem network in the United States can be found at Oxylabs.
It claims to have the largest network of rotating residential proxies in the USA that is specifically designed for crawling the web and verifying ads.
IPs are not taken from other companies, according to the company. Their service is provided by the ISP, who provides their modems in hotspots around the country, as opposed to owning their own modems and paying monthly fees.
Users can also rotate their IP addresses every 30 minutes, utilize a dedicated modem for maximum speed, and use 4G LTE proxy servers specifically for Instagram automation.
The price for this great service is, however, quite high. If you opt for even the lowest tier, you'll be paying around $200 – $250 per month, which is quite expensive compared to the other options on the list.
Having said that, if you're searching for a company that provides dedicated mobile proxy servers with a 1.5k IP pool size and unlimited bandwidth, this may be a great choice.
Pros:
Premium Customer Support
Global Network Coverage
Great performance
Extensive Proxy tool
Cons: 
9. Proxy-Cheap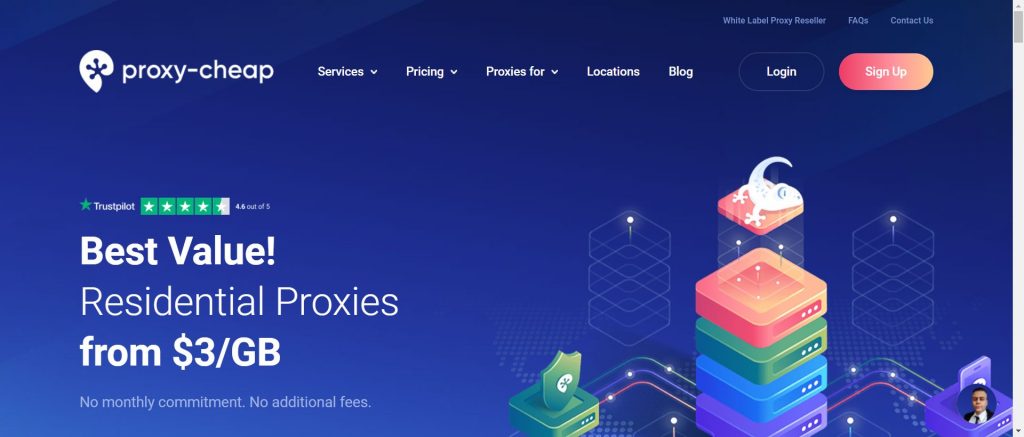 Proxies Location: USA, UK, Germany, Mexico, Canada, Brazil, France, Italy
In keeping with its name, Proxy-Cheap focuses on providing good value for money. You can expect lightning-fast speeds through their 4G mobile proxies when you become a Proxy-Cheap customer, in addition to an impressive IP pool of 4+ million IP addresses from 127 countries.
Followplanner, Jarvee, GMT2, Nextpost, Alfred, and MP5 are all fully compatible with Proxy-Cheap. Customer support is available 24/7.
Proxy-cheap goes the extra mile to educate their customers about mobile proxies' various applications. Use cases for a wide range of scenarios are available on their website, including data extraction.
Cheap mobile proxy services aren't hard to find, and Proxy-cheap isn't bad either. Among the pricing tiers, $50 per month will get you an entry-level subscription, and $600 per month will get you an enterprise subscription.
It will depend on how much scraping you need to do.
Pros: 
11M+ proxy network
24/7 support
Instant Setup
Available in wide range of locations.
Cons:
 No refund policy
Bad customer service
10. Illusory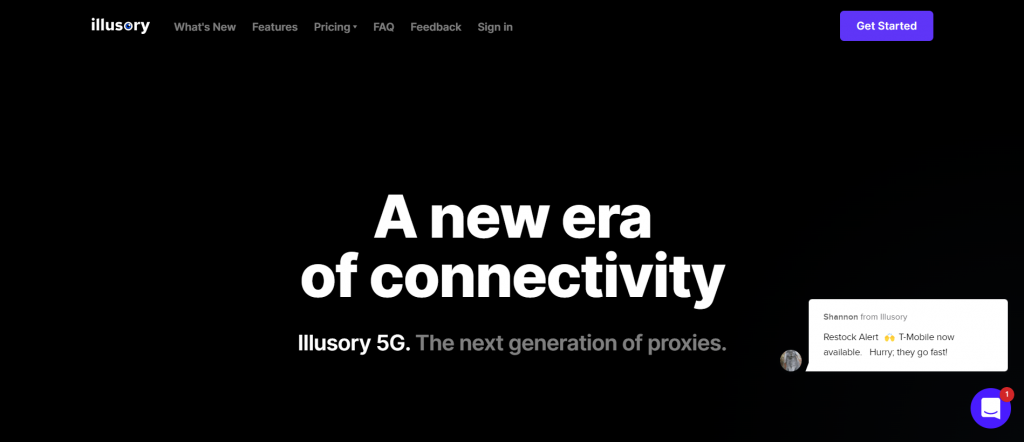 Proxies Location: United States
Mobile 5G proxies like Illusory offer many benefits, including high quality and excellent performance. For instance, they provide individual customers with dedicated IP addresses.
Furthermore, you will be able to access unlimited 5G data without having to worry about thread and connection limits.
You'll have increased uptime and fewer security risks with Illusory top-of-the-line hardware and security. IP rotation gives you more control over your anonymity since you can set the rotation interval yourself at intervals of your choice.
With an intuitive interface that lets you control your proxy settings, a no-logging and no-tracking policy, and IP tunneling that's personalized for you, this service is hard to resist.
They offer a variety of tiers in terms of pricing, depending on your needs. For light testing, low rates are available, whereas unlimited plans are more expensive.
Standard package is $59 per month, and the highest package is $129 per month. Business and organizations can take advantage of this package.
Pros:
Unlimited bandwidth
Incredible uptime
Diverse IPs
Fast performance
Cons:
Final thoughts on Mobile Proxy Services
Mobile proxy, 3G proxy, and 4/5G proxy providers are all available in large numbers. Consider the price, speed, and reliability of the service before deciding.
Take your personal goals into account as well.
Scraping the web isn't impossible. You should take your time to find the mobile proxy service that's perfect for you.
Also Read