Are you looking for the best tools for web scraping and automation? If you are, then you have come to the right place. Bright Data proxy service is one name you will see on multiple lists if you search this topic online.
It is one of the best services available for web scraping and finding valuable information.
However, is it the absolute best in the market? Are there any alternatives that can perform as well or maybe even better?
That is precisely why I have compiled this article containing the best Bright Data alternatives.
Because even though it is a solid performer, Bright Data proxy service has some disadvantages, which we will discuss later in this article.
So let's get into it without any further delay.
What is website scraping, and why is it important?
Before discussing the Bright Data alternatives, I would like to cover some basics. Bright Data is a web scraping tool.
But what exactly is web scraping? And why do we need to implement it?
Web scraping is also known as data extraction from the web. Simply, web scraping data means automating the data sets collected from the internet.
The competition between companies is getting intense with time. And suppose you want to stay on top in any field.
In that case, keeping an eye on your competitor in different aspects, like market research, news and price monitoring, lead generation, and so on, is essential.
However, web scraping does not mean acquiring any data from any company. You can only access public information released freely on the internet.
It does not include selling private information by any business or individual related to the company.
Web scraping is opted for by many companies to gather a massive amount of data collection at one go since it would take a lot more time if done manually.
Now let me tell you about its importance. Why do companies choose web scraping via automation?
There are several potential reasons, but these are the most common ones I have come across till now.
Time-saving-  we are all moving in a very fast-paced world, and when you have such a massive data set to deal with, you cannot afford to spend so much extra time that it can decrease productivity.
It is where web data scraping and automation tools enter the picture, as they eliminate the need for companies to learn everything in detail by taking care of the requirements quickly.
Tracking market trends- It is not always possible to keep up with every market trend, but these tools can be a game changer as they can do all the hard work and let you enjoy the benefits.
Whether you are starting your own business or have already established your position, having an idea of what your consumers are looking for is critical.
Web scraping tools monitor the latest trends to help you stay ahead of your competitors.
Getting accurate results- when you do any work manually, there is no guarantee that you are getting accurate results.
But that is not a problem with the best web scraping software. You get much more accurate results, which help you work towards customer satisfaction.
Monitoring market prices along with giving an idea regarding the latest market trends, web scraping tools let you know about competitor prices.
And once you have the data collection in your hand, you can use it to your advantage to build customer engagement.
For example, you can announce discounts and coupons for a certain period to spice things up.
Also Read: Why You Should Start Outsourcing Web Data Collection Tool
What makes Bright Data such a popular web scraping and automation tool?
As mentioned above, Bright Data proxy service is on almost every list of the best web scraping and automation tools.
But why is it so popular?
And what are the features that make it one of the best options to choose from?
And why are we looking for alternatives if it is the best option?
These are some of the questions that I will be discussing in this section of the article.
Bright Data offers continuous data and information about various websites, including consumers, that are related to demographics and traffic, and so on.
And you can use this data in your marketing strategies to reach your target audience quickly and effectively.
Many companies prefer this tool because you do not need to think about the quantity of data you need and the number of scrapes that need to be implemented.
You can simply focus on marketing your services, and the tool will take care of the rest.
But why are we discussing Bright Data alternatives if it is such a good performer? The platform has a few issues that need to be fixed.
Here are some problems I experienced due to which I started looking for other options.
The service is a little complicated to use and is not beginner friendly. It can be confusing and overwhelming, and you might need to refer to tutorials often while using it.
The platform uses a KYC (know your customer) system where you have to provide your identity and contact information so the platform can ensure you can not engage in illegal activities. But not all users may be comfortable with that and may instead want to use other services.
The price factor is crucial to me, and I know I am not alone in this. The Bright Data proxy service plans are expensive, and even the cheapest starts from approximately $300 per month. It is another reason why I wanted to look for something else.
Top 10 Bright Data Alternatives
So, let's come to the most awaited section of the article and discuss the top 10 Bright Data alternatives.
Each of these comes with several unique features, and you can choose the one best suited to your requirements.
1. 

Oxylabs
This is one of my favorite web scraping tools, and if there is only one thing I could change about it, it would be the slightly above-average pricing.
But when you use it, you will realize the pricing does not seem too much since you get access to a massive network, premium support, and smart web scraping tools.
The products they offer are even suitable for large-scale projects, and the list of features is nothing less than enticing.
You do not face any restrictions on concurrent sessions. And even if you extend the duration, they will not charge you extra.
It is the perfect platform for enjoying proxy service in any country at the city level via the geo-targeting feature.
I like that there are no restrictions on subnets, and I can add as many specific IP addresses as I need.
The performance of Oxylabs is beyond excellent, and you have the flexibility to store the data in Google Cloud, too, if required.
I feel if you are looking for a top-quality provider, it is one of the best options you can go for.
Features
Massive Proxy network and IP pool size of approximately 102 million.

Dedicated account managers.

24/7 live support.

Smart web scraping technologies.

The proxy pool is spread across 195 countries.

No restrictions on concurrent sessions and subnets.
2. 

SOAX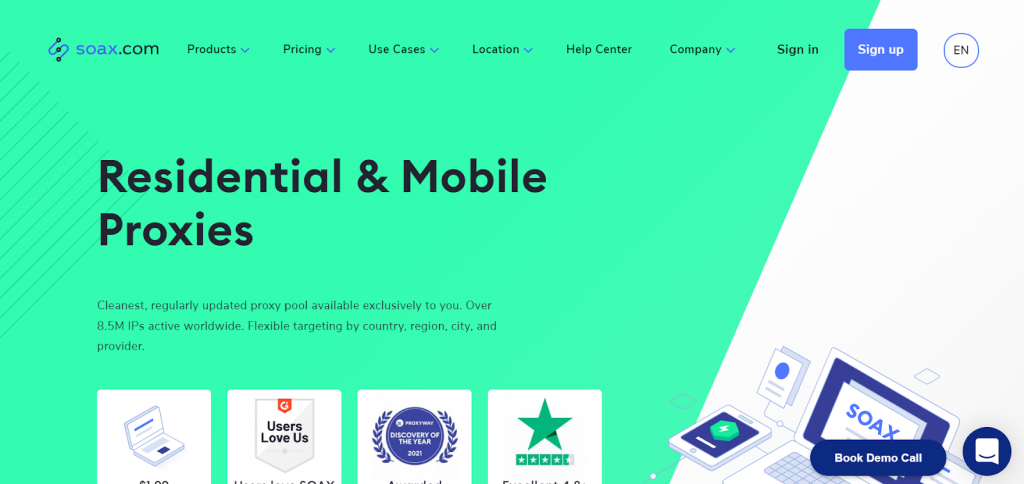 SOAX is another excellent alternative I have tried for quite a while. It offers precise locations, but you do not need to pay nearly as much as Bright Data.
The IP pool size is almost 5 million and is available in more than a hundred countries worldwide.
Again you do not have any restrictions regarding concurrency. Another factor that I like about SOAX is that the pricing plans are affordable.
Depending on your chosen plan, it starts from $99 and goes to $700. The band with allowance and the number of ports increases with the price.
Considering the price, it is a great alternative and does the job. All you need to do is choose the best plan for your requirements.
It comes amazingly close to Oxylabs in terms of performance and is affordable too. However, you do not get that incredible IP pool size.
Features
Plenty of residential, mobile, and data center proxies.

Detailed geo-targeting filters the proxies by country, city, and even ISP.

The pricing plans are affordable and flexible.

It offers only whitelisted IPs without any restrictions and captchas.

You can stay 100% anonymous.
3. 

Smartproxy
Smartproxy is undoubtedly one of my favorite Bright Data alternatives. It delivers excellent performance and has been priced reasonably for the features you get.
It is best for someone looking for rotating proxies and offers a massive 40+ million IP pool size.
Their present across 195 locations across the globe, and we do not face any restrictions in terms of concurrency.
Another exciting feature is the series of custom apps you get with it. You get a multi-session Browser for Windows and Mac, an intelligent scraper tool, Chrome and Firefox extensions, and so on.
You can always contact support via the live chat feature if you have any doubts.
The pricing plans are flexible and start from around $80 per month. You can even go lower with the "Pay as you Go" plan, costing $12.5/GB.
I will not claim it as the most powerful proxy service, but it contains everything that will suit most of your requirements.
Based on the price, features, and massive IP pool, I can rate it higher than SOAX. But SOAX's customer service was somewhat better, and the team was quicker in resolving issues.
Features
The plans are very reasonably priced.

Dedicated customer support team.

A bunch of free tools to try out.

Residential IPs across more than 195 locations.

3-day money-back option.
4. 

NetNut
It is another popular member of the market and the only proxy network which derives its IP addresses directly from the ISPs.
I was skeptical about this one as it is comparatively new. But I decided to give it the benefit of the doubt.
NetNut has a proxy pool of more than 20 million, and they have their residential proxies in approximately 50 countries.
I know the list isn't as impressive as Oxylabs or SOAX, but it is not entirely bad, either.
I found that the speed and the latency are decent but not extraordinary. The dashboard is easy to use.
And if I have to choose it above other alternatives, it would be because the failure rate is relatively low, and most IP addresses are always online, which makes the service pretty reliable. And that is why it has reached the top section of the list.
However, I would cut some points due to its price factor as the plans start from around $300 per month.
Features
Highly reliable as IPs are available 24/7.

7-day free trial.

Almost zero fail rate.

Worldwide proxies in over 50 countries.

One of the fastest alternatives available.
5. 

HydraProxy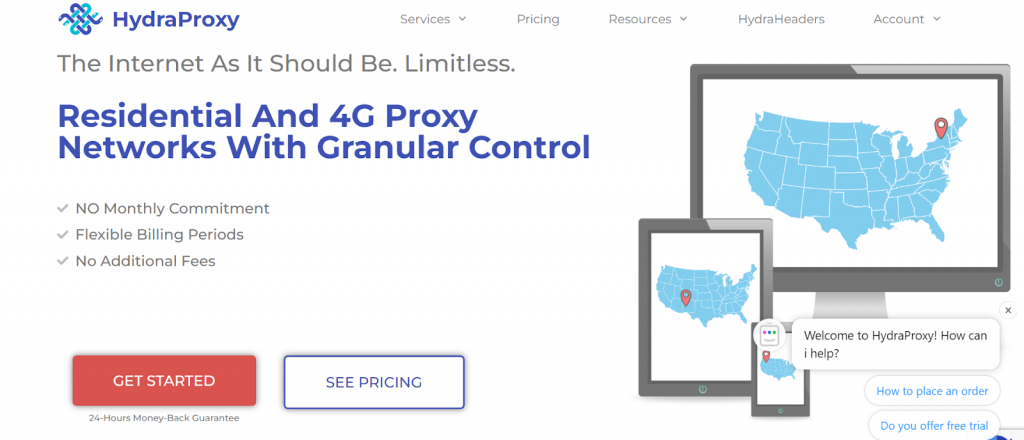 It is not easy to strike the perfect balance between performance and accountability. But HydraProxy is one of those alternatives that has managed to achieve it.
The price point surprised me the most, and I can assure you that it is one of the cheapest providers you can get your hands on.
It is a residential and mobile proxy provider that will fulfill most of your requirements. It has a decent IP pool size of approximately 7 million and is available across over a hundred countries.
You get all 4G proxies for mobile, and I love that there are no restrictions on concurrent sessions and ports.
The price of the plans starts from only $5/month for 1GB, and I have to say there are hardly any other providers who can match this price range.
It performs well, and I find it somewhat equivalent to NetNut, but there are two factors I would deduct points for. Firstly, you get limited bandwidth on residential proxies.
And secondly, the geo-targeting feature does not support filtering locations at the city level. The latency is also slightly higher.
And even though the FAQ section is extensive, I feel the live support feature could have been better.
Features
Static, residential, and mobile proxies.

Extremely affordable pricing plans.

Access to 5+ million IPs.

Geo-location control at the country level.

Unlimited concurrency allowed.
6. 

Octoparse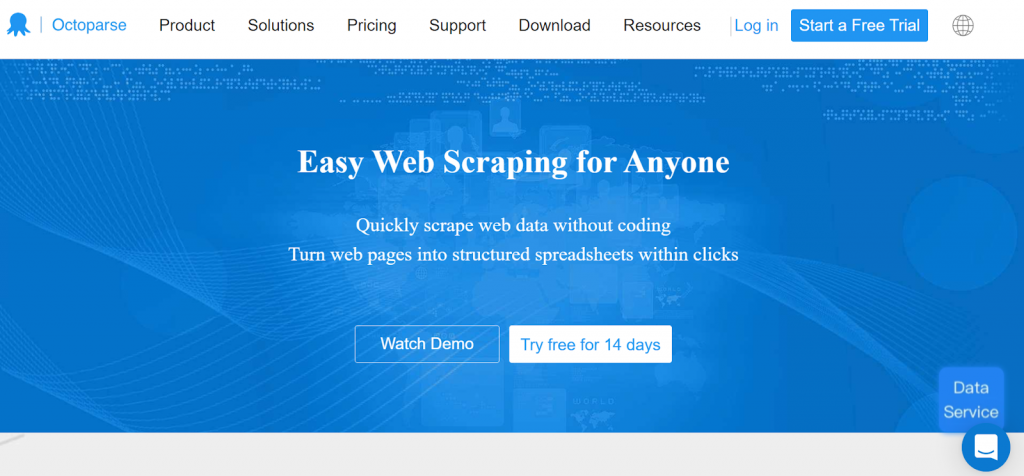 If you are looking for a Bright Data alternative that does not require coding, Octoparse is the one for you.
This scraping software is quite user-friendly and follows a point-and-click UI.
I always like cloud storage services as it makes accessing anything much easier, and Octoparse offers precisely that.
It even supports scheduled extraction; the extracted data collection is available in Excel, CSV, or API formats.
One of my friends has used the free plan, which offers an unlimited number of pages, but you cannot use the cloud service.
The paid plans start at $89 per month, and you can go a notch higher with the professional program, costing approximately $249 per month.
Yet again, I faced a similar issue with HydraProxy. There is no live customer support feature, and the problem-solving process is delayed.
Features
The user interface is straightforward to interact with.

It supports scheduled extraction.

You get unlimited storage due to cloud services.

The pricing is very reasonable, along with the presence of a free plan.

Extracted data sets can be accessed in multiple formats, like API, CSV, and Excel.
7. 

Shifter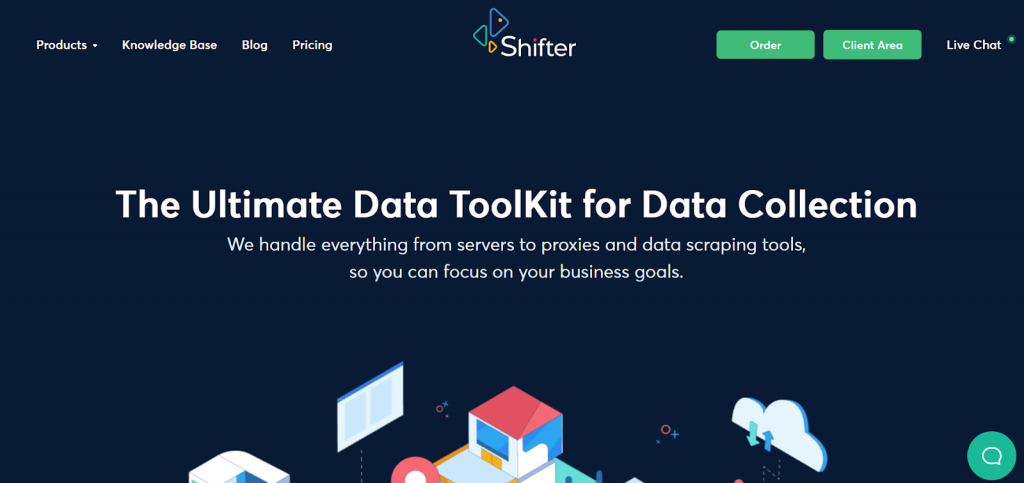 Shifter is another example of an "old but gold" proxy service provider. It was earlier known as Microleaves, and the new name came into existence in 2012.
With an IP pool size of around 31 million, it is one of the largest proxy networks across over a hundred countries. Plus, some unique features attracted me to try it out.
One significant difference I observed is that it does not offer metered proxies. So, your internet connection will keep functioning even if you use up the bandwidth allotted.
The basic pricing plans start from approximately $249.98 and are flexible to meet your requirements.
For example, if you choose the static residential proxy plan, the prices start from $74.99.
Even though there is no free trial, Shifter offers a three-day refund policy, and you can always get your refund if you do not like using the service.
Now coming to the drawbacks, I felt the dashboard could have been more straightforward, and the residential proxies offer a session control of only 5 minutes.
Plus, I experienced many connection errors, and it is frustrating, to say the least. The customer support is again mediocre.
Features
Residential proxies that offer global coverage.

You can access unlimited targets, making the scraping process fast.

Unlimited sticky sessions.

Worldwide geo-targeting.

99.9% network uptime.

Custom IP rotation times.
8. 

ProxyRack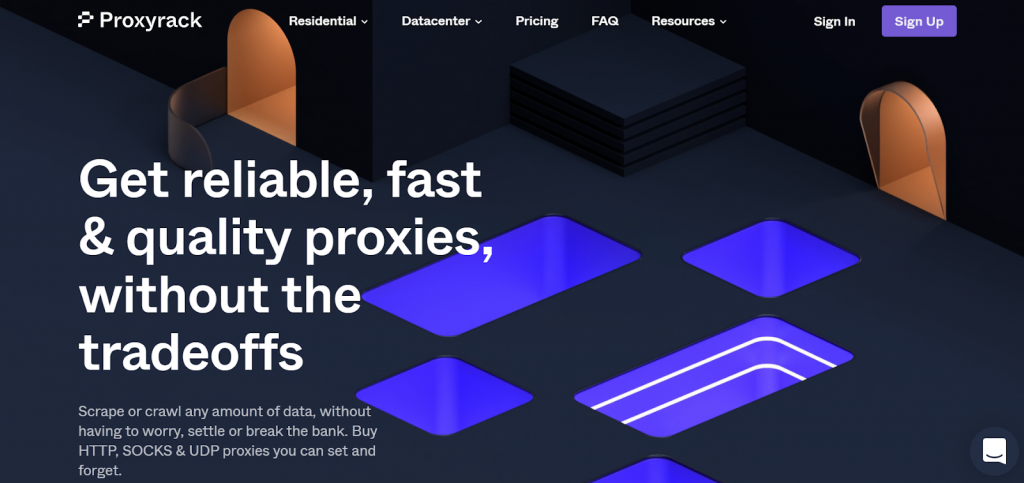 I like ProxyRack due to its performance, but there are a few limitations that you get along with it.
I will start with the pricing plans since it is one factor that is quite attractive about this service.
The cost depends on the number of threads you use, and they start from approximately $50.
There are no restrictions in terms of bandwidth and concurrent threads. Their IP pool size is around 2 million, and even though it is decent, the other alternatives on this list are far ahead in this aspect.
Regarding the availability of IPs, they keep fluctuating throughout the day, but  ProxyRack does not make false promises either.
ProxyRack does not offer all those premium features you get with alternatives like Oxylabs. And there is another slight disadvantage: this platform will not benefit you if you are looking for a specific geo-targeting.
ProxyRack does not support targeting outside the US, and I was slightly disappointed by this. However, the service tries to compensate for the cons by offering affordable plans.
Features
High-quality residential and data center proxies with decent success rates.

You can access IPs from over 140 countries.

It supports live reporting in your dashboard.

A 3-day trial at $13.95 with a money-back guarantee.
9. 

Scrapingbee
ScrapingBee is somewhat unique, and you can use it as a Chrome extension. It can take care of headless browsers and proxy management effortlessly.
It works by executing JavaScript on the web pages and offers you the raw HTML page.
You can experience automatic proxy rotation, and it also supports geo-locating. There are multiple things I like about this service.
It is integrated with some of the most commonly used tools, Google sheets, Google docs, Gmail, Telegram bot, Google Drive, Dropbox, and so on. Apart from that, you can export your data in any file format you prefer, like JSON, XML, and CSV.
You also get a 14-day free trial, and the plans start from approximately $49 per month. However, there is a reason why Scrapingbee did not make it to the top of the list.
After using it, I felt that the non-developers would find it a little challenging to use the service. Plus, I experienced multiple internal server errors during usage. It is one-factor Scrapingbee needs to improve on.
Features
It offers automatic proxy rotation.

It supports geo-locating and JavaScript rendering.

Easy search engine result page scraping.

The starter packs are pretty affordable.

You can generate screenshots with a simple API call.
10. 

GeoSurf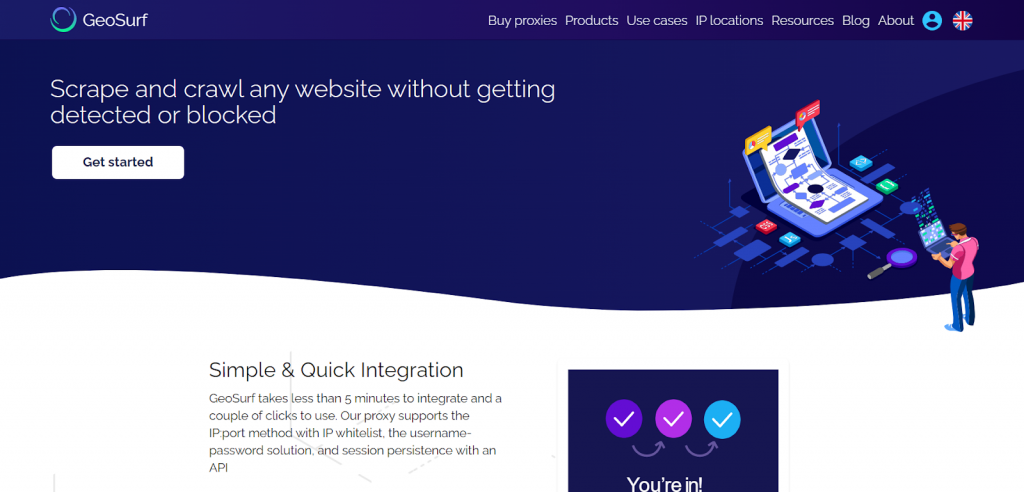 GeoSurf has established its name as one of the oldest proxy providers. And even though it is a great alternative, I would prefer some of the other options on the list.
I feel the price is too high for the features it offers, and options like SOAX do a much better job at a much lesser.
The IP pool size is around 3.7 million, with availability across 1700+ cities. It offers two types of IPs- Static and residential and offers mobile VPN services. And if I can truly appreciate this service, it would be because of no restrictions on the number of locations and connections. The interface is also pretty smooth.
The biggest con of GeoSurf is the pricing system. It is one of the most expensive alternatives, and the plans start from around $300. The performance is good, but I would not pick it when better alternatives are available.
Features
It offers simple and quick integration.

The proxy servers are undetectable.

Dedicated customer support 24/7.

The plans start from approximately $300 per month.
Factors to consider before picking a web scraping tool
Most of the data you want to scrape off the internet is unstructured. So you need tools that can extract meaningful information from that data.
Nowadays, there are several options for web scraping tools available on the market. And here are some factors you need to consider before you make your pick.
1. Data delivery
The data delivery process of the tool you're picking should be convenient. For example, if you want to export your data in JSON format, then you should research the specifications of the tools to narrow down your options.
I recommend choosing a web scraping tool that offers data delivery in various formats, like CSV, XML, etc.
2. Scalability
Once you step into the journey of data scraping, your requirements will only keep increasing gradually.
So when you make the final choice for a web scraping tool, you should be sure that it does not slow down the process when the demand for data increases.
3. Capability to deal with roadblocks
You will find multiple websites on the internet that use anti-scraping measures. In scenarios like this, a crawler can come in handy to bypass these measures and access blocked websites.
4. Pricing structure
It is a significant factor to keep in mind while making a decision. Choose a tool that is reliable and whose pricing structure is transparent.
It will help you stick to your budget, and there is a guarantee that no hidden costs will pop up later.
Go through the pricing plans and choose an option that clearly explains all the features and plans.
5. Data quality
Since most data available on the internet is unstructured, you will have to organize and clean it after extracting the data.
The web scraping and automation tool you choose should be able to help you in this process, and it is essential to remember that the data you collect will have a significant impact while making decisions later on.
6. Customer support
It is very natural to face issues while using your web scraping tool. And this is the time when you need assistance.
Hence customer support is a critical factor to consider as it gives you peace of mind that you will get the required help even if something goes wrong.
And when you get live chat support, it is even better as you do not have to wait for longer durations to reach a satisfactory answer.
Try testing this feature beforehand by reaching out to the support team with any query, and notice the response time to have an approximate idea.
Conclusion
I have listed down my favorite Bright Data alternatives in this article for you to choose from.
Each has its pros and cons, and the battle is close for me between Oxylabs and SOAX. I have kept Oxylabs at the top of the list because even though the price is high, the range of features you get with this service is almost unparalleled.
SOAX is slightly behind in features, but it is a very affordable option.
But it's not just these two. All the Bright Data alternatives come with different features, and the main trick behind making a choice is to go through all the features and check which one is best suited to your requirements.